March, 8, 2011
3/08/11
9:00
AM ET
COLLEGE PARK, Md. -- Maryland running backs coach Andre Powell put change into a parking meter in downtown College Park for 20 minutes -- just long enough to run into Boston Market for a quick bite.
Twenty-two minutes later, he had a ticket.
Win or lose, moving takes some getting used to.
[+] Enlarge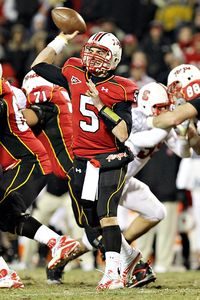 Mitch Stringer/US PresswireDanny O'Brien passed for 2,438 yards and 22 touchdowns on his way to earning conference rookie of the year honors.
Randy Edsall's staff has made a bizarre transition. Instead of replacing a group of coaches that were fired for losing, they're tasked with improving a program that won nine games last season, including a bowl game, and had the ACC's Rookie of the Year and Coach of the Year. While there is obviously talent still remaining on the roster (14 starters return), the new assistants downplayed the notion that their transition might be any easier because they inherited a good team.
"In this profession it's never easy, it's always harder because everything is brand new," said special teams and outside linebackers coach Lyndon Johnson, who was on Edsall's staff at Connecticut. "We're coming in with a different philosophy, different schemes, so there's a learning curve not just for players, but for us as coaches. Our defensive staff, the four of us, none of us come from the same background. We all have to learn Todd (Bradford's) system in order to be able to teach it to our players. It's always going to be an uphill battle, but this isn't like it was an empty-shelf program. These guys were very successful."
And yet only two assistants -- receivers coach Lee Hull and offensive line coach Tom Brattan -- remain from Ralph Freidgen's staff.
"It's a business, and in this business things happen," Hull said. "You just adjust to it and go with the flow. Has it been an easy transition? No, but any new job is an adjustment. Had I left here and gone to another job that would have been an adjustment, too. Coach Edsall has been great through this whole transition and very understanding that Tom and I were on the previous staff. He's been sensitive to that."
The staff is comprised of a variety of backgrounds and two former head coaches in defensive line coach Greg Gattuso (Duquesne) and offensive coordinator Gary Crowton (Louisiana Tech and BYU). Defensive coordinator Todd Bradford and Crowton will both install new schemes and terminology this spring, which will obviously require an adjustment for even ACC Rookie of the Year quarterback
Danny O'Brien
.
Bradford was on the road speaking at a clinic when former defensive coordinator Don Brown left Maryland for a job at Connecticut. A month later, Bradford was hired as Maryland's defensive coordinator.
He said it's still too early to get a read on the talent level the staff inherited.
"It's hard to say because we haven't coached these players yet," he said. "It's hard to say until we start coaching these guys. I don't think it's ever easy when you're a new staff because there's transition, there's coaches getting to know players, there's the learning curve that the players have, there's a transition of how do we handle academics, how do we handle recruiting? Those are the same no matter what happened before we got there. Those challenges are always there. I think it's very similar to any other place I've gone into when I've been on a new staff -- you have the things that have to get done in transition."
Bradford said the staff has all of the necessary resources to be successful, including financial and fan support -- two areas that have been problems for Maryland in the past.
"That's one of the reasons why we came, no question," Bradford said. "I think everyone felt that way, that Maryland's resources, where it was located, the tradition -- all of the things you look for when you're talking about can you win every game, we felt like we had it."
Now their challenge is to get more out of it than their predecessors did.
July, 22, 2009
7/22/09
9:15
AM ET
Posted by ESPN.com's Brian Bennett
Only two true freshmen made a significant impact on Pittsburgh's nine-win, Sun Bowl team last season.
One was Jonathan Baldwin, the superstar receiver and former can't-miss stud high school prospect. The other was Andrew Taglianetti, whom almost nobody thought was anywhere near ready to play FBS-level football.
Taglianetti proved to be a special-teams demon who blocked three punts and recovered another muffed kick. This season, he'll compete for playing time at safety along with his stellar work on the return and coverage units.
"He's a throwback kind of player," Pitt assistant coach Greg Gattuso said.
In high school, though, most recruiters thought Taglianetti needed to be thrown back into the pile. Despite an outstanding career at Pittsburgh's Central Catholic as a running back, receiver and defensive back, Taglianetti only had offers from Towson State, VMI and Toledo late in his senior year.
The reason? Size matters. Pitt generously lists him at 5-foot-11, and Taglianetti weighed just 168 pounds last summer.
"I can honestly see why some schools weren't recruiting me," he says. "I was smaller. But I've always had the mindset that I could play with anyone. Not in a cocky sense, but just as a personal thing. I feel like I always play with a chip on my shoulder because I played against kids in high school who went to big schools and I just think, 'Hey, what about me?'"
Gattuso readily admits that if Taglianetti had been from another city, Pitt wouldn't have even bothered making a phone call. But Gattuso kept hearing from his good friend Terry Totten, who happened to be Taglianetti's high school coach. Totten pressed Gattuso not to overlook his player.
Then Gattuso put on Taglianetti's highlight tape.
Posted by ESPN.com's Brian Bennett
Safety Robert Sands stood out in a West Virginia scrimmage, Mike Casazza says in the Charleston Daily Mail.
• The Mountaineers need to find a third linebacker to complement Reed Wiliams and J.T. Thomas, Dave Hickman writes in the Charleston Gazette.
• Isiah Moore has been rising up the depth chart at wide receiver for UConn, John F. Silver says in the Journal Inquirer.
• Oft-injured defensive back Zaire Kitchen is enjoying a rare healthy spring at Rutgers, Keith Sargeant writes in the Home News Tribune.

• Pitt assistant coach Greg Gattuso is a former policeman who was hit hard by the killing of three city officers last week, Colin Dunlap writes in the Pittsburgh Post-Gaztette