August, 13, 2013
8/13/13
1:30
PM ET
Indiana tight end
Ted Bolser
qualifies as a village elder on the Hoosiers' football team. Bolser is a fifth-year senior on a roster stuffed with underclassmen, a four-year starter who has suffered through three straight losing seasons.
So Bolser speaks with authority when talking about how much the Indiana program has changed in the past few years and where it might be headed.
[+] Enlarge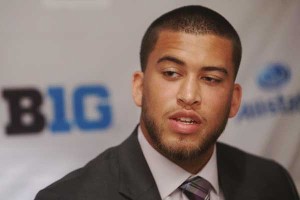 Jerry Lai/USA TODAY SportsSenior Kofi Hughes will lead the Indiana Hoosiers' receiving corps, which is slated to be one of the conference's best this season.
"Everything's completely different around here," he said. "Night and day. There's definitely a buzz around campus right now about the team."
"Buzz" and Hoosier football are not terms that normally appear in the same sentence, unless you're talking about tailgating. Indiana has made only one bowl appearance since 1993 and none since 2007 and is just 5-19 under third-year coach Kevin Wilson. Yet there is a good deal of positive publicity coming out of Bloomington these days.
Several preseason prognosticators have projected the Hoosiers to reach a bowl game this season. In a poll of Big Ten writers by the Cleveland Plain Dealer this summer, Indiana was the runaway choice as the team most likely to surprise in 2013. At Big Ten media days in Chicago, where the IU contingent often has plenty of free time, crowds gathered around Wilson and his players. Wilson has challenged the fan base to support the team this year, and the school reports that season ticket sales are up 5 percent, while student ticket sales have increased 18 percent over last year.
"We're not boasting or bragging," Wilson said. "We don't have it figured out. But we are, in the Twitter world, trending in a positive way."
Why the sudden uptick in interest for a team that lost to Ball State and Navy last year? For one, Indiana has a whopping 19 starters back, tied for the most in the FBS. That includes all but one starter on an offense that led the Big Ten in passing yards and finished second in the league in total yards in 2012. The Hoosiers return three experienced quarterbacks --
Tre Roberson
,
Cam Coffman
and
Nate Sudfeld
, who all all battling for the starting job -- along with arguably the conference's top receiving group. They could put a lot of points on the scoreboard this season.
Of course, the question remains whether they can keep points off the board, as IU's defense has been the worst in the Big Ten in each of Wilson's first two seasons and got torched for 163 points in its final three games last year. The team brought in one of its highest-ranked recruiting classes ever in February, and not surprisingly it was stuffed with defensive players, like defensive backs
Antonio Allen
and
Rashard Fant
and lineman
Darius Latham
. Early reports on the newcomers have been strong.
"They're living up to the hype right now," senior defensive back
Greg Heban
said.
And the hope is that other young players on both sides of the ball continue to develop. Indiana was starting to build momentum as a program in the mid-2000s under Terry Hoeppner, who died after a long battle with brain cancer in 2007. His successor, Bill Lynch, led the Hoosiers on an inspiration bowl run in the 2007 season while coaching with the interim tag. But Lynch was fired in 2010 after three straight losing seasons. Wilson arrived and faced some resistance to change by the upperclassmen, and he began playing lots of true freshmen right away.
"I don't think people knew the depth of issues we had in our team, and it wasn't going to change just over the course of two years," senior receiver
Kofi Hughes
said. "But three years? I think it has definitely changed, and things are completely different."
In Year 3, Wilson says, the players all understand his standards and work ethic. There's far better depth and competition at every position. When asked whether this should be his best IU team, he said, "It's not close." But he continues to point out that the Hoosiers still haven't accomplished much of anything yet.
"There's always a little pessimism," he said. "Talk's cheap. ... We're getting better and we're gaining and it's a lot more fun and you feel it, but you've got to go win games and prove it. Like one guy said, 'Give me one word to describe your talent.' And I said, 'Unproven.' We've yet to really show.
"There's a boatload of potential, but you've got to go do it. It's getting over the hump and getting Ws."
Indiana benefits from eight home games this year, though nonconference games against Missouri, Navy and Bowling Green are challenging. The Hoosiers also must deal with Ohio State, Penn State and Wisconsin in their own division and crossover games against Michigan and Michigan State, both of which are on the road.
Still, the pieces are in place for a run at six wins and a bowl game. And maybe even more.
"Just going to a bowl, if that's our standard, that's pretty low," Bolser said. "It's kind of embarrassing, actually. We're setting our standards very high this year."
July, 26, 2013
7/26/13
2:15
PM ET
CHICAGO -- After fielding questions about the NCAA's new targeting policy for two hours, Big Ten coordinator of football officials Bill Carollo nearly escaped the interview area Thursday morning when a former Ohio State safety tracked him down.
Nebraska coach Bo Pelini shook Carollo's hand and joked that he, too, was tired of talking about targeting. Pelini remains a bit peeved about the
targeting penalty called on
Huskers receiver
Kenny Bell
in last year's Big Ten championship game.
[+] Enlarge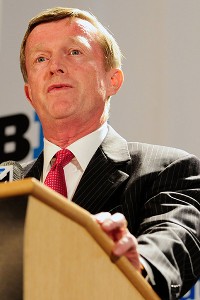 Reid Compton/USA TODAY SportsBig Ten coordinator of officials Bill Carollo on the NCAA's targeting policy: "It's a severe penalty, but I don't think it's too harsh."
All this targeting talk isn't a bad thing. It's a topic that merits attention from now until the start of the 2013 season, mainly because of the new consequences when a defenseless player is targeted above the shoulders.
Starting this season, players guilty of the foul will be ejected from games. On-field officials and replay officials must both agree before a player is disqualified.
"They might want to be on 'SportsCenter' for a big hit, but you're not going to be on 'SportsCenter' when you're sitting in the locker room," Carollo told ESPN.com. "As long as that consistent message gets to the players through the coaches, I don't think the game is going to change a whole lot."
The ejection penalty, spurred by the increasing focus on head injuries in football, is a game-changer of sorts. While the targeting rule itself doesn't change entering the season, it will be a focal point when training camps kick off next month.
It was a
major topic of discussion
this week at Big Ten media days.
Here's a sampling of comments:
Nebraska's Pelini: "I don't think it's an easy thing to call. And in my opinion it's going a little bit overboard right now. And some things I've seen on TV and different examples that they've shown, you know, like even as a coach watching it on TV, I haven't quite agreed with some of the things they've talked about. But I understand where it's coming from. It's about the safety of the players, and we're all for that. We just have to make sure that we're not messing with the integrity of the game or the sport and how it's supposed to be played."

Minnesota defensive lineman Ra'Shede Hageman: "Me being [6-foot-6] and going full speed at a running back who's like 5-7, that's hard. And you have to understand that. I'm not trying to go head-to-head with somebody. But I feel like I have to fix my game a little bit. It's a new rule for our safety, so I can't hate on it. But it's kind of difficult when you're 6-6 and you go out at a running back or a quarterback. If I knock off somebody's helmet, now I'm going to get ejected? That's crazy."

Indiana safety Greg Heban: "If that's the decision they're going to make, then that's what they're going to make. It's going to be something kind of different for us, and we have to realize when we go to hit, we have to kind of think about what we're going to hit instead of just attacking."
Carollo met with the Big Ten coaches in February and showed them about a dozen potential targeting fouls from the 2012 season. He also told them the NCAA playing rules oversight panel likely would approve ejections for the most egregious offenders. Carollo spent the spring and early summer educating his officials on the rule.
The focus now turns to players as the season approaches.
"There's still a lot of work to be done," Carollo said. "We have a plan in place that we'll get to every team, whether it's myself or a head referee or senior official. The same information that we gave our officials, the same message is going to the coaching staffs, and if there's a need, we'll take it to the players ourselves and spend a couple hours showing plays."
Michigan State All-Big Ten linebacker
Max Bullough
said the Spartans' defense hasn't discussed the targeting policies yet as a group. He didn't know much about the increased penalties until he came to media days.
"It's not something you do on purpose," Bullough said. "If something like that happens, it's an accident, anyway, so there's nothing you can do about it. Whether they penalize you or eject you, there's nothing different you can do. It happens so fast. The rules they make are a little bit ridiculous.
"What, are you just going to stop and think? What are you going to do when a running back puts his head down? It's just too hard."
When informed of Bullough's concerns, Carollo acknowledged that it's difficult to change course or angle at full speed.
"I'm not asking you to adjust in midair," he said. "I'm asking you to adjust in June, July, August. I'm not asking you to change the way you teach players how to make tackles. I'm asking them, don't launch and lead with your head, keep your head up, move it to the side, wrap up with your arms, put a shoulder into [the opponent's] chest, hit 'em as hard as you want, but don't hit them in the head."
The much-publicized
Jadeveon Clowney
hit against Michigan's Vincent Smith in the 2013 Outback Bowl, while vicious, was a legal play because Clowney didn't target Smith's head, Carollo said.
Although the coaches aren't in total agreement about the rule and its heavy consequences -- Northwestern's Pat Fitzgerald this week proposed a soccer-style approach with a warning (yellow card) for the first offense and an ejection (red card) for the second -- they all want to protect players. But Carollo thinks the number of targeting fouls will drop "once they start losing players."
"The good coaches will get out ahead of it," he said. "Some coaches that don't totally buy into it, if [their players] don't make changes, that's fine, but they're subject to greater risk of not playing. It might take a year. It might take our officials another year to really perfect this call.
"It's a severe penalty, but I don't think it's too harsh. The intent was to make it immediate, and raise the stakes a little bit to get attention and change players' behavior."
April, 11, 2013
4/11/13
5:00
PM ET
On Wednesday, the head coach and one player from each Big Ten Legends Division team participated in a
spring football teleconference
with the media. On Thursday, it was the Leaders Division's turn. Here are some notes and updates from the call:

Illinois
Head coach Tim Beckman said the junior college players he brought in helped with depth and age issues on his young team. "We have 40 football players that have never been in our spring football until this year," he said. Of the juco imports, Beckman said wide receiver Martize Barr has quick hands and good playmaking skills, both in the passing game and on kick returns; Eric Finney has earned a starting job at the Star linebacker position; Abe Cajuste is adding depth by playing both defensive tackle and defensive end; and Dallas Hinkhouse is making an impact at offensive tackle.
Beckman sung the praises of offensive lineman Corey Lewis, a sixth-year senior who has battled back from five knee surgeries and has become a team leader. "Corey Lewis comes to my office probably four or five times a week, just to talk," he said. "To me, he is what college football is all about." Beckman said that Lewis has "had a special spring" and hinted that he has earned a starting job.
Quarterbacks Nathan Scheelhaase and Reilly O'Toole will take most of the snaps in Friday's spring game so they can get more experience in the new offense. Beckman said Scheelhaase has "got a step in front" because of his experience, but the competition continues.
Scheelhaase on reasons for optimism in 2013: "Establishing an identity. That's something I don't know that we necessarily had last year, on offense or defense or as a team in general.

Indiana
Like many of you, head coach Kevin Wilson would like to know the new Big Ten division alignment. The reason? It's harder to recruit without being able to tell a prospect where he'll be playing his freshman season. Wilson added that if the league does indeed go to an East/West split, he'd like to see the Hoosiers placed in the East since they're located in the Eastern Time Zone.
Wilson said run defense and takeaways are two huge priorities for the Hoosiers' defense during the offseason. He noted that the Big Ten doesn't boast a large group of elite pass offenses, so IU must prepare better for run-driven attacks. Indiana finished last in the Big Ten in both run defense (231.3 ypg) and takeaways (13). Cornerback Greg Heban said the defense is working on takeaways every day in practice. "Every time the ball touches the ground, the defense is scooping it and scoring it," Heban said, "trying to give us a feel of what it's like."
Both Wilson and Heban praised the play of junior cornerback Tim Bennett this spring. Other spring standouts include linebacker T.J. Simmons, a freshman early enrollee, and Steven Funderburk, a junior-college transfer.
Heban called this "easily the best spring I've been around." He has seen more physical play and better effort on both sides of the ball, and the team also is having more fun than in past springs.

Ohio State
Head coach Urban Meyer said running back Rod Smith won't play in Saturday's spring game because he recently suffered a concussion. Before that, Meyer said Smith was one of the five most improved players on offense this spring. Meyer listed Carlos Hyde and Smith as the team's top two running backs, while Bri'onte Dunn and Warren Ball are even for the No. 3 spot.
Although the receivers have been better this spring -- especially Corey Brown and Chris Fields -- the depth is still nowhere near where it needs to be for Meyer's spread offense. "We're way behind on quality of depth at that position," Meyer said. "That's a major, major concern." Moving Jordan Hall to H-back should help, and Meyer noted that the Buckeyes boast two good tight ends in Jeff Heuerman and Nick Vannett.
Buckeyes offensive tackle Jack Mewhort paid close attention to the way John Simon and others led in 2012. He's ready to take on a greater load this season. "I welcome that," he said. "I see that as an honor, being compared to a guy like John Simon. I also see it as a challenge. I feel the pressure to step up and get guys going in the right direction." Mewhort also has seen quarterback Braxton Miller recognize his leadership responsibilities more this spring and get after teammates when he needs to.
Meyer said he puts more emphasis on spring practice and the spring game than most coaches. He has told his players that there will be a depth chart after spring ends, and while changes are possible in the summer, they're not likely. "In spring ball, you're trying to win a spot," he said. "During the fall, we're trying to win games."

Penn State

Purdue
Head coach Darrell Hazell said the Boilermakers have made major improvements in the last three and a half weeks. "Anytime you put in three different schemes, there's a little bit of a learning curve for the first couple weeks," he said. "You could see guys start to really get comfortable the last five or six practices."
Hazell said he has "three capable guys" right now at quarterback with Rob Henry, Danny Etling and Austin Appleby. He reiterated that he would keep the competition open until two weeks before the opener at Cincinnati. Of Etling, a freshman early enrollee, Hazell said: "For a young guy, a guy that should be at his prom, I think he's got tremendous poise. He's smart and really studies the game."
Hazell said backup tight end Justin Sinz and center Robert Kugler are two guys that have really caught his eye this spring. He called Kugler a "very much a leader on the offensive line."
Cornerback Ricardo Allen said Hazell has instilled an "all is one" mentality. "If one person does something, we all have to do it. We all wear black socks. We all wear the same uniform. We all tuck our shirts in. I feel like we're becoming closer as a team, and it's helping us build."

Wisconsin
Head coach Gary Andersen confirmed Curt Phillips and Joel Stave have separated themselves in the quarterback competition. It's a "mixed bag" of who takes snaps with the first-team offense, but both will continue to rotate through the rest of the spring and into fall camp. "The way they've separated themselves is simply production," Andersen said. "They know exactly where they sit and so does the rest of the team. … If they put all their friendships aside, their depth chart would look exactly like our depth chart."
Andersen praised the offensive line for tackling another transition, as the group works with its fourth position coach (T.J. Woods) since the 2012 Rose Bowl. The line has seen varying looks from the defense in practice and had players move around to different positions, in part because of injuries. Wisconsin had only seven healthy linemen a week ago, but Andersen is hopeful the number will rise to nine or 10 by next week's spring game. "Those kids have grinded through it every single day," Andersen said. "They're a tough-minded group."
Badgers senior linebacker Chris Borland said losing defensive end David Gilbert to recurring foot problems is a blow but the team has others to step in like Tyler Dippel, Brendan Kelly and Jesse Hayes, a redshirt sophomore who has stood out this spring.
Much like his old boss Urban Meyer, Andersen believes in constant competition and declares winners and losers in each practice. Andersen also mixes in some fun with a dance-off and throwing footballs into trash cans. "Some of them are a little bit quirky, but through the years establish some things we like," he said.
Borland said the strength program has brought the biggest changes in the transition to Andersen's staff. Cardiovascular work is stressed more, as is preventative care. Head strength and conditioning coach Evan Simon operates at a faster pace and uses more of an instructional approach than Ben Herbert, who stressed motivation.
April, 10, 2013
4/10/13
11:00
AM ET
BLOOMINGTON, Ind. -- Near the start of every practice this spring, Indiana lines up for what head coach Kevin Wilson calls the "Big Ten period."
For several minutes, the Hoosiers' starting offense -- normally a spread-you-out, up-tempo, pass-heavy attack -- suddenly morphs into a more classic Big Ten look. They will feature two running backs at times, go to multiple-tight-end sets at others and generally do away with all the fancy, modern stuff.
"It's a lot of what you're going to see week in and week out in the conference," defensive coordinator Doug Mallory said. "It's kind of the old 'We'll just line up and see if you can stop us.'"
That's not Wilson's preferred way of playing. But while Indiana knows its offense can move the ball effectively out of the spread, that doesn't necessarily help the defense get better. And there's no doubt that the defense has to improve for the Hoosiers to get out of the bottom tier of the league.
[+] Enlarge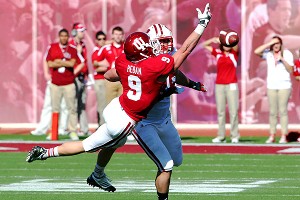 Brian Spurlock/USA TODAY SportsSafety Greg Heban said the Hoosiers wore down mentally during their season-ending skid.
"We have to make sure when we practice and in the way we develop our team that it doesn't cause us not to develop the toughness we need and the ability to be physical and tackle," Wilson said. "We're in Year 3 now, and we need to make those strides."
Indiana boasted the Big Ten's best passing offense last season while averaging more than 30 points per game. But the defense didn't progress as hoped, finishing last in the league in points and yards allowed for a second consecutive year as the team went 4-8.
"Our biggest disappointment as a defensive staff is that if we would have played reasonably well on defense, we could have had the program in a bowl," Mallory said. "That's something we want to get fixed."
Mallory and his staff are constantly emphasizing the need to play more physically this spring. The Hoosiers are hitting more during practice -- Tuesday's spirited session was chock-full of collisions -- and devoting more time to one-on-one battles.
The defense showed some much-needed toughness last year during back-to-back victories over Illinois and Iowa. Granted, those were two of the worst offenses in the league, but Indiana tackled well and made some big stops.
After that, though, the floor gave out as the Hoosiers yielded 163 points in their final three games, losing to Wisconsin, Penn State and Purdue.
"I think because we were inexperienced, guys weren't aware how long the season is," safety
Greg Heban
said. "We were getting tired, and once you get mentally tired, you lose physicality as a defense. That's something we've got to keep up the whole season."
Wilson hopes the Big Ten period of practice will help instill more of that toughness. Not only for the defense.
While IU was explosive in the passing game last season, its running game was just below average at just 130 yards per week. Wilson pointed out that the top five scoring teams in the country last year -- Louisiana Tech, Oregon, Oklahoma State, Baylor and Texas A&M -- all rushed for more than 200 yards per game.
"We will be a better offense when our offensive line and tight ends are tougher, and we run the ball," Wilson said. "When we get that going, our offense will become more balanced and score more points."
The Hoosiers are unlikely to suddenly start using fullbacks and power-I formations. They'll get some of their rushing yardage from their quarterback run game and catching defenses gearing up for the pass. But a better ability to run the ball strongly between the tackles will help them, especially in the red zone, where passing windows shrink.
An offensive line that started two true freshmen and two sophomores last year may not have been ready to play smash-mouth football. That might be changing.
"Last year, I was just learning," said
Dan Feeney
, who started all 12 games at guard last year as an 18-year-old. "Now that I have a little more experience, I feel like I can bring a little more to [the running game]. We're hitting on every play, but we've got to be even more physical than that. We've got to get downfield and finish blocks so our backs can go for 20-to-30-yard runs instead of just 10-to-15."
And if so, then maybe more of Indiana's practice installments will be considered true Big Ten periods.
March, 20, 2013
3/20/13
10:00
AM ET
Indiana defensive coordinator Doug Mallory is looking for a few good men this spring. Actually, more than a few.
Mallory isn't necessarily seeking the next standout player (although he wouldn't complain if he found one). The Hoosiers' defense has had productive individuals over the years, from cornerback Tracy Porter to defensive linemen Jammie Kirlew and Greg Middleton, to defensive tackle
Adam Replogle
. Last fall, Replogle put up huge numbers for an interior lineman (13.5 tackles for loss, five sacks, two forced fumbles, 71 total tackles). Safety
Greg Heban
(91 tackles, three interceptions, seven tackles for loss) and linebacker
David Cooper
(86 tackles, nine tackles for loss, three sacks) also had strong statistical seasons.
[+] Enlarge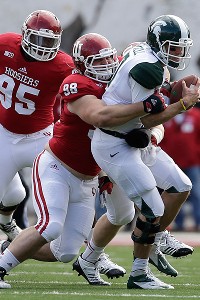 AP Photo/Darron CummingsIndiana defensive tackle Adam Replogle had 13.5 tackles for loss and five sacks last season.
But the unit still struggled, finishing 103rd nationally in yards allowed, 101st in points allowed and 116th against the run. The cumulative results were all too typical for a defense that has struggled for more than a decade because of its lack of depth.
"It can't be the same guy out there every single play of the game, every play of the season," Mallory told ESPN.com. "We've got to be able to have some guys come in and contribute, whether it's 10, 20, 30 plays a game, guys who give us a little bit better depth."
The Hoosiers are looking for numbers this spring, at least 22 defenders who Mallory can feel confident about sending onto the field this coming season. IU's offense took a significant step in coach Kevin Wilson's second year and should be one of the Big Ten's most explosive units in 2013.
But for Indiana to take a step as a program -- toward winning records and bowl appearances -- its defensive depth must improve substantially. Although it's not ideal that three projected starters -- Cooper and fellow linebacker
Chase Hoobler
, and safety
Mark Murphy
-- are now
sidelined this spring
, it's more important to get others up to speed.
"We're trying to see more competition, more guys putting themselves in position to compete," Mallory said. "With all these guys coming back, that's great, but we were not very good a year ago, so that could be a positive and it could also be a negative. We've got to make major strides and do a better job as coaches and as players defending the run, stopping the run and being a lot more physical on defense."
Mallory has made it clear to the players that there are "no starters" this spring. Players move between the first-, second- and third-teams from practice to practice, depending on performance, and sometimes even within a single workout.
"The worse you are, the further you fall on that depth chart," Mallory said. "Kids understand that."
Mallory has been impressed by cornerback
Kenny Mullen
, who started the final five games in 2012. Defensive end
Bobby Richardson
, a reserve last fall, also has stood out as IU must replace two starters up front.
Help is on the way as Indiana significantly elevated its defensive recruiting efforts for the 2013 class. Six of IU's
seven highest-rated recruits
, according to RecruitingNation, will play defense, including ESPN 150 defensive back
Rashard Fant
, and linemen
Darius Latham
and
David Kenney III
.
"On paper, it definitely looks like a good class," Mallory said. "We're looking forward to getting those guys here, and they'll get in here and compete. You certainly want to be quality two-deep and hope that your incoming class are guys that can help you get three-deep."
November, 26, 2012
11/26/12
10:00
AM ET
For one last (regular-season) time, let's do the rewind:
[+] Enlarge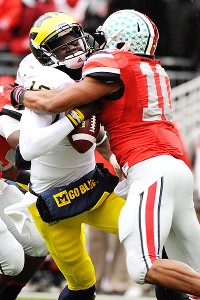 Jamie Sabau/Getty ImagesOhio State's Ryan Shazier ran his season sack total to five with this takedown of Michigan's Devin Gardner.
Team of the week:
Ohio State, naturally. The Buckeyes finished a perfect 12-0 season by beating their archrival, Michigan, at home. That's a pretty good week. Lots of people want to knock Ohio State for its schedule, and understandably. According to the NCAA, the Buckeyes have played only the 65th-toughest schedule in the country. That's not far off from Georgia (No. 60), which is getting an awful lot of love from some pollsters.
Game of the week:
It was an emotional day at Penn State, as the school honored the seniors and the season by putting a 2012 sign on Beaver Stadium and paid tribute to injured linebacker
Michael Mauti
by placing his No. 42 on the team's helmets. We figured Wisconsin might have a hard time matching the Nittany Lions' energy level, but instead the Badgers took a 14-7 halftime lead. Penn State rallied, but Wisconsin tied the game with 18 seconds left in regulation on a
Curt Phillips
pass to
Jeff Duckworth
. But the Nittany Lions prevailed in overtime, giving this special team a final celebration that it definitely earned.
Biggest play:
Nebraska led Iowa 13-7 in the fourth quarter with the Legends Division title on the line, and the Hawkeyes had just pinned the Huskers inside their own 1 on a punt. Luckily for Big Red, Superman Returns is not just a mediocre movie. After a quarterback sneak for one yard, senior
Rex Burkhead
-- playing for the first time in a month -- took an inside-zone handoff and somehow muscled his way through a pile of would-be tacklers for an improbable nine yards. That first down got Nebraska out of trouble and helped the Huskers hold on for the win and a spot in Saturday's Big Ten title game.
Gutsiest play:
After throwing one of the weirdest, most-pinball-like interceptions you'll ever see, Purdue's quarterback found himself as the last line of defense against Indiana's
Greg Heban
. Marve, despite playing on a torn ACL, ran more than 60 yards to chase down Heban and make a touchdown-saving tackle. "It was kind of like one of those we're-going-to-see-where-my-body's-at-very-quickly kind of things," Marve said. "It was a funny play. My dad played some linebacker for a whole bunch of years, so he was proud of me." Marve's refusal to give up on the play despite only having one good knee is indicative of how the Boilermakers hung tough to win their final three games and make a bowl.
Best call:
Penn State couldn't have played its finale without one more fourth-down gamble by Bill O'Brien. And this was one of his best. Early in the fourth quarter, O'Brien went for it on fourth-and-6 from the Wisconsin 41. Quarterback Matt McGloin scrambled and found tight end
Jesse James
for a touchdown, giving the Nittany Lions their first lead of the game. Penn State finished the season 19-of-34 on fourth-down conversion attempts. Air Force and Army, which both run the option offense, are the only two FBS teams that have gone for it on fourth down more than the Lions.
Big Man on Campus (Offense):
Michigan State's
Le'Veon Bell
nearly tripled Minnesota's total yardage all by himself. The junior running back shredded the Gophers for career-high 266 yards and a touchdown on 35 carries for his third 200-yard game of the season. Bell leads the Big Ten in rushing and ranks third nationally at 1,648 yards. His 350 carries (that's an average of 29 per game, folks) are more than any other FBS player.
Big Man on Campus (Defense):
Penn State defensive tackle
Jordan Hill
(12 tackles, three TFLs, two sacks) was absolutely dominant and helped make up for the loss of Mauti. The senior's final college performance probably earned him some extra NFL money.
Big Man on Campus (Special teams):
Nebraska's
Brett Maher
made a pair of crucial field goals in the Huskers' 13-7 win, including a 52-yarder on a windy day. He also had a 61-yard punt that was downed inside the Iowa 5.
Biggest hangover:
You can justify Michigan's 8-4 record by noting the Wolverines have lost to teams ranked No. 1 (Notre Dame), No. 2 (Alabama), No. 4 (Ohio State -- in the AP Top 25) and No. 12 (Nebraska). But this is Michigan, fergawdsake. The Maize and Blue are supposed to win big games, and instead they fell flat in every one, ending with some bizarre offensive playcalling in the second half at Ohio State. The Wolverines again ended up without a Big Ten title, and unless they can beat what will probably be a very good SEC opponent in a bowl, they'll finish a year that began with a top-10 ranking as a five-loss disappointment.
Strangest moment:
What else could possibly go wrong for Illinois coach Tim Beckman?
During Saturday's 50-14 loss to Northwestern, Beckman was penalized for sideline interference
twice
in the first quarter. On the second one, he was run over by an official after a Wildcats' interception. Northwestern scored one play later after the 15-yard flag.
"The first one was on me," Beckman said. "I was running out there getting involved in the game. The second time I was behind the ball, as I always am because usually you're behind the ball and the officials are all in front. Interception and they were running the other way. I'll take the blame. That's my fault. Not good on my part."
There has been a whole lot of not good in Champaign this year.
November, 24, 2012
11/24/12
3:50
PM ET
Purdue's 2012 season has been, if nothing else, a wild ride.
It started on a steady incline in nonconference play, with a small dip during a respectable loss at Notre Dame Stadium. The Boilers then went into a free-fall, dropping their first five Big Ten contests, four in blowout fashion (three at home). But the ride wasn't over. Purdue wasn't finished.


The Boilers needed to win their final three games to become bowl eligible, and, after some predictable bumps, they got there. Even Saturday's
56-35 triumph
against Indiana in the Bucket game had some crazy twists and turns, but in the end, Purdue prevailed.
The game featured three lead changes and a 14-point, third-quarter Purdue lead squandered in a matter of minutes. But in the end the Boilers (6-6, 3-5 Big Ten) received enough from senior running back
Akeem Shavers
and a host of playmakers on defense to retain the Old Oaken Bucket for the second straight season.
Shavers was brilliant from the start and recorded 126 rush yards, 99 receiving yards and three touchdowns (1 rush, 2 receiving). Quarterback
Robert Marve
completed 20 of 29 passes for 348 yards and four touchdowns on senior day, while
Crosby Wright
,
O.J. Ross
,
Antavian Edison
and
Gary Bush
all contributed big plays for the Purdue offense.
Both teams had momentum-turning interceptions. A Marve pass late in the first half pinballed to Indiana's
Greg Heban
, who had a long return to set up the go-ahead score. Early in the third quarter with the game tied 21-21, Purdue's
Frankie Williams
went all Willie Mays and corralled an interception near the Boilers goal line. Purdue scored two plays later. But the biggest pick came with Purdue up 42-35, as senior safety
Max Charlot
squeezed a deflected pass from Coffman. Marve connected with Shavers five plays later and the Boilers never looked back.
Indiana (4-8, 2-6) received a huge first-half performance from running back
Stephen Houston
(123 rush yards, 3 TDs), but Coffman's three picks proved costly. Then again, Indiana's defense was so bad that it didn't matter. Purdue racked up 558 yards and routinely carried Hoosiers defenders down the field.
Kevin Wilson's team improved in Year 2 and should have a chance to go bowling next year with eight home games. But the defense still isn't at a Big Ten level. Not even close. Talent remains the biggest issue, but Wilson might need to look at his coaching staff as well after the way this season ended.
Speaking of coaching changes, will Purdue make one in the coming days? Danny Hope still wants more time to implement his master plan, but most Boiler fans want him out and attendance Saturday remained disappointing. Then again, Purdue beat the teams it was supposed to this season and nearly stunned Ohio State in Columbus.
Athletic director Morgan Burke, it's your move.
November, 1, 2012
11/01/12
10:15
AM ET
Ten (items) for (Week) 10 for (Big) Ten.
Ready? Let's go ...
1. Nebraska's offense vs. MSU's defense:
Something's gotta give in East Lansing, as the Big Ten's top offense (Nebraska) faces off against one of the nation's best defensive units (Michigan State). The Spartans throttled Wisconsin last week, finally complementing their standard stinginess with impact plays needed to win a big one on the road. Michigan State needs
William Gholston
and its other defensive linemen to pressure QB
Taylor Martinez
, while
Max Bullough
and his fellow linebackers must slow down running back
Ameer Abdullah
. Martinez came up big in Nebraska's last road game, and must limit mistakes and pick his spots against a defense allowing just 15 points per game. Nebraska's offense
has survived and thrived without its best player
-- running back
Rex Burkhead
-- but it hasn't faced a defense like this.
2. Michigan's end zone drought:
The Wolverines have gone 126 minutes, 1 second without scoring a touchdown, failing to reach the end zone in each of their past two games. Michigan hasn't had three touchdown-less games in a season since 1962, when it went 2-7. Brady Hoke's crew has much bigger goals this season and still has a chance to win the Legends Division and play for a Big Ten championship. But it needs to start finishing drives beginning Saturday at Minnesota. Quarterback
Denard Robinson
is expected to play despite leaving last week's loss to Nebraska with a nerve issue in his throwing elbow. If Robinson doesn't stay on the field, Michigan might have a tough time ending its drought against an improved Gophers' defense.
[+] Enlarge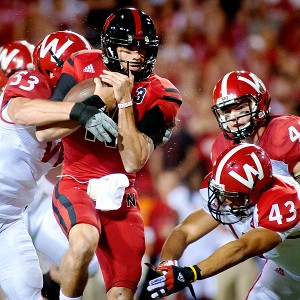 Eric Francis/Getty ImagesTaylor Martinez and the Nebraska offense will face a stiff test in East Lansing.
3. Indiana's opportunity:
Hoosiers coach Kevin Wilson and his players
aren't worried about the big picture
, and rightfully so after recording their first Big Ten win since 2010 last Saturday. But in this wacky/unique/bad Big Ten season, Indiana finds itself right in the mix to represent the Leaders Division at the league title game. Indiana hasn't won back-to-back conference games since 2007 and hasn't won a league contest at home since 2009. It can accomplish both Saturday against a slumping Iowa team. If so, Indiana will set up a potential play-in game against Wisconsin next week in Bloomington. "Deep down, we know we have a shot," cornerback
Greg Heban
told ESPN.com.
4. Perfect 10:
Ohio State is the first FBS team to reach nine wins, and the Buckeyes aim for a perfect 10-0 record Saturday against Illinois. Although it would take a very sloppy performance to let slumping Illinois hang around, Ohio State can't be complacent following a big win against Penn State and with an open week upcoming. Ohio State hasn't started 10-0 since 2007, and it can clinch the Leaders Division championship with a win and a Penn State loss at Purdue. Like Purdue, Illinois has given Ohio State more trouble than you'd think. The Illini have won seven of their past 11 games at Ohio Stadium, including a 2007 win against ... wait for it ... a 10-0 Buckeyes team.
5. Marve's moment:
Purdue's season hasn't gone according to plan, and, unfortunately, neither has
Robert Marve
's career in West Lafayette. Marve has suffered three ACL tears since transferring to Purdue, including one he continues to play on for the rest of his final season. Boilers fans have clamored for Marve for most of the season, and they'll finally get their wish as Marve will start at quarterback Saturday against Penn State. Marve, who played well last week at Minnesota, will make his second start of the season. Purdue has dropped its first four Big Ten games and coach Danny Hope is under fire. If the Boilers have any hope of rescuing their season, they need to beat Penn State and get a big boost from Marve under center.
6. One win away:
Three Big Ten teams are bowl eligible (Northwestern, Nebraska and Wisconsin), and three more can get there Saturday. One certainly will as Michigan and Minnesota, both with five victories, meet for the Little Brown Jug at TCF Bank Stadium. Minnesota aims for its first bowl appearance since the 2009 season and its first win against Michigan since 2005. Michigan State, meanwhile, can record its sixth win by beating Nebraska, ensuring a bowl game for the sixth consecutive season. The Spartans also are looking for their first Big Ten home win of the season. After recording perfect seasons at home in each of the past two years, Michigan State already has lost three times at Spartan Stadium this fall.
7. Bullock's turn:
Damon Bullock
opened the season as Iowa's top running back, had a big performance in the opener against Northern Illinois and then, like so many other Hawkeye ball carriers, fell victim to AIRBHG. He's back in the mix after recovering from a concussion, and Iowa needs him as
Mark Weisman
(ankle) is out for the Indiana game. Bullock showed good power and speed last week at Northwestern, rushing for 107 yards on 22 carries. Iowa needs to keep Indiana's high-powered offense off of the field Saturday, and it'll look for a big game from Bullock against the nation's 109th-rated rush defense (222.5 ypg allowed).
8. Full Nelson:
Freshman quarterback
Philip Nelson
stole the show last week in his debut before the home crowd at Minnesota, completing 13 of his first 14 pass attempts and finishing with 246 yards, three touchdowns and no interceptions. Nelson has Gopher Nation excited, but we'll learn a lot more about him this week as he faces Michigan, which ranks ninth nationally in yards allowed and 14th nationally in points allowed. If Nelson slays Michigan's defense as a true freshman, the buzz around him and the Gophers will only increase. Brady Hoke, meanwhile, called out Michigan defense Tuesday for a lack of pressure. Michigan has only 10 sacks in eight games, which ties for 104th nationally.
9. Crowd in East Lansing:
Several times this week, Michigan State coach Mark Dantonio expressed some concern about the crowd for Saturday's game, namely that Spartans fans wouldn't show up in their typical droves. With Nebraska coming to town, that's a problem because nobody travels like the Sea of Red. Remember what happened
three weeks ago at Northwestern's Ryan Field
. The Nebraska contingent was so big and so loud that Northwestern, the home team, had to operate on a silent count on offense toward the end of the game. Plenty of
tickets are available at low prices
, which comes as a bit of a surprise as Michigan State, while falling short of expectations this season, especially at home, comes off of a big win at Wisconsin. "Hopefully ... this week, we don't sell our tickets to the highest bidder," Dantonio said. "I know they'll come in in droves."
10. Lions on the rebound again:
Penn State responded extremely well from its first setbacks of the season, erasing an 0-2 start with five straight wins. Thoughts of a 10-2 season surfaced around State College, but Ohio State provided a reality check of sorts in last week's game at Beaver Stadium. Bill O'Brien's team once again must show its resiliency on the road, where it is 2-0 in Big Ten play this season. Offensive lineman
John Urschel
said Wednesday that the team might have been too hyped up for the Ohio State game, while O'Brien disagreed. Purdue's Ross-Ade Stadium should have a more subdued atmosphere, but Penn State can't afford to sleepwalk against a Boilers team playing to save its season.
November, 1, 2012
11/01/12
9:00
AM ET
Coaches always talk about making it a November to remember. After a
mostly forgettable week of predictions to end October
, that's probably a good thing for our predictions.
The race is tightening a bit, as Brian Bennett gained on Adam Rittenberg, who still leads in the season standings by three games. Five games are on tap in Week 10, including several that will shape the races in both the Legends and Leaders divisions.
Let's get to it ...
MICHIGAN at MINNESOTA
Brian Bennett:
The Jug game should be closer than it has been in recent years, as Minnesota is better and will be at home. But Michigan still has a big edge, as long as
Denard Robinson
is healthy enough to play. All indications are that he'll be fine, and that means trouble for the Gophers' defense. Robinson goes for the Jug-ular with 200 rushing yards, and the Wolverines pump the breaks on the
Philip Nelson
hype with a strong defensive performance.
... Michigan 31, Minnesota 17
Adam Rittenberg:
You truly are the pun-isher, Bennett. This is a dangerous game for Michigan as it visits a Minnesota team playing with renewed confidence under Nelson. The Gophers jump ahead early behind a Nelson touchdown run, but Michigan eventually finds its bearings and attacks a defense that has been vulnerable to the ground game. Robinson racks up 110 yards and two scores, and
Fitz Toussaint
adds a key second-half rushing touchdown. Nelson starts strong, but commits a second-half turnover as Michigan escapes with the Jug.
... Michigan 24, Minnesota 16
IOWA at INDIANA
Adam Rittenberg:
This one certainly could go either way, but Indiana has the momentum after finally getting over the hump in a Big Ten game. Can the Hoosiers win back-to-back league contests for the first time since 2007? I say yes. Indiana gets a good mix of offense from QB
Nate Sudfeld
and running back
Stephen Houston
, who runs for a touchdown and hauls in another. Iowa running back
Damon Bullock
goes for 125 rush yards and two scores, but the Hawkeyes' offense can't translate yards into points. Hoosiers cornerback
Greg Heban
intercepts
James Vandenberg
to seal the win for IU.
... Indiana 31, Iowa 27
Brian Bennett:
A lot of people will be picking Indiana this week as the Hoosiers seem to have all the momentum. Ah, but Kirk Ferentz's teams are most dangerous when counted out. This is still a major step up from Illinois for IU, which has trouble handling its (mild) success. Bullock runs for 150 yards and a pair of scores and
Micah Hyde
grabs a key interception to dash the Hoosiers' Leaders daydreams.
... Iowa 28, Indiana 25
No. 20 NEBRASKA at MICHIGAN STATE
Brian Bennett:
The Spartans are at home, have that lock-down defense and should play with more confidence on offense after last week's win at Wisconsin. But ... I just remember how easily Nebraska shut down a much better Michigan State attack last year in Lincoln and how well the Blackshirts normally match up with pro-style passing teams. And even though
Taylor Martinez
and the Huskers won't score as much as they usually do, they will put up too many points for the Spartans. Martinez overcomes a couple of turnovers and leads a patented Nebraska comeback win.
... Nebraska 23, Michigan State 16
Adam Rittenberg:
Maybe Michigan State finally has turned the corner, but I also like this matchup for Nebraska. Pelini's defenses feast on pro-style offenses, and Michigan State hasn't had a good one this season. The Spartans score an early touchdown off of a Nebraska turnover, but the Huskers eventually settle down. QB Taylor Martinez connects with receiver
Kenny Bell
for a score and several long passes, and while the Huskers struggle to get in the end zone,
Brett Maher
goes 4-for-4 on field-goal attempts. Spartans running back
Le'Veon Bell
records another 100-yard rushing performance, but he needs at least 30 carries to get there.
... Nebraska 19, Michigan State 17
ILLINOIS at OHIO STATE
Adam Rittenberg:
Unless the Buckeyes decide to start their open week early, they'll cruise against the overmatched, mistake-prone Illini.
Braxton Miller
and
Carlos Hyde
combine for 300 rush yards and five touchdowns as Ohio State builds a big lead by the third quarter and puts it on cruise control. Backup QB
Kenny Guiton
gets extended playing time and fires a touchdown pass. Illinois doesn't quit and scores some touchdowns in garbage time. I've got the Buckeyes by 22, the number of pounds Tim Beckman says he has lost this season.
... Ohio State 45, Illinois 23
Brian Bennett:
Beckman and Urban Meyer are good friends. I point this out only to say that Meyer might be more hesitant than usual to run up the score. Because that's all that's really standing between a huge Ohio State blowout here. Illinois just isn't doing much right in any phase of the game and is running into a buzz saw. Miller and Carlos Hyde each run for 100 yards and Miller throws for a pair of scores before the Buckeyes starters rest for much of the fourth quarter.
... Ohio State 38, Illinois 7
PENN STATE at PURDUE
Brian Bennett:
Could I see Penn State having a letdown after the Ohio State loss while going on the road? I suppose. But this Nittany Lions team knows that its opportunities are dwindling, and Ross-Ade Stadium could be a ghost town as Danny Hope's support is dwindling by the day. Purdue, as per usual, scores quickly but then stalls against Penn State's defense, which picks off
Robert Marve
twice.
Bill Belton
has his best day as a Lion by scoring three touchdowns as the Boilers' misery continues.
... Penn State 31, Purdue 14
Adam Rittenberg:
Purdue has burned me too many times this season, and while I could see the desperate Boilers making one last stand, Penn State is superior on both sides of the ball. The
Matt McGloin
-
Allen Robinson
connection cranks up for two touchdown strikes, and Penn State linebacker
Gerald Hodges
records a defensive score on a fumble return. Marve plays well early but struggles in the fourth quarter, as Penn State responds once again.
... Penn State 28, Purdue 21
Wisconsin and Northwestern are both off.
Season records
Adam Rittenberg:
56-18 (.757)
Brian Bennett:
53-21 (.716)
October, 31, 2012
10/31/12
9:00
AM ET
At 3:07 p.m. ET last Saturday, Indiana beat Illinois to record its first Big Ten victory in 701 days.
It qualified as a fairly big deal.
But it became an even bigger deal three and a half hours later, when Wisconsin fell to Michigan State in overtime. All of a sudden, Indiana found itself in the thick of the race to represent the Leaders Division at the Big Ten title game. Ohio State and Penn State are both ineligible, and both Purdue and Illinois are out of the picture. If the Hoosiers win this week against Iowa, they would set up a potential play-in game Nov. 10 against Wisconsin in Bloomington.
Talk about jumping from Point A to Point I -- as in, Indianapolis.
While no Big Ten campus is located closer to Lucas Oil Stadium than Indiana's (49 miles), no Big Ten program must travel further on the road to respectability than IU, which has won one or zero Big Ten games in eight of the past 10 seasons. This is a team that failed to beat an FBS opponent in 2011.
So you can forgive Indiana coach Kevin Wilson and his players for not getting too wrapped up in the title game talk.
"We finally did have a scoreboard go our way Saturday," Wilson said. "We still have a lot of things we can clean up, and we addressed that with those guys first thing Monday. We have a long way to go in building our team, and we've had very short success, very small success, so I don't think we're strong enough to look at the big picture.
[+] Enlarge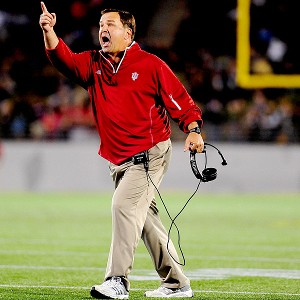 Evan Habeeb/US PRESSWIREIndiana coach Kevin Wilson and the Hoosiers got their first Big Ten win last week, and still have a chance to win the Leaders Division.
"We're just trying to keep it very small and very simple."
If you're looking for progress, you can find it with IU. Despite a 3-5 record, the Hoosiers have held a second-half lead in six of their eight games. They've been within one score in their other two contests (Ohio State and Northwestern). Look at where IU stacks up statistically in the national rankings in
2012
vs.
2011
, and you'll see sizable gains across the board.
Not convinced? Check out what co-defensive coordinator Mike Ekeler had to say following the Illinois win, a game in which Indiana allowed 17 points and racked up 12 tackles for loss and seven sacks.
"That was our worst game we played all year on defense," Ekeler told ESPN.com. "I felt like we were a step slow. We weren't getting off blocks. I'm not taking anything away from Illinois, but I feel like we were just running in mud. We left a lot out there."
Keep in mind Indiana recorded season highs in both sacks and tackles for loss against the Illini. The Hoosiers had surrendered an average of 39.8 points in the five games heading into last Saturday's.
"I felt we weren't very physical," Ekeler continued. "We had way too many loafs. One's too many, but we didn't play even close to our ability, and that's frustrating. You've got to earn it every week, and I just feel like we didn't earn it last week."
Whether it's a motivational ploy or a reflection of his true belief, Ekeler's statements make it clear the standards are being raised for Indiana, and particularly for a defense that has been the Big Ten's single worst unit for more than a decade.
"After the game, I felt like we'd played really well," Hoosiers defensive back
Greg Heban
told ESPN.com. "But coming in and watching the film Monday, we kind of agreed with [Ekeler]. Small things like missed assignments that can hurt us, that maybe didn't hurt us during the game but could have.
"One thing it says about our program is we can go out there and not play to the best of our ability and still win. That's how far we've come."
Indiana's defense is, in many ways, the best barometer for program. The Hoosiers have put up points under offensive-minded coaches before, just like they are with Wilson. But the defense hasn't turned a corner.
There's hope this season as Ekeler sees improved depth and a changing culture. Indiana has two clear defensive leaders and standouts in Heban and senior defensive tackle
Adam Replogle
(52 tackles, 7 TFLs, 4 sacks, 2 forced fumbles). Each has been named the team's defensive player of the week four times this season. Indiana already has more sacks (18) than it had all of last season (20), and as many tackles for loss (60) as it had in 2011.
"All our kids have played their tails off," Ekeler said. "They're up here all the time, more so than any other place I've ever been. These kids are invested."
Heban also sees an uptick in enthusiasm throughout the team.
"Last year, we felt we didn't have anyone's respect, so we got down on ourselves," he said. "This year, we know we're capable. We feel confident in ourselves."
Wilson has made "Win Today" the program's motto. Although a unique Big Ten season and an especially unique situation in the Leaders Division leaves the door open for a breakthrough, Indiana still must show it can win consecutive Big Ten games -- something it hasn't done since the 2007 season, the last time the Hoosiers went bowling.
Indiana aims for its first conference home win since 2009 on Saturday against Iowa.
"If you're good, you can do it back-to-back weeks," Wilson said. "... To build our team, to play up to our capabilities, to build a winning program, we've got to keep pushing to get better. We're not near as good as we're capable of being. We're not near as good as you need to be to be a consistent winning program."
But they're getting a little bit closer.
February, 27, 2012
2/27/12
3:47
PM ET
The postseason position rankings are hitting the home stretch, and today we take a look at the Big Ten secondaries. It's a little tricky to evaluate secondary play from 2011. While seven Big Ten teams ranked in the top 18 nationally in pass defense, only two squads ranked in the top 29 in pass efficiency defense.
Nebraska cornerback
Alfonzo Dennard
was the lone Big Ten defensive back to appear on both the coaches' and media's first-team all-conference squad, so there was some disagreement.
[+] Enlarge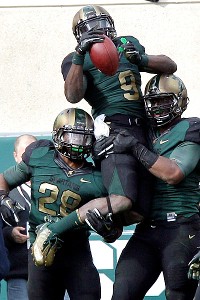 AP Photo/Carlos OsorioIsaiah Lewis' interception against Michigan helped the Spartans beat their in-state rival and propel Michigan State's secondary to elite status in the Big Ten.
The top seven units are solid, while the bottom three are among the worst in the FBS.
Michigan State once again tops a defensive chart, but the top four or five squads here were all strong in the secondary. Be sure and check out our
preseason secondary rankings
.
Let's get to the rundown:
1. Michigan State:
The Spartans had three of four starting defensive backs — safety
Trenton Robinson
, cornerback
Johnny Adams
and safety
Isaiah Lewis
— selected first-team or second-team All-Big Ten, illustrating the depth coach Mark Dantonio has built in recent years. Michigan State's secondary also continued to be a playmaking unit, recording a league-best 18 interceptions, returning four for touchdowns. The Spartans had five defensive backs record two or more interceptions. Adams will enter the 2012 season pegged as the league's top cornerback.
2. Penn State
: Like the other defensive units, Penn State's secondary shouldered a heavy burden because the team's offense struggled for so much of the season. The Lions had veteran leadership with
D'Anton Lynn
,
Nick Sukay
and
Drew Astorino
, and they led the Big Ten and ranked sixth nationally in pass efficiency defense (107.2 rating). Penn State finished third in the league in interceptions (14) and tied with Michigan for the fewest passing touchdowns allowed (12). Sukay earned second-team All-Big Ten honors.
3. Illinois
: Although Illinois' strength on defense could be found in the front seven, the secondary held its own as well. The Illini ranked third nationally in pass defense (162.3 ypg), and opposing teams completed just 54.9 percent of their passes against the Orange and Blue. Illinois finished 30th nationally in pass efficiency defense. Although the safety play looked spotty at times, Illinois boasted a strong cornerback tandem in
Terry Hawthorne
and
Tavon Wilson
.
4. Michigan:
Arguably no single position group in the Big Ten made more dramatic strides than Michigan's secondary, a lightning rod for criticism the previous three seasons. The Wolverines finished 16th nationally in pass defense and 36th in pass efficiency defense. Although they didn't record many interceptions, they tied for the league low in passing touchdowns allowed (12). Safety
Jordan Kovacs
emerged as an effective blitzer and playmaker and cornerback
J.T. Floyd
blossomed with two interceptions, eight pass breakups and a forced fumble. Corner
Blake Countess
is an exciting young talent.
5. Nebraska:
The Huskers had the Big Ten's best defensive back in Dennard, who shut down arguably the league's top two receivers (
Marvin McNutt
,
B.J. Cunningham
) in Nebraska victories. But the group's overall performance was a bit underwhelming, as opposing teams attacked the deep middle and caused some personnel shuffling. Opposing teams completed just 53.2 percent of their passes against Nebraska, the lowest number in the Big Ten. Hard-hitting safety
Daimion Stafford
emerged for a group that loses Dennard and veteran safety
Austin Cassidy
.
6. Wisconsin:
For the second straight season Wisconsin displayed good playmaking ability in the secondary, finishing second in the Big Ten with 16 interceptions. Safety
Aaron Henry
(coaches) and cornerback
Antonio Fenelus
(media) both received first-team All-Big Ten recognition. The Badgers also played most of the season without one of their starting cornerbacks,
Devin Smith
. But the unit also had some high-profile lapses at the end of games. Speed also became an issue in the Big Ten title game against Michigan State and in the Rose Bowl against Oregon.
7. Ohio State:
The numbers aren't bad -- Ohio State ranked 14th in pass defense and 53rd in pass efficiency defense -- but the Buckeyes seemed to be missing something in the secondary, and throughout their entire defense, for that matter. There were some bright spots, like freshman cornerback
Bradley Roby
, and some hard hits delivered by safety
C.J. Barnett
and others. But Ohio State finished just eighth in the league (53rd nationally) in pass efficiency defense, as opposing teams completed more than 60 percent of their pass attempts against the Scarlet and Gray.
8. Purdue:
We had high hopes for a group that returned all four starters, headlined by All-Big Ten candidate
Ricardo Allen
at cornerback. At times, Purdue's secondary looked solid, but the unit's overall performance fell in line with the team's average theme for 2011. Allen struggled to contain some elite wideouts but still finished the season with 81 tackles (62 solo), three interceptions, four pass breakups, a blocked kick and a forced fumble. He and
Josh Johnson
form an exciting cornerback tandem entering the 2012 campaign.
9. Iowa:
Much like Ohio State, Iowa didn't have a typical season on defense, and the secondary had its share of struggles. Iowa had average numbers (58th in pass yards allowed, 72nd in efficiency), and allowed opposing teams to complete 62 percent of their passes. The Hawkeyes saw a big drop-off in playmaking, as they recorded only 10 interceptions and allowed 21 touchdown passes. Safety
Micah Hyde
earned second-team All-Big Ten honors from the media, while cornerback
Shaun Prater
didn't have the huge senior season some expected.
10. Northwestern:
The Wildcats would finish last in some leagues, but they're the best of a bad bunch at the bottom of the rankings. Despite an All-Big Ten safety (
Brian Peters
) and a four-year starter at cornerback (
Jordan Mabin
), Northwestern suffered breakdowns in both scheme and execution. The Wildcats endured a particularly bad stretch to begin Big Ten play, as they couldn't stop Illinois receiver
A.J. Jenkins
, admittedly got confused against Iowa and let Penn State quarterback
Matthew McGloin
go off. The secondary has to be a huge priority for Pat Fitzgerald and his staff during the offseason.
11. Minnesota:
It's a close call for the last spot, but Minnesota avoids the basement, thanks in large part to safety
Kim Royston
, who made the most of his sixth season with a team-high 123 tackles. But Royston was the lone bright spot for Minnesota's secondary, which stung from the loss of cornerback Troy Stoudermire to a broken arm. The Gophers recorded the fewest interceptions in the Big Ten (4), and allowed opponents to complete 67.7 percent of their passes, the highest total in the league. Minnesota finished 107th nationally in pass efficiency defense.
12. Indiana:
The Hoosiers' historic struggles in the secondary continued in 2011, as they surrendered a league-high 26 passing touchdowns and finished 116th out of 120 FBS teams in pass efficiency defense. Opponents averaged 8.5 yards per completion against an Indiana team that played more freshmen than any squad in the FBS. There's some hope with players like safety-linebacker
Mark Murphy
and cornerback
Greg Heban
, and Indiana brings in two junior college defensive backs for 2012.
July, 13, 2011
7/13/11
1:30
PM ET
We wrap up our preseason look at Big Ten secondaries with a look at the safeties.
Safety isn't quite as stacked as cornerback, and the Big Ten loses some solid players like Iowa's Tyler Sash and Ohio State's Jermale Hines. There are fewer elite prospects at safety, but several teams have potential playmakers.
Here are the top 10 entering 2011:
[+] Enlarge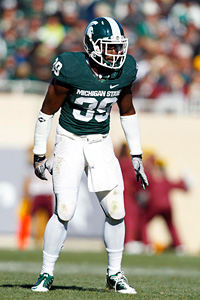 Rick Osentoski/US PresswireSafety Trenton Robinson is entering his third season as a starter for Michigan State.
1. Trenton Robinson, Michigan State, senior:
Robinson played a big role in Michigan State's improvement as a secondary in 2010. He led the Spartans with four interceptions and tied for the team lead in passes defended with eight. Robinson, who enters his third season as a starter, had 76 tackles last season and earned second-team All-Big Ten honors from the coaches.
2. Aaron Henry, Wisconsin, senior:
After emerging as a playmaker in 2010, Henry should be primed for even bigger things in his second season at safety. The former cornerback made the switch and recorded two interceptions, seven pass breakups, a forced fumble and three fumble recoveries last season. Like Robinson, he earned second-team All-Big Ten honors from the coaches.
3. Tyler Moeller, Ohio State, senior:
Moeller will provide a huge boost for a new-look Ohio State defense as he returns from a torn pectoral muscle that shortened his 2010 season. He can play either safety or linebacker and showed impressive playmaking skills early last fall, recording two forced fumbles, an interception and 4.5 tackles for loss in just five games. If Moeller stays healthy, he'll be in the mix for All-Big Ten honors.
4. Brian Peters, Northwestern, senior:
Peters boasts a lot of experience, appearing in every game the past three seasons. He also shows a knack for the football, recording three interceptions in each of the past two seasons. A second-team All-Big Ten selection in 2010 after recording 107 tackles, Peters must get a bit more consistent in coverage but looks ready to lead the defense.
5. Micah Hyde, Iowa, junior:
After starting all 13 games last season at cornerback, Hyde likely will move to safety as the Hawkeyes lose two multiyear starters in Sash and Brett Greenwood. Hyde showed last fall that he's a tremendous playmaker, recording four interceptions, including the pick-six that won the Insight Bowl against Missouri. He led the team with 11 passes defended, finished second with 82 tackles and had a forced fumble.
7. Nick Sukay, Penn State, senior:
Like Moeller, Sukay was doing big things in 2010 before a torn pectoral muscle ended his season. Sukay recorded three interceptions, a forced fumble and 29 tackles in just six games. He's a natural playmaker who finished third in the Big Ten in passes defended with 13 in 2009. His return makes a very good Lions secondary even better.
8. Trulon Henry, Illinois, senior:
An honorable mention All-Big Ten selection in 2010, Henry will help anchor an Illini secondary that could do some big things this fall. Henry led Illinois with three interceptions and two forced fumbles, a fumble recovery, three pass breakups and 64 tackles. He should be helped by the return of Supo Sanni from injury.
8. Logan Link, Purdue, senior:
Link quietly turned in a solid 2010 season, finishing eighth in the Big Ten in tackles with 91. He's a solid tackler who added an interception, a forced fumble and a fumble recovery. The former walk-on has emerged as a really nice contributor for the Boilers' defense.
9. Drew Astorino, Penn State, senior:
Astorino has been the iron man in Penn State's secondary, starting each of the past two seasons as well as three games as a redshirt freshman in 2008. He has played through injuries, including a shoulder problem that impacted him last fall, when he recorded 70 tackles, an interception and five pass breakups. If Astorino stays healthy, he could blossom in his final season.
10. Courtney Osborne, Nebraska, junior:
This is a bit of a projection pick, but Osborne should be able to help fill Nebraska's gaps at safety this fall. He appeared in every game last season, starting four, and recorded 41 tackles, an interception, a sack and five tackles for loss. Osborne did some nice things down the stretch and seems primed for bigger things in a bigger role.
Also considered:
Minnesota's Kim Royston, Michigan's Jordan Kovacs, Indiana's Greg Heban
July, 11, 2011
7/11/11
1:20
PM ET
The Big Ten preseason position rankings have reached the home stretch as we take a look at the secondaries. Although individual positions like center and defensive tackle could boast more star power, the Big Ten's overall strength in the secondary jumps out.
There's a lot to like about the Big Ten cornerbacks as nearly every team boasts experience and/or exciting young players. The Big Ten loses All-Conference safeties Tyler Sash and Jermale Hines but brings back quite a few solid contributors.
There's definite separation after the top four groups, while Nos. 6-9 are extremely close.
Here's the rundown (coming soon: cornerbacks and safeties rankings) ...
[+] Enlarge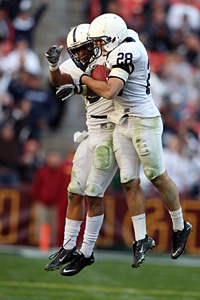 Maxwell Kruger/US PresswirePenn State has an experienced secondary that includes safety Drew Astorino, right, and cornerback D'Anton Lynn, shown celebrating an Astorino interception last season.
1. Penn State:
The Lions' linebackers seem to be generating more preseason buzz, but I really like what Penn State brings back in the defensive backfield. There's plenty of experience with safeties Drew Astorino and Nick Sukay, and cornerbacks D'Anton Lynn and Stephon Morris. Penn State needs Sukay to regain the form he showed in the first half of 2010 before a torn pectoral muscle ended his season. Lynn is a bona fide All-Big Ten candidate. If Malcolm Willis, Chaz Powell and others solidify depth here, Penn State should have an elite secondary.
2. Ohio State:
This is a group the Buckeyes rarely have to worry about, even after losing three starters. The good news is several key players return from injuries, including safeties Tyler Moeller, C.J. Barnett and Christian Bryant. Moeller should provide a major boost at the "star" position. The cornerback spots should be fun to watch as Travis Howard and Dominic Clarke fend off some challengers for the starting jobs.
3. Nebraska:
Like Ohio State, Nebraska can rely on having an elite pass defense under the Pelini brothers, even after losing several standout players. All-American corner Prince Amukamara will be missed, but Alfonzo Dennard is ready for a starring role. Nebraska needs Ciante Evans to follow what Dennard did in 2010. The Huskers likely will use more linebackers this season, but they'll need to fill holes at safety as Austin Cassidy, Courtney Osborne and others are in the mix.
4. Wisconsin:
The Badgers' secondary took a major step forward in Chris Ash's first season on the staff. The key is continued progress, continued playmaking and becoming a truly elite group like Ohio State and Nebraska. Wisconsin seems to have the pieces in place with veteran Aaron Henry at safety, as well as All-Big Ten selection Antonio Fenelus and Devin Smith at cornerback. The Badgers must fill the other safety spot, and speedster Shelton Johnson could fill in there.
5. Michigan State:
The secondary triggered Michigan State's 2010 turnaround, improving from 112th nationally in pass defense in 2009 to 60th last season. After recording 17 interceptions last season, the Spartans
must stick to their MAP motto
-- Make A Play -- as they aim for a repeat championship this fall. Safety Trenton Robinson is among the league's most experienced defensive backs, and hopes are high for cornerback Johnny Adams, who had an excellent spring. The unit could hinge on young players like Darqueze Dennard, Isaiah Lewis and Tony Lippett.
6. Iowa:
The bad news is Iowa loses veteran safeties Sash and Brett Greenwood from a defense that slipped to 84th nationally against the pass in 2010. The good news is All-Big Ten cornerback Shaun Prater returns along with playmaking junior Micah Hyde. Prater could be a shutdown corner this fall, and Hyde, whose pick-six won the Insight Bowl, could play either corner or safety. Iowa must build depth around them with Jordan Bernstine, Greg Castillo, Tanner Miller and others.
7. Purdue:
One of the Boilers' big question marks entering 2010 turned out to be a pleasant surprise, and the secondary could be a big strength this fall. Here's a group that could make a move up these rankings by November. Cornerback Ricardo Allen is a budding superstar who recorded two pick-sixes last season. Safety Logan Link is always around the football, and Josh Johnson could take a significant step as he complements Allen.
8. Illinois:
I'm tempted to rank Illinois a few notches higher, and if the Illini address several questions in the secondary, I'll gladly do so after the season. If safety Supo Sanni returns to form and both he and cornerback Terry Hawthorne stay healthy, this could be an excellent group. Tavon Wilson returns to his preferred position of cornerback and could have a big season, while Trulon Henry brings experience to the safety spot.
9. Northwestern:
Given the question marks in the front seven, Northwestern needs its veteran secondary to step up. Players like cornerback Jordan Mabin and safety Brian Peters should answer the bell this fall. Both multiyear starters can make plays on the football and change games. There's good competition between David Arnold and Ibraheim Campbell at the other safety spot, while Jeravin Matthews emerged this spring to win the starting corner job opposite Mabin.
10. Michigan:
I'll probably take some heat from Wolverines fans, who will point to the return of cornerbacks Troy Woolfolk and J.T. Floyd, the emergence of young players like Carvin Johnson and a defensive makeover under Brady Hoke and Greg Mattison. All of that could lead to better results, but Michigan still has fewer certainties in the secondary than do most teams on this list. This unit has been a disaster the past few years, and it'll take a lot of things to go right to get things back on track.
11. Minnesota:
Linebacker looks like a strength for the Gophers' defense, but there are questions both up front and in the secondary. The secondary will need more help from a line that generated no pass rush in 2010, but the defensive backs must help themselves, too. Cornerback Troy Stoudermire had a good spring and adds a big hitter to the group. Minnesota really needs big things from safety Kim Royston, who wants to lead the way after receiving a sixth year of eligibility. Building depth around Stoudermire and Royston will be vital in preseason camp.
12. Indiana:
Fixing this group is arguably the biggest challenge for new coach Kevin Wilson and co-defensive coordinators Mike Ekeler and Doug Mallory. Indiana simply hasn't had enough Big Ten-caliber defensive backs in recent years, and the results have been ugly. The Hoosiers surrendered a league-worst 27 touchdown passes in 2010 and finished 114th nationally in pass defense efficiency. Sophomore safety Greg Heban is a nice piece, but Indiana will need a boost from Lawrence Barnett, Lenyatta Kiles and others.