July, 22, 2014
Jul 22
9:40
AM ET
By
ESPN.com staff
| ESPN.com
The Big 12 media days continue on Tuesday in Dallas, as Oklahoma's Bob Stoops and new Texas coach Charlie Strong each take the stage. Keep this page open throughout the day's proceedings as we bring you the latest from our reporters, who will cover all 10 teams at the event.
January, 20, 2012
1/20/12
11:00
AM ET
Bret Bielema made a rapid rise up the college coaching ladder.
Big Ten position coach at 26 ... Big 12 co-defensive coordinator at 32 ... Big Ten defensive coordinator at 34 ... Big Ten head coach at 36.
[+] Enlarge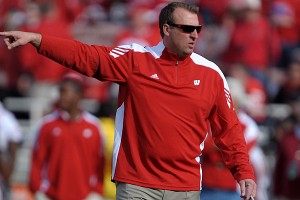 Kirby Lee/Image of Sport/US PresswireWisconsin coach Bret Bielema says he isn't upset after losing 11 assistants in the past three seasons.
Bielema's ambition helped put him on the fast track. And when he's hiring assistant coaches at Wisconsin, he wants to see the same qualities.
"When you talk to a coach, if he doesn't want to advance in this profession, we probably won't talk very long," Bielema told ESPN.com on Thursday. "I want guys that want to be coordinators, or guys that are coordinators who want to be head coaches. If they don't want to sit at the front of the room, we're probably dealing with the wrong type of coach. I want guys who want to advance."
Bielema has had plenty of assistants advance in recent years.
He lost two after the 2009 season, one of whom, Randall McCray, went from position coach to coordinator. He lost three after the 2010 season: defensive coordinator Dave Doeren became head coach at Northern Illinois, while running backs coach John Settle and nickel backs coach Greg Jackson both departed for posts in the NFL.
Wisconsin has lost six assistants in recent weeks, a number that has raised eyebrows in college football circles. The team is coming off of back-to-back Big Ten titles and back-to-back Rose Bowl appearances. Bielema's job is very secure. While one assistant (Paul Chryst) left for a head-coaching job and two others (Bob Bostad, Dave Huxtable) went from position coaches to coordinators, the exodus has left some wondering whether there's something wrong at Wisconsin.
Bielema views things differently.
"It's really not that unusual," he said. "It's unusual at a program that has as much success as we've had, where we're able to keep that continuity of winning in place. I take it as a compliment to what we've been able to do. All those coaches are moving on. Two of them didn't get coordinator jobs, but everybody else got coordinator jobs or titles that made it significantly better for them where they were going.
"To me, it's a tremendous challenge that I love, I embrace and I have a lot of fun with it."
Bielema has filled two vacancies with offensive coordinator Matt Canada and wide receivers coach Zach Azzanni. After an extensive interview process for the coordinator job, Bielema went with Canada, in large part because Canada has called plays in different systems (spread, pro style) and can adapt.
"I interviewed a lot of coaches of different levels: NFL, college, big college, small college," he said. "I'm not a résumé guy. I want a football coach. And as this thing gets moving forward, I kept coming back to him. I just think he's going to be a great fit for what we're going to blend together at Wisconsin. I'm going to hire four new offensive coaches that are going to come from different areas of the country and come together and play the style of football we like at Wisconsin."
Wisconsin's staff will be two-thirds new in 2012, but Bielema won't be surprised if he's doing more hiring a year from now.
"I have every year," he said. "Usually the NFL takes two, took two from me last year. It's just one of those things, the beauty of the beast here at Wisconsin."
April, 25, 2011
4/25/11
9:00
AM ET
MADISON, Wis. -- Wisconsin loves to describe its program as "not sexy," but the label is becoming less and less accurate.
After the Badgers made their first Rose Bowl appearance in 11 seasons, nine members of coach Bret Bielema's staff received inquiries from other teams. Defensive coordinator Dave Doeren landed the head-coaching job at Northern Illinois. Two assistants, John Settle and Greg Jackson, left for posts in the NFL. Offensive coordinator Paul Chryst turned down a lucrative coordinator offer from Texas to remain with his alma mater.
[+] Enlarge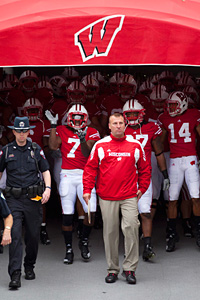 Jeff Hanisch/US PresswireCoach Bret Bielema leads a Wisconsin program that has churned out a lot of elite players in recent seasons.
The inquiries also are coming Wisconsin's way, as decorated recruits from "coast to coast" -- particularly running backs and offensive linemen, two position groups where the Badgers have flourished -- express interest in the program.
"They're getting recruited by heavy, heavy people in their area," Bielema said. "We haven't had that number of people respond from outside our area."
Wisconsin is pushing for a $76.8 million athletic performance center that would include new locker rooms and training facilities and an upgrade for the McClain Center, the team's indoor practice facility. Although Wisconsin has remained in the top half of the Big Ten on the field, it needs a boost with its facilities.
So, is Wisconsin bringing sexy back? Perhaps on the surface, but the program hasn't changed at its core.
"The only reason we're at the level we're at is because we maximize what we are," Bielema said. "Our staff, our players and our administration recognizes why we've had this success and not to deviate from that plan just because there might be better things out there.
"We're going to build this new facility, but bigger isn't always better. It's about the components and how functional it is and what it stands for."
The Wisconsin Way will be put to the test in 2011 as the Badgers lose more standout components than any other Big Ten squad. Gone are four All-Americans -- defensive end J.J. Watt, tight end
Lance Kendricks
and offensive linemen Gabe Carimi and John Moffitt -- the 2010 Johnny Unitas Golden Arm award winner in quarterback
Scott Tolzien
, the 2009 Big Ten Offensive Player of the Year in running back
John Clay
, and other key contributors.
Other than Ohio State, every Big Ten team has struggled to reload in recent years. Can the Badgers buck the trend in 2011?
"Here, we really have to develop our players where they're really good their last 2-3 years," co-defensive coordinator/defensive line coach Charlie Partridge said. "We feel like this is a developmental program, and we're proud of that."
No position group better demonstrates the philosophy than the defensive ends Partridge coaches.
In 2009, O'Brien Schofield went from anonymous to first-team All-Big Ten, finishing second nationally in tackles for loss (24.5) and tied for sixth in sacks. Watt began his career as a tight end at Central Michigan and finished it as one of the nation's best defenders. He's projected as a first-round pick in this week's NFL draft and could be the first Big Ten player selected.
There are other examples of Badger reloading. Wisconsin has produced at least one 1,000-yard rusher in each of the past six seasons. Carimi and his predecessor at left tackle, Joe Thomas, both won the Outland Trophy as seniors.
"People from the outside looking in, they've never heard of these names so they assume they're not any good," Bielema said. "We try to have people waiting in the wings. I remember when no one knew who Lance Kendricks was, or Gabe Carimi, or John Moffitt or Scott Tolzien or J.J. Watt. We were able to develop those guys, bring them through and the results were what you saw last year.
"It's our desire to have a championship every season, but sometimes you're not going to have the personnel to accomplish that. What you want to do is remain competitive, stay in the top level of our conference."
Bielema thinks Wisconsin has a chance to be just as good on defense.
Although Watt leaves a major void, the Badgers boast unprecedented depth at defensive tackle and more overall depth along the line. The secondary returns All-Big Ten cornerback Antonio Fenelus, playmaking safety Aaron Henry and others with experience. If linebacker Chris Borland stays healthy after missing most of 2010 with shoulder injuries, the midsection will be solid.
Leadership shouldn't be an issue as both Henry and defensive tackle Patrick Butrym are stepping forward.
"I'm sure a lot of people out there are counting us out," Henry said. "I could care less about flying under the radar. I just want guys to go out there every week and leave a statement, that we are Wisconsin football, we do play hard-nosed football and we're going to play every snap like its our last."
[+] Enlarge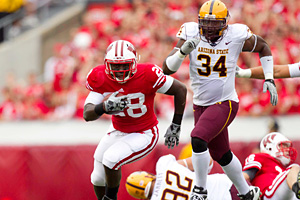 Jeff Hanisch/US PresswireRunning back Montee Ball, 28, returns to a talented Wisconsin backfield along with speedy James White.
The bigger questions come on offense, starting with the most important position on the field.
Jon Budmayr
understudied for Tolzien in 2010 and, barring a major surprise, will move into the starting role. Budmayr, who had his ups and downs this spring, must not only display efficiency but remain healthy as there's no proven depth behind him.
Wisconsin once again will lean on a run game expected to be among the nation's best as backs
Montee Ball
and
James White
, the 2010 Big Ten Freshman of the Year, both return. Although three starting linemen depart, the coaches are excited about who will fill the gaps.
"There's questions for any team, what they can and cannot do," Ball said. "That's why we keep grinding every day so we can show everybody what we're capable of doing."
At Wisconsin, there's no other way. The Badgers aren't a team that can simply show up and win, a fact reinforced last season.
"The thing we did best was we practiced so well during the week," Butrym said. "The one time we didn't practice well was [before the Michigan State game]. It was a Thursday and it was very sloppy and the end result of that was a loss."
Butrym admits the poor practice made him "a little paranoid" about sniffing out signs of complacency. So far, the attitude is good.
"We definitely have to earn it," Henry said. "Ohio State's still in the conference, we added Nebraska, Iowa's still in the conference. Guys know nothing's going to be handed to us."
March, 26, 2010
3/26/10
11:00
AM ET
Tulane has hired Tom Hayes as the Green Wave's secondary coach.

Hayes replaces Greg Jackson, who resigned his coaching position earlier this month to accept a similar role at Wisconsin.

"I've known and been friends with Tom for about 30 years and we've coached against each other at times and we served on the same staff at Texas A&M," Tulane coach Bob Toledo said. "He brings experience and knowledge to our staff. I think he'll do a great job of helping us to get better. "

Hayes bring 28 years of NFL and collegiate experience to the Green Wave and most recently he served as the defensive backs coach for the New Orleans Saints during the 2006 and 2007 seasons.

Hayes also coached at UCLA, Texas A&M and Oklahoma and helped those teams to a combined 13 bowl appearances. Hayes also had stints at Stanford and Kansas.
March, 9, 2010
3/09/10
11:00
AM ET
Tulane defensive assistant Greg Jackson has left the Green Wave to become an assistant coach at the University of Wisconsin.
Jackson, who had been with the Green Wave since 2007, coached linebackers, safeties and the kickoff game during his time at Tulane.
"Greg is a very talented and energetic coach who worked very hard for our programs during his three seasons at Tulane," head coach Bob Toledo said in a statement released by the school. "We wish him the best of luck at Wisconsin."
The pass defense was one of the lone bright spots for the Green Wave last season, ranking 57th in the country with 218 yards allowed per game. The group also had 14 interceptions last season.