June, 30, 2011
6/30/11
12:17
PM ET
While there is no on-the-record clarity on the situation, it's fair to say that Arizona's All-Pac-10 receiver
Juron Criner
's season is at-risk due to an "
undisclosed personal issue
," which a source told the Pac-12 blog was a "non-injury, medical issue."
[+] Enlarge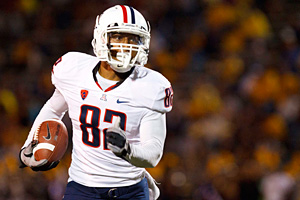 Rick Osentoski/US PresswireJuron Criner is the best player among a deep group of receivers at Arizona.
Arizona is not commenting because of student privacy guidelines. A source inside the football office texted the Pac-12 blog that his hope was Criner "will be ready for the season."
Criner, a second-team All-American, led the Wildcats with 82 receptions for 1,233 yards and 11 touchdowns last season. Arizona starts fall camp Aug. 3.
What does this mean for the Wildcats? Well, nothing yet. This is obviously a serious situation, but the endgame won't reveal itself until Criner's status is made official.
But it does force us to speculate what the Wildcats offense might be without Criner. The short answer is "probably OK."
While no team wants to lose an All-American, the Wildcats have one of the deepest and experienced crews of receivers in the conference and the nation. Sure, the 6-foot-4, 210-pound Criner was the headliner, a guy who could tax a defense in a variety of ways and who always seemed to be the go-to guy when the screws tightened.
But, as we noted with our review of
Pac-12 receiving corps
, the Wildcats should be better than OK, even without Criner. To quote ourselves:
"
David Douglas
,
David Roberts
,
Terrence Miller
and
Richard Morrison
-- each caught between 19 and 52 passes a season ago. Oh, and there's also Texas transfer
Dan Buckner
,
Austin Hill
,
Garic Wharton
and
Tyler Slavin
. There's size, speed, depth and experience."
What this does mean is that Buckner needs to live up to the high expectations we've been hearing for months, and at least one of the speedy youngsters needs to step up as a deep threat.
Still, the Wildcats and quarterback
Nick Foles
will be able to line up in a four- and even five-receiver set without resorting to a scrub as the last option.
Criner made the Wildcats receivers looking like a great unit. But even -- potentially -- without him, they should be very good.
More on the Criner situation
here
. And
here
.
Of course, Wildcats fans already might be thinking about "what-might-have-been" before the 2011 season begins. Criner is potentially the third projected starter lost since the end of last season. Safety Adam Hall and linebacker Jake Fischer suffered knee injuries this spring, as did backup running back
Greg Nwoko
and backup defensive tackle Willie Mobley.
June, 23, 2011
6/23/11
1:53
PM ET
The Pac-12 features another strong crop of running backs -- five returning 1,000-yard rushers -- but there are also a few teams facing uncertainty at the position.
So how does it stack up?
Great shape
[+] Enlarge

Jonathan Ferrey/Getty ImagesLaMichael James leads a talented running back corps that has both experience and depth.
Good shape
We'll see
Previous reviews
Quarterback
April, 20, 2011
4/20/11
2:40
PM ET

Arizona has lost a third contributor -- and second defensive starter --
to a knee injury
.
Jake Fischer
, who started at strongside linebacker last season, tore his ACL late in the spring game Saturday and will have surgery next week. He likely will be out six to eight months.
The Wildcats previously lost safety Adam Hall and backup tailback
Greg Nwoko
to knee injuries this spring.
Arizona is deeper in the secondary than at linebacker, where Fischer was one of three returning starters. Two backups from 2010, R.J. Young and Trevor Erno, quit the team. Redshirt freshman Kyle Benson is listed as Fischer's backup on the latest depth chart, while walk-on Bilal Muhammed is listed as the backup at the other two spots.
Defensive coordinator Tim Kish said last week before Fischer's injury that he expected incoming freshmen
Rob Hankins
,
Hank Hobson
and Domonique Petties to immediately compete for playing time. Now they figure to immediately compete to start.
December, 27, 2010
12/27/10
7:21
PM ET
Arizona kicks off the Pac-10 bowl season on Wednesday with a big test against Oklahoma State in the Valero Alamo Bowl.

The Wildcats are underdogs against a Cowboys team that was hoping for a BCS bowl berth until it lost its season finale against rival Oklahoma 47-41. The Cowboys own one of the most potent offenses in the nation. They have really only been slowed down once this year: during a visit to Kansas State when the Cowboys played was without the services of
Justin Blackmon
, who is only the nation's best receiver.
But let's ask this question: Who might dramatically change this game if he -- or they -- stepped up with a marquee performance?
Running backs Keola Antolin, Nic Grigsby and Greg Nwoko
: This is fairly simple. What if Arizona can consistently run the ball against the Cowboys? Well, that would be a game-changer for a variety of reasons, not the least of which is that it would shorten the game and help play keep-away from the potent Oklahoma State offense. Further, if the Cowboys are forced to commit more bodies to stopping the run, it also would open things up downfield for quarterback
Nick Foles
. The reason three guys are listed here is all three will get carries, and each brings something different to the attack. Antolin is the starter and the most consistent. Nwoko brings a power element. Grigsby is a home run threat who's struggled with injuries. Of course, these guys need the Wildcats to win battles on the line of scrimmage, but it's up to the backs to turn those creases into big plays. If this troika manages to combine for around 180 or 200 yards -- significantly more than the season average of of 135 -- then expect Arizona to be in pretty darn good shape.
July, 22, 2010
7/22/10
7:42
PM ET
Another year, another strong collection of running backs, even with the departures of Toby Gerhart and Jahvid Best.
While Pac-10 quarterbacks will grab most of the preseason headlines -- that's what happens when the two best NFL prospects at the position play in the same conference -- the class of running backs is nearly as strong.
Three 1,00o-yard rushers are back, and that doesn't include California's
Shane Vereen
, who piled up 952 yards as a backup, nor does it including Arizona's
Nic Grigsby
, who rushed for 1,153 yards in 2008. Six of the top-nine running backs will return this fall, and more than a few teams are decidedly deep at the position.
By the way, you might note there is more mention of incoming freshman at this position than others. Two reasons: 1. The Pac-1o had a strong haul of RBs in recruiting; and, 2. RB is often the easiest place for a young player to break into the lineup.
Great shape
[+] Enlarge

Rick Scuteri/US PresswireJacquizz Rodgers may be the most talented individual running back in the Pac-10 this year, but Oregon has the best group.
Good shape
We'll see
Stanford: The Cardinal doesn't have one guy who can replace Gerhart. But who does? The good news for a backfield-by-committee approach with Jeremy Stewart, Tyler Gaffney, Stepfan Taylor and freshman Usua Amanam in the mix is the offensive line in front of them should be outstanding.

Arizona State: The Sun Devils must replace leading rusher Dimitri Nance, who didn't exactly scare opposing defenses in 2009. Cameron Marshall is the leading returning rusher with 280 yards. James Morrison and Jamal Miles will provide depth, though an incoming freshman might get into the mix. As has been the case for a while with the Sun Devils, the first order is improving the offensive line.

Washington State: Leading 2009 rusher Dwight Tardy is gone. If James Montgomery is healthy -- and stays that way -- he gives the Cougars a quality runner. He was clearly the best guy last preseason before he got hurt. Logwone Mitz, Chantz Staden, Carl Winston and Marcus Richmond will compete for touches during fall camp. Whatever the pecking order, the offensive line is the biggest issue.
November, 4, 2009
11/04/09
4:29
PM ET
Posted by ESPN.com's Ted Miller
Little game of Pac-10 Jeopardy: This nationally ranked team controls its own conference destiny and it never rains in its home stadium.
Oregon!
| | |
| --- | --- |
| | |
| | Chris Morrison/US PRESSWIRE |
| | Even with a tough upcoming schedule, coach Mike Stoops believes Arizona's best football is ahead. |
No, though we enjoy that jocular pregame announcement at Autzen Stadium as much as anybody. And, please, remember to phrase your answer in the form of a question.
Who is Arizona?
Right!
No, really. Who is Arizona?
The Wildcats, ranked 18th in the
BCS standings
, are 5-2 overall and, at 3-1 in conference play, are alone in second place in the standings. If not for an odd and controversial deflection at Washington, the Wildcats would be sniffing the top 10.
Yet few folks seem to know much about them.
They rank No. 1 in the Pac-10 and 14th in the nation in total offense (455 yards per game) and third in the conference in total defense (315 ypg). They are balanced on offense -- 12 rushing touchdowns, 12 passing touchdowns -- and they do a good job of stopping the run, ranking 17th in the nation (101.3 ypg).
Yet the buzz around the program -- outside of Tucson, at least -- is only a light hum.
"That's all the time. We're always laying low," said Wildcats senior safety Cam Nelson, who knows personally about being underrated.
"We don't get much credit, which doesn't bother us. We don't need anybody to know us. We like being a no-name team that's going to sneak up and make a big run."
Nelson sounds more resigned than perturbed. As for that big run, don't disregard the notion. The schedule ahead is brutal (perhaps the toughest in the nation) but nothing worth achieving is ever easy to obtain.
Arizona should know. It has been waiting a long time for a Rose Bowl berth. Like, er, forever.
We must pause now and acknowledge what Wildcats coach Mike Stoops has been relentlessly telling his team for the past two weeks (Arizona had a bye last week): Do not overlook Washington State, which comes to town on Saturday.
"Our guys are smart enough to understand ... anybody can beat anybody if you give them the opportunity," Stoops said.
But, outside of the locker room, we are free to consider this slate of four games: at California, Oregon, at Arizona State and at USC.
Is it far-fetched to imagine the Wildcats running that gauntlet unscathed? Absolutely. But not impossible.
Arizona whipped Cal 42-27 last year. It's won two of three from Oregon. It beat the rival Sun Devils 31-10 last year. USC only beat the Wildcats 17-10 in 2008, and these Trojans don't appear as salty as those.
Moreover, the Wildcats have reached this point -- on the cusp of consecutive bowl berths for the first time since 1997-98 -- despite major injury issues.
They lost their best player, tight end
Rob Gronkowski
, before the season began with a back injury. They've played their last four games without their best pass-rusher, end Brooks Reed. Two of their top three running backs, starter
Nic Grigsby
and No. 3
Greg Nwoko
, likely will miss the Washington State game with shoulder injuries, while No. 2
Keola Antolin
is still nursing a sprained ankle. The offensive line has been down one or two starters much of the season.
Said Stoops, "I think our best football is still in front of us. It's going to need to be."
The good news is that Reed appears set to play Saturday, and Nelson believes the return of one of the best ends in the Pac-10 will have a big impact for a unit that has struggled to consistently pressure opposing quarterbacks.
"It will help a whole lot," Nelson said. "Brooks' intensity on the field, the way he plays and carries himself, you'll see a big change in the defense. D'Aundre Reed has stepped in and done a good job, but there's no substitution for Brooks on the field. He plays reckless, hard. He's fast every play, trying to cause a turnover. Once we get him back, things will be a whole lot different. There will be more pressure, which will make it easier on the back end for us."
Speaking of back ends: Nelson has no problem talking about the rigorous back end of the schedule and what it's going to take to win-out. That doesn't, however, mean he's overlooking Washington State.
"Regardless of their record, they are still a Pac-10 team," he said. "Every week is a challenge."
But if Arizona is up to that challenge from now until Dec. 5 at USC, it may accomplish something it's never done before.
What is earn a Rose Bowl berth?
August, 21, 2009
8/21/09
4:37
PM ET
Posted by ESPN.com's Ted Miller
TUCSON, Ariz. -- If the economy is turning the corner, it might be time to start looking for bargains in the stock market. Arizona coach Mike Stoops has a suggestion.
Nic Grigsby, Inc.
"I think he's the most undervalued running back in the nation," Stoops said.
The Pac-10's running back business is flourishing. Five returning backs eclipsed the 1,000-yard benchmark last year.
| | |
| --- | --- |
| | |
| | Christian Petersen/Getty Images |
| | Arizona running back Nic Grigsby is focusing on keeping hold of the ball. |
Of course, you've heard of California's
Jahvid Best
(He's electric!). And Oregon State's
Jacquizz Rodgers
(Pac-10 Offensive Player of the Year as a true freshman). And Stanford's
Toby Gerhart
(Power & Speed!). And Oregon's
LeGarrette Blount
(Power & Speed II!).
Wait. Who's the fifth guy?
That would be Grigsby, whose 5.4 yards per carry was better than Rodgers and equal to Gerhart. His 1,153 yards rushing was more than Blount and Gerhart.
Yet his name mostly draws a blank outside of Tucson.
"We're all underrated at Arizona," Grigsby said.
Ah, but Stoops and Grigsby also know -- and note without bidding -- that there is one important knock on Grigsby.
Grigsby calls it his "fumbling situation." He lost the ball five times last year.
"I know if didn't put the ball on the ground as many times as I did, I would have had 400 more yards and six more touchdowns and I would have been right up there," he said.
He's right.
But fumbling is bad. It's worse than gaining a bunch more yards.
A Grigsby fumble gave UCLA its only touchdown against the Wildcats. A Grigsby fumble got him benched against California (a sideline sulk didn't help either). A Grigsby fumble killed a drive deep into BYU territory in the Las Vegas Bowl.
But here's where the story might change: Grigsby, by all accounts, has worked extremely hard to beat his fumble-itis. And he hasn't put the ball on the ground once this preseason, Stoops said.
"To me, it isn't even in my vocabulary," Grigsby said. "The only thing in my vocabulary now is being humble, being a play-maker, being a good team player and winning."
Stoops lauds Grigsby's competitiveness and intensity and said that rubs off on his teammates. As for as being humble and being a good team player, Grigsby insists he's comfortable sharing the football with the Wildcats other two backs, Keola Antolin and Greg Nwoko, who are both very capable.
"It ate me up at first seeing other guys come in and perform. I was like, 'I could be doing that,'" Grigsby said. "But I'm not worried about that. Coach knows he can count on all of us."
As for as being undervalued, that seems to be the theme throughout Arizona preseason camp. The Wildcats, picked to finish eighth in the Pac-10 preseason media poll, know not much is expected from them.
"We're not worried about anything but proving people wrong," Grigsby said.
April, 8, 2009
4/08/09
6:55
AM ET
Posted by ESPN.com's Ted Miller
Arizona finishes spring practices Wednesday, and coach Mike Stoops doesn't see many holes heading into the summer.
Sure, the Wildcats are replacing some good players, such as quarterback Willie Tuitama, receiver Mike Thomas, linebacker Ronnie Palmer and left tackle Eben Britton. But Stoops seems confident he's got guys who can step up and get to another bowl game.
Or maybe more than just any bowl game.
| | |
| --- | --- |
| | |
| | Tom Hauck/Getty Images |
| | Arizona coach Mike Stoops says he feels good about his overall depth heading into the 2009 season. |
The Wildcats started early and now will be the first to finish spring practices. It seemed like a good time to check in with Stoops and see how things looked in Tucson.
First question has to be about the quarterbacks: How do Matt Scott and Nick Foles stack up with one practice left this spring?
Mike Stoops: They both have done some really good things. I think we can win at this level with both players. We don't feel like we're in any need to name a starter at this point. I can probably see both guys playing. Whether we did that in a constant way, I don't think that would be it. But I could see, early on, us playing both to see how they perform in games. It's not something we would like to do, but they are a little bit different styles of quarterback. Matt gives you that ability to run and create plays with his feet. Nick is a more prototypical, drop-back quarterback. They're different but I think both of them could give us a chance to win. We're very pleased with their growth. They still have a lot of work to do. We probably won't name a starter until seven to 10 days before our first game against Central Michigan. And it's possible both could play in that game.
Biggest position change before practices began was Robert Golden from cornerback to strong safety: How did that play out?
MS: That's been probably one of the best moves we've made. We now can get our best four or five DBs on the field at the same time. And it's really been an easy transition for him. He seems very comfortable. He's been easy to coach. We've been very pleased with that move. It puts Trevin Wade, who led our team in interceptions last year -- and he only played 100 and something snaps -- on the field. Robert had corner ability, corner speed, but he gives us great versatility to cover the field now, which you have to do vs. these spread offenses.
Any other guys change positions during the spring?
MS: Nope. That was the biggest move for us.
Tell us about some guys who really improved their stock this spring, guys when went from backups to potential starters.
MS: We feel like our offensive guards played really well, Conan Amituanai and Mike Diaz. Diaz -- you asked about a personnel change -- Diaz could move from left guard to left tackle. He has the range to play tackle. And that gives Conan, who has really stood out with his development and his attitude and confidence, a chance. He's a 320-pound guy who can really play physically. [Guard] Vaughn Dotsy is another guy I'm pleased with, played last year as a true freshman. Our line has a chance to be very athletic and physical. Other guys: Greg Nwoko, our third running back, has had a great spring -- he's a freshman from outside of Austin, Texas. I feel good about our overall depth, but our biggest concern might be depth at linebacker.
TOP 25 SCOREBOARD
Saturday, 12/21
Monday, 12/23
Tuesday, 12/24
Thursday, 12/26
Friday, 12/27
Saturday, 12/28
Monday, 12/30
Tuesday, 12/31
Wednesday, 1/1
Thursday, 1/2
Friday, 1/3
Saturday, 1/4
Sunday, 1/5
Monday, 1/6