NCF Nation:

Greg Studrawa
August, 18, 2013
8/18/13
9:30
AM ET
Zach Mettenberger
has picked up a lot of different playbooks during his college career. He doesn't collect them out of habit, he's just dealt with his fair share of different offensive coordinators since his one season at Georgia in 2010.
He was handed another this spring when Cam Cameron replaced Greg Studrawa as LSU's offensive coordinator. It sounds like it could be a little bit of an annoyance to have to learn and change so much while trying to master the sport's most important and scrutinized position, but Mettenberger has appreciated the chaos.
"If you look at the NFL, it's like a carousel of offensive coordinators that come through (for teams). If I am fortunate enough to play in the NFL, this is a chance to get me prepared for that," said Mettenberger, who passed for 2,609 yards with 12 touchdowns and seven interceptions last year. "There's been a lot of studying and getting used to new playbooks and whatnot, but I've definitely embraced that challenge and enjoy it."
[+] Enlarge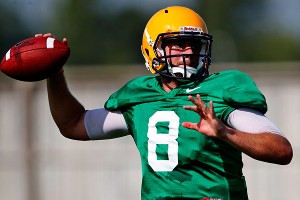 Derick E. Hingle/USA TODAY Sports"I'm just more comfortable .... I learned a lot of tough lessons last year, but also a lot of good ones," Zach Mettenberger said.
For playing such a high-pressure position at one of the nation's most high-profile programs, Mettenberger displays quite the cool demeanor. Facade or not, Mettenberger looks more comfortable now than he did during the early part of his first season as LSU's starter. Back then, he was struggling to maneuver his way through LSU's offense. His inconsistent play held the offense back at times, as he saw his completion percentage fluctuate between 77 and 37 percent through the first two months of the season.
He failed to pass for 200 yards in consecutive games through that stretch and threw seven touchdowns to four interceptions.
But when November arrived, Mettenberger became a new player, passing for 200 yards in all four of LSU's games that month. His comfort level continued to rise and his chemistry with players improved. There was no special formula, Mettenberger said. He just had to be patient and continue the learning process.
Now, Mettenberger will enter the 2013 season without hesitation about his ability. His confidence pushed him through yet another spring with a new offensive coordinator. With all of his receiving weapons returning, Mettenberger expects to have a much more productive second year as LSU's starter.
"I'm just more comfortable," he said. "You can't tell? I'm more loose, not as nervous. I learned a lot of tough lessons last year, but also a lot of good ones. The ups and downs of the college football season are some things that I'm more prepared for and ready to take on."
Mettenberger knows that with Cameron aboard, his arm will get used even more this fall. He knows his strength is throwing downfield, and he hopes to unleash that more against his SEC foes.
"There were a lot of chances [downfield] that we had last year that we missed," Mettenberger said. "You can trust me when I say that that's been one of our main priorities in getting better at this offseason."
He also knows that everyone will be watching. For so long people have waited for more of a downfield passing game from LSU, and Mettenberger was supposed to shepherd that process. The wait is over, and in a pressure cooker like the SEC, it's time for Mettenberger to prove himself as he looks to cement his legacy with the Tigers.
"You're either a winner or a loser," he said. "In this day and age it's what you can do for me and I want to go out on top and lead us to a great season and hopefully I can leave LSU with a national championship."
October, 14, 2012
10/14/12
2:43
AM ET
BATON ROUGE, La. -- As the Golden Band from Tigerland struck up LSU's alma mater following the Tigers' dramatic
23-21 win over South Carolina
, quarterback
Zach Mettenberger
and offensive coordinator Greg Studrawa couldn't find enough people to hug.
With ear-to-ear grins, rosy cheeks and victory sweat running down their faces, the two stood a few yards from the mob of players raising their fists and helmets to the sky with each note that blared from above, and savored the moment, as gorilla-sized weights slid off their backs.
A week after their inept offense helped produce LSU's first loss of the season, all seemed forgotten.
"Really, that's what we should have been doing all year," said Mettenberger, who finished Saturday night with 148 yards on 12-of-25 passing. "We knew we could do it."
The Tigers didn't do it with much style, but a week after being pushed around by Florida, LSU was the more physical team and grinded like the Tigers did in 2011.
The game plan that buried LSU in the Swamp benefited the Tigers on Saturday, as they wore out South Carolina's defense by running 78 plays -- 28 more than last week -- which amounted to 406 yards. LSU pounded South Carolina's vaunted defensive front with 258 rushing yards, with three running backs running up double-digit carry totals.
In a game in which the Tigers' backs were firmly against the wall and any chance of winning the SEC West -- let alone winning the entire league -- would have been dashed with a loss, LSU stood tall with the kind of rugged offense and smothering defense that pushed it to 13 wins last season.
[+] Enlarge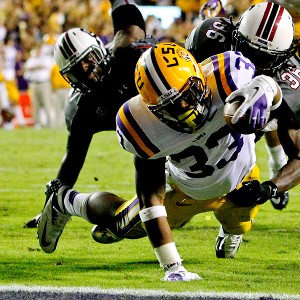 Derick E. Hingle/US PRESSWIREJeremy Hill rushed 17 times for 124 yards and two touchdowns against South Carolina.
"Out team understands these type games," coach Les Miles said.
"When we play like that, we are pretty good."
LSU still has issues when it comes to consistently throwing the ball downfield, but it's going to be tough to beat these Tigers when they run like that. The running game finally put this game into manageable third downs, as the Tigers converted seven of their first 10 third downs and finished the game 11-of-19 on third down.
Last week, the Tigers converted one of 13 third downs.
"The defense played great, and the offense got better," Miles said.
And this was a total team effort. On Friday, there was a players-only meeting called. Feelings were aired out, and players left re-energized and focused, wide receiver
Jarvis Landry
said. It motivated a team in what was essentially a must-win situation.
"It really touched the hearts of the men that were in the room and it showed today," Landry said.
"It was something that was overdue."
Players said it was a chance for this group to come together more as a unit, and it showed most in how the offensive line played. Three underclassmen --
La'el Collins
,
Trai Turner
and
Vadal Alexander
-- started, and left tackle
Alex Hurst
wasn't even in the building as he deals with personal issues. Against one of the league's best fronts, the makeshift line overpowered the Gamecocks.
It also showed in running back
Jeremy Hill
, the talented freshman who has seen limited action. With the Tiger Stadium lights beaming down and his team's season in the balance, Hill served up the play of the day with his 50-yard touchdown run that gave LSU its late 23-21 lead in the fourth quarter. He nearly finished off the Gamecocks with that run, and finished the day with 124 yards and two touchdowns on 17 carries.
"We kind of wore those guys down," Hill said. "As the game went on, they got tired, so we just kept running downhill, hitting them hard, and eventually we were going to break one. That's kind of what I did."
South Carolina defensive end
Jadeveon Clowney
seemed to agree.
"Some guys came out to play, but some guys didn't," he said. "It may have been because of injuries. It may be because they were scared."
On Saturday, LSU's offense delivered the blows, and the defense cleaned up the rest.
"They were just demolishing South Carolina's defense," linebacker
Kevin Minter
said. "You can't help but feed off of something like that."
And that's the way LSU has to play from here on out. The passing game is what it is, but the offensive line's grit and the running game's power will propel this team to its goals because it knows the defense will always have its back.
This was the game LSU needed, and it's the type of game the Tigers intend to keep having.
"We gotta win out. That's the big thing that we all know," Landry said. "Every game for us is a national championship to us. It's that type of mentality that we're going to take every Saturday from here on out."
January, 9, 2012
1/09/12
8:27
PM ET
NEW ORLEANS -- LSU offensive coordinator Greg Studrawa said earlier this week that two things will be vital for the Tigers if they're going to have more success on offense than they did in the first game against Alabama on Nov. 5.
He said the Tigers need to do a better job with their play-action passing game and also run the ball better between the tackles.
LSU completed just nine passes for 91 yards in the first game and took very few shots down the field. The Tigers did rush for 148 yards, the most the Crimson Tide gave up in an SEC game this season.
Studrawa said the Tigers would do some things differently with top receiver
Rueben Randle
.
"They took Rueben Randle away from us," Studrawa said. "We've got to move him around and get him open."
As for running the ball better, Studrawa thinks the Tigers left a lot of yards on the field the first time, especially between the tackles.
"We had a breakdown here and a breakdown there," Studrawa said. "There would be one guy at a time. We can run the ball on the perimeter.
Michael Ford
is faster than they are, point blank, so we have to do a better job of setting that up by running it some between the tackles.
"If we do that, they're going to have a hard time stopping us."
January, 7, 2012
1/07/12
7:56
PM ET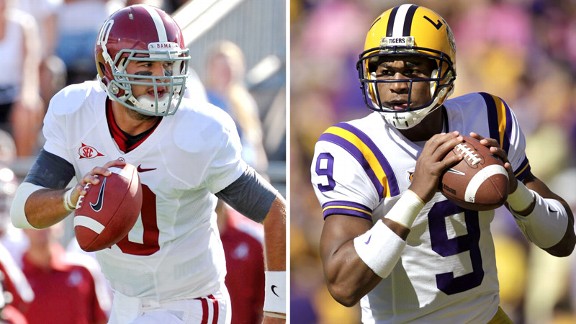 US Presswire/AP PhotoAlabama's AJ McCarron and LSU's Jordan Jefferson will face off Monday night in New Orleans.
NEW ORLEANS -- Auburn had Cam Newton.
Alabama had Greg McElroy.
Florida had Tim Tebow, twice (though Chris Leak was the starter in 2006).
And LSU had Matt Flynn.
All solid national championship quarterbacks.
This time, the quarterbacks enter Monday's Allstate BCS National Championship Game with some concern attached to their names.
For Alabama, it's the talented but young
AJ McCarron
. For LSU, it's embattled senior
Jordan Jefferson
. Together, they create more questions than answers.
McCarron probably hasn't received the criticism Jefferson has. As a first-year starter, the sophomore is allowed a mulligan here and there. His year has consisted of 2,400 passing yards, 16 touchdowns and just five interceptions. But it also featured seven games in which he threw for fewer than 200 yards, including the final four games of the regular season, among them Alabama's Nov. 5 showdown with LSU.
His decision-making has been questionable at times and there are more than a handful of times in which McCarron tried to do too much, and while that's natural for a youngster, it can't happen Monday.
"Growing as a quarterback all year long, I felt like I've done a pretty good job so far," McCarron said. "Coming in your first year you're not going to know a whole lot going into it. As of now, I feel like I've been here forever.
"This season's taken a long time."
It feels like it's been a tremendously long career for Jefferson. His four years at LSU have seemed like eight and he's always been such a wild card for the Tigers. He's thrown 34 career touchdowns in 41 starts. To put that in perspective, Georgia's
Aaron Murray
threw 35 touchdowns this season.
It's been a rocky career for Jefferson, and he's had his share of rocky moments in 2011. His 33-yard performance against Georgia in this year's SEC championship seemed to set quarterback play back, and he's completed double-digit passes in a game just once this season, when he threw for 208 yards on 18-of-29 passing.
He'll enter Monday's game with fewer than 700 passing yards in nine games. Granted, Jefferson didn't reclaim his starting spot until mid-November, but he averages just nine pass attempts a game.
And unlike McCarron, fans have let Jefferson know when they're unhappy. The boo birds that greeted him during the Kentucky game after he returned from his four-game suspension for his role in a bar fight resurfaced at times when Jefferson wasn't playing well. Most notably, they surrounded Jefferson during an eventual scoring drive against Arkansas and a few times against Georgia.
"Once they see that error occur, I guess it makes them mad a little bit, I guess," Jefferson said of the boos.
But like his team has all season, Jefferson blocks out the negativity on the field. He can't control it, so he doesn't bother with it. It's just like his reaction to his poor play. Jefferson prides himself on quarterback amnesia.
"Playing quarterback, you're not always expected to have a perfect performance," he said. "That's why you have to put the bad performances behind you and try to find ways to improve for the next performance."
McCarron stresses over his mistakes more, but only because he's a perfectionist. Curing his field issues is mandatory for McCarron to get through a practice session, and that attitude should take him far in this league.
"Every game you're not going to be perfect going into the game, especially after the game," he said. "You just try to eliminate as many mistakes as you possibly can."
They won't be perfect. That's why there are other players to lean on at times. McCarron and Jefferson aren't true stars and don't have the flashiest stats, but with help from those around them, their teams are playing for a national title and one will be hoisting that coveted crystal ball Monday night.
It could always be worse, LSU offensive coordinator Greg Studrawa said. LSU's quarterback play could be like it was the three years after its 2007 championship, when quarterbacks threw 48 touchdowns to 37 interceptions and LSU took a back seat to teams.
"Up-and-down, in my opinion," he said, "has been better than it's been."
January, 7, 2012
1/07/12
1:22
PM ET
NEW ORLEANS -- Greg Studrawa, who found out about three weeks before LSU's first game this season that he was going to be the one calling offensive plays, had a predictable reaction.
At least, initially.
"Three weeks before the season when we're supposed to have
the
year?" Studrawa recalled. "It was unbelievable. You're like, 'Whoa!'"
And then, it all began to sink in.
His colleague, Steve Kragthorpe, was stepping down as offensive coordinator and keeping his quarterbacks coach responsibilities after announcing that he had Parkinson's disease.
"He's been an inspiration for all of us," said Studrawa, who came to LSU in 2007 as the Tigers' offensive line coach. "He never felt sorry for himself, kept his head up and has been a big part of our success.
[+] Enlarge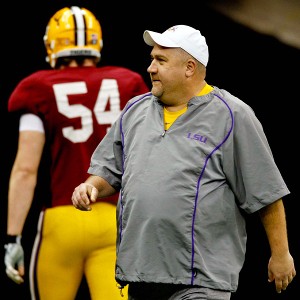 Derick E. Hingle/US PresswireGreg Studrawa was promoted to offensive coordinator before the season after Steve Kragthorpe stepped down from that role.
"I tell people all the time that I was fortunate because I get to call the plays during the game. But we have a lot of guys' minds in there sharing on Sunday, Monday, Tuesday and Wednesday."
Indeed, Kragthorpe himself is a former head coach at Tulsa and Louisville and was an offensive coordinator at several other stops. Tight ends coach Steve Ensminger was an offensive coordinator at several places, including Clemson and Texas A&M. Receivers coach Billy Gonzales, who also oversees the Tigers' passing game, was a part of a Florida staff that won two national championships, while running backs coach Frank Wilson was a head coach in high school before stops at Ole Miss, Southern Miss and Tennessee.
"When the change came, Steve [Kragthorpe] opened up. Frank opened up. Steve [Ensminger] opened up. Billy opened up," Studrawa said. "They all opened up, and it became our offense."
Kragthorpe said the transition was made so much easier because of the quality of the Tigers' offensive staff, not to mention Studrawa's familiarity with LSU coach Les Miles and what Miles wanted in an offense.
"'Stud' is the coordinator, and you've got four co-coordinators. Les is the head coordinator," Kragthorpe said. "We're all in it together.
"It's not a room where everybody is sitting around and being told what to do. We have great interaction, and that's one of the things that helps us on game days. Everybody's been talking throughout the week, and everybody is on the same page."
It's been a special chemistry among the offensive assistants, and Kragthorpe said a lot of that goes back to Miles and the way he does things.
"It's not a one-man show," Kragthorpe said. "He's a very unselfish guy. There's not one person in our program who's more important than anybody else, whether it's your starting quarterback, me or anybody else in our organization."
The LSU players barely even noticed a blip when the transition went down in August. In fact, junior receiver
Rueben Randle
said there's been no difference in his eyes.
"The terminology didn't change," Randle said. "It wasn't like we had to get used to a whole new system. The coaches made it easy for us, and you see the results."
Studrawa had also called plays as Bowling Green's offensive coordinator before coming to LSU.
But he said there's nothing like calling plays for Miles, who earned his "Mad Hatter" nickname thanks to his willingness to try anything on offense and gamble on fourth down.
"We'll have a critical third-down situation in the game, and he'll say, 'Hey, do whatever you want, because I'm going for it [on fourth down].' And I'm thinking, 'All right, I can run something here,'" said Studrawa, rubbing his hands together like a kid on Christmas morning.
"But the thing to remember is that they're calculated risks. You don't know how many times we practice those things, just like the flip on the fake field goal … no bounce passes, though."
Obviously, Studrawa was referring to the ball bouncing perfectly to place-kicker Josh Jasper in the Florida game a year ago.
Still, it's the kind of freedom to call plays that Studrawa loves, especially the way it filters down to the players.
"It's fun to coach when you know and the kids know, too, that your head coach has no fear," Studrawa said. "But we don't draw those things up on Saturday. If you're pulling them out of your hat up there in the press box, you're going to be in trouble."
The ride has been equally exhilarating for Kragthorpe, even if he's not the one calling plays.
In fact, he was the one who first suggested to Miles that it would probably work best for somebody else to call plays after initially being diagnosed with Parkinson's disease in July.
"Two things are really good medicine for me -- winning and laughter," Kragthorpe said.
He and his wife, Cynthia, have leaned on each other. She suffers from a heart condition and multiple sclerosis. Kragthorpe sat out the 2010 season at Texas A&M, where he was the receivers coach at the time, to take care of his wife.
"A lot of times, Cindy and I laugh with each other or at each other," Kragthorpe said. "The worst medicine is crying, so you try to avoid that. But she's doing great and is tough. Her greatest qualities are toughness and unselfishness.
"If I ever want sympathy, I don't go home to get it."
The truth is that Kragthorpe has never asked for sympathy. Not once. He's plowed ahead and fully expects to be back next season in the same capacity.
He figures the worst thing he could do is not coach.
"I do best when I'm on the practice field or at the games. I do the worst when I just have to sit around," Kragthorpe said. "If I'm moving around, I'm better."
He also doesn't want to miss what comes next with this LSU program.
"Les has done a good job of building a program and not just a team, and I think he's in it for the long haul as evidenced by the fact that he didn't go to Michigan last year," Kragthorpe said. "I'm excited about the future here … and not just what happens Monday night."
December, 1, 2011
12/01/11
3:45
PM ET
Urban Meyer didn't hold back at his introductory news conference Monday at Ohio State.
"I'm going to go about and try to assemble the best coaching staff in college football," Meyer said.
Ohio State is
supporting its new coach on the endeavor
.
So how is the process going? Let's take a look at what we know and what could be happening soon with Meyer's staff at Ohio State.
Current Buckeyes head coach Luke Fickell is the only assistant Ohio State has officially confirmed to be joining Meyer's staff. Meyer didn't specify Fickell's role but said it would be "a significant title and significant position." It's a strong possibility Fickell's title includes assistant head coach. He also could be named a co-defensive coordinator, the role he shared with Jim Heacock on Jim Tressel's staff.
While Fickell could be a candidate for the sole defensive coordinator role, Meyer is assessing candidates and could lure in a big fish in Mike Stoops, the former Arizona head coach. Stoops confirmed he has met with Meyer but didn't say whether he has been offered a position. No one will be surprised if Stoops is named Ohio State's next defensive coordinator, a position he held at Oklahoma for five years under his brother, Bob. Stoops would be a big-name addition for Meyer, who likely will add several.
Multiple outlets are reporting that Meyer will retain Stan Drayton, in his first year as Ohio State's receivers coach. Drayton worked for Meyer at Florida and replaced Darrell Hazell in Columbus. This makes a lot of sense, as Drayton is a strong recruiter with ties to Ohio and to Florida. Drayton also can coach running backs.
It will be interesting to see where Meyer looks for an offensive coordinator. One name being mentioned quite a bit is LSU offensive coordinator Greg Studrawa, an Ohio native who served as Meyer's offensive line coach at Bowling Green. Studrawa in July replaced Steve Kragthorpe, who had to step down after being diagnosed with Parkinson's disease.
Other current Buckeyes assistants who could remain on staff include cornerbacks coach Taver Johnson and linebackers coach Mike Vrabel. If Vrabel stays, it will be interesting to see which position Fickell coaches as he used to oversee the linebackers. Defensive line seems a likely spot.
Former Minnesota head coach Tim Brewster reportedly has been offered a position on Meyer's staff, as well as one at Arizona with new boss Rich Rodriguez. While Brewster didn't work out as a head coach in Minneapolis, he's one of the nation's top recruiters and could help Ohio State on the trail, particularly in Texas. Brewster has coached tight ends most of his career.
Other potential candidates to join Meyer's staff include Notre Dame running backs coach Tim Hinton and Florida linebackers coach/special-teams coordinator D.J. Durkin and strength and conditioning coordinator Mickey Marotti.
September, 19, 2011
9/19/11
11:39
AM ET
If, or when, QB
Jordan Jefferson
returns to LSU's football team, coach Les Miles will have a big decision to make.
Or will he?
[+] Enlarge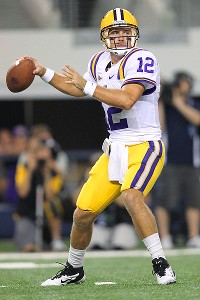 Tim Heitman/US PresswireJarrett Lee showed he's capable of controlling LSU's offense.
Let's face it, the Tigers are good, and they're good with
Jarrett Lee
as their quarterback. His past struggles are well-documented, but this season, he's been nearly mistake-free. He's running the offense exactly like Miles and offensive coordinator Greg Studrawa want him to.
Lee isn't very exciting. He won't beat anyone with his legs. But efficiency has been the key to his game. He isn't rushing throws or going for the big play when he doesn't need to. Lee should keep his starting job if Jefferson returns; the latter was suspended indefinitely for his role in an off-campus bar fight.
Through three games, Lee, who had awful interception problems in the past, has a quarterback rating of 144.4, is averaging 148 yards a game and has three touchdowns to one interception. Against Mississippi State, he had a season-high 213 yards and a touchdown on 21-of-27 passing. His 19-yard touchdown pass to
Rueben Randle
early in the fourth quarter ended all hopes of a Bulldogs comeback.
"I think he did the things he needed to do to win," Miles said of Lee after LSU's 19-6 win at Mississippi State.
With Lee directing LSU's offense, the Tigers are No. 2 in the country and are looked at as a definite national title contender while consistently moving the ball up and down the field. Of course, there have been hiccups here and there, but LSU is putting up 36 points a game, is third in the SEC in third-down conversions (19-of-40, 47.5 percent), is eating up nearly 34 minutes of clock a game, and is first in the league in red zone offense, scoring on all 15 tries (12 touchdowns). LSU has turned it over just three times.
Meanwhile, teammates and coaches had raved about Jefferson this year for completely transforming his game under the direction of Steve Kragthorpe. How would he do as the Tigers' starter?
Who knows? But what we do know is that with Jefferson out of the lineup, LSU is every bit the national championship contender it wanted to be coming into the season.
Jefferson has been no saint under center during his career. He has thrown 28 touchdowns and 18 interceptions, while completing around 58 percent of his passes in three seasons.
Obviously, we can't determine what Jefferson's numbers would be this season, especially if he really has changed because of Kragthorpe, who started as offensive coordinator before moving to quarterbacks coach after being diagnosed with Parkinson's disease. But would the Tigers really be better off? And if Jefferson returns, will the Tigers be that much better off?
How do you expect a team to respond to someone who talked a big game about being more of a leader and wanting to take this team to the top of the SEC, after he got involved in a fight that leaves him watching instead of actually leading?
Would the offense have the same sort of rhythm it has with Lee under center? Would Jefferson even have the right football mindset to be effective after missing so much time?
And what happens at the first sign of trouble? Would you immediately yank Jefferson for Lee, or would you let Jefferson find his bearings again? The latter could take time and could be the difference between a championship and just another bowl game.
It's not like Jefferson's arrival would suddenly make LSU's offense that much more flashy. Besides, this team has proven this year that it doesn't need offensive excitement to win games. The defense will be the backbone of this squad.
You never mess with a good thing; Lee is the answer now, and he's the answer if Jefferson comes back to the team this season.
"I'm just trying to play smart, play confident," Lee told reporters Thursday.
Yes, he is, and for that, there's no reason to make any sort of change until he stops doing so.
August, 4, 2011
8/04/11
2:43
PM ET
Boy, some tough news for LSU and even tougher news for Steve Kragthorpe.
LSU coach Les Miles announced Thursday that Kragthorpe is
stepping down as offensive coordinator
after being diagnosed with Parkinson's disease.
Kragthorpe will stay on as quarterbacks coach and be in the booth for games, but offensive line coach Greg Studrawa will move into the role of offensive coordinator and call plays this season.
The first thing on anybody's mind is Kragthorpe's health. He and his family have already been through enough in the past year.
[+] Enlarge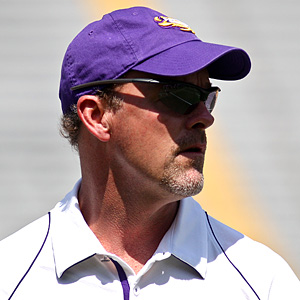 Derick E. Hingle/US PresswireSteve Kragthorpe is stepping down as offensive coordinator, but is remaining on the Tigers' staff.
In fact, it was about this time a year ago that Kragthorpe, the former head coach at Louisville and Tulsa, stepped down as receivers coach at Texas A&M to help care for his wife, Cynthia, who was battling multiple sclerosis and also underwent heart surgery.
Doctors were able to get her heart condition under control, but her battle with MS continues.
Kragthorpe, 46, found out about his Parkinson's disease diagnosis about three weeks ago, and he and Miles have been working toward a resolution ever since.
Ultimately, Kragthorpe felt it was best for everybody involved if he only coached the quarterbacks and said Wednesday that he hopes to still be coaching the Tigers' quarterbacks for the next eight to 12 years.
The best news for LSU, and specifically senior quarterback
Jordan Jefferson
, is that Kragthorpe is remaining on the staff. Jefferson has raved about how much better he's become fundamentally under the tutelage of Kragthorpe, who was hired in January to replace Gary Crowton as LSU's offensive coordinator.
Even though Kragthorpe won't be calling plays on Saturdays, he will remain involved in putting together the Tigers' offensive plan each week. He and Studrawa will both be in the booth on game days, but Studrawa will be making the final calls.
Formerly the offensive coordinator at Bowling Green from 2003-06, Studrawa has been with Miles longer than any other current assistant on LSU's staff.
Both are former offensive linemen, and they have a very good relationship. Their offensive philosophies are also similar, and while Miles probably gets a bad rap in how much he meddles with the play calling, he's always going to be heavily involved.
Miles told the team about Kragthorpe's condition on Wednesday night, and with the Tigers opening fall camp on Thursday, he made the announcement to the media following the morning practice.
Studrawa's offenses at Bowling Green put up big numbers. Now, he gets his shot in the SEC with an offense that's loaded with talent at the skill positions and returns four starters on the offensive line.
But it's also an offense that went belly-up in the passing game last season.
No matter who's calling the plays, the Tigers have to get better play at quarterback than they did a year ago if they're going to make a legitimate run.
By all accounts, Jefferson appears primed for a big senior season. And if not, junior college newcomer Zach Mettenberger, who has one of the best arms in the league, is waiting in the wings.
Kragthorpe won't be calling the plays as originally planned when Miles hired him. But one of the main reasons Miles chose Kragthorpe was because of his long history with quarterbacks and his track record of developing quarterbacks.
If the Tigers get the kind of play at quarterback this season that leads them to an SEC championship, I'd say Kragthorpe will have done his job (and more) without ever calling the first play on the Bayou.