October, 18, 2010
10/18/10
5:15
PM ET
Time once again for the non-AQ players of the week, as selected by each conference:
Conference USA
Offense
: East Carolina QB
Dominique Davis
. Scored three touchdowns and set career-highs in passing attempts (53) and completions (37) on the way to a 376-yard, interception-free performance in a 33-27 overtime win over NC State.
Defense
: Memphis LB Jamon Hughes. Had the most tackles for a Memphis player in 31 years with 21 stops against Southern Miss. The total ranks tied for second in school history and is the most since Pete Scatamacchia had a school record 25 against Louisville in 1979.
Special teams
: Rice P Kyle Martens. Averaged 49.8 yards on four punts, none of which were returned, in the Owls' 34-31 win over Houston. He placed his fifth punt of the season inside the 10 this season.
MAC
East Division
Offense
: Ohio QB
Boo Jackson
. Went 14-of-21 for 161 yards, one passing touchdown and two rushing scores in a 38-10 win over Akron. He also caught a 42-yard pass in the win.
Defense
: Miami LB Evan Harris. Had a career and team-high 11 tackles, 2.5 tackles for loss, two interceptions and one passed defensed in a 27-20 win at Central Michigan. Harris' two interceptions were the first for the RedHawks by a single player since 2006.
Special teams
: Temple DE Adrian Robinson. Blocked a PAT attempt in Temple's 28-27 win over Bowling Green. The play forced the Falcons to opt for a 2-point conversion on the game's final play.
West Division
Offense
: Eastern Michigan QB
Alex Gillett
. Accounted for 414 yards of total offense, ninth-best in school history, and set school quarterback records for most rushes (35) and net rushing yards (189) in a single-game. He had five total touchdowns.
Defense
: Toledo DE T.J. Fatinikun. Had five tackles, 2.5 tackles for loss and a key 10-yard sack in the Rockets' 34-21 win over Kent State.
Special teams
: Northern Illinois S Jimmie Ward. Blocked his second punt of the season in a 45-14 win over Buffalo. Ward also forced a fumble late in the game and contributed two tackles, one on special teams.
Mountain West
Co-Offense
: San Diego State RB
Ronnie Hillman
, TCU QB
Andy Dalton
. Hillman had 191 yards rushing and two touchdowns in a 27-24 win over No. 23 Air Force, the team's first win over a ranked team in 14 years. Dalton accounted for 289 yards of total offense and four touchdowns in a 31-3 win over BYU.
Defense
: Colorado State DT Guy Miller. Had eight tackles, 4.5 sacks and five tackles for loss to in a 43-10 win over UNLV. Miller set new school and MWC records with his 4.5 sacks.
Special teams
: TCU PR
Jeremy Kerley
. Had 137 total return yards in a 31-3 victory over BYU. Kerley helped the Horned Frogs establish field position throughout the contest, returning two kickoffs for 81 yards and four punts for 56 yards.
Sun Belt
Offense
: Arkansas State QB
Ryan Aplin
. Had a career-high four touchdowns, the most of any Sun Belt player this season, in a loss to Indiana. Aplin completed a school-record 33 passes on 44 attempts for 275 yards and added 23 rushing yards.
Defense
: ULM DB Robert Nelson. Returned an interception 55 yards for the game-sealing touchdown in a win over Western Kentucky. It was the first interception return for a touchdown by a Warhawk since 2008.
Special teams
: Troy KR
Jerrel Jernigan
. Had a 75-yard punt return for a touchdown in the win over Louisiana, the first of his career and the first for the Trojans since 2007. He also scored the winning touchdown on a 12-yard pass from
Corey Robinson
in the fourth quarter.
WAC
Offense
: Louisiana Tech QB
Ross Jenkins
. Threw for a career-high 422 yards and three touchdowns in a 48-35 win over Idaho on Saturday. It was the most yards thrown by any quarterback in the nation over the weekend.
Defense
: Hawaii LB Corey Paredes. Had nine tackles and forced two fumbles in the 27-21 win over No. 19 Nevada. His first forced fumble led to Hawaii's first touchdown. On the second, he stripped
Colin Kaepernick
just before he crossed the goal line.
Special teams
: Boise State PR
Chris Potter
. Returned four punts for 76 yards in a 48-0 win over San Jose State. The 76 return yards are the most by a WAC player this year.
October, 18, 2010
10/18/10
2:00
PM ET
Let's take a look at the good and the bad for the non-AQs in Week 7.
[+] Enlarge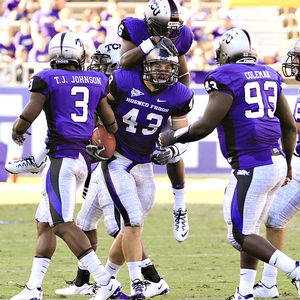 AP Photo/Jeffery WashingtonTCU (No. 5) is one of three non-AQ teams ranked in the top 10 of the BCS standings.
The good:
The non-AQ teams made history in the BCS standings with three teams ranked in the Top 10. Boise State is No. 3, TCU is No. 5 and Utah is No. 9, but the big unknown is whether any of them will have a shot at the BCS national championship game. Boise State has scored 48-plus points in three straight games. Meanwhile, TCU has allowed just one field goal in its past three games. The last team to score a touchdown on the Horned Frogs was SMU in Week 4, when
Zach Line
ran in from 29 yards out at the 11:24 mark. … Miami (Ohio) is en route to one of the best turnarounds from the non-AQs. The RedHawks had a thrilling 27-20 comeback win against Central Michigan and are now 4-3 after going 1-11 last season. They have a critical game at home against Ohio this Saturday, then winnable games against Buffalo, Bowling Green and Akron before closing the season at home against Temple. At 3-0, Miami is on top of the East in the MAC. … Eastern Michigan won its first game of the season. … Rice won its first conference game with a 34-31 win against rival Houston to not only grab a hold of the Bayou Bucket, but to avenge a 73-14 loss to the Cougars last season – one of the most embarrassing losses in school history.
The bad:
A week after picking up its first win of the season, New Mexico State lost to Fresno State 33-10 in part because it went 1-of-13 on third downs. … Akron dropped to 0-7 after a 38-10 loss to Ohio. The Zips had six penalties, two interceptions and failed to get their run game going once again. The Zips are averaging just 15.9 points a game, ranked No. 114 in the nation. … Idaho gave up 683 yards of total offense in a loss to Louisiana Tech in yet another inconsistent performance for the Vandals. In three losses, Idaho has given up 450-plus yards of total offense. In two wins against FBS teams, Idaho is allowing 145.5 total yards a game.
The heartache, Part I:
Bowling Green has lost three games this season on the final possession. The latest heartbreaker happened Saturday in a 28-27 loss to Temple. Coach Dave Clawson decided to go for the 2-point conversion and the win with no time remaining. But Matt Schilz's pass for
Calvin Wiley
was broken up on the goal line. The Falcons also lost the season opener 30-27 to Troy when the Trojans kicked a field goal to win with 4 seconds left. In a 28-26 loss to Buffalo, Bryan Wright missed a 40-yard field-goal try on the final play of the game.
"There's really two ways of looking at it," Clawson said Monday morning on the MAC coaches call. "We've lost three games this year on the last play of the game. From a positive -- with as young a football team as we are and with all the new starters, we're not that far away. On the other hand, there's certainly a frustration level when you get in that many close games you need to find a way to win your share. A year ago we did." Last season, the Falcons won two games by one point.
The heartache, Part II:
Western Kentucky took a 24-7 lead into the fourth quarter at home against ULM. What could go wrong? Well, when you have lost 25 straight games, plenty. The Hilltoppers allowed 28 unanswered points and lost 35-30 to extend the nation's longest losing streak to 26 games. They had a similar chance to win in the 2009 finale, but blew a 20-3 lead late in the third quarter and lost 24-20 to Arkansas State.
One more helmet stickers:
Colorado State nose tackle Guy Miller had a truly dominating performance in a 43-10 win against UNLV. Miller set a school record with 4½ sacks, breaking the mark of four shared by 1995 WAC Defensive Player of the Year Brady Smith and Mike Bell, a consensus All-American and the No. 2 overall selection in the 1979 NFL Draft. He also broke the Mountain West record of four. Miller has started 20 straight games for the Rams and has 6 ½ sacks on the season the most at the school since Bryan Save had seven in 2003.
A few injury items to note:
Air Force has lost running back
Jared Tew
for six weeks with a broken fibula, putting a serious hurting on the team. Tew had been a huge part of the success of the triple-option, with 540 yards and three touchdowns this season. ... San Jose State has now lost 12 starters for the season after several more injuries in a 48-0 loss to Boise State. Leading rusher
Lamon Muldrow
is out after tearing his ACL, and linebacker Ryno Gonzalez (foot) is also out. LB Wade O'Neill suffered a concussion, but won't be out for the season.
Week 8 look ahead:
Plenty of good matchups this weekend from the non-AQ teams. Air Force continues its tough four-game stretch with a game at No. 5 TCU. Houston travels to SMU in a game that could shift the balance of power in the Conference USA West Division. Meanwhile, Notre Dame plays Navy. The Midshipmen have won two of the past three games against the Irish.
September, 25, 2009
9/25/09
11:58
AM ET

Posted by ESPN.com's Graham Watson

Scott Brown saw something change in his player's eyes after their first series against rival Colorado during the opening game of the season.

Colorado State's defensive line coach saw confidence, motivation and maybe even a little relief when his defensive line realized its hard work over the summer had actually paid off.

"There was a return on their investment, " Brown said of his defensive linemen's work during the summer. "They had confidence after that first series when they came off, that their get-offs and their reaction to the run and pass, there was a truism to what was happening to them. It helped feed them and they became more and more confident as that game went on."

That confidence has increased over the past three weeks as the defensive line has done its part to help Colorado State to a 3-0 start, its best start since 1994. And the Rams go into this weekend's game against No. 19 BYU ready to show that it's defense can compete against one of the elite offensive lines in the country.

"Over the offseason, that's all we focused on, just getting better, so we wouldn't be the weak point of the defense," defensive tackle James Morehead said. "So, everyone on defense could count on us to be there and do what we needed to do.

"We're confident as a defensive line in what we need to do and what we have to do. I think we're confident in what our assignments are, and the added confidence of having the good games before this kind of help us going into this game and playing well."

The difference between the Colorado State's defensive line this season and last is like night and day. The Rams already have seven sacks; they had just nine all of last season. They have 17 tackles for loss after just 51 a year ago. And through three games, including two against teams that pride themselves on their running games, the Rams are allowing just 85.33 yards per game.

Brown said he started to see improvement on his defensive line toward the end of last year. As last year's seniors started to buy in, the younger players also started to come along. But the linemen themselves said they didn't feel like they were holding up their end of the bargain not only for the rest of the defense, but the rest of the team.

"I think we all knew that we weren't performing as well as other D-lines across the country," defensive tackle Guy Miller said. "We all took note of that and it was definitely something we thought about. That was definitely some motivation to work hard throughout the offseason. We didn't want to be a weak link. We wanted to be a tough defensive line that other teams talked about and was tough to go up against."

Last season, Colorado State stayed with BYU throughout the game, but allowed BYU quarterback Max Hall to lead a touchdown drive in the fourth quarter to give the Cougars a 45-42 victory. Both Morehead and Miller acknowledged that while they wanted to beat BYU last year and get pressure on Hall, there wasn't a firm belief that they could actually do it.

That, too, has changed.

Even Brown said his line has a better shot against BYU than it did a year ago. While that doesn't mean that the Rams are going to manhandle BYU, it does mean that they'll fare better than they did a year ago.

Brown said he's spent many hours since last year's loss studying BYU's offense and while he wouldn't divulge his plan of attack, he thinks his players are going into this game with the confidence and knowledge they need to pull off one of the biggest wins in program history.

"We've set our sights as a program to try and get CSU back to the level of play where CSU is competing with the three elite schools in the conference," Brown said. "So, this challenge that presents itself this weekend, this is a way for us to measure. Have we really improved? In other words, are we pretenders or contenders? And this game will give us a great measuring stick as to where we are. I'm not sure it will define us one way or the other. Whether we win or lose this game, I don't think it yet defines us because in my mind, as the defensive line coach, we're still no anywhere near what I dream of us becoming."