October, 19, 2013
10/19/13
2:27
AM ET
LOUISVILLE, Ky. --
Lorenzo Mauldin
trudged off the Papa John's Cardinal Stadium field on Friday night, his head down and with teammate
Keith Towbridge
's arm draped around him. Before he reached the team's locker room, Mauldin looked up and screamed a four-letter word into the night.
Louisville's players later tried their best to say everything could still work out this season, even after a 38-35 home loss to Central Florida. But Mauldin's primal yell more accurately summed up the feelings of Cardinals fans everywhere.
As a 21-point second-half lead evaporated, so too did all of No. 8 Louisville's dreams of an undefeated season and any outside shot at a national title. Stark reality: the supposed best team in school history isn't even the best team in the American Athletic Conference.
"When you're undefeated, you think about the big game and all that stuff," senior middle linebacker
Preston Brown
said. "But all that's out the window now with the conference we play in. Now, we've just got to win the conference and hopefully get to a BCS game."
The big questions surrounding the Cardinals this season revolved around their schedule, and that such a soft slate should be reflected in their national ranking. UCF -- a team that has also won at Penn State and lost by three points at home to South Carolina -- proved a perfectly powerful opponent and looks like a deserving Top 25 team in its own right.
[+] Enlarge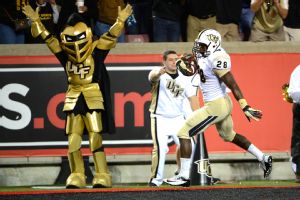 Jamie Rhodes/USA TODAY SportsLouisville's defense was nowhere to be found in the second half, especially on this William Stanback touchdown run.
"A lot of people don't recognize us as being a team that can compete on this level," UCF offensive lineman
Joey Grant
said. "I believe we just proved to everyone that we can."
Louisville will now need the Knights to lose twice just to have a chance to win the AAC and its automatic BCS bid. Last season, the Cardinals dropped back-to-back games in the old Big East -- including a home loss to UConn -- but still got enough help to make it to the Sugar Bowl, where they stunned Florida. Several players talked about repeating that path.
"We've been down this road before," Louisville coach Charlie Strong said.
Yet expectations for this team far exceeded simply fighting for an AAC title, and Louisville might end up wondering what might have been if not for a third-quarter collapse.
Freshman
James Quick
's one-handed scoop of a fumbled punt attempt and 30-yard touchdown dash put the Cardinals up 28-7 with 7:52 left in the quarter. The sellout homecoming crowd hopped. And then watched in horror as everything unraveled.
UCF's
Blake Bortles
completed a 32-yard third-down pass on the following drive to set up a Knights' touchdown. A Louisville fumble then led to another quick score. Then, a defensive stop and yet another score. The Knights had erased a three-touchdown deficit in a little more than seven minutes.
"Never, ever, ever give up," Knights head coach George O'Leary said afterward. "That's what we live on, and they knew that was coming. When they started jumping to [Louisville's] music, I knew we were in good shape."
A fourth-quarter field goal put Louisville behind in the second half for the first time this season. That's when
Teddy Bridgewater
showed his greatness, leading the offense on an 88-yard drive that was capped by
Dominique Brown
's 15-yard touchdown rumble. Bridgewater could hardly have played better; he completed 20 of his first 23 passes and finished 29-of-38 for 341 yards and two touchdowns.
For most of the season, though, Bridgewater hasn't gotten a lot of help from his running game, and that was the case again Friday. Dominique Brown ran for 54 yards on the Cardinals' touchdown drive to open the second half and later had that 15-yard score. Other than that, though, Louisville managed only 35 rushing yards. And Strong's strategy to rotate backs every series backfired, as he subbed in
Senorise Perry
after Brown had dominated that first third-quarter possession. Perry's fumble on his own 17 set up a Knights touchdown one play later.
But Strong was more upset with his defense than anything else. Bortles played every bit as well as Bridgewater, throwing for 250 yards and two touchdowns. He had time to scan the field, too, as Louisville failed to record a sack.
"We never got any pressure," Strong said. "You've got to create disruption and pressure. We had our blitzes called, we just didn't execute."
The defense saved the day last week in a slugfest against Rutgers but couldn't hold onto a 35-31 lead with three minutes to go. Bortles spearheaded a 75-yard march that ended on his game-winning 2-yard touchdown pass to
Jeff Godfrey
with 23 seconds left. Bortles faced no pressure on the throw, and Godfrey was wide open.
Preston Brown said Louisville played its base Cover-2 on that drive, hoping to force UCF into short passes and perhaps create a turnover. Instead, the Knights took what was there, all the way down the field.
"We changed our scheme a little bit, and we missed a lot of shots," Louisville safety
Hakeem Smith
said. "Pursuit was key, and we missed a lot of tackles."
Strong has tried to block out all the criticism surrounding the Cardinals' schedule this season and has repeatedly told his team that they are the best in the nation. He said that will continue to be the message going forward. Louisville only plays two more teams with winning records (Houston and Cincinnati) and should still finish with a sparkling record. Bridgewater insisted the team would move on and get ready for South Florida next week.
"You can't live in misery," he said. "You can't live in a loss. One loss doesn't determine the whole season."
There wasn't much else a team leader like Bridgewater could say on this night. Mauldin had already summed up the feeling of Cardinals fans everywhere.
July, 12, 2013
7/12/13
10:00
AM ET
We'll soon have the American Athletic Conference media days. Here's some info to get you started:
When:
July 29-30
Where:
Newport, R.I.
Big names in attendance:
QB
Teddy Bridgewater
, Louisville; QB
Garrett Gilbert
, SMU; WR
Brandon Coleman
, Rutgers; LB
Greg Blair
, Cincinnati; LB
Yawin Smallwood
, UConn; S
Hakeem Smith
, Louisville; QB
Gary Nova
, Rutgers.
Five storylines/things to watch:
1. Name tags might be mandatory.
The American will have 10 football-playing schools this season: UCF, Cincinnati, Connecticut, Houston, Louisville, Memphis, Rutgers, SMU, USF and Temple. Louisville (leaving for the ACC) and Rutgers (Big Ten), two of six holdovers from the former Big East, depart the league after the season. East Carolina, Tulane and Tulsa jump to the American from Conference USA in 2014.
2. Can Louisville win the league and crash the BCS championship game in its last season in the league?
After going 11-2 and trouncing Florida 33-23 in the Allstate Sugar Bowl last season, the Cardinals bring back 14 starters, including a Heisman Trophy nominee in Bridgewater. Can anybody in the league challenge the Cardinals this season?
3. Is that really Tommy Tuberville coaching at Cincinnati?
The former Auburn coach never seemed like a good fit at Texas Tech, where he went 20-17 in three seasons. Former Cincinnati coach Butch Jones, now at Tennessee, guided the Bearcats to back-to-back 10-win seasons, so Tuberville inherits another pressure-packed situation.
4. Along with Tuberville, there will be two other new faces on the sideline:
USF's Willie Taggart (formerly of Western Kentucky), and Temple's Matt Rhule (a former Owls assistant).
5. The American became a landing spot for plenty of high-profile transfers.
Former Notre Dame defensive end
Aaron Lynch
is eligible after sitting out last season at USF, where he'll be joined by former Penn State quarterback
Steven Bench
, who is eligible to play immediately. Former FSU linebacker
Jeff Luc
landed at Cincinnati, and Louisville added former Florida tight end
Gerald Christian
and receiver
Robert Clark
.
August, 29, 2012
8/29/12
9:00
AM ET
Here are my picks for the Big East all-conference team.

Offense
QB
B.J. Daniels
, USF
RB
Lyle McCombs
, UConn
RB
Ray Graham
, Pitt*
RB
Montel Harris
, Temple*
TE
Ryan Griffin
, UConn
OT
Justin Pugh
, Syracuse
OT
Martin Wallace
, Temple
C
Mario Benavides
, Louisville
OG
Chris Jacobson
, Pitt
OG
Mark Popek
, USF
WR
Alec Lemon
, Syracuse
WR
Andre Davis
, USF
Defense
DE
Trevardo Williams
, UConn
DT
Scott Vallone
, Rutgers
DT
Aaron Donald
, Pitt
DE
Ryne Giddins
, USF*
DE
Walter Stewart
, Cincinnati*
LB
Khaseem Greene
, Rutgers
LB DeDe Lattimore, USF
LB
Sio Moore
, UConn
CB
Logan Ryan
, Rutgers
CB
Adrian Bushell
, Louisville
S
Hakeem Smith
, Louisville
S
Duron Harmon
, Rutgers
Special teams
PK
Kevin Harper
, Pitt
P
Pat O'Donnell
, Cincinnati
RS Ralph David Abernathy IV, Cincinnati
* = tie
Notes:
About those ties. Graham is a no-brainer all-conference back when healthy. The only problem is I have no idea how healthy Graham is right now or how healthy he is going to be when the season ends. He could start slow and finish fast. Or maybe he won't regain his old form. So I am hedging my bets a little and putting him on there with Montel Harris of Temple. Harris has the potential for a 1,000-yard season.
Defensive end:
I really think Williams, Giddins and Stewart have the potential to hit double-digits in sacks this season. That is how highly I think of them. And if the Big East coaches have ties on their all-conference team at the end of the year, so can I!
Tight end:
This was a tough one. Griffin is in my preseason Top 25 countdown, but I was a little worried when I saw he would not be starting against UMass. Coach Paul Pasqualoni said not to pay attention to the depth chart because he and John Delahunt are interchangeable. Still got me to thinking that Hubie Graham of Pitt could very well be the first-team tight end at the end of the season.
Receiver:
This is a toss-up. I really love Davis' potential. I know a lot are going to clamor for Devin Street to be on the list. He is my next man up. I went with Lemon over Street because I have more confidence in the Syracuse passing game than Pitt.
July, 16, 2012
7/16/12
9:00
AM ET
Here is a quick preview of Big East media days this month.
Dates:
July 30-31
Location:
Newport, R.I.

Big names in attendance:
Pitt RB
Ray Graham
, Rutgers LB
Khaseem Greene
, Pitt DT
Aaron Donald
, UConn DE
Trevardo Williams
, USF QB
B.J. Daniels
.
Big names not in attendance:
Louisville QB
Teddy Bridgewater
, Louisville S
Hakeem Smith
, Syracuse QB
Ryan Nassib
(family obligation), Pitt QB
Tino Sunseri
, Cincinnati QB
Munchie Legaux
.
What to expect:
1. State of the Big East:
I can all but guarantee interim commissioner Joe Bailey is going to put on the hard sell about the merits of the Big East, especially with its incoming members. He has to, considering this is probably the only time all year there will be national media members in attendance to hear what he has to say, and to hear what the league's players and coaches have to say. My biggest hope is that he does a better job than he has in recent interviews. The Big East has to really come out swinging, particularly with TV negotiations to begin in September.
2. Last year of current Big East:
I can also guarantee Pitt and Syracuse are going to be fielding questions about whether this is their last year in the league, and how that makes them feel. Are they concerned about that? Do they think they will be bigger targets because they are departing? Neither team had representatives at the recent spring meetings, so you have to think both are going to be in an awkward spot in Newport, with one foot in the door and another foot out.
3. Playoff:
The hottest topic of the offseason is sure to be addressed by every coach at media days, along with Bailey and even senior associate commissioner Nick Carparelli. The league has done its best to spin the playoff as a positive in all directions. I think it is a positive that there is a four-team playoff, but I also think it's a negative the Big East is losing its guaranteed spot in a major bowl.
4. Divisional alignment:
The league is expected to vote on and announce its division alignment starting with the 2013 season, when six new members come into the league (Boise State, Houston, Memphis, San Diego State, SMU, UCF). The
three models
under consideration are North-South, East-West or non-geographic.
5. TV questions:
You can bet representatives from all the TV networks interested in bidding on the Big East are going to be there, the way they were a year ago. Only now, there is a much bigger sense of urgency because of questions about the future of the league and whether it can match the deal it turned down from ESPN last year.
6. Ray Graham:
I am actually surprised to see Pitt is bringing Graham, because he is going to be bombarded with questions about his knee. I have to think Pitt is extremely confident in what he has done during the rehab process to bring him along. In every interview I have done with Graham, he has been a class act, so I am sure Pitt believes he will handle himself appropriately when all the queries come his way.
7. Louisville:
Even though Bridgewater won't be there, coach Charlie Strong is sure to field plenty of questions about his starting quarterback. Bridgewater has made the leap into the national spotlight with his name being on the watch list for the Maxwell Award, given annually to the best player in college football. Strong is sure to be asked how Bridgewater avoids the clichéd "sophomore slump" and how his young team deals with increasing expectations.
8. Favorites?
Along those lines, the Big East appears to be wide open once again, so coaches are going to be asked about the competitive nature of the league. You can also bet that USF coach Skip Holtz is going to be fielding questions about how his team breaks the mold and lives up to expectations.
May, 22, 2012
5/22/12
10:32
AM ET
As part of the "College Football Live" 100 Days 'Til Kickoff countdown, here's a look at the top 10 players in the Big East. For those wondering, the Big East blog will still have its annual preseason Top 25 player countdown a little later in the summer.
Without further ado:
[+] Enlarge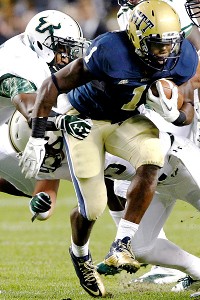 AP Photo/Keith SrakocicRay Graham could be the Big East's best player if healthy.
1. Ray Graham, RB, Pitt.
Taking a calculated risk here, considering we have no idea how Graham is going to look a year after tearing his ACL. Coach Paul Chryst says Graham will be ready for fall camp. If Graham is able to return to form, he should be the best player in the league.
2. Khaseem Greene, LB, Rutgers.
Greene goes into the season as the preseason favorite to win Big East Defensive Player of the Year honors for the second straight season after sharing honors with Derek Wolfe in 2011. Though he broke his ankle in the bowl game, he will be ready for fall camp. Side note: Isn't it a neat that he and Graham are brothers?
3. Aaron Donald, DT, Pitt.
Donald emerged last season, finishing second in the league with 11 sacks. He has shifted inside to tackle this year, but he is the most productive and experienced player returning to the Pitt defensive line and should continue his upward trajectory.
4. Teddy Bridgewater, QB, Louisville.
Bridgewater had a sensational freshman season, winning league newcomer of the year honors. Hopes are high for him to build off his impressive campaign in his second year as a starter. Louisville will do more to take advantage of his athleticism, with plans to install some hurry-up offense.
5. Logan Ryan, CB, Rutgers.
Ryan led the league with 16 passes defended -- 13 breakups and three interceptions last season. Defensive back is one of the strongest positions across the league, and Ryan leads the way as the Big East's best cornerback.
6. Hakeem Smith, S, Louisville.
Smith has gotten better in each of his seasons with the Cardinals, so this season should feature more of the same. In 2011, he had 84 tackles, tied for second in the league, with nine pass breakups. He also tied for second in the league with three forced fumbles and made the Big East first team.
7. Ryne Giddins, DE, USF.
Giddins emerged in the second half of last season (yes, I know many of you still remember him for his personal foul against West Virginia) and is in line to have a breakout year for the Bulls, who should have one of the stronger defensive lines in the Big East.
8. B.J. Daniels, QB, USF.
Daniels should be the best quarterback in the Big East, considering he is going into his fourth year as a starter. Is this the year he finally lives up to expectations and delivers a long-awaited -- and first -- league title?
9. Walter Stewart, DE, Cincinnati.
Coach Butch Jones says he has not been around a player as focused as Stewart in a long time. That is saying something, considering the defensive stars the Bearcats had last season. Stewart is poised to give Cincinnati a huge presence at rush end.
10. Lyle McCombs, RB, UConn.
McCombs ran for more than 1,000 yards as a freshman last season and returns for 2011 with much more confidence -- and the Huskies hope a better offensive line. He goes into the season as the unquestioned featured back.
January, 31, 2012
1/31/12
9:00
AM ET
With one day to go before signing day, it is worth taking a look back at how the players on the Big East first-team fared when they were coming out of high school.
You will see, once again, that recruiting rankings generally have nothing to do with the way a player will do in college. So anybody freaking out about what your school does or does not have in the way of commitments for 2012, just take a deep breath. And look at how some of the most unheralded players out of high school become some of the best in the Big East.
I used ESPN recruiting rankings. Note only one player honored on the first team was ranked as an ESPNU150 player. Many on defense came in as either athletes, receivers or quarterbacks.
Offense
[+] Enlarge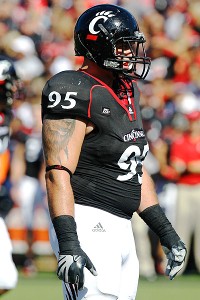 AP Photo/Al BehrmanCincinnati defensive tackle Derek Wolfe -- the 2011 co-Big East Defensive Player of the Year -- was unranked coming out of high school.
WR Mohamed Sanu, Rutgers.
Sanu was ranked the No. 18 safety in the nation coming out of high school in 2009, with a scout grade of 80.
WR/RS Tavon Austin, West Virginia.
Austin was rated the No. 41 running back in the nation coming out of high school in 2009 -- three spots behind De'Antwan Williams (Rutgers) and one spot behind Jason Douglas (Pitt). Know who else was ranked ahead --
Victor Marc
and
Bradley Battles
of USF.
OT Justin Pugh, Syracuse.
Unranked at his position for the class of 2009, Pugh got a scout grade of 40. Talk about making the most of somebody who was "undervalued."
OT Don Barclay, West Virginia.
Ranked No. 65 at his position in the class of 2007. One other West Virginia player was ranked athead of him, at No. 55 --
Gino Gradkowski
, who transferred to Delaware.
OG Randy Martinez, Cincinnati.
Rated the No. 161 defensive end in the class of 2007.
OG Art Forst, Rutgers.
Forst was ranked the No. 25 offensive tackle in the class of 2008 -- the second-highest Big East player on the list behind
Lucas Nix
of Pitt.
OG Andrew Tiller, Syracuse.
Tiller was unranked and did not even get a scouts grade when he was being evaluated in 2009 out of Nassau Community College.
C Moe Petrus, Connecticut.
The best center in the Big East was unranked and had no scouts grade when he signed with UConn in 2007.
TE Nick Provo, Syracuse.
Provo was ranked No. 86 at his position in the class of 2007
QB Geno Smith, West Virginia.
Smith has lived up to his billing -- ranking No. 97 on the ESPNU150 in the class of 2009. He was the No. 8 player at his position and No. 15 in the state of Florida.
RB Isaiah Pead, Cincinnati.
The No. 152 ranked running back in the class of 2008, Pead got a scout grade of 71. He just won MVP Honors on the Senior Bowl.
RB Ray Graham, Pittsburgh.
Rated the No. 66 running back in the class of 2009, Graham was rated behind West Virginia's Daquan Hargrett (left program) and USF's
Adaris Bellamy
(academics).
RB Antwon Bailey, Syracuse.
Ranked the No. 128 running back in the class of 2008 -- well behind fellow signee Averin Collier (No. 42). Collier was considered the gem of the class, but academics derailed his career.
K Dave Teggart, Connecticut.
Teggart was ranked the No. 25 kicker in the class of 2007.
Defense
DL Derek Wolfe, Cincinnati.
Wolfe was unranked at his position in the class of 2008 and got a scout grade of 40. Four years later, he was the co-Big East Defensive Player of the Year.
DL Kendall Reyes, Connecticut.
Reyes also was unranked in his position in the class of 2007 with a scout grade of 40. Believe it or not, he came into UConn at 220 pounds (he's now around 300) and now has a shot to be a mid-round draft pick.
DL Chandler Jones, Syracuse.
Jones came to Syracuse as a 230-pound tight end, unranked and giving a scout grade of 40. Now he is headed to the NFL draft as a projected second-to-third round pick.
DL Bruce Irvin, West Virginia.
Irvin took an
incredible journey to West Virginia
through Mt. SAC junior college after dropping out of high school.
LB JK Schaffer, Cincinnati.
Schaffer was ranked the No. 93 outside linebacker in the class of 2008, behind such players as
Tyler Urban
,
Marvin Booker
(Rutgers), Quavon Taylor (USF) and Marcus Witherspoon (Rutgers).
LB Khaseem Greene, Rutgers.
No ranking or scout grade for Greene, who went to prep school before arriving at Rutgers.
LB Najee Goode, West Virginia.
Goode was a quarterback and linebacker in high school who was not ranked.
CB Adrian Bushell, Louisville.
Bushell was ranked the No. 21 cornerback in the class of 2008 and originally signed with Florida. After playing at junior college, he made an immediate impact with the Cardinals.
CB Keith Tandy, West Virginia.
Tandy was ranked the No. 207 quarterback in the nation in the class of 2007. The same group that featured Jimmy Clausen and Ryan Mallett.
S Drew Frey, Cincinnati.
Frey was a receiver coming out of high school and unranked, with a scout grade of 40.
S Hakeem Smith, Louisville.
Smith was ranked the No. 93 receiver in the class of 2009, but his athleticism allowed him to switch to defense and emerge as one of the best safeties in the league.
S Jarred Holley, Pittsburgh.
Also a receiver in the class of 2008, Holley was ranked No. 230 at that position with a scout grade of 65.
S Duron Harmon, Rutgers.
The No. 49 athlete in the class of 2009, he was ranked below teammate
Jamal Merrell
,
Todd Thomas
of Pitt and
Kayvon Webster
of USF.
P Pat O'Donnell, Cincinnati.
O'Donnell was unranked with a scout grade of 40, but he has emerged as one of the most impressive iron men in the league.
December, 9, 2011
12/09/11
10:30
AM ET
Editor's Note: Tune into the "AT&T ESPN All America Team Show" on Saturday (ABC, 1:30 p.m. ET) to see who ESPN's writers and experts selected.
You saw what the coaches had to say when they picked the All-Big East team. Now it is my turn. I only have a few different opinions than the coaches. To start, West Virginia receiver
Stedman Bailey
is on my first team over
Tavon Austin
. Bailey finished with more yards; Austin with more receptions. But I thought Bailey was a little more consistent over the course of the entire season.
I also have West Virginia defensive lineman Julian Miller on the first team ahead of Bruce Irvin. Miller got off to a slow start, mostly because he was hobbled with an injury. But late in the season with games on the line, he was almost unstoppable. Pitt running back
Ray Graham
also gets a nod even though he missed the final five games of the season with a knee injury.
Without further adieu:
OFFENSE
QB:
Geno Smith
, West Virginia
RB:
Isaiah Pead
, Cincinnati
RB: Ray Graham, Pitt
OT: Don Barclay, West Virginia
OT: Justin Pugh, Syracuse
C: Joe Madsen, West Virginia
OG: Randy Martinez, Cincinnati
OG: Andrew Tiller, Syracuse
WR:
Mohamed Sanu
, Rutgers
WR: Stedman Bailey, West Virginia
DEFENSE
DL: Julian Miller, West Virginia
DL: Kendall Reyes, UConn
DL: Derek Wolfe, Cincinnati
DL: Chandler Jones, Syracuse
LB: JK Schaffer, Cincinnati
LB: Najee Goode, West Virginia
LB: Khaseem Greene, Rutgers
S: Hakeem Smith, Louisville
S: Duron Harmon, Rutgers
CB: Adrian Bushell, Louisville
CB: Keith Tandy, West Virginia
SPECIALISTS
PK: Dave Teggart, UConn
P: Pat O'Donnell, Cincinnati
RS: Tavon Austin, West Virginia
September, 7, 2011
9/07/11
9:00
AM ET
If Louisville looks ahead to its big game against Kentucky next week, then the Cardinals might miss FIU and its terrific all-purpose player
T.Y. Hilton
.
And if they miss him, they will be in some serious trouble.
Simply put, the Cardinals cannot afford to overlook FIU on Friday night. The Panthers are one of the most improved teams in the nation, coming off the first bowl appearance in school history and the first conference title in school history. They have a veteran group of players that played well in their nonconference games last year. Remember, this is a team that nearly beat Rutgers to open last season.
[+] Enlarge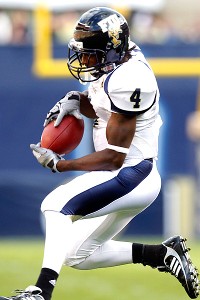 AP Photo/Keith SrakocicT.Y. Hilton is one player Louisville is going to have to keep an eye on Friday night.
Then there is Hilton, one of the most dangerous players in the country. In the season opener against North Texas last week, Hilton racked up 283 all-purpose yards -- the second-highest total in his career. He can do it all -- he's the team's top receiver, he is a threat out of the backfield and he returns kicks.
"T.Y. is an outstanding football player," Louisville coach Charlie Strong said. "We're going to have to find a way to corral him."
Hilton provides a big test for the young Cardinals secondary. Louisville held its own against Murray State last week with Anthony Conner and freshman Andrew Johnson making their starts. Conner picked up an interception in the win, and Strong thought they both did a good job.
But this is a much bigger challenge. Louisville hopes to have cornerback Jordon Paschal back after he missed last week with an injury. But still, the secondary is one of the most inexperienced units on the team, so the play of safeties Shenard Holton and Hakeem Smith is going to be even more important this week so they can provide support in trying to top Hilton.
"I don't know if we can cover him," Strong said. "We need to get enough guys around him so if he does catch it, we can get him on the ground."
Hilton was the Sun Belt Player of the Year in 2010 after racking up 2,089 all-purpose yards, including 210 in the bowl win over Toledo. He is a big reason FIU is no longer an afterthought in the Sun Belt.
There are other areas Louisville will have to improve on in this game. The offensive line, featuring five new starters, had a rough go of it in the opener. Center Mario Benavides is out for a second straight week, so the Cardinals will go with the same lineup.
Will Stein
has a sprained ankle but should be good to go, and he needs to make sure he is productive throughout the entire game. The Cardinals cannot afford to have four turnovers the way they did against Murray State, either.
Focusing on this contest is hugely important, and Strong knows that. He has a young team -- 2o players got their first game experience last week -- so there is a lot of growing up yet to do before the Kentucky game Sept. 17.
"We're not good enough to look ahead," Strong said. "There has been no mention at all of Kentucky."
August, 12, 2011
8/12/11
11:25
AM ET
Here is your Big East preseason all-conference team:
Offense
QB
Geno Smith
, West Virginia
RB
Isaiah Pead
, Cincinnati
RB
Ray Graham
, Pitt
OG Jeremiah Warren, USF
OG Zack Chibane, Syracuse
C Moe Petrus, UConn
OT Mike Ryan, UConn
OT Don Barclay, West Virginia
TE
Ryan Griffin
, UConn
WR
Tavon Austin
, West Virginia
WR
Mark Harrison
, Rutgers
Defense
DE Brandon Lindsey, Pitt
DE Bruce Irvin, West Virginia
DT Kendall Reyes, UConn
DT Derek Wolfe, Cincinnati
LB JK Schaffer, Cincinnati
LB Sio Moore, UConn
LB Max Gruder, Pitt
CB Keith Tandy, West Virginia
CB Blidi Wreh-Wilson, UConn
S Hakeem Smith, Louisville
S Jarred Holley, Pitt
Special teams
K Dave Teggart, UConn
P Pat O'Donnell, Cincinnati
RS
Lindsey Lamar
, USF
July, 28, 2011
7/28/11
2:00
PM ET
Time to finish up the rankings before the frenzy of media days next week. I am going with the top five safeties and top five cornerbacks on this list of defensive backs. Safety is a much stronger position leaguewide than cornerback, where many teams lost their top players.
Safeties
[+] Enlarge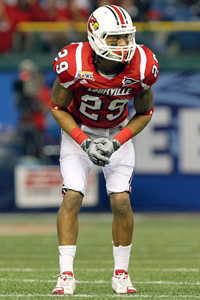 Kim Klement/US PresswireLouisville's Hakeem Smith was a unanimous selection as Big East Rookie of the Year.
1. Hakeem Smith, Louisville.
Smith had a breakout season as a freshman last year and was selected the Big East Rookie of the Year. He led the team with 88 tackles, including six for a loss, and became known for his ability to make big plays. Imagine what he can do as a sophomore.
2. Jarred Holley, Pitt.
A second-team All-Big East selection in 2010, Holley enters his third year as a starter. Last year, he ranked third in the Big East with five interceptions. This year, he should anchor a unit that has the potential to be among the best in the league.
3. Phillip Thomas, Syracuse.
Thomas is the top returning tackler for the Orange, having made 92 stops last season. He is a physical player and brings an incredible energy to the field, but has to make sure to keep his emotions in check.
4. Jon Lejiste, USF.
The Bulls have one of the best secondaries in the conference, and Lejiste is a reason why. He especially excelled last season on the safety blitz USF liked to use -- he racked up four sacks from his safety position.
5. Terence Garvin, West Virginia.
Garvin led the Mountaineers in tackles last season. In fact, he had five or more tackles in nine games last season. He brings great size to the position (6-foot-3, 222 pounds), and great leadership and experience as well.
Cornerbacks
1. Keith Tandy, West Virginia.
Not only is Tandy the best cornerback in the league, he is one of the best in the country. Tandy was named to the Jim Thorpe Award watch list this season after a breakout 2010, when he ranked No. 5 in the nation in passes defended (17) and was named first-team All-Big East. He is moving to the left side this season.
2. Blidi Wreh-Wilson, UConn.
Wreh-Wilson found his comfort zone last season and became a force. Of his four interceptions, he returned two for touchdowns. He should be even better this year in a secondary that returns all four starters.
3. Quenton Washington, USF.
With Mistral Raymond gone, Washington should step in as the team's best cornerback. USF coaches are confident he is going to have a breakout season after an impressive spring. One area he can work on -- helping the secondary get more interceptions. He had just one last season.
4. Dwayne Gratz, UConn.
The Huskies overcame a shaky start in the secondary last season and should be one of the best this year. Gratz and Wreh-Wilson team to form the best cornerback duo in the league.
5. Antwuan Reed, Pitt.
Reed returns as the most experienced player in the Pitt secondary. Despite missing the spring as a precaution (concussion), Reed should be full-go for fall practice and much is expected of him in his second year as a starter.
Previous rankings:
February, 23, 2011
2/23/11
9:00
AM ET
Spring practice is just around the corner -- South Florida will be on its new practice fields next week, while other Big East teams will follow suit shortly after.
So here's a look at what to expect from each league team this spring.
Cincinnati
Spring practice starts:
March 29
Spring game:
April 16
What to watch:
Fixing the defense: There's little doubt that improving the defense is the first order of business in Clifton. The Bearcats ranked last in the Big East last season while giving up 28 points per game. The good news is that all 11 starters on that side of the ball are back. The bad news is those are the same guys who couldn't get it done a season ago. An extra year of maturity should help, and Butch Jones expects more depth and competition on defense, including the arrival of junior-college import Malcolm Murray at safety.
Restocking the Binns: Cincinnati should still be strong on offense with the return of senior quarterback Zach Collaros and senior Isaiah Pead, the leading returning rusher in the Big East. Yet the loss of the league's most productive receiver in 2010, Armon Binns, means the Bearcats need to find a few more guys to make plays at receiver. D.J. Woods is an obvious choice as the new go-to guy, but he'll have to solve his fumble problems. Transfer Kenbrell Thompkins, who couldn't get eligible last season, will look to step forward. Another sidelined receiver, freshman Dyjuan Lewis, won't be cleared to join in team activities until the summer.
Looking for leaders: One of the problems during the 2010 4-8 season, as voiced by departing senior Jason Kelce and implied by Jones, was a lack of leadership on the team. Hey, it happens sometimes when your program has been to back-to-back BCS games and young players feel an undeserved sense of entitlement. Jones has been trying to change that, and we should be able to tell during the spring whether some new leaders have emerged.
Connecticut
Spring practice starts:
March 15
Spring game:
April 16
What to watch:
Back to the future: For the first time since the end of 1990s, and for the first time ever as an FBS-level program, the Huskies will have someone other than Randy Edsall leading them through practice in March. Former longtime Syracuse coach Paul Pasqualoni took over when Edsall left for Maryland, and Pasqualoni hired new coordinators (George DeLeone on offense and Don Brown on defense) to mix in with the holdovers from Edsall's staff. UConn has been doing things the same way for a long time, and with pretty strong results. How will the team react to Pasqualoni's new-look, old-school ways?
Backfield in motion: Quarterback Zach Frazer is gone. Star tailback Jordan Todman left early for the NFL. Fullback Anthony Sherman graduated. Everything behind center is new. The quarterback position looks pretty wide open, with sophomore Michael Box perhaps having the edge after making one (very unsuccessful) start in 2010. Early enrollee Michael Nebrich is one to watch. How will the Huskies replace Todman? Good question. Robbie Frey decided to concentrate on graduate school, leaving USC transfer D.J. Shoemate as the only experienced ballcarrier. Freshman Lyle McCombs' status is unclear for spring after his offseason arrest, and the two running backs in the signing class won't arrive until summer. Right now, it's anybody's guess as to who might carry on the UConn running back tradition.
Reloading at linebacker: The Connecticut defense brings a lot back, but one position that needs refilling is linebacker. Lawrence Wilson, who led the Big East in tackles the past two seasons, and Scott Lutrus, a four-year starter and solid leader, both exhausted their eligibility. Sio Moore looks like a rising star and had some huge games in 2010, but the other two positions have large shoes to fill.
Louisville
Spring practice starts:
March 23
Spring game:
April 15
What to watch:
Smooth sailing for Bridegwater?: The Cardinals' most pressing issue is at quarterback, where senior co-starters Justin Burke and Adam Froman are gone. Highly-touted recruit Teddy Bridgewater will participate in the spring, and how quickly he picks up the college game and coordinator Mike Sanford's system could go a long way to determining what happens this fall. If he needs more time, senior Will Stein will happily take the reins.
Rebuilding the O-line: The key to Louisville's offensive success was its senior-laden line, which proved to be the best in the Big East a year ago. But now four new starters must be found to go along with center Mario Benavides. The new guys must get up to speed and develop chemistry quickly for the running game and presumed new starter Jeremy Wright to duplicate last season's progress.
Last line of defense: Louisville's defense was most vulnerable at its back end at times last season, and now the Cardinals must replace both starting cornerbacks (including All-Big East first team performer Johnny Patrick), no to mention two senior linebackers. An obvious candidate to take over some leadership is safety Hakeem Smith, who was the Big East rookie of the year. The plus side is that Charlie Strong and coordinator Vance Bedford will have more young talent to work with.
Pittsburgh
Spring practice starts:
March 15
Spring game:
April 16
What to watch:
Golden Graham?: There will be no more drastic change in the Big East this spring than the offense at Pittsburgh, which will go from a run-based pro-style attack to Graham's no-huddle, wide-open, points-per-minute machine. Can the Panthers get this new offense up and running this spring? Does Graham have the players to make it work? And how will his offense, so successful in Conference USA, translate into the more rugged Big East? All those questions will be fascinating to follow.
Quarterback competition: Junior Tino Sunseri started every game in his first year at the controls in 2010, and he played well at times. But a new style and new coaching staff means that he might have an edge, but not necessarily an insurmountable one, in this spring's competition. Redshirt freshman Mark Myers is multi-talented and will be given a look, along with classmate Anthony Gonzalez and Kolby Gray. The current staff has no loyalty to Sunseri, so he'll need to perform at a high level this spring to keep his job.
Shoring up the 'D': It's no secret that Pitt struggled in defending the pass last season. Graham's offense may be more explosive, but he doesn't want to have to get into shootouts all the time. He and defensive coordinator Keith Patterson have experience running 3-3-5 and 4-2-5 formations and may go to more of those kinds of looks to counter the increasing spread offenses throughout the league. First Pitt will have to get better play from its secondary and linebackers in pass coverage, and that starts this spring.
Rutgers
Spring practice starts:
March 29
Spring game:
April 30
What to watch:
Line change: The first thing to focus on this spring for the Scarlet Knights is the front five on offense. The offensive line has been a mess for the past two years and was an utter disaster a year ago. Head coach Greg Schiano is counting on junior-college center Dallas Hendrickson to provide some immediate help, and that another year will lead to better things for the returnees. Rutgers needs answers at right tackle, especially, and if the line can't block its own defense in spring practice, you'll know there's trouble.
A Frank re-assessment: Former Pitt offensive coordinator Frank Cignetti takes over the Scarlet Knights' playcalling duties this spring, and his pro-style background seems like a perfect match for what Schiano likes to do. Look for Cignetti to try to establish a stronger running game this spring (while waiting for mega-recruit Savon Huggins to arrive this summer) and abandon the Wildcat formation and other gimmicks that Rutgers desperately turned to the past two years. His work with sophomore starter Chas Dodd will also be critical, since there are no other experienced quarterbacks on campus.
Recharging the defense: You always expect a Schiano-led defense to be rock solid, but that defense wore down last season and ended up allowing more points in conference play than anybody. Three of the starting four defensive linemen are gone, as well as the team's leading tackler -- linebacker Antonio Lowery -- and safety Joe Lefeged. Schiano has recruited well and has lots of young players ready to step into bigger roles. Spring will be the time we start to learn who's ready to handle increased responsibilities.
South Florida
Spring practice starts:
March 3
Spring game:
April 2
What to watch:
Transfers accepted: Running backs Darrell Scott and Dontae Aycock have strong credentials; Scott was one of the more sought-after recruits in the country before disappointing at Colorado, while Aycock was set to play for Auburn. Both become eligible this year and will show their stuff this spring. The two big-bodied ballcarriers could add some power and explosiveness to the Bulls offense. Notre Dame transfer Spencer Boyd should bring depth, at the very least, to the secondary.
B.J. still the main Bull?: Junior B.J. Daniels seemed to reassert himself as the starter with a big performance in the Meineke Car Care Bowl win over Clemson. But before that, there were serious questions about whether sophomore Bobby Eveld might unseat him. Daniels goes into the spring with an obvious edge, but he'll be pushed by Eveld and redshirt freshman Jamius Gunsby. He'll need to perform at a consistent level to stiff-arm questions about his job security.
Receiver reconstitution: No doubt, receiver was the position that needed the largest upgrade a year ago. The bad news is, the Bulls lost leading pass-catcher Dontavia Bogan, who was nearly a one-man show at wideout in 2010. On the flip side, A.J. Love and Sterling Griffin return from injury. And Skip Holtz hopes getting thrown into the fire last season sped the development of guys like Evan Landi, Joel Miller and Lindsey Lamar. At the very least, the position has a lot more experience and depth than it did a year ago at this time.
Syracuse
Spring practice starts:
March 8
Spring game:
April 16
What to watch:
Displacing Delone: Senior Delone Carter brought the thunder to the Syracuse running game the last two years, and he may have been the least favorite ballcarrier for opposing tacklers to bring down. With him gone, it remains to be seen whether the smaller Antwon Bailey can be an every-down back, or if youngsters like Prince-Tyson Gulley and Jerome Smith are ready for an increased role in the offense.
Linebacker makeover: It would be hard for any team to lose a more productive linebacker tandem than the Orange did with seniors Doug Hogue and Derrell Smith. They were both crucial to what defensive coordinator Scott Shafer liked to do. The lone returning starter is Marquis Spruill, who played as a true freshman last year. Could a newcomer like junior-college transfer Siriki Diabate be ready to help immediately?
Wideout wonders: Marcus Sales helped rescue an ailing passing game with his breakout performance in the New Era Pinstripe Bowl. Is Sales ready to play like that all the time now, or was he a one-game wonder? Will Van Chew continue the improvement he showed last season before getting injured? Can the Orange get more out of Alec Lemon? What new faces might help at receiver? The answers to these questions will be key to the attack under Nathaniel Hackett, who was promoted to offensive coordinator this offseason.
West Virginia
Spring practice starts:
March 28
Spring game:
April 29
What to watch:
Dana days: Mountaineer Nation is salivating at the thought of what Dana Holgorsen will do to revive the offense. Holgorsen has had an immediate and incredible impact at the last two places where he called plays, and some solid work in the spring is required to do the same in Morgantown. A couple of things are for sure: the Mountaineers will be throwing it around a whole bunch during practice, and fans will breathlessly gobble up every small detail. Another thing to watch will be the chemistry between Holgorsen's hand-picked offensive staff and Bill Stewart, the man he'll replace at the end of the season. That relationship will also be dissected relentlessly.
Defense reload or rebuild?: Most people assume West Virginia will continue to field an excellent defense because of coordinator Jeff Casteel. That may be true, but no team lost more defensive talent than the Mountaineers, who must replace frontline players like tackle Chris Neild, linebacker J.T. Thomas, safety Robert Sands and cornerback Brandon Hogan, among others. There's still a lot to like here, including ends Julian Miller and Bruce Irvin and corner Keith Tandy, but for Casteel must find new contributors to keep his 3-3-5 humming along.
Who's in the backfield?: It's not yet know just how much quarterback Geno Smith will be able to do during spring practice after his offseason foot surgery. Obviously, the more reps he can take, the better he'll be able to get Holgorsen's system down. And there's no experience behind him. West Virginia will be cautious with Smith, though, because the fall is way more important. With Noel Devine gone and Tavon Austin seemingly making his move to receiver permanent, there will be competition for the starting running back spot. Shawne Alston and Ryan Clarke are bulldozers who could add an interesting wrinkle to Holgorsen's spread if they get the job done.
January, 31, 2011
1/31/11
9:00
AM ET
Signing day is now just 48 hours away. So let's take a look at the recruiting needs are for each Big East team in this class.
The positions listed reflect areas of need for the 2011 and 2012 seasons and don't take into account players who have already committed at those spots, though I try to highlight some of those notable commitments below.
Cincinnati

Offensive line:
The Bearcats lose three senior starters from an offensive line that had its share of struggles in the 2010 season. Left tackle, center and right guard will all need new starters in 2011, and Butch Jones wasn't thrilled with the depth he inherited at those key positions. He needs to refill the ranks.
Running back:
Isaiah Pead
had a breakthrough year and might be the top running back in the Big East in 2011, but he's a senior. Backup
John Goebel
graduated, and
Darrin Williams
hasn't shown enough consistency as an every-down player. The Bearcats hope current commitment Jameel Poteat can be the next Pead.
Defensive toughness:
Cincinnati returns all 11 starters from the 2010 defense, but that defense gave up the most points in the Big East. There's not a position on the defense that couldn't use more depth and more talent. The Bearcats were especially light on strength and toughness on defense, so any hard-nosed guys who can play on that side of the ball are welcome to join.
Connecticut

Linebacker:
UConn returns most of its starting defense from 2010 but loses a pair of four-year starters in linebackers Scott Lutrus and Lawrence Wilson. Sio Moore is a rising star at the position, but it will be hard to replace the veteran leadership and production that Lutrus and Wilson provided. The Huskies' top two recruits right now are both linebackers.
Offensive line:
The Huskies lose both starting guards from 2010, including All-Big East performer Zach Hurd. The program has had an uncanny knack for simply plugging in new starters along that offensive front and not missing a beat. It remains to be seen whether new coach Paul Pasqualoni and his staff can continue that tradition.
Wide receiver:
Sure, UConn returns virtually all of its pass-catchers from the Big East championship team. But the passing game was brutally bad down the stretch, and the Tostitos Fiesta Bowl loss highlighted the need for more playmakers on offense. Pasqualoni has said he wants to throw the ball down the field to stretch the defense, and he'll need game-breakers to do so.
Louisville

Quarterback:
Adam Froman
and
Justin Burke
split the starting duties under center last season, and both were seniors. The only other quarterback on the roster with experience at the position is
Will Stein
, who'll be a senior this year.
Dominique Brown
was recruited as a quarterback last year, but his future probably lies at another position. Incoming freshmen Teddy Bridgewater and DaMarcus Smith, if he keeps his pledge to the Cardinals, could compete for the starting job right away.
Defensive back:
The secondary was a constant source of concern for Louisville last year, and the Cardinals got a surprising contribution from Big East rookie of the year Hakeem Smith at safety. But both starting cornerbacks, including likely NFL draft pick Johnny Patrick, are gone. Louisville's top recruit right now is safety Gerod Holliman.
Wide receiver:
The Cardinals had an excellent running game and the top pass-catching tight end in the Big East a year ago. But they had trouble going vertical in the passing game because of a lack of explosive playmakers in the passing game. Injuries and inexperience hurt the position last season, and leading receiver
Doug Beaumont
graduated. Offensive coordinator Mike Sanford's attack will look much different when Louisville gets some star wideouts on board.
Pittsburgh

Running back:
Dion Lewis
bolted for the NFL as a draft-eligible sophomore, and fullback
Henry Hynoski
went pro early as well. That leaves
Ray Graham
as the only real option for handoffs. It's no surprise that Pitt has commitments from four players identified as running backs in this class so far.
Wide receiver:
Jon Baldwin
took his talents to the NFL after his junior year. True, the Panthers still have plenty of talent at the position, including
Mike Shanahan
and the emerging
Devin Street
. But Todd Graham's new wide-open offense is going to need a lot of targets in the passing game, especially versatile players who can do lots of things in space.
Offensive line:
Pitt's problems in the middle of its offensive line to start last season exposed a shocking lack of depth at the position, which had suffered through several recruiting misses in the past. The Panthers now have to replace their All-Big East left tackle in Jason Pinkston and find a new starting center. And Graham's offense is going to require a different kind of blocking scheme.
Rutgers

Offensive line:
This is a no-brainer for a team that gave up a nation's-worst 61 sacks a year ago. It's hard to find immediate help at this position, but the Scarlet Knights did ink a junior-college player who is expected to start at center this season. Whether it's the scheme or just the players running it, Rutgers needs a change up front.
Running back:
Jordan Thomas
did some nice things as a true freshman, and
Joe Martinek
hopes to be fully healthy for his senior year. But Greg Schiano's offense has been searching for a difference-maker at tailback since Ray Rice went to the Baltimore Ravens. He hopes Savon Huggins, the top New Jersey recruit who committed late last week, is that guy.
Quarterback:
Tom Savage
's transfer leaves true sophomore
Chas Dodd
as the only quarterback with any experience. It's hard to go through a whole year with just one quarterback, so the Scarlet Knights desperately need depth. They received a pledge from Don Bosco Prep signal-caller Gary Nova, a former Pitt recruit.
Defensive line:
Three of the four starters along the defensive line were seniors last year, including starting defensive ends Jonathan Freeny and Alex Silvestro. Schiano has some promising young players at the position but needs depth there so he can rotate in fresh bodies to rush the passer.
South Florida

Wide receiver:
The Bulls' dearth of reliable targets in the passing game was painfully obvious most of the year. No. 1 wideout
Dontavia Bogan
was a senior, meaning some of the younger players at that spot need to grow up in a hurry. USF should get
A.J. Love
and
Sterling Griffin
back from injury, but it's clear that Skip Holtz needs some more deep threats.
Offensive line:
Three starters are gone off the offensive line, including tackles Jamar Bass and Jake Sims and center Sampson Genus. The two returning starters will be seniors this season. The Bulls need to usher in the next wave of linemen into the program this recruiting season.
Defensive back:
Mistral Raymond, who could play both corner and safety for the Bulls last season, is gone. There wasn't a ton of depth here this year, and though Quenton Washington had a great Meineke Car Care Bowl game, South Florida feels like it can upgrade its secondary through recruiting.
Syracuse

Linebacker:
The Orange had one of the better defenses in the Big East in '10, and senior linebackers Doug Hogue and Derrell Smith were big reasons why. Marquis Spruill showed promise at the position as a true freshman this season, and Syracuse needs a couple more like him to stay strong in Scott Shafer's pressure scheme.
Wide receiver:
Marcus Sales
came out of nowhere to have a huge New Era Pinstripe Bowl performance, but it remains to be seen if he can duplicate that performance next year.
Van Chew
showed great improvement throughout the year, but he and
Alec Lemon
dealt with injuries down the stretch that often left
Ryan Nassib
without anybody to target.
Running back:
Delone Carter
's graduation and Averin Collier's dismissal thins the backfield significantly.
Antwon Bailey
returns for his senior year but has to prove he's an every-down back. No one else on the roster has proved anything at the position.
West Virginia

Quarterback:
The good news is that
Geno Smith
has thoroughly established himself as The Man at quarterback. The bad news is that Smith's entrenchment at the position helped run off freshmen
Barry Brunetti
and Jeremy Johnson, so the Mountaineers once again have no depth behind their starter. They have brought in an intriguing under-the-radar prospect in Paul Millard, who had ridiculous numbers in Texas.
Defensive back:
Jeff Casteel's 3-3-5 scheme demands the constant need for physical safeties who can play in different spots. West Virginia also lost a pair of stalwarts at the position in Sidney Glover and Robert Sands, who left early for the NFL. Add in the loss of star cornerback Brandon Hogan, and it's time to reload the secondary in Morgantown.
Linebacker:
The Mountaineers got surprisingly good contributions from Anthony Leonard at middle linebacker this season, and J.T. Thomas was as solid as everyone expected. They both depart, along with top backup Pat Lazear, and only senior Najee Goode remains among the experienced players at the position. West Virginia hopes junior-college import Josh Francis can help right away.