October, 16, 2014
10/16/14
2:00
PM ET
Kentucky offensive coordinator Neal Brown is an Air Raid guy, through and through.
He played for Hal Mumme, considered the godfather of the offense that had a reverberating impact on college football, at Kentucky in the late 1990s. Brown has run the system throughout his seven-year career as an offensive coordinator. Like most Air Raid disciples, he has put his own spin on the attack and it continues to evolve in his second season as Kentucky's offensive coordinator.
So it was only natural that, when Kentucky scored a landmark win over South Carolina on Oct. 4, it did so thanks in large part to … the Wildcat formation?
Huh?
Mumme, now the head coach at NAIA school Belhaven, noticed.
"It's funny," Brown said. "He texted me after the South Carolina game and it was a good text. He was basically saying, 'The No. 1 thing is to win.' He wants to throw the football, no question. But he wants to win and he likes being different. And the Wildcat deal is a non-traditional way, so I think he can relate to that."
[+] Enlarge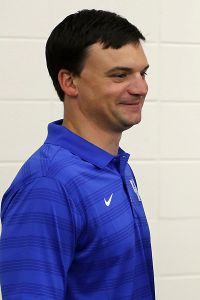 AP Photo/James CrispNeal Brown has his own take on the Air Raid offense that includes the Wildcat formation, which worked well against South Carolina.
Yes, the Wildcat formation has given Kentucky an edge recently, particularly in the 45-38 victory over the Gamecocks. Brown is all about doing whatever it takes to win. If that means doing something different from what his core principles dictate, that's fine.
With Kentucky (5-1) serving as one of the best stories in the SEC and a game away from bowl eligibility, who are we to argue? The Wildcats are averaging 36.5 points per game and have scored more than 40 in their last two. Solid quarterback play from sophomore
Patrick Towles
and depth at running back and receiver, thanks in part to an influx of talent from Mark Stoops' recruiting classes, have made a night-and-day difference for Kentucky's offense compared to where it was at this time last season.
Brown's standard offensive principles remain intact. The Wildcat is simply something different to throw at teams and something he has used since his first year as an offensive coordinator at Troy. But against South Carolina, it was particularly successful.
That night, sophomore running back
Jojo Kemp
put together a career-best performance, much of it running the Wildcat. Initially planning to only use it a handful of plays, Kentucky leaned on the formation, particularly in crunch time, and continued to use it as they had success. Kemp wound up with career-highs in carries (17), rushing yards (131) and rushing touchdowns (three) in the emotional victory.
"Jojo is great; he played awesome," Towles said. "Without him, I don't know if we win that football game."
Brown, who said he likes to use the Wildcat formation occasionally, figured it wasn't broke so there was no sense in fixing it.
"Going in, I thought we'd use it between six and eight snaps a game," he said. "We used it in short yardage and to get Jojo Kemp some touches. And then we got there in the fourth quarter [vs. South Carolina] and we hit it on a short-yardage play for a 10-plus yard gain. Then on first down, I stayed in it, and we hit it for another big gain, and from there it just became, 'Hey, they aren't stopping it; let's keep doing it and make them stop it.' Fortunately for us, they didn't that night."
Kemp's season-high workload was well above his usual carry total (he hasn't had more than nine carries in any other game this season) but he answered the bell every time, and
produced results like this
.
"I got tired a lot of times," Kemp said. "But I had to suck it up and go out there and be a man."
The formation also yielded a perfectly-executed trick play in which Towles, who usually motions out to line up as a receiver in the formation,
took a handoff on a reverse and threw a 48-yard touchdown pass
to a wide-open
Ryan Timmons
. The play gave Kentucky a lead early in the second half and provided a spark.
"We worked on that play about 25 times in practice that week, it was good every time, we executed it every time," Towles said. "[Brown] called the play, I told our offensive line what we were going to run and we had done it so many times that it was kind of second nature."
The formation has only been one element of a successful offense that was in the bottom four in the SEC in most statistical categories a year ago but has climbed to the middle of the pack in the league so far this season. Kentucky has been solid defensively this season and the Wildcats are developing an offensive identity to match.
As they head into a crucial game at LSU on Saturday night, the Wildcats are looking to build on their surprise first half of the season. They're not satisfied, though. They want more.
"We're excited, but we're focused," Towles said. "Nobody came into the season wanting to win five games. We want to win every game we play."
July, 3, 2013
7/03/13
9:00
AM ET
Shortly after his first spring as an assistant coach at SMU, Hal Mumme purchased a copy of Walter R. Borneman's "The Admirals," a book about the quartet of five-star admirals who led the United States to victory in World War II.
The parallels can be difficult to decipher. On one end stand William Leahy, Ernest King, Chester Nimitz, and William Halsey -- four men who helped establish the U.S. as the world's greatest fleet. On the other stand names like Mumme, June Jones, Dan Morrison and Jason Phillips -- a core of influential minds who will comprise the Mustangs' coaching staff this season, their first in the American Athletic Conference.
But the blending of brains should be a fascinating experiment, if only to see the godfather of the Air Raid offense (Mumme) paired with the curator of the Run 'n' Shoot (Jones, the head coach). The fact that they are also working with Morrison -- who at Hawaii coached NCAA all-time touchdown pass leader Colt Brennan -- and Phillips, who led the nation in receiving yards during Houston's Run 'n' Shoot heyday in 1987 and 1988, should only get the creative juices flowing some more.

"I bought the book on purpose, because it's kind of like being on the staff at SMU," Mumme cracked.
Mumme, SMU's passing game coordinator, will be working closely with Phillips, the co-offensive coordinator who is in his second season with the Mustangs after a nine-year stint with Houston, where Kevin Sumlin's four-year tenure featured many Air Raid principles. Their first-year graduate assistant is Timmy Chang, who became the NCAA's all-time passing leader under Morrison at Hawaii.
There are still questions. Will there be a catchy new name for this hybrid offense?
"I don't know what we'll call it, but it's the 21st Century version," Mumme said
And what, exactly, will it look like?
Jones says Mumme's offense is known for stretching the field horizontally, whereas his gets the ball down the field vertically. The common link between the two is Phillips, who coached in the former scheme and played in the latter.
"I think what we tried to do is combine some of those things off of the packages that our kids were doing pretty soundly here that we think we can add, and they'll do good with some of the things that Hal brought," Jones said.
"And I think once we manage the players, getting them in the right spots, I think we're going to have some fun."
Mumme, 61, and Jones, 60, have known each other for more than 30 years. They studied each other's film in the 1990s when Mumme was coaching Valdosta State and Jones was with the Atlanta Falcons. And they crossed paths in the Western Athletic Conference throughout the last decade, when Mumme spent four years at New Mexico State and Jones was at Hawaii.
"We'd get together and joke around with the media all the time about how we were going to have a game where there were no runs," Mumme said.
Both said that they had been trying to work together for years, though nothing materialized until Jones hired Mumme away on March 20 from Div. II McMurry in Abilene, Texas.
Together in Dallas, they will see their brainchild play out through the arm of fifth-year senior and former Texas quarterback
Garrett Gilbert
, who totaled 3,278 yards and 23 scores in his first season at SMU, which finished 7-6 last season. Gilbert and Mumme immediately hit it off upon the coach's arrival, meeting regularly to share ideas as the assistant helped install the new offense.
"It's a very cool combination on paper," Gilbert said. "We've still got to come out and execute it on Saturdays in the fall. But it gives us the opportunity to throw the ball down the field that coach Jones has been so great at, and doing some of the stuff that coach Mumme has been so famous for and so good at over the years -- getting the ball out of the quarterback's hands, letting the wide receivers make plays down the field... fast-paced. A combination of those two things will be great for our offense."
Perhaps fittingly, this outfit's first test will come on the season's first Friday night against Kliff Kingsbury in his debut as head coach at Texas Tech -- a coach and program with no shortage of Air Raid ties themselves.
"I don't think it's too early to imagine the fireworks," Mumme said.
Jones said that last season was a big year mentally for Gilbert, who came off a final campaign with the Longhorns that saw him lose his starting job before undergoing the season-ending shoulder surgery. Three years earlier, after the 2009 season, ESPN's former No. 2 quarterback recruit nationally had been thrust into the BCS title game against Alabama as a true freshman, getting picked off four times after starter Colt McCoy was knocked out of the contest.
Gilbert threw 13 interceptions through his first seven games with SMU in 2012 before closing the regular season with five straight pick-less contests.
He netted 310 yards, two scores and two interceptions in a 43-10 rout of favored Fresno State in the Hawai'i Bowl, as the Mustangs closed the season on a 5-2 stretch.
But Gilbert, who went through a coaching change before his senior year at (Austin) Lake Travis, a coordinator change with the Longhorns in 2011, a transfer to SMU last season and the addition of Mumme this season, will basically be learning his sixth different offense in the past seven years.
One worry, at least, can be quelled, as Gilbert and Mumme are in lockstep when it comes to this offense's ultimate goals.
"We want to lead the nation in passing, that's for sure," Mumme said. "We want to win a whole bunch of games. What's the name of our conference? We want to win that."
June, 21, 2013
6/21/13
9:39
AM ET
You've seen the college football future power rankings. Let's take that to another level here, using the eye test to look at how this conference is set up in the years to come.

1) Cincinnati
. With at least a share of four of the past five conference titles, and with a proven coach in Tommy Tuberville aboard, the Bearcats are the class of the conference.

2) UCF
. The most ready-made of the conference newcomers this fall, the Knights have the ideal talent, recruiting tools and coaching to compete for the conference crown year-in and year-out moving forward.

3) USF
. Like rival UCF, USF is ideally located to land top talent. The Bulls have had that talent in recent years, but the hope is that new coach Willie Taggart can make the most of it and thrive back on the recruiting trail in Tampa, Fla.

4) Tulsa
. Three straight eight-plus win seasons show that this program is on the rise, as the Golden Hurricane, much like UCF, look ready to compete with the league's elite upon their arrival.

5) UConn
. The last of the "old guard" of the old Big East is in need of a turnaround following consecutive 5-7 seasons under Paul Pasqualoni. A Fiesta Bowl appearance in 2010 and five draft picks this past April show that there is potential here.

6) SMU
. June Jones and Hal Mumme together will be a fascinating experiment to watch this year. But with their history and an always-strong nonconference slate, the Mustangs can put themselves in position to be a conference contender only if the breaks fall their way.

7) Navy
. The Midshipmen won't be aboard until 2015. But eight-plus wins in nine of the past 10 seasons against a solid independent schedule suggests the triple-option can give its new conference brethren problems upon its arrival in two years.

8) Houston
. Kevin Sumlin had a great run in 2011. Tony Levine still has some work to do, especially on the defensive side of the ball, after a down season in 2012. But landing big-name receivers like
Deontay Greenberry
and Markeith Ambles shows that there is promise for the Cougars moving forward.

9) Temple
. The Owls started off 2-0 in the Big East last season, but then received a rude awakening. New coach Matt Rhule seems perfect for the role, but the cupboard is bare as he tries to turn things around in Year 1.

10) East Carolina
. The Pirates always face their share of tough nonconference opponents, but Ruffin McNeill seems to have the program trending upward after going bowling in two of his first three seasons.

11) Memphis
. Justin Fuente won't let the Tigers get too high on themselves after a three-game winning streak to end last season. By opening up key spots -- including quarterback, where
Jacob Karam
returns -- he has shown that he is set on taking this program to another level as it enters a new conference and tries to put the Conference-USA era behind it. Still, Fuente faces an uphill battle.

12) Tulane
. The Green Wave haven't won five games in a season since 2004. They have their work cut out for them, as they move up to a better version of the C-USA they have struggled in.
April, 19, 2013
4/19/13
9:00
AM ET
Nine of 10 Big East teams will be through with spring practices come Monday, with Rutgers serving as the outlier. With UConn, Temple and SMU all gearing up for their annual spring games this Saturday, here's a peek at what to look for.

UCONN
Fans in attendance for the noon start at Rentschler Field should keep an eye on how the offense moves under new coordinator T.J. Weist. The Huskies ranked 118th in total offense last year as coordinator George DeLeone was stripped of his duties, though he remains the offensive line coach. But the squad returns all five starters up front to protect incumbent quarterback
Chandler Whitmer
, as well as top running back
Lyle McCombs
, as the unit will look to keep pace with a defense that was nothing short of outstanding last season but is down a few stars who will hear their names called next weekend in New York.
Hank Hughes is the new man in charge of the defense, and he has
Yawin Smallwood
back to anchor a unit that has said goodbye to
Sio Moore
,
Jory Johnson
,
Trevardo Williams
and
Blidi Wreh-Wilson
. The Huskies boast plenty of potential in the middle with linebackers
Graham Stewart
,
Ryan Donohue
,
Jefferson Ashiru
and
Omaine Stephens
-- but that is just potential, for now.
UConn needs answers on both sides of the ball if it hopes to improve off head coach Paul Pasqualoni's consecutive 5-7 seasons.

SMU
The Mustangs will have an open practice at 9 a.m. local time at Pettus Practice Field, with many current and former players signing autographs afterward. There will be an NFL Punt, Pass and Kick competition afterward for kids ages 6 through eighth grade.
The Mustangs are intriguing, first and foremost, because they brought Hal Mumme aboard as their assistant head coach and passing game coordinator. Pairing the Air Raid curator with head coach June Jones and his run 'n' shoot pedigree is a fascinating experiment in and of itself.
Kenneth Acker
, who is coming off a second-team All-Conference USA season in the secondary, is another experiment this spring, with the staff splitting the cornerback wide to catch some passes with the offense.
Defensively, the Mustangs are replacing a bulk of their production from last season, with
Margus Hunt
,
Ja'Gared Davis
and
Taylor Reed
all gone.
Kevin Pope
and
Robert Seals
must step up at linebacker.

TEMPLE
Head coach Matt Rhule's first spring will feature live kicking and punting, normal scoring and 15-minute quarters. Who will eventually emerge as quarterback, however, is another matter. Juice Granger and
Thomas Rumer
will see action on the Cherry squad, which is coached by defensive coordinator Phil Snow, while
Chris Coyer
and
Connor Reilly
will take reps for the White team, coached by offensive coordinator Marcus Satterfield.
Reilly has thrived under the pro-style attack, ascending to No. 1 on a depth chart that was expected to see Coyer and Granger fight for the top spot. Coyer has seen time as an H-back in practice, but Rhule said he will remain under center.
Kevin Newsome
, out with a shoulder injury, has been moved to H-back.
Reigning conference freshman of the year
Tyler Matakevich
leads a defense that struggled across the board last season, while
Levi Brown
and
Sean Daniels
are the big guys up front worth keeping an eye on.
The live kicking and punting part of Saturday's 1 p.m. contest at Edberg-Olson Hall is worth noting in that the Owls need to replace
Brandon McManus
, who held the school records for field goals made and punting average.
March, 20, 2013
3/20/13
11:00
AM ET
Talk about a meeting of the offensive minds.

Offensive guru June Jones has hired offensive guru Hal Mumme as assistant head coach/passing game coordinator at SMU, the school announced Tuesday.
Both coaches have done their share to expand and enhance passing games. Jones has been known for his Run and Shoot concepts that allowed Colt Brennan and Timmy Chang to each pass for over 35,000 yards in three seasons at Hawaii; Mumme is known as the man behind the "Air Raid" offense, versions of which Mike Leach, Dana Holgorsen and a host of others now run.
One of the biggest areas that has to be improved this spring in Dallas is consistency in the passing game.
Garrett Gilbert
threw for 2,932 yards, with 15 touchdown passes and 15 interceptions last year as the Mustangs posted their lowest passing total since Jones arrived in 2008.
Mumme has had offensive success at all his stops. He comes to SMU after spending the past four years as head coach at McMurry, which just completed its first season as a Division II independent. During his time there, he led McMurry to a 27-16 record and three consecutive winning seasons.
Mumme has also served as head coach at Kentucky, New Mexico State, Southeastern Louisiana, Valdosta State and Iowa Wesleyan.
December, 5, 2012
12/05/12
9:07
PM ET
California has hired Louisiana Tech coach Sonny Dykes, an offensive specialist, to replace Jeff Tedford as the
Bears head football coach
.
Why is the 43-year-old with a 22-15 record coaching in Ruston, La., a good hire in Berkeley?
For one, offense.
Louisiana Tech's offense ranked No. 1 in the nation in scoring this season with 51.5 points per game. And it wasn't just about passing. Most intriguing is the solid balance, as the Bulldogs rushed for 227.2 yards per game, which ranked 18th in the nation. They also ranked 18th in the nation in passing efficiency while yielding just eight sacks.
[+] Enlarge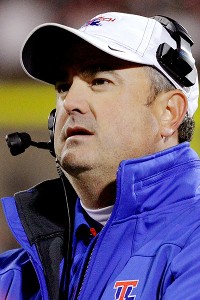 AP Photo/Seth PerlmanSonny Dykes went 22-15 in three seasons as coach of Louisiana Tech.
Dykes, who replaced recently fired Tennessee coach Derek Dooley at Louisiana Tech, is the former offensive coordinator at Texas Tech -- co-coordinator with now-West Virginia head coach Dana Holgorsen -- and Arizona, where he was largely responsible for the development of former Wildcats QB Nick Foles, now with the Philadelphia Eages. He learned offense from Hal Mumme and Mike Leach and is the son of former Texas Tech coach Spike Dykes, so he's grown up around the business.
In 2006, the year before he arrived at Arizona, the Wildcats ranked 115th in the nation in total offense and 105th in scoring offense. In 2008, the Wildcats ranked 16th in scoring and 33rd in total offense.
Dykes was the 2011 WAC coach of the year and led the Bulldogs to a 9-3 finish this season, which included road wins over Illinois and Virginia. The Bulldogs also almost knocked off Texas A&M before losing 59-57.
Dykes is known as a good recruiter with a good eye for talent. He also is socially smooth, so he should be able to negotiate those demands at Berkeley, which isn't the typical environment for a coach who expects football to be first at all moments.
Any questions? Well, defense. The Bulldogs were horrible at it this year. They were much better a year ago. The first big question will be who Dykes hires as his defensive coordinator.
Still, Cal appears to have grabbed a rising star, a molder of quarterbacks, one who knows the West Coast but also has knowledge of other areas, including Texas and the Southeast.
He steps into a good situation. Cal has a newly remodeled stadium and upgraded facilities that are the match of any Pac-12 team. It has a good Bay Area recruiting base, and a brand name that allows for a national reach.
Dykes needs to know, however, that Bears fans, despite being pretty darn bright, have become demanding. Fans started to grumble about Tedford not when he posted his first losing season in 2010 but in 2008 and 2009 when he won 17 games. Seven or eight wins a season won't create much enthusiasm. (And Dykes won't have the services of standout receiver
Keenan Allen
, who
announced Wednesday that he will enter the NFL draft
).
Of course, if Dykes leads the Bears to their first Rose Bowl since 1959, they will immediately build a statue of him outside of Memorial Stadium.
May, 28, 2009
5/28/09
4:19
PM ET
Posted by ESPN.com's Tim Griffin
The realization came a few years ago, early one morning in the Lubbock Airport, when I thought nobody could have cared what I was doing.
After a long night of covering Texas Tech, I was scheduled on the first flight back home the following morning. But before I left, I knew I had to take care of something.
As I went to a bank of pay telephones back in those pre-cellular phone days, I mumbled off my list of 25 teams to the Associated Press desker in New York City. I usually tried to get my vote in by 9 a.m. -- always settling on them the night before but always looking at them one more time the following morning before I submitted them.
The teams tumbled out in my order for the week. After I finished, I tried to relax for a couple of minutes before my flight left until an elderly man tapped me on my shoulder.
"Excuse me, sir," the man said. "I think you had Michigan ranked too high this week. And West Virginia, they were way too low."
How the fellow passenger had determined I was a voter, I had no idea. But he -- as do most college football fans at that time of the year -- had his own idea how the polls should be voted. And fans don't hesitate to tell you about it, either, in person or by e-mail.
That idea infused me with the thought of how important some considered my vote. As such, I knew the kind of diligence the poll deserved if I was voting.
And the idea that my vote was being made public each week made me take even more care in trying to get things right in my mind. Because, I knew I would hear something if it was skewed.
This is why I think the American Football Coaches Association's decision to keep their final votes private is so wrong.
Horribly wrong, in fact.
Not making the votes public robs the poll of its greatest attribute -- its credibility. When that is stripped away, the poll loses its relevance.
AFCA executive director Grant Teaff argues differently.
"Why do you think they have voting booths," Teaff told the Tulsa World. "Why do you think they have curtains around voting booths? Experts believe that's the truest way of getting the purest vote. That's what coaches are after."
Teaff is wrong in his thinking. Horribly wrong, in fact.
February, 3, 2009
2/03/09
2:03
PM ET
Posted by ESPN.com's Chris Low
Making the rounds in the SEC on this eve of national signing day:
December, 2, 2008
12/02/08
1:27
PM ET
Posted by ESPN.com's Graham Watson

New Mexico State coach Hal Mumme has been fired, the school is announcing in a press conference as I type.
| | |
| --- | --- |
| | |
| | AP Photo/Nati Harnik |
| | New Mexico State fired Hal Mumme on Tuesday, ending a four-year run in which the program often ended up in the news for the wrong reasons. |
News of Mumme's impending termination has been circulating for weeks, according to multiple people with knowledge of the situation, but a dispute over his buyout allowed him to coach through the end of the season. Mumme is 11-38 in his four seasons at New Mexico State, including a 3-9 campaign this year that saw the Aggies lose seven straight games to end the season. Mumme has never won more than four games in any season and never finished ahead of the bottom third of the Western Athletic Conference.
Mumme originally signed a five-year deal in 2004 that expires on Jan. 31, 2010. He was offered a one-year extension last December, but did not sign it.
According to the Las Cruces Sun-News, the search for a new head coach is already under way and the school hopes to have a coach in place by mid-December.
Like I said, this is hardly a surprise and probably a year too late. Mumme should have been fired after a 3-9 season a year ago, but was allowed to stay on because his team was ravaged with injury. He had similar issues this year, but in the latter half of the season, the team was uncompetitive and played uninspired.
If the school is looking to have a coach in place in a couple of weeks, it may be someone they've been talking to for a while. Not a surprise since Mumme was out the door a couple of weeks ago.
New Mexico State needs a proven, high-energy coach in this situation. As the weeks ticked down, Mumme's sour attitude (and who can blame him?) became infectious to the team. They school needs someone to shake that out of the kids.
This is the second-best job open in New Mexico right now, but a good position for a young coach to begin his head-coaching career.