NCF Nation:

Halloween 2010
October, 29, 2010
10/29/10
11:09
AM ET
The Pac-10 has its share of ghosts, ghouls and goblins. So in the spirit of the Halloween weekend ...
Haunted House:
Oregon has won 14 in a row in Autzen Stadium, but it's not only that. Against their last five ranked visitors, they've won by an average of 19.8 points.
Scary movie -- Worst loss of the season
: Speaking of haunted, UCLA looked pretty frightened during a 60-13 beatdown delivered by Oregon on Oct. 21. Making matters worse: It was an ESPN night game the whole nation saw.
Nightmare at the Coliseum
? Oregon is dreaming of a national title, but will USC turn that dream into... a NIGHTMARE! (Insert scary laugh).
Trick-or-Treat:
If Stanford and Arizona win this weekend, their matchup on the Farm on Nov. 6 could have significant implications: Rose Bowl? Second BCS bowl berth? Top-10 ranking? Etc.
Boo (Boo):
There have been two significant injuries this season. For UCLA, the what-might-have-been is over quarterback
Kevin Prince
, who is now out for the season with a knee injury. It's not just that, though. Prince battled injuries in training camp. When he had a full week of practice, the Bruins played well. When he didn't, they haven't. The second major injury is Oregon State's
James Rodgers
, who went down against Arizona with a knee injury. The loss of a potential All-American always hurts.
Night of the living dead
: Oregon State always seems to get buried and then go all crazed zombie through the Pac-10 schedule. The Beavers dropped two nonconference games to top-5 foes -- TCU and Boise State -- who continue to be unbeaten, by the way. They lost Rodgers. They lost at Washington. But the reality is this: Oregon State controls its own destiny. While it may seem like a longshot, if the Beavers win out, they go to the Rose Bowl.
Witchcraft
:
LaMichael James
has posted 32 runs of over 20 yards over the past two seasons. He leads the nation in rushing. And he's the Pac-10's leading Heisman Trophy candidate. Last year, he was just a fast guy. This year, he's a more complete running back. Next step is becoming a true threat in the passing game.
Cursed team
: UCLA has been riddled with injuries and player suspensions. Every time it seems to be breaking through -- a win at Texas-- it falls back down (see: consecutive defeats by a combined count of 95-20).
Halloween costumes
October, 29, 2010
10/29/10
10:24
AM ET
In the spirit of Halloween, here's a hauntingly different look at the SEC:
Haunted House:
One of the reasons No. 1 Auburn has been so good at home is that Jordan-Hare Stadium has been an absolute house of horrors for the other team this season. Always a tough place to play and always loud, Jordan-Hare has ratcheted up its game this season, and the Auburn fans have been phenomenal. Even in those two home games this season when Auburn fell behind to Clemson and South Carolina, the crowd never lost its spark. And when the Tigers have made their move in the fourth quarter this season, it's been pure bedlam there on the Plains. No wonder Auburn has outscored its opponents 76-18 in the fourth quarter/overtime at home this season.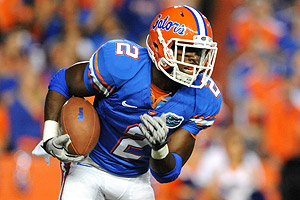 Al Messerschmidt/Getty ImagesThe Florida offense has looked frighteningly bad when Jeff Demps has been out of the lineup.
Boo (Boo):
No team has been affected as adversely by an injury this season as Florida once running back Jeff Demps hurt his foot. He's tried to play through the pain in a couple of games, but simply hasn't been very effective. As a result, the Gators' running game has been firing blanks most of this season. They haven't hit any big plays since Demps has been out and are 10
th
in the SEC in rushing offense. Urban Meyer is hopeful that Demps will be as close to 100 percent as he's been, this Saturday against Georgia.
Chris Rainey
is also returning to the lineup from his suspension and will split time between running back and receiver.
Scary movie:
The worst loss of the season in the SEC happened the very first game of the season. Ole Miss fell 49-48 in double overtime at home to Jacksonville State, becoming the first SEC team to lose to an FCS opponent since Mississippi State lost to Maine in 2004. For what it's worth, Jacksonville State hasn't lost a game this season. The Gamecocks are 8-0. Still …
Graveyard:
Is the dreaded Chicken Curse finally coming to an end? South Carolina, which has won more than eight games in a season only twice in school history, is leading the Eastern Division right now and poised to make a first-ever trip to the SEC championship game. The Gamecocks have three SEC games remaining – Tennessee at home Saturday, Arkansas at home on Nov. 6 and Florida on the road Nov. 13. If Georgia were to beat Florida this Saturday, South Carolina could clinch the East crown at home with wins against the Vols and the Hogs. If Florida beats Georgia this weekend, it's going to come down to the Gamecocks and the Gators on Nov. 13 in the Swamp.
Thriller:
Picking the most exciting player in the SEC and keeping it to just one player is impossible, so we'll cheat and pick the top five – Auburn quarterback
Cam Newton
, Kentucky receiver
Randall Cobb
, LSU cornerback/return specialist Patrick Peterson, Arkansas receiver
Joe Adams
and Alabama running back
Trent Richardson
. When any of the five are playing, you make it a point to watch their games to see what they're going to come up with next.
Thriller II:
Picking the most exciting play of the season is a little easier. Nothing quite compares to LSU's fake field goal in the Florida game with 36 seconds left when Josh Jasper takes the over-the-head flip from holder Derek Helton (on the bounce, no less) and scampers for a first down. The Tigers went on to score a touchdown on the last offensive play and win 33-29 in the Swamp. A close second would be Newton's 49-yard touchdown run last week against LSU, and a close third would be Mark Ingram's 54-yard touchdown run against Arkansas. Both runs were surreal blends of speed, balance, acceleration and the will to get into the end zone.
Twilight Zone:
You think Florida might like to go back in time now and try to work out things with Newton? Yes, he got into trouble with the whole stolen laptop deal. And, yes, Tim Tebow was in front of him when he left following the 2008 season. But imagine what Newton could be doing right now for the Gators in their spread offense. Something tells me Urban Meyer already has, and it's one big nightmare.
Haunted Mansion:
No program in the SEC has fallen as fast or as deeply into the abyss as Tennessee, and first-year coach Derek Dooley is paying right now for mistakes made by the two coaches that came before him (Lane Kiffin and Phillip Fulmer) and mistakes made by Tennessee athletic director Mike Hamilton in the way he mismanaged everything. Tennessee is a proud program and a program that's proven it can win at a high level in this league, but Dooley has his work cut out if he's going to get the program back anywhere close to where it was in the 1990s when the Vols went 45-5 from 1995-98 and won two SEC championships and one national championship. They've lost three games this season by 27 points or more, are 13-17 in their past 30 games and in danger of suffering through their third losing season in the past six years. Rocky Top has become Rocky Bottom.
Night of the living dead:
Georgia was left for dead after losing four straight games for the first time in two decades. The Bulldogs were sitting there at 1-4 after losing to Colorado on Nov. 2, and most of the talk centered around whether or not Mark Richt could keep his job. But the Bulldogs haven't lost since and take a three-game winning streak into Jacksonville on Saturday and can stay alive in the Eastern Division race with a win against the Gators.
Favorite costumes:
LSU coach Les Miles/Mad Hatter; Tennessee coach Derek Dooley/Field Marshall Erwin Rommel; Alabama receiver
Julio Jones
/Iron Man; South Carolina receiver
Alshon Jeffery
/Gas station attendant; Kentucky receiver Randall Cobb/Mr. Incredible; Vanderbilt linebacker John Stokes/Surgeon General; Georgia outside linebacker Justin Houston/Predator and Auburn quarterback Cam Newton/Bo Jackson.
October, 29, 2010
10/29/10
10:13
AM ET
Oh yes, it's a holiday weekend, and it's football season. That means a theme post. Don't fight it, it's already here. Just give in.
Here are a few Halloween honors heading into this weekend's games.
Scary movie:
This one goes to the team with the worst loss this season. It was a warning of things to come, but who pegged
Texas
to get rolled by three touchdowns at home to a weak UCLA team?
Trick-or-Treat:
This award goes to the game featuring the most to gain or lose. There's no question it's happening this weekend between
Nebraska and Missouri.
The winner could glide into the Big 12 championship game, favored in each of its final four games, and Missouri could be five games from a possible national title game appearance. Lose, and the division title slips out of each team's hands.
Wizardry:
This award goes to the league's most "spellbinding" player so far this season. He's not only the most productive, he's the most exciting, even though he'll be sitting out this weekend. Oklahoma State receiver
Justin Blackmon
will run past you, run through you or jump over you. Either way, he's coming down with the ball.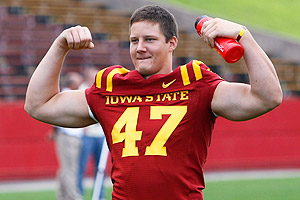 AP Photo/Charlie NeibergallIowa State linebacker A.J. Klein has quietly had a monster season.
Ghosts, Goblins, Ghouls:
This one goes to three guys putting up good seasons, but doing it under the radar. Iowa State linebacker
A.J. Klein
is a first-year starter, but he leads the Big 12 with 86 tackles. No other player in the league has more than 79. Texas A&M has had a disappointing season, and so has its quarterback,
Jerrod Johnson
. Top receiver
Jeff Fuller
hasn't. He's third in the league with 687 receiving yards, behind only Blackmon and
Ryan Broyles
. His nine touchdown grabs are also third in the league, behind only Blackmon and Texas Tech's
Lyle Leong
.
Aaron Jones
at Baylor has already kicked a league-high 16 field goals, hasn't missed any of his 31 extra points and is sixth in the Big 12 in scoring.
Cursed -- Texas A&M:
Johnson looks like he's fallen victim to the curse of the Texas A&M senior quarterback. First there was Mark Farris in 2002, followed by Reggie McNeal and Stephen McGee. Johnson ended up splitting time with
Ryan Tannehill
last week, and might not even finish the season as his own team's starter after opening it as the Big 12's Preseason Offensive Player of the Year. Johnson underwent offseason shoulder surgery and says he feels fine. His play argues otherwise. He only threw eight picks all of last year, but tossed as many in two games earlier this year in a near loss to Florida International and a last-second loss to Oklahoma State. All three of Texas A&M's losses have come to ranked teams, but they never thought they'd have three this early in the year.
Halloween costume:
Somebody get
Taylor Martinez
a "
The Flash
" costume! Ironic that he's the one who could do it the fastest, though, no?
Monster Mash:
This one goes to the league's scariest matchup. How about anyone against
Nebraska's running game
? The Huskers have three of the league's top 10 rushers, in Martinez,
Roy Helu Jr.
and
Rex Burkhead
. No other team has more than one.
Thriller:
The most exciting play of the season so far? Dan Bailey's game-winning field goal against Texas A&M, but no single play had the "What just happened?" factor of
Missouri kick returner Gahn McGaffie's 86-yard touchdown
to open the game against Oklahoma. It also had the most impact, helping send Missouri five spots up the BCS rankings and precipitated a double-digit jump in the human polls. Of course, it might not have been possible without
T.J. Moe
's 68-yard catch-and-run, go-ahead touchdown in the final minute against San Diego State, highlighted by three Aztec defenders giving each other their best shots while Moe ran free.
Jason Vorhees
--
Iowa State won't die:
Utah tried its best. So did Oklahoma. But there they were, celebrating inside a Texas visiting locker room to the surprise of everyone. Let's see what these resilient Cyclones have in store for the rest of the season.
October, 29, 2010
10/29/10
10:11
AM ET
It's probably good that Wisconsin has an open week. I'm not sure Madison could handle a football game featuring the nation's No. 10 team and
Freakfest
in the same 24-hour span.
Oh, yes, it's Halloween weekend in Big Ten country. Hopefully, we'll get some
crazy costumes
and thrilling games, in no particular order. For the third straight Halloween, I'll be going as a tired sports blogger.
To get you scared and prepared, I've put together this Big Ten Halloween primer.
Enjoy ...
Haunted House:
Ohio Stadium remains the most intimidating venue in the Big Ten, if not the country, especially at night. It has a lot to do with the team that calls The Shoe home, but a large, rowdy and passionate crowd decked out in red creates a Dante's Inferno-like environment for games.
[+] Enlarge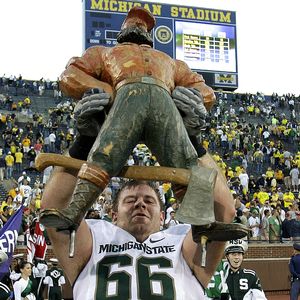 AP Photo/Carlos OsorioThe Paul Bunyan Trophy was first introduced for the 1953 Michigan-Michigan State game.
Trick-or-treat:
There's plenty at stake throughout the Big Ten on Saturday, but particularly at Kinnick Stadium. Michigan State can stay in the national title picture with a victory that would improve its record to 9-0, while an Iowa loss would effectively remove the Hawkeyes from the Big Ten title race. Rich Rodriguez and the
Michigan Wolverines
also face a pivotal game at Penn State after dropping two in a row.
Jigsaw team:
Purdue has been piecing together its depth chart all season because of injuries and other factors. The Boilers entered the year without top running back
Ralph Bolden
(torn ACL) and backup quarterback
Caleb TerBush
(academically ineligible) and then lost starting quarterback
Robert Marve
and top wide receiver
Keith Smith
to season-ending knee injuries. Wideout
Justin Siller
(foot) also has missed time, and quarterback
Rob Henry
is a game-time decision Saturday with a laceration on his throwing hand. Coach Danny Hope and his assistants really have been challenged in their game-planning and preparation.
Witchcraft:
Michigan quarterback
Denard Robinson
has been the most spellbinding player in the Big Ten and perhaps all of college football this season. The speedy sophomore already has recorded the top three offensive performances in team history this season. He ranks second nationally in rushing average (156.7 ypg) and has eclipsed 100 rushing yards in six of seven games. Robinson also ranks 16th nationally in quarterback rating (159.1).
Jack-O-Lantern:
Penn State really needs the light to go on for senior running back
Evan Royster
down the stretch. Royster, a first-team All-Big Ten selection in 2009, has only one 100-yard rushing performance through the first seven games. Given the injuries on defense and now at quarterback with Rob Bolden, the Lions really need Royster to start producing if they want to make a bowl game.
Black Cat:
They prefer purple, but the
Northwestern Wildcats
have three wins against ranked opponents in November since 2008. The Wildcats will get two more chances for upsets next month against Iowa (Nov. 13) and Wisconsin (Nov. 27), two teams they beat last season. Michigan also could play spoiler as it takes on both Wisconsin (Nov. 20) and Ohio State (Nov. 27). Penn State could be the ultimate spoiler if it hosts a potentially undefeated Michigan State squad on Nov. 27.
Twilight Zone:
Minnesota would love a do-over after dropping seven consecutive games. Everything went downhill after a Sept. 11 loss to FCS South Dakota, which shredded the Gophers defense for 41 points. Minnesota never recovered and coach Tim Brewster was fired Oct. 17, becoming the first Big Ten boss dumped midseason since Michigan State dismissed Bobby Williams in 2002.
Thriller:
This label applies to Michigan State, which has provided the most exciting play of the Big Ten season, a fake field goal in overtime that went for a touchdown to beat Notre Dame. The Spartans followed up "Little Giants" with "Mousetrap," a fake punt pass into the wind last week at Northwestern when they trailed 24-14 in the fourth quarter. It has been quite a thrill ride for the Spartans and their fans through the first eight games.
October, 29, 2010
10/29/10
10:10
AM ET
The Big East knows Halloween.
You want scary? Just check out the league's nonconference record. The best story in the Big East right now is a team (Syracuse) whose mascot looks conspicuously like a giant pumpkin. And Pitt's quarterback of the future is named
Mark Myers
, which sounds an awful lot like
you know who.
Here are some more Halloween tie-ins: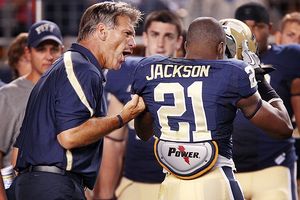 AP Photo/Keith SrakocicPittsburgh's home loss to Miami was a nightmare for coach Dave Wannstedt and the Big East.
Scary movie:
Pitt's 31-3 loss to Miami at home was as frightening as it gets, both for Panthers fans and the Big East in general. The league's supposed best team got mauled by a former friend. Sounds like a horror-film plot. Runner-up: Rutgers' home loss to Tulane.
Night of the living dead:
Cincinnati started just 1-3 after winning the past two Big East titles and going 12-0 in the regular season last year. The Bearcats crawled back to life, but another damaging loss to South Florida last week has them clinging to bowl hopes by their fingernails.
Cursed team:
Connecticut. It's been a nightmare season for the Huskies, with injuries, suspensions and tough losses turning a promising season into a horror story.
Graveyard:
Read the last rites for: Cincinnati's 13-game Big East winning streak; Syracuse's eight-year drought against West Virginia; UConn's Big East title chances; the Big East's Top 25 residency;
Dion Lewis
's Heisman and repeat Big East player of the year hopes; West Virginia's dominant run attack; South Florida's October weeknight road flops.
Thriller:
The best and most exciting player in the Big East this season hasn't been Dion Lewis or
Noel Devine
. It's Louisville's
Bilal Powell
, who runs like there are ghouls and goblins chasing him and who attacks linebackers like a zombie hunter.
Jack-O-Lantern:
If the light ever goes on for the Rutgers offense -- that is, if the line can protect the quarterback, the running game takes off and the young receivers mature -- the Scarlet Knights could be dangerous because of their already strong defense and special teams.
Twilight Zone:
South Florida fans had to feel like they were trapped in some hellish cosmic time warp when quarterback
B.J. Daniels
kept making costly mistakes in losses to Florida, Syracuse and West Virginia. Daniels finally busted through his own shackles last week at Cincinnati, and the Bulls hope that's the end of the episode.
Costumes:
And finally some suggested costumes this year for Big East personalities:
Charlie Strong: Dr. Frankenstein. He's stitched together some leftover parts and made Louisville come alive.
Doug Marrone: Lazarus. He has helped raise Syracuse from the dead.
Rutgers' offensive linemen: Swiss Cheese. With a nation's worst 33 sacks allowed, this group has plenty of holes.
Skip Holtz: The Joker. The South Florida coach always has a smile and is quick with the one-liners, but don't underestimate his killer instinct.
John Marinatto: Houdini. The Big East commish and his league have escaped conference realignment unharmed. For now (to be continued ...)
October, 29, 2010
10/29/10
10:09
AM ET
Trick or treat, ACC fans? I've got a little of both for you today in this Halloween edition of the ACC blog. Here are this year's spookiest awards as we wrap up the final weekend of October:
Scary movie:
Virginia Tech's loss to James Madison. It was a nightmare for the Hokies, who fell to an FCS school for the first time since losing to Richmond in 1985. To make matters worse, it happened in Lane Stadium, which has earned the reputation as one of the toughest places to play in college football. Apparently, not for the Dukes.
[+] Enlarge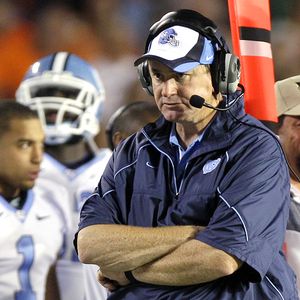 AP Photo/Alan DiazAn NCAA investigation has made this season one to forget for coach Butch Davis and the Tar Heels.
Nightmare on Franklin Street:
Things couldn't get much worse for North Carolina, which has had 16 players' seasons derailed because of the NCAA investigation and now has suffered through a rash of injuries to key players. It all finally added up in a 33-10 loss to Miami that stopped the Heels' four-game winnings streak and hurt their chances of contending for the Coastal Division title.
Boo (Boo):
Take your pick on the worst injury of the season. Two season-ending injuries occurred this month, when Boston College defensive end Alex Albright – the Eagles' top pass rusher – broke his fibula, UNC tight end Zack Pianalto's season ended with a fractured right fibula at the ankle, and Maryland offensive lineman Pete DeSouza was in intensive care after breaking both of his legs in a motor scooter accident.
The Great Pumpkin:
The toughest second half of the season belongs to Virginia Tech, which still has to face Georgia Tech on Thursday night, followed by back-to-back road trips to North Carolina and Miami before ending the season against rival Virginia.
Night of the living dead:
Clemson earns the award for the team that got off to a slow start but is coming back to life. The Tigers are making a habit out of it, as they started 2-3 last year before winning the Atlantic Division title. They can take another step in that direction on Saturday against a Boston College team that hasn't won since Sept. 11.
Cursed team:
Wake Forest. The Deacs lost to two option teams in back-to-back weeks in the final minute of the game. Georgia Tech quarterback
Joshua Nesbitt
threw the game-winning touchdown pass with 15 seconds remaining for a 24-20 comeback win, and Navy quarterback
Ricky Dobbs
threw another game-winner with 26 seconds remaining for a 28-27 win.
Graveyard:
Duke, Virginia and Boston College are all winless in conference play. As far as their division races are concerned? Bury 'em.
October, 29, 2010
10/29/10
10:00
AM ET
Halloween time means we get to take a look at some of the tricks and treats the non-AQs have delivered so far this season. Have fun with this, and come up with some of your own in the comments section.
[+] Enlarge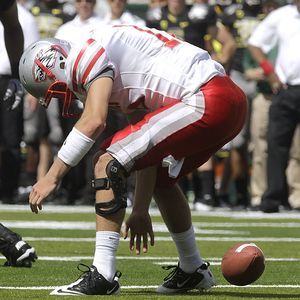 AP Photo/Rick BowmerNew Mexico did little right when it suffered a horrifying 72-0 loss against Oregon this season.
Scary movie:
The worst loss of the season has to go to New Mexico, falling 72-0 to Oregon. The Lobos had eight first downs, 108 yards of total offense and trailed 59-0 at halftime. Did we mention that Oregon racked up 720 yards of total offense? The 72-point win for Oregon stands as the largest in school history over an FBS school. Not even FCS Portland State gave up that many points or yards to Oregon this year (though it did come close in the 69-0 loss).
Nightmare in Bronco Stadium:
Yes, Boise State never loses at home, but watch out for Hawaii next week as a game that poses a threat to a contender. The Warriors are playing lights out football, and the Broncos have been less than impressive in the secondary this season. This one could impact the race for the national championship. On the other hand, the last time Boise State lost at home was to Washington State 42-20 on Sept. 8, 2001.
Boo (Boo):
San Jose State and North Texas have been hit with major injuries, each losing at least 10 significant contributors for the season. But there is no bigger injury than the one Houston has had to overcome. Heisman Trophy candidate
Case Keenum
tore his ACL in the third game of the season and is out for the year. Backup
Cotton Turner
went out for the season in the same game. Houston has gone 2-2 without them and still stands atop the West Division of Conference USA. But it has been trying to deal with the huge loss of Keenum, who was poised to break the NCAA career passing record.
Night of the living dead:
BYU is so not playing like BYU this season. The Cougars are 3-5 and are on the brink of failing to make a bowl game for the first time since 2004. The offense has looked like the living dead, ranking No. 106 in the nation. Spooky stuff in Provo.
Jigsaw team:
San Diego State has put the pieces of the puzzle together in the second season under coach Brady Hoke and is one win away from being bowl eligible for the first time since 1998. The running game is working with
Ronnie Hillman
, and that has allowed the play-action to work with
Ryan Lindley
,
DeMarco Sampson
and
Vincent Brown
. The defense has played well, too. The Aztecs (5-2) have matched their best start in the past 14 seasons. To think they are two blown calls from being undefeated. Enough to make you scream, right Aztecs fans?
Halloween costumes:
Time to play dress up. What would some of these guys go dressed up as on Halloween?
TCU coach Gary Patterson as Oregon coach Chip Kelly. Because seriously, those guys look so much alike with their visors on, they could have been switched at birth.
Boise State coach Chris Petersen as a scarecrow. You know, because he scares off teams from power conferences.
Utah punt returner
Shaky Smithson
as Zorro. You have to love the way he slices and dices through punt return units.
Temple coach Al Golden as a zombie. Nothing like bringing a program back from the dead.
FAU coach Howard Schnellenberger as Colonel Sanders. Anybody else see the resemblance?
Eastern Michigan coach Ron English and Western Kentucky coach Willie Taggart as conquering heroes. Hey, they both ended long losing streaks this year.
Twilight Zone:
You know Bowling Green would love a do-over. A year after going bowling, the Falcons are 1-7. Three of their losses are by three points or less. Quarterback
Matt Schilz
has been banged up, and the young team has not been able to come together. Of course, Akron (0-8) and New Mexico (0-7) probably wish this nightmare of a season would end. Now.