NCF Nation:

Halloween-2012
October, 31, 2012
10/31/12
3:48
PM ET
Happy Halloween one and all! I know you all are just waiting on pins and needles to know what I am dressing up as this year. My children picked my costume for me.
Drum roll ...
I will be a lady bug. Because nothing says lady like college football blogging! Hope you have fun tonight. To get you in the spirit, here are some tricks and treats from the Big East so far this year.

Scary movie: Youngstown State 31, Pitt 17.
I know Pitt fans want to forget this game ever happened, so skip to the next category if you do not want to relive the pain from this game. It was not the best start to the Paul Chryst era. Youngstown State beat an FBS team for the first time in school history, while Pitt lost to an FCS team for the first time in program history. The loss also broke the Big East's 57-game winning streak over FCS programs.
Trick or treat:
Louisville at Rutgers, Nov. 29. Just the way the Big East scheduling gods planned this one -- it is looking more and more like this game is going to determine the Big East representative in the BCS. Rutgers did lose to Kent State last week, but the Scarlet Knights and No. 10 Cardinals remain the only teams undefeated in Big East play. If they can get to their Thursday night meeting in New Jersey unbeaten, the winner goes to the BCS.
Boo (boo):
Cincinnati defensive end
Walter Stewart
. This is a really tough loss for Cincinnati and the Big East. Stewart got hurt early on against Fordham and ended up playing the rest of the game. But when he went for further testing, doctors advised him to give up his career because he could risk further injury to his back. Stewart was the best edge pass-rusher in the Big East and ends the season with five sacks. That still ranks him No. 3 even though he missed the last two games. Without him, the Bearcats are 0-2.
Jason Voorhees:
MAC. That is right. The MAC is the league that WOULD NOT DIE. It was Friday the 13th for four different Big East teams in the first nine weeks of the season. Ball State struck first, beating USF. Then Western Michigan beat UConn for the second straight season. But USF and UConn are quite beatable this year. Surely the ranked, undefeated Big East teams would handle their MAC competition. Uhhhhhh. Toledo beat No. 21 Cincinnati; Kent State beat No. 15 Rutgers.
Cursed:
USF. When are the Bulls going to win a close game you ask? Great question. Four of their six losses came in the closing minutes. Their last two came by a combined three points. Go back to last year, and USF lost four games in the closing minutes as well -- three on a field goal. That means eight of their 13 losses in the past two seasons have come down to the wire, and the Bulls have not been able to find a way to win.
Graveyard:
UConn. The Huskies do not have as many heartbreaking losses as the Bulls, but they are close. Last year they had a problem closing out games in the fourth quarter. This year, three of their five losses have been by six points or less -- including an overtime defeat to Temple. Coach Paul Pasqualoni is 8-13 in a little less than two seasons there, and has never won consecutive games with the Huskies.
Thriller:
Louisville 34, Cincinnati 31, OT. The best Big East game of the season to date featured a wild fourth quarter in which Louisville took the lead with 1:56 remaining only to see the Bearcats send the game into overtime with 1:03 remaining.
Munchie Legaux
threw an interception into the end zone on Cincinnati's possession in overtime. Louisville got the ball back and lined up for the game-winning field goal. Cincinnati coach Butch Jones called timeout just as the snap was botched. He shrugged his shoulders. Louisville got one more chance, and
John Wallace
hit the 30-yard field goal to win the game and keep Louisville's unbeaten season alive.
October, 31, 2012
10/31/12
3:47
PM ET
It's Halloween, Big Ten fans, so we have a special treat (not trick) for you today.
The Big Ten blog has designed its very own haunted house of horrors for you to tour. So step right in and face your fears -- if you dare!
(Cue spooky organ music).
[+] Enlarge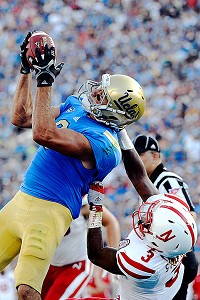 Richard Mackson/US PresswireUCLA soaring past Nebraska in September was surely a frightening sight for the Big Ten.
There's no easing into this haunted house, as our very first room will make you shudder. Why, yes, it's the Big Ten's nonconference season! Our video screens are showing constant highlights of the league's 14 losses outside of league play. There is Central Michigan beating Iowa at home. UCLA running all over Nebraska. Oregon State holding Wisconsin to one touchdown. Ball State and Navy beating Indiana. Virginia topping Penn State, as you watch a constant loop of Nittany Lions missed field goals. Louisiana Tech blowing out Illinois. And now jumping out at you is ... the Notre Dame leprechaun! He is cackling hysterically about his 3-0 record against Big Ten teams this year. Vomit bags are provided on your right.
Let's move on to our next room, one guaranteed to make you break out in a cold sweat: the offensive passing offenses at Iowa, Michigan State and Michigan! See the Spartans drop passes, the Hawkeyes throw for six yards on third-and-8 and the Wolverines give away one of their league-worst 14 interceptions. We know it's frightening in here, but do not be alarmed: we guarantee you those teams cannot hit you with the footballs they're throwing.
Proceed now into our spooky third room, the one coated in orange and blue. That's right, it's Illinois' season! Just try not to avert your eyes as the Illini's six-game losing streak to FBS teams -- by an average of 27 points per defeat -- unfolds before us. That skeletal figure you see in the corner is first-year coach Tim Beckman, who said he has lost 22 pounds during this trying fall. (The smiling spirit on the ceiling? We call him Zooker the Friendly Ghost).
Let's detour now into our haunted house's graveyard and check out the tombstones. "Here lies the Big Ten/Pac-12 scheduling alliance. Born December 2011. Died July 2012." "R.I.P., Big Ten BCS at-large streak. Taken too soon at age 7." "In Memoriam: Penn State and Ohio State bowl hopes." "Gone But Not Forgotten: Minnesota's future nonconference strength of schedule." "You Are Missed: Northwestern's fourth-quarter leads over Penn State and Nebraska."
We are getting close to the end now, but not before you check out this next blood-curdling chamber. Who's that nervous looking man sitting on a chair that's dangling over burning coals? Why, it's Purdue coach Danny Hope! The temperatures under his seat are rising to blazing levels after the Boilermakers' 0-4 start in Big Ten play, including last week's blowout loss at Minnesota. Those are Purdue fans in the back, offering the executioner's hood to AD Morgan Burke.
Our final rooms are still under construction but are nonetheless horrifying. The first is a replica of Lucas Oil Stadium, which offers a glimpse of a potential Big Ten championship game featuring a 6-6 Wisconsin or a 5-7 Indiana. Goose bumps! The other is a preview of New Year's Day for the league and some terrifying possible postseason matchups. Those green flashes you see are not from a strobe light. That's the
Oregon Ducks
, who are averaging 53 points per game and could cause nightmares for the Big Ten champ in Pasadena. Be afraid. Be very afraid.
Before we leave, let's lighten things up a little bit so your pulse can slow down. Grab some free drinks and appetizers at our Big Ten costume party in the ballroom. Michigan coach Brady Hoke is getting into the spirit of political season by going as
New Jersey governor Chris Christie
. Hoke's center,
Elliott Mealer
, is
Paul Bunyan
. There's elusive Ohio State quarterback
Braxton Miller
as
Neo from "The Matrix
." Penn State linebacker/warrior
Michael Mauti
is
Braveheart
, while his coach,
Bill O'Brien
, is
Bruce Willis
. That's Iowa running back
Mark Weisman
as
Vin Diesel
, while Hawkeyes quarterback and big-game hunter
James Vandenberg
is
Elmer Fudd
. Nebraska's defenders, coming back strong from some bad performances, are the
zombies from "The Walking Dead
," and Huskers receiver and Mr. Afro Thunder himself,
Kenny Bell
, is Roots drummer
Questlove
. Minnesota coach
Jerry Kill
shows off his school pride by dressing as
Goldy Gopher
. Michigan State's leaping
Le'Veon Bell
is
a ballerina
. And, of course,
Adam Rittenberg
is
Woody Allen
.
We hope you had a scary good time at our haunted house and ... wait, what's that loud buzzing sound? Oh, no, it's Urban Meyer coming at us with a chainsaw! He's already 9-0 at Ohio State, and he's just getting started in carving his way through the Big Ten. Run!
Happy Halloween, everybody.
October, 31, 2012
10/31/12
1:09
PM ET
The Pac-12 has its share of ghosts, ghouls and goblins. So in the spirit of the Halloween weekend ...
Scary movie -- Worst loss of the season:
USC was everyone's preseason national title favorite, but the image of the Trojans as invincible went down hard when they lost 21-14 at Stanford. The Cardinal defense dominated up front and made USC look ordinary. It was certainly a shocker for USC fans.
Rising from the dead
: Don't sleep on Washington. The Huskies' early schedule was brutal, and the loss at Arizona on Oct. 20 was ugly, but after slipping past previously unbeaten Oregon State last weekend, they could be on the cusp of a winning run. None of their final four opponents has a winning record.
Haunted House
: USC may have broken the 21-game home winning streak for Oregon in Autzen Stadium last season, but there is no scarier place to play in the Pac-12.
Thriller
: Stanford and Arizona in overtime or UCLA's last-second winner over Arizona State. Too close to call.
Jason Vorhees -- teams that won't die
: Just when you are ready to stake, burn, decapitate, drown and disembowel the Utah Utes, they keep refusing to bow out of the bowl picture. They have to win three of their last four to keep their nine-year bowl streak alive and two of those games include Washington and Arizona.
Nightmare in Eugene -- biggest debacle of the season
: Arizona is a good team -- see its national ranking and three quality wins, including last weekend over USC. But the Wildcats went down hard 49-zip at Oregon. How many Top 25 teams lost a game by 49 points this year?
Cursed team
: California's season hinted at promise in the preseason, with a nice collection of players back on both sides of the ball and a fancy, new remodeled Memorial Stadium. But the Bears are 3-6 and coach Jeff Tedford is on a decidedly warm seat.
Paranormal activity
: Washington has been winning games with defense (at least at home). The Huskies have a plus-four turnover margin when playing at CenturyLink field. But on the road, it's a much, much scarier scene.
Halloween costumes
October, 31, 2012
10/31/12
1:00
PM ET
Happy Halloween, ACC fans! Andrea and I decided to have a little fun today with some spooky stuff in the ACC. We see you guys out there dressed up as officials …
Cursed:
Maryland's quarterbacks. It's the only way to explain it. Some sort of hex. Following the transfer of Danny O'Brien to Wisconsin, starter
C.J. Brown
tore his ACL. His backup,
Perry Hills
, then tore his ACL. Backup
Devin Burns
also suffered a season-ending injury, and then -- as if all of that weren't enough of a spell -- true freshman
Caleb Rowe
also suffered a season-ending ACL injury. Coach Randy Edsall called it unlucky. Spooky if you ask me.
[+] Enlarge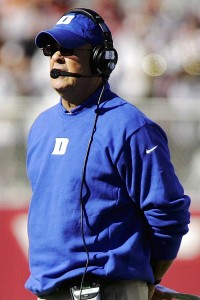 Peter Casey/US PresswireThis season, coach David Cutcliffe and Duke have been scaring opponents for a change.
Back from the dead:
Duke. The Devils have done it. For the first time since 1994, Duke is bowl eligible. Not only have the Blue Devils reached the six-win mark, they also have a chance to win the Coastal Division. With a 6-3 record (.667) Duke is off to its best start in five seasons under head coach David Cutcliffe. The Blue Devils have compiled a 5-0 record at Wallace Wade Stadium this season, matching the school record for home victories in a season. They're alive.
Graveyard:
Virginia. Bury 'em. The Cavaliers have officially replaced Boston College at the bottom of the ACC power rankings, and have lost six straight heading into Saturday's road trip to NC State. They have yet to win an ACC game, and haven't won since Sept. 8. Nobody in the country ranks worse than Virginia in turnover margin. It's been a hard fall after last season's success. Odds are the Hoos don't get back up again this season.
Scary movie:
Pitt 35, Virginia Tech 17: Nobody but Pitt wants to watch this horror flick again. The Hokies had four turnovers.
Logan Thomas
had one touchdown and three interceptions against a defense that managed just one sack and no turnovers through the season's first two weeks. Virginia Tech had just 59 rushing yards. Pitt jumped out to a 21-0 lead. The Hokies were manhandled up front on both sides and allowed the Panthers 537 total yards.
Nightmare in Carter-Finley Stadium:
NC State 17, FSU 16. That was not a bad dream, Seminoles fans, that was a national championship dream dying in Raleigh. Nobody expected that to happen, not after FSU jumped to No. 3 in the rankings after its win against Clemson. Not after NC State struggled so badly in losses to Tennessee and Miami. But Tom O'Brien knows how to cast a spell at least once a season. Double Double, toil and trouble ... bring me FSU on the double! His players responded, rallying from a 16-0 halftime deficit to score the game-winning touchdown pass on fourth down with 16 seconds remaining. Poof!
Thriller:
Speaking of the Wolfpack, NC State has probably been involved in more thrillers than any team in the country. The Wolfpack have gone down to the wire in
four
straight games. The thrills began at Miami on Sept. 29, when NC State overcame a 10-point fourth quarter deficit to tie the game with 1:58 to go, only to lose when Miami scored a touchdown with 19 seconds remaining. The following week came the biggest thriller of all, the upset of FSU. Then, they beat Maryland when Terps kicker
Brad Craddock
missed a 33-yard field goal with 2 seconds left. Last week, they lost to North Carolina when
Giovani Bernard
returned a punt 74 yards for a touchdown with 13 seconds left.
Trick or treat (high stakes game):
NC State at Clemson, Nov. 17. For the Tigers to keep their Atlantic Division hopes alive, they must win this game. NC State already took Florida State down this year, but the Wolfpack have had a much harder time beating both teams in the same season. NC State won this matchup last year in decisive fashion, 37-17 so you know Clemson will be looking for revenge.
Jack-o-Lantern:
Georgia Tech. Will the light come on for this team in time to make a bowl game? The Jackets have to win three of their final four to keep one of the longest bowl streaks in the nation alive. Georgia Tech has gone bowling 15 straight years, but faces an uphill climb with this remaining schedule: at Maryland, at North Carolina, Duke and at Georgia.
October, 31, 2012
10/31/12
1:00
PM ET
We're saying Happy Halloween to everyone from the SEC blog. It's been another scary good year for the SEC, and all of this southern success must be truly frightening for the rest of the country.
Also, it's Nick Saban's birthday. You can't make this stuff up.
I can't wait to see all the
Honey Boo Boos
(not) and PSY (
Gangnam Style
) costumes parading around Atlanta tonight. But before we all go trick or treating, check out our most spine-chilling post of the year:
[+] Enlarge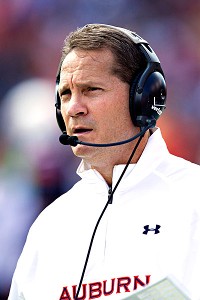 Wesley Hitt/Getty ImagesGene Chizik's Auburn squad has been scary bad this season.
Cursed:
Two seasons removed from winning a national championship, Auburn is sitting at the bottom of the SEC with eight straight conference losses dating to last season. Auburn has the SEC's worst offense and is second to last in total defense. The Tigers are also near the bottom of the offensive barrel nationally. Auburn is on its third starting quarterback of the season, and coach Gene Chizik's seat is getting hotter and hotter on the Plains, as Auburn enters the weekend with a 1-7 record.
Trick:
This spring, Arkansas was considered a real SEC championship contender, then, Bobby Petrino took that now infamous motorcycle ride. After Petrino, who thought he had a national championship-caliber team, was dismissed and John L. Smith took over, the thought was that there was still enough talent for this team to make a run in the SEC West. However, two weeks into the season, we found that not to be the case, as the Razorbacks lost in overtime to unranked Louisiana-Monroe. Alabama then shellacked the Hogs, and Arkansas went 1-4 in September. Arkansas' bowl chances are all but gone with a 3-5 record and blood-curdling November coming up.
Treat:
Heading into the season, not much was expected from Ole Miss. But Hugh Freeze has played a perfect Dr. Frankenstein, creating a monster at Ole Miss. The Rebels might not be as menacing as Frankenstein's original monster, but they've been more challenging than the past two years. Oh, and Ole Miss is a win away from being bowl eligible for the first time since 2009. Freeze is just hoping that his monster doesn't have a tragic end like the one with the bolts in his neck.
Boo (boo):
No question, the biggest injury of the season occurred over the weekend when South Carolina running back
Marcus Lattimore
suffered that gruesome season-ending knee injury against Tennessee. Not only was the injury hard to watch, but you hate to see bad things happen to good people like Lattimore. He is one of the most respected individuals in college football, and the sport seemed to temporarily stop when word spread about his devastating injury.
Thriller:
The play of the season right now might be
Jarvis Jones
' wicked fumble forced on Florida tight end
Jordan Reed
last week. Georgia's linebacker was having a monster game already, and capped it by sealing the game for the Bulldogs when he poked the ball out of Reed's hands as he tried to jump into the end zone for a potential game-tying touchdown. The ball flew out of Reed's hand, bounced off his knee and fell into the back of the end zone, where the Bulldogs fell on it.
The Walking Dead:
Kentucky's football team looks like something right out of the minds of Robert Kirkman and Frank Darabont. It hasn't been healthy all season. Starting quarterback
Maxwell Smith
has suffered shoulder and ankle injuries and is out indefinitely. Backup
Patrick Towles
then suffered his own ankle injury. Former starting running back
CoShik Williams
is out for the season, and running back
Josh Clemons
, who might be the Wildcats' most talented back, has been out all season. Starting safety
Dakotah Tyler
is also out for the season. This team has had to play a handful of freshman because of all the injuries piling up.
House of Horrors:
LSU has won a school-record 22 straight games at home. It's the nation's longest home winning streak, and it will be put to the test against No. 1 Alabama. But expect all those rabid Tigers fans to try to make the Crimson Tide's experience frightening.
Scary:
As in just how scary good Alabama has been this season. The Tide has totally dominated the competition this season. It hasn't even been close. Alabama has one of the nation's most balanced offenses (1,776 passing/1,715 rushing) and is first nationally in scoring, rushing and total defense.
Scariest:
Tennessee's defense has been downright terrifying to watch this season. New defensive coordinator Sal Sunseri's 3-4 scheme just hasn't translated well with his players, and the Vols have been beaten up by opposing offenses. Tennessee is last in the SEC in total defense (453.4 yards per game) and scoring (33.9), and 13th in passing (271.9) and rushing (181.5) defense.
Halloween costumes:
LSU coach Les Miles/The Mad Hatter (just too easy, again); Jarvis Jones/Predator; South Carolina defensive end
Jadeveon Clowney
/Michael Myers (doesn't talk much, but he's terrifying on the field); Tennessee defensive tackle
Daniel McCullers
/
Great Smokey Mountain
; Vanderbilt coach James Franklin/College football bowl planner; Florida coach Will Muschamp/Lionel Messi (
separated
at
birth
?); Texas A&M quarterback
Johnny Manziel
/Iron Man/Johnny Football; Ole Miss running back
Jeff Scott
/Mighty Mouse.
October, 31, 2012
10/31/12
1:00
PM ET
It's been a spooky season in the Big 12 this year. To commemorate Halloween on the blog, we're letting you know what to keep an eye on.
Jason Voorhies (team that refuses to die): TCU.
The Frogs have taken their licks.
Casey Pachall
is gone. The team's top two running backs are gone. Receiver
Brandon Carter
is hurt now, and defensive end
Stansly Maponga
is banged up. Still, TCU keeps playing, despite losing more than 20 players from this year's team since the end of last season. The Frogs are 5-3 and playing tough in their first year in the Big 12.
Thrillers: Texas.
The Longhorns can't stop playing heart stoppers. They converted huge fourth downs on game-winning drives in the final minutes to beat Oklahoma State earlier this season and Kansas last week. They came up short in a dramatic loss at home to West Virginia and hung on late for a six-point win over Baylor.
In the graveyard: Baylor's post-RG3 world.
There was plenty of talk about this not being the "same old Baylor" despite losing the best player in the program's history, Robert Griffin III. It's not, and the Bears have been largely competitive, but you can't hide from the record. Baylor is 0-4 in Big 12 play, and that record doesn't look much different than pre-Art Briles Baylor, though the team on the field does. Will we see a second-half revival and a return to the postseason for the third consecutive season?
Frightful sight: Kansas State.
Beware of the Wildcats and their ageless coach, Bill Snyder. Who has the highest scoring offense in the Big 12? It's not Oklahoma. It's not Oklahoma State. It's not West Virginia or Baylor. It's the Wildcats and their "slow, meandering offense." The Wildcats have had just two of seven games decided by fewer than two touchdowns this year.
Cursed: Oklahoma State.
The Cowboys can't get away from costly injuries to quarterbacks this year.
Wes Lunt
suffered an ugly knee injury early on and missed more than a month while
J.W. Walsh
racked up impressive numbers. Then last week, Walsh suffered a knee injury and forced Lunt back into duty. Did someone on the team sell their soul for last year's Big 12 title? It's been a cursed season for QBs in Stillwater.
Haunted house: Owen Field.
It's usually a house of horrors for opposing teams. Before this year, Bob Stoops was 77-3 at home. This season, the Sooners are just 2-2, with wins over Florida A&M and Kansas. Meanwhile, top three teams Notre Dame and Kansas State entered Oklahoma as double-digit underdogs and knocked off the Sooners anyway.
Time for a few Halloween costume suggestions:
I also asked those of you who follow me on Twitter for some suggestions. Here's the best of what you came up with (the ones that weren't too mean, anyway. Man, some of you were brutal):
And a couple costumes that just need to be seen:
October, 31, 2012
10/31/12
1:00
PM ET
Avoid the traps, noises and every other cliche spouted about your favorite undefeated team. Here are a few treats to hold you over until Notre Dame takes the field again Saturday:

Haunted house
: Is it still USC? Notre Dame won its last contest there, and the Trojans dropped another home game last year, with tough test there against Oregon before they host the Irish in the regular-season finale. It's not what it once was, but the Los Angeles Coliseum is all that will likely stand between the Irish and a perfect regular season.
The Exorcist(s)
: No teams owned Notre Dame coming into this season the way Michigan and Stanford had recently. The Irish then put
Denard Robinson
through the worst birthday of his life, forcing him into five turnovers in a prime-time win. And three weeks later they bridged the gap with a Cardinal team that had physically manhandled them recently by stopping
Stepfan Taylor
four times inside the 5-yard line to preserve an overtime victory.
Paranormal activity
: Miami's
Phillip Dorsett
dropped not one but two sure-fire touchdown passes on the opening drive against Notre Dame on Oct. 6 in Chicago. How do you explain that?
Witchcraft
: BYU quarterback
Riley Nelson
's comments following after missing
Cody Hoffman
late in the fourth quarter of an eventual 17-14 loss at Notre Dame: "That throw will probably haunt me until I die." Irish coach Brian Kelly's remarks after the win made his team 7-0: "You just need to find ways to win. That's who we are. Embrace who you are, is what I'm saying. Our football team, they believe they're going to win. There's no question they believe they're going to win." Tough to find simple logic in all of that.
Jason Voorhees
: Suspended from the opener? OK. No preseason reps or starting job? Whatever. Booed by his own classmates? Ha! Put
Tommy Rees
in at any time, any place. No matter to the junior, who has rescued the Irish three times this season, delivering clutch throws against Purdue, Michigan and Stanford and starting against BYU (and Miami). He's not going anywhere.