NCF Nation:

Harlon Barnett
July, 17, 2014
Jul 17
9:00
AM ET
Our crew of Big Ten reporters will occasionally give their takes on a burning question facing the league. They'll have strong opinions, but not necessarily the same view. We'll let you decide which one is right.
The season starts in six weeks, and Big Ten teams will play several high-profile nonconference games this fall. No doubt, the league needs to come through in some of them to improve its perception and enhance strength-of-schedule rankings for the College Football Playoff.
Today's Take Two
topic
is: What's the Big Ten's best chance for grabbing a signature nonconference victory in 2014?
Take 1: Brian Bennett
While there are several notable matchups on tap -- Miami-Nebraska and Virginia Tech-Ohio State among them -- I believe only two games can truly begin to elevate the Big Ten's overall status. Those, of course, are Wisconsin's opener against LSU and Michigan State's Week 2 trip to Oregon.
The Spartans' road game is also the toughest matchup any conference team will have to navigate this season. Yet given Wisconsin's inexperience at key positions such as receiver and the defensive front seven, I think Michigan State has the better chance to notch a marquee victory.
Sure, Oregon will likely begin the year in the top 10 and perhaps the top 5. The Ducks have a frighteningly fast offense, led by Heisman Trophy contender
Marcus Mariota
. Traveling to the West Coast has never been easy for Big Ten teams, and Autzen Stadium is an intimidating environment.
Still, one team that has given Oregon problems the past two years is Stanford. Well, Michigan State does many of the same things as the Cardinal, as we saw in that closely-contested Rose Bowl on New Year's Day. The best way to slow a hurry-up, spread offense is to hit it hard and repeatedly, forcing third-and-long situations. The Spartans can do that, even while replacing several key starters from last year, and they can create turnovers. A veteran offense led by
Connor Cook
and
Jeremy Langford
might not score quite like the Ducks like to do, but it can control the clock and find the end zone.
Michigan State proved last year it can win a huge game on Pac-12 turf. I'm not predicting the Spartans will win, but as Michigan State assistant Harlon Barnett said recently, "I promise you we'll show up." And they'll have a chance to pull off an important victory.
Take 2: Adam Rittenberg
I can see a path for Wisconsin to beat LSU and give the Big Ten some much-needed cred against the SEC, but I'm not prepared to walk down it right now. Wisconsin could end up being a very good team by the Big Ten stretch run, but it has too many question marks at key positions to have an overly realistic chance of beating LSU in a virtual road game.
Like others, I get the sense Wisconsin will lean toward
Tanner McEvoy
as its starting quarterback. If so, LSU will be a very tough draw for McEvoy's first start under center. Les Miles is 9-0 in season openers as LSU's coach and his teams have eclipsed 30 points in seven of those games. They smacked Oregon and TCU in these teams of games -- season openers at NFL stadiums in Texas -- in 2011 and 2013, respectively. They're just a very tough opener for a revamped Badgers team. Could Wisconsin win? Sure. But the Badgers must play virtually mistake-free.
I'm also going with Michigan State here despite the hostile setting and the majestic quarterback on the other team. The Spartans' defense under coordinator Pat Narduzzi isn't easily intimidated, and while Oregon's speed poses a significant challenge, MSU shouldn't break too many times. I recently
wrote about defensive innovation
in college football -- you always hear about it on offense -- and Narduzzi talked about the post-snap adjustments his players make and some of the unique schematic nuggets that set MSU apart.
Will MSU shut down Oregon the way Stanford has done? Probably not. But I also think people are underestimating the Spartans' offense. Yes, Cook got away with a lot of near interceptions last season. But he should be more polished with another offseason under his belt. He has all but one of his weapons back, and while three offensive line starters depart, I like the potential of that group to reload. Expect big things from left tackle
Jack Conklin
going forward.
I don't love the Big Ten's chances in either statement game, but I also give MSU the nod.
May, 1, 2014
May 1
9:00
AM ET
EAST LANSING, Mich. -- Ron and Erin Waynes named their first son Trae because he became the third member of their family. Now,
Trae Waynes
is looking to add his name to another lineage: the one involving Michigan State standout defensive backs.
With Thorpe Award winner
Darqueze Dennard
and All-Big Ten safety
Isaiah Lewis
off to the NFL, Waynes will become a focal point in the Spartans' secondary. The junior will be taking over Dennard's role as the team's boundary cornerback and hoping to keep the "No-Fly Zone" in place.
"I feel like I have to fill his spot," Waynes told ESPN.com. "I basically just have to continue to do what I was doing and hopefully not take any steps back. There is a tradition of great cornerbacks here, and I'm trying to continue that."
[+] Enlarge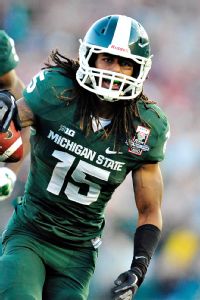 Gary A. Vasquez/USA TODAY Sports Trae Waynes has all the skills to be the next great Michigan State DB.
Waynes has only one year of starting under his belt but has shown the potential to be a top-flight corner, including his acrobatic interception early in the second half of the Rose Bowl win over Stanford. Michigan State head coach Mark Dantonio has
talked in the past about The Bus
, which is what he calls the group of star defensive backs he has coached over the years. Dennard and Lewis earned coveted spots on that bus last season, and Waynes could be next in line.
"Yeah, I think maybe he is," Dantonio said. "He had a good year last year for us, and he's got two years left, hopefully. I think he has the ability to be a shutdown guy and a top player for us."
The 6-foot-1, 185-pounder has the size and the will to get physical with receivers and the speed to track them down. He has been clocked at around 4.3 seconds in the 40-yard dash. Credit that swiftness to genetics, as both his parents ran track in college, and his younger brother currently does so at Eastern Michigan. But Ron Waynes said he discouraged Trae from participating heavily in track in high school because "I never wanted people to think he was just a track guy playing football."
Waynes grew up in Kenosha, Wis., and won a lottery to attend Harborside Academy, a charter school. Since it didn't offer sports, he played football at Bradford High School, taking a bus to workouts and practices before he got his driver's license.
"I think that shows you the commitment level he had," said Jed Kennedy, his coach at Bradford. "I can probably count on one hand the number of workouts he missed in four years."
He was not a hotshot recruit for most of his prep career, in part because he played safety until his senior year -- "I should have moved him to corner earlier," Kennedy said. "That's on me." -- and because he missed parts of his last two seasons with a shoulder and then a leg injury. But Waynes went to a lot of camps between his junior and senior seasons and gained notice for his athleticism.
Michigan State got in with him early thanks to a relationship built by recruiting coordinator Brad Salem, and Waynes hit it off quickly with secondary coach Harlon Barnett.
"Having Coach Barnett and Coach Dantonio coaching me was a big part of [the decision]," he said. "I mean, if you're a defensive back, why wouldn't you want to come here?"
Going to Michigan State meant Waynes would not play in college with his high school teammate and best friend, current Wisconsin star running back
Melvin Gordon
. Gordon originally committed to Iowa before switching to the Badgers, and despite Bret Bielema's efforts, Wisconsin couldn't keep Waynes in his home state.
"It was just bad timing," Gordon told ESPN.com. "Michigan State was also his first offer, so you always got love for the people that show you first love. I think if I would have committed to Wisconsin and said, 'Come on, Trae, let's do this. Let's pair up,' he would have been here. But when he got on Michigan State's campus, that's when they got him. ... [But] everything is working out for both of us."
"You can say they're like brothers," Ron Waynes said. "But I think they both made phenomenal choices. Look at where Melvin is for a running back, and to be a defensive back, Trae's at a great school."
Waynes and Gordon still talk or text daily, trying to avoid football subjects but usually failing. Waynes said Gordon gave him grief during the NCAA basketball tournament when the Badgers made the Final Four and the Spartans fell just short. But when in doubt, Waynes said, "I always just throw the Rose Bowl win at him."
Talking trash isn't really Waynes' style. He's soft-spoken and describes himself as shy. But he's trying to force himself to become more of a vocal presence on this year's team and says he gained a lot of confidence after last season's performance. His coaches haven't had to worry much about him since he got his first major exposure in the 2012 Buffalo Wild Wings Bowl win over TCU.
"The most impressive thing is how consistent that guy's been since the TCU game two years ago," defensive coordinator Pat Narduzzi said. "He hasn't looked back and had a bad day since. He's got ball skills, and he's tough. What else do you want in a corner?"
Narduzzi said Waynes -- whose first two career interceptions came in the regular season finale against Minnesota -- could make a lot more plays this season as he moves over to Dennard's spot. That gives him the chance to join the elite company of former Michigan State and Dantonio-coached star defensive backs. No one needs to remind him of that lineage.
"It's just a known fact," Waynes said. "The previous guys set the bar really high, so I've got a lot to live up to."
December, 28, 2013
12/28/13
9:00
AM ET
LOS ANGELES -- As Lorenzo White watched the confetti fall at Lucas Oil Stadium and Michigan State raise the Big Ten championship trophy Dec. 7, one thought came to mind.
"It's been a long time coming," he said.


White starred at running back for Michigan State's last Rose Bowl team, 26 long years ago. Fueled by a stifling defense and a run-heavy offense -- sound familiar? -- the Spartans blitzed through the Big Ten to earn their first trip to Pasadena since the 1965 season.
It looked like the start of a surge for a team featuring four future first-round NFL draft picks -- White, wide receiver Andre Rison, offensive tackle Tony Mandarich and linebacker Percy Snow -- and a strong coaching staff led by George Perles. But Michigan State once again went more than two decades before its next Rose Bowl berth.
"It's great to have them back," said Perles, who coached Michigan State from 1983 to '94. "It brings back some great old memories."
MSU's latest Rose Bowl run in many way mirrors the path taken in 1987. Both squads faced adversity in nonleague play, regrouped after a loss to Notre Dame, began their ascent with a win at Iowa's Kinnick Stadium in the Big Ten opener and never looked back.
[+] Enlarge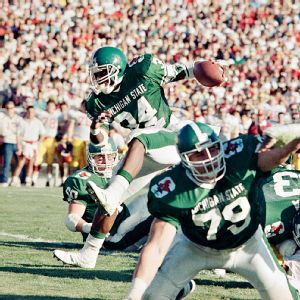 AP Photo/Lennox McLendonLorenzo White carried 35 times for 113 yards and two touchdowns in the 1988 Rose Bowl.
Both leaned heavily on talented defenses guided by coordinators (Pat Narduzzi now, Nick Saban then) pegged for big things. Both offenses struggled before Big Ten play but eventually settled down. Running back
Jeremy Langford
's workload isn't as heavy as White's in 1987 -- White logged 357 carries for 1,572 yards and 16 touchdowns, and backup Blake Ezor added 617 yards -- but he has been just as valuable in closing out Big Ten wins.
The 1987 "Gang Green" defense surrendered an average of just 37.6 rush yards in Big Ten play, the second-lowest average in league history behind the 1965 Spartans (34.6), and forced 35 turnovers. The current "Spartan Dawgs" lead the nation in rush defense (80.8 YPG) and thrive on takeaways, recording a league-leading 27, tied for 17th nationally.
"The [current] defense reminds me of our defense 26 years ago," Perles said. "That proves again you win championships with defense."
MSU defensive backs coach Harlon Barnett, a boundary cornerback on the 1987 squad, notes that the schemes were different -- the 1987 team primarily used a Cover 3 defense that Perles brought over from the Pittsburgh Steelers; the current defense mainly lines up in Cover 4, often leaving the corners isolated on opposing receivers. But both defenses keyed on stopping the run and had fiery coordinators with uncompromising standards.
Saban, who turned 37 that October, oversaw a secondary that recorded 28 interceptions. Safeties Todd Krumm and John Miller combined for 17 picks.
"Nick had a lot of, as he would say, piss and vinegar in him," Barnett said. "He was on us about every little thing and demanded excellence and perfection. So in turn, we got turnovers, we stopped the run, we tackled well and played with toughness, similar to our current defense."
[+] Enlarge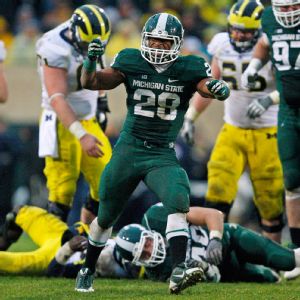 Raj Mehta/USA TODAY SportsLinebacker Denicos Allen had nine tackles, three for a loss, and two sacks against Michigan.
This year's defense recorded its signature performance Nov. 2 against Michigan, holding the Wolverines to minus-48 net rush yards, the lowest total in Michigan history, while racking up seven sacks. It surely reminded some of MSU's 1987 visit to Ohio Stadium, where the Spartans held Ohio State to 2 net rush yards (minus-14 in the second half) and had seven sacks in a 13-7 win.
"That's when we realized how dominant our defense was," said Dan Enos, then a freshman reserve quarterback for MSU who later became an assistant coach at his alma mater. "After that game, we thought, 'Man, we've got a really, really good shot here.'"
There wasn't as much optimism when MSU entered Big Ten play at 1-2. After beating eventual Rose Bowl opponent USC on Labor Day -- in the first night game at Spartan Stadium -- MSU fell to eventual No. 2 Florida State and to Notre Dame, scoring a combined 11 points in the losses.
"That was our nonconference: Southern Cal, Notre Dame and Florida State," Enos said. "Who does that these days? Nobody."
Things didn't get much easier against Iowa, which led 14-7 at halftime. Perles didn't hold back as he addressed his team in the infamous pink locker room at Kinnick. The Spartans rallied to win 19-14.
"He came in, gave us a few choice words," White said with a laugh. "From that point on, we never looked back. The whole season changed."
The next week, MSU beat Michigan in East Lansing for the first time since 1969, thanks to seven interceptions. Despite a tie at Illinois, the Spartans faced Indiana on Nov. 14 with a Rose Bowl berth on the line for both teams.
White carried 56 times, one shy of the Big Ten/NCAA record, for 292 yards as MSU crushed Indiana 27-3. The postgame celebration included a surprise visit from Indiana coach Bill Mallory, who briefly addressed the team.
He congratulated the Spartans and, mindful of the Big Ten's six-game Rose Bowl slide, told players to "go out to the coast and kick [USC's] ass."
"That fired us up," White said. "For another coach to show how much class he had to come over to us and tell us that we had a fine football team, and for us to go out there and kick some butt, that was great."
Mallory, who received Perles' permission before speaking, doesn't recall going into any other opposing locker room after a game in his long career.
"I just had that gut feel," Mallory said. "I didn't want to get carried away, but I wanted to make sure they got our support."
The Spartans' 20-17 Rose Bowl win in many ways typified the 1987 team. They attempted only seven passes but connected for some big gains to Rison, and White had 113 rush yards and two touchdowns.
Snow, who recorded 17 tackles and earned game MVP honors, led a defense that forced five takeaways.
"It was a team loaded with toughness," Perles said.
Barnett, just a redshirt sophomore, expected the Rose Bowl to become an annual trip.
"Little did I know it was going to take 26 years," he said. "I'm really excited for our players to get a chance to experience the granddaddy of them all."
April, 18, 2013
4/18/13
9:00
AM ET
EAST LANSING, Mich. -- Michigan State defensive coordinator Pat Narduzzi didn't want to nag any more.
Narduzzi always had told his defenders exactly what they needed to do to become an elite unit. He shaped the identity of the unit, rather than the players themselves.
"It's like your mother telling you to make your bed before 8 o'clock, 'Don't come down and eat breakfast, do this and do this,' " Narduzzi told ESPN.com. "And you're going, 'C'mon, Mom, can't I eat breakfast first and then make my bed?' Well, me coming in there and telling them all those things is the same."
Several years ago, Narduzzi put the players' identity in their own hands. He no longer would outline the traits that would make them a great unit. The defenders met as a group and brainstormed the core values they wanted to display on the field.
"When people watch you on tape, when people watch you on Saturday afternoons on ESPN, what are they saying about you?" Narduzzi told the players. "Are they saying, 'Look at these guys. They look confused.' Or are they saying, 'They're playing fast.' "
They chose a nickname -- Spartan Dawgs -- and a list of terms that best reflected their goals. The final product is a blueprint for a defense that has come to define the Michigan State program in recent years.
It can be found in meeting rooms, players' binders and in the locker room before games.
"We all come up with some things we can go by, stuff we need to do during the game, which is dominate, which is create turnovers, which is making plays," senior cornerback
Darqueze Dennard
said. "Stuff like that can motivate us and give us a guideline for how we come into each game.
[+] Enlarge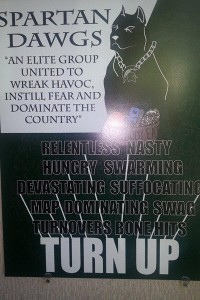 Michigan State athletic communicationsMichigan State's defense has chosen Spartan Dawgs to be its nickname.
"We've got a nice poster with the Spartan Dawgs, the goals and a little mean dog. It's kinda cool."
Defensive lineman
Tyler Hoover
, a studio art major, designed last year's poster, which features a dog wearing a Spartans logo on a chain. The dog's bowl includes a Big Ten championship ring and the words "Everybody eats."
The poster defines Spartan Dawgs as: "An Elite Group United to Wreak Havoc, Instill Fear and Dominate the Country." Below are words like relentless, nasty, swarming, devastating, turnovers and dominating. The poster ends with the words: TURN UP.
The 2011 poster was similar, and included the statement:
We will set the standard nationally for the most reckless, disruptive force unleashed on any team
. It's not exactly Shakespeare, who in "A Midsummer Night's Dream" wrote about the "hounds of Sparta" --
So flew'd, so sanded, and their heads are hung/With ears that sweep away the morning dew;/Crook-knee'd, and dew-lapp'd like Thessalian bulls
-- but it works for the players.
"We run out of synonyms, to be honest," senior linebacker
Max Bullough
said. "We have a good idea of what we want to do, where we want to be. It's just adding little flakes here and there, having different guys on the team and who's going to step up and say, 'This is what we should have on it.'
"It's pretty similar each year."
So are the results of the Spartans' defense. Michigan State finished fourth nationally in total defense last season (274.4 ypg) after placing sixth in 2011 (277.4 ypg). The unit also has ranked in the top 10 nationally in both points allowed and rushing yards allowed in each of the past two seasons. Last year, Michigan State finished third nationally in pass efficiency defense.
A high standard has been set, but the Spartans expect to reach it again this season. Seven defensive starters return, including two 2012 first-team All-Big Ten selections in Bullough and Dennard, along with honorable-mention selections in safety
Isaiah Lewis
, linebacker
Denicos Allen
and end
Marcus Rush
. The Spartans boast one of the deepest secondaries in the country, a veteran linebacking corps and several potential stars up front like
Shilique Calhoun
, who locked up a starting end spot opposite rush this spring.
"We have an experienced secondary coming back, an experienced defense coming back," Lewis said. "I'm just expecting what everybody else is expecting, to come out and dominate other teams."
The defense has areas that can be improved, such as generating more sacks (tied for 93rd nationally last season, 1.54 per game) and takeaways (tied for 73rd with 20). But asked what the next phase is for the defense, Narduzzi replied, "Keep doing what we're doing."
The Spartans have evolved into an elite defense under Narduzzi and coach Mark Dantonio, a former defensive assistant at four FBS schools, including Michigan State (defensive backs, 1995-2000) and Ohio State (defensive coordinator, 2001-03). But they weren't always that way.
Michigan State finished 31st, 58th, 73rd and 43rd in defense during Dantonio's first four seasons as coach. The Narduzzi/Dantonio-led defenses at Cincinnati from 2004 to 2006 were decent but not special, finishing no higher than 31st nationally.
[+] Enlarge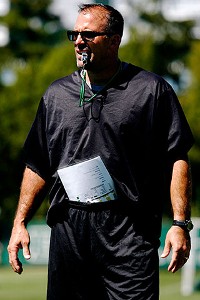 AP Photo/Al GoldisPat Narduzzi's Michigan State defense ranked fourth nationally in total defense last season.
Dantonio identifies three factors that have helped the Spartans' defense reach nationally elite status: stronger recruiting/player development, staff continuity, and players who have experienced success and know the standard.
"We've got players who have excelled in the past, and success breeds success," Dantonio said. "When they have the same teacher, and that same base concept stays the same, over a period of time you begin to handle it more efficiently. I think that's happened to our football team. It doesn't mean we don't have breakdowns. We do. But we're able to overcome those, and we're able to play with a lot of confidence and we're able to play fast.
"Any time you can do those two things ... you can be successful."
The same teacher is Narduzzi, who has served as Dantonio's defensive coordinator throughout his head-coaching career. Despite being courted by Texas A&M after the 2011 season and being mentioned for several head-coaching vacancies, he'll remain with the Spartans for a seventh season this fall.
Assistants Harlon Barnett (secondary) and Mike Tressel (linebackers) also came with Dantonio and Narduzzi from Cincinnati. The defensive staff had its first change this past offseason, when line coach Ron Burton replaced Ted Gill.
"There's something to be said about that," Bullough said. "You can play fast, you know the defense, you don't have to worry about the little things and the big things will take care of themselves."
Michigan State's defense wasn't the reason the team backslid from 11 wins in 2011 to seven last season. The unit made strides in most major statistical categories and played arguably at a championship level. But it wasn't perfect, and with Michigan State's offense sputtering -- the Spartans finished 108th in scoring and 95th in total yards -- it cost the team. They dropped five Big Ten games by a total of 13 points.
There's a concern that the gap between the defense and the offense will create splintering, but Dennard says the Spartans "never got divided." Still, the offensive players know they must make up some ground this offseason.
"Each day, going to practice is a challenge for us," offensive tackle
Fou Fonoti
said. "Seeing them play with the amount of emotion, and you see Coach Narduzzi, it puts that fire for us. We've got to execute better, so we're trying to feed off of that."
This year's Spartan Dawgs blueprint should be finalized soon. One word likely to appear, if Lewis has a say, is nastiness.
Barnett has a picture of The Incredible Hulk on the wall of the defensive backs' meeting room and encourages his players to "bring the other guy out."
"I'm a nice guy off the field, but when you step on that field, you aren't that nice guy any more," Lewis said. "You've got to bring out that other side. ... Just a nasty guy, somebody mean, somebody angry."
Somebody striving to be the best.
"We want to be the No. 1 defense, we want to be the talk of the nation," Dennard said. "We take so much pride in that. None of us forget the blueprint."
June, 19, 2012
6/19/12
2:00
PM ET
Remember
this story
from back in February? Nothing I've written in the past four and a half years at ESPN.com has generated such a strong response. While most of the feedback was negative (fine by me), one element of the minority coaches' story seemed to be overlooked.
The Big Ten's main involvement in the issue has been its participation in an annual minority coaches' forum, launched in 2006 and held annually through 2010 by the commissioners of the BCS automatic-qualifying leagues. The event brought together top minority assistant coaches, athletic directors and conference officials to network and discuss the hiring process. The Big Ten had 17 African-American assistant coaches attend the forum between 2006 and '10. Five since have gone on to become FBS head coaches, and four -- Ron English (Eastern Michigan), Darrell Hazell (Kent State), Don Treadwell (Miami University in Ohio) and Garrick McGee (UAB) -- remain in those roles. ...
The forum, held in conjunction with the Fiesta Frolic, didn't take place in 2011 because of the fallout from the Fiesta Bowl scandal. The leagues had a conference call scheduled for Tuesday to discuss a 2012 forum, which could take place in June at the athletic directors' convention.
"It's important for us to continue," Big Ten senior associate commissioner Mark Rudner said. "This really was the one vehicle, at least on the football side, that everybody in our conference coalesced around."
Well, here's the good news: the forum will take place next week, and two Big Ten assistants will be in attendance. According to Mark Rudner, the event is now called the NCAA Champion Forum and will take place Monday-Wednesday at the National Association of Collegiate Directors of Athletics convention in Dallas.
Minority assistant coaches from around the country will attend, including Northwestern wide receivers coach Dennis Springer and Michigan State secondary coach Harlon Barnett. Assistants from schools like Stanford, Virginia Tech, West Virginia and Kansas State also will be there.
Participants will go through a mock interview process for a head-coaching position where they'll interact with a search firm and talk with a panel of sitting athletic directors, including Northwestern's Jim Phillips. The assistant coaches also will rub elbows with a university president (Western Kentucky's Gary Ransdell) and receive media training from the NCAA. Rudner and officials from other conferences will attend to talk to the coaches about the role of league offices. Representatives from the NFL also will be on hand, and other Big Ten athletic directors will be in Dallas next week.
"It's a fabulous program," Rudner told ESPN.com "There's search firm engagement. Participants are going to go through an interview process. It's a chance to network, which is always important."
Barnett, who played at Michigan State before going onto the NFL for seven seasons, has coached defensive backs under Mark Dantonio at Michigan State and Cincinnati since 2004. Springer has coached a variety of positions -- wide receiver, running back, linebacker, secondary -- at Northwestern, Indiana, Western Kentucky, Bowling Green and Ball State.
It's great to hear the minority coaches' forum is taking place again. Hopefully, it will produce more capable and qualified coaches to continue the recent trend of hiring coaches of color.
August, 25, 2011
8/25/11
10:00
AM ET
Like many gifted athletes, Johnny Adams came to Michigan State relying on his natural ability.
His skills helped him crack the starting lineup for two games as a true freshman in 2008. After missing most of the 2009 season with a shoulder injury, Adams earned second-team All-Big Ten honors last fall, recording three interceptions, seven pass breakups and 50 tackles for a much-improved Spartans secondary.
Intent on taking the next step, Adams accelerated his learning curve during the winter, spring and summer. Arguably no Michigan State player has made more strides during the offseason than the 5-foor-11, 175-pound junior.
[+] Enlarge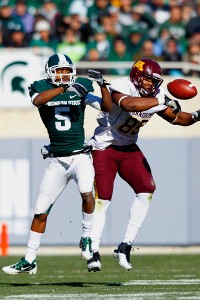 Rick Osentoski/US PresswireMSU cornerback Johnny Adams, left, had seven pass breakups in 2010.
"The biggest thing is trying to know my opponents more, instead of me going through the motions," he said. "In the spring, every week I studied [Michigan State's] offense, and it took my game to another level."
Adams stood out throughout the spring and was the first player selected by the team's seniors in the draft for the spring game. He has continued to make a difference in preseason camp, intercepting a
Kirk Cousins
pass and returning it 32 yards for a touchdown to close out
Sunday's jersey scrimmage
, won by the defense.
In 2010, Michigan State's secondary subscribed to the M.A.P. motto -- Make A Play -- and combined for 12 of the team's 17 interceptions to go with four forced fumbles. Adams did his part (three interceptions, one forced fumble, one fumble recovered), but he feels he has a much better grasp on formations and quarterback tendencies heading into this season.
"It's going to help a lot," he said, "because if you know what somebody's going to do, it can definitely cancel out some of the things you would want to do. You can make smarter gambles, smarter decisions. I was more of a cautious guy in the past because I didn't know what was coming at me at the time.
"Now when you study film and you look at personnel and formations and what people like you do, you can take an educated guess on what's coming."
Michigan State loses its top cornerback in Chris L. Rucker, a sixth-round pick of the Indianapolis Colts in April. Rucker and Spartans secondary coach Harlon Barnett both told Adams after last season that if he wanted to take his game to another level, he had to know his opponents better.
"It's not off of just raw talent," Adams said. "It's what you know, and how you approach the game. I started approaching the game different."
Adams soon will start breaking down film of opposing receivers. He expects to mark No. 1 wideouts this season and has been preparing by practicing against
B.J. Cunningham
, Michigan State's top returning receiver.
"We made a lot of plays last year," Adams said. "Now we want to take our plays to another level. If we [used to] get a pick, now we want to get a pick-six."
April, 22, 2009
4/22/09
5:36
PM ET
Posted by ESPN.com's Adam Rittenberg
EAST LANSING, Mich. -- It was probably a good thing that neither Kirk Cousins nor Keith Nichol attended Wednesday's spring game draft at the Skandalaris Football Center.
The two Spartans quarterbacks would have felt a bit like Brady Quinn and Aaron Rodgers. They would have been waiting a while.
Michigan State's senior class divided into two teams and made the selections for the Green and White squads. They filled 16 different position groups before coming to the quarterbacks. Even the long snappers were scooped up before Cousins and Nichol.
The Green team finally relented and picked Cousins, the sophomore who backed up Brian Hoyer last season. That meant Nichol went to the White team, which seemed happy to have him.
"It was interesting how the guys who may be the MVP, the quarterbacks, they're some of the last ones picked," said head coach Mark Dantonio, who officiated the draft inside the team meeting room. "It's because everybody feels they're both very, very good players and they both can lead and they both can make plays. That's a positive thing."
This year's draft wasn't nearly as entertaining as its predecessor, in large part because Dantonio was the only coach in the room. Last year, quarterback Brian Hoyer and Pat Narduzzi got into it regarding the drafting of offensive lineman Joel Nitchman.
"We've kept coach Narduzzi out of there this year," Dantonio told the players with a smile.
It was fun to watch the normally all-business Dantonio oversee the proceedings. He split up the entire football staff between the two squads, all the way down to the trainers, operations staff, film coordinators and turf management staff.
Defensive line coach Ted Gill will serve as head coach of the White team, with linebackers coach Mike Tressel as his defensive coordinator and tight ends coach Mark Staten as the offensive coordinator. Offensive line coach Dan Roushar will be the head man for the Green squad, with quarterbacks coach Dave Warner as offensive coordinator and secondary coach Harlon Barnett as the defensive coordinator.
The national runner-up Spartans men's basketball team also will play a key role in the Green-White game. Outgoing seniors Travis Walton and Idong Ibok attended the draft and will serve as two of the honorary captains for the Green team, while the hoops assistant coaches will do the same for the White squad.
Walton, ever the team captain, seemed to be running the Green team's draft, while defensive end Trevor Anderson was the point man for the White squad. Each team received two minutes between selections.
Some highlights:
For the second straight year, All-Big Ten linebacker Greg Jones was the first player drafted, going to the Green team, which won a coin flip. Safety Trenton Robinson's stellar spring rubbed off on the White team, which selected Robinson with its first pick.

There was a bit of strategy involved, especially since the seniors had been drafted to the two teams by the coaches earlier in the day. Dantonio said Gill chose Anderson with the top pick among seniors.
A bit of a surprise as Caulton Ray, not Ashton Leggett or Andre Anderson, was the first running back drafted, by the Green team. The White team then picked Leggett and Anderson went Green.

Despite cornerback Jeremy Ware's desire to draft Mark Dell, the White team went with sophomore Keshawn Martin as the first wideout taken. The Green team scooped up Dell, while the White took B.J. Cunningham. Walk-on wideout Milton Colbert was picked before Fred Smith, a heralded 2008 recruit.
After the Green team picked Charlie Gantt as the first tight end, the White squad went with Clemson transfer Brian Linthicum instead of Garrett Celek, who played a decent amount last year.
The White team has the edge in special teams with starting kicker Brett Swenson and starting punter Aaron Bates.
The Green team ended up with most of the first-string offensive line (tackle J'Michael Deane, right guard Jared McGaha, center Joel Nitchman), while the White team will counter with several starters on the D-line (Anderson, defensive tackles Jerel Worthy and Oren Wilson). After the draft, the White squad proposed a trade that would swap Cunningham for Deane, but got shot down. "Alright, we're good to go," Anderson said, before high-fiving his teammates.