NCF Nation:

Ha'Sean Clinton-Dix
January, 8, 2013
Jan 8
3:43
AM ET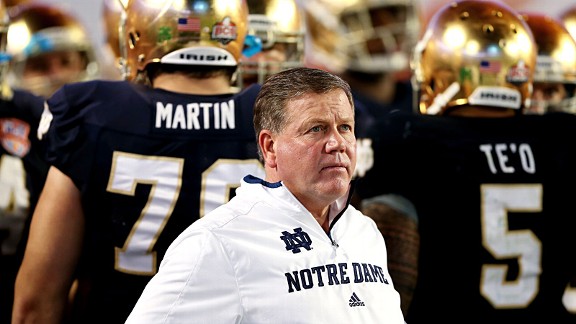 Streeter Lecka/Getty Images"Pretty darned good football team," coach Brian Kelly said of his Irish, "but not good enough."
MIAMI -- The "Rudy" theme is playing over the loudspeakers. And when the Rudy theme is playing over the loudspeakers, it is usually playing late in a tight game to inspire Notre Dame to pull out one more thriller in a season full of them.
This was the case two months ago against Pittsburgh. The Fighting Irish defied everyone by winning at Oklahoma a week earlier, got off to a lethargic start against Pitt and fell behind 14. But this was Notre Dame and this was the Irish's year, and so the Notre Dame Stadium speakers blared that famous tune less than a minute into the fourth quarter. Notre Dame scored 23 of the game's final 29 points, won in triple overtime, extended its perfect campaign and marched onward.
Now the song is playing inside Sun Life Stadium, Notre Dame again needing another miracle. The Irish have just failed to convert on fourth down. Alabama has gotten the ball back. The Crimson Tide have had the ball plenty already, and they have scored every single time they have had it.
This is with 13 minutes, 20 seconds left in the second quarter.
This is with Alabama boasting a three-touchdown lead, well on its way to a
42-14 victory
in the Discover BCS National Championship.
This is reality crashing down hard on a team amid a renaissance campaign, no history nor luck nor year-three magic on its way to the rescue.
"Maybe Alabama doesn't come back in the second half," an almost-resigned coach Brian Kelly says at halftime. "It's all Alabama. I mean, we can't tackle them right now, and, you know, who knows why? You know, they're big and physical; I guess I do know why. It's just that our guys have not tackled the way they have all year. We've got to go in there and we've got to get after it and play with some pride in the second half and try to get this thing closer so we can try to find a way to win."
Notre Dame gets the ball back first, and its offense finally gets something going. A 6-yard run here, a 21-yard pass there, nine more yards on a completion … and here the Irish are at the Alabama 36-yard line, the closest that they have come to the end zone all night.
Everett Golson
takes a shot deep down the right sideline to
DaVaris Daniels
, and
Dee Milliner
is ready to pick it off, except he doesn't. No matter, because
Ha'Sean Clinton-Dix
is close enough to dive and catch the tip while falling out of bounds, one more blow to a Notre Dame team that has already taken all it can handle.
[+] Enlarge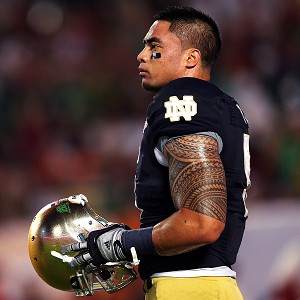 Mike Ehrmann/Getty ImagesManti Te'o couldn't find the momentum-shifting play that marked his, and Notre Dame's, run to Miami.
This was the case all night for the Irish, from a highly questionable kick-catching interference call on
Matthias Farley
that took away a chance for early momentum, to
Manti Te'o
's diving attempt at a second-quarter interception going just off his fingertips -- or the exact opposite of what happened to him in a season-defining pick at Oklahoma.
Breaks? There was
Davonte Neal
's fumble of a second-quarter punt return bouncing out of bounds, allowing the Irish to keep the ball. Or
AJ McCarron
's inches-too-long throw to
Amari Cooper
, who had outrushed two Irish defenders and fell just shy of a ball that would have accounted for a 59-yard score and a 28-0 Tide lead.
Instead, the Tide simply scored on their next possession to make it 28-0. They rushed for 265 yards against a defense that had allowed 92 per game. They had scoring drives of 82, 80, 97 and 86 yards; Notre Dame had not allowed one longer than 75 yards entering Monday night.
"I think Coach Kelly told us before the game that there are eight minutes that are very important in the game," said Te'o, whose legendary career came to a close. "The first two minutes of the game, the last two minutes in the second quarter, the first two minutes of the third quarter and the last two minutes of the game."
Alabama scored on the first drive of the game and on the last drive of the second quarter. The Tide picked off Notre Dame in the first two minutes of the third quarter, and by the last two minutes of the game the "S-E-C" chants were making their final appearance of the night.
Just before then, a pin drop could be heard on the Irish sideline, players staring everywhere and nowhere at once, the hopes and dreams of capping this magical season with a crystal football all but officially dead for three hours now.
"Pretty darned good football team," Kelly would say, "but not good enough."
Robby Toma
walked off the field first, helmet on, a stoic stride into the tunnel. Everyone soon followed, and when the locker room opened
Theo Riddick
was crying all by himself in front of his stall. Roommate and backfield mate
Cierre Wood
eventually appeared, tapping his left hand on Riddick's head every now and then for comfort during interviews. Eventually the emotions of this season and a four-year, whirlwind career gave in, and soon a towel was covering Riddick's face in its entirety.
Kelly was the last to emerge from the locker room, his mission to fulfill the third-year destiny of great Notre Dame leaders falling short, the coach stopping to thank a couple of men in orange jackets for their hospitality while a fan's cry of "Get 'em next year, Coach" faded in the background.
There were 25 teams ranked ahead of his in the Associated Press preseason poll, and there were 23 mostly unfulfilling seasons preceding this year's outfit.
Loss No. 1 came four months later than anyone had expected, and it was on to 2013 and finishing the gap-closing that the 125th team in the history of Notre Dame football thought it was so close to completing.
"There are 121 FBS schools," Kelly's boss, athletic director Jack Swarbrick, would say, "and we're in pretty good shape relative to all but one of them."
December, 14, 2012
12/14/12
10:46
AM ET
After further review, the SEC has decided not to punish Alabama defensive end
Quinton Dial
for his hit on Georgia quarterback
Aaron Murray
in this year's SEC championship game.
This means that the SEC has decided not to suspend Dial for Alabama's meeting with Notre Dame in the Discover BCS National Championship Game on Jan. 7, but any action Alabama wants to take is fine with the league.
Here's the official statement from the SEC:
[+] Enlarge

Beth Hall/USA TODAY SportsThe SEC declined to suspend Quinton Dial for his late hit on Georgia quarterback Aaron Murray.

"The Southeastern Conference has completed its review of video from the 2012 SEC Football Championship Game. Several plays involving both teams were reviewed. After review, all subsequent action will be handled internally by the two institutions and the conference office is satisfied with their actions."
Really, the main play in question was Dial's nasty hit on what appeared to be a very defenseless Murray during an interception return by Alabama safety
Ha'Sean Clinton-Dix
in the first half. The hit appeared to be helmet-to-helmet, but no flag was thrown. Murray stumbled to his feet after the play, but later said that he only had the wind knocked out of him.
Earlier this month, SEC coordinator of officials Steve Shaw told Al.com that Dial
should have been penalized for his hit
on Murray and that the officials "missed the call."
Here's a little of what Shaw told Al.com about reviewing the hit:
"By rule, you can't hit a defenseless player above the shoulders. What the determination needs to be is was this a defenseless player and was contact initiated above the shoulders? When we go through video review of it, that's what we'll have to determine. And then you as you break it down, did he lead with the head or lead with the shoulder? From game action, it was a personal foul regardless of how we break it down frame by frame."
This isn't the first time the league has had to deal with a hit like this. Ole Miss safety
Trae Elston
was
suspended for the Texas game
after he hit defenseless UTEP wide receiver
Jordan Leslie
the week prior. Like Dial, Elston wasn't flagged on the play.
The SEC ruled Elston's hit was in violation of Rule 9-1-4 of the NCAA rulebook, which reads:
"No player shall target and initiate contact to the head or neck area of a defenseless opponent with the helmet, forearm, elbow or shoulder."
Rule 9-1-3 also states:
"No player shall target and initiate contact against an opponent with the crown (top) of his helmet."
South Carolina safety
D.J. Swearinger
was
also suspended by the SEC
for a game for his hit on UAB's Patrick Hearn. Swearinger was actually flagged for the play because his helmet hit Hearn's face mask after he launched himself into Hearn.
But the league didn't suspend Vanderbilt's
Andre Hal
at the beginning of the season after he was flagged for launching into South Carolina tight end
Justice Cunningham
, causing Cunningham's helmet to fly off.
When it comes to this issue, it's all about consistency and I'm not sure the league is consistent right now. Say what you will about Murray turning into a defender on the play, but he was as defenseless as ever when Dial laid that vicious hit on him. A flag should have been thrown. We saw consistency with Swearinger being suspended after Elston, but not with Dial's hit.
Just like the officials, the league missed this one.
May, 11, 2012
5/11/12
9:00
AM ET
A lot of votes were cast and it came down to the wire, but the fans have spoken and South Carolina has
won the poll battle of the defenses
.
With nearly 12,000 votes cast, South Carolina barely claimed first place with 24 percent of the vote. Alabama was second with 23 percent, while LSU grabbed 21 percent. Georgia got 13 percent of the vote while the category of "Other" received 19 percent.

South Carolina is a solid pick when you look at who returns. Defensive ends
Jadeveon Clowney
and
Devin Taylor
are back alongside tackle
Kelcy Quarles
. Clowney and Taylor combined for 20.5 tackles for loss and 14 sacks. Quarles really progressed as the season went on and provided a nice big, disruptive body against the run.
Veterans return at linebacker, with seniors
Shaq Wilson
and
Reginald Bowens
in the middle and
DeVonte Holloman
is back at the Spur, where he's at his best. Seniors
D.J. Swearinger
(safety) and
Akeem Auguste
(cornerback) are back in the secondary, as well.
Most of the questions for this defense lie in the secondary, with sophomores-to-be
Victor Hampton
(cornerback) and
Brison Williams
(safety) expected to start this fall. Williams collected a start against Florida last year, while Hampton did most of his damage on special teams. Expect offenses to key in on them early.
At this moment, I'd have to go with LSU. The Tigers return one of the best defensive lines in the country, with two potential first-rounders in ends
Barkevious Mingo
and
Sam Montgomery
. And LSU's staff is very excited about what
Bennie Logan
and
Anthony Johnson
can do at the tackle spots. This line should be the strength of this team and it will make it hard to run and throw on the Tigers. It'll take pressure off the linebackers, which lose two starters.
The secondary loses Morris Claiborne and Brandon Taylor, but the Honey Badger (
Tyrann Mathieu
) is back and so is
Eric Reid
, who might be the league's top safety. Keep an eye on
Tharold Simon
at cornerback. He should be a solid cover corner this fall.
Alabama is down a handful of starters from last year, but don't think that will send this unit into a tailspin. Defensive tackle
Jesse Williams
is an animal and linebackers
C.J. Mosley
,
Nico Johnson
and
Adrian Hubbard
aren't slouches by any means. Yes, the secondary is a little green, but corner
Dee Milliner
and
Robert Lester
should help provide some stability. JUCO standouts Deion Belue and Travell Dixon impressed this spring and youngsters
Vinnie Sunseri
and
Ha'Sean Clinton-Dix
look ready to be big contributors.
And with nine starters returning for Georgia, the Bulldogs should have another solid defensive squad this fall. There has to be some worry with four starters suspended for the beginning of the season, but at full strength, this defense will be a handful, especially with one of the best linebacking corps in the country that includes All-American
Jarvis Jones
, speedster
Alec Ogletree
and work horse
Michael Gilliard
. Once
Bacarri Rambo
,
Sanders Commings
,
Shawn Williams
and
Branden Smith
are all back and together, Georgia's secondary will be potent.
May, 8, 2012
5/08/12
11:00
AM ET
We all know that defense wins championships and the SEC is very much a testament to that. Alabama possessed the nation's No. 1 defense last season and now possesses another national championship. Runner-up LSU ranked second nationally.
Alabama ran away with the crown as the nation's and the SEC's best defense, but that title is for the taking in 2012. Alabama is down key players from last year's squad, like linebackers Courtney Upshaw and Dont'a Hightower, defensive tackle Josh Chapman, and defensive backs Mark Barron, Dre Kirkpatrick, and DeQuan Menzie.

Alabama's defense isn't as green as the 2010 group, but it's still drawing some comparisons to it. That's exactly what the Tide wants to hear.
Nico Johnson
seems primed to be a true leader at linebacker, while
Adrian Hubbard
could be a budding star at Upshaw's old position. Defensive backs
Robert Lester
and
Dee Milliner
are back and will be joined by a couple of JUCO standouts and talented sophomores
Vinnie Sunseri
and
Ha'Sean Clinton-Dix
.
Jesse Williams
could be a real force at defensive tackle along with end
Damion Square
.
Then you have LSU. The Tigers lost All-World cornerback Morris Claiborne to the NFL draft and two starting linebackers. Michael Brockers is gone at defensive tackle as well. But LSU is still loaded. The Tigers return Heisman finalist
Tyrann Mathieu
and
Tharold Simon
, who should be fine with an expanded role at cornerback. Junior
Kevin Minter
really stepped up at linebacker last year and should pick up right where he left off. Even without Brockers, the line is solid with future first-rounder
Sam Montgomery
at one end position and the underrated
Barkevious Mingo
at the other. The two combined for 17 sacks last season.
Bennie Logan
and
Anthony Johnson
should provide some meat nastiness in the interior, while the very talented
Eric Reid
is back at free safety.
Georgia and South Carolina both finished the 2011 season ranked in the top five nationally in total defense. South Carolina was third, while Georgia was fifth, respectively. The Gamecocks lost first-round defensive end Melvin Ingram, but return freshman standout
Jadeveon Clowney
and
Devin Taylor
, who many thought would be better than Ingram last season.
Kelcy Quarles
is back at defensive tackle and the coaches think he'll be even better in his second year.
Shaq Wilson
and
Reginald Bowens
, who combined for 96 tackles last year, will grab time at linebacker again, while the very athletic
DeVonte Holloman
returns to the Spur for his senior year. There are questions in the secondary, but seniors
D.J. Swearinger
(safety) and
Akeem Auguste
(cornerback) return.
Georgia returns nine defensive starters. Brandon Boykin is gone at corner, and the Bulldogs will enter the fall with a lot questions in the secondary, especially with starters
Branden Smith
,
Sanders Commings
and
Bacarri Rambo
suspended to start the season. Star freshman receiver
Malcolm Mitchell
moved to corner this spring and fits right in, but there are depth issues at the position.
Other than that, the Bulldogs are still pretty stacked. Inside linebacker
Alec Ogletree
will serve a suspension to start the year, but Georgia will fill his spot by committee. Mike Gilliard,
Cornelius Washington
,
Christian Robinson
,
Amarlo Herrera
and
Ramik Wilson
provide Georgia with a very solid linebacking unit alongside star
Jarvis Jones
, who racked up 19.5 tackles for loss and 13.5 sacks. Georgia's defensive line should also be pretty stout with the massive
John Jenkins
and
Kwame Geathers
battling in the middle.
Abry Jones
really progressed at end as well this spring.
Or maybe someone else will step up and take the crown ...
June, 29, 2011
6/29/11
1:00
PM ET
True freshmen have been rolling onto SEC campuses this month to get a jump on summer school, and more are on the way for the second session of summer school.
Every year about this time, it's the same question: Who among the true freshmen will make the biggest impact?
We'll take our stab at it, breaking it down by division.
We'll start with the West. One thing to keep in mind is that we're only including true freshmen who weren't on campus early and didn't go through spring practice, so you're not going to see guys like LSU's
Anthony Johnson
, Arkansas'
Brey Cook
, Auburn's
Reese Dismukes
and Florida's
Jeff Driskel
on this list.
We'll do our impact newcomers (freshman early enrollees, junior college players, transfers, everybody) at a later date.
For now, here's a look at who among the incoming true freshmen in the West might contribute right away. Edward will do the same with the East later today:
ALABAMA

Ha'Sean Clinton-Dix, S:
Alabama boasts one of the best safety tandems in the league in
Mark Barron
and
Robert Lester
, but the 6-foot-1, 203-pound Clinton-Dix has the size and skill set to come in and make the Crimson Tide even stronger on the back end of their defense.
Cyrus Kouandjio, OT:
One of the top offensive tackle prospects in the country last year, Kouandjio could provide some immediate depth. The Tide were already looking at moving All-SEC guard
Barrett Jones
to left tackle.
ARKANSAS

Tevin Mitchel, CB:
The Hogs ended the spring a cornerback short in their secondary, which is where Mitchel comes in. He'll get a chance to show what he can do this fall both as a lock-down cover guy and potentially as a return specialist. It was a real coup for Arkansas to get him away from Nebraska.
AUBURN

Erique Florence, S:
The Tigers were hit hard in the secondary by personnel losses, and Florence was one of the most coveted safety prospects in the country last year. He's a big-time talent with the size (6-2, 190 pounds) to come in and contribute right away.
Kiehl Frazier, QB:
It's never easy for a quarterback to go straight from high school to the SEC without the benefit of enrolling early and going through spring practice. But the Tigers haven't settled on a quarterback, and Frazier is the type of run-pass threat Gus Malzahn is looking for in his offense.
Jermaine Whitehead, CB:
There should be some fierce competition at cornerback this fall on the Plains, and Whitehead will be one to watch. Auburn was able to sway him late in the recruiting process, and he's expected to vie for a starting spot from the time he walks onto the practice field.
LSU

Jarvis Landry, WR:
If the Tigers are going to make a run at a national championship in 2011, they're going to need a lot more production from their passing game than they got a year ago. Landry is dynamic in the open field and should complement
Rueben Randle
and
Russell Shepard
nicely.
MISSISSIPPI STATE

Joe Morrow, WR:
Mississippi State coach Dan Mullen has been outspoken about the Bulldogs' need for more receivers. The 6-4, 200-pound Morrow gives them a different dimension with his size and ability to make plays over the middle.
OLE MISS

C.J. Johnson, LB:
As long as Johnson stays away from Twitter, he's poised to play a major role at linebacker for the Rebels in 2011. Losing D.T. Shackelford to a knee injury threw the door wide open for Johnson, who could play in the middle or outside.
Tobias Singleton, WR:
A lot of the attention in Oxford has been concentrated on who's going to be throwing passes for Ole Miss this coming season. Singleton, who says he qualified academically, is one of those sure-handed, athletic receivers who could help spruce up any passing game.
TOP 25 SCOREBOARD
Friday, 12/6
Thursday, 12/5
Saturday, 12/7
TOP PERFORMERS