NCF Nation:

Hau'oli Jamora
April, 16, 2013
4/16/13
5:30
PM ET
When you ask Washington's second-year defensive coordinator Justin Wilcox to describe his base scheme, his answer comes down to "somewhere in between a 4-3 and a 3-4," which means it's got a little bit of everything.
"This day and age, I think all defenses are multiple," he explained.
Wilcox turned in one of nation's best coaching jobs last fall. He took a defense that was among college football's worst in 2011 and made it more than respectable.
Improvement? The Huskies surrendered nearly 100 fewer yards and 12 fewer points per game than they did the previous season under Nick Holt. A unit that had been ranked 106th in the nation in total defense, ranked 31st. A unit that had been ranked 108th in the nation in scoring defense, ranked 39th.
And you could make a case that the Huskies talent was not appreciably better in 2012 than in 2011.
[+] Enlarge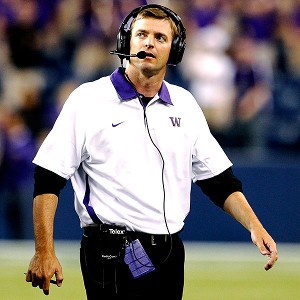 AP Photo/Elaine ThompsonThe Washington defense saw marked improvement under Justin Wilcox last season.
That said, it was far from perfect. The Huskies got pushed around by more physical teams (LSU, 41-3) and were worn out and outrun by up-tempo, spread teams (Oregon, 52-21, and Arizona, 52-17). And they turned in an execrable fourth quarter against Washington State, surrendering 18 points in a shocking overtime defeat.
In the other nine games, they yielded an average of 15.3 points per game.
So when you ask Wilcox what didn't please him, he goes general: "Consistency," he said.
Just like his defensive scheme, that encompasses a lot. For one, the Huskies still need to get bigger and faster and deeper. They have solid talent on defense but they won't yet be mistaken for Alabama or Stanford. To be consistent on defense, starters need to win one-on-one battles and there can't be a significant drop-off when the first-team guy is getting a necessary breather.
The Huskies also seemed to get overwhelmed at times, mentally as well as physically, particularly on the road. Washington played timidly in the first half at LSU, and both Oregon and Arizona had 21-point quarters at home to put those games away in the first half.
With eight starters back and improving depth, as well as a year of seasoning under Wilcox's coaching and schemes, Washington should take another step forward in 2013. It has two big questions: 1. Improving the pass rush, one of the few numbers that was statistically worse in 2012 compared to the previous fall; 2. Replacing cornerback
Desmond Trufant
, the most significant of two voids in the secondary and the defense as a whole.
The latter won't likely get done. While Trufant's play fell off a bit over the final third of the season due to his playing hurt -- "Dinged," Wilcox called it -- he's still a likely first-round NFL draft pick next week.
"I don't know if we have a guy on our roster who can replace what Desmond Trufant did," Wilcox said. "You try to get guys -- it might be one guy, it might be three guys -- to try and gain the productivity at the position he gave us."
Wilcox did say that cornerback
Marcus Peters
, who struggled at times opposite Trufant as a redshirt freshman starter, "has flashed." Senior
Sean Parker
is established at one safety spot, but the competitions at the other two secondary voids remain wide open as the Huskies prepare for their spring game on Saturday, Wilcox said.
As for the pass rush, that starts with junior rush end
Josh Shirley
, who Wilcox believes played better than was commonly thought among the Huskies fan base.
"He did a good job rushing the passer last year," Wilcox said. "He had six and a half sacks last year but he had the opportunity to have 12 or 13 if he would have finished better."
Shirley also forced six fumbles, tied for first in the conference.
It would be a huge boost if defensive end
Hau'oli Jamora
is able to come back in the fall after knee injuries killed his past two seasons, but that's not something Wilcox can count on. Jamora looked like a budding star as a true freshman starter in 2010.
"I love the guy. He works and is studying," Wilcox said. "He's doing everything humanly possible to get back ... that would be huge."
The idea, of course, is to "effect the quarterback with a four-man rush." Over-reliance on blitzing and rushing five or six guys is where a defense gets into trouble -- see the 2011 Huskies. It's also not just about sacks. It's about making a quarterback move and adjust and feel uncomfortable.
The challenge of every Pac-12 coordinator is the variety of Pac-12 offenses. There are a wide variety of up-tempo spreads that don't particularly resemble each other -- the Huskies are even going mostly no-huddle this spring -- and then there are pro style offenses such as Oregon State, Stanford and USC. A defensive coordinator in the conference can't scheme -- or recruit -- only one way.
So even with a year under his belt at Washington, expect to see some tweaks from Wilcox next fall.
What's his scheme?
Said Wilcox, "It's identifying what we think we can be good at and catering the scheme as best we can to fit the players were have."
December, 15, 2011
12/15/11
8:30
PM ET
Nick Holt can laugh now. The diverse playmaking of Baylor quarterback and 2011 Heisman Trophy winner
Robert Griffin III
is so impressive, a defensive coordinator can only find amusement when asked how Washington is going to stop him in the Valero Alamo Bowl on Dec. 29.
[+] Enlarge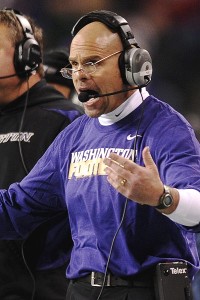 Steven Bisig/US PresswireDefensive coordinator Nick Holt is preparing his Huskies for the likes of Baylor QB Robert Griffin III.
"The guy is phenomenal," Holt said.
The numbers are mind-blowing. Griffin ranked No. 1 in the nation in passing efficiency, his 192 score being 10 points higher than the marks of 2010 Heisman winner Cam Newton and Heisman finalist
Kellen Moore
of Boise State.
He's accounted for 4,642 total yards and 45 touchdowns. He's thrown 36 TD passes and just six interceptions. He completed 72.4 percent of his throws. Oh, and he rushed for 644 yards and nine TDs. Only five Pac-12 running backs scored more than nine rushing touchdowns.
Meanwhile, there's the Huskies defense. It didn't play well this year and Holt heard plenty about that. He's the Pac-12's highest paid defensive coordinator not named Monte Kiffin, and his defense ranked 94th in the nation. Its 33.3 points per game ranked 10th in the conference.
Of course, in the name of positive spin, there's this: The Huskies will be the sixth best defense Baylor and Griffin have faced. And they've faced some really lousy ones.
Five Baylor foes rank from 99th to 120th (Kansas in last place in FBS football) in the nation in total defense. Three others ranked in the 60s. The only top-25 defense the Bears faced was No. 14 Texas.
That said, the Bears hung 48 points and 511 yards on the Longhorns.
There's other good news for the Huskies. Like the Big 12, the Pac-12 is QB-centric. Holt and the Huskies have seen plenty of good QBs of all types this season.
Just not one who combines
Andrew Luck
with
LaMichael James
.
"He's extremely athletic and he's a great quarterback," Holt said. "He can run and throw. He's kind of the best of everybody we've played. And we've played some great quarterbacks in our conference."
The Huskies thought they would be much better on defense this year but they regressed. Losing end and top pass rusher Hau'oli Jamora in game four against California to a knee injury hurt. Youth and inconsistency at outside linebacker hurt. A lack of a consistent pass rush hurt. A tendancy to give up big plays in the passing game hurt. And poor tackling and sometimes tentative play hurt.
There is impatience among the Huskies fan base, which sees a solid offense not getting help from a porous defense.
"We're really young in a lot of key positions," Holt said. "We're getting better but we're still young. It takes time to build a great, great defense."
Holt does have something to point to that could give his team confidence: Its bowl experience in 2010.
Nebraska stomped the Huskies last year 56-21 in the regular season, rolling up 533 yards. In the Holiday Bowl, that same Cornhuskers squad produced just 189 yards in a 19-7 defeat, one of the most shocking results of the bowl season.
"It was a great turnaround," Holt said. "We played well. That's what we've got to do this game."
Of course, that Nebraska team was reeling as QB
Taylor Martinez
was banged up and had lost his confidence. Baylor and Griffin appear to be peaking.
Holt and the Huskies aren't going to be expected to stop Griffin and the Bears. Just slow them down. Hold them to a below-average game. Maybe force a turnover or two. And then let the Huskies offense -- QB
Keith Price
, RB
Chris Polk
and company -- get to work on the nation's 114th-ranked defense, which yields nearly 36 points per game.
Yes, most pundits expect plenty of points, see a 78 1/2-point over-under, the largest of the bowl season. Holt's charge is to make sure Baylor has at least one less than the Huskies.
September, 23, 2011
9/23/11
9:00
AM ET
Stanford and Oregon were a combined 24-2 last year and both are presently ranked in the nation's top-10. They are the top of the Pac-12 North. The number of people who don't think one or the other will win the division is 17, and six of them are
Norwegian
, folks who as you well know are notoriously contrarian when it comes to college football analysis.
Looking up at the Ducks and Cardinal are four other the North teams, but the two top candidates for the three-hole will be in Seattle on Saturday scrapping it out for the right to become a "maybe" contender that could make the Norwegians look like giants of prognostication: California and Washington, neither of whom enjoy hearing about how great Stanford ("Blech," say the Bears) and Oregon ("Pfffftt," say the Huskies) are.
These two combined for 12-13 record last fall, with the Huskies managing to win seven games only because they pried No. 5 away from Cal on what suddenly -- wham! -- became the final play of the Bears season.
[+] Enlarge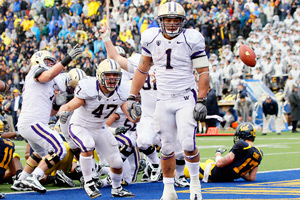 AP Photo/Marcio Jose SanchezChris Polk's 1-yard touchdown with no time left lifted Washington past Cal last season.
That dramatic finish -- a fourth-down, 1-yard TD plunge from Huskies running back
Chris Polk
as time expired on a 16-13 victory -- was the cornerstone of what is supposed to be a transformative season for Washington.
It was not greeted so warmly in Berkeley, where the Bears found themselves saddled with their first losing record in nine years under coach Jeff Tedford. Bears fans, suffice it to say, grumbled a bit, and the Bears themselves weren't exactly clicking their heels over the program's slide, either.
Tedford, however, is only willing to obliquely note that Cal might come to Seattle with an added chip on its collective shoulder.
"It was motivation through the whole offseason and the summer time, but this is a different team and they're a different team," Tedford said before adding. "It was odd how that game ended. It was somewhere we've never been before."
As if last year's game isn't enough of a poke in the eye, Cal adherents also might recall that the last time the Bears were inside Husky Stadium, they got bombed 42-1o, perhaps Jake Locker's career-best game.
These teams will come at each other with similarities: New starting QBs who have mostly exceeded expectations. And differences: Cal's defense ranks among the conference leaders; Washington's among the conference laggards.
As for Cal's
Zach Maynard
, this will be his SECOND -- not first, SECOND -- major road test. He mostly passed his first during an overtime win at Colorado, but Husky Stadium is notoriously tough on visiting foes, though it doesn't appear the house will be full.
"I think Zach is on track to become a very good player," Tedford said. "He has a lot of ability. He probably can use his legs better than any quarterback we've had here, so that is an added dimension to our offense."
While Maynard has been solid, sophomore
Keith Price
has been stellar for the Huskies. He leads the conference with 11 TD passes and ranks fourth in passing efficiency, ahead of some notables such as Arizona's
Nick Foles
and USC's
Matt Barkley
.
"He's playing phenomenal football for us right now," coach Steve Sarkisian said. "He's been lights out."
But Price will be playing against a tough Cal defense that has 11 sacks and ranks second in the conference in pass-efficiency defense.
Maynard will face a defense that ranks last in the conference in scoring (36.7 ppg) and 11th in total defense (452.0). Still, a review of the Huskies depth chart -- defensive tackle Alameda Ta'amu, defensive end Hau'oli Jamora, middle linebacker Cort Dennison, cornerback Desmond Trufant -- suggests this crew should be playing better.
Which is why much of the muttering in Seattle this week has been about well-compensated coordinator
Nick Holt
.
"I trust Nick Holt," Sarkisian said. "I believe in Nick Holt. I believe in our defensive staff. They are tremendous coaches. I've seen them coach for years. And we will get better."
How? Simple. Freaking stop dithering and go hit somebody.
"We're playing with some hesitation," Sarkisian said. "We're not letting loose and letting go. We're a little bit afraid to make a mistake."
The winner Saturday immediately announces itself as a top-half of the division team. And that is a necessary first step toward challenging Oregon and Stanford, who have finished one-two in the conference the previous two seasons.
The Norwegians have high hopes.
May, 23, 2011
5/23/11
11:05
AM ET
Every team has hope heading into the offseason. And every team has concerns.
Ergo, we're going to run through the conference and look at the chief matters -- on the up and downside -- for each Pac-12 team.
Next up:

Washington
Biggest reason for hope
:
Chris Polk
+ an improved defense.
Washington flashed signs of becoming a physical football team in 2010, which means the Huskies looked -- again, at times -- like the program that became a national power under Don James. What does "physical" mean? It means you run the ball on offense and push folks around on defense. It's what old school UW fans want to see, and more than a few probably got teary-eyed during the Holiday Bowl when the Huskies pounded on Nebraska in a 19-7 victory, a shocking result considering what the Cornhuskers had done to the Huskies just under three months before. It also became clear late in the season that Polk is on the short list of best running backs in the nation, and that the Huskies are
this close
to developing a defensive culture that matches fiery coordinator Nick Holt. There are questions at linebacker heading into the 2011 season, but tackle Alameda Ta'amu and end Hau'oli Jamora lead an A-list crew on the D-line, and there's a solid mixture of experience and young talent in the secondary. The defense should be a top-half of the conference unit. While the offensive line will fall short of dominant, Polk is one of those backs who often can do it on his own. He almost never goes down on first contact.
Biggest reason for concern
: Will quarterback
Keith Price
be valuable or cost the Huskies?
Price asserted himself this spring in his competition with
Nick Montana
to replace Jake Locker. He flashed dual-threat ability that suggested he might become an offensive asset, not a liability as a first-year starter. We've already mentioned Polk, but the Huskies also are deep at receiver. If Price presents a consistent passing threat -- in other words, he's more than a game manager -- then the offense should be pretty darn potent. And there's reason to be optimistic beyond Price's spring performance. He turned in an admirable effort last fall starting for an injured Locker at Oregon -- not exactly the best place for a UW QB to make his first career start. Put it this way: While the Huskies don't look like a threat to win the North or even to win 10 games, if Price ends up ranking in the top half of the conference in passing efficiency, it's a good bet that the program will take another significant step forward in 2011.
January, 14, 2011
1/14/11
11:00
AM ET
Who distinguished themselves during the bowl season? Here's our All-Bowl Team.
Offense
[+] Enlarge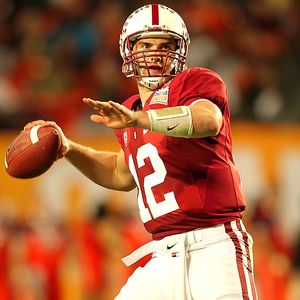 Mike Ehrmann/Getty ImagesAndrew Luck's performance helped key Stanford's blowout win against Virginia Tech.
QB Andrew Luck, Stanford
: Luck completed 18 of 23 passes for 289 yards and four touchdowns in the Cardinal's 40-12 win over Virginia Tech in the Discover Orange Bowl. He also rushed for 15 yards and was sacked just once.
RB Chris Polk, Washington
: Polk rushed for 177 yards on 34 carries with a touchdown in the Huskies win over Nebraska in the Bridgepoint Education Holiday Bowl.
RB Jeremy Stewart, Stanford
: Sophomore
Stepfan Taylor
actually rushed for more yards, but Stewart, a senior who's battled injuries throughout his career, had 99 yards on just five carries, including a 60-yard touchdown against Virginia Tech.
WR Jeff Maehl, Oregon
: Maehl caught nine passes for 133 yards with a long reception of 81 yards in the Tostitos BCS National Championship Game.
WR David Douglas, Arizona
: Douglas caught six passes for 91 yards in the Valero Alamo Bowl.
TE Coby Fleener, Stanford
: Fleenor had a career night in the Orange Bowl, catching six passes for 173 yards and three touchdowns.
OL Jonathan Martin, Stanford
: Stanford rushed for 247 yards and allowed just one sack. Martin will be an All-American candidate in 2011.
OL Chase Beeler, Stanford
: Beeler, the consensus All-American center, is the brains behind the bullies, leading one of the nation's best lines.
OL David DeCastro, Stanford
: The first-team All-Pac-10 performer had a number of key blocks against the Hokies.
OL Senio Kelemete, Washington
: Kelemete has a chance at All-Conference honors as a senior.
OL Cody Habben, Washington
: The Huskies rushed for 268 yards and allowed no sacks versus Nebraska. A nice way for the senior right tackle to go out.
Defense
LB Mason Foster, Washington
: Foster had a game-high 12 tackles, including two sacks in the Huskies win over Nebraska.
LB Shayne Skov, Stanford
: Skov had a game-high 12 tackles, with three sacks and another tackle for a loss against the Hokies. He also broke up a pass.
LB Casey Matthews, Oregon
: Matthews had six tackles, split a tackle for a loss and, most important, forced the late fumble from
Cameron Newton
that set up the Ducks touchdown that tied the count 19-19 late against Auburn.
LB Victor Aiyewa, Washington
: Aiyewa had three tackles for a loss and two forced fumbles in the Holiday Bowl.
DT Alameda Ta'amu, Washington
: Ta'amu dominated inside, recording a sack and recovering a fumble against the Cornhuskers.
DE Hau'oli Jamora, Washington
: The true freshman had three tackles for a loss and a sack versus Nebraska.
DE Kenny Rowe, Oregon
: Rowe was second on the Ducks with nine tackles, four of which came for a loss. He also had a sack and a forced fumble.
CB Cliff Harris, Oregon
: Harris had three tackles, two pass breakups and an interception. A second interception was not upheld by replay officials.
CB Richard Sherman, Stanford
: Sherman had just one tackle against Virginia Tech. It appears that the Hokies, who completed just 16 of 31 passes, decided not to throw his way.
S Delano Howell, Stanford
: Howell had an interception, a sack and four tackles in the Orange Bowl.
S Nate Felner, Washington
: Felner had four tackles and an interception in the Huskies win over Nebraska.
Special teams
K Rob Beard, Oregon
: There wasn't a lot of great kicking this bowl season in the Pac-10, but Beard connected on a 26-yard field goal against Auburn and scored a 2-point play on an option pitch.
P David Green, Stanford
: Green didn't punt much in the Orange Bowl, but he did average 46 yards when he did (three times).
KR Travis Cobb, Arizona
: Cobb returned five kickoffs for 179 yards, with a long of 64 yards.