NCF Nation:

hawaii bowl 2013
December, 24, 2013
12/24/13
11:43
PM ET
Here's our take on Oregon State's win over Boise State in the Sheraton Hawaii Bowl.
It was over when:
It never really got started. Oregon State dominated on both sides of the ball from bell to bell. When Oregon State went up 38-6 with eight minutes left in the third quarter, sportswriters everywhere started typing (cough, cough).


Game ball goes to:
The Beavers as a whole. There really wasn't a standout player in this win -- well, other than Oregon State CB
Rashaad Reynolds
(see below) -- but what was notable was a team that had lost five in a row playing perhaps its most complete game of the season. While it has been a tough year for Mike Riley, the bowl performance clearly suggests he has not lost his locker room.
Key stat:
Oregon State, a team that struggled to run the ball and stop the run all season, averaged 5.9 yards per carry while the Broncos averaged 4.1 yards per carry. That reveals how the Beavers owned the line of scrimmage on both sides of the ball. Oregon State rushed for 195 yards, Boise State 155.
Unsung hero:
Reynolds returned fumbles 3 and 70 yards for touchdowns in the first half as the Beavers took charge of the game. Not sure if that qualifies as "unsung," but it was a pretty efficient way to make life easy for the Beavers.
What it means for Oregon State:
It means Riley and Oregon State end 2013 with a winning record and a bowl win, as well as a team that sets up well for 2014. The Pac-12 North again won't be easy next fall, but what's coming back next August in Corvallis -- even without early NFL entries
Brandin Cooks
and
Scott Crichton
-- looks stronger than what came back last August.
What it means for Boise State:
While Boise State fans will fret the first post-Chris Petersen performance, this bowl game doesn't mean much for the program. Sure, plenty of folks will be skeptical whether the Broncos can continue to be nationally relevant. But it's up to new coach Bryan Harsin and the Broncos as a whole to show the doubters it will be business as usual for the top non-AQ power. That can only happen next fall. And, by the way, the Broncos have a lot coming back.
To watch the trophy presentation of the Sheraton Hawaii Bowl,
click here
.
December, 24, 2013
12/24/13
9:00
AM ET
Oregon State will take on Boise State on Tuesday at 8 p.m. ET (ESPN) in the Sheraton Hawaii Bowl.
Here's a quick preview:


Who to watch
: Both teams have quarterback questions, though of a very different nature. Oregon State QB
Sean Mannion
put up big numbers this year for the one-dimensional Beavers, but he threw 11 of his 14 interceptions over the final four games. Will the time off get him back up to speed? Or will he again struggle with accuracy and decision making? Boise State has junior
Grant Hedrick
behind center, the backup to suspended starter
Joe Southwick
. The good news for the Broncos is Hedrick has been the starter since Southwick hurt his foot on Oct. 19 against Nevada. He went 4-2 and mostly played well.
What to watch
: Oregon State is terrible against the run. It ranked 11th in the Pac-12 and 91st in the nation in run defense, yielding 193.2 yards per game. But that's not the worst of it. Opposing runners averaged 5.2 yards per carry, which ranked 107th in the nation and last in the conference. Boise State running back
Jay Ajayi
is outstanding. He rushed for 1,328 yards and 17 TDs, averaging 5.9 per carry this year. Meanwhile, the Broncos struggle against the pass, with opposing quarterbacks completing 64 percent of their throws for 248.4 yards per game. The Beavers with Mannion and WR
Brandin Cooks
should be able to take advantage.
Why to watch
: It will be interesting to see how both teams react, because the more motivated and focused team likely wins. Oregon State is riding a dispiriting five-game losing streak, due in large part to a back-loaded schedule. Is it enough motivation knowing a victory gives the Beavers a winning record and a loss means a losing one for the third time in four seasons? For the Broncos, they are playing their first game since coach Chris Petersen, who built Boise State into a national power, shocked some when he bolted for Washington. They will be led by interim coach Bob Gregory before Bryan Harsin takes over. The Broncos should be motivated to show the nation the program will continue to thrive against AQ foes, even without Peterson.
Predictions
:
Kevin:
Oregon State 38, Boise State 35.
Ted:
Boise State 38, Oregon State 35.
December, 18, 2013
12/18/13
5:30
PM ET
Oregon State was a team needing a touch of good news.
Losers of five straight -- including a heartbreaking one-point loss to rival Oregon in the season finale Civil War -- the Beavers closed out the year with an uninspired thud after jumping out to a 6-1 start.
Enter
Brandin Cooks
, the newly crowned best wide receiver in America. When he took home the Biletnikoff Award last week for the top receiver in the country, it was an opportunity for the Beavers to take a step back from the crush of negativity that had surrounded them the last six weeks and re-focus on the things they did well this season.
And a gracious Cooks was sure to tip his cap to everyone who helped make it possible -- including his quarterback,
Sean Mannion
.
"I have to thank Sean for everything he did to help me get this award," Cooks said. "This isn't just for me. It's for my teammates and it's for the program. It took a lot of things for me to get this so it all goes to my teammates."
[+] Enlarge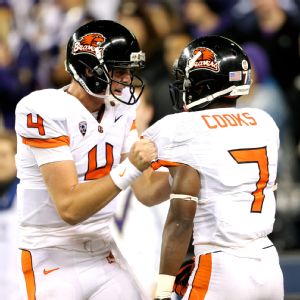 Otto Greule Jr/Getty ImagesSean Mannion and Brandin Cooks have formed a productive partnership for Oregon State.
Mannion was a bit more reserved at taking some of the praise. True, Cooks is catching what Mannion tosses. But in Mannion's mind, it's all Cooks.
"It's Brandin's award," Mannion said. "It's not mine. He's an outstanding player. He earned that award and I'm lucky I get to play with him. When I was watching him on TV, I was really proud to see him win. Not only is he a great player, but I know what kind of guy he is on and off the field. He's a guy that will do anything for our team. It's his deal and I'm just lucky I get to tag along for the ride."
The ride will last at least one more game when the Beavers travel to Hawaii to take on Boise State on Christmas Eve in the Sheraton Hawaii Bowl. Cooks said he'll make a decision on whether to turn pro probably a couple of days after the bowl game. Mannion said he hasn't set a timetable for himself.
We know this. When the Beavers are clicking offensively, they can be tough to stop. Through the first seven games they averaged 44.1 points per game. Over the last five that number dipped to 21 points per game. Quality of competition over those last five weeks (Stanford, USC, ASU, Washington, Oregon) certainly has to be taken into consideration.
Mannion and Cooks have already set numerous single-season school records. And they've connected for touchdowns 15 times this year and 22 times in their careers, making them Oregon State's most prolific QB-WR tandem.
After starting the first eight games with 30 passing touchdowns to just three interceptions, Mannion has slipped the final four games with just six touchdowns to 11 interceptions. Cooks said he has all the confidence in his quarterback that he can get them back on track against the Broncos.
"He looks as strong as he did during the preseason," Cooks said. "He's on fire right now and he looks like the Sean we all know. We're confident in him that he's going to get us this W."
Added Mannion: "There are a handful of plays I really want back. Unfortunately those resulted in interceptions. But they are simple mistakes. They are things I can correct."
For as much as Mannion is the leader by default of his position, Cooks has taken on a much stronger role as a voice of the team. That's something he learned last year studying Markus Wheaton and the way he would lead. There were a lot of questions coming into the season about whether Cooks could get it done without Wheaton on the other side of him. But he took the knowledge Wheaton gave him and applied it to 2013. The end result is a record-setting season and the highest honor someone at his position can garner.
"All the little things he would do he passed down to me and that's made me the receiver I am," Cooks said. "I saw the way he acted and how he became the leader of the offense and I tried to do that. He was a huge part of my success."
And now the Beavers will try to replicate that success for one more game and put a positive stamp on a season that had its share of highs and lows.
"We want to get back to playing good football," Mannion said. "We got off to a real good start, but even then we really hadn't played a complete game. We really want to finish on a high note and play a complete game against Boise."
December, 8, 2013
12/08/13
9:10
PM ET
Dec. 24, 8 p.m. ET, Honolulu (ESPN)
BOISE STATE BRONCOS BREAKDOWN
[+] Enlarge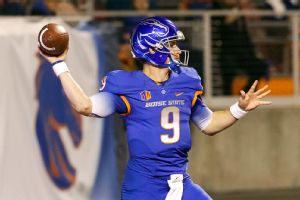 AP Photo/Otto KitsingerGrant Hedrick took over at quarterback for the Broncos after Joe Southwick was injured.
The Broncos enter the bowl season for the first time in eight years without coach Chris Petersen, who accepted the head coaching job at Washington earlier in the week. It's also the first time in three years they aren't in the Las Vegas Bowl. Linebackers coach Bob Gregory will coach Boise State in Hawaii.
It's been an off year for Boise, which has dropped four games in a season for the first time since 2005. After
Joe Southwick
broke his ankle against Nevada,
Grant Hedrick
stepped in as the starter and has been efficient, completing 68.2 percent of his throws with 15 touchdowns to five interceptions.
The Broncos have won their past four bowl appearances -- including the 2009 Fiesta Bowl and all three stops in Vegas.
-- Kevin Gemmell

vs.

OREGON STATE BEAVERS BREAKDOWN
The Beavers limped to the finish line with five straight losses, but they have a chance to end the season on a good note in the Sheraton Hawaii Bowl against Boise State.
[+] Enlarge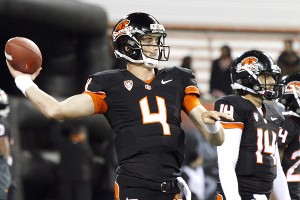 AP Photo/Don RyanSean Mannion is piloting the nation's third-best passing attack.
Quarterback
Sean Mannion
ranks No. 2 in the nation with 4,403 yards passing and is paired with receiver
Brandin Cooks
to become one of the nation's most dangerous combinations. Cooks caught 15 touchdown passes and leads the nation with 1,670 receiving yards.
After losing the season opener against FCS opponent Eastern Washington, Oregon State rebounded to win six straight, but did not beat a team that finished with a winning record. The Beavers nearly upset Oregon in the Civil War, but the Ducks scored with 29 seconds left to win 36-35.
Without longtime coach Chris Petersen, who left to replace Steve Sarkisian at Washington, the Broncos will be led by interim coach Bob Gregory. The teams met five times from 2003 to 2010, with Boise State winning three, including the last two.
Mannion and Boise State quarterback
Joe Southwick
have been competing against each other dating back to their high school days in the Bay Area, where they were in the same league. It's unclear if Southwick or
Grant Hedrick
will start the bowl game as Southwick continues to come back from a broken ankle.
Oregon State's last bowl win came in the 2008 Sun Bowl against Pittsburgh.
-- Kyle Bonagura