NCF Nation:

Hawkeyes-Badgers 101709
October, 17, 2009
10/17/09
5:50
PM ET
Posted by ESPN.com's Adam Rittenberg
MADISON, Wis. -- At some point down the line, Iowa will need to showcase some style points.
It's an unfortunate reality in a sport without a playoff. Winning simply isn't good enough. Teams are required to be flashy and dominant in victory, and as the Hawkeyes continue their path toward a possible undefeated season, they'll need to win pretty.
| | |
| --- | --- |
| | |
| | AP Photo/Andy Manis |
| | Iowa coach Kirk Ferentz leads the best team in the Big Ten. |
But Kirk Ferentz and his players don't care about that right now. They've developed a formula for both achieving success and handling it, and they're showing no signs of slowing down.
Iowa's latest example came in Saturday's
20-10 victory over Wisconsin
at Camp Randall Stadium. For the sixth time in seven games, the Hawkeyes came from behind to win. For the second time in as many Big Ten road games, Iowa rallied from a 10-0 deficit in a hostile stadium.
They won Saturday with clutch third-and-long conversions and critical defensive stops.
They didn't show much leg, but they showed plenty of heart.
"We're certainly not the prettiest car in the lot," said Ferentz, whose team is off to its best start since 1985. "But that's OK. We're not going to be a big style-points team."
Iowa's success stems from a mindset that every game will be difficult. Rankings and records are meaningless, and entitlement doesn't exist.
The players understand adversity is inevitable, and they've experienced it in almost every imaginable form this year: season-ending injuries in the preseason (running back
Jewel Hampton
, cornerback Jordan Bernstine); key losses during nonconference play (left tackle Bryan Bulaga, tight end
Tony Moeaki
, wide receiver
Derrell Johnson-Koulianos
); the flu spreading through the team last week; and numerous third-and-long situations in Saturday's game.
And every time, the Hawkeyes have had an answer.
"We don't expect the worst, but we don't expect anything to be easy," said quarterback
Ricky Stanzi
, the
poster boy for the team's resilient play
this season. "It doesn't get any easier from here on out. There's a bunch of good teams we've got to play, so we can't hang our hats on the ranking, a number, or anything like that."
Iowa fans can hang their hats on these numbers.
After Ohio State's loss to Purdue, Iowa is clearly the No. 1 team in the Big Ten and Sunday will enter the top 10 in the polls. The Hawkeyes are riding an 11-game win streak, the second longest in the country, and have reached the midpoint of arguably the toughest conference road slate in the country.
"The more we win, the higher we become ranked, the more teams are going to target us," Johnson-Koulianos said. "As we win more, the stakes are going to be raised."
The stakes were raised Saturday, and the Hawkeyes repeatedly came through with their backs to the wall.
Wisconsin's aggressive defense racked up a whopping 13 tackles for loss, but almost all of them occurred on first or second down. Iowa converted four third downs of four yards or longer in the second half, including a third-and-13 as Stanzi found tight end Tony Moeaki for 27 yards.
Stanzi and Moeaki hooked up for a 24-yard touchdown strike to tie the score midway through the third quarter. Predictably, the play took place on third-and-7. Iowa's repeated conversions eventually took a toll on the Badgers defenders.
"They die a little bit inside," Hawkeyes wideout
Trey Stross
said.
Iowa, meanwhile, seems to draw life from the toughest situations, perhaps because they've been in so many this season.
"I love third downs," Johnson-Koulianos said. "It's my favorite down because of the sense of urgency, how huge they become in the game. I love third-and-13. I love third-and-24 -- that's my favorite."
Ferentz disagrees, but he loves what he saw from his defense after a rough start.
Wisconsin bulldozed Iowa for 10 early points behind running back
John Clay
, but the Hawkeyes didn't allow a point for the final 38:09. Clay didn't look the same after a right ankle injury in the second quarter, but he didn't have much room to run, either. Cornerback Amari Spievey recorded two interceptions, and linebacker A.J. Edds had a huge second half for the Hawkeyes.
Iowa's best stand came after its only major mistake, a Stanzi fumble at the Hawkeyes' 25-yard line. With the game still knotted at 10-10, the Hawkeyes didn't allow a first down and Wisconsin missed a field goal.
"Our job is to put the fire out," said linebacker Pat Angerer, who led Iowa with nine tackles, a sack and a pass breakup. "It's as simple as that. We just said, 'We're back out here, we might as well stop them.'"
Sounds like a motto.
Since the Hawkeyes are winning games, they might as well keep it up.
"We're going to win how we win," Johnson-Koulianos said. "A W's a W."
October, 17, 2009
10/17/09
4:40
PM ET
Posted by ESPN.com's Adam Rittenberg
MADISON, Wis. -- Iowa quarterback
Ricky Stanzi
has been a black-and-gold piñata for much of the season, taking whacks from both fans and critics seemingly every time he steps on the field.
| | |
| --- | --- |
| | |
| | AP Photo/Andy Manis |
| | Iowa quarterback Ricky Stanzi silenced some critics Saturday. |
It isn't easy to find faults with an Iowa team boasting a perfect record, a never-quit attitude and a playmaking defense, but Stanzi has been an easy target. He plays the most visible position on the field and has made the most visible mistakes, namely eight interceptions, three of which were returned for touchdowns.
Quarterbacks are judged on wins and losses, but Stanzi had caveats attached to his record. Iowa won games in spite of him, many claimed.
But on Saturday, the piñata struck back, and Wisconsin's defenders absorbed the blows in
a 20-10 loss
. Stanzi turned in his cleanest performance of the season and certainly his best half, rallying Iowa from a 10-0 deficit to maintain the nation's second-longest win streak.
"He probably broke the streak of having something easy to pick on," head coach Kirk Ferentz said, before adding, "but I'm sure we'll find something."
There was a third-quarter fumble and a few errant throws, but for the most part, Stanzi was the Manzi for Iowa. He converted four huge third downs in the second half, including a third-and-13 and a third-and-7.
Stanzi completed 17 of 23 passes for 218 yards and a touchdown in the game. Most importantly, he didn't throw an interception for the first time since the season opener Sept. 5 against Northern Iowa.
"I guess the pick-sixes are overshadowing his performances," said wide receiver
Derrell Johnson-Koulianos
, who led Iowa with eight catches for 113 yards. "But the kid, he's so poised. He understands the importance of maintaining his poise throughout the game."
Ferentz has called poise Stanzi's best attribute, but the junior is getting pretty good at long passes, too. On third-and-7 from Wisconsin's 24-yard line, Stanzi avoided a defender, rolled to his right and lofted a perfect pass to tight end
Tony Moeaki
in the end zone to tie the score at 10-10.
"We thought they were coming on a full-out blitz, and they only brought one of the guys," Stanzi said. "I was looking for a hot route, it wasn't there, so I rolled out and Tony was running down the field. It was a one-on-one situation and you'd like to think he can make the play."
Forget about pick-six-Rick. After Saturday's performance, Stanzi deserves to be viewed in one way only -- as the starting quarterback of an undefeated Iowa team that has shown more resiliency than any team in America, rallying from deficits in six of its seven victories.
Period.
"He represents Iowa football," Johnson-Koulianos said. "He's not a flashy guy, doesn't talk much, but he works hard behind closed doors and he wins ballgames.
"That's what this program's all about."
October, 17, 2009
10/17/09
2:52
PM ET
Posted by ESPN.com's Adam Rittenberg
MADISON, Wis. -- Opportunistic defense and clutch plays on offense helped Iowa rally from another deficit to preserve its perfect record at 7-0.
The Hawkeyes retained the Heartland Trophy, won in Madison for the third time in their last four tries and extended the nation's second-longest win streak to 11 games. Defenders Pat Angerer and Adrian Clayborn were fabulous, and quarterback
Ricky Stanzi
and his wide receivers/tight ends heated up in the second half. For the second time this season, Iowa rallied from a 10-0 deficit on the road to win big.
Wisconsin once again couldn't turn a dominant first half into a comfortable lead, and quarterback
Scott Tolzien
made way too many mistakes in the second half.
The Hawkeyes are now the team to beat in the Big Ten and can set their sights on the Rose Bowl and possibly more.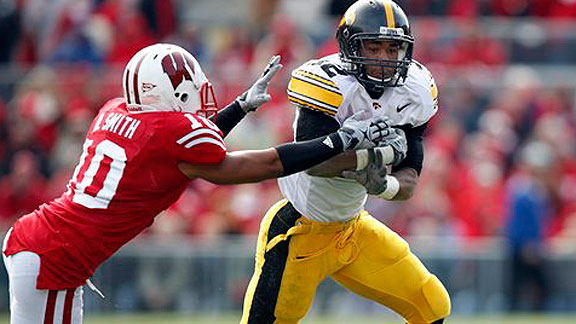 October, 17, 2009
10/17/09
1:27
PM ET
Posted by ESPN.com's Adam Rittenberg
MADISON, Wis. -- Instant analysis from halftime at Camp Randall Stadium, where Wisconsin leads Iowa 10-3.
Turning point:
After a miscue by punt returner
David Gilreath
pinned Wisconsin deep, the Badgers pounded away at Iowa's defense on an 11-play, 92-yard scoring drive that took 4:59. Running backs
John Clay
and
Montee Ball
both found openings, and quarterback
Scott Tolzien
completed 4 of 5 pass attempts, using play-action very well.
Best player in the half:
Clay has exhibited both power and patience for Wisconsin, gaining 69 yards on 14 carries. He could end up wearing down the Hawkeyes after halftime. Honorable mentions go to Badgers defensive end O'Brien Schofield (2 TFLs) and Iowa defensive end Adrian Clayborn (sack, 2 TFLs).
What Iowa needs to do:
Attack Wisconsin down the field with its wide receivers and tight end
Tony Moeaki
, who has been a nonfactor.
Ricky Stanzi
hit
Derrell Johnson-Koulianos
for a 34-yard gain, setting up Iowa's only score. There are openings in the deep middle, and the Iowa run game is going nowhere. The Hawkeyes also need to be durable against Clay.
What Wisconsin needs to do:
Keep pounding away with Clay but don't abandon the play-action pass, which has been valuable. The game plan has worked well so far, but the Badgers can't afford major mistakes like they had last week.