NCF Nation:

Hawkeyes-Nittany Lions 092609
September, 27, 2009
9/27/09
1:39
AM ET

Posted by ESPN.com's Adam Rittenberg
STATE COLLEGE, Pa. -- Iowa always seems to bring out the worst in Penn State, and Saturday night's game provided another mountain of evidence.
Since
Daryll Clark
took over as the Nittany Lions' starting quarterback in August 2008, Penn State has played relatively clean football, with two notable exceptions.
| | |
| --- | --- |
| | |
| | Gregory Shamus/Getty Images |
| | Penn State QB Daryll Clark tossed three interceptions in Saturday's loss to Iowa. |
The Rose Bowl loss to USC, where Penn State fell apart in the second quarter and committed three turnovers and nine penalties, looking extremely out of character.
Last year's loss at Iowa, where Clark seemed lost for much of the game and Penn State made just enough mistakes to lose 24-23.
Penn State had minimized mistakes throughout its cushy nonconference slate, but the Lions hurt themselves throughout the final three quarters of a
21-10 loss
to Iowa. Whether it was protection breakdowns on offense and special teams, poor decision-making by Clark or bad ball security by running back
Evan Royster
, the Lions seemed to come apart at the seams.
"Every time we had an opportunity to put some points on the board, whether it be three points or a touchdown, something seemed to happen," Clark said. "When we would get something going, an interception or a mistake would happen. It just knocked all of our rhythm out of our offensive drives.
"They took advantage of our mistakes every time."
Penn State could attribute last year's loss to several peripheral factors: Clark's concussion two weeks earlier at Ohio State, blustery weather in Iowa City, a raucous road crowd and an opponent with nothing to lose. But Saturday night, Penn State had all the advantages going its way. Well, maybe not the weather, but both teams dealt with the rain.
And despite jumping out to a 10-0 lead in front of a Whitehouse crowd of 109,316, the Lions couldn't put away the Hawkeyes and crumbled down the stretch with three turnovers in the final 10 minutes.
"Obviously, we'll see that turnovers were a big thing in the game," head coach Joe Paterno said. "The blocked punt started it, but I thought the kids hung in there and tried to come back. We just kept making mistakes."
September, 27, 2009
9/27/09
1:12
AM ET

Posted by ESPN.com's Adam Rittenberg
STATE COLLEGE, Pa. -- You're not supposed to get a block in punt safe.
The very nature of the coverage scheme calls for the receiving team to set up its blocking and ensure a quality return. The punter doesn't get all day back there, and a handful of players are sent blitzing toward him, but no one ever expects a block.
Fortunately for the
Iowa Hawkeyes
, Adrian Clayborn doesn't think this way.
| | |
| --- | --- |
| | |
| | Don McPeak/US Presswire |
| | Iowa's Adrian Clayborn blocked a punt and returned it 53 yards for a touchdown. |
"They teach us to go hard every play because you never know what's going to happen," the Iowa junior defensive end said. "If I didn't go hard that play, who knows the outcome?"
If Clayborn doesn't go hard, Iowa might not secure a
21-10 win
against Penn State. If Clayborn doesn't go hard, the Hawkeyes might not be a legit Big Ten title contender.
If Clayborn doesn't go hard, Iowa might not notch a defining road win against a top-5 team, the program's first since 1990 against Illinois.
"For some reason, I was confused," Hawkeyes wide receiver
Derrell Johnson-Koulianos
said. "I'm like, 'Is this happening?' It didn't seem like it was supposed to happen."
It wasn't, but it did, and Clayborn's punt block early in the fourth quarter totally changed the complexion of the game. For the second time in this young season, special teams helped secure a victory.
But unlike the season opener, in which Iowa needed two blocked field goals to survive a scare from FCS Northern Iowa, Clayborn's block made a national statement that these Hawkeyes are for real.
"It was just a great play," running back
Adam Robinson
said. "From that point, our team was a different team."
Iowa's coaches teach their players to go "six seconds of Hell on every snap." As Clayborn lined up for the Penn State punt, he decided to make things hellish for Nittany Lions safety Nick Sukay.
Darrell Wilson, Iowa's linebackers and co-special teams coach, told Clayborn that Sukay lined up deep, giving the rushers a chance to penetrate. Clayborn capitalized and bulldozed Sukay, leaving punter Jeremy Boone like an unprotected king on the chessboard.
The only thing better than the block was the bounce, which went right to Clayborn.
"I honestly don't remember catching it," he said. "I remember being in the end zone with people trying to tackle me."
Clayborn's 53-yard path to the end zone felt like a blur. Looked like one, too.
"I've never seen a play like that by a big guy," head coach Kirk Ferentz said.
"He's a monster," linebacker Jeremiha Hunter said.
Clayborn blocked a field goal as a redshirt freshman in 2007, but he hadn't scored a touchdown since his high school days in St. Louis, when he played both linebacker and tight end.
"That was 40 pounds ago," Clayborn joked.
The extra bulk has served the 282-pound Clayborn well, especially in big games. He set the tone for last year's win against Penn State by sacking quarterback
Daryll Clark
near the goal line and forcing a fumble on the third play of the game. Clayborn had six tackles, two for loss, in the win.
After a slow start against Northern Iowa, he picked things up last week with a forced fumble, a sack and three quarterback hurries in a win over Arizona.
"He's our undisputed leader right now," defensive tackle Christian Ballard said. "We all rally around him. He's the general for the D-line. We look for him to get us going when we're down."
Clayborn provided the lift Iowa needed, though the magnitude of the moment didn't hit him after the game ended.
"Me, I'm still soaking it in," he said. "It's a huge win for our team, the state of Iowa, everybody. We're enjoying it. We're just a little shocked, and glad we pulled it out."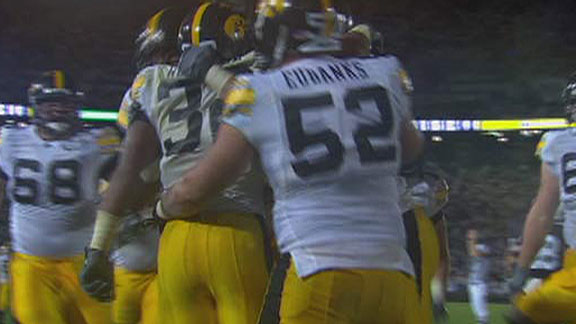 September, 26, 2009
9/26/09
11:30
PM ET

Posted by ESPN.com's Adam Rittenberg
STATE COLLEGE, Pa. -- Instant analysis from
Iowa's 21-10 win against No. 5 Penn State
at Beaver Stadium.
How the game was won:
After allowing a 79-yard touchdown pass on Penn State's first play from scrimmage, Iowa's defense flustered
Daryll Clark
and the Spread HD attack all night long. The Hawkeyes defensive line put steady pressure on Clark, recording a safety that changed momentum in the second quarter. Linebacker Pat Angerer forced two interceptions down the stretch, and linemen Adrian Clayborn and Broderick Binns turned in huge games.
Turning point:
With Iowa's offense stalling in Penn State territory, Clayborn took things into his own hands on special teams. He bulldozed Nick Sukay, blocked a Jeremy Boone punt and raced 53 yards to the end zone, giving Iowa its first lead at 11-10. From there, Iowa's defense took its play to another level, forcing three fourth-quarter turnovers.
Player of the game:
This could go to Clayborn, Angerer or Binns, but Clayborn gets the nod. Iowa needed someone to make a game-changing play, especially with the offense repeatedly failing after it crossed the midfield stripe. Clayborn's punt block gave Iowa the belief it could pull the upset, and Angerer reinforced the faith with his interception and forced fumble.
What it means:
Iowa joins Ohio State as a front-runner for the Big Ten title and begins a brutal conference road schedule with a huge victory. The Hawkeyes won in arguably the toughest setting in the league and will be prepared for future trips to Michigan State, Wisconsin and Ohio State. Penn State once again falls victim to an Iowa team, and the problems on the offensive line are exposed. Clark and the offense need to rebound against Illinois next week. The Lions are out of the national title picture.
What Iowa learned:
Trust a veteran-laden defense, even after a rocky start. Penn State stunned Iowa on the first play from scrimmage, but the Hawkeyes defense didn't get down and kept the team in the game. Iowa's ability to generate turnovers has showed up time and time again. Both defense and special teams proved once again to be the formula for success on the road.
What Penn State learned:
An energetic home crowd and a hot start don't mean much if you can't build throughout the game. Clark never looked comfortable against Iowa's defense, and four turnovers will doom even the best of teams. The soft opening slate didn't prepare Penn State for a test like Iowa, which exposed the obvious weaknesses in the Lions' offensive line.
September, 26, 2009
9/26/09
11:05
PM ET

Posted by ESPN.com's Adam Rittenberg
STATE COLLEGE, Pa. -- You just knew Adrian Clayborn would put his mark on this game one way or another.
The Iowa defensive end had a huge game in last year's win against Penn State, and he came off a dominant performance against Arizona a week ago. But for three quarters, Iowa's other defensive end, Broderick Binns, had stolen the show.
Thank goodness for special teams. Clayborn blew up Nick Sukay, blocked Jeremy Boone's punt, collected the ball on two hops and raced 52 yards to the end zone for the go-ahead touchdown. It marked Iowa's first blocked punt for a touchdown since the 2005 Capital One Bowl against LSU. Boone never had a punt blocked before, while Clayborn blocked a field goal attempt as a freshman.
Sukay has had a rough night on special teams. He also had a roughing the punter penalty that prolonged an Iowa drive in the first half.
Iowa's offense has done absolutely nothing to deserve the win, but Norm Parker's defense has carried the day.
Ricky Stanzi
should take Clayborn, Binns and the
defensive
line out to dinner if the Hawkeyes hold on.
You know this score (11-10) reminds Penn State fans of the 6-4 Iowa win in 2004.
September, 26, 2009
9/26/09
10:26
PM ET

Posted by ESPN.com's Adam Rittenberg
STATE COLLEGE, Pa. -- Iowa boasts quite possibly the Big Ten's best secondary, which is why
Daryll Clark
's game-opening strike to
Chaz Powell
was such a big surprise.
But since the coverage gaffe that allowed Powell to run free behind corner Amari Spievey, the Hawkeyes' back four has stepped things up significantly. Spievey hasn't made a mistake since and nearly notched an interception, and cornerback Shaun Prater picked off Clark inside Iowa territory.
Prater was suspended for Iowa's first two games after an OWI arrest in March. The Hawkeyes certainly missed his presence opposite Spievey in the secondary.
Even though Iowa still trails 10-5, it feels like the Hawkeyes have the momentum.
September, 26, 2009
9/26/09
10:05
PM ET

Posted by ESPN.com's Adam Rittenberg
STATE COLLEGE, Pa. -- A sobering statistic for Penn State at halftime: since completing a 79-yard touchdown pass to
Chaz Powell
on the Nittany Lions' first play from scrimmage, quarterback
Daryll Clark
is 5-for-11 passing for 25 yards.
Clark will need a stronger second half against a ferocious Iowa defense determined to make his life miserable for the second straight year. In other words, Penn State's offensive line must give him a chance to make plays.
September, 26, 2009
9/26/09
9:47
PM ET

Posted by ESPN.com's Adam Rittenberg
STATE COLLEGE, Pa. -- A quick analysis from Beaver Stadium as Penn State leads Iowa 10-5 at halftime.
Turning point:
Penn State had all the momentum until punter Ryan Donahue pinned the Nittany Lions deep and Iowa defensive end Broderick Binns sacked
Daryll Clark
for a safety. Down 10-0 at the time, Iowa answered with five points to close out the half and stepped up its overall defensive play.
Stat of the half:
Iowa's offense crossed midfield on five possessions in the first half and wound up with only three points. Penn State has yet to allow a first-half touchdown this season.
Best player in the half:
Iowa's Binns. He has blown up Penn State's offensive line several times, setting up the safety by stopping running back
Evan Royster
just beyond the goal line. Binns also forced a Penn State field goal attempt by pressuring Clark. He stifled another Penn State drive by starting a sack that teammate Karl Klug finished off. Penn State wide receiver
Chaz Powell
gets an honorable mention.
September, 26, 2009
9/26/09
9:08
PM ET

Posted by ESPN.com's Adam Rittenberg
STATE COLLEGE, Pa. -- Iowa head coach Kirk Ferentz isn't the type to dole out much preseason praise, but he gushed about Broderick Binns last month at media day.
After waiting his turn on the defensive line, Binns' performance in spring ball put him in the mix for a starting job. His versatility to play both defensive line positions also helped his cause.
Now we see what all the fuss is about. Binns has had a brilliant first half for Iowa. He forced a Penn State field goal attempt after a 20-play drive and then ambushed
Daryll Clark
in the end zone, knocking the ball loose as Iowa got on the scoreboard with a safety. Penn State allowed its first safety since 2004 against Indiana.
Binns also set up the safety by nearly dropping running back
Evan Royster
in the end zone.
Defensive end Adrian Clayborn stepped up last year against Penn State. So far, Binns has been the star for the Hawkeyes' defensive line.
September, 26, 2009
9/26/09
8:50
PM ET

Posted by ESPN.com's Adam Rittenberg
STATE COLLEGE, Pa. -- I wrote all week that this game would be decided at the line of scrimmage, and so far Penn State is winning the battle definitively.
The big question for the Nittany Lions entering Saturday night's game was whether their offensive line could handle Iowa's sturdy defensive front. Penn State just answered with a 20-play, 68-yard drive that drained 10:17 off the clock.
Possessions like Penn State's are priceless in a game like this, where weather will be a factor and keeping the defense fresh is paramount. Though the Nittany Lions didn't get in the end zone, they converted three third down and a fourth down, and created push in every major short-yardage situation. Quarterback
Daryll Clark
looks like he can get a yard or two if his team needs it, and
Chaz Powell
might be filling the Derrick Williams role in this year's offense.
Iowa's Broderick Binns did a nice job of pressuring Clark at the end of the drive, but the Hawkeyes defense might be wiped after spending so much time on the field.
September, 26, 2009
9/26/09
8:34
PM ET

Posted by ESPN.com's Adam Rittenberg
STATE COLLEGE, Pa. -- Forget about the rain and the conservative offense it usually demands.
Penn State came out of the gate slinging, and the Lions went right at arguably Iowa's strongest defender. The most impressive thing about
Daryll Clark
's 79-yard touchdown pass to
Chaz Powell
was who it came against -- Hawkeyes cornerback Amari Spievey.
Spievey is regarded by many (including yours truly) as the best cornerback in the Big Ten. He has shut down many of the league's top wide receivers. And yet he got absolutely burned by Powell on the first play from scrimmage. The play marked the longest pass of Clark's career and the longest reception for Powell.
A quick note: Iowa senior tight end
Tony Moeaki
(ankle) is in uniform but hasn't entered the game.
September, 26, 2009
9/26/09
7:27
PM ET

Posted by ESPN.com's Adam Rittenberg
STATE COLLEGE, Pa. -- The specialists are on the field warming up, and the rain is still coming down pretty hard. Predictably, they're playing Creedence Clearwater Revival's "Have you ever seen the rain?"
A few facts about this game before kickoff:
Penn State has never won the Big Ten without winning its league opener. The Lions beat Minnesota in 1994 (season opener), Northwestern in 2005 and Illinois last season. Penn State is 6-10 in Big Ten openers since joining the league.
The visiting team has won 13 of the 21 games in this series. Six of the teams' last nine game have been decided by seven points or fewer.
Iowa begins Big Ten play on the road for the ninth time in 11 years under head coach Kirk Ferentz.
Two of Iowa's five overtime games have come against Penn State, both at Beaver Stadium.
September, 26, 2009
9/26/09
6:00
PM ET

Posted by ESPN.com's Adam Rittenberg
STATE COLLEGE, Pa. -- Good evening from the Whitehouse, also known as Beaver Stadium.
Despite the weather, Penn State fans will be out in force tonight to make things as difficult as possible for the
Iowa Hawkeyes
, who have won six of the last seven games in this series. Penn State spanked Iowa 27-7 in the Hawkeyes' last trip to Happy Valley. Great atmosphere around the stadium today, one of the best I've seen.
The forecast is, well, sloppy. There will be periods of rain all game long. The wind shouldn't be too bad. The field conditions could be tough.
We've already looked at
keys to the game
, Penn State's
no-respect wide receivers
and
Ricky Stanzi
's
slow starts
. This game will come down to the line of scrimmage, as most do, and here are two key matchups to watch tonight.
Iowa DE Adrian Clayborn vs. Penn State LT Dennis Landolt
-- Clayborn had a big game last year against Penn State, recording a forced fumble, a sack, two tackles for loss and six total tackles. He also comes off a dominating performance last Saturday against Arizona. Landolt is Penn State's most experienced offensive lineman, but he moved from right tackle to left tackle for this season. He'll need to keep Clayborn off of
Daryll Clark
's back.
Penn State DE Jack Crawford vs. Iowa LT Riley Reiff --
Reiff starts his third game in place of standout Bryan Bulaga, who will sit out with an undisclosed illness. While Reiff has fared well so far, he faces a much tougher test with Penn State's defensive front, always one of the best in the country. Crawford generated a ton of preseason hype as Aaron Maybin's replacement and has recorded two sacks and 4.5 tackles for loss. He'll be gunning for Stanzi all night.