NCF Nation:

Hawkeyes-Wildcats-091810
September, 19, 2010
9/19/10
4:23
AM ET
TUCSON, Ariz. -- Signature wins require signature performances from signature players, and Arizona's top nominee for the post had just fed Iowa a pick-6 that put the final touches on a wasted 20-point lead. Quarterback
Nick Foles
was positioned to be one of a handful of goats for the Wildcats after they blew a great opportunity to send a message of the program's arrival on the national scene.
The air had been sucked out of Arizona Stadium. Anxiety had taken over everyone dressed in red.
Everybody other than Foles. Anxiety? He joked with his teammates on the sidelines. And when the Wildcats got the ball back on their 28-yard line with 8:07 left, with the game tied and the momentum hugging the team in white and gold, Foles just had a quick comment for his teammates.
[+] Enlarge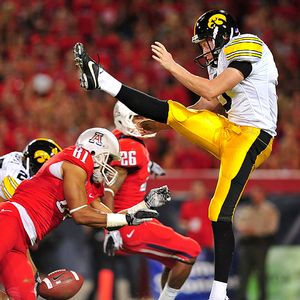 Chris Morrison/US PresswireArizona blocked this punt on its way to a 27-7 halftime lead. But Iowa stormed back to tie the game, and that's when quarterback Nick Foles and the Wildcats' defense responded.
"I love y'all and let's do it," he said. "I don't need to go out there and give them a speech."
Nope. Instead, he gave them a signature performance, leading the Wildcats on a nine-play, 72-yard touchdown drive that provided the winning margin in a
34-27 win over No. 9 Iowa
.
He was 5 for 6 for 76 yards on the drive, including a seeing-eye dish to
Bug Wright
for the TD on third-and-goal from the 4-yard line. The one incompletion came on the previous play, a beautiful throw that Wright dropped.
"He does what special players do," coach Mike Stoops said.
Foles completed 28-of-39 for 303 yards, with two touchdowns and an interception. But it was his cool when everything seemed to be crumbling around him that was most remarkable.
"Nothing rattles him," offensive tackle Adam Grant said. "I've seen guys with fear in their eyes on the field. He was completely calm."
Of course, Foles wasn't the only one who kept his cool on this hot night. Take Grant. His task was to handle perhaps the best defensive end in the nation: Adrian Clayborn. Clayborn finished with three tackles, none coming for a loss.
And what about the Wildcats' defense. It looked like the dominant unit on the field, rolling up six sacks. Iowa got the ball back after Arizona went ahead with 3:50 remaining. That was plenty of time to put together a tying drive. Only the Arizona defense forced an incompletion and the recorded three consecutive sacks (it was actually four, but one was killed by an Iowa false start penalty).
Stoops and the Arizona players didn't shy away from calling the win transformative for the program. Transformative from what? Iowa beat Arizona 27-17 in 2009. And Arizona blew a big game here last year against Oregon. Its fans, in fact, prematurely stormed the field and then watched in horror as
Jeremiah Masoli
led the Ducks to a dramatic comeback and then overtime win.
And then there's the Holiday Bowl. That 33-0 defeat made the Wildcats an object of national ridicule. And don't think they didn't hear that.
"[This victory] just shows Arizona can play football," Foles said. "There was a lot of talk about Arizona, especially after the bowl game."
You wouldn't think that team that looked so awful in a bowl game just a few months ago could maintain its composure while watching a 27-7 lead disappear amid a flurry of mistakes. But when Foles convened the huddle, everybody shared a wavelength of positive expectation.
"Just keep cool. Know what you've got to do. Do your job," Grant said. "When I saw [
David Roberts
] catch that ball [for38 yards to the Iowa 34], there was no doubt in my mind we'd win this game. I screamed like a little girl. Clayborn looked at me like I was an idiot. But I was pretty excited."
Foles seemed excited, too. Just not that excited. It was a signature win and a signature performance by a signature player, but there are nine games left in the regular season.
"This isn't the end," Foles said. "It just shows how much we've grown up as a team."
September, 19, 2010
9/19/10
3:38
AM ET

Talking with Arizona defensive end Brooks Reed about the win over Iowa.

September, 19, 2010
9/19/10
2:15
AM ET
TUCSON, Ariz. -- Arizona almost blew a 20-point lead. But it didn't. And it beat the No. 8 team in the country 34-27 because it gutted it out instead of faltering.
Nick Foles
led a 72-yard drive for the winning touchdown, to provide a signature victory for the Wildcats.
And for Foles and coach Mike Stoops.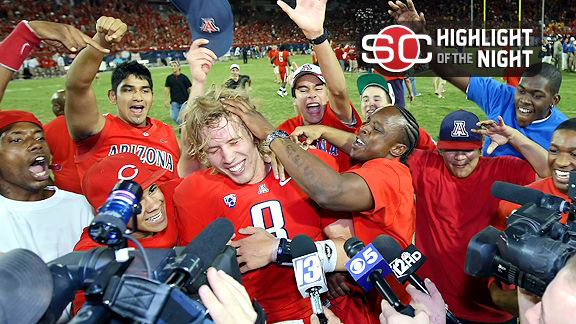 September, 19, 2010
9/19/10
2:07
AM ET
TUCSON, Ariz. -- Arizona used a 72-yard drive to take a 34-27 with four minutes left.
The Wildcats offense answered. Clutch third-down TD pass to
Bug Wright
, who'd to that point been having a bad game.
Now what will the defense do?
September, 19, 2010
9/19/10
1:53
AM ET
TUCSON, Ariz. -- It's 27-27. It was 27-7, but Arizona can't worry about that anymore.
It's basically an eight-minute game now.
All the momentum is with Iowa. But good teams find ways to reverse momentum.
The story at this point is an epic collapse. The Wildcats still have a chance to make it about a big win.
What is
Nick Foles
going to do now?
September, 19, 2010
9/19/10
1:06
AM ET
TUCSON, Ariz. -- A 37-yard TD pass from Iowa has cut Arizona's lead to 27-14.

There is plenty of time left -- 7:15 in the third -- for Iowa to come back and win this game.

The Wildcats can't afford to sit back and hope the clock hurries up.

Protect the football, but don't be overly cautious. Play to win.

Answering the Iowa points would be a great idea, for one.
September, 19, 2010
9/19/10
12:26
AM ET
TUCSON, Ariz. -- That was a bit surprising.

Arizona came out on fire, and Iowa sloppy, and that's why the Wildcats lead 27-7 at the half.

The Wildcats get the third-quarter kickoff.

Turning point: From the opening bell, Arizona attacked. It held Iowa to a three-and-out on its first possession and then blocked the ensuing punt and quickly scored a TD. Iowa started driving, but Trevin Wade got a pick-6 and it was 14-0 before Hawkeyes fans had settled into their seats.

Stat of the half: Who's the better running team? Iowa rushed for 71 yards in the first half on 16 carries. The Wildcats rushed for 69 on just 10.

Best player in the half: Arizona left tackle Adam Grant made Iowa's All-American DE Adrian Clayborn disappear in the first half. Guess here is some NFL scouts will raise an eyebrow at that if he keeps it up through the second half.

What Arizona needs to do: Play smart. Possess the ball. Don't give up big plays. Force Iowa to drive the length of the field. A 20-point lead is significant. But it is hardly insurmountable. The Wildcats can't let their outstanding first-half focus and intensity slip. Getting points on the first possession also might send a message that could get the Hawkeyes a bit off their game.
September, 19, 2010
9/19/10
12:03
AM ET

Dabo Swinney talks about Clemson's overtime loss to Auburn.
September, 18, 2010
9/18/10
11:40
PM ET
TUCSON, Ariz. -- Arizona just went up 21-7 on Iowa after
Travis Cobb
went 100 yards on a kickoff return.
The Wildcats points have come off a blocked punt -- an 8-yard drive -- a pick-6 and a kickoff return.
Arizona has run eight offensive plays. Iowa 25. Iowa has 176 yards. The Wildcats 77.
Good for Arizona for getting ahead 21-7 anyway it could.
Still.
We really haven't gotten to see what the Arizona offense can do against the Hawkeye defense. And the Iowa offense is moving the ball well vs. the Wildcats.
Things are going to eventually settle down. You'd think. And then the game will be about drives. Probably.
If there's anything to be concerned over with a 21-7 lead, that is it. Iowa has shown it can drive. We don't know yet with Arizona.
September, 18, 2010
9/18/10
10:12
PM ET
TUCSON, Ariz. -- There's a good Iowa crowd here, but they will only be a small portion of the 58,000 or so packing into Arizona Stadium.
Arizona is in all red and the stands look like a sea of red.
Playing at home isn't just about comfort. Noise limits what an opponent can do.
A home offense gets quiet from the friendly audience, so any bits of communication are easy to deliver. A road offense gets hostile noise, so communication at certain times can be limited to hand signals.
Iowa has a veteran QB in
Ricky Stanzi
. And he's played in front of plenty of noisy crowds. It's not really a matter of intimidating him. That isn't going to happen.
But if things are going the Wildcats way, and the crowd is going nuts, Stanzi will face logistical challenges.
Those could be worth a field goal. Or they could be worth, in the right circumstances, even more than that.
But if Iowa jumps ahead early and shocks the crowd into silence, that advantage is lost.
Not saying a fast start is critical for the Wildcats. But it certainly would marinate the crowd, which has had plenty of time to get lubricated during the daylight hours.
September, 18, 2010
9/18/10
9:41
PM ET
TUCSON, Ariz. -- The prevailing wisdom among the punditry is that Arizona won't be able to handle a big, physical Iowa squad, particularly the Hawkeyes' outstanding defensive line.
Maybe. Perfectly reasonable.
But they also said that about Arizona State before it visited Wisconsin, and the Sun Devils played the Badgers to a physical stalemate before losing 20-19.
Apples and oranges? Perhaps (And beware of mixing Wildcats and Sun Devils in supporting roles with each other). But it's also possible that the faster Wildcats will be another step quicker at home, and that could be trouble for the Hawkeyes.
Quick-hit passes on the perimeter from
Nick Foles
, one of the nation's most accurate passers (83 percent), could turn into big plays. And those big plays outside, could create inside creases for
Nic Grigsby
.
On the other side of the ball, Iowa's offensive line is uncertain. The Hawkeyes ranked 99th in rushing last year, and quarterback
Ricky Stanzi
isn't the same player on the road as he is at home.
Stop the run, make Stanzi throw into a better secondary than he's used to seeing.
Moreover, the Pac-10 likes playing the Big Ten at home. Since 1990, Pac-10 teams are 25-6-1 at home against Big Ten teams. Both teams were ranked in seven of those 32 games, and the Pac-10 team won all seven. Since 2004, the Pac-10 is 15-8 against the Big Ten (including bowls).
On the downside, three of those Pac-10 losses have been by Arizona. The Wildcats have lost seven straight against Big Ten teams, last winning in 1998 against Iowa.
It's going to be hot. It was about 106 today, and it will still be in the 90s much of the game. That could be a factor in the fourth quarter of a close game.
Iowa won last year's meeting 27-17, and it wasn't as close as that final score indicated. The Hawkeyes seemed physically superior.
But that doesn't mean we're in for a repeat. That game was pre-Foles. And it was not in front of the 'Zona Zoo on a hot night in the desert.