December, 17, 2014
12/17/14
7:25
PM ET
The motion W
on Paul Chryst's hat and sweatshirt next fall won't stand for wandering eye. For that, Wisconsin fans can breath a sigh of relief.
It's humbling for a fan base to see a coach voluntarily leave its program. It's especially humbling to see it happen twice in the past three years. It's especially, especially humbling when coaches leave a winning, established program that is coming off appearances in the Big Ten championship game.
Bret Bielema and Gary Andersen clearly didn't see Wisconsin as a destination job. Bielema wanted to chase a championship in the nation's toughest conference at a program flush with resources. Andersen became fed up with Wisconsin's admissions office and the difficulty of getting his targeted players into school. Their eyes wandered and they left town.
Chryst is coming home to Madison, where he spent most of his childhood, his college years and part of his adult life as a Badgers assistant in 2002 and again from 2005-11. He intends to stay for a while. Those close to him say Wisconsin is his dream college job and that he would only leave to lead an NFL team. Coincidentally, Chryst did the reverse Gary Andersen, leaving Oregon State's offensive coordinator post for Wisconsin's after the 2004 season.
[+] Enlarge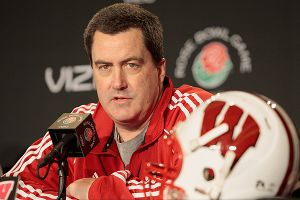 Jason Redmond/Associated PressGetting Paul Chryst in the fold should close the revolving door at Wisconsin for a while.
Hiring a capable coach is Wisconsin's first priority here, and despite inheriting a mess in Pittsburgh from Todd Graham and yielding middling results, Chryst can deliver with the Badgers. But it's also important for the Badgers -- and the Big Ten -- to bring in coaches who want to stick around.
Let's not be delusional about the Big Ten or modern-day coaches. The days of Woody Hayes, Bo Schembechler, Barry Alvarez, Hayden Fry, Joe Paterno and others who saw Big Ten programs as career endpoints likely are over. Kirk Ferentz is completing his 16th season at Iowa, while Pat Fitzgerald just finished his ninth at Northwestern and Mark Dantonio wraps up his eighth at Michigan State in the Goodyear Cotton Bowl Classic. None seems to be in a hurry to leave on their own accord, but they're more the exceptions in today's game.
Expecting any coach to spend 15-20 years in one place isn't realistic. But the Big Ten also can't have coaches voluntarily leaving every season. A Big Ten coach has chosen to depart in each of the past three seasons: Bielema (2012), Penn State's Bill O'Brien (2013) and now Andersen. Of the three, only O'Brien left for a definitive step up, the NFL's
Houston Texans
.
Look at Big Ten basketball, which boasts elite coaches -- Michigan State's Tom Izzo, Wisconsin's Bo Ryan, Ohio State's Thad Matta and Michigan's John Beilein -- who view their jobs as destinations. That's what Big Ten football needs.
Chryst puts a stop in the revolving door at Wisconsin, and several of the Big Ten's top programs could be entering a period of coaching stability:
Nebraska:
Whether Cornhuskers fans like the Mike Riley hire or not, Riley isn't going anywhere. He sees Nebraska as a last stop, and despite his age (61), he still has great energy for the job. His predecessor, Bo Pelini, didn't voluntarily leave Nebraska, but there were incessant rumors during his tenure about him looking at other jobs. Some think if Nebraska had won the 2012 Big Ten title game instead of Wisconsin, Pelini would have landed at Arkansas instead of Bielema.
Ohio State:
Urban Meyer quickly has rebuilt Ohio State into a national power and a playoff contender for years to come. There's always some concern about Meyer's longevity at a job, but he's not mentioned for NFL positions and seems completely settled in Columbus. He might not coach the Buckeyes for 10-15 years, but he's seemingly not on the verge of an exit, either.
Penn State:
Amid the excitement of his arrival, James Franklin repeatedly noted that Penn State had work to do with its roster deficiencies, which showed up throughout the fall. Franklin likely will see this process through, and, like Meyer in Ohio, he has roots in Pennsylvania. He has plenty of job security, and unless he becomes frustrated with the post-sanctions effects, won't be looking to leave.
Michigan is the wild card here, but the Wolverines should be seeking some stability in its next coach. After having just three coaches between 1969 and 2007, Michigan will have its third in eight seasons next fall. Jim Harbaugh is the home run hire for the Wolverines, but not if he returns to the NFL in two or three years. Michigan needs an elite coach who wants to stick around, and it shouldn't compromise either criteria. Brady Hoke would have stayed in Ann Arbor forever, but he wasn't getting it done on the field.
Stability doesn't automatically equal success. After a very disappointing regular season, Iowa's Ferentz finds himself in a category of long-tenured, mostly successful coaches -- Georgia's Mark Richt, Oklahoma's Bob Stoops, South Carolina's Steve Spurrier, Oklahoma State's Mike Gundy -- who some want to see move on. Stability can become stale, but cycling through coaches every few years almost guarantees struggle.
Amazingly, Wisconsin has avoided a downturn despite its coaching turnover. Now it has a coach who can keep things rolling without constantly looking for the next best thing.
Michigan's impending hire should calm the Big Ten coaching carousel for a while. And with relative stability at the top programs, the league could be on the verge of a step forward.