NCF Nation:

Hayes Pullard
September, 29, 2014
Sep 29
2:00
PM ET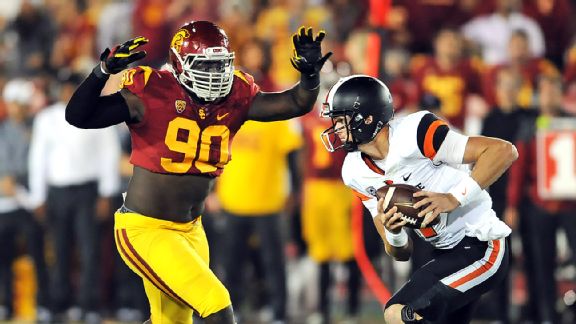 John Cordes/Icon SportswireThe USC defense held Sean Mannion to 123 yards passing, no touchdowns and two picks.
LOS ANGELES -- Saturday night, the USC defense played like a group that had been marinating in mistakes for the last 14 days. That's 336 hours to ponder the 452 rushing yards they surrendered to Boston College. That's 20,160 minutes to mire in the misery of the 506 total yards and 37 points they yielded at Chestnut Hill.
Nothing will take that loss off of the standings. Instead, it serves as a reminder of how disastrous things can turn when the Trojans don't play to their potential.
"This team needed to get punched in the face," said linebacker
Hayes Pullard
, who sat the first half of the BC game for an illegal hit the week before against Stanford. "I hate to say that. But because of that we're bouncing back and growing as a team."
Following a bye last week, this group was eager to show the Sept. 13 performance wasn't the norm. And they stifled the Oregon State offense and its strong-armed quarterback en route to a 35-10 home win.
The USC defense held Oregon State to just three offensive points (its only touchdown coming on special teams), 58 yards rushing and 181 total offensive yards. They sacked
Sean Mannion
twice, intercepted him twice and forced him into the worst statistical performance of his career -- which included a 14.6 adjusted QBR.
"I'm proud of these guys after what they had to hear about for the last week," said USC coach Steve Sarkisian.
If Sept. 13 was the burn, then film session the next morning was the frosty reminder of all that had gone wrong.
Said Pullard: "We didn't want to see it. But we had to. That's the thing about football. You have to tell the truth on Sundays."
Added defensive lineman
Leonard Williams
: "Everybody was just down."
Noted safety
Su'a Cravens
: "It was tough watching plays that we should have made not being made. It was tough messing up assignments [even though] we went over it 100 times in practice. But we still messed it up."
Cravens turned in a phenomenal performance Saturday, posting a team high six tackles, including two for a loss, one sack and a 31-yard interception return for a touchdown in the first quarter to break the early scoreless tie.
"Nobody likes losing," Cravens said. "And the way we lost, that's not SC ball. We got back to the basics and what we needed to do. That attitude of being hungry and dominant on the field came back. That attitude we had against Fresno State came back. It showed [Saturday]."
The Trojans are hoping it sticks around for a while. They have back-to-back games against the Arizona schools -- at home against ASU this week and at Tucson a week later. Both of those teams rank in the top 20 in scoring nationally.
Whether ASU quarterback
Taylor Kelly
, who sat out last week's game against UCLA with a foot injury, plays is still to be determined. Early reports are that his return this week is questionable.
Recall last year that it was the ASU game in Tempe that ultimately cost USC coach Lane Kiffin his job after the Trojans were blasted 62-41. The fallout sparked Kiffin's firing, Ed Orgeron's promotion, his quitting, Clay Helton's promotion and eventually Sarkisian's hiring.
USC's run defense will be tested by ASU's
D.J. Foster
, who leads the league in rushing with an average of 135 yards per game. The pass defense, however, is feeling pretty good about itself. Through four games and five weeks, the Trojans are the only team in the country that hasn't allowed a touchdown through the air.
"We were talking about that earlier in the week," Cravens said. "I think the coaches are doing a great of calling the right plays at the right time, and everyone is executing. I'm really proud of the DBs."
August, 14, 2014
Aug 14
10:30
AM ET
»
More team previews:
ACC
|
Big 12
|
Big Ten
|
Pac-12
|
SEC
Previewing the 2014 season for the
USC Trojans:
2013 record:
10-4, 6-3 Pac-12; beat
Fresno State 45-20
in the Las Vegas Bowl.
Final grade for 2013:
: B-minus. That might seem high for a season in which the Trojans lost to Notre Dame and UCLA and fired their head coach, but the Trojans showed mental toughness instead of imploding, winning 10 games, a bowl game and achieving a final top-25 ranking.
[+] Enlarge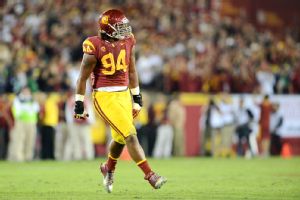 Allen Kee/ESPN ImagesCan Leonard Williams and the Trojans' defense beat ASU and Arizona in back-to-back weeks in 2014?
Key returnees:
WR
Nelson Agholor
, QB
Cody Kessler
, RB
Javorius Allen
, DT
Leonard Williams
, LB
Hayes Pullard
, CB
Josh Shaw
.
Key losses:
WR
Marqise Lee
, C
Marcus Martin
, OLB
Devon Kennard
.
Projected win percentage (ESPN.com Stats & Information):
0.711
Chances to win the conference (ESPN.com Stats & Information):
: 10.8 percent
Instant impact newcomers:
OG
Toa Lobendahn
, WR/DB
Adoree Jackson
, WR
JuJu Smith
, DT
Delvon Simmons
.
Most important game:
Nov. 22 at UCLA. The Bruins have won two in a row in the series. New coach Steve Sarkisian could endear himself to fans by ending that streak.
Biggest question mark:
Depth. If the Trojans trot out their best 22, they can play with anyone. But they are still working with substantial depth issues due to the residual effects of NCAA sanctions. Two major injuries on defense, season-enders for OLB
Jabari Ruffin
and talented DT
Kenny Bigelow
, already have put a damper on preseason camp.
Best-case scenario for 2014:
11-1
Worst-case scenario for 2014:
7-5
Over-under win total (
Bovada
):
9
Upset special:
Oct. 11 at Arizona. The Trojans are going to want a piece of Arizona State on Oct. 4, as the Sun Devils humiliated them in Tempe a year ago. That might leave them emotionally spent before a tough trip to Tucson.
They said it:
"I don't look at the stat box. I look at who won. Most of the time, if you look at who won, I can tell you how the quarterback played." -- USC QB Cody Kessler on whether he compares his numbers with the other Pac-12 QBs.
December, 23, 2013
12/23/13
9:00
AM ET
When you cup your hands around USC's 45-20 blowout victory over No. 20 Fresno State in the Royal Purple Las Vegas Bowl and assume singular focus on the event itself, it's impossible to not be impressed, to not think, "Now that is USC football."
Then when you put it in the context of the tumultuous season -- a maelstrom of coaching uncertainty and chaotic swings of momentum -- it seems like Trojans fans should officially declare the strangest season in program history at least a moderate success, perhaps as successful as it could have been. Well, other than losses to Notre Dame and UCLA.
[+] Enlarge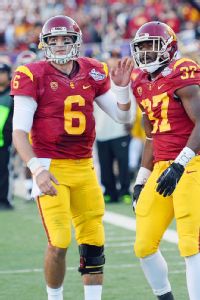 Ethan Miller/Getty ImagesThings seem to be looking up for Cody Kessler, left, Buck Allen and the Trojans.
Still, winning 10 games, including a bowl game, and ending up nationally ranked is pretty respectable when it's produced by an injury-ravaged, scholarship-reduced team that has called four different men its head coach between August and today.
Further, it shows the players have pride. A substantial handful -- both seniors and underclassmen -- are eyeballing the NFL draft, and it wouldn't have been shocking if they gave an indifferent performance against Fresno State, a team that arrived with plenty of motivation. Quarterback
Cody Kessler
told Kevin last week
that the Trojans were focused and motivated, and it proved to me more than empty, tell-the-reporter-something-pretty talk.
Said Kessler, "Getting us to 10 wins puts us in an elite group. We have a chance to finish things off right -- especially for our seniors. These guys have been through everything. Sanctions. Coaching changes. We owe it to them to give it everything we've got to get a win."
So the players who are leaving, which might include leading juniors such as receiver
Marqise Lee
, defensive end
George Uko
, linebacker
Hayes Pullard
, safety
Dion Bailey
and cornerback
Josh Shaw
, can feel good about how they finished things. If this performance was a tribute to former interim coach Ed Orgeron, then you can be sure Coach O was howling with delight somewhere while watching the game.
But what about those who are staying?
The big news coming out of the Las Vegas Bowl other than the final score was that new coach Steve Sarkisian will retain offensive coordinator Clay Helton, who served as the interim head coach for the bowl game. That's probably good news for Kessler, who blossomed once Helton took over the offense from fired coach Lane Kiffin.
Of course, Sarkisian, like Kiffin, calls his own offensive plays, so if another opportunity arises for Helton, particularly one that includes play-calling duties, he might opt to leave.
In fact, who's staying and who's going applies to both the players and coaches. We probably won't get official word on the makeup of Sarkisian's staff until after Washington, his former team, plays BYU in the Fight Hunger Bowl on Friday night. The Huskies under new coach Chris Petersen also have kept their plans quiet.
The big questions: Will Huskies defensive coordinator Justin Wilcox and quarterbacks coach Marques Tuiasosopo follow Sarkisian south? If Wilcox shortly arrives at Heritage Hall, then where does current USC defensive coordinator Clancy Pendergast end up? In one year, he transformed one of the nation's most underachieving defenses into one of its best. Hard to imagine he stays unemployed for long.
This whole blending together of USC's and Washington's -- and Washington's and Boise State's -- 2013 staffs has certainly inspired plenty of gossip among other assistant coaches.
Another question: Tosh Lupoi.
The Huskies ace recruiter and defensive line coach is being investigated by the NCAA following allegations that he paid for private tutoring for Husky football recruit Andrew Basham, with Basham's former high school track coach, Mike Davis, spilling the beans to the Los Angeles Times and Seattle Times last week.
What that means in the short term is that Lupoi won't be hired by USC, and he might be out of a job until the NCAA rules on his case. What it means in the big picture for two Pac-12 football programs in transition is hard to say, as Washington, USC and Sarkisian have significant interests in the matter.
Due to new NCAA rules, Sarkisian could be exposed, which means USC could suffer for violations that occurred in Seattle.
And, yes, feel free to question the timing of these allegations being reported and speculate on where the sour grapes originated that spawned the investigation.
An offshoot of Lupoi's troubles is the Trojans' need for a defensive line coach, which probably is why Sarkisian
told ESPNLA 710
on Sunday that he's going to make another run at Orgeron to see if he's interested in returning to USC.
That could be interesting. Or it could just be idle talk.
Once all the administrative and personnel issues are settled, then we'll start to take a measure of the Sarkisian administration and how things might stack up in 2014. Trojans fans first want to see where their team ends up on Feb. 5, national signing day. Then it's on to spring practice, where Kessler likely will have to prove himself again, though Helton staying on should provide his candidacy a boost.
USC's bowl win was impressive. It surely made Trojans feel good, inside and outside the locker room. But the reality is it was as isolated as a pleasant fan experience can be. A win in the Las Vegas Bowl and finishing in the lower half of the nation's top-25 isn't what Trojans pine for. With this next recruiting class the last one limited by NCAA sanctions, most are ready to see the program regain its footing among the Pac-12 and nation's elite.
Sarkisian officially took the keys of the program on Saturday. By Sunday, the euphoria from the bowl win probably started to waft away inside Heritage Hall.
The real business begins now.
November, 18, 2013
11/18/13
3:30
PM ET
We could try to quantify how much better USC is under Ed Orgeron the past six games compared to Lane Kiffin during the season's first five, but that really is pretty easy. We don't need numbers. We need only three words:
Everything is better.
USC is less sloppy. It's more disciplined. It's protecting the football. USC is playing better offense. It's even playing better defense, if you consider the schedule. It's better on special teams.
[+] Enlarge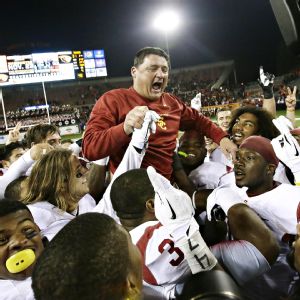 AP Photo/Don RyanUnder interim coach Ed Orgeron, the Trojans are 5-1. USC faces Colorado on Saturday.
The epidemic injuries that were once an excuse for poor play are now further grounds to give credit to Orgeron and his staff for finding a way to get it done under adverse circumstances.
Obviously, USC is playing with far more passion. And you can't undersell this: Its players are having way more fun.
"We absolutely love him," USC quarterback
Cody Kessler
said after the
20-17 win over Stanford
. "We'd run through a brick wall for him. He has that look in his eye that you can tell that when he talks to you he really does care. I gave him a hug after the game, and I don't know if he'd want me saying this, but I saw his eyes water up. It's awesome when you play with someone who has that same passion."
How can you dispute or diminish that? You can't.
But the question then becomes: Is that enough to hire him to be the next USC head coach? That is, reportedly, the $6 million question.
When you look at how USC is playing and the Trojans' 5-1 record since Orgeron took over, it's impossible to not give his candidacy legitimacy. Further, that already strong résumé will become measurably stronger if the Trojans win out, which would include a victory over highly ranked rival UCLA, and they would thereby finish the regular season with a 10-3 record and a high national ranking.
At that point, Orgeron would own the locker room and probably have significant momentum with the Trojans' fan base. That would make it difficult for athletic director Pat Haden
not
to hire him.
The expectation when Orgeron took over for Kiffin after a humiliating 62-41 loss at Arizona State was the Trojans would play better because the season-long hot-seat talk surrounding Kiffin would be over, thereby allowing players to breathe easier and play looser. That improved play, however, wasn't expected to include a 5-1 record and a win over Stanford, ending a four-game losing streak in the series.
In fact, the Pac-12 blog's expectation was the "Hire Coach O!" talk would end with losses to Stanford and UCLA. The Pac-12 blog was wrong, at least so far. Further, when the Pac-12 blog conceived of writing this column about USC's improvement under Orgeron, it expected to, after giving Coach O a tip of the cap, recommend against hiring him, no matter how the now seemingly charmed season ended.
Yet, after further review, there is not enough evidence to overturn the ruling in the stands and the locker room, at least if USC wins out and wins its bowl game.
The only advice the Pac-12 blog has for Haden, though, is this: Don't allow the emotions of the moment to overrule your long-term vision for this coaching hire. A serious evaluation of Orgeron should begin now, if it hasn't already, and there are myriad considerations besides his popularity among the players.
One doesn't have to look far for examples of internal promotions producing great results: Chris Petersen taking over for Dan Hawkins at Boise State, Chip Kelly taking over for Mike Bellotti at Oregon and David Shaw taking over for Jim Harbaugh at Stanford. Although those three programs were already successful, you could make the case that USC's circumstances are similar because, well, it's USC.
The next USC coach isn't rebuilding a program. His job is to maximize the potential of a college football superpower, one that no longer will be yoked with NCAA sanctions after the 2014 recruiting class. Orgeron just might be able to do that.
Of course, we also have precedents that suggest that promoting from within or hiring an interim coach because of his initial success and support of the locker room doesn't always yield long-term success.
Larry Coker took over in Miami after Butch Davis bolted and won a national title in his first season. He went 35-3 his first three seasons, in fact, losing the national title game in Year 2 and winning the Orange Bowl in Year 3. But then things went south and, after a 7-6 season in 2006, he was fired. Coker was a strong short-term answer but not one for the long term.
As interim coach after Rich Rodriguez left for Michigan, Bill Stewart led West Virginia to a stunning upset of No. 3 Oklahoma in the Fiesta Bowl. But after three consecutive 9-4 seasons and an off-the-field controversy, he was pushed aside in favor of his head-coach-in-waiting, Dana Holgorsen.
We know what great college head coaches look like: Urban Meyer and Nick Saban top the list. I'd throw in Bill Snyder at Kansas State. But after them, there are no sure things. Petersen is not a sure thing because he has never been a head coach in an automatic-qualifying conference. Texas A&M's Kevin Sumlin has an impressive recent track record, but that track record in an AQ conference is only two years and includes one of the most dynamic quarterbacks in college football history.
The NFL guys such as Jon Gruden, Jeff Fisher and Jack Del Rio? Not sure things by a long shot.
So the risk of hiring Orgeron isn't that much greater. Sure, he went a dismal 10-25 at Ole Miss, but his thus-far-successful audition running the USC program provides a strong counter to that. He's not only learned from his mistakes; he's also coaching in an environment he knows how to navigate. It's also noteworthy that he's clearly motivated his assistant coaches to care about and focus on their present jobs instead of giving USC 60 percent while the other 40 percent pining about their future employment.
The apparent formula for an Orgeron administration would go like this: He plays the CEO and lets his coaches coach, which means Clay Helton runs the offense, Clancy Pendergast runs the defense and John Baxter runs the special teams. Orgeron leans on his strengths: motivation, chemistry, emotions and recruiting.
The big question would then be whether Orgeron can be consistently and obsessively detail-oriented as all good head coaches are. Can he maintain discipline and run a tight ship? Will he lead a recruiting effort based on insightful evaluation rather than star rating? Can he skillfully handle all the off-the-field responsibilities that head coaches deal with?
My guess is that Haden immediately realized after the Stanford game -- and not before -- that Orgeron deserved at least a raised eyebrow. Haden will be practically forced to make a more thorough evaluation of Orgeron if the Trojans beat UCLA.
"When you have a father figure like Coach O treating us all like sons and putting us under his arm, we want to run through a brick wall for him," linebacker
Hayes Pullard
said. "One team, one heartbeat, we wanted to carry that over. We wanted to show him that we are with him no matter what."
That's inspiring and meaningful. But there's more to being a head coach than getting your players to run through brick walls.
At this point, however, Orgeron is not only getting his guys to run through those brick walls, he's also getting them to hit the wall in the correct place and use good technique while doing so.
July, 12, 2013
7/12/13
10:05
AM ET
Two weeks and counting. Ted and I are gearing up for media day. Are you? Here's what you should know.
When
: July 26
Where
: Sony Studios, Los Angeles

Who will be there (all times PT):
9 a.m. Larry Scott, Pac-12 commissioner
9:15 a.m. Washington State -- Coach Mike Leach, Elliott Bosch (OL), Deone Bucannon (DB)
9:30 a.m. California -- Coach Sonny Dykes, Bryce Treggs (WR), Nick Forbes (LB)
9:45 a.m. Washington -- Coach Steve Sarkisian, Keith Price (QB), Sean Parker (DB)
10 a.m. Oregon State -- Coach Mike Riley, Brandin Cooks (WR), Rashaad Reynolds (DB)
10:15 a.m. Oregon -- Coach Mark Helfrich, Marcus Mariota (QB), Ifo Ekpre-Olomu (CB)
10:30 a.m. Stanford -- Coach David Shaw, David Yankey (OL), Shayne Skov (LB)
10:45 a.m. Break
11 a.m. Colorado -- Coach Mike MacIntyre, Paul Richardson (WR), Chidera Uzo-Diribe(DE)
11:15 a.m. Utah -- Coach Kyle Whittingham, Jake Murphy (TE), Trevor Reilly (DE)
11:30 a.m. Arizona -- Coach Rich Rodriguez, Terrence Miller (WR), Jake Fischer (LB)
11:45 a.m. USC -- Coach Lane Kiffin, Marqise Lee (WR), Hayes Pullard (LB)
Noon Arizona State -- Coach Todd Graham, Taylor Kelly (QB), Will Sutton (DT)
12:15 p.m. UCLA -- Coach Jim Mora, Xavier Su'a Filo (OL), Anthony Barr (LB)
UPDATE
: Arizona State informed me Friday morning that it has decided to bring Will Sutton instead of safety
Alden Darby
. This is a good thing because Sutton was the league's defensive player of the year last season, and his presence helps bolster his name -- and the program -- in the eyes of the national media.
Who won't be there
: The biggest name missing is Arizona running back
Ka'Deem Carey
, who led the nation in rushing last season. Coaches tend to bring veterans and guys with experience. Yankey is a great spokesman for Stanford and a good candidate, but I know others wouldn't mind hearing some thoughts from Cardinal QB
Kevin Hogan
.
Five storylines:
Hitting? Scott is expected to announce the league's health and safety initiative, which will limit how much hitting can be done in practice. This isn't a new concept, but the league jumped in front of it by being the first to make a conference-wide mandate.
Bowl updates? We know the status of the Rose, Alamo, Holiday, Kraft Fight Hunger and Sun bowls. Not sure if the rest of the lineup for beyond this season will be announced at media day. But one of us will ask.
New coaches: This is the meet-the-world opportunity for the new head coaches in the league: Dykes, MacIntyre and Helfrich. Expect the requisite questions on the difficulty of changing cultures and rebuilding programs.
Preseason poll: Is there any fodder better than preseason polls? Oregon or Stanford? Stanford or Oregon? ASU, UCLA or USC? Your Pac-12 bloggers will be submitting their ballots this weekend after a visit to the Oracle of Delphi, a seance channeling Nostradamus and a dartboard.
Quirky questions: With the access of media day comes the spectacle of media day. Granted, it's not as bad as some of the quirks at Super Bowl media day. But there's bound to be a couple of left-field questions -- and they'll probably be directed at Leach, who is great and usually has fun with them. Last year he was asked which Pac-12 coach he'd go hunting with and which Civil War generals he'd compare some of his players to.
Ted and I will be trying something new this year (we think). Instead of the on-the-stage posts, we'll be doing a live chat during the entire stage session and bringing you info real time. So take note of the times (in Pacific, to save you the math) and be ready to interact.
June, 6, 2013
6/06/13
5:30
PM ET
We've looked at offensive three-headed monsters --
elite combinations of quarterback, running back and receiver
-- so now let's look at the defensive version.
That would be elite combinations of
top tacklers
, top
sack men
and top
interceptors
, as tackles, sacks and interceptions make defensive coordinators happy.
The combinations here might be stronger even than the offensive troikas. Stanford, for example, welcomes back an elite, All-America sort of player for each category. It seems to us all 12 teams have at least one player to be excited about heading into the fall.
Just two teams -- Arizona State and Utah -- only hit on one category. Arizona, Colorado and Washington join Stanford hitting all three, though Colorado's interception numbers from 2012 are so meager -- 3! -- that it's not terribly relevant. And USC's just missing was a matter of 0.4 tackles per game.
So here's how we see things stacking up.
And, again, you should feel free to be outraged by our lunkheaded bias against your team, which obviously should be ranked much higher.

1. Stanford

LB
Shayne Skov
, OLB
Trent Murphy
, S
Ed Reynolds
The skinny
: Three potential All-Americans. There is no finer troika in the nation. Not sure if anyone else is even close.

2. USC

LB
Hayes Pullard
, OLB
Morgan Breslin
, S
Dion Bailey
The skinny
: Pullard was seventh in the conference with 8.2 tackles per game, just behind safety T.J. McDonald. Breslin is transitioning from defensive end to outside linebacker, which actually seems like a better fit. And Bailey, who led the Trojans with four interceptions, is moving back to safety from linebacker.

3. UCLA

LB
Eric Kendricks
, OLB
Anthony Barr
, S
Randall Goforth
The skinny
: UCLA gets here on the power of the first two, an elite combination, with Barr a likely top-10 NFL draft pick next spring. That balances out the questions in the secondary. Goforth, a promising player, just seemed like as good a choice as any.

4. Oregon State

LB
Michael Doctor
, DE Scott Cricthon, CB
Rashaad Reynolds
The skinny
: Doctor took a big step forward last year, even if
D.J. Alexander
is a flashier player. Crichton, first-team All-Pac-12 in 2012, is trying to lead the Beavers in sacks for a third consecutive year. Reynolds had three picks last year and now becomes the Beavers' lead cornerback with Jordan Poyer off to the NFL.

5. Oregon

LB
Derrick Malone
, DE
Taylor Hart
, S
Erick Dargan
The skinny
: Malone was just thrown in there because the Ducks' linebacker situation is cloudy. Hart is a budding all-conference guy who should get his due this fall. Dargan led the Ducks with five picks, but there's an acknowledgement here also of cornerback Ekpre-Olomu, a preseason All-American, who had four.

6. Arizona State

LB
Chris Young
, DT
Will Sutton
, S
Alden Darby
The skinny
: Sutton is the big fish here, obviously. Linebacker is a question for the Sun Devils, who lost their top two tacklers. Young and Darby are returning starters, though, with Young ranking third in tackles and Darby second in interceptions in 2012.

7. Washington

LB
John Timu
, OLB
Josh Shirley
, CB
Marcus Peters
The skinny
: This is a solid but unspectacular trio, as none of the three were all-conference. But the Huskies defense, which was greatly improved in 2012, has a lot of production back. It's worth noting that defensive end
Andrew Hudson
tied Shirely for the team lead with 6.5 sacks, and linebacker
Shaq Thompson
also had three picks, like Peters.

8. Arizona

LB
Jake Fischer
, LB
Marquis Flowers
, CB
Jonathan McKnight
The skinny
: All three leaders are back, but they get marked down for the overall defensive numbers in 2012. Flowers, an underrated player, had 5.5 sacks and was tied with McKnight with three interceptions.

9. California

LB
Nick Forbes
, DE
Chris McCain
, S
Michael Lowe
The skinny
: Forbes averaged 7.1 tackles per game last year. McCain tied for the team lead in sacks with 3.5, but don't be surprised if
Todd Barr
or
Brennan Scarlett
lead the pass rush. Lowe had three picks last year to tie for the team lead, but he's listed behind
Alex Logan
on the post-spring depth chart.

10. Washington State

S
Deone Bucannon
, OLB
Logan Mayes
, LB
Cyrus Coen
The skinny
: Bucannon is an A-list guy, earning second-team All-Pac-12 honors in 2012. He led the Cougars in tackles and interceptions, so we included Coen, who was second with three picks. The gigantic void is the pass rush, which lost four-year sack leader
Travis Long
.

11. Utah

LB/S
Brian Blechen
, DE
Trevor Reilly
, S
Eric Rowe
The skinny
: These are three solid players, but there's a lot of uncertainty on the Utes defense. The Utes lost their top two sack men and their top three cornerbacks. Blechen has bounced back and forth between linebacker and safety, and neither Reilly nor Rowe were able to top the depth chart at his position this spring without an "Or" beside him.

12. Colorado

LB
Derrick Webb
, DE
Chidera Uzo-Diribe
, CB
Kenneth Crawley
The skinny
: All three leaders are back, but we're listing the promising Crawley instead of the two guys who had a single pick last year. Uzo-Diribe is legit. He has 12.5 sacks over the past two seasons, including seven last year. Big issue here, however, is how terrible the Buffs defense was last year.
March, 1, 2013
3/01/13
12:00
PM ET
While quarterback competitions are typically front-and-center during Pac-12 spring practices, there are always other interesting spring storylines.
Here are two.
[+] Enlarge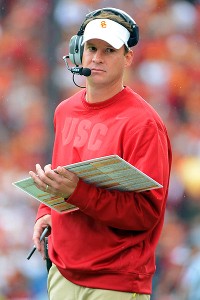 Harry How/Getty ImagesUSC coach Lane Kiffin enters the spring with several new assistants, a new defensive scheme, and uncertainty at quarterback.
Ted Miller
: It was a horrible, no-good, rotten, very bad 2012 season for USC coach Lane Kiffin. And the 2012-13 offseason has been no picnic either. Some Trojans fans wanted Kiffin fired. Just about all were frustrated. Justifiably so, by the way.
Lane: Welcome to spring, the season for rebirth! Time to turn the page. Or, perhaps, pick up an entirely new book.
At the very least, the situation at USC is interesting. One of the nation's premier programs is front-and-center for many of the wrong reasons, but there is enough talent on hand for Kiffin to turn things around and shut up his critics.
Interesting plot lines? Kiffin will be breaking in four new assistant coaches, including a pair of new coordinators, his defense will be transitioning from a 4-3 base to a 3-4, and he's looking for a new quarterback for the first time in his tenure.
There's a lot going on. Lots of questions. Lots of doubt, too. Yet negative momentum isn't irreversible.
What if the Trojans have an exceptional spring?
What if Clancy Pendergast shakes things up and, suddenly, the defensive guys are playing hard and fast in a sound scheme they understand? And what if the offense, nonetheless, makes plenty of plays because the quarterbacks are sharp and the line is manning up? What if the fitness level of the Trojans improves? What if offensive tackle
Aundrey Walker
breaks through, realizing his future NFL contract will be based on performance, not measurables? What if
Devon Kennard
proves a perfect fit as a 3-4 outside linebacker, as we believe he is? What if guys like
Marqise Lee
,
Hayes Pullard
,
Silas Redd
,
Dion Bailey
and
Kevin Graf
step up as leaders? What if receivers
George Farmer
and
Victor Blackwell
decide they don't want to be left in the dust behind Lee and
Nelson Agholor
? What if running back
Tre Madden
says, "Hey, remember me?"
What if Kiffin simultaneously refocuses and relaxes? What if he uses his capable brain to be smart, not a smart aleck, to be creative, not sneaky? What if he realizes the media is not an enemy, but just a bunch of folks trying to do their job whom he should humor with vague though sometimes amusing answers?
There are a lot of "What ifs?" with USC and Kiffin. It's not difficult, by the way, to talk yourself into believing a bounce-back is entirely possible.
That's what is interesting. Kiffin 2.0 was 2010 and 2011, when he seemed to find his rhythm as a coach after controversial stints with the Oakland Raiders and
Tennessee Volunteers
. Kiffin 3.0, was 2012, a complete face-plant.
This spring presents us with Kiffin 4.0. It could prove to be the most important transition of his career as a head coach.
And that is interesting.

Kevin Gemmell
: Besides quarterback battles -- which I think are always the most exciting position battles there are -- I'm most curious to see how the running back battle is going to play out at Stanford.
When you look at a Stanford squad that is very heavy on upperclassmen -- on both sides of the ball -- you have to wonder if all of the pieces are in place for Stanford to make a legitimate run at the national championship.
I wasn't sure before, but with the addition of Tyler Gaffney to the running back corps, I'm warming up to the idea that the Cardinal could challenge any team in the country for a BCS championship -- if they can get out of their own conference (or division for that matter) -- which anyone will tell you is no easy task.
It's no surprise that Stanford's primary offensive weapon is the quarterback. Not because of what he does with his arm -- but because of what he does when he goes under center -- checking out of bad plays and putting the offense in the best possible play against the defense shown. This allows running backs to flourish. Andrew Luck was phenomenal at it.
Kevin Hogan
should get better.
So, when Hogan turns to handoff on power right or power left, who is going to be the primary ball carrier?
Anthony Wilkerson
has shown bursts and outstanding top-end speed. But injuries have slowed him, and playing behind
Stepfan Taylor
the past few years didn't allow him to really break out following his strong true freshman season. Gaffney is a rock and hard to bring down. He's the kind of guy who could carry the ball 10 times for 4.5 yards a pop.
Barry Sanders
is an interesting X-factor. He obviously was a high-profile recruit because of his name -- but beyond that, he's supposedly a pretty darn good back. Maybe he ends up winning the job and can be a 15-carry type of guy.
Then you have
Ricky Seale
, a shifty runner with great vision who has been trapped at the bottom of the depth chart, but continues to receive praise from David Shaw.
Remound Wright
and hybrid
Kelsey Young
are also in the mix.
Whoever is Shaw's go-to back, he'll have the benefit of running behind an outstanding offensive line that is only going to get better with
David Yankey
-- an All-American and last year's Morris Trophy winner -- moving back to his natural position at guard. And Shaw has said he plans to keep
Ryan Hewitt
at fullback -- giving the running backs a cadre of blockers that rivals any other in the country.
By season's end, this could be your national championship team. The question is, which back will carry it there?
September, 1, 2012
9/01/12
11:21
PM ET
The
USC Trojans
, who opened the season ranked No. 1 in the AP poll, showed why many consider them the best team in the country with a
49-10 thrashing
of Hawaii. Here's how it all went down at the Coliseum.


It was over when:
Matt Barkley
,
Marqise Lee
and
Robert Woods
all decided they'd get out of bed this morning. Barkley and Lee hooked up for a 75-yard touchdown on USC's first offensive play and the Trojans never looked back.
Game ball goes to:
Take your pick among that trio. But we'll go with Lee and his 10 catches for 190 yards and a touchdown. He also added a 100-yard kickoff return for a touchdown.
Unsung hero:
Making his USC debut, running back
Silas Redd
, a transfer from Penn State, carried nine times for 57 yards, including a 31-yard touchdown run on a fourth-and-2.
Unsung hero, take 2:
USC linebacker
Hayes Pullard
was beastly. On top of his hard hits, he also had a pick-six late in the first quarter.
Heisman watch:
Barkley entered the season as the front-runner and didn't disappoint. He missed on a couple of balls and there were some drops. But overall a pretty good night: 24-of-39, 351 yards and four touchdowns.
What it means:
Probably not much at this point. Most people expected USC would cruise against Hawaii. It wasn't as clean as it could have been. There were some dropped balls and Redd did lose a fumble, so there are some negative plays the Trojans can go back and scrutinize. But USC didn't stub its toe, nor did the Trojans give the people who voted them No. 1 any reason to doubt their selection.
January, 20, 2012
1/20/12
1:30
PM ET
While recruiting season is heating up for its home stretch, national signing day is about the future. The present matters, too, and there are plenty of present matters that need attending.
What are the main areas of focus in advance of spring practices? Glad you asked.
1.
Hello, my name is Coach ____________:
There are four new Pac-12 head coaches: Rich Rodriguez at Arizona, Todd Graham at Arizona State, Jim Mora at UCLA and Mike Leach at Washington State. That's a lot of turnover -- one third of the league. Further, none of the four retained many members of the previous staffs. So there will be a lot of "Getting to know you" in advance of spring practices. Also, beyond head coaches, Norm Chow left Utah to become Hawaii's head coach, so the Utes need a new offensive coordinator. Washington rebuilt its defensive staff. Coach Steve Sarkisian fired defensive coordinator Nick Holt and two other coaches and saw defensive backs coach Demetrice Martin bolt for UCLA. He then raided Tennessee, California and Oregon State to replace them. Because of the Huskies, Cal will have two new assistants this spring and Oregon State one.
[+] Enlarge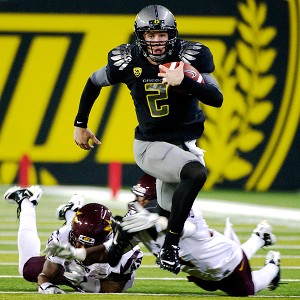 Jim Z. Rider/US PresswireBryan Bennett is the favorite to take over for Darron Thomas at Oregon.
2.
Settled at quarterback
? The only teams that have certainty at quarterback are: California, Oregon State, USC and Washington -- and some Cal fans might even harrumph that assertion. You can probably throw Arizona's
Matt Scott
in there as a certainty, both because he has quality starting experience and because there's no one around to unseat him. UCLA, Utah and Washington State have returning starters, but they also have plenty of intrigue. It's uncertain who takes the first snap in the opener. For Oregon, most would favor
Bryan Bennett
stepping in after
Darron Thomas
' surprising decision to enter the NFL draft, but his name isn't written atop the depth chart in ink just yet. Arizona State, Colorado and Stanford are wide-open competitions. It would be wise for any quarterback who wants to be in the starting mix to be laying groundwork with his teammates and coaches well in advance of the first spring practice.
3.
Line up
: Arizona welcomes back five starters on its offensive line, while USC and Washington get four starting offensive linemen back. Every other team has some degree of uncertainty with at least two voids to fill. Perhaps more than any position, the quality -- and depth -- of an offensive line can be advanced during the offseason. Hit the weight room, training table and the track -- get stronger, quicker and work off the baby fat and turn that into quality size. Right now just about every team has a guy who thinks he's going to automatically advance on the depth chart who is going to be overtaken by a youngster who is eyeballing his slack, er, rear end while doing an extra set of power cleans.
4.
Taking the next step
: At this point last year, Oregon defensive end
Dion Jordan
and Utah defensive tackle
Star Lotulelei
were just promising guys, not first-team All-Pac-12 defenders. Wide receivers
Keenan Allen
of Cal and
Robert Woods
of USC were coming off impressive freshman seasons but were facing the inevitable, "What's next?" questions, which implied the possibility of sophomore slumps. But, of course, Allen and Woods joined Jordan and Lotulelei on the All-Conference first team. Did you know that USC offensive tackle
Matt Kalil
wasn't even honorable mention All-Pac-10 in 2010? Kalil was a big-time talent who had yet to make a statement -- you know, the "I'm a top-five pick as the best left tackle in the NFL draft" statement. There are a lot of players who had good seasons in 2011. Good for them. But just like Oregon coach Chip Kelly, the Pac-12 blog is a forward-thinking operation. Yes, we were very impressed
De'Anthony Thomas
,
Marqise Lee
,
John White
,
Ben Gardner
,
Nickell Robey
,
Marquess Wilson
,
Dion Bailey
,
Hayes Pullard
,
Brian Blechen
,
Austin Seferian-Jenkins
,
Keith Price
, Tramayne Bondurant,
Mustafa Jalil
,
Stefan McClure
,
David Bakhtiari
,
Colt Lyerla
,
Scott Crichton
,
Sean Mannion
,
Ty Montgomery
,
Sean Parker
,
John Fullington
, etc. But what are you doing to get better right now? Yes, right now. So stop reading this, wondering why your name isn't listed and go do some wind sprints.
5.
Don't believe the hype -- either way
: Everyone is massively overrating USC and Oregon. Top-five teams? Pfftt. So stop staring at yourself in the mirror in your tighty-whiteys, doing a most-muscular pose. I talked to your mammas and they said you ain't all that. California, Washington and Utah are eyeballing your girlfriends. Better watch out. If you don't do the work, you won't be top-five anything. And what about you Colorado, UCLA, Arizona, Oregon State, Washington State -- are you going to hear those national yawns and assume there's no hope? Are you expecting to lose and using that as an excuse to eat a Twinkie on the sofa while watching "Caddyshack" again instead of going to a workout? From now until opening day, there will be endless fan and media chatter decided how every Pac-12 teams' season is going to go. Hey, it's fun. But that doesn't decided a season. The 100 guys in the locker room do. Oh, and one final thought. Stanford? You're done. You ain't poo without
Andrew Luck
.
February, 3, 2010
2/03/10
8:58
PM ET
February, 3, 2010
2/03/10
11:58
AM ET
February, 3, 2010
2/03/10
9:23
AM ET
USC has scored with three marquee recruits.
Markeith Ambles
(McDonough, Ga./Henry County) will sign with USC Wednesday, Fox 5 TV (Atlanta) reports.
And four-star cornerback/receiver
Nickell Robey
of Frostproof, Fla., has picked USC after decommitting from the Georgia.
To top it off, USC beat UCLA for linebacker
Hayes Pullard
(Los Angeles/Crenshaw).
It appears the Trojans are well on their way to a
top-10 class
in Lane Kiffin's first go-round with 10 ESPNU 150 prospects in tow.