NCF Nation:

Heels-Tigers 102211
October, 22, 2011
10/22/11
7:03
PM ET
CLEMSON, S.C. -- On Monday, Clemson was on fall break and the players were allowed to sleep in before attending an offensive meeting at 10 a.m.
That's when offensive coordinator Chad Morris woke them up.
"I've never seen him that fired up," center Dalton Freeman said.
Clemson fans might say the same about the Tigers' offense on Saturday against North Carolina.
Seven different players accounted for touchdowns in
Clemson's 59-38 romp
of the Tar Heels, including defensive end Kourtnei Brown, who returned two turnovers for scores. It seemed as if Clemson had more playmakers than North Carolina had defenders on the field. Only one other time in school history -- against Wake Forest in 1981 -- had Clemson scored more points against an ACC opponent. The Tigers' ability to distribute the ball coupled with the unselfish attitude from playmakers young and old are what has separated the program, now 8-0, from the rest of the ACC this year.
[+] Enlarge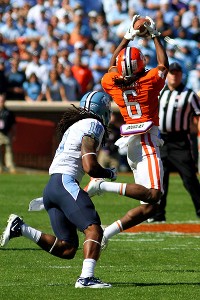 Joshua S. Kelly/US PresswireDeAndre Hopkins gashed the Tar Heels' secondary with nine catches for 157 yards and a touchdown.
Receiver
Sammy Watkins
might be the best freshman in the country, but he doesn't have to be for Clemson to win.
"Today was probably the most complete game we've had as far as distributing the ball and sharing the wealth," quarterback
Tajh Boyd
said. "There is a lot to go around. If somebody game-plans for this person or that person, we do have other options out there. It's exciting to see, and that's probably the most rewarding thing I took from today, was that you come back into the locker room and you see the smiles on these guys' faces because they are getting shown love. We've got too many playmakers. It's a quarterbacks dream to have those type of players out there."
Against North Carolina, receiver DeAndre "Nuke" Hopkins was Boyd's favorite target, with nine catches for 157 yards and a touchdown. He was one of five different receivers who caught touchdown passes, a single-game school record. Even with Watkins drawing the bulk of the attention from UNC's defense, he still finished with eight catches for 91 yards and a touchdown.
"I think that's the key to our success," coach Dabo Swinney said. "First of all we've got really, really good players. We've hit some home runs with recruits from that standpoint. … The key for us is it's not like you can just defend one guy. We have a lot of guys who can make plays. We have a lot of backups who can make plays. We've got a quarterback who can pull the trigger and make a decision, and the offensive line is playing some really, really good football. That's a good combination to have."
And it's only the beginning. Clemson has 42 freshmen (redshirt or first-year) among the 85 players on scholarship. The Tigers have played 13 true freshmen, none of whom have had more of an impact that Watkins, but
Mike Bellamy
and receiver
Martavis Bryant
have also been key contributors this year.
"You're going to see that distribution continue to spread, especially next year, because these guys are going to be sophomores and even better," Swinney said. "There's not a lot of distance between our skill guys from a talent standpoint. There's just not much difference at all. That's a big blessing for us. That's the bottom line, they know that everybody is going to have an opportunity to make a play in this offense. We're not sitting there throwing to one guy."
And if there's anyone on the roster who still feels the need to be THE guy?
"The door's right there," Swinney said. "That's the least of my worries. I am the last guy to coddle guys. This is a team sport. Our guys know that. It's one team, one dream. You're going to have a hard time making it at Clemson if you're not a team guy."
And opponents are going to continue to have a hard time stopping Clemson without an extra defender or six on the field.
October, 22, 2011
10/22/11
3:30
PM ET
CLEMSON, S.C. -- This was supposed to be one of those games that would give Clemson some trouble, one of the few opponents remaining who could really challenge the undefeated Tigers.


It was. For about a half. And then, in an explosive third quarter in which Clemson scored a school-record 35 points -- almost their season average of 38 points
per game
-- the Tigers further distanced themselves from the rest of the ACC.
If you didn't believe it before, believe it now: Clemson is
the
team to beat in the ACC. Depending upon what Georgia Tech does against Miami today, next week's game in Atlanta could be one of the most anticipated of the second half of the season. If Clemson continues to play the way it did today, though, the Tigers will be on cruise control to Charlotte.
October, 22, 2011
10/22/11
1:53
PM ET
CLEMSON, S.C. -- Another exciting ACC conference game is under way here, and North Carolina's defense has been impressive in the first half. Not impressive enough, though, to slow down Clemson receiver
DeAndre Hopkins
. The Tar Heels' offense has had two costly turnovers that resulted in 10 points for Clemson, and a third turnover resulted in a missed field goal for Clemson. Here's a look back at the first half.


Turning point:
Clemson defensive end Kourtnei Brown intercepted a poorly thrown pass by UNC quarterback
Bryn Renner
and returned it 20 yards for a touchdown for a 24-10 lead. It was the first touchdown scored by a Clemson defensive lineman since 2006, and it finally put some separation between the Tigers and the Tar Heels in what had been an otherwise tight game.
Stat of the half:
North Carolina is 0-for-6 on third downs. The Tar Heels entered the game seventh in the ACC in third-down conversions with 41.6 percent. Clemson's third-down defense was fifth in the ACC, allowing opponents to convert 37.9 percent of the time.
Best player in the half:
Hopkins. His number has been called today, and so has his name. His nickname, "Nuke," has resounded throughout the stadium like "Nuuuuuuuke" frequently today. He has 118 yards and one touchdown on eight catches.
October, 22, 2011
10/22/11
1:06
PM ET
CLEMSON, S.C. -- UNC starting safety Matt Merletti injured his knee and will not return, according to an announcement here in the press box. Tre Boston is up next on the depth chart.
October, 22, 2011
10/22/11
1:04
PM ET
CLEMSON, S.C. -- Take your pick:
Sammy Watkins
or
DeAndre Hopkins
. Hopkins or
Dwayne Allen
. Allen or
Jaron Brown
.
Clemson's options overfloweth this season, and today, it's Hopkins' turn.
Despite all of the attention surrounding Clemson freshman receiver Watkins, he's hardly the only playmaker in this offense. Hopkins already has five catches for 83 yards, including
a 25-yard touchdown pass
that gave the Tigers the lead.
It's been a slow start, though, for both offenses. UNC got it started with an interception, but North Carolina responded by holding the Tigers to a field goal. UNC linebacker Zach Brown has sacked Clemson quarterback
Tajh Boyd
twice, and Clemson hasn't been able to run the ball at all. Running back
Andre Ellington
hurt his foot in the first quarter and "should return," according to a school spokesman, and without starting tailback
Giovani Bernard
on the field yet (hip injury), UNC's running game has also been stagnant.
Ryan Houston doesn't have the same explosive capabilities, and he's averaging about 3 yards per carry. Defensively, it seems as if Brown's name has been called every other tackle.
It's a good game here so far, and UNC's defense is the key to keeping it that way, especially against an offense that has so many answers.
October, 22, 2011
10/22/11
11:44
AM ET
CLEMSON, S.C. -- There are no lineup changes for Clemson, but a few notes for North Carolina: Tailback
Giovani Bernard
will
play, but he won't start. He missed practice on Tuesday with a hip injury, and a little bit of time on Wednesday. How much he plays remains to be seen, but he is expected to play. Cam Holland will start at center after missing the past two games with a back injury, and Tim Scott, a freshman, will start in place of corner Jabari Price, who struggled last week.


I'm watching Clemson receiver
Sammy Watkins
warm up, and what caught my eye was his helmet: The back of it is almost completely covered in helmet stickers. There's no official count, but it's easily one of the most decorated helmets out there. It looks like a senior's helmet. North Carolina receiver
Dwight Jones
, though, said this week that he is the best receiver in the ACC. There's no question both of them will take center stage today.
Clemson coach Dabo Swinney brought his players together in a huddle around the 15-yard line at the end of warm-ups, and he looked just as animated then as he does on the sideline during games. Almost. Focus will be the key for the Tigers from here on out, and this UNC team will give them one of the best defensive looks they'll see all season. The Tar Heels are deep, and they can become bowl eligible with a win today.
October, 22, 2011
10/22/11
10:55
AM ET
CLEMSON, S.C. -- You awake?
Clemson fans are. Noon kicks can be rough, but not here in Death Valley. The traffic was backed up on Perimeter Road long before 9 a.m., and tailgates were already set up with fans eating burgers for breakfast. Gotta love it. (Especially when the fans leading the charge are the only ones who can afford the prime parking spots). It's a cool, crisp sunny morning here. Not a cloud in the sky, and it should be somewhere in the 60s this afternoon.


With Clemson at 7-0 and No. 7 in the BCS Standings, there is already an added excitement around this undefeated program, but today there is an additional buzz, as it's the 30-year anniversary of the 1981 national championship team. Danny Ford's Tigers were 12-0 that season and the only team in the nation to defeat three top-10 teams. It was the only perfect season the program has seen since 1948.
There's a loooong way to go for Clemson to reach that point, and today's game against North Carolina is just another step. Both teams were already out on the field, just getting loose and it looks like Carolina will be in the dark blues and Clemson in the purple pants.
There are plenty of interesting plot lines to watch in this game, including two of the ACC's top receivers [UNC's
Dwight Jones
and Clemson's
Sammy Watkins
] and two of the most efficient passers [UNC's
Bryn Renner
and Clemson's
Tajh Boyd
]. North Carolina lost its past two ACC games by seven points or less. Can the Tar Heels come out on the winning end against an offense averaging 38 points per game?
Wake up, it's almost time to find out.
TOP 25 SCOREBOARD
Thursday, 12/5
Friday, 12/6
Saturday, 12/7