December, 13, 2013
12/13/13
11:00
AM ET
After Texas A&M's
Johnny Manziel
became the first freshman to win the Heisman a year ago, it appears another freshman, Florida State's
Jameis Winston
, is poised to take the trophy. But which quarterback had the better freshman campaign?
David Hale and Sam Khan Jr. take the debate to the Interwebs for your reading pleasure:
Take 1: Hale: Winston was consistent, even in biggest games
No matter what Winston accomplishes this season, there's one thing Manziel will always have over him. Only one player can be the first freshman to win a Heisman, and that was Manziel. He was, to be sure, a worthy winner.
But beyond the history, the debate on which quarterback had the better freshman campaign is easy. It's Winston.
[+] Enlarge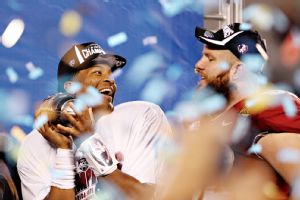 Streeter Lecka/Getty ImagesIf winning matters, Jameis Winston has won a conference title and has his team in the national championship game: two things Manziel has not done.
Compare passing numbers through 13 games and Winston comes out well ahead. He threw for a freshman-record 38 touchdowns, compared with 26 for Manziel. Winston threw for more yards, averaged significantly more yards per attempt (10.9 to 8.5 for Manziel) and had a quarterback rating (190.1) that dwarfs Manziel's (155.3). Winston had seven 300-yard games; Manziel four. Winston accounted for four or more touchdowns six times.
And before anyone makes the strength-of-schedule argument, remember that Winston had a slightly higher adjusted QBR -- which takes into account myriad factors, including competition.
Sure, Manziel came out of nowhere to become a Heisman winner. But wasn't there a lot more pressure on the much-hyped Winston to live up to those immense expectations?
Then let's look at how each player fared in his biggest games.
Manziel played six games against ranked teams, and he won four. He completed 67 percent of his throws -- same as Winston -- but the rest of his stats were utterly pedestrian. He averaged just 7.5 yards per attempt, threw for seven TDs and had five interceptions.
Winston, on the other hand, won all four of his games against ranked teams handily. He averaged 11.8 yards per attempt and threw for 12 touchdowns with five INTs.
Winston wasn't only at his best in big games, he simply never had a bad game. Manziel struggled mightily against Florida and LSU.
And Winston has the edge in the most important statistic: wins. The Seminoles are 13-0 and playing in the BCS National Championship next month. Manziel's season was great and the Aggies were a surprising 11-2 last year, but they didn't even get to a BCS bowl. Their season ended in the AT&T Cotton Bowl.
OK, so now we get to the obvious check mark in Manziel's corner: his legs.
Admittedly, there's no comparison here, and Manziel's ability to run is the great equalizer in this debate. But it's hardly fair to penalize Winston for looking to throw before he looks to run.
Winston put together a highlight reel of big throws that followed miraculous escape acts. His numbers when under pressure were by far the best in the nation. He managed to extend plays, completing an absurd 16 of 21 passes with four touchdowns and 15 first downs on third-and-10 or longer.
Does that make up for Manziel's 21 rushing TDs and 1,400 rushing yards? Probably not, but a quarterback's primary jobs are to make throws and win games. Winston was head and shoulders ahead of Manziel in both areas.
Take 2: Khan: Manziel did it all, against tougher teams
Winston has lived up to the hype and that's hard to do. In my opinion, he has been college football's most outstanding player in 2013. In every big game, he delivered and he led his team to the BCS title game.
But there's no debate here. As terrific as Winston has been this season, Johnny Manziel's freshman campaign was better.
[+] Enlarge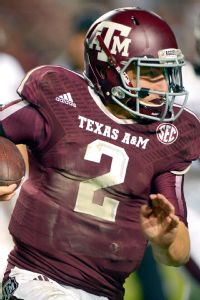 Thomas Campbell/USA TODAY SportsJohnny Manziel is clearly the superior runner.
Manziel was statistically better, had to carry his team more and did it against a tougher schedule. Oh, and as David mentioned, Manziel was the first freshman to do it. Can't beat that.
Yes, Winston's passing numbers are better. However, what Johnny Football did with his legs in 2012 is what set him apart, and it's what made him the toughest player to defend in college football. Winston hasn't run nearly as much because the Seminoles don't need him to (77 carries for 193 yards and four touchdowns), but that was a signature part of Manziel's game. He was a true dual threat. Manziel exploded for 1,410 yards and 21 touchdowns and led the SEC in rushing a year ago.
Not the leading rusher among quarterbacks. The leading rusher, period.
A&M needed that. Without that element of Manziel's game, the Aggies might not have beaten Louisiana Tech. They might not have beaten Alabama. The season would have been different.
Manziel broke Cam Newton's SEC single-season record for total offensive yards in a season, finishing with a whopping 5,116. And while Winston had more touchdown passes, Manziel had more total touchdowns with 47. Winston still has a chance to catch that total if he accounts for five touchdowns against Auburn in January.
And let's not forget A&M's schedule last year. A&M finished third in the country in the NCAA's "toughest schedule" rankings. The Sagarin ratings had the Aggies with the sixth-toughest schedule last year. The NCAA's schedule rankings are unavailable for this season, but for comparison's sake, Florida State's schedule is currently ranked 63rd in the Sagarin ratings. That's a huge difference.
Winston didn't have to face an LSU team that put five players from its front seven alone in the NFL draft. And even with that, Manziel and the Aggies still could have won that game (they lost 24-19). The best defenses Winston has faced were Florida (10th) and Clemson (23rd). Manziel faced three that finished in last year's top eight (Alabama, Florida, LSU).
And the best win -- at least to this point in time -- belongs to Manziel. Texas A&M's upset over then-No. 1 and eventual champ Alabama in Tuscaloosa was the epitome of Manziel's freshman campaign. He was virtually unstoppable. He threw for 253 yards and two touchdowns and ran for 92. Gaining 345 yards individually against a Nick Saban-coached defense? Simply amazing.
Winston has a chance at the crystal football. Manziel can't top that and there's no denying it. But that's more of a team accomplishment and there's not a ton Manziel can do about it.
If you were picking a team to go win a football game and both supporting casts were the same, which QB would you pick: 2012 Johnny Manziel or 2013 Jameis Winston? My guess is you're taking Johnny Football. He's done things on a football field that seemingly nobody else can.
November, 19, 2013
11/19/13
11:00
AM ET
By
ESPN.com staff
| ESPN.com
As the season hits the homestretch, so does the race for the Heisman Trophy. At 2 p.m. ET, join four of our reporters -- Jake Trotter, Edward Aschoff, Heather Dinich and Brian Bennett -- as we discuss all things Heisman, along with other hot topics in the world of college football.
Send in your questions and comments and we'll post as many of them as possible.
November, 16, 2010
11/16/10
2:30
PM ET
Here's a look at what the Pac-10's top Heisman Trophy candidates did over the weekend.
We've narrowed the list to two. Both have a solid shot of being invited to New York for the ceremony.
LaMichael James, RB, Oregon
: James rushed for 91 yards on 29 carries in the Ducks' win over California. He leads the nation in rushing yards per game (158.0) and rushing touchdowns (17).
Andrew Luck, QB, Stanford
: Luck completed 33 of 41 passes for 291 yards with an interception in the Cardinal's victory over Arizona State. He's the nation's 10th-rated passer with 22 touchdown passes and seven interceptions. He's completing 69.6 percent of his passes. He's also rushed for 373 yards and three touchdowns.
November, 9, 2010
11/09/10
10:30
AM ET
Here's a look at what the Pac-10's top Heisman Trophy candidates did over the weekend.
LaMichael James, RB, Oregon
: James rushed for 121 yards on 26 carries and scored three touchdowns in the Ducks' win over Washington. He leads the nation in rushing yards per game (166.38) and rushing TDs (17).
Andrew Luck, QB, Stanford
: Luck completed 23 of 32 passes for 293 yards with two TDs and no interceptions in the Cardinal's victory over Arizona. He also rushed three times for 25 yards and wasn't sacked. He's the nation's seventh-rated passer with 22 TD passes and just six interceptions. He's completing 67.8 percent of his passes. He's also rushed for 370 yards and three TDs.
Darron Thomas, QB, Oregon
: Thomas completed 24-of-33 for 243 yards with a TD against Washington. He also rushed for 89 yards and two scores. He's the nation's 15th-rated passer with 22 TDs and six interceptions and a 62 percent completion rate. He's also rushed for 400 yards and four TDs.
November, 2, 2010
11/02/10
11:37
AM ET
Here's a look at what the Pac-10's top Heisman Trophy candidates did over the weekend.
LaMichael James, RB, Oregon
: James rushed for 239 yards on 36 carries with three TDs in the Ducks
53-32 win
over USC. He leads the nation with 172.86 yards rushing per game, and his 14 rushing TDs are tied for No. 1 in the nation with Auburn QB
Cam Newton
.
Andrew Luck, QB, Stanford
: The numbers weren't spectacular, but Luck was masterful running the Stanford offense at Washington during a 41-0 victory. He completed 19 of 26 passes for 192 yards with a TD and an interception. He also ran 51 yards for a TD. He ranks 10th in the nation in passing efficiency with 20 TD passes and a 67 percent completion percentage.
Darron Thomas, QB, Oregon
: Hard to keep Thomas off this list, even if James is the big show. Thomas is 13th in the nation in passing efficiency and has thrown 21 TD passes, which is tops in the Pac-10. Against USC, he completed 19-of-32 for 288 yards with four TDs. He also rushed for 42 yards.
October, 12, 2010
10/12/10
2:00
PM ET
Well, look who is at the top of the
Heisman Watch for Week 7
, according to ESPN college football experts.
You got it. Boise State quarterback
Kellen Moore
.
With
Denard Robinson
looking a little less than Superman against Michigan State, Moore was able to vault into the No. 1 spot in the latest projections. Here is what Pac-10 blogger Ted Miller had to say about Moore:
Not to be mean, but anyone who has any other candidate ahead of Moore is being ridiculous. Moore is the No. 1-rated QB in all of college football. He plays for the undefeated, No. 3-ranked team in the nation. His TD-to-interception ratio? 14-to-1. He's completing 67 percent of his passes. Is he dinking and dunking? Nope. He averages 14.68 yards per completion. Has the schedule been weak? Not according to the computers. Is he a flash in the pan? Nope, last year he was the nation's No. 2 QB with 39 TDs and just three picks.
Nevada quarterback
Colin Kaepernick
remains a long, long shot. The focus should remain on Moore for the foreseeable future, unless the Broncos lose. Then he will no longer have a shot.