NCF Nation:

Heisman watch 091112
September, 11, 2012
9/11/12
10:41
AM ET
Checking in with our Heisman tracker after Week 2, there were some impressive numbers from our front-runners, and we have a new addition to this list in UCLA running back
Johnathan Franklin
. Washington quarterback
Keith Price
dropped off the radar after a rough outing at LSU. But that doesn't mean he'll never come back. Robert Griffin III dropped off the radar for about four weeks last year before surging at the end.
Matt Barkley, USC, quarterback
Week 2 numbers: Completed 23 of 30 passes for 187 yards with six touchdowns and an interception.
Season numbers: 46-of-68 (67.6 percent), 10 touchdowns, 1 interception
What went well: Six touchdowns in a game is a pretty good start. Barkley now leads the nation in touchdown passes, which is exactly what you'd expect from a Heisman front-runner playing against inferior competition. He also bumped up his completion percentage significantly from 60.5 against Hawaii to 76.7 versus Syracuse.
Any questions? Barkley can't control the weather (or can he?). The Trojans weren't particularly crisp in this game and Barkley threw for only 187 yards. But as the numbers indicate, he made the most of his completions. Having Robert Woods helps.
De'Anthony Thomas, Oregon, wide receiver/running back
Week 2 numbers: Carried the ball seven times for 102 yards and touchdowns. Caught four balls for 26 yards.
Season numbers: 10 carries for 166 yards and three touchdowns. Eight catches for 81 yards and two touchdowns.
What went well: For starters -- his 39-yard and 51-yard touchdown runs were awfully impressive. Credit to Marcus Mariota for waiting until the last possible minute to pitch to Thomas on the 39-yard option. And the 51-yarder was vintage Thomas (I think he's earned vintage status). Right up the gut, bounced off a player and hit top speed all over again. Nothing but highlights from this guy.
Any questions? He might not have been the best running back in the game. Teammate Kenjon Barner plowed for 201 yards on 34 carries with three touchdowns. That's going to be a major storyline in the Thomas for Heisman campaign, how much does Barner steal the show?
Johnathan Franklin, UCLA, running back
Week 2 numbers: Had 26 carries for 217 yards. He also caught three balls for 59 yards and a touchdown.
Season numbers: 41 carries for 431 yards and three touchdowns. Four catches for 63 yards and a touchdown.
What went well: Franklin refused to be tackled. He was explosive when he had to be and physical when he had to be. He went around tackles and he went through tackles. After two weeks, he's the nation's rushing leader, averaging a robust 10.5 yards per carry.
Any questions? Can he keep it up? Expect another big game against a porous Houston rush defense, but then it's on to Oregon State, which yielded just 35 yards to Wisconsin. The Bruins have quickly taken to new head coach Jim Mora and new offensive coordinator Noel Mazzone and they put up big numbers against a quality Nebraska team. At least for now, Franklin and the Bruins have to overcome the "are they for real?" stigma.
September, 11, 2012
9/11/12
10:30
AM ET
After this weekend, we're down a player on our Heisman Watch list, and another took a significant stumble.
We have a new No. 1 and our list is very quarterback heavy:
1. Aaron Murray, QB, Georgia:
There has always been that stigma that Murray can't win the "big game." Well, he led Georgia to a pretty big one when the Bulldogs toppled Missouri 41-20 in Columbia, Mo. Sure, it wasn't a ranked team, but when it comes to the SEC race, this was a big win for Murray and the Dawgs. The junior passed for 242 yards and three touchdowns against the Tigers. On the season, Murray has passed for 500 yards and six touchdowns to one interception.
2. Tyler Bray, QB, Tennessee:
Bray continues to dazzle with his arm. He leads the SEC with 643 yards and is tied for first with six touchdown passes. He's also completing 73.8 percent of his passes. On stats alone, Bray could easily be No. 1 on our list, but when you look at the competition he's played, he takes a little dip. A strong showing against Florida's defense this weekend could push him to the top of our list.
3. Marcus Lattimore, RB, South Carolina:
Lattimore didn't have a great day against East Carolina. He rushed for just 40 yards and a touchdown on 13 carries, but the Gamecocks went to the air more and took some of the load off him. Lattimore still has a little rust to shake off, and has totaled 150 rushing yards and three touchdowns, but maintaining his health and stamina is key at this point. Still, he's going to need more production from here on out to move up.
4. Tyler Wilson, QB, Arkansas:
The overtime loss to Louisiana-Monroe and the head injury he suffered in the process caused Wilson to fall. Before he left the game, he looked like his old self, passing for 196 yards with two touchdowns. Once he was out, Arkansas' offense had nothing going for itself. That just shows you how valuable Wilson is. What's unknown is when Wilson will return and how significant his injury is. For the season, Wilson has 563 passing yards and five touchdowns.
September, 11, 2012
9/11/12
10:30
AM ET
Wisconsin went all-in on a
Montee Ball
Heisman Trophy campaign this summer, breaking out the slogan
"This Fall Belongs to Ball"
and a website devoted to last year's finalist. Ball's picture was even plastered on buses around Madison.
Just two games into the season, however, it's fair to ask whether the wheels have already come off Ball's bandwagon.
[+] Enlarge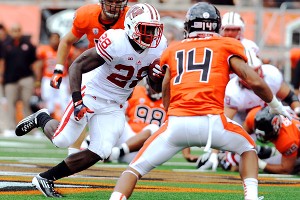 AP Photo/Greg Wahl-StephensOregon State hemmed in Wisconsin running back Montee Ball, holding him to 61 yards on 15 carries.
That's probably going too far, because there is so much football left. Clearly, though, Ball has a lot of work to do if he wants to return to New York City this December. After an OK opening week in which he rushed for 120 yards and a touchdown but averaged just 3.8 yards per carry against FCS opponent Northern Iowa, the Badgers star had only 61 yards on 15 carries in the Badgers' 10-7 loss at Oregon State. It wasn't all his fault as the Wisconsin offensive line was so bad that position coach Mike Markuson got fired after only two games.
Fair or not, Ball will be judged on last year's crazy stats, when he tied an FBS record with 39 total touchdowns. Right now, he's on pace for just seven touchdowns if the Badgers play the same amount of games, and a Big Ten championship game appearance is anything but guaranteed. Ball still has the talent to explode for huge stats the rest of the season, but his early-season numbers could come back to haunt his Heisman chances.
Speaking of Heisman chances, Nebraska quarterback
Taylor Martinez
had a great opportunity to put himself in the forefront of the conversation after an outstanding Week 1 performance. But Martinez and the Huskers fell at UCLA. Martinez had an electrifying 92-yard touchdown run but threw for only 179 yards and no scores, with an interception. He's out, for now.
Michigan State's
Le'Veon Bell
stands as the league's top Heisman candidate after two weeks. His heroics in the opener against Boise State remain fresh in people's minds, and he had an efficient, if not overwhelming performance in the easy win over Central Michigan (18 carries, 70 yards, two touchdowns). Bell will get excellent exposure in this week's prime-time game against Notre Dame and will need to impress.
Ohio State's
Braxton Miller
also is solidly on the radar with another standout stat line in the Buckeyes' win over UCF (155 yards passing, 141 yards rushing, four total TDs). I very nearly placed him in the top five of my ESPN.com Heisman ballot this week. The question is whether Miller can keep up this pace without more offensive help once the schedule gets tougher.
Denard Robinson
knows something about doing it without much help as he accounted for more than 100 percent of his team's offense against Air Force. The Michigan star became the first FBS player to have three career 200-yard passing and rushing games with that win, but is it enough to erase voters' memories of what happened against Alabama? Probably not for now, especially since Robinson did it against a service academy defense. But if he can continue to play like that, he could climb back in the race.
My ESPN.com Heisman ballot for Week 3:
1.
Matt Barkley
, QB, USC
2.
Geno Smith
, QB, West Virginia
3. Bell
4.
De'Anthony Thomas
, RB/WR/KR, Oregon
5.
Collin Klein
, QB, Kansas State
September, 11, 2012
9/11/12
10:30
AM ET
One Big East quarterback has been as impressive as any signal caller in the country through two weeks. Another is the nation's No. 2 passer, though his team will need to win more games to pick him up.
Teddy Bridgewater, QB, Louisville
: All Bridgewater did was complete 30 of 39 passes for 344 yards and two touchdowns, one week after he completed 19 of 21 throws for 232 yards in less than three full quarters. Missouri State and Kentucky have not been top competition, but you can't ask for much more than what the sophomore has done through two weeks. I had him No. 3 on my Heisman watch this week.
Ryan Nassib, QB, Syracuse
: The Orange need to win games or Nassib will never get national recognition. Which is too bad, because he actually has the second-most passing yards in the nation, his 804 trailing Marshall's
Rakeem Cato
by just one yard through two weeks. His 37.5 completions per game are also second, behind Louisiana-Monroe's
Kolton Browning
(42). Nassib's 324 yards and two total touchdowns gave Syracuse a fighting chance against heavily favored USC. He should have a much easier time this week against FBS Stony Brook.
September, 11, 2012
9/11/12
10:30
AM ET
Clemson could own this Heisman Watch list, really. Between quarterback
Tajh Boyd
, receivers
Sammy Watkins
and
Nuke Hopkins
, and running back
Andre Ellington
, you could make a case for any of those guys. In fact, Andrea Adelson and I BOTH put Hopkins at No. 5 on our Heisman Watch lists for ESPN.com this week, and we didn't realize it until after the fact. They're not the only ones in the ACC, though, with a real chance at being in the conversation.
Here's a look at your top three Heisman contenders heading into Week 3:

1. Florida State quarterback EJ Manuel.
He was 11-for-13 for 161 yards and three touchdowns -- in one quarter! Manuel hasn't been sacked once this season, but he also hasn't played an FBS team yet. He hasn't even had to play a full four quarters yet through two games. He's 8-2 as a starter against ACC opponents heading into Saturday's game against Wake Forest. If the Noles can maintain their position in the top 10, Manuel is the league's best hope at a Heisman dark horse this year. Unless, of course, they lose next week to ...
2. Clemson quarterback Tajh Boyd.
The Tigers have arguably been the ACC's best team against the best competition, but it's still early. Boyd, though, has been impressive through his first two games. Against Ball State, he was 19-for-23 for 229 yards passing and three touchdowns. He now has 41 career touchdown passes, which ties him with Woodrow Dantzler for third place on the career passing touchdowns list.
3. Clemson receiver Nuke Hopkins.
Sorry, Sammy, but you're going to have to play your way back onto the list. Hopkins caught six passes for 105 yards with three touchdowns in the first half against Ball State. With his three touchdown receptions, Hopkins tied a school record for receiving touchdowns -- and he did it in one half. Hopkins also now has three consecutive games of at least 100 receiving yards, which ties a school record.
Watch out for:
Virginia Tech quarterback Logan Thomas
. The Hokies' offense has been less than spectacular, but you have to remember the overhaul of personnel around him. Thomas didn't look like a Heisman contender in Week 1 against Georgia Tech, and the Hokies got off to a slow start against Austin Peay.
North Carolina running back Giovani Bernard.
He had an undisclosed injury and didn't play in last week's loss to Wake Forest. There is no update on his status for Saturday's game at Louisville.
Clemson receiver Sammy Watkins.
Watkins, who has been suspended for the first two games, is expected to make his debut this weekend against Furman.
September, 11, 2012
9/11/12
10:30
AM ET
After two weeks of games, here's how I rank the Big 12's best hopes to bring home the Heisman for the second consecutive year.
1. Geno Smith, QB, WVU:
Smith's Mountaineers were idle last week and head to Maryland this week to face FCS member James Madison at FedEx Field, the Washington Redskins' home. It's unlikely Smith will get much playing time in the fourth quarter, but it'd be good for him to go another week with zero interceptions.
2. Collin Klein, QB, Kansas State:
Klein leapfrogged
Landry Jones
with a huge performance on Saturday. Klein had the best individual performance of anyone in the Big 12 on Saturday, and mostly because of that, K-State had the best overall team performance. Klein completed 9-of-11 passes for 210 yards, a touchdown and a late interception in the Wildcats' 52-13 win over Miami. He got back to his touchdown-scoring ways, though, burrowing through the Miami defense for three rushing touchdowns and 71 yards.
3. Landry Jones, QB, Oklahoma:
Jones played well in Oklahoma's 69-13 rout of Florida A&M. In less than three quarters of work, he completed 19-of-28 for 252 yards, two scores and an interception. Jones is still working with new receivers, but to win the Heisman, you'd like to see his completion percentage be a little higher against an FCS opponent. Still, his talent is undeniable.
4. Tavon Austin, WR/KR/PR, West Virginia:
Austin's talent is on display every time he touches the ball. WVU was off last week, but you'll be reminded of how good Austin is the first time he touches the ball against James Madison on Saturday.
Here's how I voted in the ESPN Heisman Watch, a weekly award panel of ESPN analysts and experts.
Matt Barkley, QB, USC
Geno Smith, QB, West Virginia
Marcus Lattimore, RB, South Carolina
Collin Klein, QB, Kansas State
Le'Veon Bell, RB, Michigan State