NCF Nation:

Heisman-Watch-091410
September, 14, 2010
9/14/10
11:00
AM ET
Go ahead and add two new names from the SEC to the Heisman Trophy mix.
[+] Enlarge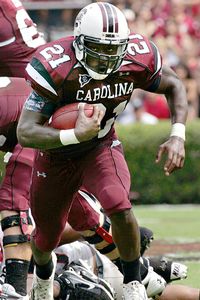 AP Photo/Mary Ann ChastainMarcus Lattimore entered the Heisman conversation after gaining 182 yards against Georgia.
Kentucky's
Randall Cobb
is inventing new ways to score touchdowns, and South Carolina freshman running back
Marcus Lattimore
looks like he's going to be a great one.
Two weeks into the season, this is how I would rank the Heisman contenders in the SEC:
1. Arkansas quarterback Ryan Mallett:
He gets his first big stage this week on the road against Georgia. Mallett has Heisman-like numbers through two games (701 passing yards, six touchdown passes and a 73.1 completion percentage). Now, he has to go do it against a quality team.
2. Auburn quarterback Cameron Newton:
There hasn't been a better dual-purpose quarterback in the league to this point. Newton has accounted for seven touchdowns and is leading the Tigers in rushing with an average of 120.5 yards per game.
3. Kentucky receiver Randall Cobb:
It's hard to imagine the Wildcats winning enough games for Cobb to be a real factor in the race. But anybody who's already scored touchdowns four different ways ought to be a candidate. Cobb is the best all-around player in the league.
4. South Carolina running back Marcus Lattimore:
Yeah, he's only a freshman, but he's going to put up big numbers for the Gamecocks all season. He has 236 rushing yards and four touchdowns in his first two games, and he did it on a big stage last Saturday against Georgia.
5. LSU cornerback Patrick Peterson:
His biggest play last week was a 33-yard kickoff return against Vanderbilt, but he's still worthy of being in the conversation.
September, 14, 2010
9/14/10
10:46
AM ET
Here's a look at what the Pac-10's top Heisman Trophy candidates did over the weekend. This list will start to be whittled down starting next week (for real this time). Or some other names could be added.
[+] Enlarge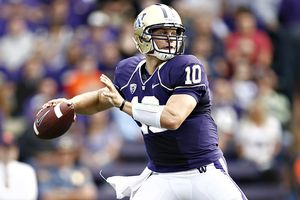 Joe Nicholson/US PresswireJake Locker can make a loud Heisman statement this week against Nebraska.
Jacquizz Rodgers, RB, Oregon State
: Off.
Trending
: Neutral.
Jake Locker, QB, Washington
: Locker completed 22-of-33 for 289 yards with four TDs and no interceptions. If HE leads the Huskies to a win over Nebraska, he'll be in the middle of the race.
Trending
: Up.
LaMichael James, RB, Oregon
: He returned from a one-game suspension and rushed for 134 yards on just 16 carries, with a highlight-reel 72-yard TD scamper that was all him.
Trending
: Up.
Andrew Luck, QB, Stanford
: Luck didn't throw terribly well vs. UCLA -- 11-of-24 for 151 yards, two TDs -- but he also rushed seven times for 63 yards.
Trending
: Neutral.
Nick Foles, QB, Arizona
: Didn't do much vs. The Citadel, but he didn't need to: completing 17-of-22 for 214 yards with a TD and an interception.
Trending
: Neutral.
Matt Barkley, QB, USC
: Another solid performance. Barkley completed 20-of-35 for 202 yards with two TDs and no picks. He also had an impressive -- and surprising -- 20-yard scramble.
Trending
: Neutral.
James Rodgers, WR, Oregon State
: Off.
Trending
: Neutral.
Shane Vereen, RB, California
: Vereen rushed 16 times for 59 yards and a TD and caught three passes for 18 yards and a TD in the blowout win over Colorado.
Trending
: Down.
Chris Polk, RB, Washington
: He rushed for 117 yards on 20 carries, including a 52-yard scamper for a TD.
Trending
: Up.
Ronald Johnson, WR, USC
: He caught five passes for 58 yards with a couple of drops.
Trending
: Down.
September, 14, 2010
9/14/10
10:46
AM ET
This weekly conference-by-conference report card is becoming shorter and shorter for the Big East.
One of the league's top preseason candidates,
Dion Lewis
, could have missed the first two games with a knee injury like last year's winner
Mark Ingram
did, and his chances wouldn't be any lower than they are now. Lewis would have to have tremendous games against Miami and Notre Dame -- I'm talking, like, 250-yard, four-touchdown games -- to get back in the conversation.
If UConn had beaten Michigan, then maybe
Jordan Todman
would have gained some traction. Then again, if I were a foot taller, maybe I'd be in the NBA.
So the only candidate from the Big East with any real appeal right now is still West Virginia's
Noel Devine
. That's largely because his team is 2-0, tough his hopes almost ended in Huntington last Friday night. Devine has been good but not spectacular -- he's currently third in the league in rushing, averaging 111 yards per game. But he's still got a big showcase at LSU, and he can produce major highlights at any second.
Devine is a long shot, but right now, he's the only shot the Big East has.
September, 14, 2010
9/14/10
10:46
AM ET
The ACC's Heisman chances took a serious dive in Week 2, but if there's one race that isn't over until it's over, it's this one. I had Michigan's
Denard Robinson
among the top five candidates I turned into ESPN.com this week, but unlike just about everyone else, I had him fourth because a) I don't think he can keep it up by himself, and b) I'm not sold on Michigan yet. Let's see Robinson rack up those numbers against the Buckeyes and then we'll talk.
My top five Heisman candidates from this week didn't include any ACC players:
1.
Kellen Moore
2.
Terrelle Pryor
3.
Ryan Mallett
4. Denard Robinson
5. Patrick Peterson
Here's how the ACC's Heisman candidates fared, and yes, consider them all under the "stock down" category.
Christian Ponder:
He was outplayed by Oklahoma quarterback
Landry Jones
. Ponder completed 11 of 28 passes for 113 yards with interceptions on back-to-back throws in the third quarter. He completed less than half of his passes for the first time since the 2008 season.
Jacory Harris:
He threw four interceptions (three of which his receivers helped on), and lost the spotlight to Pryor. Three of those picks were catchable, but as Miami coach Randy Shannon said, if the receivers run the wrong route, throw the ball out of bounds. Harris was 22-of-39 passing for 232 yards and a touchdown.
Russell Wilson:
It was an uncharacteristically pedestrian performance for Wilson, who completed just 10 of 30 passes for 105 yards and a touchdown, but unlike his counterparts, he didn't turn it over.
Ryan Williams:
It's not like he lost any talent, he just lost two important starting offensive linemen from last year's roster. Once Williams gets the blocks, he's gone. For the second straight game, though, he was held under 100 rushing yards -- this time without a touchdown.
Joshua Nesbitt:
Regardless of what Nesbitt did, his team lost to Kansas, which right there hurt his chances. So did his receivers, who dropped a few passes and contributed to his 5-of-15 completions. Still, Nesbitt ran for two touchdowns and didn't throw any interceptions.
September, 14, 2010
9/14/10
10:45
AM ET
Here are the five players in the Big 12 with the best chance to win the Heisman after two weeks. Once again, no player from the Big 12 cracked my Heisman Watch ballot, which is at the bottom of this post.
Here's a little more on
my thoughts surrounding the Heisman.
My criteria for this weekly post: These are the players in the Big 12 with the best chances to win the Heisman, not necessarily who I would vote for. My ballot at the bottom is who I would vote for if the Heisman vote were held today.
[+] Enlarge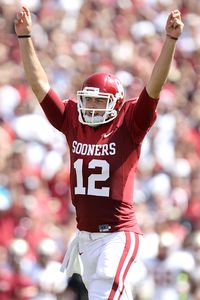 Ronald Martinez/Getty ImagesLandry Jones had 380 yards and four touchdowns in Oklahoma's win over Florida State.
1) Landry Jones, QB, Oklahoma:
How do you win Heismans? Big performances on big stages. So far this season, no team in the Big 12 has faced a stage as big as Oklahoma did on Saturday, and Jones responded with one of the best performances of his career. He threw four touchdowns and completed 30 of 40 passes. Of his 380 yards, 321 were in the first half. Most importantly (for his Heisman chances, anyway), plenty of people saw it.
2) Jerrod Johnson, QB, Texas A&M:
He's put up good numbers (671 passing yards, 6 TD, no INT) through two games, but the Aggies won't be on TV until a big conference opener in Stillwater on Thursday, Sept. 30. A big performance in that game could put Johnson back on the map again nationally after his performance against Texas last season.
3) Kendall Hunter, RB, Oklahoma State:
Hunter didn't go crazy on Saturday against Troy, but his 157 yards have him second nationally in rushing yards and his six rushing touchdowns are the most of any player in the country. The only player ahead of him in rushing yards? Michigan quarterback
Denard Robinson
. The player just behind him in touchdowns? Nebraska quarterback
Taylor Martinez
, who is also seventh nationally in rushing yards.
4) DeMarco Murray, RB, Oklahoma:
A quiet day statistically against Florida State (51 yards, 2 TD), but the Seminoles stacked the box and dared Landry Jones to beat them. He did, throwing it 40 times to Murray's 16 carries. In Week 1, he carried the ball 35 times to Jones' 36 pass attempts. Murray also caught four passes for 52 yards after not having any receptions in his 208-yard rushing performance in Week 1.
5) Blaine Gabbert, QB, Missouri:
Gabbert also has yet to throw an interception, and didn't have to do much in Missouri's win over FCS opponent McNeese State on Saturday. When he threw, he did it well, completing 83 percent (26-of-31) of his passes and taking an early seat when Missouri raced to a 43-0 lead early in the third quarter.
Begging to be on this list:
Taylor Martinez, QB, Nebraska
. He has to do more than outrun inferior competition to get any kind of legitimate mention, but if he keeps running like he has been when conference play hits, look out. If Nebraska runs the table, and he's sitting in November with 1,400 yards rushing and proves himself as a competent passer? It's not impossible. We've got no idea if he can do what he's been doing when he starts facing Big 12 defenses...but what if he can? Shawn Watson says
the Blackshirts were having a tough time
handling him.
My Heisman Watch ballot:
1)
Kellen Moore
, QB, Boise State
2) Denard Robinson, QB, Michigan
3)
Terrelle Pryor
, QB, Ohio State
4)
Ryan Mallett
, QB, Arkansas
5)
Trent Richardson
, RB, Alabama
September, 14, 2010
9/14/10
10:44
AM ET
For the first time in recent memory, the Big Ten has a strong presence in the very early stages of this year's Heisman Trophy race.
Last week, I wrote that I'd wait a while before including any new Heisman candidates.
Denard Robinson
has prevented me from doing so. While there's a long, long way to go, Robinson's performance so far this season has blown away the competition. Two of my preseason Heisman candidates from the Big Ten have slid off the radar, though they can return soon.
I've also included a Heisman horizon category. These are players not only performing well, but guys who have some name recognition nationally because like it or not, hype means a lot in this award race.
[+] Enlarge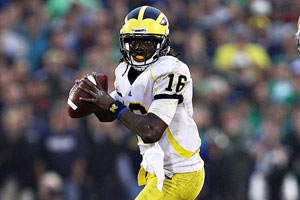 Jonathan Daniel/Getty ImagesDenard Robinson had 502 yards of total offense against Notre Dame.
Let's get started ...
Michigan QB Denard Robinson
Week 2 stat line: 28 rushes, 258 yards, 2 TDs, 24-for-40 passing, 244 pass yards, 1 TD, 0 INT, set Michigan single-game total offense record with 502 yards in win at Notre Dame.

Chances: Soaring. No player in the country has done more to put himself on the national radar than Robinson. He set Michigan's single-game quarterback rushing record in Week 1 and then broke it Saturday against Notre Dame, putting up the fifth-highest rushing total for any Michigan player in team history. The speed is one thing, but Robinson also shows an ability to make clutch plays both with his legs and his arm. He's doing it all right now for one of the nation's most recognizable programs, which is a great formula for Heisman contention.

Up next: Saturday vs. Massachusetts
Ohio State QB Terrelle Pryor
Week 2 stat line: 12-for-27 passing, 233 yards, 1 TD, 0 INTs, 20 carries, 113 rush yards, 1 TD in win against Miami.

Chances: Hovering. Pryor remains in the first tier of Heisman candidates, though he'll need to be a bit more polished in the coming weeks. He avoided a major mistake against Miami, although he made a few bad throws into coverage that should have been intercepted. Pryor attacked downfield well at times and had a very nice performance as a runner. He'll have some chances to put up big numbers the next four weeks as Ohio State faces Ohio, Eastern Michigan, Illinois and Indiana.

Up next: Saturday vs. Ohio
Wisconsin RB John Clay
Week 2 stat line: 23 carries, 137 rush yards, 2 TDs in win against San Jose State.

Chances: I'm one of the few national media members giving Clay any love for the Heisman right now, but he deserves it. He has become one of the nation's most consistent backs, eclipsing 100 rushing yards in eight straight games. Clay has at least one rushing touchdown in his past eight games and has gone for two or more touchdowns in four consecutive games stretching back to 2009. The burly junior might not get noticed nationally for a while because of Wisconsin's soft schedule.

Up next: Saturday vs. Arizona State
Heisman horizon:
Iowa QB
Ricky Stanzi
, Purdue DE Ryan Kerrigan
September, 14, 2010
9/14/10
10:30
AM ET
We have the same two guys in our non-AQ Heisman Watch for Week 3. Take a wild guess:
Case Keenum
, Houston. Keenum went 15-of-24 for 279 yards with an interception in a 54-24 win over UTEP on Friday night. Keenum had his streak of 31 straight games with a touchdown pass snapped, and actually hurt himself on the interception when he tried to make a tackle. Keenum missed the rest of the game and is day-to-day with mild concussion symptoms. He has yet to play an entire game this season after sitting out the second half of a blowout win over Texas State in the opener. His two-game totals: 32-of-46 for 553 yards, five touchdowns and three interceptions.
Kellen Moore
, Boise State. The Broncos were off this past week and play Wyoming on Saturday. The last time we saw Moore, he was engineering a last-minute comeback in a 33-30 win over Virginia Tech. His stats from that game: 23-of-38 for 215 yards with three touchdowns and no interceptions.
Long, long, long shot:
Colin Kaepernick
, Nevada. Kaepernick is worth mentioning because he is such a dual-threat quarterback. He had a huge game in a 51-6 win over Colorado State on Saturday night with 402 yards of total offense. So far this season, he has 547 yards passing with two touchdowns, and 221 yards rushing with four touchdowns.