NCF Nation:

Heisman-watch-092110
September, 21, 2010
9/21/10
10:45
AM ET
There's a familiar face in this week's Heisman Trophy update in the SEC.
If you counted out Alabama running back
Mark Ingram
because he missed the first two games, think again. He's back and back with a vengeance. Not only that, but he goes head-to-head against the top Heisman candidate in the conference this week -- Arkansas quarterback
Ryan Mallett
.
The storylines in the Alabama-Arkansas game are too many to count, but one of them is definitely the Heisman Trophy ramifications.
Here's a rundown of the SEC's top Heisman candidates entering Week 4:
1. Arkansas quarterback Ryan Mallett:
He certainly has Heisman-like numbers with more than 1,000 yards passing and nine touchdown passes in three games. Now, he has to do it on a big stage, and it doesn't get much bigger than Saturday's top-10 matchup with Alabama. If Mallett puts up big numbers against the Alabama defense, especially if the Hogs should win, he's probably the front-runner nationally the rest of the way. He gets a lot of points for the way he led the Hogs down the field for the game-winner last week on the road against Georgia.
2. Alabama running back Mark Ingram:
OK, he's only played in one game, but he had 119 yards on five carries by halftime. Another big game against the Hogs this weekend and Ingram will be right back in the thick of it nationally. He looked better than ever last week in the 62-13 rout of Duke and should be fresh for the these next three games against top-15 foes -- Arkansas, Florida and South Carolina. Despite his knee surgery, it looks like he's going to at least get a shot to repeat.
3. Auburn quarterback Cameron Newton:
He's second only to Mallett in the SEC in total offense and has thrown for seven touchdowns and run for two more. His two touchdown passes in the second half to rally Auburn from a 17-0 deficit last week in the 24-21 overtime victory against Clemson is the kind of stuff Heisman voters are looking for. Newton also has that run-pass thing going on that makes him a little different. If the Tigers keep winning, don't count him out.
4. Kentucky receiver Randall Cobb:
Mr. Do-it-all remains a long shot, but the guy is a touchdown machine. Sort of like you could count on former Florida star Percy Harvin to score at least one touchdown every time he was on the field for the Gators, the same holds true for Cobb. And he may do it rushing, receiving, passing or returning a kick.
5. LSU cornerback Patrick Peterson:
He's not getting as many chances to return kicks. But did you see his two interceptions last week in the 29-7 win over Mississippi State? Enough said. He's easily one of the most explosive athletes in all of college football.
September, 21, 2010
9/21/10
10:33
AM ET
Our list has changed, but here's a look at what the Pac-10's top Heisman Trophy candidates did over the weekend.
Andrew Luck, QB, Stanford
: Luck is the nation's No. 3 rated passer. He completed 17 of 23 throws for 207 yards with four TDs in the blowout win over Wake Forest. Oh, he also rushed for a 52-yard TD. For the year, he's thrown 10 TD passes and has yet to be intercepted.
Trending
: Up.
LaMichael James, RB, Oregon
: James rushed for 227 yards and two TDs vs. Portland State. For the year, he's rushed 30 times for 361 yards and three TDs. According to this calculator, that means he averages 12 yards per carry. Gulp.
Trending
: Up.
Nick Foles, QB, Arizona
: Foles not only completed 28-of-39 for 303 yards with two TDs and an interception in the Wildcats win over No. 9 Iowa, he also led a clutch, game-winning drive. He leads the Pac-10 with 292 yards passing per game.
Trending
: Up.
Jacquizz Rodgers, RB, Oregon State
: He rushed for 132 yards on 24 carries with two TDs in a 35-28 win over Louisville. He also caught five passes for 22 yards.
Trending
: Neutral.
September, 21, 2010
9/21/10
10:33
AM ET
I've talked here before about the dearth of legitimate Heisman Trophy candidates in the Big East. The leading and perhaps only contender is West Virginia's
Noel Devine
.
Devine has rushed for at least 100 yards in each of his first three games and is currently the No. 15 running back in the FBS with 354 total yards. And you get the feeling he hasn't yet hit his stride. This week's game at LSU offers him the opportunity to make a huge statement.
But here's another Big East player to at least consider. What if I told there's a quarterback who ranks in the top 25 nationally in passing efficiency, completions per game and yards per game? Who's completing 70 percent of his passes with seven touchdowns and just one interception? And who already has a Heisman-esque comeback on his résumé?
Of course, I'm talking about
Geno Smith
. The Mountaineers quarterback doesn't have the name recognition yet to be a serious candidate. But the more he keeps putting up great numbers, the more people might have to pay attention.
September, 21, 2010
9/21/10
10:32
AM ET
The Big Ten has at least two legitimate Heisman Trophy candidates, and another with a chance to join the lead group.
Denard Robinson
continues to put up silly stats, while
Terrelle Pryor
had a record-setting performance Saturday against Ohio. Wisconsin running back
John Clay
had another 100-yard rushing game, but the junior has yet to have the premier performance he needs to earn serious Heisman consideration.
Let's get started ...
Michigan QB Denard Robinson
Week 3 stat line: 10-for-14 passing, 241 yards, 2 TDs, 1 INT, 17 rushes, 104 rush yards, 1 TD in win against Massachusetts.
Chances: Still on the rise. Robinson made his first mistake of the season, tossing an interception on his first pass attempt against UMass, but after that he did no wrong. He continues his evolution as a passer with a strong accuracy and the ability to hit open receivers down the field. Robinson used his weapons, namely wide receiver Darryl Stonum, and still contributed as a runner without taking nearly as many hits. How long he keeps this up is unclear, but Robinson's transformation from being a total one-dimensional player in 2009 has been remarkable.
Up next: Saturday vs. Bowling Green
Ohio State QB Terrelle Pryor
Week 3 stat line: 22-for-29 passing, 235 yards, 2 TDs, 2 INTs, 8 rushes, 35 rush yards, 1 TD in win against Ohio. Set team record with 16 consecutive completions in the first half.
Chances: Still good but could have been even better. If not for the two interceptions, Pryor likely would have had his best performance in a Buckeyes uniform. His first-half accuracy was tremendous, and he's much more on target this year after seeing his completion ratio dip to 56.6 percent in 2009. Pryor likely will have to run more against better opponents, but he's showing good patience in the pocket early on. You figured the interceptions were coming after he dodged several bullets in the first two weeks. Pryor has to cut out those throws, but he remains very much in the Heisman mix and has a chance to put up huge numbers against Eastern Michigan.
Up next: Saturday vs. Eastern Michigan
Wisconsin RB John Clay
Week 3 stat line: 22 carries, 123 yards, 1 TD in win against Arizona State.
Chances: Needing a boost soon. I'm a huge John Clay fan and would love to see him get more Heisman love, but he really needs a huge performance soon. Like 220 yards, four touchdowns huge. Clay recorded his ninth consecutive 100-yard rushing performance, the longest streak in the FBS, and had an impressive 19-yard touchdown run late in the third quarter. The junior also was on the verge of several breakaway runs. But he also failed to convert two third-and-short situations in the fourth quarter, running east-west instead of up the gut. Clay continues to share carries, which doesn't help his Heisman chances, and he'll need a strong effort Oct. 2 at Michigan State to remain on the radar.
Up next: Saturday vs. Austin Peay
Heisman horizon:
Purdue DE Ryan Kerrigan, Ohio State DE Cameron Heyward
September, 21, 2010
9/21/10
10:32
AM ET
Unless Michigan quarterback
Denard Robinson
suddenly transferred into the ACC, the league's Heisman hopes remain on the backburner again this week. Not to say that some consistently spectacular performances couldn't change this picture, but as of right now, nobody from the ACC is in it. Still, the conference has some long shots worth keeping an eye on, and one quarterback has worked his way to the top of this week's list:
Stock up
[+] Enlarge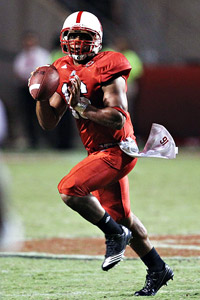 Streeter Lecka/Getty ImagesRussell Wilson completed 26 of 40 passes for 333 yards and three touchdowns against Cincinnati.
NC State quarterback Russell Wilson:
The more the Pack continues to win, the more credit Wilson will start to earn nationally. He helped his team to its first 3-0 start in eight seasons with Thursday night's nationally televised win over Cincinnati. He's on a new streak -- 131 passes without an interception, dating back to last year's game against Virginia Tech. (His last streak was 379.) He's thrown for over 300 yards and three touchdowns in two of the three games and ranks third in the ACC this week in passing average (248 yds./game) and third in total offense (270.7 yds./game.
Georgia Tech quarterback Joshua Nesbitt
: He has rushed for 267 yards and six touchdowns in three games. Nesbitt leads the ACC in touchdowns scored and ranks third in rushing (89.0 ypg). He has also thrown three touchdown passes in each of the past two games, and was a major factor in the Jackets' first Coastal Division and ACC win.
Stock status quo
Miami quarterback Jacory Harris:
The Canes had a bye week following their loss at Ohio State, but Harris will have another opportunity in the national spotlight on Thursday night at Pitt. His receivers/running backs/tight ends need to help him out by running the right routes and catching the ball, as the blame for his four interceptions can be shared. Harris is fifth in the ACC in passing average with 221 yards per game.
Florida State quarterback Christian Ponder:
He helped his team rebound from the road loss at Oklahoma with a home win over BYU (14-of-21 for 149 yards and a TD), but there hasn't been anything extraordinary about his performances so far this season. He injured his triceps this past Saturday, but is still expected to start on Saturday against Wake Forest. Ponder is No. 9 in the ACC in passing average with 143 yards per game, and has thrown five touchdowns and three interceptions.
Stock down
Virginia Tech running back Ryan Williams:
He pulled his hamstring in the second quarter against East Carolina this past Saturday, opening the door for
David Wilson
. Williams isn't among the ACC's top 10 rushers this season. We all know how talented he is, but until his numbers start to reflect that, this will be the last time his name appears on the ACC Heisman Watch.
Players to keep an eye on:
Clemson QB Kyle Parker:
He showed a lot of toughness in the loss at Auburn, and the Tigers look capable of a second straight appearance in the ACC championship game. They'd have to win it in order for Parker (or anyone else in the ACC) to get any serious consideration.
Boston College RB Montel Harris:
The Eagles would probably have to go undefeated for Harris to get this kind of attention, but he's the league's leading rusher after playing two unheralded opponents in Kent State and Weber State.
Here are my Top 5 Heisman candidates this week for ESPN.com:
Ryan Mallett
Denard Robinson
Kellen Moore
Terrelle Pryor
Andrew Luck
September, 21, 2010
9/21/10
10:30
AM ET
Here is your non-AQ Heisman Watch for Week 4. We are essentially down to one main contender after Houston quarterback
Case Keenum
was lost for the season with a torn ACL in a loss to UCLA.
That leaves Boise State quarterback
Kellen Moore
as the front-runner. But there are a few other players to keep an eye on as the season moves forward.
Front-runner
Boise State QB Kellen Moore
. Last week in a dominating win 51-6 win over Wyoming, Moore went 20-of-30 for 370 yards with two touchdowns and one interception. So through two games, Moore is 43-of-68 for 585 yards with five touchdowns and one interception. This weekend Moore and the Broncos face another big test with Oregon State coming to town. How Moore and Boise State do will determine whether he stays in the Heisman race.
Players to watch
Nevada QB Colin Kaepernick
. He continues to rack up eye-popping numbers in total offense. Last week in a 52-31 upset over California, he had 329 total yards and five touchdowns. Already on the season, Kaepernick has 13 total touchdowns and 1,097 yards of total offense. Nevada has a big game on the road against BYU this weekend. If Kaepernick continues to put up these numbers and Nevada continues to win, he should become a part of the Heisman discussion -- though many will perceive him as being a "system quarterback" out of that Pistol offense.
San Diego State RB Ronnie Hillman
. Maybe not for this year, but Hillman is a player to watch for Heisman consideration in the coming years. Already this season he has seven rushing touchdowns. In a heartbreaking 27-24 loss to Missouri, Hillman ran for 228 yards, the first Aztec player to run for over 200 yards in a game in seven years. He also set a new Mountain West Conference freshman single-game rushing record. His play has helped San Diego State get to 2-1 and drastically improved a pretty terrible run game. San Diego State, of course, is the home of Marshall Faulk, whom many still believe should have won the Heisman in 1992.
September, 21, 2010
9/21/10
10:06
AM ET
Big moves in this week's Heisman Watch after lackluster performances from a pair of
quarterbacks on last week's list.
I still don't have any Big 12 players on my weekly ballot, but here are the five players in the Big 12 with the best chance at taking home the stiffarm trophy.
1) Landry Jones, QB, Oklahoma:
Jones chugged along with a decent performance against Air Force, but will be under the microscope again this week with his first road start of the season after struggling away from Owen Field as a freshman.
2) Taylor Martinez, QB, Nebraska:
Yep. I'll go there. Martinez has been
Denard Robinson
Lite in his first three starts, and accounted for 287 yards of total offense without a turnover in his first career road start. If he keeps at this pace, and the defense keeps the loss column clean, Martinez will have major buzz, especially if he breaks onto the scene with flashy performances on national television against Kansas State and Texas.
Don't look for his streak of three 100-yard rushing games to come to an end any time soon, and he's No. 7 in rushing nationally, and behind only Robinson for quarterbacks.
3) Kendall Hunter, RB, Oklahoma State:
An underwhelming stat line (11 car, 59 yards), but Tulsa dared Oklahoma State to beat them with the pass and that's exactly what the Cowboys did. He's still No. 3 in rushing nationally.
4) Daniel Thomas, RB, Kansas State:
Thomas is violating fewer and fewer
Heismandments
, is clearly carrying a team by himself and is on track for 2,208 rushing yards this year.
5) Ryan Broyles, WR, Oklahoma:
Like Thomas, I don't like Broyles' chances to get serious consideration, but he's still got 100 yards receiving in six consecutive games dating back to last season and his 31 receptions are second-most nationally. He's on track for over 1,500 yards receiving.
My ballot for this week's Heisman Watch:
1)
Kellen Moore
, QB, Boise State
2) Denard Robinson, QB, Michigan
3)
Ryan Mallett
, QB, Arkansas
4)
Terrelle Pryor
, QB, Ohio State
5)
Mark Ingram
, RB, Alabama