NCF Nation:

Henry Anderson
February, 12, 2014
Feb 12
5:30
PM ET
Get this. Stanford's Lance Anderson actually
wanted
to be a defensive coordinator in the Pac-12. Crazy, right? Biletnikoff winners to lose sleep over; Doak Walker finalists dashing and gashing for 20 yards a pop; and All-American offensive linemen that must be displaced. Oh, the humanity.
"There are some pretty good quarterbacks, too," says Anderson.
Oh yeah, the quarterbacks.
[+] Enlarge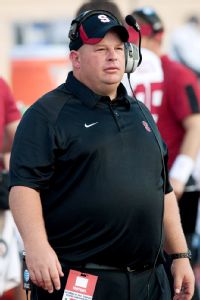 Peyton Williams/Getty ImagesLance Anderson, who has been on Stanford's staff since 2007, will have to replace some big names on the Cardinal's 2014 defense.
Anderson has his wish. With the departure of Derek Mason,
who was named the head coach of Vanderbilt last month
, Anderson takes over one of the most respected defensive outfits in all of college football. The Cardinal have led the conference in scoring defense and been ranked in the top 15 nationally in three of the last four years. They live by the mantra #partyinthebackfield and have put the brakes on some of the nation's top offenses.
Now it's Anderson's turn to add his own flavor to the scheme -- however minor it might be.
"Every year we tweak a little bit no matter what," said Anderson, who first came to Stanford in 2007 with Jim Harbaugh. "We go back and watch film and do all of our self-scouting and analysis. We try to find places where we can get better and improve and that's naturally going to lead to tweaking. I think every coordinator has a different feel and some stuff you might like a little better than the other guy.
"We've been in a system for a few years now and I think the kids are really comfortable with that. They like it. And I think the systems we're in on both sides of the ball suit our personnel really well. Vic Fangio came in in 2010, installed the system at that point and we've kept it pretty similar ever since."
That includes transitions from Fangio to the co-defensive coordinator team of Jason Tarver and Mason to just Mason and now to Anderson, who will continue to work with the outside linebackers after coaching the defensive tackles his first two seasons on The Farm.
Equally known as a top-flight recruiter, Anderson must now help the Cardinal transition to life without some of their marquee players. Gone next year are linebackers
Shayne Skov
and
Trent Murphy
, defensive end
Ben Gardner
and safety
Ed Reynolds
. All were major contributors in one form or another to Stanford's appearances in four straight BCS bowl games.
Despite those losses, Anderson is confident the Cardinal have the depth -- both in and out of the locker room -- to stay atop the defensive standings.
"I look at guys like
A.J. Tarpley
and
Jordan Richards
who have played a lot of football and they really stand out," Anderson said. "Both guys display some natural leadership and they are well-respected by their teammates.
Henry Anderson
and
David Parry
are a couple of other guys who are really looked up to among the defensive players. I think we'll be OK."
Interestingly enough, the Pac-12 has seen the defensive coordinators from the top five scoring defenses
move on after the 2013 season
. Mason went to Vanderbilt, Nick Aliotti retired at Oregon, Justin Wilcox moved to USC with Steve Sarkisian, Lou Spanos returned to the NFL and Clancy Pendergast was not retained with the Trojans after Sarkisian came in. Three of those were replaced internally, with Anderson, Don Pellum (Oregon) and Jeff Ulbrich (UCLA) all being promoted. Pete Kwiatkowski joins Chris Petersen in Washington by way of Boise State and Wilcox followed Sark. So despite the transitions, the continuity among coaching staffs remains relatively unscathed.
However, that combination of coordinator shuffling, along with some A-list offensive players returning in 2014, makes for an interesting setup. The Pac-12 is known for its offensive diversity, and when you factor in the possibility of nine teams returning their starting quarterback, the dice seem loaded to the offensive side of the ball.
"There is a lot of offensive talent in this league and it doesn't look like that's going to slow down," Anderson said. "The quarterbacks all have experience. It's not going to be easy.
"We know that every week we are going to be tested. All we can do is try to go out and learn the techniques and the fundamentals and get the physical and mental mastery of the position. Once we get that in spring ball and the preseason, it's just matter of going out and applying what we've learned during the season. Every week is going to be different. All we can do is prepare the best we can, master the position and try to apply it on Saturdays in the fall."
December, 29, 2013
12/29/13
5:00
PM ET
LOS ANGELES -- Michigan State's defense is preparing vigorously for Stanford's offense as well as for life without its leader, middle linebacker
Max Bullough
.
Despite Bullough's shocking suspension, the standards haven't changed for the "Spartan Dawgs," who, as linebacker
Denicos Allen
noted Sunday, want to show everyone why they're the nation's No. 1 defense.
[+] Enlarge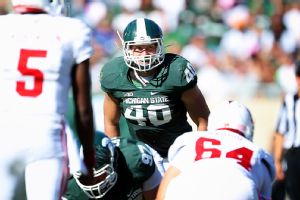 Mike Carter/USA TODAY SportsHow will Michigan State's defense adjust without Max Bullough?
But before the Rose Bowl Game presented by VIZIO, MSU's defenders might want to set aside some time to examine Stanford's defense, specifically the way the unit adjusted without one of its best players. The Cardinal lost defensive end
Ben Gardner
to a season-ending torn pectoral muscle in late October.
Like Bullough, Gardner is a captain and one of the defense's top performers, racking up 4.5 sacks, 7.5 tackles for loss and eight quarterback hits, the most on the team at the time. He's so good that he earned first-team All-Pac-12 honors despite missing Stanford's final five games.
Twelve days after Gardner's injury, Stanford held Oregon's dynamic offense scoreless for three quarters in a 26-20 win. The Cardinal surrendered just 62 rush yards and 312 total yards and recorded three sacks.
Stanford's defensive statistics without Gardner weren't dramatically different than they were with Gardner. The Cardinal allowed less than 75 rush yards in four of the final five games and finished with an outstanding effort against Arizona State's explosive offense in the Pac-12 championship. Arizona State had just 14 points and 311 yards, well below its season averages (41.0 ppg, 460.8 ypg).
"You feel for your teammates, but at the same time, you have to keep your vision on what the team goal is," Stanford linebacker
Shayne Skov
said. "You recognize that, unfortunately, somebody is gone, is no longer an active participant, but you have to keep moving forward.
"Whenever you lose someone as talented and as important a leader and integrated into your team, as I'm sure Max was and Ben [are], you have to find ways to, not replace them, but work and make an adaptation."
The circumstances of the losses are different -- Gardner was injured and remains with his teammates for the Rose Bowl; Bullough was suspended right before the team left for California and will not attend the game. But the realities are the same: There's shock and disappointment, and then there's another tough game to play.
"I kept a coldblooded approach," Stanford linebacker
Trent Murphy
said, "and kept moving forward and knew there were still games to be played and work to be done. Then, at the senior banquet, [Gardner] spoke and got everyone choked up a little bit and then it was like, oh man.
"Other than that, I kept moving forward."
Stanford benefited from replacing Garnder with
Henry Anderson
, a senior who had earned second-team All-Pac-12 honors in 2012. Anderson suffered a knee injury in September but returned for the Oregon showdown, Stanford's first game without Gardner.
Michigan State's
Kyler Elsworth
isn't as decorated as Anderson, but the fifth-year senior who could start in Bullough's place brings experience and familiarity to the role. He's not Bullough in terms of system knowledge and communication -- no one is -- but he understands the scheme and the personnel around him.
"We've won because of chemistry here," Spartans coach Mark Dantonio said Sunday. "There's an opportunity for somebody else to lead."
Elsworth, primarily a special-teams player during his career, embraces that opportunity "ten-fold."
"[Stanford] lost a player, and that's an adverse situation, that's something you've got to overcome," Elsworth said. "Our team has been doing that for a while now."
He mentioned safety
RJ Williamson
stepping in for safety
Isaiah Lewis
because of injury and a targeting ejection against Northwestern, and the way the coaching staff handled Dantonio's health-related absence during the 2010 season.
"There's countless times where our team has rallied around everybody," Elsworth said, "stepped up and came into the game with the mind-set that, 'Hey, no matter what is thrown at us, we can handle it.'
"This is no different. It's another curveball. Guys have stepped up their leadership, I'm stepping up my leadership, and we're very prepared for this game."
November, 6, 2013
11/06/13
9:00
AM ET
When the Andrew Luck era ended at Stanford, coach David Shaw knew for his team to maintain the high standard of play, it would have to commit to the old evolutionary adage of adapt to survive.
Gone were the 43 points per game the team enjoyed during Luck's senior year -- Shaw's first year as head coach. With the graduation of a player like Luck, Stanford's offensive production was expected to take a step back.
[+] Enlarge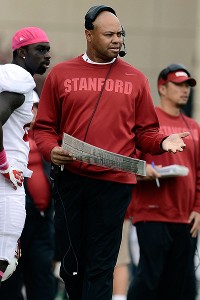 Ron Chenoy/US PresswireStanford coach David Shaw credits his team's record in close games to the players' resilience.
And it did.
Since the start of the 2012 season, the Cardinal have averaged just 29.6 points per game -- two touchdowns fewer on average per contest than when Luck was running the show. And yet during that stretch, Stanford has still gone 19-3 against opponents that boast a 62.6 winning percentage. That ranks 10th among all FBS teams over the last year and a half.
The Cardinal have adapted and survived behind a brutalizing defense and power-running game. Though they aren't scoring as many points, they are speeding the game up by slowing it down. And they are winning.
Good enough has been good enough for Stanford.
Since the start of the 2012 season the Cardinal are 10-3 in games decided by one possession (eight points). In those 22 games, their margin of victory is 11.6 points. As Shaw is fond of saying, football isn't a beauty contest.
"We expect to be in tight games," Shaw said. "We practice it. We spend a lot of time working on red zone. A lot of time working on overtime, two-minute offense, two-minute defense, the things that happen at the end of the game, so when we get in those times during the game, we just act and react."
Compare that to No. 3 Oregon, Stanford's opponent Thursday night in Palo Alto in a game that is sure to have a massive impact on the Pac-12 and BCS pecking order. Over that same stretch, the Ducks have enjoyed a margin of victory of 32.1 points per game. While the Cardinal have been in 13 one-possession games, Oregon has been in one. Just one. For those with a short memory, it was last year's 17-14 overtime loss to the Cardinal at Autzen.
"All it really means is we're doing our job and executing," said Oregon quarterback
Marcus Mariota
. "We don't look at something like that as a bad thing. You execute and you win a ball game. That's what the main intent is. In any situation we have confidence the coaches will do an awesome job preparing us and we'll go out there with confidence and be comfortable in whatever situation."
This year could present another close situation. Oregon coach Mark Helfrich said he's expecting another tight, drag'em-out showdown with the veteran Cardinal defense.
"When you look at their defense and their two-deep, 15 or 16 are seniors," Helfrich said. "And there is so much depth. So much continuity. It feels like we've been playing against
Trent Murphy
and [
Shayne] Skov
and [
A.J.] Tarpley
for 20 years. They are obviously very confident in what they do, and I think their offense will grind it out and create some situations. But I know at the end of the game they are going to have confidence. Hopefully so will we."
Maturity and experience is obviously a big reason for Stanford's success in close games. Take the last win -- a 20-12 victory over Oregon State in Corvallis. A late fumble could have swung the momentum to OSU's favor. But the veteran Cardinal defense stiffened and preserved the win.
"They played us well not only physically, but they played a very smart game," said Oregon State coach Mike Riley. "I think the combination of what they have, which is physical talent and lots of experience, is a positive for them."
The Cardinal, however, will be without one of their veteran leaders in defensive end
Ben Gardner
, who is out of the rest of the year with a pectoral injury. The fifth-year senior was a team captain and has been an integral part of Stanford's defensive success for not only his pass-rushing abilities, but also for his ability to occupy blockers which opens things up for the outside linebackers. However, the Cardinal will get defensive end
Henry Anderson
back, who has been out since September with a knee injury.
Josh Mauro
, who has been filling in for Anderson, will replace Gardner.
Despite Gardner's absence, there isn't much this Cardinal team hasn't seen. And it's that experience they'll draw from against an Oregon team that averages more than 55 points per game.
"When things don't go our way during the game, we don't lament over it," Shaw said. "I think our maturity helps that. When you don't play your best football and end up in a tight game, we don't have a lot of guys spending a lot of time being upset how they didn't play well in the first or second or third quarter. They know it's a tight game. They know they have a chance to win it so let's go out and win it."
And the Cardinal also know they are going to have to get their offense moving more efficiently than it has in the last three games -- two of which were decided by eight or fewer points. Stanford has averaged slightly more than three touchdowns per game. And a lot of that falls on the shoulders of quarterback
Kevin Hogan
.
"When Kevin has a not-great game, it's mechanics, and we've got to keep working on that and get him to be consistent and he's working extremely hard," Shaw said. "Everybody hates when I say it, but he's still young. We don't have a huge sample size of him playing football. He played so well early that everyone is shocked when he doesn't have a great game. But I think the arrow is still pointing up. He's got a chance to be a great college quarterback and we hope that surfaces again this week coming up."
October, 31, 2013
10/31/13
5:30
PM ET
Apologies to the eight Pac-12 teams playing this trick-or-treat week, but this slate of games really is a light murmur before the hype volume is turned up to 11 next week.
The conference's two highest-ranked teams -- No. 2 Oregon and No. 5 Stanford -- are not only off this week, they square off next Thursday in what should be the Pac-12 game of the year.
That doesn't mean there aren't games worth watching over the next three days. Arizona State will try to prove it can beat a solid team on the road Thursday night at Washington State. USC's visit to Oregon State is intriguing on Friday night. And there are always upset possibilities as Arizona and UCLA are heavy favorites at California and Colorado, respectively.
[+] Enlarge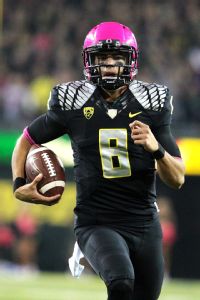 Scott Olmos/USA TODAY SportsMarcus Mariota will have the opportunity to make a Heisman Trophy statement as well as put the Ducks in the top position in the Pac-12 race next Thursday at Stanford.
But those games won't attract eyeballs from all areas of the country the way the Ducks-Cardinal showdown will. Oregon will be trying to polish its national championship contender bona fides with its toughest test yet -- Ducks quarterback
Marcus Mariota
also could make a Heisman Trophy statement, and Stanford will be trying to take control of the Pac-12's North Division, as it did last year when it shocked the heavily favored Ducks 17-14 in overtime in Autzen Stadium.
Still, the primary focus for both teams was and will be more on themselves this week. There's recruiting calls to make and injured guys needing to get treatment. Both teams have banged-up players whose presence could be critical for the matchup, most notably Stanford with defensive end
Henry Anderson
and receiver
Devon Cajuste
. Stanford already announced that defensive end
Ben Gardner
is out for the season with a pectoral injury.
Earnest game preparation won't begin until the weekend, as both teams are trying to stick to a typical game-week schedule.
Even though both coaches want to keep the emotions contained and treat the matchup like any other, there's no question that the buzz started on their respective campuses not long after each dispatched a tough opponent last Saturday, with the Cardinal winning 20-12 at Oregon State and Oregon running away from UCLA in the fourth quarter for a 42-14 victory.
"We know that it's there," Stanford coach David Shaw said. "The guys know what the game is going to be about."
The teams have split their last four meetings, with Stanford winning in 2009 and 2012. Shaw is 1-1 as the Cardinal head coach against the Ducks and he was 1-1 as the team's offensive coordinator under Jim Harbaugh. This will be Mark Helfrich's first taste as the Oregon head coach; he was the Ducks' offensive coordinator under Chip Kelly the previous four meetings.
While the game will be heated and the stakes high, Shaw and Helfrich seem to get along well. They chatted frequently during the Pac-12 meetings in May. They certainly have a lot in common, as both replaced charismatic former head coaches credited with creating a national power before bolting for the NFL.
And, yes, they talked about exactly that.
"Mark and I talked about that a couple of times," Shaw said. "I think he's done it perfectly. You have to completely take your ego out of it. So many people say from the outside, 'How are you going to make this your program?' You look at it and say, 'This is not my program, it's the kids' program.' Every decision you make is what's best for the kids. And if the scheme is great, who cares if they call it Chip Kelly's scheme? Or Jim Harbaugh's scheme? Whoever, it doesn't matter. The things that work, you don't change. The things that don't work, you take them out."
However, they won't be chatting much over the next six days.
Both coaches subscribed to the notion of nameless, faceless opponents and every game being equally big. That's what elite programs do. Preparation is always the same. Every game is big when conference and national titles are the chief goal.
But the fact is the Oregon-Stanford game is bigger, and has been now for going on four years. We know this because all of the college football nation will be tuning in a week from now, just as it did last year, and in 2011 and 2010.
October, 31, 2013
10/31/13
5:00
AM ET
1. Michigan's feuds with Ohio State and Notre Dame always drew more attention than its games with Michigan State. But that has changed, and not, Wolverines coach Brady Hoke said Wednesday on the
ESPNU College Football Podcast
, because the Spartans won four in a row from 2008-11. "I think some of the changes with the divisional races puts a little more emphasis on this football game," Hoke said. "But from a passion standpoint … it's always been a very physical game. It's always a game that been played through the whistle. The intensity of the rivalry is there. It's real."
2. Florida Atlantic head coach Carl Pelini and defensive coordinator Pete Rekstis resigned, a source told my colleague Brett McMurphy, because they attended a party where people used marijuana. I guess the coaches picked the wrong state in which to attend the party. According to Governing magazine, 21 states and the District of Columbia have legalized some form of marijuana usage. No, Florida is not one of them. But still this story, in 2013, is a stunner. Maybe FAU wanted Pelini (5-15 in two seasons) out?
3. Stanford senior defensive end and team captain
Ben Gardner's
season-ending pectoral injury means that the Cardinal will have started only two games with their preseason starting defensive line. Senior
Henry Anderson
hurt his knee in the second game against Army. That the line has remained a strength for the Cardinal is a credit to fifth-year senior
Josh Mauro
, who pretty much turned Anderson into Wally Pipp. But it's a shame that the three seniors will have played together so little in their final season.
October, 27, 2012
10/27/12
9:49
PM ET
PALO ALTO, Calif. -- It counts the same as any other win, but Stanford's
24-17
victory over Washington State on Saturday isn't one the Cardinal will feel all too good about.
Against the Pac-12's No. 11-ranked rush defense, Stanford (6-2, 4-1 Pac-12) managed just 120 yards on the ground -- its third-lowest total of the season -- as running back
Stepfan Taylor
(20 carries, 56 yards) was rendered largely ineffective.


WSU (2-5, 0-5) outgained Stanford 385-256 and controlled the tempo for most of the game, but a pair of big plays by the Cardinal proved to be the difference. First, a 70-yard touchdown pass from
Josh Nunes
to
Jamal-Rashad Patterson
in the second quarter, which came as a result of broken coverage, and then a 25-yard interception for a touchdown from safety
Ed Reynolds
in the fourth quarter.
The good news for Stanford? Most of the Bay Area -- evident by the sparse crowd at Stanford Stadium -- had their attention on the San Francisco Giants and Game 3 of the World Series.
Here are a few highlights from Stanford's less-than-impressive win:
It was over when:
Henry Anderson
sacked WSU quarterback
Jeff Tuel
with the Cougars facing second-and-goal from the 19 with only seconds remaining in the game.
Game ball goes to
:
Usua Amanam
, who had seven tackles, two sacks, two and a half tackles for loss and a pair of pass breakups. He came up with a crucial sack of Tuel as the Cougars faced first-and-goal with under a minute to play.
Stat of the game
: Washington State was held to minus-16 yards rushing. The performance by the Stanford defense comes a week after limiting Cal to just three yards on the ground.
Unsung hero
: DE
Josh Mauro
was solid up front for Stanford. He finished with one and a half sacks.
What it means
: The Cardinal are officially bowl eligible, but the poor execution by the offense is definite reason for concern. Stanford is nearly assured of another win next week with a trip to Colorado on tap, but with No. 7 Oregon State and No. 2 Oregon after that, improvement will be paramount.
October, 11, 2012
10/11/12
12:00
PM ET
After Stanford yielded 617 yards of offense and 48 points to Arizona, there obviously was some disappointment from Cardinal coach David Shaw and some of his defensive leaders.
The message was twofold: (1) Don't hit the panic button yet, and (2) 'Tis better to learn from a win than a loss.
"We felt like we got away from what we do, which is an attacking defense," defensive end
Ben Gardner
said. "We didn't play our style of football. We're still a confident bunch. We still believe we can stop any offense in the country."
And now the pressure is on the defense to step up on the road against No. 7 Notre Dame after the offense bailed it out in a high-flying affair last week in Palo Alto, Calif.
"It teaches you some lessons," Gardner said. "You need to bring your lunch pail every single day, and you need to make tackles and dominate the line of scrimmage. Those are things we typically do but we didn't do [against Arizona]. And when things went badly, we weren't able to stop the bleeding. That falls on me and
Chase [Thomas]
and
Shayne [Skov]
. Moving forward we have to make sure everyone is staying focused and, when things start going badly, we rally and stick together."
No doubt, Saturday's game was a teachable moment. It was the most yards the Cardinal defense had allowed since Oregon ran up 626 yards against the unit in 2010. Against the Irish, the Cardinal will see another spread offense -- although it's a different variation than the one they saw last week against Arizona and the one they'll see later this season at Oregon. Notre Dame is more north-south in its attack.
[+] Enlarge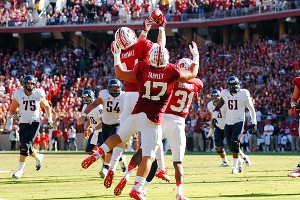 Cary Edmondson/US PresswireStanford's defense took a beating against Arizona, but Chase Thomas came up with the key pick.
"Some of our stuff is built to handle different offenses," safety
Jordan Richards
said. "We didn't put in a whole new defense for Arizona, and we're not going to put in a whole new defense for Notre Dame. We have some wrinkles here and there, but it's nothing out of the ordinary."
Aside from actually getting a win last week, there are a couple of positives that can be drawn from the performance. After the Cardinal cut the 14-point deficit to seven with 6 minutes, 34 seconds to play, the defense made a three-and-out stop, which gave the offense a chance to go on a 14-play, 79-yard drive that ended with a game-tying touchdown run by
Josh Nunes
. It was Arizona's first three-and-out since its second possession in the first quarter. Between the three-and-outs, Arizona scored on seven of eight drives.
Then, in overtime, there was the tipped ball by
Henry Anderson
and interception by Thomas that set up Stanford's game-winning score.
"When we absolutely needed the stop, we were able to pressure the quarterback and make a play," Shaw said. "We've got some long guys up front, and we were able to tip some passes. I think our coverage also got better in the fourth quarter. It's also reassuring to know that when our defense is down, they can come up and make plays. And if our offense gets in a shootout, we're equipped for it."
Most aren't projecting a shootout this Saturday. Both teams rank in the top 20 in rushing defense (Stanford at No. 6), and the Irish have the No. 2 scoring defense in the nation. And Stanford's road woe (singular, since it has had only one road game) has been well documented.
Gardner knows what's at stake and what his team is up against.
"We embrace it," he said. "Playing at Notre Dame is one of the best road trips in college football. We love playing those rivalry games in front of a packed stadium. There's no doubt we have to be on our P's and Q's this week in practice in terms of communication. We need to pack our defense."
April, 6, 2012
4/06/12
9:00
AM ET
STANFORD, Calif. -- Stanford kicked off its second spring session after a three-week break this week, and here are some notes from the Pac-12 blog's visit on Thursday.


And the first quarterback of the post-Andrew Luck Era is ... Yeah, right. It's likely going to be either junior Brett Nottingham or senior Josh Nunes, but coach David Shaw said the competition will extend into fall camp. "I want them to finish spring in competition mode. And I want them to start fall camp in competition mode," he said. "I don't want to name a starter the week of the first game. I'd like to do it before that so we can start to settle in." Shaw called the competition "Neck and neck."
A recurring theme from the coaches -- Shaw and both coordinators -- is that members of the 2012 recruiting class are going to play in the fall. Several, in fact. Particularly in need areas such as the offensive line and secondary. Yes, those touted frosh O-linemen are going to see immediate action.
As for the competition among existing players to replace left tackle Jonathan Martin and right guard David DeCastro, those spots are still up in the air. Brendon Austin and Cole Underwood are in the mix at LT, and Khalil Wilkes and Kevin Danser are in a battle for DeCastro's guard spot.
Talented sophomore James Vaughters will get on the field, and don't be surprised if he ends up at inside linebacker. At least, that seems to be where defensive coordinator Derek Mason envisions him at present. Part of this appears to be his comfort with Kevin Anderson, who's been playing defensive end, and Alex Debniak backing up outside 'backers Trent Murphy and Chase Thomas.
By the way, Mason loves his linebacker depth. He said as many as 10 could play in the Cardinal's 3-4 next year.
Henry Anderson and Josh Mauro are locked in a tough competition to replace underrated defensive end Matt Masifilo.
The Cardinal need to replace both starting safeties. The name that comes up the most is Ed Reynolds, who was out last season with a knee injury. Jordan Richards, Kyle Olugbode and Devon Carrington are in the mix also, but Mason doesn't hesitate to bring up incoming freshmen Drew Madhu and Zach Hoffpauir.
It's pretty clear that the not-entirely-unreasonable questioning of whether Stanford can remain an elite team post-Andrew Luck is serving as motivation in the locker room. While the topic is hardly obsessed over, it's also fair to say everyone is aware of the widespread doubts heading into 2012.
January, 11, 2012
1/11/12
7:00
PM ET
With the announcement over the weekend that outside linebacker Chase Thomas is coming back for another season, it's worth taking a quick look at what Stanford's front seven will look like next season -- because the Cardinal are loaded.
With six of the starting seven returning (plus a seventh, Shayne Skov returning from injury), the Cardinal figure to be even better than this year's group, which finished with the No. 4 rush defense in the country (88.3 yards per game), 11th in sacks (3 per game) and 28th in tackles for a loss (6.8 per game).
Here's a look at the starters coming back and the one guy leaving.
CHASE THOMAS, OLB, 6-4, 240
2011 highlights: He led the Cardinal in sacks and tackles for a loss, and was first-team All-Pac-12 and Sporting News First Team All-American. A ferocious pass-rusher who skipped on the NFL for another season to gain size and put together a more consistent résumé on film. He should be one of the top outside linebackers in the nation again next season.
[+] Enlarge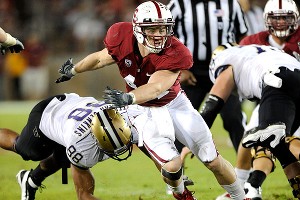 Bob Stanton/Icon SMIStanford's Chase Thomas should be one of the best outside linebackers in the nation next season.
TRENT MURPHY, OLB, 6-6. 242
2011 highlights: He quietly put together a strong season opposite Thomas, though didn't get as much publicity. Murphy started all 12 games and finished with 40 tackles, 10 for a loss and was second on the team with 6.5 sacks. He had a career high 10 stops against Oregon. Murphy is very good at setting the edges and his size and reach make him a difficult player to block.
JAREK LANCASTER, ILB, 6-1, 226
2011 highlights: One of the marquee special teams players forced into immediate action after the injury to Skov. He ended up leading the team in tackles with 70, including 3.5 sacks and seven tackles for a loss. Lancaster will likely add more size in the offseason. He has good speed and very good at shedding blocks. His open field tackling improved each week and he was stellar in the Fiesta Bowl loss.
A.J. TARPLEY, ILB, 6-2, 231
2011 highlights: Like Lancaster, split time until finally earning a starting role. A very instinctive linebacker who prefers to go through blocks rather than around them. He should also pack on a little more size in the off season. He finished third on the team with 57 tackles and had 1.5 sacks and four tackles for a loss. A very bright player who should have a fantastic career. His interception against USC was one of season's defensive highlights.
TERRENCE STEPHENS, NT, 6-2, 287
2011 highlights: He's understated for what he does, but also very good at it. He eats up blockers for the linebackers to do their thing. Stephens finished with 11 tackles, including four for a loss, and forced the fumble against USC in triple overtime that Tarpley recovered to close out the game. A vocal player who should grow into a leadership role on the defense.
BEN GARDNER, DE, 6-4, 263
2011 highlights: An outstanding season that earned him second-team All-Pac-12 honors. He finished with 35 tackles -- including 10 for a loss, adding 4.5 sacks and six quarterback hits. A high-motor player who earned the team's outstanding sophomore award. And, according to his Twitter account, the mullet will return in 2012. Phew.
SHAYNE SKOV, ILB, 6-3, 244
2011 highlights: He was the team's leading tackler with 19 in two and a half games until a knee injury in the third game of the season caused him to miss the rest of the year. The question mark is whether or not he'll return at 100 percent. And if he does, whose reps get reduced, Tarpley or Lancaster? Either way, the Cardinal should be deep at linebacker and if Skov can return healthy, he'll be one of the premier inside linebackers in college football.
MATT MASIFILO, DE, 6-3, 278
2011 highlights: The Cardinal are going to miss this guy more than most probably realize. He committed to the team in the midst of a 1-11 season and saw the rebuilding process all the way through. He was the only returning starter on the line this season and had 34 tackles, eight for a loss and 2.5 sacks. His possible replacements are Henry Anderson and Josh Mauro.
And this just covers the starters. Players like Anderson and Mauro saw playing time this season, along with nose tackle David Parry, outside linebackers Alex Debniak and Blake Lueders and inside linebackers James Vaughters and Joe Hemschoot.
The Cardinal are in fantastic shape if everyone stays healthy. And if they encounter another situation like they did this past year with a season-ending injury, they should be deep enough and experienced enough to absorb the blow. Plus, we'll see how head coach David Shaw and his staff treat some of the incoming freshman, like standout outside linebacker Noor Davis.
September, 4, 2011
9/04/11
4:30
PM ET

PALO ALTO, Calif -- One mantra you're going to hear each day from Stanford coach David Shaw is that it's all about the team. But that's the beauty of helmet stickers. We get to name our own stars of the game:
Andrew Luck: The quarterback's performance was more Heisman-worthy than I think the numbers suggest. He was 17-of-26 for 171 yards with two passing touchdowns and another on the ground. Nothing wrong with a 65 percent completion percentage. But you take away three drops (all extremely catchable) and his percentage jumps up to 73 percent -- exceeding last season's total of 70 percent. He played a smart, turnover-free game. And while he didn't do anything to set himself apart in the Heisman race, he certainly didn't do anything to hurt himself.
Henry Anderson: The 273-pound defensive end gets a sticker for not only recovering a fumble and returning it 37 yards to the San Jose State 1-yard line, but also for his postgame comments, which were hilarious. To sum up, he picked up the ball, started running, and couldn't believe that after two seconds he was still running and hadn't been tackled yet. If not for a great hustle play by SJSU's Chandler Jones, the big man would have been dancing in the end zone.
The run defense: The front seven looked really tough -- and not just because they were playing a lesser opponent. They had good penetration, plugged the gaps and held San Jose State to -2 yards rushing through three quarters. They played fast. Scary to think how fast they'll be four, five, six weeks from now.
Bonus sticker to Shaw: His players saw fit to give him a game ball for his first career victory. Who are we to argue? He did a fantastic job rallying the team when no rally was needed. He made useful halftime adjustments that bore fruit and didn't succumb to a Week 1 collapse. If he didn't have it already -- and nothing leads us to believe he didn't -- he earned the respect of his team. That in itself is worth a sticker.
September, 4, 2011
9/04/11
1:00
PM ET
Stanford head coach David Shaw entered the post-game news conference with a football in his hand.
The
football. The game ball.

It didn't go to running back
Stepfan Taylor
for his two rushing touchdowns. Or defensive end Henry Anderson for his fumble recovery and 37-yard return. Or linebacker Chase Thomas for his sack and tackle for a loss. Or even Heisman favorite
Andrew Luck
, who tossed a pair of touchdowns, ran for another, and is eligible for every game ball every week by default.
It went to Shaw. It was a unanimous team decision and it was presented to him by Luck in honor of his first win as Stanford's new head coach.
The gesture was a kind one. But the meaning behind it holds greater relevance. It was the team's way of saying Jim Harbaugh is off in NFL land and no longer our coach. You're our guy. You're our coach, and we're happy to have you as the captain of this redwood ship.
"A bunch of people suggested it to me ... I readily agreed," said Luck. "He's very deserving of the game ball. We're so excited to have him as our head coach. As much as he wanted to win, we really wanted to win for him and start him off on the right foot. We're excited for him and happy that he's coaching our team."
But not even that was the highlight for Shaw. It was his father, Willie, serving as honorary captain for the season opener. Willie Shaw coached at Stanford from 1974-76 and again from 1989-91.
"The most fun part, honestly, was watching my dad go out as a captain," Shaw said. "That was the most special thing. The fact that it was the Bill Walsh Legacy game, that was the icing on the cake for me ... that was special for me to be a part of that."
September, 3, 2011
9/03/11
6:52
PM ET
PALO ALTO, Calif. -- Halfway through, Stanford leads San Jose State 27-3. Here's a quick recap of the action so far at Stanford Stadium:
Best player of the half: One guess. It's Stanford quarterback Andrew Luck. He looked a little rusty on the opening drive -- missing a pair of fades in the end zone. But he's still 10-of-15 for 95 yards and has accounted for all three of Stanford touchdowns -- a 1-yard run (a good decision to tuck and run rather than force a pass) and a couple of passing touchdowns.
Best play of the half: I'm a sucker for hustle plays -- and this one goes to San Jose State's Chandler Jones. After Stanford's Chase Thomas forced a fumble and defensive end Henry Anderson picked up it and went rumbling toward the end zone. Jones (174 pounds), came from across the field and dove at the legs of Anderson (275 pounds), and stopped him at the 1-yard line. Granted, Stanford scored on a 2-yard pass from Luck to Ryan Hewitt two plays later. But still, nice hustle.
What San Jose State has to do: On defense, well, if I knew how to stop Luck I'd be an NFL defensive coordinator. On offense, stop wasting opportunities. The Spartans finally put together a good drive midway through the second quarter, moving 62 yards on 11 plays. But kicker Harrison Waid went wide right on a 23-yard field goal. He recovered, however, with an 18-yard field goal with :49 seconds left in the first half for the Spartans first points of the game.
What Stanford has to do: Defensively, tighten up the zone coverage in the secondary. SJSU quarterback Matt Faulkner started to find some gaps in the second quarter. Run defense has been great. Negative rushing yards in the first half for SJSU. Offensively, the Cardinal haven't really taken any shots down field -- not that they need to with a 27-3 lead. Haven't been impressed with the running game so far (64 yards total) -- particularly in the red zone.
July, 11, 2011
7/11/11
10:25
AM ET
No team in the Pac-12 wows you at defensive tackle. No team is a sure thing. There is a lot of "maybe" at the position. And probably some maybe not.
The uncertainty of quality -- both in terms of returning stars and depth -- made this a difficult position to rank. For example, Washington has a nice foursome at tackle, led by Alameda Ta'amu, who might be the best tackle in the conference.
That's great. Good for the Huskies. But they ranked 97th in the country in run defense last year. You sort of pause over that, you know?
So a lot of this ranking is feel thing, a projection of potential. And "great shape" here is relative to the conference. Nebraska, for example, wouldn't exchange its tackles -- Jared Crick and Baker Steinkuhler -- for any Pac-12 tandem.
Some of this figures to inspire a bit of debate.
Great shape
USC
: This may be in some part based on fumes from the Trojans reputation at the position. It definitely includes a vote of faith that they will get a 100 percent Christian Tupou back from the knee injury that killed his 2010 season. If so, the threesome of Tupou, George Uko and DaJohn Harris is strong. And if you toss in Armond Armstead -- who missed spring with an undisclosed medical condition that threatens his career -- you'd have a clear No. 1.
Washington
: Ta'amu seemed to find himself during the second half of last year, and the 330-pounder could end up getting some All-American consideration if he consistently plays like he did against Nebraska in the Holiday Bowl. Sione Potoa'e and Semisi Tokolahi are both experienced, and Lawrence Lagafuaina a space-grabbing, 344-pound redshirt freshman.
Colorado
: The Buffaloes are sneaky good here, even though they only ranked 48th in the nation in run defense in 2010. Both starters, Will Pericak and Curtis Cunningham, are back, but Conrad Obi was a revelation this spring. He looked like a future NFL draft choice, not a player who'd mostly been a bust. Nate Bonsu, who missed spring with a knee injury, also should help.
Good shape
Utah
: The Utes, who ranked 11th in the nation in run defense in 2010, lost Sealver Siliga, but they believe they have a budding star in, er, Star Lotulelei, while James Aiono, LT Tuipulotu and Joape Peta are solid. Also, Dave Kruger, who played end this spring, is 280 pounds and can play inside.
Arizona
: The loss of backup Willie Mobley to a knee injury hurts depth, but Justin Washington figures to take a step forward after an impressive true freshman season, Sione Tuihalamaka started four games in 2010. Depth is a question. The Wildcats ranked 33rd in the nation in run defense last fall.
Oregon
: On the one hand, Oregon lost both starting defensive tackles in Brandon Bair and Zac Clark from a unit that ranked 27th in the nation in run defense. On the other, they played so many guys last fall, the new starters are experienced players. Further, Ricky Heimuli, Taylor Hart, Wade Keliikipi, Isaac Remington and Jared Ebert played well enough this spring to suggest the position will be a strength in the fall.
Arizona State
: If Lawrence Guy didn't make his ill-fated decision to enter the NFL draft, the Sun Devils, who were 16th in the nation against the run last fall, would be in great shape here. As it was, Will Sutton had a great spring and looks like a potential All-Conference guy. Grinder Bo Moos is listed as the starter at the other tackle, though he could be eclipsed by Corey Adams. Toa Tuitea saw limited action last year.
UCLA
: The Bruins defensive line was terrible last year, ranking 108th in the nation against the run, but the talent is there for a significant turnaround. Cassius Marsh, Nate Chandler, Justin Edison, Donovan Carter and Seali'i Epenesa should do a much better job plugging the middle.
California
: Cal is actually fine here, despite the loss of NG Derrick Hill. For one, when you run a 3-4 defense, it's hard to rate your DTs, even if your DEs often operate like them. The Bears have two solid options at NG in Aaron Tipoti and Kendrick Payne, and it's also possible that touted 350-pound incoming freshman Viliami Moala will eclipse both of them.
We'll see
Oregon State
: Dominic Glover moves inside from end and Kevin Frahm has experience, but this unit didn't play well last year -- 89th in run defense -- even with one of the best DTs in the nation in Stephen Paea. 340-pound Castro Masaniai could help but he missed spring after shoulder surgery and has off-field issues. There's also Mana Tuivailala and Ben Motter.
Stanford
: Like Cal, Stanford runs a 3-4, so it naturally it is going to suffer a bit in DT rankings. More important: The loss of Sione Fua is significant. Terrence Stephens and Henry Anderson had solid springs but neither has much experience.
Washington State
: Brandon Rankin, a returning starter, was listed No. 2 on the depth chart behind Anthony Laurenzi after spring practices, with redshirt freshman Toni Pole No. 1 at the other tackle. Justin Clayton, Steven Hoffart and Xavier Cooper provide depth. It's not unreasonable for Cougars fans to expect improvement, perhaps significant improvement. But a team that ranked 115th in the nation in run defense the previous season is automatically a "We'll see" here.