NCF Nation:

Herschel Sims
January, 10, 2013
1/10/13
12:30
PM ET
Oklahoma State
junior running back
Joseph Randle
says he will forgo his final year of eligibility and enter the NFL draft, a school official confirmed on Thursday.
You can
see more in our news story here.
It definitely takes Oklahoma State's 2013 stock down a bit, but I like
Jeremy Smith
and
Desmond Roland
's ability to replace him. The Pokes could also really use
Herschel Sims
right about now, but that's not an option after he transferred in the wake of a theft incident last summer.
For Randle, it's somewhat of a fringe decision, but he'll be fine in the NFL. You could rationalize it either way, and he'll be taking a Big 12 title ring and BCS bowl experience to the next level. Good for him. Heck of a career.
June, 1, 2012
6/01/12
1:49
PM ET
Oklahoma State sophomore running back
Herschel Sims
has been dismissed from the team by coach Mike Gundy, the program announced on Friday.

Gundy cited a violation of team rules in a statement.
Sims, a native of Abilene, Texas, was the top recruit in Oklahoma State's 2011 class and the No. 124 overall prospect in the 2011 ESPN 150. He was the nation's No. 10 running back and carried the ball 31 times for 242 yards and two touchdowns last season.
Sims was third on the depth chart behind
Joseph Randle
and
Jeremy Smith
, but sophomore
Desmond Roland
will fill Sims' spot on the depth chart after being lauded by coaches for his spring performance.
April, 26, 2012
4/26/12
10:00
AM ET
STILLWATER, Okla. -- The similarities? Well, they're almost
too
uncanny.
A record-setting quarterback? Gone.
The best receiver in school history? Gone.
And that was in the spring of 2010.
Dez Bryant took a trek south after being drafted in the first round by the Dallas Cowboys. Zac Robinson took his ball and left for the NFL, too.
In the fall, Mike Gundy's Oklahoma State squad was picked to finish fifth out of six teams in something called the Big 12 South.
Instead, the Cowboys won 11 games for the first time, coming a defensive stop or two away from knocking off Oklahoma and playing for the Big 12 title, which also would have been unprecedented for the program.
There are more new faces in the spring of 2012. Could Oklahoma State overachieve again?
"I feel like it's kind of the same. Gundy said that spring we were so good because we were scared," said sixth-year offensive lineman
Jonathan Rush
. "I wouldn't exactly agree that we were scared, but I feel that urgency."
[+] Enlarge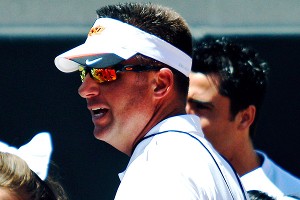 AP Photo/Sue OgrockiMike Gundy's 2012 team has plenty of parallels to the 2010 unit that won a surprising 11 games.
How could he not? Two-time All-Big 12 first-team quarterback
Brandon Weeden
is headed to the NFL. Two-time Biletnikoff Award winner
Justin Blackmon
is likely to hear his name called in the top 10 of tonight's first round of the NFL draft.
Oklahoma State's 23 victories in the past two years were the highest total of any two-year period in school history, and Weeden and Blackmon were the two biggest pieces of a team that captured the Cowboy's first Big 12 title.
"It's real similar, except Weeden was an older guy. Weeden was 26 years old or however old he was back then," Gundy said.
Now, Oklahoma State is
left to rely on three inexperienced quarterbacks
without the minor league baseball experience that helped shape Weeden's even-tempered demeanor.
The similarities don't end at what's gone, either.
"We've got good running backs, good receivers and we'll be as good on the offensive line as we've been," Gundy said.
All-American Kendall Hunter helped carry the 2010 team with a 1,500-yard season, the second of his career. In 2012,
Joseph Randle
is ready to carry the offense after rushing for 1,200 yards and 24 touchdowns in 2011.
Jeremy Smith
and
Herschel Sims
fill out the rest of the Pokes' deepest unit, which also features a fourth underrated, powerful runner in
Desmond Roland
.
"We're further along on defense, because we recruited well the '09, '10, '11 and '12 seasons, so we're further along athletically," Gundy said. "But offensively, it's about the same."
Gundy is entering his eighth season in Stillwater this fall. In 2010, he credited a system that had been drilled into players for the surprising success. Knowing what was expected helped to soothe some of the growing pains new players would experience in a new system.
That's been drilled only deeper into this year's squad.
"They realize what they have to do personally. How to practice. They realize those things that are essential to be a good team. You have to work hard, show up on time. It's not even so much a big thing," Rush said of the team's younger players. "They realize how essential little things are. Working hard, not quitting. Finishing."
Said receiver
Isaiah Anderson
: "I feel like we have a lot more leaders now than people know. It's not just up to the seniors to lead. The young guys can step in and lead if they need to."
The biggest talents are gone. This year, OSU won't be picked near the bottom of the Big 12. Instead, it will be near the bottom of the top 25.
With the spotlight on teams above OSU, will 2012 be yet another Stillwater surprise for the Big 12?
"Be on the lookout, but they know we're coming now," Anderson said. "We all know what it takes to get there and willing to do what it takes to get there again."
January, 26, 2012
1/26/12
9:00
AM ET
We're continuing our look at the postseason rankings for each position in the Big 12. Here's a look back at
where the running backs ranked in the preseason
.
In this position, unlike quarterback, depth is a major, major factor in these rankings.
1. Texas A&M
The Aggies had the two most talented backs, and despite injuries to both, proved it through an otherwise frustrating 2011.
Christine Michael
suffered a torn ACL, but still managed 899 yards on just 149 carries.
Cyrus Gray
injured his shoulder late in the season, but secured his second consecutive 1,000-yard season and ranked third in the Big 12, despite carrying the ball just 198 times. This duo should have easily surpassed 1,000 yards, but even when they were injured,
Ben Malena
played well in the final two games.
[+] Enlarge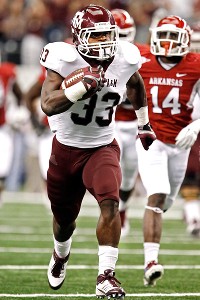 AP Photo/Brandon WadeChristine Michael averaged 6 yards per carry before a torn ACL ended his season.
2. Missouri
Mizzou dealt with injuries, too, first to
Kendial Lawrence
and
De'Vion Moore
. Cue
Henry Josey
. Josey became the best back in the Big 12 this year before suffering a major knee injury that included torn ligaments. He may not be back in 2012. His 1,168 yards were third most in the Big 12, despite carrying the ball just 145 times. Lawrence finished 12th with 566 yards.
3. Oklahoma State
Joseph Randle
stole the show this year, rushing for 24 scores and ranking second in the Big 12 with 1,216 yards. Only
Collin Klein
ran for more touchdowns and
Terrance Ganaway
was the only player with more yardage. Still,
Jeremy Smith
had averaged more than 7 yards a carry, and he'd be able to start for anyone else in the league.
Herschel Sims
showed promise, too, with 242 yards on 31 carries.
4. Baylor
Ganaway led the Big 12 in rushing with huge performances late in the season, including a 200-yard, five-touchdown game in his final outing as a college athlete in the Alamo Bowl. He averaged more than 6 yards on his 250 carries and had 330 more yards than any other back in the league.
Jarred Salubi
added 331 yards, too.
5. Texas
Texas'
Malcolm Brown
and
Joe Bergeron
were banged-up late in the season, but Fozzy Whittaker played well until suffering a torn ACL against Missouri, too. Scatback
D.J. Monroe
was effective in the passing game as well. Four running backs topped 300 yards and Brown led the team with 742 yards, despite missing three games and having his carries limited early in the season.
6. Oklahoma
Oklahoma got great contributions from walk-on
Dominique Whaley
early on, and he proved to be the team's most effective runner and best runner between the tackles. He fractured his ankle in midseason, and finished with just 627 yards to lead the team.
Roy Finch
emerged late in the seasons after a quiet first half and added 605 yards.
7. Kansas
KU's
James Sims
led the team in rushing again with 727 yards.
Darrian Miller
was excellent, too, with 559 yards, though he was dismissed after the season. Freshmen
Tony Pierson
and
Brandon Bourbon
have plenty of promise, both averaging more than 5.5 yards a carry in 2011. The bad news: All their carries were limited by an awful defense that limited KU's chances to run the ball.
8. Kansas State
K-State's rushing attack centered around Klein, but
John Hubert
, a slippery back from Waco, Texas, had a good year. Hubert was seventh in the Big 12 with 970 yards. Bryce Brown offered basically nothing to K-State, and beyond Klein and Hubert, the Wildcats were pretty thin. Additionally, without Klein, would Hubert have duplicated his success?
9. Texas Tech
An awful knee injury derailed
Eric Stephens
' likely 1,000-yard season, and the rest of Texas Tech's backfield got banged-up, too. Stephens will probably return in 2012 from his dislocated knee, and finished with 565 yards, 17th in the Big 12.
Aaron Crawford
and
DeAndre Washington
both topped 300 yards.
10. Iowa State
ISU lost
Shontrelle Johnson
for the season early on, but
James White
filled in well. He finished with 743 yards, which ranked ninth in the Big 12.
Jeff Woody
had 380 yards and provided quality carries late, including the game-winning touchdown against Oklahoma State.
December, 29, 2011
12/29/11
5:00
PM ET
SCOTTSDALE, Ariz. — Despite the presence of
Justin Blackmon
,
Brandon Weeden
and an Oklahoma State passing attack that averages 386.2 yards per game, Stanford's defense knows that the key to a good defense — no matter who is slinging and who is catching — starts with stopping the run.
"We are definitely concerned," said defensive end Matt Masifilo. "I think they have a great running attack. The passing kind of overshadows the running game, but we are very aware of their ability to hit the big gaps with force."
[+] Enlarge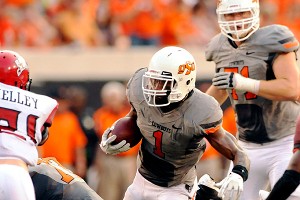 AP Photo/Brody SchmidtStanford's defense is game planning for Oklahoma State running back Joseph Randle.
True, Oklahoma State runs a spread offense with a pass-first mentality. The Cowboys throw about 60 percent of the time. But
Joseph Randle
and
Jeremy Smith
make up quite the terrible twosome. Randle carries the bulk of the load with 1,193 yards, 23 touchdowns and an impressive 6 yards per carry on 198 attempts. Smith spells him nicely and has 645 yards, nine touchdowns and a 7.2 average on 90 attempts.
"They dominate the line of scrimmage," said Stanford co-defensive coordinator Derek Mason. "They are big, strong, and establish the line of scrimmage. They do a good job of making sure they get to the second level. In pass [protection], the quarterback does a good job of getting it out. But they are underrated in the run game. Those guys get to the second level and what do they do, they break tackles.
"For us, we have to tackle. I have seen 3- and 4-yard runs turn into 10- and 12-yard runs. And when they get in the red zone, they smell the end zone. Their running game is as good as anybody we have faced all year long. The merit can be pushed to the pass game. But if you underrate what they do run-wise, you can be falling asleep at the wheel."
Just how explosive can Oklahoma State's runners be? As a unit, they have seven touchdowns this season of 30 yards or more, including four touchdown runs of 59 yards or more — two from Randle (62, 59), one from Smith (74) and a season-high 81-yard touchdown run from
Herschel Sims
. By contrast, Stanford has just one touchdown run longer than 40 yards this season.
"Traditionally, any defense, you always want to stop the run and make them one dimensional," Masifilo said. "That's the huge task, is making them one dimensional, stopping the run first and taking down the pass. It is a great opportunity and also a great challenge – one that will define the end of our season and also for a lot of us seniors."
A little more on Randle; his 150 points represents the second best season in school history — second only to Barry Sanders' 234 points. His 23 rushing touchdowns are second only to Sanders' 37. That's twice his name has been mentioned alongside Sanders, so he's gotta be doing something right.
Smith, meanwhile, was supposed to be a short-yardage, goal-line type of back. He has about 15 pounds on the speedier Randle — yet he rushed for 140 yards on just seven carries against Texas and 77 yards on three carries against Baylor.
Linebacker Chase Thomas said all of this talk about offenses is starting to get a little old.
"We kind of felt disrespected as a defense," Thomas said. "I'm sure their defense did as well, saying it will be an offensive shootout. Every time they say that, our defense is always going to be mad. That's part of the game. They see both teams put up great offensive numbers all through the season. So we are expecting them to say that. I think we were pretty good this year in the points allowed per game so I think we should be all right.
"I'm not saying they're not going to score points. I'm just saying I prefer it be a low-scoring game because that means we are playing good defense."
October, 29, 2011
10/29/11
9:26
PM ET
STILLWATER, Okla. -- Wednesday afternoon, Oklahoma State safety Markelle Martin and linebacker Shaun Lewis were trying to mind their own business, working out on their own time outside of scheduled team workouts.
They looked up ... and got fired up.
"No D in Stillwater" read the TV report while talking heads laid out the case that Martin and Lewis' unit could be the reason an Oklahoma State national title run ran off the rails.
Martin and Lewis relayed the analysis to their teammates.
"That fire was lit," Martin said. "And we shined."
Said Lewis: "You don't need a pep talk after that."
And for the Cowboys' defensive rebuttal?
"They said everything they needed to say out there on that field," Lewis said.
Just ask Baylor, a team Oklahoma State
beat 59-24
on Saturday at Boone Pickens Stadium. The Bears entered Saturday as the nation's No. 2 team in total offense and a squad scoring 44 points a game.
When the third quarter ended, Baylor trailed 49-3.
Five times in the first half, Baylor reached Oklahoma State territory. It didn't score, thanks to a goal-line stand on the opening drive, two interceptions, a turnover on downs and a missed field goal.
[+] Enlarge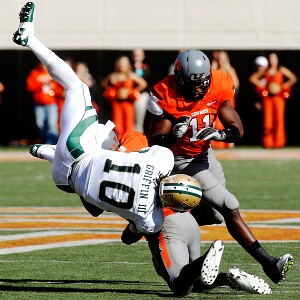 AP Photo/Sue OgrockiMarkelle Martin and Oklahoma State upended Robert Griffin III and Baylor, which trailed 49-3 through three quarters.
Coach Mike Gundy said he's "not sure" why his team is so good on its side of the field, but not all the time. Martin says it boils down to matchups.
"We do a good job of communicating, and at that point, we understand it's not so much space we're worried about, it's just 1-on-1, you versus the guy in front of you," he said. "Our guys have a lot of pride about themselves and we do a good job of staying sound and staying physical at that point."
Oklahoma State forced five turnovers from an offense that had turned it over just 10 times in six games before Saturday. The Cowboys won't cede their national lead in turnover margin at plus-19 after Saturday's win, but don't cry coincidence. It's too common to be crazy.
This same team forced 12 more turnovers than it committed in an 11-win season a year ago, too.
"They harp on it in practice; that's literally all you hear in practice," said quarterback
Brandon Weeden
, who threw for a casual, clean 274 yards and three touchdowns while his running backs rolled for 327 yards and five touchdowns on 27 carries. "Get the ball out! Get the ball out! That or, attack the football! Coach Gundy's done an unbelievable job of training our corners to go up and get it, to play the ball like a receiver. That's where it comes from. It's unbelievable."
Slowing the offensive wrecking ball that is Baylor quarterback
Robert Griffin III
is unbelievable, too. Griffin somehow had never scored a rushing or passing touchdown against the Cowboys until a 72-yard fourth-quarter touchdown pass to
Terrance Williams
against Oklahoma State's second-team defense.
He'd thrown just two interceptions in Baylor's first six games. Oklahoma State picked him off twice Saturday.
"If he'd come out early, we wouldn't have to worry about [stopping him] for one more year," Gundy joked.
That touchdown cut Oklahoma State's lead to 56-17 and came after the Cowboys' third one-play touchdown drive of the game, an 81-yard run from reserve freshman running back
Herschel Sims
.
The touchdown was Griffin's only one of the day, despite entering Saturday's contest with 22 touchdown passes in six games.
Oklahoma State's raw defensive numbers aren't gorgeous. OSU's defense gave up 622 yards, including 446 through the air. But lots of them were late, and turnovers can change a likely win into a blowout in a flash.
"Statistically, on paper, we're not very good," Gundy said. "But productivity, scoring-wise, against teams we play? We're pretty good."
Baylor ran 14 plays inside Oklahoma State's 5-yard line. It didn't score until the very last one, when Oklahoma State led, 59-17.
The Cowboys are the only Big 12 team that hasn't given up 30 points this season, and with arguably the nation's top offense, that's plenty good enough to keep from waking up from this dream season in Stillwater.
"There'll be a day, hopefully not in the near future, when our offense will struggle, and we can't be doing what we're doing defensively," said defensive coordinator Bill Young.
When (if?) that day comes, is Oklahoma State up to the task?
Uh, well, it did come. The Cowboys scored just three points in the first half against Texas A&M this year, a team that averages just fewer than 40 points a game this year.
It didn't give up a second-half point until the Cowboys had already turned a 20-3 deficit into a 30-20 lead with just more than two minutes left in their 30-29 win.
Whether the defense is down big or backed up in its end zone, it's done what's necessary to keep the Cowboys undefeated. Saturday against Baylor was no different.
Doubt the Cowboys if you must, especially their defense. That's easy.
Beating them isn't.
June, 21, 2011
6/21/11
10:00
AM ET
Here's the next in our look at the Big 12 rankings by position: Running backs.
Last year's class was one of the best in recent history, but this year's class? Unassuming to begin the season. There are a few possible stars looming, but very, very little talent returning.
Cyrus Gray
ranked seventh in rushing yards last year (thanks to an insane finish), but he's the only player returning to the Big 12 from the conferences' top 10 rushers in 2010.
That's nuts.
The Aggies are the only team with a truly elite backfield tandem, though I could see Oklahoma and/or Oklahoma State joining that group by the end of the year.
The rest of the league? Every team has at least a couple of players to get excited about, and teams 5-10 are all pretty close. No one is really understaffed at the position, but obviously, they're fit to be ranked.
Here's where I have them:
1. Texas A&M
[+] Enlarge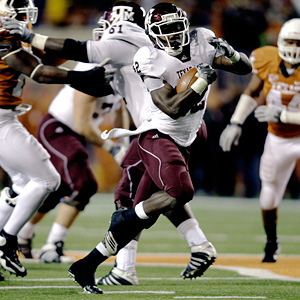 AP Photo/Eric GayCyrus Gray had at least 100 yards rushing in each of A&M's final seven games last season.
I wouldn't have been surprised if Cyrus Gray and
Christine Michael
were the Big 12's top leading returning rushers this year, but a midseason injury from Michael prevented it from happening. Regardless, his return gives Texas A&M by far the best tandem in the Big 12, and arguably the best in the country. When
Mister Jones
isn't cranking the Counting Crows on his stereo, he's a pretty good reserve, alongside
Ben Malena
, who
impressed me on my visit to College Station this spring
.
2. Oklahoma
Oklahoma will try and replace do-everything forever (or whatever) back DeMarco Murray with a platoon likely led by shifty Florida native
Roy Finch
. True freshman
Brandon Williams
made a big impact in spring camp, and
Brennan Clay
will likely earn a few touches, too. Health concerns raise questions about a pair of other OU backs' knees (
Jermie Calhoun
,
Jonathan Miller
), but walk-on
Dominique Whaley
led the team in rushing in the spring game
.
3. Oklahoma State
The Cowboys have a great pair in sophomores
Joseph Randle
and
Jeremy Smith
, and a nice set of backs to spell them if needed, too.
Kye Staley
, once a top-flight recruit, returned this spring after quitting the team following a severe knee injury, and might earn a few touches this spring. Also, Abilene, Texas, native and 2011 ESPNU 150 signee Herschel Sims arrives this fall and may jockey for time and the opportunity to shed a redshirt.
4. Missouri
What the Tigers lack in a truly elite back, they have in depth. Missouri has four backs who are all capable of being very good in the Big 12, even though neither of the four topped 600 yards a year ago. A big reason for that was none of the four got more than 100 carries, but with the carries they did get, every back averaged more than five yards per carry. The platoon approach works for Missouri, but senior
De'Vion Moore
and junior
Kendial Lawrence
will lead the way with sophomores
Henry Josey
and
Marcus Murphy
not far behind.
5. Kansas
[+] Enlarge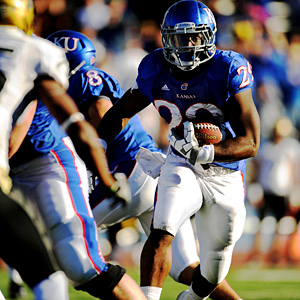 John Rieger/US PRESSWIREJames Sims is the No. 2 returning rusher in the Big 12 this season.
Running back will be a strength for Kansas next year, who might have found a second back this spring that perfectly complements power runner
James Sims
, a rising sophomore who racked up 742 yards last year after not playing in the opener. Believe it or not, he's the Big 12's No. 2 returning rusher, behind A&M's Gray. Darrian Miller burst onto the scene this spring, and figures to be a big part of the team in the fall. I see him being the Jayhawks' biggest home-run threat. DeShaun Sands and
Brandon Bourbon
offer even more depth at the position.
6. Texas Tech
The Red Raiders lose backfield constant Baron Batch, but have a good group lined up for 2011. Tommy Tuberville's effort to establish a more efficient running game is a realistic possibility with
Eric Stephens
as the likely feature back, and
Aaron Crawford
,
Ben McRoy
and
Harrison Jeffers
in the mix. True freshman Ronnie Daniels' strong spring likely earned him some time, too, rather than a redshirt.
7. Baylor
Baylor loses a 1,200-yard rusher in Jay Finley, and figures to use a thunder-and-lightning approach with 6-foot, 240-pound bowling ball
Terrance Ganaway
and shifty, 5-foot-9, 205-pound
Jarred Salubi
.
Glasco Martin
, a more balanced back, may earn a few carries, too. Regardless of who has the ball, life is good for Baylor backs, who get a bit more room from defenses that are forced to respect
Robert Griffin III
's legs.
8. Kansas State
The Wildcats' top two rushers, including two-time league rushing champ Daniel Thomas, are gone. Hopes are high for Wichita native and former blue-chip back
Bryce Brown
, but he's still entrenched in a position battle with
John Hubert
and
Robert Rose
heading into fall camp.
9. Texas
Texas brings back a pair of seniors in Fozzy Whittaker and
Cody Johnson
, but if the Longhorns are going to climb up this ladder by year's end (and they might) it's likely to be on the back of hyped incoming freshman
Malcolm Brown
, who is on campus and set to begin fall camp.
D.J. Monroe
might be the fastest player in the Big 12, but he'll have to master the nuances of pass blocking to get more than a few touches every game.
Jeremy Hills
can offer some depth at the position, too, after Tre Newton was forced to quit the game because of concussions.
10. Iowa State
Shontrelle Johnson
showed some flash last year, but he still brings just 35 career carries into his 2011 effort to replace
Alexander Robinson
.
Jeff Woody
and
James White
offer a bit more depth, too. Florida native DeVondrick Nealy might get into the mix if he can put together a strong fall camp.
February, 3, 2011
2/03/11
10:30
AM ET

OKLAHOMA STATE COWBOYS
The class
Signees
: 28 (four junior college, six enrolled early)
Top prospects
: Running back
Herschel Sims
is the class' only ESPNU 150 commit, but quarterback
J.W. Walsh
and Sims are both in the top 10 nationally at their respective positions. Known best for offense, Oklahoma State also snagged
Josh Stewart
and
Miketavious Jones
, two top 20 cornerbacks, and linebacker
Nico Ornelas
, the nation's No. 16 outside linebacker.
Needs met:
Sims could help contribute immediately at running back alongside rising sophomores Jeremy Smith and Joseph Randle to help replace Doak Walker Award finalist Kendall Hunter.
Ashaad Mabry
and
James Castleman
will help fill in on the defensive line for the Cowboys, who lost three starters up from from their 2010 team. The Cowboys added four athletes who could be very versatile and
Travis Cross
and
Devin Davis
could play in 2012 after the Cowboys lose four starters on the offensive line.
Analysis:
Oklahoma State has to feel really good about this class. Skill position talents Walsh and Sims have been longtime commitments and provided very little drama down the stretch. Walsh is already on campus and in classes and could be a factor in replacing Brandon Weeden after 2011. An extra few practices this spring certainly help his chances. The Cowboys' class ranks No. 21 nationally and third in the Big 12, behind just Oklahoma and Texas. That's a good spot for the Cowboys, who proved they can hang with both teams on the field in 2010, and would like to beat both with consistency in the future. Ascending up the recruiting rankings is a good way to do it.
ESPN recruiting grade
: B
January, 27, 2011
1/27/11
9:00
AM ET
Mike Leach would like to get back into coaching. Oklahoma State needs an offensive coordinator.
A variation of Leach's Air Raid -- courtesy of Leach protégé Dana Holgorsen, who moved on to a future head gig at West Virginia -- helped the Cowboys climb near the top of the nation's leaders in total and scoring offense.
Naturally, Leach's name has been a constant throughout the search for the Cowboys' new coordinator, one that's picked up speed since Biletnikoff winner
Justin Blackmon
and All-Big 12 first-team quarterback
Brandon Weeden
announced they'd return to Stillwater in 2011.
Bringing in football's favorite pirate would be perfect for both parties in 2011. A trio of pending lawsuits made finding a new head coaching job a difficult task for Leach, and a year away from the game has made it easier for administrative types to forget his accomplishments at Texas Tech.
Putting up eye-popping numbers again in 2011 would be an unavoidable reminder, and Oklahoma State has the pieces to do it. All five offensive linemen return. Weeden and Blackmon should be Weeden and Blackmon again.
Michael Harrison
and
Josh Cooper
are solid complimentary pieces in the passing game.
Joseph Randle
is the lightning to
Jeremy Smith
's thunder in the running game, with incoming freshman Herschel Sims likely to earn at least a few touches.
Tracy Moore
and
Isaiah Anderson
are two more solid options in the passing game, and 2009's top receiver,
Hubert Anyiam
, should be healthy after battling an ankle injury throughout 2010.
Putting Leach in the driver's seat of that offense would be must-see/write about TV, slapping Oklahoma State on college football's front pages through the spring and fall, perhaps regardless of the team's win-loss record. There's definite value in that for both sides.
There's no downside to a year in Stillwater for Leach.
But for the Cowboys, they'll still be playing offense (and football) beyond 2011. Weeden and Blackmon's
return has a chance to be big for the program
long after next year, but hiring Leach would offset some of those positives.
The presence of both returning stars makes Gundy's job vacancy considerably more attractive than if both had split for the NFL. A stint in Stillwater would likely be a one-year affair for Leach, a la Holgorsen, putting Oklahoma State right back where it started in 2012.
Except this time, it would be searching for an offensive coordinator up to the task of breaking in a new quarterback likely without his top receiver, trying to fire off passes behind an offensive line that will be breaking in four new starters for the 2012 season.
Oklahoma State doesn't need its new coordinator to take a blood oath at staying in Stillwater for at least five years, but it needs someone who is committed to the job for more than just one season.
Leach would be fun, and provide maybe one of the most memorable years in Cowboys history, but he's not the right long-term pick.
For now, the best move for the Cowboys is to let his ship sail on by.
January, 24, 2011
1/24/11
2:00
PM ET
Oklahoma State has hired Kasey Dunn as its running backs coach, coach Mike Gundy announced on Monday.
Dunn spent the past year coaching receivers at Southern Mississippi after spending two years coaching running backs for the Seattle Seahawks.
The San Diego native also coached at Baylor previously.
"Kasey is a good fit for our program," Gundy said in a statement. "He has a wealth of experience coaching running backs and receivers, which is a great benefit in our offense. He's a good recruiter and he will provide discipline and he will instill a strong work ethic in our running backs."
The Cowboys lose
Kendall Hunter
to the NFL heading into next season, but Dunn will get a chance to coach two sophomores in
Joseph Randle
and
Jeremy Smith
who both contributed as freshmen in 2010.
Randle ran for 452 yards and two touchdowns on 82 carried. Smith had seven touchdowns and 262 yards on 56 carries.
Oklahoma State is also bringing Herschel Sims into the fold, a 2011 commit from Abilene, Texas. Sims, a member of the ESPNU150, ranks as the nation's No. 10 running back and is the Cowboys' top-ranked recruit.