NCF Nation:

Hogs-Tigers-112511
November, 25, 2011
11/25/11
10:22
PM ET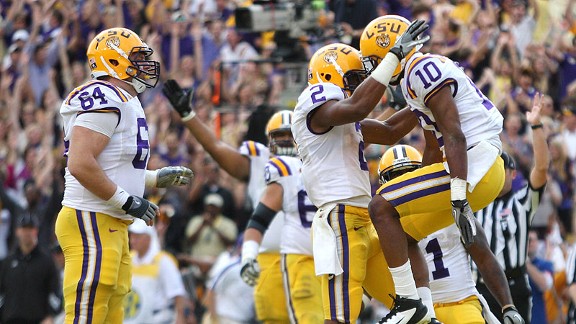 Derick E. Hingle/US PresswireLSU never looked back after Russell Shepard's touchdown late in the first half.
BATON ROUGE, La. -- It's already been a perfect season for LSU in just about every way.
The No. 1 Tigers ran their record to 12-0 on Friday with a
41-17
shellacking of No. 3 Arkansas at Tiger Stadium, yet another second-half onslaught that all but ensures the Tigers a spot in the Allstate BCS National Championship Game on Jan. 9 in New Orleans.
This team has accomplished a lot this season. The Tigers overcame a rash of off-the-field issues. They overcame key injuries and suspensions. They beat seven nationally ranked teams, including three teams ranked in the top three.
The only team to come within double digits of LSU was Alabama on Nov. 5 when the Tigers survived 9-6 in overtime in Tuscaloosa.
And now it looks like the Crimson Tide might again be lurking around the corner in the BCS National Championship Game if they can take care of their business Saturday at Auburn.
The LSU players all insisted Friday they would be focused squarely on Georgia on Dec. 3 in the SEC championship game, but nobody was exactly running from the idea of a rematch with Alabama, either.
In fact, sophomore defensive end Sam Montgomery suggested that would be the perfect way to cap a perfect season.
"With everything this team has been through, to top it off and play Bama again would be perfect," Montgomery said. "For all of us to overcome and beat a powerhouse like Alabama would just make the whole year perfect.
"I wouldn't need anything else."
Reminded that LSU had already beaten Alabama one time this season, Montgomery smiled and said, "The second time's the charm."
It's been a charmed season for the Tigers, who still have a red-hot Georgia team to deal with before thinking national championship. But even if LSU loses to Georgia and doesn't get blown out, the Tigers likely would still finish in the top two of the final BCS standings and lock up a berth in the national title game.
"I just want you to know. There will be no way this football team could come to Atlanta and not play their best ... just so you know," said LSU coach Les Miles, who wasn't about to go down the "what if" path.
And why should he, especially with the way his team has played this season?
Nothing fazes these Tigers -- bar brawls, suspensions, tough matchups away from home, even 14-0 deficits to start the game.
The last was a new one Friday for this team, which previously hadn't trailed in any game at home this season.
But the Hogs (10-2, 6-2) went up 14-0 in the second quarter thanks to
Tyler Wilson
's 13-yard touchdown pass to
Jarius Wright
and Alonzo Highsmith's 47-yard fumble return for a touchdown.
"There was no question in anybody's mind on that sideline that we would respond," Miles said.
The Tigers didn't just respond. They sent out purple and gold flares to all corners of the college football world.
"That's what we do," said LSU sophomore defensive back Tyrann Mathieu, who returned to his "Honey Badger" form with a 92-yard interception return for a touchdown and two forced fumbles. "When you hit us, we hit back harder. That's what happens when you go through everything we have this year together."
Starting with
Kenny Hilliard
's 6-yard touchdown run at the 5:15 mark of the second quarter, LSU outscored Arkansas 41-3 the rest of the way.
Part of that barrage was Mathieu's punt return to tie the game at 14-all, and on Arkansas' next offensive possession, he forced a fumble that led to another LSU touchdown just before the half.
"When you get that chance and you can feel the stadium behind you, you want to make that big play," said Mathieu, who shifted over to safety because Eric Reid missed the game with a quadriceps injury.
The second half was a carbon copy of what LSU has done all season. The offensive line took matters into its own hands, and the defense was stifling.
The Hogs were held to 89 total yards, including minus-25 rushing yards, in the second half and managed only a field goal. Keep in mind that this was an Arkansas offense that was leading the SEC in total offense and scoring offense coming into the game.
The Tigers sacked Wilson five times, and if you count just the first-team defense, they now have gone six straight games without giving up a touchdown in the second half.
"We play through adversity and stuff like that, but this is a team that has one goal in mind, and that's winning a national championship," LSU defensive tackle Michael Brockers said. "That keeps our game at a high level."
That and a pursuit of history.
"We've beaten everybody by double digits except for Alabama," LSU offensive guard Will Blackwell said. "Our goal now is to not only win the SEC and go to the national championship, but to be the best team we've ever had here at this school.
"We take a lot of pride here, and that would mean a lot to us. But that's the goal."
And if Alabama happens to be in the way of reaching that goal -- again -- so be it.
"Of course, you never want to play a team you've already played," Blackwell said. "It's tough to beat the same team twice. Everybody knows that. But like I said, it doesn't matter who we play. We're going to go out there and play our game and will ourselves to victory."
November, 25, 2011
11/25/11
6:26
PM ET
BATON ROUGE, La. -- No. 1 LSU remained perfect Friday by sprinting past No. 3 Arkansas for a
41-17
victory at Tiger Stadium after trailing 14-0 early.
Here's an instant analysis:


How the game was won:
LSU trailed 14-0 in the first quarter, but scored 21 unanswered points in the second quarter and then dominated the second half with a combination of its bruising running game and big plays on defense.
Turning point:
Leading 24-17 entering the fourth quarter, LSU scored a touchdown on its first possession of the fourth quarter and came right back and scored another one following Morris Claiborne's leaping interception, breaking the game wide open.
Stat of the game:
LSU held Arkansas to 89 total yards in the second half. For the game, the Hogs were held to 254 total yards. They entered the game averaging 463.3 yards per game, which led the SEC.
Stat of the game II:
It was LSU's third win of the season against a top 5 team.
Player of the game:
LSU's Tyrann Mathieu, switching over to safety from cornerback to fill in for the injured Eric Reid, had a 92-yard punt return for a touchdown to tie the game at 14-14 in the second quarter. He also forced two fumbles, the first one leading to the Tigers' third touchdown, which put them ahead 21-14 at the half.
Unsung hero:
Despite a couple of shaky plays in the first half, LSU senior quarterback
Jordan Jefferson
came back strong with his best all-around outing of the season. He was 18-of-29 for 208 passing yards, including a 9-yard touchdown to
Russell Shepard
, and also ran 48 yards for a touchdown.
What it means:
LSU (12-0, 8-0) completes a perfect regular season and heads to Atlanta next week to face Georgia in the SEC championship game. The Tigers also put themselves in great shape for a berth in the Allstate BCS National Championship Game, even if they lose to the Bulldogs.
November, 25, 2011
11/25/11
5:53
PM ET
BATON ROUGE, La. -- As LSU pulls away from Arkansas in the fourth quarter in what is now a 41-17 game, it's worth pointing out what kind of roll the Tigers have been on defensively.

One of Arkansas' touchdowns Friday was a fumble return, so in its last eight games, LSU's defense has not allowed an opponent to score more than 11 points in a game.

And if you go back to the second week of the season, it's 10 of 11 games that LSU's defense has held the opposition to 11 or fewer points.

The Tigers have given up some yards in this game, but they just don't give up points.
November, 25, 2011
11/25/11
5:31
PM ET
BATON ROUGE, La. -- Both teams had chances to score touchdowns in the third quarter, but had to settle for field goals.
For Arkansas, it was especially costly after the Hogs came up with an interception and then a 60-yard catch and run by
Cobi Hamilton
to get them out of the hole.
But on a play Arkansas coach Bobby Petrino would probably like to have back, he put backup quarterback
Brandon Mitchell
in the game on second down from the LSU 6-yard line, and Mitchell fumbled the snap and was thrown for a loss of 6 yards.
The Hogs kicked the short field goal to pull within 21-17.
The Tigers returned the favor on their next offensive possession.
Michael Ford
raced 49 yards to the Arkansas 6.
Jordan Jefferson
had
Rueben Randle
wide open on third down, but overthrew him in the end zone, resulting in a 21-yard field goal and 24-17 LSU lead.
It looks like the team that can score a touchdown in the red zone in the fourth quarter is going to win this game.
November, 25, 2011
11/25/11
4:31
PM ET
BATON ROUGE, La. – No. 1 LSU scored 21 unanswered points in the second quarter to go into halftime with a
21-14 lead
over No. 3 Arkansas on Friday at Tiger Stadium.
Here's a quick halftime analysis:


Turning point:
Arkansas was driving in LSU territory late in the second quarter when running back
Dennis Johnson
fumbled the football. He was initially ruled down on the field, but the play was reviewed and ultimately overturned. LSU took over at its 34 with 1:59 left in the half and drove 66 yards in five plays for
Jordan Jefferson
's 9-yard touchdown pass to a slanting
Russell Shepard
, giving the Tigers a 21-14 lead. They scored all three of their touchdowns in the final 5:15 of the second quarter.
Player of the half:
Tyrann Mathieu, starting at safety in place of the injured Eric Reid, had a hand in two of the Tigers' three touchdowns. His 92-yard punt return for a touchdown made it a 14-14 game, and Mathieu is the one who stripped the ball from Johnson on the Hogs' next offensive possession. Ron Brooks recovered, leading to the Tigers' go-ahead touchdown.
Stat of the half:
The two teams have combined for five touchdowns, which is already five more than was scored in LSU's 9-6 overtime win against Alabama on Nov. 5.
Stat of the half II:
The two quarterbacks -- Arkansas'
Tyler Wilson
and LSU's Jefferson -- were a combined 20-of-27 in the first half.
Of note:
Both teams scored non-offensive touchdowns. In addition to Mathieu's punt return, Arkansas linebacker Alonzo Highsmith returned a fumble 47 yards for a touchdown in the second quarter.
November, 25, 2011
11/25/11
3:32
PM ET
BATON ROUGE, La. -- Arkansas quarterback
Tyler Wilson
has done a nice job of buying himself time against the LSU defense, and he's also made some good decisions when it's come to dumping the ball off underneath to receivers.
Wilson's
13-yard touchdown pass
to
Jarius Wright
on the first play of the second quarter was a short toss over the middle after the Hogs emptied the backfield and spread out LSU's defense.
Wilson, who's already made several plays with his legs, has taken what the LSU defense has given him, and right now, that's a ton of underneath routes.
LSU is playing without starting safety Eric Reid, who injured his quad last week against Ole Miss. The Tigers are using a lot of sets with five defensive backs, although Tyrann Mathieu is playing safety instead of cornerback.
For Wright, that was his 11th touchdown catch of the season, tying the school record. He now owns the school record for receiving yards in a season.
November, 25, 2011
11/25/11
2:45
PM ET
BATON ROUGE, La. -- The "what if" scenarios are everywhere in anticipation of Friday's Arkansas-LSU showdown.

From some of college football's finest tailgating spots on the LSU campus to the Tiger Stadium press box, everybody wants to know what the BCS standings will look like on Sunday if Arkansas wins here today.

Granted, part of it will depend on what Alabama does at Auburn on Saturday.

Generally, though, ESPN's BCS standings guru, Brad Edwards, thinks Arkansas would move ahead of LSU in the two human polls, but that LSU's strength in the computers would likely keep the Tigers ahead of the Hogs in the BCS standings.

One of the factors that could affect that is if Arkansas were to win big and move to No. 1 in the human polls.

Of course, if LSU wins, the Tigers would clinch the Western Division title and go to the Georgia Dome next Saturday to face Georgia in the SEC championship game.