NCF Nation:

Hokies-Cavs-111126
November, 26, 2011
11/26/11
9:20
PM ET
CHARLOTTESVILLE, Va. -- Heading into Saturday's game against rival Virginia Tech, easily the biggest game of the season for the Cavaliers and the most important one they had played in since the regular-season finale in 2007, Virginia was riding a four-game winning streak. They were ranked in the Top 25 of The Associated Press and were one of the hottest teams in the ACC.
Apparently, Virginia Tech was sick and tired of hearing about it.
"The guys definitely took it as a slap in the face," quarterback
Logan Thomas
said. "We've been a part of this rivalry for the past couple of years. Nobody was really talking about us. They were all talking about Virginia and how good Virginia was going to play. We took it as a slap in the face and wanted to go play hard."
Virginia Tech didn't just play hard in the
38-0 win
that clinched the Coastal Division title, it brought down its lunch pail on the Cavaliers. Over. And over. And over again. There's no question Virginia Tech still owns this rivalry, winning eight straight games in the series. It's obvious a gap still remains between the Hokies and the Hoos, and Virginia Tech is still the team to beat not only within the state, but also within the ACC until proven otherwise.
But ...
But
...
Be wary of Virginia.
[+] Enlarge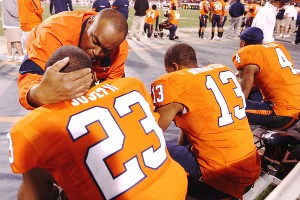 Steve Helber/AP PhotoDespite the shutout loss to rival Virginia Tech, Mike London and his Cavaliers still exceeded expectations for the season.
Despite the lopsided score when it mattered most, Virginia still exceeded expectations in the second season under coach Mike London. His team was picked by the media to finish fifth in the Coastal Division, and many outside the program scoffed at the possibility of a bowl game. The fact that Virginia even had a chance to play in the ACC championship game was one of the biggest surprises of the season, and London is convinced that the loss to Virginia Tech -- as devastating as it might be to his players in the moment -- doesn't detract from their overall resume this season.
"We're a better team that what we showed tonight," London said. "It's easy to walk around with your head down because you lost to your rival. The implications of this game, it's kind of tough because this is the game that could get you into the ACC championship game. No one ever thought our team would do that. Those two things combined, it's disappointing, but the fact we won eight games, we won games on national TV and played well and had a chance to write our own ending here winning our game ... who would've thought that at the beginning of the year?"
Virginia had played so well recently, upsetting then-No. 25 Florida State on the road last week for the first time in school history, that it's fair to say the Cavaliers actually underachieved in the season finale. Granted, Virginia Tech's smothering defense had a lot to do with it, but it was an uncharacteristic performance for the Cavaliers. It was the first time this year that Virginia didn't force a turnover, and the Hoos tied a season high with four turnovers. They were also held to a season-low 30 yards rushing and were shut out at home for the first time in 172 games.
What hurt Virginia the most was the fact it came up empty in three trips inside the red zone. The Cavaliers also had just three third-down conversions and came up short in the first half on a critical fourth-and-2 from the 7-yard line.
Despite what it might have looked like on the outside, offensive coordinator Bill Lazor said it certainly wasn't for a lack of effort.
"To me, we've been playing every game like it's a playoff game," Lazor said. " ... As a program that hasn't been to a bowl game in a while, getting to that sixth game, to me, was like a playoff game. And then getting to the seventh game, and then you're at the point where you're playing Miami at night, and then you're playing Florida State knowing the team hadn't beaten two Florida teams in the same year. So to me, they're all playoff games once we hit a certain point and guys were rising to the occasion.
"Yeah, everyone is disappointed and it's certainly very disappointing to be shut out and be kept to such a low yardage number, but the big disappointment is losing because I think our guys came in really believing they were going to win the game, they believed they earned the chance to play in a [conference] championship game which they had, and it's disappointing for the guys. I feel bad for them."
Virginia Tech running back
David Wilson
doesn't. He racked up 153 yards and two touchdowns, his 10th 100-yard game of the season.
"We have televisions in our locker room and we see what people say," Wilson said. "ESPN was doubting us, saying we should not be in the top five, but the way the score went today gave a lot of those guys a wake-up call."
The Hokies made their statement, and they'll have a chance to do it again in the ACC title game against Clemson, which beat Virginia Tech 23-3 earlier this season. They're not the only ones, though, with an extended season this year.
"Last year at this time, I was packing it up and putting it away for the season," said Virginia receiver
Kris Burd
. "For us to have an opportunity to go in a bowl game and play is another opportunity for us to step on the field."
It's also another step forward for London's program. It's just not quite the leap they had hoped for.
November, 26, 2011
11/26/11
8:46
PM ET
By
ESPN.com staff
| ESPN.com
Virginia Tech running back
David Wilson
talks about what Saturday's victory over rival Virginia means to the Hokies.
November, 26, 2011
11/26/11
6:47
PM ET


CHARLOTTESVILLE, Va. -- The Cavaliers put themselves in position to win the Coastal Division title in only the second season under coach Mike London, but for four quarters on Saturday afternoon when it mattered most,
Virginia Tech reaffirmed
it is still the team to beat.
The Hokies will face Clemson in the ACC championship game for a rematch of the regular season game which Clemson won, 23-3.
Virginia's offense was stagnant, and the Cavaliers couldn't continue the momentum from last week's upset at Florida State. I'm heading down to postgame interviews now, so check back for more on this game and more from the rest of the games in the ACC today.
November, 26, 2011
11/26/11
6:12
PM ET
CHARLOTTESVILLE, Va. -- The hole is getting deeper.
There doesn't seem to be a sense of urgency for Virginia, no sign that that the Coastal Division title is on the line here in Scott Stadium. Instead, in the biggest game of the year for the Cavaliers, coach Mike London decided to put true freshman quarterback
David Watford
in the game for one play which he significantly overthrew. Inexplicable.
The chant of "Let's Go - Hokies" has taken over the stadium, and it doesn't seem like there is much of a home field advantage here anymore for Virginia. There certainly isn't one on the field, where Virginia Tech's defense continues to win the battle up front and has put continuous pressure on quarterback
Michael Rocco
. The Hokies are making the key stops on third downs, and Virginia's offense has gone nowhere in this game. They've got one quarter left to dethrone the defending ACC champs.
November, 26, 2011
11/26/11
5:14
PM ET
CHARLOTTESVILLE, Va. -- This game is by no means over, but the Hokies have made more big plays and Virginia will need a spark in the second half to get back into it. The UVa fans could also use a spark, too, as the sold-out stadium here has gotten much quieter since the opening kickoff. Virginia Tech quarterback
Logan Thomas
has had good protection and has been throwing the deep ball well, while Virginia quarterback
Michael Rocco
has been throwing under pressure a lot. Here's a look back at some of the key points of the first half:


Turning point:
Trailing 7-0, Virginia had a chance to tie the score on fourth-and-three from the Hokies' 7-yard line, but Virginia Tech came up with a big fourth-down stop as
Kevin Parks
came up a yard short, and Virginia turned it over on downs. The play summed up the first half for Virginia, as the Hoos were able to move the ball on Virginia Tech, but they obviously couldn't score. It was Virginia's first scoreless half of the season.
Stat of the half:
Four-and-oh: Virginia had four drives into Virginia Tech territory and came away with zero points. The Hoos have had three punts, two fumbles, and a turnover on downs. On the flip side, the Hokies took miserable field position and made the most of it. Four of their five drives started at their own 17, 5, 4, and 3-yard line and they were able to sustain some long drives and capitalize in the red zone.
Best player in the half:
Thomas. He has been overshadowed this season by teammate
David Wilson
, but Thomas has been the difference-maker. He completed 7 of 11 passes for 138 yards and a touchdown, and he has also run for 22 yards and a touchdown.
November, 26, 2011
11/26/11
4:27
PM ET
CHARLOTTESVILLE, Va. -- Virginia is moving the ball on Virginia Tech, but the Cavaliers haven't been able to finish the job. Some of that obviously has to do with Virginia Tech's defense, which has been making the key stops.
Continue to watch the battle up front, as the Hokies are going against a veteran offensive line that has used the same starting lineup all season -- a rarity, considering the injuries that typically happen to linemen.
So far they've allowed one sack after allowing just 11 all season, so pressure on
Michael Rocco
will continue to be key. Virginia Tech also got a key fourth-down stop with UVa inside their 10-yard line. Virginia keeps hanging around in this game, but the Hoos need to get some momentum when they have the ball.
November, 26, 2011
11/26/11
3:16
PM ET
CHARLOTTESVILLE, Va. -- A few quick notes on the depth charts for you:

Virginia Tech center Andrew Miller is going to try to play today, according to a school spokesman, despite nagging hip and ankle injuries, but the staff is going to determine it from how he's warming up here and pretty much leave the decision up to him. If Miller can't go, Michael Via will take his place, and he has played sparingly at center. Defensively, outside linebacker Alonzo Tweedy is available, despite a high ankle sprain, and his role will likely be limited to special teams and designated situations on defense. He hasn't practiced a lot recently. Kyle Fuller is expected to start at cornerback instead of Cris Hill.

There are no lineup changes for Virginia.
November, 26, 2011
11/26/11
2:48
PM ET
CHARLOTTESVILLE, Va. -- So this is what Virginia looks like for a big game.

I was here in 2007 -- the last time this game meant something to the ACC race, and I don't remember it being like this. It's packed. There are hordes of people tailgating everywhere. There was real game traffic. The Hokies have moved in. Kids were moving a Virginia Tech ping-pong table onto somebody's lawn, and a group of older Hokies were hosting their own country version of "Dancing with the Stars." Virginia fans aren't going to be outdone on their home turf, though. One group of fans got clever and tied a mini stuffed Hokie mascot to the back of a remote control car and kept driving it out onto the middle of the road.

The winner of this game will face Clemson in the ACC title game, but the reason there is such a different buzz around this game is because you can feel an honest-to-goodness belief in the direction Virginia is heading under Mike London. Whether or not they win this game, the Hoos are still ahead of schedule. The fact that they're even bowl eligible exceeded expectations. But Virginia is capable of beating the No. 5 team in the country because it plays good defense and can run the ball, but it must also win the turnover battle.

Virginia Tech has owned this series, winning the past seven games and 11 of the past 12. Virginia has given itself a chance to play for the ACC title, though, and a sold-out crowd has come here to see it.