NCF Nation:

Hokies-Tigers-102012
October, 20, 2012
10/20/12
6:01
PM ET
CLEMSON, S.C. -- If Virginia Tech is the best team in the Coastal Division -- scratch that, the best
eligible
team -- the ACC championship game is in trouble.
And right now -- even after a
humbling 38-17 loss
at Clemson -- the Hokies can still wind up in Charlotte with a dreadful 7-5 record. That, of course, is assuming they can muster a win at Miami on a Thursday night in two weeks.
[+] Enlarge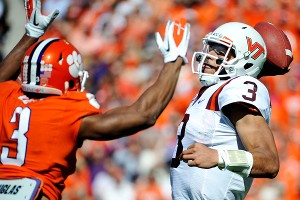 AP Photo/Rainier EhrhardtQuarterback Logan Thomas and the Hokies had a rough day against Clemson but Virginia Tech is still in good position to win the Coastal Division.
Virginia Tech was picked by the media in July to win the Coastal Division, but odds are none of those votes of confidence came under the assumption it might happen like this. Virginia Tech has historically been one of the ACC's best road teams, boasting a 27-7 ACC road record since joining the league in 2004, but after Saturday's loss to Clemson, the Hokies have yet to win outside of Lane Stadium this year. Virginia Tech has been one of the winningest programs in the country, the only school in the FBS to win 10 games in each of the past eight seasons. In order to keep that streak alive now, the Hokies would have to win every game, including the ACC championship and the Discover Orange Bowl.
This isn't the Virginia Tech ACC fans are used to seeing, and it might not even matter this year because of the rest of the division is struggling even more.
"We're pretty level-headed," said quarterback
Logan Thomas
. "We're not too down on ourselves, and obviously we're not too up on ourselves. We're excited that we still have a chance to play for an ACC championship, but at the same time we know we have a lot of work to do. Our opponents the rest of the way are still tough. … Nothing is a given, we've got to go earn it.
"I think we're good enough," he said. "We've got to put it all together, but I think we're good enough."
The good news? Virginia Tech's defense played remarkably well against Clemson's high-flying offense. The Tigers were held to 295 yards of total offense after averaging 525.83 yards entering the game, good for No. 2 in the ACC and No. 11 in the country. The Tigers had 15 first downs to the Hokies' 23. Virginia Tech outgained Clemson and ran 12 more plays. For the first time in a long time, though, Clemson's defense played better. The Tigers forced four turnovers, including three interceptions. Virginia Tech's three first-half turnovers were a major difference in the game.
And Virginia Tech couldn't overcome a third quarter in which the Hokies were held to just 60 total yards. That's been Virginia Tech's biggest problem this season – putting it all together for four quarters. Against Duke, the Hokies fell behind 20-0 to Duke in the first quarter before shutting the Blue Devils out for the final three. The defense carried that momentum over into Death Valley, but the offense stalled again in the second half against the Tigers.
"We've played good football at times, and we've played inconsistent football at times," coach Frank Beamer said. "We're still looking for that consistent football team, but we've been there. We just have to put our heads down and keep working."
Virginia Tech has owned the ACC since it joined -- no wonder its fans are a bit spoiled. The fans were quick to hit the panic button after the road loss to Pittsburgh, but those within the program continue to keep plugging away.
With the ACC title still a realistic goal, there's no reason they shouldn't. If Coastal Division teams are going to lose to anyone this year, North Carolina is the right team to fall to. With the Tar Heels ineligible this year, a loss to them doesn't hurt as much. A loss to Miami, though, would be devastating.
"You just keep playing," quarterbacks coach Mike O'Cain said. "The great thing is we come to work every day with a great group of young men who are fighting their butts off. They're not always playing the best, but they are fighting and giving us a chance to be successful. You work with a good group of people, you work with a good head coach, and you know in this profession that there are going to be some games, some years where things don't exactly go right, and you just keep going. That's what you preach to the young men."
Virginia Tech is allowed to have an off-year. It is allowed to step aside and let somebody else carry the banner for the ACC. That's how college football goes. The problem is, nobody else in the Coastal Division seems to want to take advantage of it.
October, 20, 2012
10/20/12
5:03
PM ET

Heather Dinich talks to Clemson's defensive coordinator following the Tigers' 38-17 home win against Virginia Tech.
October, 20, 2012
10/20/12
3:31
PM ET


CLEMSON, S.C. -- Virginia Tech fans want to blame the officials. They want to blame two bad calls -- a sack on quarterback
Logan Thomas
that was nowhere near a sack on third down, and a fumble by
Sammy Watkins
that was ruled a completion. They want to blame anyone they can for the Hokies'
third straight loss
to Clemson in a little over a year. Truth is, though, those two calls didn't lose the game for the Hokies. Clemson was the better team, and Virginia Tech's offense stalled once again. Here's a quick look back at today's game in Death Valley:
It was over when:
Clemson safety
Xavier Brewer
intercepted
Marcus Davis
with 6:55 left in the fourth quarter and returned it 12-yards to the Hokies' 41-yard line. The turnover resulted (eventually, after a lot of effort at the goal line on fourth-and-goal) in the 38-17 lead and the final punch in the gut.
Gameball goes to:
Clemson's defense. This much-maligned group came through when it needed to against the Hokies. Three takeaways in the first half were a major difference, and the three interceptions were the most in one game since last season's game against North Carolina.
Stat of the game:
Virginia Tech had 60 yards of total offense in the third quarter. The Hokies punted four times, had a turnover on downs, and had two drives amount to negative yardage.
October, 20, 2012
10/20/12
11:00
AM ET
CLEMSON, S.C. -- This is
the REAL Death Valley
, right?
As far as Clemson fans are concerned it is.


It's an absolutely spectacular fall football Saturday here. The Clemson fans were zipping down I-85 South early this morning, and the tailgates were set up more than three hours before kickoff. This is not a sleepy football town. I tweeted earlier that if Clemson played all night games, the Tigers might never lose at home. They shouldn't lose this afternoon, either -- not with the matchup against Virginia Tech's secondary favoring Clemson, and not with the concerns the Hokies have on their offensive line. Those will be the two main keys to the game, of course along with quarterback play between Virginia natives
Tajh Boyd
and
Logan Thomas
-- two friends and great competitors.
I spoke with Thomas this week, and he said he was confident in
Michael Via
at center, and it should help the Hokies to have
David Wang
at left guard. Virginia Tech football (@VT_football) tweeted that, barring a setback in warm-ups, Wang should be able start. If the Hokies can continue the success they had running the ball against Duke with true freshman
J.C. Coleman
, that might be their best defense -- to sustain some drives and keep
DeAndre Hopkins
and
Sammy Watkins
off the field as much as possible. That's going to be a tough matchup for the Hokies' young secondary. If they play man, they might just get burned.
It's an important game for both teams -- one neither can really afford to lose. Virginia Tech, though, is facing even more pressure, considering the Hokies have yet to win a game away from Lane Stadium this season and they lost to Clemson twice last season. A win in Death Valley would prove last week's three quarters against Duke were legit.
October, 20, 2012
10/20/12
9:45
AM ET


Heather Dinich talks about the matchup for Virginia Tech's secondary, the Hokies' concerns up front, and their struggles on the road.