NCF Nation:

Hokies-Tigers-111203
December, 4, 2011
12/04/11
2:25
AM ET
CHARLOTTE, N.C. -- Clemson offensive coordinator Chad Morris said there haven't been any changes to his current contract in regards to an extension or raise based on the success of his first season. He did say he has been contacted about job possibilities with other programs.

"I am committed to Clemson," he said. "It is crazy right now. It's the time of year. That's all I know. Have there been people who have contacted me? Yes."

Clemson head coach Dabo Swinney said after the game that Clemson fans don't have anything to worry about, and Morris is sticking around.

He might want to get working on that contract to make sure.
December, 4, 2011
12/04/11
2:23
AM ET
CHARLOTTE, N.C. -- Consider these the MVP edition of helmet stickers for the Dr Pepper ACC championship game:

Offensive MVP:
Clemson quarterback
Tajh Boyd
. He finished the night with 240 passing yards and three touchdown passes. He had a fourth rushing touchdown, giving him 31 touchdown passes and five rushing for the season — 36 total. Those are season records. Boyd also established the Clemson record for passing yards in a season and total offense in a season in the
38-10 victory over Virginia Tech
. Boyd now has 3,578 passing yards, ahead of the 3,561 Charlie Whitehurst had in 2003. He had 268 in total offense tonight and now has 3,764, surpassing Woody Dantzler's record of 3,661, set in 2001.
Defensive MVP:
Clemson defensive end Andre Branch. He was a big reason the Tigers' defensive line had the advantage and was a difference-maker up front. He also had a key fumble recovery on Virginia Tech's first offensive play of the game that set up Clemson's first touchdown. His ability to pass rush flustered quarterback
Logan Thomas
, and his fumble recovery was Clemson's first takeaway in the past four games. It gave the defense confidence it needed early.
December, 4, 2011
12/04/11
2:05
AM ET
CHARLOTTE, N.C. – As the offensive team bus turned into the stadium near the West End Zone last Saturday night following Clemson's third consecutive loss to rival South Carolina, the bus driver turned the lights on, and Clemson offensive coordinator Chad Morris took the opportunity to stand up in front of his players and tell them he wasn't giving up on them.
"I promised them if they come to work on Monday, we'll get it right," he said, "and I told them we've lost our last football game. I'm sick of it."
Apparently, so were they.
While Clemson's
convincing 38-10 upset
of fifth-ranked Virginia Tech in the Dr Pepper ACC championship game shocked many on Saturday night, those within the program say there was no shortage of motivation in the week leading up to the most important game of the season. After back-to-back losses to finish the regular season, there was what tight end
Dwayne Allen
called a "come to Jesus meeting" on Monday, in which coach Dabo Swinney "laid it on us, and it was much-needed." There was Swinney's highly publicized Thursday night rant about rival South Carolina that got his team all jacked up. And then there was Friday's meeting, in which every player was required to stand up and pledge that he would give 100 percent against Virginia Tech.
Whatever it took, and no matter how they did it, the Tigers have found a way this season to win the games that matter most. It just so happened that two of those games were against Virginia Tech, and for the second time this season, the Tigers played their best game of the year against the Hokies. Say what you will about Clemson's infamous implosions -- none bigger this season than an inexplicable loss to an unheralded NC State team, and an anemic offensive showing in last week's 34-13 loss to South Carolina. In the end, though, it was Virginia Tech that "pulled the Clemson."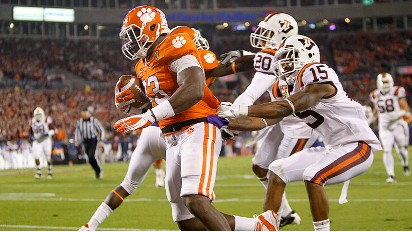 Bob Donnan/US PresswireA first-quarter scoring strike to Dwayne Allen was the first of three touchdown passes for Clemson's Tajh Boyd.
"We've been pretty ugly here in the last few weeks, and tonight we got back to our formula," Swinney said. "We created turnovers, we took care of the ball. My quarterback showed back up. I told him, I said, 'We've been like a team with the flu or something.' We got better. We needed some early momentum, we needed a spark."
They didn't just get a spark; Clemson got a third quarter filled with offensive fireworks. Clemson outgained Virginia Tech 181 to minus-2 total yards on the first three drives. The game was tied at 10 at halftime, but Clemson scored 21 unanswered points in the third quarter. The Tigers outgained Virginia Tech in total yards 210 to 51 in the third quarter and scored three touchdowns on five plays in a span of 4:24.
"It was just one of those things that just didn't happen right," coach Frank Beamer said. "If you've been in athletics and you've been in games, sometimes it gets rolling like that, and it got rolling, and we didn't do a good job of stopping it."
Clemson's defense, on the other hand, smothered Virginia Tech. Again. And running back
David Wilson
didn't seem too thrilled about it. The ACC Player of the Year had only 11 carries for 32 yards. He openly questioned the staff's play calling.
"I mean, I never got to get in a rhythm. … A lot of times we were calling a run straight into their blitzes," Wilson said.
"Part of the reason we stopped running the ball, I guess the coaches thought that it wasn't being successful. But at the same time, you have to get your guys going. The offensive line has to get them moving, and you have to get your running backs into the flow of the game. … When we run our plays into their blitzes, it's not gonna work."
Nothing seemed to work for the Hokies. It was the worst margin of defeat for Virginia Tech since it joined the ACC. The Hokies were beaten soundly up front by Clemson's defensive line, and Clemson quarterback
Tajh Boyd
, the game's unanimous MVP, picked apart a secondary that was depleted by a stinger to cornerback Jayron Hosley.
It wasn't injuries, though, or officiating that determined the outcome of this game. It was Clemson's 457 total yards of offense. It was Virginia Tech's three turnovers and nine penalties. And it was Clemson's transformation this week from choking to champion.
"You know, we don't listen to the outside world," Clemson defensive end Andre Branch said. "Basically like Coach Swinney always said, we play for each other. So yeah, we lost some, but we can either pout about it and keep losing or we can man up and just do what we're capable of doing."
It's been 30 years, though, since they've had a chance to do it in the Orange Bowl. Clemson won its first ACC title since 1991, and will play in the Orange Bowl for the first time since 1981.
"Coach said it all along," Allen said. "The only team that can beat Clemson is Clemson. If you watch the film, it's not South Carolina physically beating us, it's not NC State physically beating us, it's us not doing our jobs. Guys are going to kick someone's butt every now and then, but when you don't have your eyes in the right spot, when you're not in your gap, you can't win."
Clemson didn't beat South Carolina or NC State this year, but more importantly, with a championship on the line, the Tigers finally didn't beat themselves.
December, 3, 2011
12/03/11
11:25
PM ET
CHARLOTTE, N.C. -- Clemson has
won an ACC title
for the first time since 1991.


It was a flat-out dominating performance by the Tigers, and it was arguably the Hokies' worst effort since -- you guessed it, the last time they played Clemson. The Tigers will represent the ACC in this year's Discover Orange Bowl, and considering the way they played tonight, there's no question they deserve to. Clemson left no doubt it was the better team, and three turnovers by Virginia Tech quarterback
Logan Thomas
helped the Tigers prove it. It was quite a turnaround from Clemson's finish to the regular season, as the Tigers lost three of their final four games but played as if they were still in the midst of their eight-game winning streak.
I'm heading down to interviews now, so check back for more in a bit.
December, 3, 2011
12/03/11
10:48
PM ET
CHARLOTTE, N.C. -- Been there, seen that.

Clemson is beating Virginia Tech just like it did during the regular season when it won 23-3, the only difference is that this time, the ACC title is on the line. The third quarter has defined this game, but there have been two overriding factors that have separated these teams: 1) Clemson's defensive line is manhandling Virginia Tech's offensive line, and 2) Clemson has picked apart Virginia Tech's young secondary and taken advantage of the fact that cornerback Jayron Hosley has been sidelined for most of the game with a stinger.

Virginia Tech hasn't been able to run the ball in this game, and the Hokies have continuously gotten burned for big plays. Virginia Tech has been outgained in total yards 181-51 in the third quarter. A lack of confidence has been a major problem for Clemson, but now it seems as if the Tigers are back to their 8-0 form, and once again, Virginia Tech has helped that cause.
December, 3, 2011
12/03/11
9:58
PM ET


CHARLOTTE, N.C. -- The Hokies were favored to win this
game
, but Clemson has done a good job of getting the ball to
Sammy Watkins
in space, and
DeAndre Hopkins
was wide open on another big gain, as was tight end
Dwayne Allen
. Short passes have turned into some long gains for Clemson, and the Hokies have missed tackles and gotten beat on a few plays.
Meanwhile, the ACC's Player of the Year,
David Wilson
, hasn't been enough of a factor. His 11-yard gain late in the second quarter was the Hokies' longest run of the half. One thing that's similar to the first meeting between the two teams earlier this season, is that Logan Thomas has struggled to find guys open downfield, and there was also a turnover on the Hokies' first offensive play of the game. Both teams have made costly mistakes, in particular penalties. Here's a look back at the first half:
Turning point:
Clemson defensive end Andre Branch was flagged for roughing the passer late in the first half, which gave Virginia Tech an automatic first down on Clemson's 48-yard line. It was a foolish, unnecessary hit and gave the Hokies new life. The penalty was followed by gains of 19 and 13 yards. The Hokies got as close as the 14-yard line, but Clemson got a break when Jaymes Brooks was called for holding, and the Hokies lost about 14 seconds off the clock because they seemed to be aware of it and were forced to kick a field goal. The penalty on Branch, though, gave them that opportunity.
Stat of the half:
Wilson's 21 yards on six carries tied a season-low for rushing yards in a first half. He also was held to that many against Boston College, but finished with 134 yards.
Best player in the half:
Clemson quarterback
Tajh Boyd
. He's already had a much better game than what he did in last week's loss to South Carolina. Boyd has completed 14 of 21 passes for 118 yards and one touchdown. Chad Morris is putting him in positions to be successful, and he's only been sacked once after 11 sacks in the previous two games.
December, 3, 2011
12/03/11
8:51
PM ET
CHARLOTTE, N.C. -- Clemson safety Xavier Brewer got beat, and Virginia Tech got back in the game. What started out as deja vu for the Hokies, whose offense looked out of sync early, turned into a seesaw first quarter in which Virginia Tech got the last word with a 45-yard touchdown pass.


When it comes to the passing game, both Clemson quarterback
Tajh Boyd
and Virginia Tech quarterback
Logan Thomas
have been evenly matched so far, but what has separated them was Thomas' fumble was on the Hokies' first offensive snap. The turnover led to a touchdown, and it came as somewhat of a surprise, considering Clemson is the team that has struggled with turnovers recently.
Another surprise?
It wasn't until about two minutes left in the first half that Virginia Tech running back
David Wilson
got his first carry of the game.
Odd that the ACC's Player of the Year hasn't had more carries early.
December, 3, 2011
12/03/11
8:41
PM ET
CHARLOTTE, N.C. -- Virginia Tech cornerback Jayron Hosley is out of the game with a stinger, and his status for the rest of the game is "unknown," according to a tweet from the school's sports information director. Clemson is not a team you want to face without your best corner, especially in a game of this magnitude. Redshirt freshman Detrick Bonner has played, as has true freshman Kyshoen Jarrett.
December, 3, 2011
12/03/11
7:24
PM ET
CHARLOTTE, N.C. -- Clemson reserve running back
Mike Bellamy
has been suspended for the Dr Pepper ACC Championship game against Virginia Tech for a violation of team rules, the school announced less than an hour before kickoff. Bellamy had travelled to Charlotte with the team, but returned to Clemson, S.C., on Saturday.
Bellamy is Clemson's second-leading rusher with 343 yards on 57 attempts, a 6.0 average. He has three touchdowns, including one on a 31-yard run in the first meeting against Virginia Tech on October 1.
This is obviously a loss for Clemson.
Andre Ellington
is the main man, but Bellamy has contributed and helped the depth.
December, 3, 2011
12/03/11
6:40
PM ET
CHARLOTTE, N.C. -- If Clemson fans are still hung over from the third straight loss to South Carolina, there is no sign of it here outside Bank of America Stadium. There are Hokies here, of course -- there are always Hokies -- but the Tigers' fans had the advantage of knowing early that their team had clinched the Atlantic Division, and school and conference officials have said that the majority of tickets sold have gone to Clemson fans.


And that's exactly how it looks outside the stadium.
Tailgates for both teams have spread out for blocks on every side of the stadium. Back roads, dirt roads, dead ends -- you name it, ACC fans have found it. I covered this game when it was held in Jacksonville, Fla., and I can't even begin to tell you how much better this venue is, and how the game has grown even in the short time it has moved to Charlotte. This is the second season a sellout is expected, and the weather is even better than it was last year, when it began sleeting before the game. There is one event after another surrounding the stadium, a live concert, radio tents set up, VIP tents. It's almost impossible to walk around without bumping into somebody.
Speaking of which, two old friends bumped into each other on the field during pregame warm-ups. Clemson quarterback
Tajh Boyd
and Virginia Tech quarterback
Logan Thomas
-- both natives of Virginia -- shared a quick hug and a few words before Thomas put his headphones back on and ran off to join the Hokies and throw the ball around a bit. Boyd and Thomas have kept in touch a bit throughout the season. Both quarterbacks have gone in different directions since Clemson won 23-3 in October, and they'll be a focus again tonight.
Nationally, this game has lost some of its luster because of how Clemson finished its season, losing three of the last four, but you'd never know it by walking around Bank of America Stadium. Charlotte is hosting one big party here. If the actual game lives up to the pregame festivities, ACC fans should be entertained tonight.