November, 30, 2012
11/30/12
4:30
PM ET
You have questions. I have answers.
Ken in Connecticut writes:
AA, as a UConn fan, not getting invited to the ACC is devastating. I think it really sets that athletic program back quite a bit. There is plenty of blame to go around starting with the school president and current AD for going to the USVI to watch incredibly meaningless basketball instead of lobbying the ACC presidents and ADs. I think they thought the invitation was automatic. But the blame, I think lies mostly with former AD Jeff Hathaway. If you look at the hires all of the schools that have left or leaving made for their head football coaching vacancies over the last 2-4 years, they excite most of the fan base. Dana Holgorsen, Doug Marrone, Paul Chryst (eventually). He made the choice to go with a completely unexciting hire of Paul Pasqualoni, which has made the program stagnant and even going backwards. Before Randy Edsall left the Uconn program had an incredible amount of momentum, culminating in the automatic BCS bid and was as good, if not a better product on the field than all of the programs that are leaving or have left.
Andrea Adelson:
I agree wholeheartedly with your assessment, Ken. I truly believe if the Huskies continued on with their football success the last two years, they would have had a better shot at getting the nod over Louisville. Remember, last October it seemed UConn was the next team in. That was a season removed from a BCS appearance. Now the Cards are the up-and-coming football program and UConn is struggling to get to 6-6. Those comments from North Carolina chancellor Holden Thorp
essentially admitted
as much. Louisville athletic director Tom Jurich simply one-upped the UConn administration and refused to be undercut a second time. He was rejected by the Big 12 last year, and was simply not going to be told no again.
---
Joe Neubarth in San Diego writes:
Andrea where is there a chart showing who will be in the Big East in Football in 2013, who will be in football in 2014 and in 2015??? If such a chart does not exist, could ESPN post it somewhere? With all the defections and additions slated for the coming three years, I am at a loss to keep up. Please help us if you have the answers. After losing Louisville, the Big East could do no wrong by inviting BYU and Air Force to the conference for football. Shoot, they could even add Fresno State (a darn good football school) to form a Western division along with SMU and Tulane.
Adelson:
Here is your chart. There is no timetable for Rutgers and Louisville departures, but I am going to guess they are going to be gone in time for the 2014 season, as a resolution is reached to let them out of the 27-month waiting period. East Carolina, Boise State, San Diego State and Navy are football-only. I think BYU and Air Force are good choices, but I do not think either are interested right now.
---
David Ainscough in Provo, Utah writes:
With all the teams leaving the Big East, do you thing SDSU and Bosie will stay in the MWC? Also with Cincy and UConn looking for new homes could the MWC do to the Big East what it tried to do to them? Expand to the East Coast and add Cincy, UConn, Navy and maybe Temple and have an Eastern Division? This would keep BSU and SDSU home and improve both football and basketball.
Adelson writes:
I still think the Big East offers more money from whatever future TV deal it gets, and that is why the Mountain West will have no leverage to keep Boise State and San Diego State, and why it cannot take Cincinnati and UConn.
---
Matthew Thieneman in Louisville writes:
Andrea, come with us to the ACC! What will Cardinal fans do without their favorite blogger, and awesome red-headed lady? I don't know how we can survive!
Adelson:
You are too kind, Matthew. Thanks for the kind words. You will be happy to know I have been contributing on the ACC blog all season. So I am already a quasi-ACC blogger. Go
check out the page
and see for yourself!
---
Offended and angry in Cincinnati writes:
Andrea, I used to have respect for you. I used to respect your views and I appreciated your optimism. But after reading your article on Wednesday about
Louisville's move to the ACC
, I was offended and irritated. Are you so naive to believe that the sole reason the ACC accepted Louisville because of football? That's a ridiculous claim. No, this move was about athletic revenue, money, and cash. If the ACC was looking for the Big East football program with the most recent success, they would be stupid not to take Cincinnati first. Over the past six years, Louisville's highest BCS ranking was 9, whereas in 2009, UC climbed all the way up to 3. UC has had four 10-win seasons since 2007 and pretty good chances at a 5th this year. Louisville, on the other hand, has had zero. let me write that again larger. ZERO! No matter how many times we tell you, You never fully appreciate the quality of the University of Cincinnati football program. Yet Louisville is apparently a few steps ABOVE UC? You are fully mistaken to think that this move was based on football. This was all about money, yet again.
Adelson:
We will disagree on this one. All I can tell you is what Louisville athletic director Tom Jurich said. The teams that lobbied hardest in the ACC for Louisville: Florida State and Clemson. Those are the two football powers in the ACC. So if you think football was not a huge factor for the Cardinals, you are mistaken. Also included in the piece are the other attributes Louisville has, including the largest athletic budget in the Big East and the most profitable basketball team in the country. I understand that UC and UConn fans are angry about what happened, but Louisville had the better overall athletic picture and yes, football got 'em over the top.
November, 28, 2012
11/28/12
3:00
PM ET
North Carolina chancellor Holden Thorp put it bluntly when asked why the ACC Council of Presidents chose to add Louisville over Cincinnati and UConn.
Forget academics.
This was all about sports. You have got to appreciate the honesty in his comments.
"It was really all of the presidents who discussed it, and I think that what we felt was that what the ACC needed the most was to add the most exciting sports program that we could," Thorp said on an ACC teleconference Wednesday discussing Louisville's addition. "That is the way to ensure that the success of the ACC in sports was successful enough to allow us to keep our group together and we talked about that extensively.
"But Louisville, [president] Jim Ramsey is an excellent leader in higher education and he's done a lot with their university. It's on an upward trajectory. We feel very good about the addition of Louisville in every respect, but our logic was that we wanted to make the ACC as exciting a sports conference as we possibly could and we felt that Louisville unambiguously did that for us the best."
Commissioner John Swofford was then asked specifically about whether football was the deciding factor in adding the Cardinals.
"The answer would be that we felt Louisville was the best fit for the Atlantic Coast Conference at this point in time in every respect," Swofford said. "When you look at Louisville, you see a university and an athletic program that has all the arrows pointed up. Tremendous uptick there, tremendous energy, so that's my response to that. It's always an overall fit in every respect, and I think that's what we found."
So does this ensure a stable ACC moving forward?
"In working with our presidents over the last 10 days and listening to them and their commitment to the league and to each other, and now adding Louisville and the collective strength of this conference athletically and academically, I couldn't feel any better about the future of this league," Swofford said.
A few other notes from the call:
Louisville will take Maryland's spot in the Atlantic Division, placing the Cardinals in the same grouping as Florida State, Clemson, NC State, Boston College, Wake Forest and Syracuse. Louisville also will take Maryland's spot as Virginia's crossover scheduling partner. The Atlantic is lookin' pretty tough these days.
Swofford said there has been no discussion about raising the $50 million exit fee.
As for the possibility of the ACC creating its own television network, Swofford said there had been some preliminary discussions but added, "You don't do that just for the sake of doing that. You do that because it's the right thing for your league financially and from an exposure standpoint moving ahead. ... We'll continue to look at that. It seems to be the sexy thing in today's world, but it also needs to be the right thing and the thing that's best for our particular conference."
March, 12, 2012
3/12/12
5:45
PM ET
There is still "The Carolina Way," former North Carolina athletic director Dick Baddour insisted during a teleconference Monday, a message that was echoed by both chancellor Holden Thorp and current AD Bubba Cunningham.

"Obviously this has been a painful, difficult experience — we don't like to have this kind of attention brought to any part of the university, especially one as visible a part of the athletic program," Thorp said. "But again, I think the recovery plan that we have with the hirings we've made and the steps we've taken I think shows that we're serious and we understand the seriousness of the case, but we also understand the importance of Carolina football to the UNC family. And I feel like we've done a good job of balancing all of those things."

Holden said the school considered appealing the sanctions this morning but came to the conclusion that it would not make sense given how long it would take, along with previous schools' successes with such procedures. Ultimately, he said, the Tar Heels wanted to move forward.

Cunningham said the additional six scholarship losses — in addition to the self-imposed nine — is the harshest of the penalties. The school discussed a self-imposed bowl ban for several weeks but decided against it because the school cooperated directly with the NCAA throughout the process.

The school will still receive an equal share of bowl revenue from the ACC, despite its bowl ban for the 2012 season. Current seniors on the roster are eligible to transfer without penalty because of the bowl ban.

North Carolina officials also stressed that former head coach Butch Davis "absolutely" gave full cooperation throughout the investigation.
July, 28, 2011
7/28/11
1:04
PM ET
For an institution that overfloweth with pride in its academics, North Carolina certainly doesn't look very smart right now.
The decision to fire Butch Davis will cost North Carolina's athletic department far more than the $2.7 million it will likely owe its former head coach who, technically, was fired without cause.
"We recognize that $2.7 million may be what this ends up costing us," chancellor Holden Thorp said, "and I've reached the conclusion that even though this is a terrible time, the athletic program will need to pay whatever it is we need to pay to make the separation happen."
Oh, they'll pay.
It will cost them fan support.
It will cost them recruits.
It will cost them years.
It will cost them wins.
It will cost them their longtime, loyal athletic director, who announced his resignation effective June, 2012.
And the NCAA hasn't even begun to levy sanctions for nine major violations.
North Carolina is in deeper than any program in the country right now. Overnight, it went from a team reloading on both sides and capable of contending for the Coastal Division to a program completely in rebuilding mode. Dave Hooker of ESPN Recruiting wrote about how many UNC recruits are
sticking with their commitments
.
A word of advice, guys? Run. As in, 40-yard fast.
We're talking about a year with an interim head coach. Another season with a first-year head coach, who more than likely will be facing a postseason ban. A minimum of three more years until that staff recruits and develops the kind of players the new coach wants in his system -- which will be a challenge because it would be shocking if the NCAA didn't hand out some form of scholarship reductions.
Thorp could have saved himself and the football program a lot of agony if he would have taken a page from Ohio State's playbook and blamed it all on the head coach. It would have been reasonable. Thorp said the trustees were unanimous in their decision to fire Davis. Instead, they're firing him a week before fall camp starts because, because ... because??
"We've had a tough year," Thorp said. "Nine NCAA allegations, continued questions about academics and the need to find a way to move forward, that's why we're here."
Yet even as they
fire
Davis, they still insist he had no idea of the violations that occurred under his watch -- hence firing him without cause.
"I don't believe he knew about the things that went on," Thorp said.
Should
he have known?
"I said I don't believe he knew."
Thorp said he has no regrets about not making the decision sooner.
"I feel like everything we've been through was required to get us to this point," he said. "I know the timing is terrible, but whenever I did this, there would be somebody who would say the timing is terrible."
And it will stay that way for years -- quite a price to pay.
July, 28, 2011
7/28/11
5:00
AM ET
1. It's not hard to understand why North Carolina fired Butch Davis. It's hard to understand why North Carolina fired Butch Davis now. Chancellor Holden Thorp said Wednesday he felt the scandal "has begun to chip away" at this university's reputation." Chancellor, that ship sailed when the news first came to light last year. All Thorp has done by waiting until the eve of August practice is throw the Tar Heels' season into chaos.
2. Colorado first-year head coach Jon Embree played for his alma mater in the 1980s. Embree had accepted a job in television journalism in 1991 when his head coach, Bill McCartney, called with a volunteer coaching position. "He didn't ask me. He told me," Embree said. The very first day, Embree fell in love with the work. "At the end of the day," Embree said, "Mac asked me, 'What do you think?' What I didn't say to him is, 'I want your job.'" Twenty years later, he has it.
3. Most of Oregon State's injury news is good. Quarterback
Ryan Katz
, who suffered a broken wrist last December, has recovered. Tight end
Joe Halahuni
, who underwent shoulder surgery in May, should be ready by the opener, if not before. However, wide receiver
James Rodgers
, recovering from a severe knee injury suffered last October, remains a question. Beavers coach Mike Riley said Rodgers will get an update from his doctor next week. Full speed sounds as if it is some time off.
June, 21, 2011
6/21/11
9:51
PM ET
The unpaid parking tickets of several UNC football players pale in comparison to the 42-page document the NCAA just buried the University of North Carolina in.
This isn't just Butch Davis' problem. Consider it now a "major" problem for UNC's football program, athletic department and overall institution.
[+] Enlarge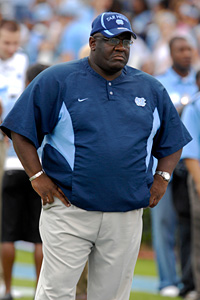 Sean Meyers/Icon SMIFormer assistant coach John Blake was sent one of three letters from the NCAA regarding allegations against the North Carolina football program.
The NCAA wrote three separate letters to former UNC assistant coach John Blake, former UNC tutor Jennifer Wiley and UNC chancellor Holden Thorp, informing them of the allegations against the football program:
"You should understand that all of the allegations charged in the notice of allegations are considered to be potential major violations of NCAA legislation, unless designated as secondary violations."
North Carolina has officially joined much of the college football world in the summer of discontent.
After a yearlong investigation into North Carolina's football program, the university on Tuesday released a 42-page document detailing the allegations, and it's not pretty:
Page 20: It was reported that during the 2009-10 academic year and August 2010, Jennifer Wiley, former academic support center tutor, provided approximately $3,500 in impermissible extra benefits to football student-athletes. ... Wiley paid $150 for an airline ticket in May 2010, and $ 1,789 in parking violation expenses on August 20, 2010, for then football student-athlete ...
Page 23: It was reported that during 2009 and 2010, seven football student athletes received $27,097.38 in benefits from individuals, some of whom trigger NCAA agent legislation.
Page 33: It is alleged that from 2007 to 2010, then assistant football coach John Blake partnered with Gary Wichard, National Football League Players Association (NFLPA) certified agent, and Pro Tect Management to represent individuals in the marketing of their athletic abilities in violation of NCAA legislation. Specifically, Blake was employed and compensated by Pro Tect Management to influence football student-athletes to hire Wichard to represent them in marketing their athletic abilities and reputations.
Page 35: It is alleged that from May 2007 to October 2009, then assistant football coach John Blake did not report $31,000 in athletically related outside income from Pro Tect Management, a sports agency representing athletes competing in the National Football League, National Basketball League and Major League Baseball.
Davis loyalists will be happy to know that no letters were specifically addressed to him, and that his name is mentioned only once in the entire document, in the context that the NCAA would like him to appear before the NCAA's Committee on Infractions on Oct. 28.
There were, however, allegations that the "institution" failed to properly monitor the conduct of Chris Hawkins, who was allowed access to the facilities and participated in one-on-one drills with the players. And the "institution" failed to monitor the social networking of the players in 2010. And here's the kicker ... the "institution" did not follow up on information that "indicated a risk of improper benefits being provided when reported by [a student athlete] to administrators within the football program."
Somebody knew something was going on and "the institution" let it continue.
North Carolina has 90 days to respond to this, and considering the massive, overwhelming amount of information the NCAA is seeking -- documents, transcripts, receipts, former players' previous tweets, phone records, Blake's credit reports -- odds are the university is going to need every one of them.
It's far from over. The NCAA wants answers. Lots of them.
How much Davis really knew now seems like only part of the equation.
This is bigger than Butch Davis.