NCF Nation:

Holiday Bowl 2009 bowls
December, 30, 2009
12/30/09
11:45
PM ET
Wow. That was a complete butt-kicking.
Nebraska simply outclassed Arizona in a
33-0 victory
in the Pacific Life Holiday Bowl, a game in which the Wildcats never even produced a whimper of life.
The Pac-10 falls to 2-3 in the bowl season, and one has to start wondering if all that "best conference" talk was just a bit loopy.


How the game was won
: Nebraska showed up and punched Arizona in the mouth on both sides of the ball. Over and over and over and over. And over again. It's not an exaggeration to say that Arizona didn't have a single positive moment in the entire football game.
Turning point
: This is a stretch because the real turning point was the opening kickoff. But Nebraska, leading 17-0 in the second quarter, had a third-and-8 on the Arizona 33-yard line. Cornhuskers backup quarterback
Cody Green
threw to his left sideline -- and directly to Arizona cornerback Devin Ross. If Ross had caught the ball, it's likely he would have scored a touchdown. He didn't. Nebraska subsequently kicked a 50-yard field goal and took a 20-0 lead. Like we said, it's a bit of a stretch.
Stat of the game
: Six and 109. The first number is how many first downs Arizona collected on the night. The second is the Wildcats' total yardage. Just terrible.
Player of the game
: Nebraska quarterback
Zac Lee
. Lee is the reason the Pac-10 blog -- darrrrhhhhh -- picked Arizona to win this game. (Yes, feel free to comment on that below). The feeling was that Arizona had a huge advantage at the position. But Wildcats quarterback
Nick Foles
chose the bowl game to post his worst performance of the year, while Lee completed 13 of 23 passes for 173 yards with a TD and no interceptions.
What it means
: This was a massive humiliation for Arizona and coach Mike Stoops, suffered at the hands of hometown buddy Bo Pelini. Was the bowl result bad enough to erase all the positives from the 2009 season? Maybe not, but it may not feel that way for a few days around the program. Something went wrong for the Wildcats in their preparation. Perhaps Nebraska was just that much better, but it didn't look that way going in. You have to wonder if something was amiss within the team. Defensive coordinator Mark Stoops' impending departure for Florida State? Offensive coordinator Sonny Dykes' potential candidacy at Texas Tech? Or maybe it was something with the players. Stoops' next task is figuring out a way to make sure this defeat doesn't linger within his program.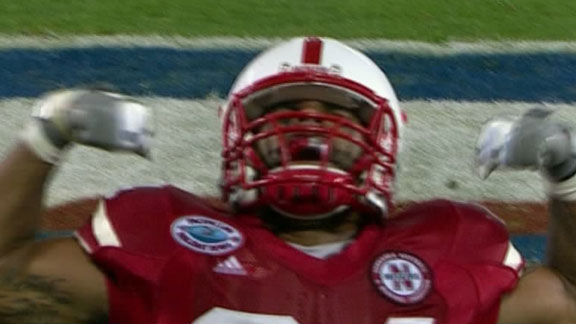 December, 29, 2009
12/29/09
3:42
PM ET
By
Tim Griffin
| ESPN.com
Points should be at a premium in an old-school defensive battle between childhood friends: Nebraska coach Bo Pelini and Arizona coach Mike Stoops.
Both teams play intense defense. The No. 20 Wildcats have a little better offense and that might be enough to push them past the No. 22 Cornhuskers, who have been limited to a touchdown or less in three losses this season.


The Cornhuskers claimed the Big 12 North title after they inserted quarterback
Zac Lee
into the lineup and played a conservative ball-control attack that accentuated their strengths on defense and on special teams.
WHO TO WATCH: Ndamukong Suh, DT, Nebraska
Is there really any player to focus on in this game other than Suh, who emerged to finish fourth in the Heisman balloting? Suh became one of the most decorated players in college football history, earning unanimous All-American honors, along with the Outland, Lombardi, Bednarik and Nagurski awards. Suh led the Cornhuskers in tackles (82), tackles for losses (23), sacks (12) and blocked kicks (3). Most incredibly, he ranked second on the Nebraska team in pass deflections (10) as he staked his claim to become the greatest defensive player in school history. It will be interesting to see if the last month on the banquet circuit robbed him of any of his edge that made him so dominant this season.
WHAT TO WATCH: Can the Cornhuskers play any offense?
Lee struggled through a miserable Big 12 championship game, producing only five first downs. It was the third time the Cornhuskers lost a game scoring a touchdown or less this season. Pelini has promised a back-to-the basics approach on offense since bowl practice begins, which means a lot of
Roy Helu Jr
. and
Rex Burkhead
. And Nebraska offensive coordinator Shawn Watson has promised that
Cody Green
will get playing time against the Wildcats as a start to the quarterback competition in the spring.
WHY TO WATCH: Defense, defense, defense
Both teams have outstanding defenses that have overshadowed all parts of their programs this season. And as good as the Blackshirts have played this season, Arizona might be just as good. The Wildcats are No. 21 nationally in defense and rank 12th in sacks. The Cornhuskers are more aggressive, as they like to come after rival quarterbacks with their linebackers with the blitz, sometimes on up to 30 percent of their snaps. They'll try to rattle
Nick Foles
and force him into mistakes. The Wildcats prefer to sit in a Cover 2 scheme and make quarterbacks beat them with long scoring drives. That might be asking a lot of Nebraska and its sputtering offensive attack.
PREDICTION:
Don't look for much scoring in this game as a key play in special teams or a long run or pass might have critical ramifications. Foles has better touch than either of the Nebraska quarterbacks and that should be enough to give Arizona a slight edge. The Cornhuskers can't win this game by kicking field goals, and because of that I'm going with the Wildcats.
Arizona 17, Nebraska 12.
December, 29, 2009
12/29/09
9:52
AM ET
Breaking down the Pacific Life Holiday Bowl between No. 20 Arizona (8-4) and No. 22 Nebraska (9-4).


WHO TO WATCH
: Arizona quarterback
Nick Foles
doesn't have great mobility -- though his supposed lack of mobility is overplayed -- but the reason he wasn't sacked many times this year is his quick release in the Wildcats' short passing game that emphasizes spreading the field with four or five receivers, hitting screens and quick hitches and trying to beat one-on-one matchups. The key to slowing down one of the best defenses in the country -- the Cornhuskers rank second in the nation in scoring defense (11.23 ppg) and ninth in total defense (284.5 yards per game) -- is to distribute the ball before the pressure arrives. That's Foles' job and he's done it well most of the year. But can he do it against Nebraska?
WHAT TO WATCH
: Can the Arizona offensive line handle the Nebraska defensive front? Nebraska's Ndamukong Suh is the best defensive tackle in the country -- he might be the best overall player in the country after rolling up 19.5 tackles for a loss and 12 sacks despite near-constant double teams. And the guy beside him, Jared Crick, isn't chopped liver, either. Few teams have had any success rushing against the Cornhuskers, particularly between the tackles. The interior of the Wildcats' offensive line -- center Colin Baxter and guards Conan Amituanai, Herman Hall and Vaughn Dotsy -- will face its biggest challenge of the year. Of course, the return of slashing running back
Nic Grigsby
from a shoulder injury means the Wildcats' running game may seek the perimeter and use cutbacks to keep the aggressive Cornhuskers at bay.
WHY TO WATCH
: It's a showdown between ranked teams from BCS conferences, and both programs are trying to maintain upward momentum heading into the offseason. It's also fair to say both teams should be happy to be in the Holiday Bowl, even though both were close to bigger bowl games. The Cornhuskers were nipped by Texas in the last moments of the Big 12 title game, while Arizona was only a play or two away from the Rose Bowl. Further, Suh will be playing his last college before heading off to the NFL, where he could be the No. 1 overall pick this spring.
PREDICTION
: Don't expect a lot of points. Nebraska's great defense should be able to slow Arizona's good offense, while the Wildcats' solid defense should be able to contain Nebraska's struggling offense. The key for Arizona is Foles' quick release and the defense stopping the run and putting pressure on Nebraska quarterback
Zac Lee
to make plays passing. And turnovers. Never forget those. The game hints at being tight throughout, but it seems that Arizona's balance on both sides of the ball should help it prevail 23-20.