NCF Nation:

Horns-Aggies 112609
November, 27, 2009
11/27/09
2:34
AM ET
By
Tim Griffin
| ESPN.com
COLLEGE STATION, Texas -- Texas A&M's season has been marked with wild swings of emotion from big victories and crushing defeats.
Its
49-39 loss
to Texas might have been the Aggies' best performance of the season.
A&M challenged the No. 3 Longhorns unlike any team since Oklahoma and Texas Tech earlier this season. But even with the narrow defeat, the Aggies didn't leave Kyle Field feeling they had accomplished anything more than earlier in the season.
"We should have won," A&M senior safety Jordan Pugh said. "We had the chances and didn't take them."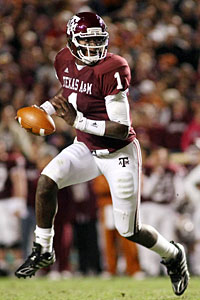 Thomas Campbell/US PresswireJerrod Johnson threw for 342 yards and four TDs against Texas.
It was the kind of game where Texas A&M quarterback
Jerrod Johnson
emerged in front of a national audience. His running and throwing kept the Aggies close as he flummoxed the Longhorns throughout the game with a season-best 439 yards of total offense.
"I can't say enough about Jerrod Johnson," A&M coach Mike Sherman said. "He's probably under the radar for what he has been able to do. He wasn't perfect, but I was extremely proud. I've never been around a player who has progressed like he has."
On two separate occasions, the Aggies pulled to within three points in the fourth quarter. Johnson's 20-yard strike to
Jeff Fuller
closed the gap to 42-39 with 7:10 left.
But with Kyle Field roaring as loud as it did during the game,
Marquise Goodwin
returned the ensuing kickoff 95 yards for a touchdown that iced the victory.
"It's tough because we had them right where we wanted them," A&M defensive end/linebacker Von Miller said. "It's rough. We wanted to get this big one for the seniors, but we couldn't make it happen."
The 6-6 Aggies qualified for their first bowl game since 2007 last week with a victory over Baylor. But their season has been marked with remarkable inconsistency. They have won games by 35, 37, 22, 25 and 35 points. And they've lost games by margins of 28, 48 and 55 points.
But the end of the season has provided several positive points to build on heading into the bowl game.
They ripped through Texas' supposedly invincible defense for 190 rushing yards, 27 first downs and 532 net yards. Johnson had the kind of game that makes him a potential Heisman candidate for next season after he passed for 342 yards and four touchdowns and rushed for 97 more.
"We feel we can matchup with anyone in the country," Johnson said. "We don't take this as a moral victory because we expected to win. One good thing is that this gave us some national exposure to show that Texas A&M is headed in the right direction."
That next chance will likely come in the Texas Bowl in a game against Navy that looks winnable. With 18 freshman playing major roles for the Aggies this season, the future looks bright in that game and beyond.
The South Division figures to be just as competitive as ever next season. But A&M's days as a divisional bottom feeder appear to be over.
"I saw some guys who did some good things," Sherman said. "We will certainly utilize the next couple of weeks to help this football team."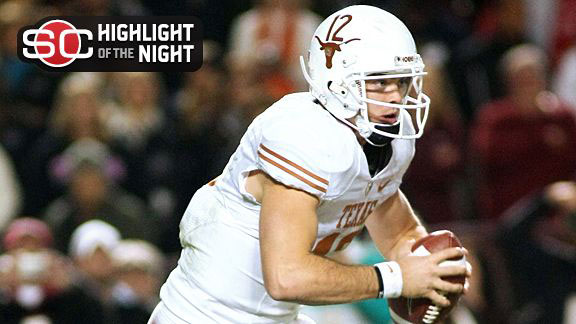 November, 27, 2009
11/27/09
2:20
AM ET
By
Tim Griffin
| ESPN.com
COLLEGE STATION, Texas --
Colt McCoy
ran the ball so much early Thursday night his tongue was wagging before the first quarter ended.
Before the game ended, the Texas quarterback was dealing with a nasty split lip that came from a devastating backside hit from Texas A&M blitz leader Von Miller.
Even with those maladies, McCoy just kept running and throwing his way to the kind of game that assuredly should resonate with Heisman voters for the next few days.
His feet and arm helped him account for 479 yards of total offense and five touchdowns, directing Texas to a wild
49-39 victory
over the plucky Aggies.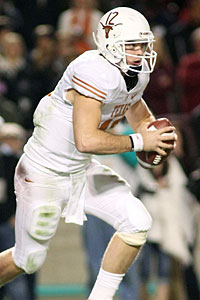 Thomas Campbell/US PresswireColt McCoy was a threat running and throwing the ball Thursday.
It was clearly Texas' toughest challenge down the stretch. The biggest reason they were able to continue the first 12-0 regular season in school history was because of their quarterback.
"I thought he was unbelievable," Texas coach Mack Brown said. "He just kept bringing us back and scoring. For a guy to do what he did with his feet and throw four touchdowns was just phenomenal. I don't remember many performances like that, period. He was a great leader and he never even blinked."
On his career-best 65-yard touchdown run, McCoy was afraid that a speedier Texas A&M defender would chase him down before reaching the end zone.
Funny thing: McCoy showed an extra gear when the defenders closed in on him.
"I was tired," McCoy said. "I thought somebody was running right behind me. I don't know if I looked slow, but I sure felt slow there. I came back to the sidelines and needed fluid for sure."
That run helped spark him to a career-best 175 rushing yards. His 46 rushing yards in the first quarter had surpassed his previous season high.
It's been clear that the Longhorns coaches have limited McCoy's running this season, preferring to have him throw short passes instead of charging through defenses on the zone-read plays he ran last season. McCoy rushed for 561 yards and 11 touchdowns last season. Coming into Thursday's game, he had rushed for a pedestrian 193 yards on 93 carries with one touchdown.
But against a Texas A&M defense that was backing up in the secondary and committing more blitzes that McCoy had seen, Texas coaches were convinced McCoy could produce rushing yards by the bunches against the Aggies.
"I was just doing what they told me to do," said McCoy, who passed for 304 yards and four touchdowns. "We went back to the old-fashioned zone-read play early. Because they were playing their deep safeties in the secondary, that quarterback draw was there. [Texas offensive coordinator] Coach (Greg) Davis kept calling it over and over and it wore me out."
His weariness didn't seem to show. McCoy's 479 yards of total offense was the third-highest total in school history, trailing only Vince Young's 506 yards against Oklahoma State in 2005 and McCoy's 483 yards against UCF earlier this season.
Those numbers, Davis said, were "Heisman-like." But McCoy, who finished second last season in the Heisman voting, wasn't concerned if his efforts convinced those voters who were watching.
"I'm not worried about that because I just want to win," McCoy said. "I did my best and we'll see."
The split lip came late in the game when Miller had become a presence in the Texas backfield.
"I wear my mouthpiece on the bottom and bit myself through my lip," McCoy said. "For some reason, my mouth was open and I bit right through my lip. It hurt me."
But Brown, who has seen his quarterbacks finish second in the Heisman race twice in the past four seasons, said that McCoy's effort and his moxie provided a special punctuation mark for his senior season.
McCoy improved his record to 44-7 as a starter as he became the first Texas quarterback in history to register back-to-back 12-victory seasons. He threw four or more touchdowns for the ninth time in his career and now owns three of Texas' four 3,000-yard passing seasons.
Those numbers are impressive. But his 65-yard TD run is the kind of snapshot that should stick with Heisman voters as they glance at their ballots.
"I don't get to vote and I'm not going there," Brown said. "But everybody that likes college football was watching tonight. And if anybody has a better Heisman moment than that, I'd like to see it."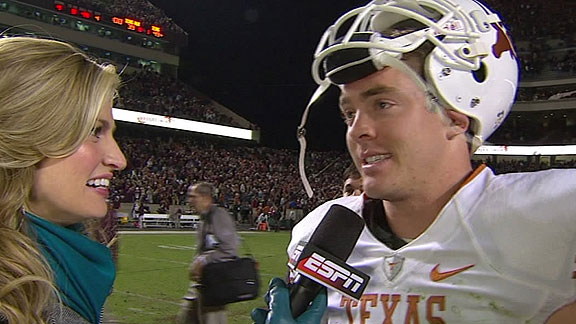 November, 27, 2009
11/27/09
12:11
AM ET
By
ESPN.com staff
| ESPN.com
Despite Texas A&M burning its remaining timeouts,
Colt McCoy
and the Longhorns managed to run out the remaining 3:05 on the clock to
preserve the victory
.
More coverage to come.
November, 26, 2009
11/26/09
10:08
PM ET
By
Tim Griffin
| ESPN.com
COLLEGE STATION, Texas -- It's been a wild first half as Texas has claimed a
28-21 halftime lead
over Texas A&M.
The two teams have combined for 28 first downs and 643 yards of total offense in a game where the offenses have ruled.
It's almost like the Big 12 last year, all over again.
Here are some specifics about why the Longhorns have charged to the lead, but struggled at times against the Aggies.
Turning point:
Anthony Lewis pounced on a muffed punt return to give Texas A&M possession at the Texas 36 with 2:38 left in the half. Five plays later,
Jerrod Johnson
hit
Howard Morrow
with a 14-yard touchdown pass that tied the score at 21. The punt was intended for
Jordan Shipley
, but grazed off the knee of Texas blocker Emmanuel Acho, who was on the ground near Shipley.
Stat of the half:
The Aggies have already scored 21 points against the Texas defense. The Longhorns' season high for most points allowed was 24, which came in a 34-24 victory over Texas Tech on Sept. 19.
Best player of the half:
Colt McCoy
needed a big night to convince the Heisman voters in what will be his next-to-last game before the ballots are due. He's done that and more in the first half, completing 18 of 26 passes for 222 yards and three touchdowns. McCoy has also rushed for 119 yards on 10 carries and a 65-yard score. His offensive numbers have been astounding as he's accounted for 341 of Texas' 398 yards so far.
Best call:
McCoy and
James Kirkendoll
hooked up on a 5-yard touchdown pass with 5 seconds left in the half to boost the Longhorns to a 28-21 halftime lead. McCoy showed great patience on the play, waiting as Kirkendoll charged past defender Justin McQueen on an out-and-up move to push the Longhorns ahead. McCoy either rushed or passed for every yard on the 64-yard scoring possession that put Texas back ahead.
What Texas needs to do:
Play some pass defense. The Longhorns have showed some struggles in their deep coverage and tackling. Johnson has picked them apart in the first half as he's hit 13 of 15 passes for 199 yards and three touchdowns. Something tells me that Texas defensive coordinator Will Muschamp is blistering some ears in the locker room as I type this.
What Texas A&M needs to do:
Do a better job of containing McCoy. The Aggies have been blitzing more than at any time this season. It might be wise if they accounted for a defender to spy specifically on McCoy considering the way he's ripped them apart in the first half with his arm and his feet.
November, 26, 2009
11/26/09
9:06
PM ET
By
Tim Griffin
| ESPN.com
COLLEGE STATION, Texas --
Colt McCoy
might have just provided Heisman Trophy voters with a "moment" to remember him by.
McCoy streaked up the middle of the Texas A&M defense for a 65-yard touchdown run to boost Texas to a 14-7 lead.
On the play, he ran past A&M linebacker Michael Hodges and safety Jordan Pugh near the line of scrimmage. He then outran Terrence Frederick in the secondary en route to the end zone.
It was his longest career run and has helped him already pile up a career-high 111 yards on seven carries.
McCoy finished the first quarter by hitting his last six passes, finishing the quarter 10-for-13 for 73 yards and a touchdown. He's also turned into the Longhorns' primary rusher, utilizing the zone read as a primary running play.
McCoy's rushing total in the first quarter already is better than in any game this season. His previous best of 44 yards came against Wyoming.
The long touchdown run boosted him over 100 yards for the first time since the Florida Atlantic University game in the 2008 season opener.
November, 26, 2009
11/26/09
8:48
PM ET
By
Tim Griffin
| ESPN.com
COLLEGE STATION, Texas -- It's been fashionable to say that
Colt McCoy
needs a monster game tonight in order to prove his Heisman Trophy legitimacy.
His last drive was a pretty good encapsulation of what he means to the Longhorns, utilizing the hurry-up offense to help tie the score
McCoy completed his last four passes, including a 14-yard TD strike to
Jordan Shipley
to tie the game at 7-7 after the conversion.
Earlier, McCoy extricated the Longhorns from a third-and-10 hole with a key scramble that produced 9 yards. His sneak on fourth down gave Texas the first down, keeping the drive alive.
Seven plays later, McCoy and Shipley hooked up for the 29th time of Shipley's 30 touchdowns.
The Kyle Field isn't nearly as loud now as it was after A&M's first touchdown.
November, 26, 2009
11/26/09
8:17
PM ET
By
Tim Griffin
| ESPN.com
COLLEGE STATION, Texas -- Texas A&M needed to jump on Texas early to gain some confidence and get the large Kyle Field crowd involved.
The Aggies did just that as
Jerrod Johnson
hit
Jeff Fuller
with a perfectly executed pass that went for a 70-yard touchdown, giving A&M an early 7-0 lead.
Fuller got behind Texas cornerback Chykie Brown, who thought he had deep help from a safety on the play.
Nothing materialized and Fuller scored easily.
It's exactly the kind of start Mike Sherman and the Aggies wanted.
November, 26, 2009
11/26/09
7:43
PM ET
By
Tim Griffin
| ESPN.com
COLLEGE STATION, Texas -- Here are a few things I'll be watching for from tonight's Texas-Texas A&M game.
For Texas:
Don't going changing: The Longhorns have developed into the most consistent and best team in the Big 12 this season -- albeit in a down season. They are within hailing distance of the championship game if they don't alter the strategy they've employed this season.
Take a deep shot -- or several: Colt McCoy has built a steady body of work this season by becoming the nation's foremost short passer. The Aggies will be bunched for that. It wouldn't hurt if he tested a weak A&M secondary downfield early in the game. The recent development of Malcolm Williams has made it where teams can no longer double-team Jordan Shipley.
McCoy's shot at Kyle Field redemption: McCoy has never won at Kyle Field and the Aggies are the only South Division team with a winning record against him. He hasn't forgotten his previous loss here in 2007 or how they knocked him out of the game in 2006. The senior quarterback will be ready for this game, trust me.
For Texas A&M:
Protect Jerrod Johnson: The Aggies have allowed 24 sacks this season as Johnson has had to rely on his athleticism too often -- particularly against better teams. He'll be facing the most determined pass rush of the season against the Longhorns. A&M must keep its quarterback protected if it has any hopes of winning.
Don't worry about the negative numbers: An unranked A&M team has never beaten a top-5 Texas team, notching an 0-13 record, including last season's 49-9 blowout loss in Austin. The Aggies also will be trying to turn around a recent trend that has been just as disconcerting. A&M is 6-0 in games that are televised this season and 0-5 in games that haven't been shown.
Protect the ball: In recent losses to Oklahoma and Colorado, the Aggies lost four fumbles in both games. Mike Sherman has made that a primary aim in the past two weeks, holding open auditions for kick and punt returns. Texas has forced 30 turnovers this season to lead the conference. The Aggies must protect the ball and not allow the Longhorns any cheap touchdowns.
Kickoff is about 40 minutes away. Grab an extra turkey leg, come back and join me.
November, 25, 2009
11/25/09
5:47
PM ET
By
Tim Griffin
| ESPN.com
Texas and Texas A&M will hook up for the 116
th
time in their storied series Thursday night at Kyle Field.
The No. 3 Longhorns hope to take another step toward the BCS National Championship Game. And their most bitter traditional rivals would like nothing more than to stop their trip.
Here are three keys for each team heading into Thursday's game.

Texas
Get the running game started: The Longhorns have sputtered all season trying to move the ball on the ground. They've shown some flashes in recent weeks as Tre' Newton has gotten healthy and assumed the featured back role. And offensive coordinator Greg Davis also has Cody Johnson and several others ready to contribute depending on game situations. If Texas can run the ball well, it will get them into favorable down-and-distance situations where Colt McCoy can pick apart a leaky A&M defense that ranks 82nd in pass efficiency defense and 110th in pass defense.
Tackle better in space: Texas defensive coordinator Will Muschamp was angry after the Longhorns' victory over Kansas because nine missed tackles led to 97 yards of extra yardage. Texas A&M will hit the Longhorns with an even more talented group of athletes including Jeff Fuller, Uzoma Nwachukwu, Jamie McCoy, Cyrus Gray and Christine Michael. All are capable of burning Texas for big plays if given the chance. The Longhorns' strong defense needs to take care of something as basic as tackling if they want to reach their championship aims. Thursday's game will be a good test.
It's a rivalry game. Deal with it: Texas will be facing its biggest challenge in a true road game this season when it travels to Kyle Field. Texas has lost eight of its last 12 games at Kyle Field, including a 2007 game in which they inexplicably couldn't cover A&M's seldom-used passing attack. The crowd will be howling from the start of the game. It will be important for Texas to play like a championship team, taking control early and silencing the Aggies' fans with a strong start.

Texas A&M
Attack on defense: The Aggies will come into the game decided underdogs with one of the conference's youngest defenses. Even with that decided disadvantage, the Aggies can't be passive. They need to take the fight to the Longhorns from the beginning of the game, particularly on defense. Getting Von Miller around mammoth Texas tackle Adam Ulatoski will be important. McCoy has been susceptible to turnovers in the past, particularly against the Aggies. The Aggies would love to rattle him early -- again.
Don't blink because of the television cameras: The Aggies are 6-0 in games that have not been televised this season and 0-5 in games that have been telecast. But with this being a rivalry game the nation's watching, expect the young but developing Aggies not to be nearly as shy. A sellout crowd at Kyle Field will help them fight through any timidity.
Make the special teams special: Texas has struggled covering kickoffs all season and were blistered for a 98-yard return for a touchdown last week by Kansas' Dezmon Briscoe. Cyrus Gray is a threat every time he touches the ball with a 25.5 yard average ranking third in the conference. A big play would provide the Aggies with a surge of confidence they desperately need.