NCF Nation:

Horns BCS practice 2009
December, 22, 2009
12/22/09
4:29
PM ET
By
Tim Griffin
| ESPN.com
AUSTIN, Texas -- Will Muschamp wanted to get out of his house for a few hours while visiting relatives in Atlanta on Christmas Day 2000, figuring that meeting a few old coaching friends would provide a calming respite.
[+] Enlarge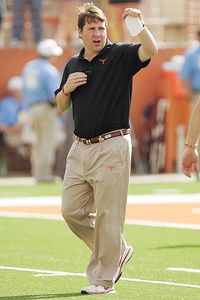 Brian Bahr/Getty ImagesTexas defensive coordinator Will Muschamp attributes some of his success to what he learned under Nick Saban.
He called some old friends on the LSU staff that morning with hopes of watching the Tigers practice for their Peach Bowl game a few days later.
While there, Muschamp met first-year LSU coach Nick Saban. Both of their lives changed from that moment.
The then-Valdosta State defensive coordinator was hired to join Saban's staff three weeks later as a linebackers coach after a vacancy appeared on the staff.
"He wanted somebody young, from the South and who had ties with people on the staff," Muschamp said. "They brought me in for an interview and we talked that day. That night, he offered me the job."
LSU won a BCS championship barely four years later. Muschamp then followed Saban to the Miami Dolphins, where at 34, he was one of the youngest defensive coordinators in recent NFL history.
Later, Saban returned to Alabama and Muschamp became the defensive coordinator at Auburn. Muschamp eventually was hired at Texas, where his strong work has earned him the designation of Mack Brown's successor when he leaves coaching.
Back in the LSU days, Saban had a reputation as a taskmaster who was difficult for many assistants to work for.
But in Muschamp, he found a kindred spirit who enjoyed grinding away at the job as much as he did.
"Nick never asked me to do anything he wasn't doing himself," Muschamp said. "From a work standpoint, a recruiting standpoint or a coaching standpoint, if you didn't want to work it wasn't a good place to be. But I enjoyed work and I like coaching football.
"I like evaluation and I like recruiting and that's why we got along philosophically and schematically. We believe the same way in coaching and motivating. I think that's why we got along."
Today, Muschamp's players say the apple hasn't fallen too far from the tree in terms of Muschamp's dedication for work.
"I always want to try to beat him into the office," Texas defensive tackle Kheeston Randall said. "But it's hard to do. He's the first one there a lot and the last one to leave. You look out and see (Muschamp's) that white truck out there all the time."
Saban is proud of Muschamp's ascension in coaching like the development of former assistants like Michigan State head coach Mark D'Antonio, incoming Florida State coach Jimbo Fisher or Louisiana Tech head coach Derek Dooley.
"To put it into perspective, (it's like) when one of your children does something that makes you proud," Saban said. "That's how you feel when coaches on your staff go on and do bigger and better things and have success in what they do. I'm really proud and want to see them all do extremely well."
Because of their dedication to coaching, Muschamp estimates that he and Saban talk less than once a month. They haven't exchanged pleasantries since the Texas-Alabama matchup was set when Texas beat Nebraska in the Big 12 championship game and Alabama defeated Florida in the Southeastern Conference title game earlier that day.
"It's tough during the season," Muschamp said. "He knows they are playing us and I know we're playing them. He's busy and I am, too."
Both coaching staffs have a lot of connections other than the Saban-Muschamp association. Current Alabama defensive coordinator Kirby Smart was Muschamp's secondary coach at Valdosta State when Muschamp was hired at LSU. Alabama associate head coach/linebackers coach James Willis worked as Muschamp's linebackers coach at Auburn. And Texas running backs coach Major Applewhite worked on Saban's staff as his offensive coordinator and quarterbacks coach in 2007.
Saban faced a similar challenge at Miami when he faced his old mentor, Bill Belichick, when he was coaching the New England Patriots.
"I'm really proud and want to see them all do extremely well," Saban said. "We're good friends and you compete and play against each other, but you don't dislike each other and it's not you don't have the same amount of respect and admiration for them.
"You want to be helpful to those guys if you can. And even if you compete against somebody in that moment in time, you're trying to do the best you can for your team."
Muschamp learned a lot during his time with Saban. While he jokes there will be a lot of "wasted ink" written bout their relationship over the next few weeks, he remains grateful for the opportunity to join Saban's staff nine years ago.
"When you get there and get exposed to a lot schematically, that appealed to me," Muschamp said. "And that's obviously where I formed my ideas about how you play and the things you needed to do to be successful."
December, 21, 2009
12/21/09
8:50
PM ET
AUSTIN, Texas -- For all of the talk about Texas' offensive struggles,
Colt McCoy
believes the Longhorns will learn from their narrow victory over Nebraska in the Big 12 title game.
The Longhorns will face a stout defense with similar personnel against Alabama in the Jan. 7 national title game.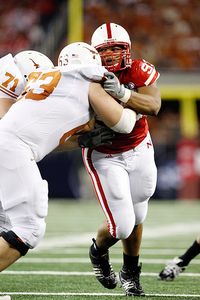 Ronald Martinez/Getty ImagesColt McCoy thinks his offensive line will rebound from a poor effort against Ndamukong Suh and Nebraska in the Big 12 title game.
"Alabama plays a little bit of the same coverages as Nebraska does," McCoy said. "Obviously, we didn't play as well as we would have wanted to, but we found a way to win. And a win is a win. That's the most important thing.
"You look up after the game and the most important thing is winning and you win, it's hard to be disappointed. You can be upset at the way you played, frustrated a little bit, but ultimately in a game like that where things don't go your way the entire night and you find a way to win in a really exciting way, it's awesome. You'll remember it the rest of your life."
McCoy said Monday that his team will use its offensive struggles for inspiration over the next several weeks.
"We understand that we've struggled a little bit and we've come through a lot," McCoy said. "But now, we're in the national championship game. That's where we wanted to be at the start of the season and we're going to do everything to do our best."
And despite the struggles of his offensive line against the Cornhuskers, McCoy is trying to use improvement against Alabama as the biggest key to his team's victory.
"We're going to win this game up front," McCoy said. "Our offensive line, if they can play well, if they can control the line of scrimmage -- that's where the game will be won or lost. If we can get the running game going and open up play action, we've got a great chance to be successful and move the ball. And for me, I"ll have to be a passer and a runner to be able to take advantage of what they do."
Texas offensive coordinator Greg Davis said that Alabama blitzes on about 32 percent of its defensive snaps. But McCoy said he wouldn't be surprised if Alabama defensive coordinator Kirby Smart took a hint from Nebraska and peppered the Texas defense with blitzes early in the game.
"They are really good at putting pressure on you," McCoy said. "I'm sure they'll watch the films of Nebraska, a lot of blitzes and edge pressure, and I'm sure we'll get the same stuff. But we'll get a month to prepare and to get better."
The nine sacks allowed by the Longhorns against Nebraska were the most the Longhorns have allowed in McCoy's four-season stint as a quarterback. It also matched the total that Texas allowed over the previous five games.