NCF Nation:

Horns-Raiders-091810
September, 19, 2010
9/19/10
2:31
AM ET
LUBBOCK, Texas -- So Texas wants to run the ball. It didn't in Saturday's
24-14 win
over Texas Tech, carrying the ball 32 times with its top two backs,
Fozzy Whittaker
and
Cody Johnson
, for an average of 2.8 yards a carry. Johnson carried the ball 17 times and his longest run went for five yards.
Texas wants to take care of the ball, too. Who doesn't? Texas didn't on Saturday, losing the turnover battle, 4-3.
The Longhorns offense isn't championship caliber. At least yet.
But Texas' defense is. And as long as that's the case, championship-caliber play from the offense isn't necessary for a win. Even in one of the toughest venues in the Big 12 against a talented, experienced Texas Tech team more than capable of upsetting the No. 4 Longhorns.
[+] Enlarge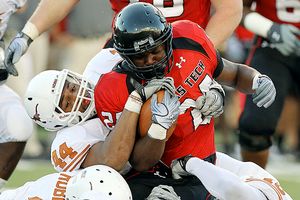 Ronald Martinez/Getty ImagesJackson Jeffcoat (44) and the Texas defense limited Texas Tech to just 144 yards of offense.
"Tonight we were pretty dominating," Texas coach Mack Brown said of his defense.
It dominated Texas Tech's passing game, limiting
Taylor Potts
to just 158 yards on 21-of-35 passing and precipitated a third-quarter QB change to
Steven Sheffield
for a series. Previously, Potts topped 290 yards in both starts and threw seven touchdowns without an interception.
It dominated the running game, giving up one 25-yard run to
Baron Batch
, but limiting Batch and backup
Eric Stephens
to just 19 yards on their other 11 carries.
Pop all that in a calculator, subtract some yardage for Texas' four sacks and a 21-yard loss on a snap over Potts' head on the first play from scrimmage, and it's 144 yards. The last team to hold Texas Tech under 150 yards? Miami. In 1990.
"They did unbelievable all night long," said quarterback
Garrett Gilbert
, who threw for 227 yards and two touchdowns on 21-of-36 passing. His second touchdown to tight end
Barrett Matthews
all but sealed the game. All three of his interceptions were tipped balls.
"They were able to get off the field and get us back on there," Gilbert said of the defense.
They did it with a luxury few can afford to lean on: a four-man rush. Texas played 10 defensive linemen on Saturday by coordinator Will Muschamp's count, and its starting front of Sam Acho, Kheeston Randall, Eddie Jones and Tyrell Higgins kept Potts on the run and eliminated the running game.
It all came against an offense that returned seven starters from a unit that ranked fourth nationally in total offense last season.
"We couldn't slow their front down," said Texas Tech coach Tommy Tuberville, who fell to 4-1 when coaching on his birthday. Today was No. 56. "They just turned loose on us in the second half."
Add sophomore Alex Okafor and Jackson Jeffcoat, a true freshman playing in his first conference game, to the mix, and Texas' depth on the front line makes Tuberville's take unsurprising.
"He really understands flipping his hips in the rush and using his hands in the rush," defensive coordinator Will Muschamp said of his freshman, who ranked among the best in his 2010 class nationally. Jeffcoat had a hand in a pair of sacks and also recovered a fumble on his first play when Texas Tech center Justin Keown snapped the ball over Potts' head inside Texas Tech's 10-yard line.
"Obviously, he's been tutored pretty well. Coming into camp he was well beyond his years because of that. He's certainly given us a lot of juice on the edge."
That push up front made an easy night for the seven dropping back, including a secondary full of NFL talent. They picked off three passes and frustrated the Texas Tech offense for most of the night. Most poetic were interceptions by Curtis Brown and Blake Gideon.
Goats two years ago on the same field
, they left as winners, key pieces of a defense that will rank among college football's most dominant by year's end.
Brown stood up in the postgame locker room and told his teammates he "felt as good tonight as I felt bad then."
"The happiest time for a player, a coach or a head coach's life is when you whip somebody, a rival in a tough place on the road in a tough game and you can be in that dressing room satisfied, and go back and get on that plane together," Mack Brown said. "You understand you did something a lot of people don't do out here."
The reason for those feelings Brown and his players experienced on Saturday night is simple: defense.
And best of all? Everyone on Texas' sideline saw a dominating performance, but they also saw a defense that could provide more.
"We played well, but there's still a lot of work we need to do to get to that top level," Acho said, looking back on Potts' fade route to
Lyle Leong
in the end zone for the Red Raiders only offensive score and Batch's 25-yard scamper. "We played very well, we're very excited about what we did, but we know there's a couple areas of improvement."
September, 19, 2010
9/19/10
1:52
AM ET

Wide receiver James Kirkendoll discusses UT's win and Garrett Gilbert's performance and more.
September, 18, 2010
9/18/10
11:32
PM ET
By
ESPN.com staff
| ESPN.com
Tied 14-14 at halftime, the Texas defense took control after the break, leading the Longhorns to a
24-14 win
in Lubbock, Texas.
The Longhorns held Texas Tech to just 144 yards of offense (158 passing and minus-14 rushing).
Texas got a 27-yard field goal from Justin Tucker in the third quarter and
Garrett Gilbert
hit
Barrett Matthews
for a 1-yard touchdown in the fourth to account for all the second half scoring.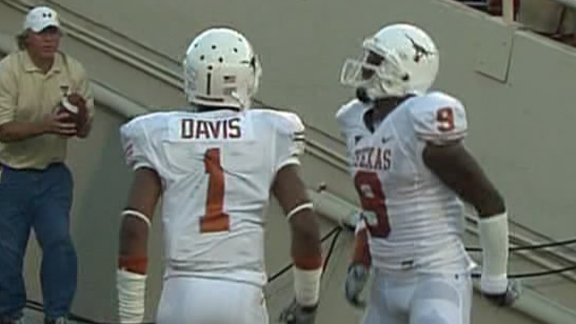 September, 18, 2010
9/18/10
10:34
PM ET
LUBBOCK, Texas --
Taylor Potts
had struggled against the Texas defense, completing just 10 of 22 passes for 104 yards, two interceptions and a touchdown, and Texas Tech trails Texas, 17-14.
He struggled enough, apparently, that Tommy Tuberville called on the services of fan favorite
Steven Sheffield
, a.k.a. "Sticks" (though at well over 200 pounds now, he says that name is somewhat inaccurate).
Regardless, the crowd roared its approval when he trotted onto the field, but was quieted by an uninspiring drive that ended with Sticks buried under four Longhorns. His only pass was incomplete.
We'll see who comes out for the next drive. My guess is Tuberville gives Sheffield a second shot.
September, 18, 2010
9/18/10
9:53
PM ET
LUBBOCK, Texas -- What an impressive comeback by a Texas Tech team that looked very vulnerable early on, but used a big play and its first sustained drive to fight its way back and tie the game.
The Red Raiders take most of the momentum into halftime with a great defensive stand late, but we should have a thrilling second half.
Turning point:
Texas Tech redshirt freshman cornerback Jarvis Phillips grabbed a tipped ball and raced 87 yards into the end zone to bring the Red Raiders to within 14-7.
Stat of the half:
Texas quarterback
Garrett Gilbert
and Texas Tech quarterback
Taylor Potts
have combined to throw four interceptions.
Stat of the half II:
Texas Tech's only scoring drive was six plays and 68 yards for a touchdown. It has 70 yards of offense.
Best player in the half:
Scott Smith, DE, Texas Tech. Smith turned the momentum with a tipped interception to himself that ended a Texas drive. The Longhorns were trying to make it 21-0 before Smith tipped another Gilbert pass, which Phillips intercepted and returned for Texas Tech's first score. Smith also added a pair of sacks on Texas' final drive of the half, forcing the Longhorns into a third-and-26 after starting near midfield.
September, 18, 2010
9/18/10
9:20
PM ET
LUBBOCK, Texas -- Texas Tech picked a fine time to kickstart its sputtering offense. Through the first quarter -- aided by a loss of 21 on a bad snap on the Red Raiders' first play of the game -- Texas Tech had minus-4 yards of offense.
On its first drive of the second quarter, it showed flashes of the effectiveness and speed the school became known for over the past decade under Mike Leach. Texas Tech went 68 yards in six plays in just two minutes, capped by a pretty fade by
Taylor Potts
to
Lyle Leong
in the back left corner of the end zone to tie the game at 14.
Really an impressive response by Texas Tech after getting dominated early on by the Longhorns. Jarvis Phillips' interception ignited the crowd, and the team finally responded.
Texas looks a bit flustered on both sides of the ball now, a sudden change from the circumstances early on. The Longhorns offense went three-and-out to start the quarter.
September, 18, 2010
9/18/10
9:04
PM ET
LUBBOCK, Texas -- The interceptions are plentiful in the first quarter, and all three have come off of tipped balls.
Texas Tech's Scott Smith tipped the first to himself, but on the next play, Texas cornerback Aaron Williams tipped Texas Tech quarterback
Taylor Potts
' pass.
This time, Texas' Blake Gideon caught the floater, a pass similar to the one he dropped at the end of the 2008 classic.
But the first play to bring the Texas Tech crowd back in the game came courtesy of Smith and Jarvis Phillips. Smith tipped a third-and-25 pass to Jarvis Phillips, who hurdled a diving Gilbert on his 87-yard touchdown return to send the crowd into a frenzy and bring the Red Raiders to within 14-7.
Early on, it looked like Texas might run away with it.
Thanks to some timely turnovers, that doesn't look like the case anymore. With the first quarter over, the Red Raider crowd is back in it, and so is the team.
September, 18, 2010
9/18/10
8:45
PM ET
LUBBOCK, Texas -- It took Texas until its second drive for the offense to get rolling, but it only needed one sustained drive to take a 14-0 lead over Texas Tech midway through the first quarter.
The Longhorns running game was shut down on the first drive after Texas Tech stopped 251-pound
Cody Johnson
on a third-and-2 to elicit the loudest cheer of the night.
But Texas Tech is still the underdog, and a snap over the head of
Taylor Potts
on the Raiders' first play was a terrible start. Texas freshman defensive end Jackson Jeffcoat scooped up the fumble.
Texas Tech has been unable to stop Texas' new-look running game ever since.
Fozzy Whittaker
scored from 7 yards on the first play, and Texas has 33 yards on six carries, a 5.5 yard average.
If that continues, Texas Tech may get blown out at home.
Garrett Gilbert
has been fantastic, also.
Mike Davis
dropped his first pass, but he's completed his next five, including two big throws to
Malcolm Williams
over the middle and a deep pass down the left side to
James Kirkendoll
.
September, 18, 2010
9/18/10
6:38
PM ET
LUBBOCK, Texas -- I think somebody told Texas Tech fans that Texas was coming to town today. I was here two weeks ago for SMU, and the atmosphere couldn't be any different. The student section is already packed, as is the general admission seating in the north end zone.

Outside Jones AT&T Stadium was a sea of people for the Raider Walk, Tommy Tuberville's new tradition for fans to line up and form a tunnel for his players on their way into the locker room.

Texas players are warming up on the field, and we're about 90 minutes from the opening kick. We already had a great game to kick off conference play earlier today between Iowa State and Kansas State.

Tonight should be a second. I'm ready to get this thing started.