NCF Nation:

Houston Bates
July, 18, 2013
7/18/13
9:00
AM ET
You can't say Illinois linebacker
Jonathan Brown
had a bad season in 2012. He led his team with 9.5 tackles for loss and was named a Butkus Award semifinalist.
Still, last season is one Brown would mostly like to put in the trash folder.
"Last year was just a rough year all around," he told ESPN.com. "It was just one of those years, man."
[+] Enlarge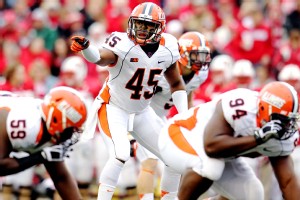 Brace Hemmelgarn/USA TODAY SportsJonathan Brown (45) was one of the top linebackers in the conference and just barely missed making the Top 25.
He suffered along with the Illini during a 2-10 season, and he suffered physically, too. Nicked up after the opener, he said he didn't start to get healthy again until the middle of the season. Then he incurred a shoulder injury that forced him to miss the final three games and sit out all of spring practice.
The good news is that Brown feels healthy now after rehabbing the shoulder all offseason.
"The whole rehab process was excellent," he said. "We didn't rush back into anything, and took our time. I feel like I've come back even a little bit stronger."
Brown has been participating in voluntary team workouts and testing his shoulder by hitting sleds in individual work. He says he will be fully cleared for all drills when preseason practice starts next month. When asked if he was anxious to hit somebody again, Brown replied, "Beyond anxious. Beyond."
A healthy Brown could do wonders for the Illini defense, which finished 11th in the Big Ten in points allowed (32.1 ppg) last season. This is a guy who had 108 tackles, six sacks, 19.5 tackles for loss and an interception as a sophomore in 2011. He was still learning the game then, and after a spring in which he spent extra time in the film room -- perhaps the lone benefit from his injury -- he feels older and wiser now.
"I'm expecting to do big things this year," he said. "I feel like I'm at a different level than I was last year and the year before because of my experience. That has put me in a position where I'm ready to excel from where I am now to another level."
But Brown said whatever numbers he puts up won't matter much if the team stinks again during his senior season. The linebacker spot is at least one reason for Illini optimism.
Injuries there allowed
Mason Monheim
and
Mike Svetina
to pile up a lot of playing as true freshmen. Those two are now a year older and will be joined by junior college transfer
Eric Finney
, who is expected to start at the Star linebacker position. Other young players like
Houston Bates
give defensive coordinator Tim Banks some good depth to work with.
Brown likes what he has seen out of that group and the defense as a whole so far.
"We've really come together," he said. "We're probably not as talented as we were last year, because last year we had a lot of good players. But it just didn't mesh quite right. This year, we've got a lot of guys who are hungry, a lot of guys willing to work. It's going to be exciting."
Brown says he needs to continue working on his lateral quickness, retraining his muscles after so long away from competitive football. But he's not going to hold anything back during fall camp or during his final season in Champaign. He hopes to make 2013 a much more memorable one.
March, 4, 2013
3/04/13
9:00
AM ET
Very little went right for Illinois under first-year coach Tim Beckman last year. After a 2-10 season, the Illini are ready to turn the page and look forward to 2013 when they hit the practice field Tuesday.
I recently caught up with Beckman to ask about the pressing issues his team faces this spring. Here is that Q&A:
[+] Enlarge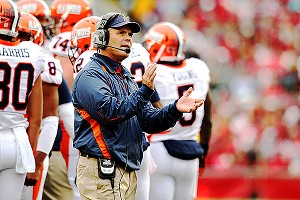 Brace Hemmelgarn/USA TODAY SportsDespite a 2-10 record this past season and a slew of changes on his staff, Illinois' Tim Beckman is full of optimism heading into spring workouts.
You turned over half your staff from last year, with some voluntary departures and some not. What has that been like and how much transition are you going through right now?
Tim Beckman:
Well, it's kind of crazy, because I saw a stat the other day where there's only, like, 22 staffs that haven't changed in college football, so it's been the norm. But I think with the professionalism that coaches have and the guys I've been able to hire into this new family, they're outstanding people. They're professionals, they've been coordinators, they've been head coaches, they've been in great programs. The transition has been good. I've been able to hire two Illini, which is huge, with [receivers coach Mike] Bellamy and [defensive line coach Greg] Colby.
So I think it's been a great transition. Our players have been really excited. With Mike Bellamy, he's been involved with this program for a year. So the kids were pumped when he was hired on staff, because they know him. And now he brings that Illinois flavor to the staff. All the other coaches, we've been working with each other. Jim Bridge was telling me the other day there are four or five other guys that he's been with at other places. So that's one of the unique things, because it's like a fraternity. These guys have worked with one another.
How much will the offense change with new coordinator Bill Cubit?
TB:
Well, it's Bill's offense. It's what Bill was hired for. And that's how it's always been, really, with the coordinators. But I think the uniqueness that Bill has, in coaching against him, is that he's been able to adapt his offense based on personnel. He's had
Jordan White
, a great, great football player. He's had great wide receivers, and he's been able to move them around and adapt his offense to the guys that need to be getting the football.
After a year like last year, what do you do to keep the players' confidence up?
TB:
We went back to a lot of competition, back to a lot of leadership building. We addressed the situation that occurred. I met, as I always do, with each one of the players for 10 minutes. That takes a good week. We did that in December. I asked them what their goals were, because we split up the season into four quarters -- winter workouts, spring practice, summer workouts and then the most important quarter, the season. And I had them set goals for themselves to attain each quarter. So they just wrote out their goals out for spring ball. And I also do the same thing for the team. "What do you want this team to be able to say they can do after each quarter?"
Our motto is win whatever is needed, and win the day. Whatever is needed today for us to become a better and closer football team.
What are your primary concerns for this spring?
TB:
The scenario here is depth. There hasn't been depth. And when you get a young man injured, it hits you drastically because you just don't have that depth. We were able to get 10 young men here in January, five junior college players and five high school players. Junior college wise, there hasn't been a whole bunch here before. There might have been one or two. But we needed to add age to our football team, and that's what the junior college players help us do.
You've only seen the junior college guys in winter workouts so far, but what is your early impression of those guys?
TB:
The first thing that I look at always is how have they been accountability wise. Because it's new. They get in here, and, bam, they're thrown into the fire right away. I'm proud, because they've all been very accountable. We haven't been late for things. Being in school and being a football player hasn't got their minds out of whack or anything like that. They've shown football wise that they can compete, but they've also shown that they're doing a very good job of being accountable on and off the football field.
How do you see the quarterback competition, where you've got a veteran starter in Nathan Scheelhaase but also a guy in Reilly O'Toole who's played a lot and a big-time recruit (Aaron Bailey) coming in?
TB:
As in any position, there's competition. Nathan will go in as the guy, being the starter. Somebody's got to beat him out. But Nathan's won a lot of football games here. We had a tough year, no question, but that's not going to be on Nathan's shoulders. He was getting sacked too many times. All those things you can't have your quarterback doing, getting hit. We've got to get better at protecting our quarterback, and we've got to be able to get the ball out quicker and do those types of things so our quarterback can be successful.
[+] Enlarge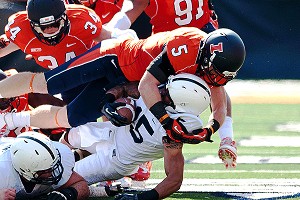 Bradley Leeb/USA TODAY SportsSteve Hull will be trading in delivering hits for making catches on offense this spring.
You talked often last year about the lack of depth at the offensive skill positions. How has that come along?
TB:
It's getting better. Those young men we played with last year have moved up in age. We've taken
Steve Hull
and moved him to offense, so that adds age and depth to that position. Wide receivers and DBs are the big concern here. And we've been able to add freshmen and junior college players to those positions.
Why did you move Hull to receiver?
TB:
He's had some issues with injury. We felt that Steve, for his fifth year, would be better suited to play on the offensive side of the ball to take out maybe some of the direct collisions he was getting as a safety. And he's been great with it. He loves it, and he's emerged as being one of the big vocal leaders on the team.
The offensive line really struggled last year, and you lost two senior starters in Graham Pocic and Hugh Thornton. How does that position group look going into spring?
TB:
Losing the two senior starters, they were dinged up a little bit during the season, so we had to move some players around. But we also had three, really four, players that got a lot of playing time last year. So they should be a year better. I like the philosophy that coach Bridge brings in here as our offensive line coach and what coach Cubit does with the running game. Our offensive line has done a great job these last three months -- and [strength coaches] Aaron Hillman and Dave Andrews get a lot of credit for it -- of getting stronger, getting bigger and doing those things you need to do to be a Big Ten offensive lineman.
You played a lot of freshmen on defense last year, like Monheim and Mike Svetina. Do you expect them to be much farther along this spring because of that experience?
TB:
No question. They're not going to be freshmen that are 18 years old out there starting in the Big Ten. They're going to have a year's experience. We played
Teko Powell
on the defensive line last year so he could gather experience.
V'Angelo Bentley
played a bunch last year as a true freshman, so he got a bunch of experience. Now these players that were just brought in in January, plus the redshirt freshmen, are going to have to step up and be involved in the front and in the back end. You had a guy like a
Jake Howe
, who was playing very good and then broke his hand and was out for the year. You have
Austin Teitsma
, who got quite a few reps last year. Darius Caldwell.
Houston Bates
, who got hurt last year.
Jonathan Brown
. We've got to get those guys back and healthy.
You mentioned concerns about depth in the secondary. What young players do you expect to step up there?
TB:
I think
Eaton Spence
has done a good job for us. V'Angelo Bentley has done a good job. The two freshmen we brought in have done a good job in winter workouts. I haven't seen them on the football field, but they've been doing their change of direction stuff very well. A young man named
Taylor Barton
, a true freshman, has done a good job. Eric Finney, who came in from junior college,
LaKeith Walls
,
B.J. Bello
,
Jevaris Little
-- these are names who have worked extremely hard this season. They're not names a bunch of people know because they've not played yet, other than Spence and Bentley. But these guys have definitely improved.
Have you started identifying leaders on this team yet?
TB:
Well, we have really been pushing it. We've been meeting on it. We've been talking about it as a team and then as individual classes, and then our honor council. We've had a guest speaker come in every Monday and talk about leadership, from military people to a gold medal winner in the wheelchair marathon. So we've really built that in. I've seen players from young and old step up in winter workouts, step up and be leaders. Steve Hull has emerged as a guy who definitely does an outstanding job of leading this football team.
Mason Monheim
, who was a freshman, he's jumped up and taken control.
Earnest Thomas
. Guys that probably weren't as much leaders last year that might not be seniors have jumped up and tried to lead this football team well.
We've got 62 players who are freshmen and sophomores, so there's a big number of guys who have been here three or less years because of redshirts. So we've got to be able to all be leaders in this program, and that's what we're stressing.
Not surprisingly, the fan base was really down on last year. What can you do to create some more optimism?
TB:
I opened up the Friday practices again to the community. This is the University of Illinois. It's our state, our team. We talk about it, and that's the truth. I want to get the community involved in this program. I've always wanted to do that and we're going to do it even more. We're going up to Chicago for a practice. Of course, we've got a game in Chicago at Soldier Field, which is an outstanding opportunity for Illini Nation and those things. We're moving forward.
Nobody was happy with last year. I mean no one. I haven't been involved in that type of year. So we have to move forward and we have to take this program forward. And that's what we asked this football team and this coaching staff to do.
September, 17, 2011
9/17/11
8:03
PM ET
CHAMPAIGN, Ill. -- Illinois might not be able to contain Arizona State's vertical passing attack, but the Illini are getting to quarterback
Brock Osweiler
.
Coordinator Vic Koenning has turned up the heat, and the blitzes are reaching their target. Illinois recorded an interception off of a deflection after linebacker Jonathan Brown nailed Osweiler on a blitz, and the Illini stopped another Sun Devils' march with a third-down blitz by Houston Bates and Michael Buchanan.
I'm guessing Illinois will get burned at some point with the blitzes, but given the issues in the secondary, this strategy seems to be the best route.
Illinois' offense, meanwhile, has looked very good aside from two giveaways, including an ill-advised throw by
Nathan Scheelhaase
. It marked his first interception of the season.
Illinois leads 10-7 early in the second quarter.
July, 5, 2011
7/05/11
1:38
PM ET
It's time to jump back into our preseason position group rankings. We've made our way through the offenses and the front line of the defenses. Now it's time to take a look at the linebackers.
As always, this is a ranking of the entire position group, so depth matters in addition to individual star players.
Away we go:
[+] Enlarge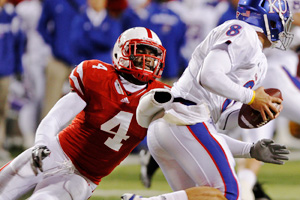 AP Photo/Nati HarnikNebraska's Lavonte David led the Big 12 last season with 152 tackles.
1. Nebraska:
Lavonte David set the school record with 152 tackles last year, best in the Big 12. He also added 15 tackles for loss and six sacks on his way to second-team All-America honors. David was a one-man wrecking crew last year but should get more help this year. Will Compton returns after an injury-shortened season, and Sean Fisher is back after a broken leg cost him all of 2010. With an excellent defensive front leading the way, the Cornhuskers' linebackers should make plenty of impact plays.
2. Penn State:
Is this the return of Linebacker U? The Nittany Lions technically only return one starter at the position but have plenty of talent. The unit got hit by injuries last year, including one that knocked Michael Mauti out of the lineup for several games. He's one of the best in the Big Ten when healthy, which he should be in 2011. Senior Nate Stupar led the team in tackles last year. Sophomores Gerald Hodges and Khairi Fortt are among the skilled youngsters battling for playing time. This could wind up as the deepest linebacking corps in the league.
3. Ohio State:
The Buckeyes lost two starters, including leading tackler Brian Rolle. But the Silver Bullets usually reload at linebacker. Senior Andrew Sweat should emerge as the unit's leader, and hopes are high for Etienne Sabino after he took a redshirt year in 2010. Sabino showed promise this spring and locked down a starting job. The battle is on for the third starting position. Incoming freshman Curtis Grant could make a sudden impact.
4. Wisconsin:
Much depends on the health of Chris Borland, who missed nearly all of 2010 and sat out the spring with a shoulder injury. The 2009 Big Ten Freshman of the Year will move to middle linebacker and should anchor the unit if he's sound. Mike Taylor finished second on the team in tackles for loss and interceptions last year, and Kevin Claxton is expected to take over at the strongside spot. The Badgers like what they have seen from redshirt freshman Marcus Trotter.
5. Iowa:
The Hawkeyes lost a lot of experience from the 2010 team, including leading tackler Jeremiha Hunter. While there's some concern about the leadership void, Iowa has good young building blocks here. James Morris was pressed into service as a true freshman and was terrific; another year of development should only make him better. Tyler Nielsen was missed down the stretch when he suffered a neck injury, and the senior provides a veteran presence. Players like Bruce Davis, Christian Kirksey and Anthony Hitchens need to take on bigger roles.
[+] Enlarge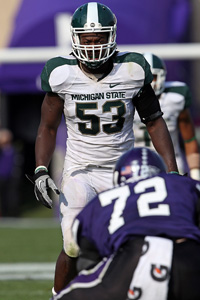 Jonathan Daniel/Getty ImagesReplacing two-time All-American Greg Jones will be a tall order for the Spartans.
6. Michigan State:
It would be difficult to overstate how much the Spartans will miss two-time All-American Greg Jones and Eric Gordon, who combined to start 95 games in their illustrious careers. But life goes on. The lone returning starter, Chris Norman, is a dependable veteran. The Spartans hope Max Bullough and Denicos Allen build on their potential, and TyQuan Hammock inspired confidence with his play this spring.
7. Minnesota:
An experienced linebacker group could be the strength of the Gophers defense this season. All three starters -- leading tackler Gary Tinsley, Keanon Cooper and Mike Rallis -- are back. Rallis needs to stay healthy after only appearing in 12 games the past two years because of injuries. Florida transfer Brendan Beal should provide a boost.
8. Purdue:
The Boilermakers are led by senior Joe Holland, who has 35 career starts under his belt. Junior Dwayne Beckford finished second on the team with 85 tackles a year ago. Will Lucas could break out after an excellent true freshman campaign. Senior Chris Carlino adds veteran depth.
9. Michigan:
The Wolverines struggled defensively last year, and the linebackers shouldered some of the blame. They lost Jonas Mouton to the NFL. Cam Gordon moves down from safety and adds some playmaking ability. Kenny Demens had 82 tackles last year at middle linebacker. Freshman Jake Ryan should contribute right away. This group still has a lot to prove.
10. Illinois:
The Illini have to rebuild after losing a pair of NFL draft picks at the position in Martez Wilson and Nate Bussey. Senior Ian Thomas now becomes the veteran leader. Sophomores Johnathan Brown and Houston Bates -- who had a strong spring -- will be counted on to step forward.
11. Indiana:
Fifth-year senior Jeff Thomas could be the centerpiece of the Hoosiers defense. Another fifth-year senior is Leon Beckum, though he lacks top-end speed. Overall, there isn't a lot of depth here.
12. Northwestern:
Linebacker play was a sore spot last season, and starters Nate Williams and Quentin Davie are gone. Bryce McNaul needs to recover all the way from shoulder surgery and has to stay healthy. Pat Fitzgerald thinks he has some talented young players at the position; they'll need to grow up fast.
April, 11, 2011
4/11/11
1:30
PM ET
The Big Ten featured only
one spring game
this weekend, but plenty of teams took to the field for scrimmages. I've compiled some scrimmage highlights from around the league based on reports from official team websites and other media sources. Several teams didn't provide specifics about their scrimmages, but I included what I could find.

ILLINOIS
The
Illini scrimmaged for about 90 minutes Saturday
, and all players were involved in contact aside from starting quarterback
Nathan Scheelhaase
.
Notes
The offense prevailed in the scrimmage and gashed the defense for several big runs. Troy Pollard took most of the reps at running back as Jason Ford sat out with a sore knee, and Pollard helped his cause with 110 rush yards on 19 carries. Scheelhaase completed 7 of 12 passes for 53 yards and added 58 yards on the ground, while backup Miles Osei had a 63-yards pass to Fred Sykes and finished the day with 165 yards through the air.
Coach Ron Zook singled out linebacker Houston Bates for his play in the scrimmage. Bates had a sack and a quarterback hurry. He saw increased playing time after Jonathan Brown was kicked out of the scrimmage after throwing a punch and drawing a personal foul penalty.
INDIANA

The Hoosiers held their
second scrimmage of the spring
Saturday afternoon at Memorial Stadium. Check out coach
Kevin Wilson's thoughts
as well as some
highlights
.
Notes
The offense got the best of the defense Saturday after the D shined in Indiana's previous scrimmage. Receivers Duwyce Wilson and Kofi Hughes stood out in the highlights Indiana showed on its website, as Hughes had a long touchdown reception and Wilson was forced out just shy of the goal line. Both players have been impressive this spring and should complement top wideout Damarlo Belcher in the fall.

IOWA
No official information from Iowa's scrimmage Saturday, but here's a
photo gallery
and some recent
player interviews
from the team's website.
MICHIGAN

No official information from Michigan's scrimmage Saturday, but here are video interviews with defensive tackle
Mike Martin
and offensive lineman
Patrick Omameh
. Running backs
Vincent Smith
,
Michael Cox
and
Stephen Hopkins
had some nice runs in the video highlights.
MICHIGAN STATE
The Spartans held their first jersey scrimmage Friday and the defense prevailed 55-45 in a modified scoring system. The defense had 18 ways to score points, while the offense had 11 ways to score, including touchdowns and field goals.

Notes
The defense dominated the scrimmage, holding the offense without a first down on the first five possessions and without points for the first 13 possessions. Michigan State's D recorded three sacks and two interceptions during the stifling stanza. The only two touchdowns scored came during the goal line and red zone portions of the scrimmage.
Defensive ends William Gholston and Tyler Hoover combined for nine tackles, three tackles for loss, a sack and a pass breakup. Sophomore linebacker TyQuan Hammock recorded an interception. "The defense played well -- tackled effectively, pressured the quarterback and came away with some turnovers," coach Mark Dantonio said in a news release.
Starting quarterback Kirk Cousins had a rough day (6-for-16 passing, 41 yards, INT), although he didn't get much help from his receivers, who dropped three passes. Backup Andrew Maxwell completed 15 of 26 passes for 116 yards with an interception.
The touchdowns came from Edwin Baker (22-yard run) and Le'Veon Bell (6-yard run). Receiver Keith Mumphery caught a 43-yard pass from Maxwell.
MINNESOTA

The Gophers scrimmaged Saturday at TCF Bank Stadium and ran about 120 plays.
Notes
Minnesota's defense held the upper hand as the offense struggled to gain a first down early in the scrimmage. The defensive line had a very good day as tackles Brandon Jacobs and Brandon Kirksey both stood out. Jacobs sacked No. 1 quarterback MarQueis Gray and Kirksey recorded a blocked field goal attempt. Ends D.L. Wilhite and Ra'Shede Hageman also made some plays. "The defensive line got up the field a lot more than we have been. [It was] a lot more aggressive," coach Jerry Kill told reporters. "And we need that. We need more push. We had nine sacks last year, and that can't happen."
Gray and top receiver Da'Jon McKnight hooked up on receptions of 45 and 20 yards. McKnight also recorded a punt block in the scrimmage.
Reserve quarterback Tom Parish threw two interceptions and fumbled a snap. Moses Alipate ran a few series at quarterback and led a scoring drive.
NEBRASKA

The
Huskers ran about 150 plays in a scrimmage
Saturday in Lincoln. Quarterbacks
Brion Carnes
,
Cody Green
and
Kody Spano
took most of the reps and drew praise from coach Bo Pelini.
The coaches limited reps for quarterback Taylor Martinez after the sophomore hurt his toe in a recent workout. Running back Rex Burkhead participated in the scrimmage and "looked great," according to Pelini, although Burkhead's reps were limited as well.
Nebraska had two false-start penalties and one fumble during the scrimmage. "That's not bad," Pelini said. "Most of it is with the young guys. It shows me the emphasis is working and there's progress, but one's too many as far I'm concerned."
NORTHWESTERN

The Wildcats scrimmaged Saturday in Evanston in preparation for this week's spring game.
Notes
Top running back Mike Trumpy had runs of 33 and 25 yards, while Tyris Jones added a scoring run. Jones has had a really nice spring for the Wildcats, who are looking for more options in the backfield.
Trevor Siemian and Evan Watkins took the reps at quarterback as Kain Colter was held out of the scrimmage. Siemian completed 8 of 12 passes for 86 yards with an interception, while Watkins, victimized by dropped passes, completed 8 of 21 passes for 71 yards and a touchdown strike to Charles Brown.
Defensive end Tyler Scott picked off Siemian on the second play of the scrimmage. Siemian later responded with a 36-yard pass to Rashad Lawrence. Demetrius Fields led the receivers with five receptions, while walk-on Torin Dupper had three catches for 46 yards.
OHIO STATE

The Buckeyes held a special-teams scrimmage followed by a full jersey scrimmage Saturday in Ohio Stadium. The team went through about 20 possessions and the offense prevailed 56-45.
Receiver DeVier Posey recorded two touchdown receptions, a 33-yarder from Joe Bauserman and an 8-yarder from Taylor Graham. Freshman quarterback Braxton Miller had the only other touchdown of the scrimmage on an 11-yard run.
Bauserman completed passes of 33 and 16 yards and also threw an interception on a pass tipped by defensive lineman John Simon. Graham completed 10 of 20 passes for 80 yards, while Miller hit on 4 of 6 passes for 43 yards and looked impressive on the touchdown run. Kenny Guiton struggled at quarterback, leading the offense to only one score (field goal) in six possessions.
Posey recorded five receptions for 83 yards and two scores, while the other scholarship wideouts combined for only five receptions. Think Ohio State will miss No. 8 in the first five games?
Senior running back Dan Herron didn't get much work Saturday, and Jaamal Berry and Rod Smith stood out among the backs with several nice gains.
Defensive linemen Adam Bellamy and Melvin Fellows both recorded sacks, while other defensive standouts included cornerback Travis Howard and linebacker Etienne Sabino.

PENN STATE
The Lions scrimmaged Saturday, but there's not much info out there
aside from this
($$$).
WISCONSIN

The Badgers held a scrimmage Saturday, running more than 120 snaps, and coach
Bret Bielema shares his thoughts here
.
Sophomore linebacker Conor O'Neill had a big day with interceptions on back-to-back plays, picking off Joe Brennan and Joel Stave. Wisconsin auditioned O'Neill at safety last year, and his experience defending the pass is paying off.
Bielema said center Peter Konz will miss the rest of the spring because of ankle and knee injuries. Konz will undergo minor knee surgery and should be fine for fall camp. Versatile sophomore Ryan Groy is seeing time at center and can play all three interior line spots.
Remember Zach Brown? The running back is still around in Madison and hopes to enter a crowded backfield this fall. Brown had a 17-yard touchdown reception and an 8-yard scoring run Saturday. "Zach is an angry running back," Bielema told reporters. "Everybody wants to talk about those other guys. People forget he ran for 200 yards [in a game] as a freshman, and he has won some games for us."
April, 11, 2011
4/11/11
9:00
AM ET
After a recent practice, Illinois defensive coordinator Vic Koenning asked the team's linebackers to identify the breed of dog that best represents their position group.
The players didn't hesitate. Four immediately shouted out, "Pitbull!"
It's an answer that warms a coach's heart, but saying the right thing and doing the right thing are different things. Koenning let the players know what he has been seeing this spring.
"Well," he told the linebackers, "we're little cocker spaniels right now."
[+] Enlarge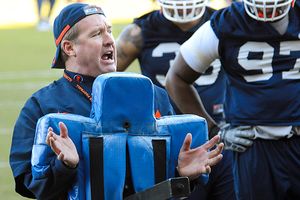 AP Photo/The News-Gazette, Robin ScholzIllinois defensive coordinator Vic Koenning wants his linebackers to be pitbulls but "we're little cocker spaniels right now," he said.
Illinois is trying to reload on defense after losing a likely first-round draft pick in defensive tackle Corey Liuget and a likely second-round pick in linebacker Martez Wilson. Although Liuget leaves a major void in the middle of the line, the linebackers lose the most overall production as Wilson and Nate Bussey combined for 195 tackles, 20 tackles for loss, three forced fumbles, four fumble recoveries and two interceptions in 2010.
Koenning, who now oversees the linebackers after coaching defensive backs in his first season with Illinois, says the 'backers have the longest way to go "by a long shot." To be fair, the Illini are mostly young and unproven at linebacker and are turning to players like sophomores Jonathan Brown and Brandon Denmark and redshirt freshman Houston Bates. Brown stood out as a true freshman in 2010, recording 31 tackles, but he no longer has Wilson or Bussey on the field to help.
Part of Koenning's challenge is to get the linebackers on the same page from a fundamentals and techniques standpoint.
"That's a major, major, major focus for me right now, for them to all have the same stances, the same basic footwork and techniques," Koenning said.
He's also trying to teach toughness.
"We've got to get back to pursuit drills and stuff we haven't made time to do," Koenning said. "Like Mickey told Rocky, 'The worst thing that can happen to a fighter is to get civilized. You've got to get back to old school.' In my opinion, we've got to get back to a little bit of old school. That's what we've got the rest of spring practice to do.'"
Koenning's top priority is to identify leadership. Although Illinois' most experienced defensive unit is the secondary, he notes that few defenses can survive without a leader in the front seven. Wilson answered the call to lead last spring and later was joined by Liuget, who became Illinois' bell cow with his dominating play on the interior line.
Koenning has spotted some potential leaders up front. Rush end Michael Buchanan and tackle Akeem Spence both have playing experience and show signs of wanting to take the reins.
"Mike's matured a lot, and Mike may be our leader," Koenning said. "He may be the guy."
The easiest solution to the leadership issue, though, would come from the linebacker group. Rising senior Ian Thomas seems like an obvious choice. He has started the past two seasons, recording 162 tackles.
But Thomas is adjusting to the middle linebacker spot and still must make strides in the final two weeks of spring ball.
"He's got a lot on his plate," Koenning said. "He wants to [lead] badly and he's a good person and he's conscientious. It's all weighing on him a little bit. He just needs to relax and play. He's sometimes trying too hard. He'll get it. I'm extremely, extremely hard on him."
Thomas' top priority is improving his footwork to remain in the right position to make plays. He's not alone in that respect.
"It's like one of those country dances," Koenning said. "You take one step forward and two steps back or two steps forward and one step back, however that goes. I haven't been able to crack the code with some of these guys to get them to absorb it. We've got a lot of questions to answer in the linebacker corps."
The good news: Illinois still has plenty of time to find the answers.