NCF Nation:

Howard Barbieri
September, 2, 2010
9/02/10
11:29
AM ET
The new-look Rutgers offensive line debuts Thursday night against Norfolk State. And it has an unlikely anchor.
Fifth-year senior Howard Barbieri will start at center and will also walk to midfield before the game as one of three team captains. Neither are roles he envisioned himself playing when he arrived on campus.
"I just wanted to show people I could play here," he said.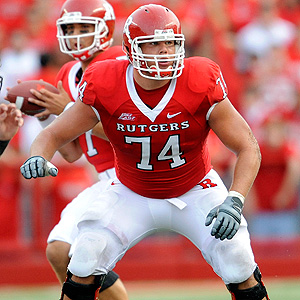 Rich Kane/Icon SMIHoward Barbieri has come a long way since he first arrived on campus.
Barbieri had a lone scholarship offer to Wagner. But he believed in his ability, so he chose to walk on at Rutgers.
That looked like a wise choice as soon as his redshirt freshman year, when he was running second string on the offensive line before he was moved to tight end. Since then, Barbieri has done a little bit of everything.
In 2008, he played at left guard, right guard and right tackle. He started at both guard spots last year and practiced at center, then was moved to that position permanently before this spring, when he finally received a scholarship for his efforts.
A center has to be aware of what everyone is doing on a given play, and Barbieri's background makes that easier.
"I know what the right guard is going to do on a play because I've been there before," he said. "It helps me a lot. I look at myself as a leader of not just the offensive line, but the whole offense."
Assistant coach Kyle Flood told
the Home News Tribune
that Barbieri's leadership "is going to help us as we go through this process as we try to get everything on track. To have a guy like that who can anchor the middle for you, it makes the transition a little smoother."
The Scarlet Knights could use some stability on their offensive front, which will start together for the first time Thursday night. Three starters are gone from last year, and the most experienced lineman, Art Forst, has moved from guard to right tackle. Desmond Stapleton takes over for Anthony Davis at left tackle, while Desmond Wynn steps into a more prominent role. Caleb Ruch, who was injured most of last year, is at right guard.
Fans will be watching closely, even against Norfolk State, to see signs of improvement after last year's line disappointed. Barbieri said they should like what they see.
"This is the most physical line we've had since I've been here," he said. "That's the way we're practicing, and it's been emphasized to us all offseason. We're going to be tough and physical."
And they have an unlikely anchor.
August, 16, 2010
8/16/10
4:00
PM ET
The first weekend when every Big East team was in fall camp just concluded, which meant plenty of scrimmages.
Several teams had their first full-bore intrasquad scrimmages of the preseason, which can help determine depth charts and give an early indication of how things are going. Here are some notes from those workouts:

PITT:
The Panthers went through an
88-play scrimmage
, but they did so without injured key players such as Dom DeCicco, Myles Caragein, Andrew Taglianetti and Greg Romeus, who continues to be unavailable with back spasms. In addition, Jabaal Sheard,
Dion Lewis
and
Jon Baldwin
played limited snaps.
Ray Graham
was taken out of the scrimmage after going down with a knee injury, but it did not appear to be serious. Quarterback
Tino Sunseri
was just 5-for-11 for 61 yards, while backup
Pat Bostick
impressed by going 9-of-15 for 163 yards and three scores.

RUTGERS:
Defense dominated in the Scarlet Knights'
2 1/2 hour scrimmage
, which is not surprising given how strong the Rutgers 'D' looks. The offense, which played without Howard Barbieri and
Joe Martinek
, scored just one touchdown while the defense scored off a turnover and had two safeties.
Quarterback
Tom Savage
went just 8-of-15 for 52 yards as the offense managed just 74 yards on its first 29 plays.
De'Antwan Williams
hoped to make a push for the No. 2 running back job but finished with just 13 yards on four carries while losing a fumble.
Mason Robinson
scored the lone TD.

WEST VIRGINIA:
Head coach Bill Stewart mostly didn't like what he saw out of the
Mountaineers' first scrimmage
.
"Sloppy tackling, not breaking on the ball, not doing back-side cutoff blocks, not hustling, drops, exchange snaps,'' he said. "I'm not real pleased. [We] didn't play up to our standards."
Noel Devine
did, though, ripping off a 79-yard touchdown run and then taking most of the rest of the day off. And so did Bruce Irvin. The junior-college import recorded two sacks as West Virginia lined up with four defensive linemen. Coaches and teammates are singing the praises of Irvin for his quickness and burst so far in practice.
Quarterbacks
Geno Smith
and freshmen
Barry Brunetti
and
Jeremy Johnson
combined to complete 16 of 18 passes for 113 yards on mostly short routes.

SOUTH FLORIDA:
Defense was also ahead of the offense at South Florida, as the Bulls mustered one touchdown in a
nearly 150-snap scrimmage.
Quarterback
B.J. Daniels
missed 11 of his first 12 passes and finished 7-for-22 for 70 yards. True freshman backup
Jamius Gunsby
did look good, though, going 12-for-17 for 169 yards, including a 58-yard completion. But the defense had three interceptions.
"Right now we're a long way from being productive as an offensive football team," coach Skip Holtz said. "With the penalties and dropped passes and missing open receivers and inconsistencies in the passing game, it's very difficult to get anything into rhythm. We've got a lot of work to do right now, but I think the attitude is good and they're willing."

SYRACUSE:
Coach Doug Marrone was disgusted by his team's lack of physicality on Friday, especially the offense, so he emphasized that in Saturday's first full-contact,
two-hour scrimmage.
So the focus was on running the ball and running it hard, which
Delone Carter
did. Sophomore quarterback
Ryan Nassib
remained turnover-free. Freshman linebacker
Marquis Spruill
got some looks with the first-team defense at outside linebacker, where he's battling with Ryan Gillum.

LOUISVILLE:
Head coach Charlie Strong held his scrimmage behind closed doors, with no fans or media allowed to attend. So details of the 90-play scrimmage were unknown. The
school's official account
said the Cardinals worked on situations like 1st-and-10 from their own 30, 1st-and-10 from the 12 inside the red zone and 1st-and-10 from their own 1.
"Early in the scrimmage, the offense didn't move the ball very well, but the longer we went, the better it got," Strong said. "We still have a long way to go and we still have to get better. We have to improve our tackling and we need some guys to really step up and become leaders of this team."
July, 2, 2010
7/02/10
9:00
AM ET
We're only about a month away now from the start of preseason practice. Of course, players are already working hard on campus this summer getting ready. I had a chance to catch up with Rutgers quarterback
Tom Savage
this week to ask him how things were going in Piscataway. Here is a transcript of our conversation.
What's your schedule like right now?
Tom Savage:
Right now, we've got summer classes to deal with, and the older guys are getting together throwing 7-on-7s and throwing against air. We're working hard. The whole team's really excited about this season.
Can you tell that there's improvement going on during the 7-on-7s and lighter pass drills?
[+] Enlarge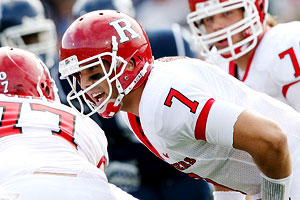 Elsa/Getty ImagesTom Savage finished his freshman season with 2,211 yards and 14 touchdowns.
TS:
Yeah, I feel like there's improvement, and there's also a good connection going on. I'm really starting to understand the timing with the receivers. The good thing is, they're all young guys, so they're all going to be with me for the next three years. That's really exciting to watch and be a part of.
Several young guys emerged at receiver during the spring. How is that carrying over into the summer?
TS:
I feel like all of them are starting to really understand the game. They're all really talented, but you can be talented and not understand the principles of our offense. I feel like everyone's starting to understand and get it all together.
How much film do you watch in the summer?
TS:
We watch some film. The receivers and I get together. We prepare a little bit for Norfolk State [the Scarlet Knights' opening opponent] because we can't overlook them too much. But we've also got to keep watching ourselves from last season and learn what we can do better. We all get together and look at the timing and the routes last year, then we go outside and work on that.
You didn't really throw much in games to a lot of the younger receivers last year, so how do they incorporate the film study?
TS:
The spring is really what they'll be watching a lot of. The good thing is, we've got all that stuff on tape, so we can see what we did and what we can improve on.
How about outside of working out -- how are you guys building chemistry off the field?
TS:
Mohamed [Sanu]
and I really buddy up. We hang out a lot. We spend time with all the receivers. We're really comfortable with each other, which is good because we know how to communicate with each other.
You went through your first spring practice this year. What did you learn from that?
TS:
One thing I learned is how good our defense really is. I felt like the spring gave me a chance to really slow down and understand the meaning of the plays instead of just doing it. Last year, they would just tell me the play and I'd execute and do what I could. This year, I really understand the plays more and understand the game a lot better.
Coach Schiano said he didn't want to put too much on you as a true freshman last year. Do you feel like the playbook is more opened up to you this season?
TS:
I've told them numerous times that I'm ready to expand and learn as much as I can. That's what I'm ready to do. To give the team the best opportunity to win, you've got to be able to throw everything at the guys, and I want to be the kind of guy who can understand everything and really be the manager of the offense.
When you look around at the team, you see a lot of young guys. Do you have enough talent to overcome some of that inexperience?
TS:
Right now we don't have that much experience, but we do have a leadership core. I think the biggest thing being able to lead and talk through things to the younger guys. I mean, I'm a younger guy, but for the younger guys to be able to tell them how it works and how everything's going to go. Our leadership core, with older guys like Howard Barbieri, helps out a lot.
Speaking of Barbieri, he's going to be your new center, but he was hurt part of the spring. How is the chemistry between you two?
TS:
We take snaps all the time. I'm really comfortable with him. I know he's really trying to get back out there, and the whole team is looking forward to that, too.
There were several injuries along the offensive line this spring. Are you looking forward to seeing what that unit can do when healthy this fall?
TS:
Yeah, I know we've got plenty of depth at the O-line positions. We couldn't have had too many more guys go down this spring, and it seemed like we still managed it well. I'm excited to see what the whole offensive line crew can do.
April, 15, 2010
4/15/10
11:18
AM ET
PISCATAWAY, N.J. -- It's one of the great mysteries of the 2009 Big East season. How did Rutgers' offensive line, blessed with veterans and pro prospects, not come anywhere near expectations?
Guard Art Forst says he watched film of last year and the only conclusion he can come up with is that the unit underperformed. And he vows, "We won't underperform again."
[+] Enlarge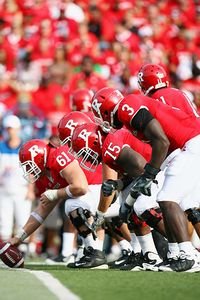 Ned Dishman/Getty ImagesRutgers coach Greg Schiano thinks his 2010 offensive line will be better than the group in 2009.
Easier said than done. But how much the offensive line can come together and improve may well hold the key to the Scarlet Knights' fortunes in 2010.
It's a very different cast from last year. Gone are tackles Anthony Davis and Kevin Haslam and center Ryan Blaszczyk. In are ... well, we're not entirely sure yet.
Forst is back, but Howard Barbieri -- who was slated to take over at center -- suffered a knee injury and is out for the rest of spring. Desmond Wynn is penciled in as a likely starter at one of the tackle spots but he, too, has been hurt this spring.
Head coach Greg Schiano likes what he's seen so far out of Desmond Stapleton, who backed up Davis the past two seasons. Stapleton has been playing left tackle, and Schiano said he's provided worry-free performance. His older brother, Darnell, was a Rimington Trophy candidate at Rutgers and a starting center for the Pittsburgh Steelers.
The most intriguing prospect on the line is Antwan Lowery. He was Rutgers' highest-rated recruit a year ago as a defensive lineman. After his redshirt season, he asked to make the switch to the O-line, Schiano said. The 6-foot-4, 325-pounder is obviously raw, but his size and skill can overcome some inexperience.
"He's incredibly explosive," Schiano said. "We have to get him good enough. We don't have guys like him, so it's almost to where we've got to make it work."
"He does some things to our best defensive linemen where you sit there and say, 'Are you kidding me?' But then he'll do something [dumb] and you're like, 'Are you kidding me?' So there are kidding-me's both ways."
Rutgers gave up more sacks (40) than any other Big East team last year and it struggled to run the ball effectively for large stretches. This year, there's little depth behind quarterback Tom Savage, so the line simply must protect him for the team to succeed. The group is still mixing and matching parts and probably won't have its pieces together until fall camp when Wynn and Barbieri return.
Still, Schiano is optimistic.
"I've just got a feeling we're going to be better," he said. "I can't tell you why. I don't know if it's chemistry or whatever. But confidence means nothing unless you do it."
And unless this offensive line does it better than last year's, Rutgers won't be going very far in 2010.
March, 10, 2010
3/10/10
1:01
PM ET
Rutgers is coming off a nine-win season and will be a really interesting team to watch in 2010. The Scarlet Knights have a lot of talent, but they will be one of the youngest, if not the youngest, team in the Big East this season.
That makes spring practice all the more important, and I caught up with head coach Greg Schiano this week to talk about Rutgers' spring drills, which begin March 23. This is Part I of my interview with Schiano; check back tomorrow for Part II.
What's the most pressing issue or concern for you going into the spring?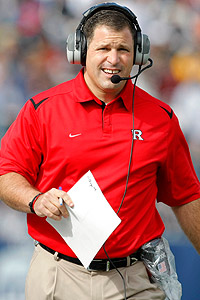 David Butler II/US PresswireDeveloping his young players is the top priority for Greg Schiano heading into the 2010 season.
Greg Schiano:
We're a really young football team. It's like 62 of our 85 scholarship players, when we report to training camp, will have three or four years of eligibility remaining. It's one of those deals where we've got to develop our younger players, but at the same time, it's not an excuse. That's who we are right now, and we've got to be able to go out and perform the best we can and hope that best is good enough, because we have good players. It's just that some of them are young.
Can you remember having a team this young before in your career?
GS:
I don't know so much at Rutgers. Maybe a little bit in '05 or something. But I do remember that at other places. It's funny: Coaches think this is our year, that is our year. I've learned, you know what, you can't predict it. Every year has got to be our year. You've got to go out and believe that whoever is on your starting 11 is going to get it done. That's kind of the approach I take now. Injured guys, whatever, it doesn't matter. You have to win with what you've got.
Let's go position by position, starting with the offensive line. You lost three key starters. How do you see that unit right now?
GS:
We have guys there. They've got to come through. You know, we didn't play very well on the offensive line last year, so to me, hopefully it's going to be an improvement. It needs to be an improvement. Not too long ago, we had the best offensive line in the country in sacks, rushing yards and all those things. We need to get that level of performance back.
I look at guys like Desmond Stapleton and Desmond Wynn, guys that haven't played a ton of football here but who are talented players. It's their turn, and they need to step up. A guy like Howard Barbieri, who played for us last year a good amount, he's now become a leader of that line. Art Forst, a guy who was probably forced into action before he was ready, now hopefully he's ready. Now is his time to really shine. A guy like Caleb Ruch, who played some, but he wasn't ready to play. He played because we had to play him. Now he's a junior.
I said earlier we have so many guys who have three years left. On the offensive line, we have a bunch of guys that have two years left. So hopefully that means they've been in our weight room now for three years. Offensive line is a little different position; the Anthony Davises who come and play right away are few and far between. These guys, I think they're good players. How fast they get good is going to have a big say in how fast we get good.