June, 29, 2011
6/29/11
1:15
PM ET
We've taken a look at the Big 12 offensive skill positions in our position rankings, and we'll circle back along to the lines eventually. For now, though, we'll flip to the defensive side of the ball, starting with linebackers.
There's a lot of turnover in this space, and the bottom half was pretty hard to sort out. We haven't seen a lot of these new faces on the field for extended periods of time, so it's somewhat of a crapshoot. I don't feel like there's a wide gap between teams 7-10, and each of those squads have at least one linebacker who could be due for a huge year and shoot them up this list.
I see Nos. 1-3 possibly being great, with dropoffs before the No. 4 and No. 7 teams.
Also, if you missed them, here are the other position rankings we've done so far.
So, without further ado, here's how I ranked the linebackers. (Nickel backs are included in this list, hybrid DE/LBs will be with defensive lines)
[+] Enlarge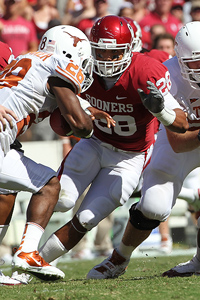 Matthew Emmons/US PresswireOklahoma's Travis Lewis is the Big 12's top returning defender.
1. Oklahoma
-- The Sooners boast the Big 12's top returning defender in Travis Lewis, who has notched at least 100 tackles in each of the past three seasons, and he'll be joined by the Big 12's co-Defensive Freshman of the Year, Tony Jefferson. Tom Wort and Corey Nelson are both loaded with potential, and will fill out the rotation, after the starter at middle linebacker, Austin Box, died on May 19.
2. Iowa State
-- The Cyclones boast two of the Big 12's best in Jake Knott and A.J. Klein, who combined for more tackles than any two teammates in the Big 12 last season. They had 241 stops, and, after healing from a broken leg suffered midseason last year, Matt Tau'fo'ou should join them at middle linebacker.
3. Texas
-- Texas' offense may be lacking, but the defense will be strong once again, led by two others likely to earn spots as some of the Big 12's best. Keenan Robinson and Emmanuel Acho were Texas' top two tacklers last year with 187 stops, and return as likely captains come fall camp. Texas' depth chart is wide open, but look for former blue-chip recruit Jordan Hicks to emerge as another star this year, despite being forced to sit out spring camp with a broken foot. Dravannti Johnson played some defensive end last year at the Buck position for the Longhorns, but may find his way back to linebacker. Tevin Jackson was ineligible last year, but he's ready for 2011, and could make an impact.
4. Oklahoma State
-- The Cowboys "Star" linebacker is occupied by co-Defensive Freshman of the Year Shaun Lewis, and sophomore Caleb Lavey is charged with replacing Orie Lemon, the leader of last year's defense. Oklahoma State has questions on the weak side, but LeRon Furr and Chris Dinkins will compete next fall.
Kris Catlin
could be a factor, too.
5. Texas A&M
-- The Aggies must replace their leading tackler, Michael Hodges, and don't have a clear replacement heading into fall camp. The good news: They've got two others with lots of experience in the linebacking corps that look like budding stars. Garrick Williams should be one of the defense's leaders and Sean Porter returns after making 74 tackles last year to rank third on the team.
6. Missouri
-- The Tigers have lots of experience at middle linebacker, where a pair of seniors (albeit frequently injured seniors) Will Ebner and Luke Lambert will be on the field a lot. One of the Big 12's most exciting players, junior Zaviar Gooden, will hold down the weakside and perhaps become a household name by season's end. Sophomores Andrew Wilson and Donovan Bonner, who missed all of last season with a knee injury, will likely compete for strongside duties in fall camp. Andrew Gachkar, the team's leading tackler, is gone, but here's guessing Gooden emerges as the defense's top playmaker.
7. Kansas
-- The Jayhawks linebackers were solid last year, and could be pretty good again, despite losing Drew Dudley and Justin Springer, two of the team's top four tacklers. Steven Johnson, the team's leading tackler in 2010, is back and he'll be joined by possible star Huldon Tharp, who missed all of last season with a leg injury. Fellow sophomore Darius Willis earned a starting role after spring.
8. Kansas State
-- K-State's front seven struggled last year, but will get a big boost from Arthur Brown. One man won't be enough to totally fix the Wildcats rush defense problems, though. K-State gave up 26 more yards on the ground per game than any other team in the Big 12 (more than 231 per game) but Brown may be playing in a 4-3 next fall rather than the 4-2-5 the Wildcats have employed since Snyder's return. Alex Hrebec, Emmanuel Lamur, Tre Walker and Blake Slaughter will likely fill the rotation along with Brown.
9. Baylor
-- Baylor's defensive depth chart, like Texas', is a bit amorphous after bringing in a new coordinator, but Elliot Coffey figures to be the Bears biggest playmaker at linebacker. Chris McAllister should be solid and Ahmad Dixon is promising at nickelback, too. Brody Trahan is a great story, but him
going from third-string quarterback to starting linebacker
isn't a ringing endorsement for Baylor's depth at the position.
10. Texas Tech
-- Tech will be moving to a 4-2-5 this year under new coordinator Chad Glasgow, and could rise up this list, but the Red Raiders lose a lot of talent from last season's team, which ran the 3-4. Bront Bird and Brian Duncan are both gone, and youth will be a big factor with this group. Cqulin Hubert's outstanding potential is matched by his more outstanding first name, and freshman
Blake Dees
showed promise after arriving early this spring. They'll likely be the rotation at middle linebacker spot alongside Daniel Cobb and Zach Winbush. Terrance Bullitt could be a playmaker at his new safety spot, listed as a strong safety but with plans to spend lots of time near the line of scrimmage, a la nickelback.
June, 8, 2011
6/08/11
9:00
AM ET
The best players in football play with something to prove. But some have more to prove than others.
Tevin Elliot, DE, Baylor
Elliot is raw, but the versatile 6-foot-2, 245-pounder led the Bears in sacks as a freshman, with five. Baylor's defense held the team back from achieving much more than a bowl appearance last year, but Elliot could be a big piece of a defensive resurgence under Phil Bennett in 2011. A disruptive pass rush would be a huge help to a pass defense that struggled last season, and one player can make that happen. Can Elliot prove he's the guy to do it and help push the team further than the seven wins it reached in 2010?
Huldon Tharp, LB, Kansas
Tharp showed tons of promise as a freshman, making 59 tackles and landing on a freshman All-America team. He looked like he'd be one of the leaders on Turner Gill's first defense at Kansas, but his season cruelly ended in fall camp with a leg injury. Can he prove in 2011 that he's that leader, and that there's still reason to believe the potential he showed in 2009 is there?
[+] Enlarge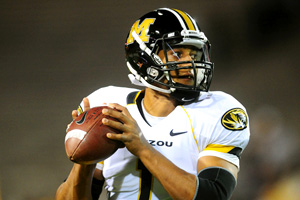 Mark J. Rebilas/US PresswireThe Tigers need James Franklin to fill the void left at quarterback by Blaine Gabbert's departure.
James Franklin, QB, Missouri
The pressure is on for Franklin to
continue Missouri's quarterback lineage
after Tyler Gabbert
transferred following the spring semester
. Brad Smith started it, Chase Daniel took the Tigers to new heights and Blaine Gabbert looks like he'll make the biggest impact of the three in the NFL. Where is Franklin's place? This could be his team for the next three years, but he'll step into his new role with one of the Big 12's most complete teams surrounding him. He has sure-handed receivers, a solid running game, an experienced offensive line and one of the league's best defenses. Can he fill the void and help Missouri contend for a Big 12 title, proving that the bloodline will continue?
Hubert Anyiam, WR, Oklahoma State
Anyiam might be the guy who truly makes Oklahoma State's offense unstoppable. He led Oklahoma State in receptions during Dez Bryant's abbreviated 2009 season, catching 42 passes for 513 yards and three scores as a sophomore. Last year, though, he never got started and finished with 11 catches for 135 yards, thanks to an ankle injury similar to the one that ruined Kendall Hunter's 2009 season. The 6-foot, 198-pounder has the potential to be a second game-changing receiver in the Cowboys offense, but can he return to 2009 form and prove he's a dangerous complement to Biletnikoff Award winner
Justin Blackmon
?
Ryan Tannehill, QB, Texas A&M
Tannehill was a big reason for the Aggies' six-game winning streak to close the regular season, but so was
Cyrus Gray
's emergence, a rapidly maturing offensive line and a defense that played its best football in the second half of the season. All the pieces are there for Tannehill to lead the Aggies to the BCS, but last year it was obvious: without good quarterback play, the Aggies were not a great team. Tannehill has been on the field for three seasons, but he still has just six career starts at quarterback. And there's that nagging Texas A&M senior quarterback curse that he'll surely be asked about at least a few times next season. Can he prove that his play late last season will continue into 2011, all the way to a possible Big 12 title?
We'll tab a few more later today.
May, 3, 2011
5/03/11
9:00
AM ET
We've been all over the place so far this offseason, taking a look at some of the budding stars in the Big 12. Here's what we've covered so far:
Now it's time to look at the guys that seem to be in on every play: players who will notch 100 tackles next year. A little context: This is a bigger group than the others.
Last year, 11 players topped the 100-tackle mark, and just five return. Across the country, 75 players had at least 100 tackles, by far the largest group we've examined so far this year.
So this time, instead of looking at the players most likely to crack the mark, we'll just run down the players I believe will have at least 100 tackles next year, in order of the likelihood they do so. As usual, this is not a ranking of each linebacker's overall skill, just the probability that they reach the benchmark statistic for their position.
1. Travis Lewis, LB, Oklahoma:
Lewis tops the list based on his history. In three years, he has 360 tackles for the Sooners, and has topped 100 in all three seasons. He's got a hungry youngster in Corey Nelson nipping at his heels, but he's one of the defense's leaders. There's no reason to think he won't have another huge year.
[+] Enlarge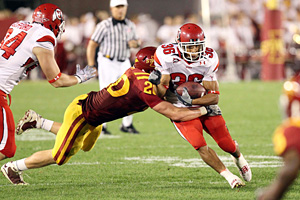 Reese Strickland/US PresswireIowa State's Jake Knott is the top returning tackler in the Big 12.
2. Jake Knott, LB, Iowa State:
After making 130 stops in 2010, Knott is the Big 12's leading returning tackler. He broke his arm late in the spring (following it up with
the most hard-core recovery of the spring
), but he should be back to full strength well before fall camp and geared up for 130 more.
3. Garrick Williams, LB, Texas A&M
: Williams already had 112 stops in 2010, and without Michael Hodges and Von Miller around, he and Sean Porter (74 tackles in 2010) should rack up even more in 2011.
4. A.J. Klein, LB, Iowa State
: Klein gets overshadowed by his teammate, Knott, but he had 111 tackles of his own as a first-year starter last year. The Cyclones defensive line is one of the weakest in the Big 12, but fortunately for ISU, it's got some solid linebackers.
5. Keenan Robinson, LB, Texas
: Robinson is the last of the returning 100-tackle linebackers, but he'll have an even bigger role in the Longhorns' defense in 2011 after making 106 stops last year.
6. Arthur Brown, LB, Kansas State:
I'm officially buying on Arthur Brown. I'm on the fence about Bryce Brown, but the combination of the tales from last year's scout team, plus his 14 tackles in the spring game followed by an endorsement from Bill Snyder after it has me on board. He's the fastest linebacker Snyder's coached since his return, and speed takes you a long way in the Big 12. Big year on the way for Brown.
7. Caleb Lavey, LB, Oklahoma State:
Lavey is the likely successor to resident brick wall Orie Lemon at middle linebacker for the Cowboys. He may not reach Lemon's 133 tackles in 2010, second-most in the Big 12, but I like what I saw from Lavey as a freshman last year and I like his chances to hit the triple digits.
8. Zaviar Gooden, LB, Missouri:
Like Brown, Gooden has crazy speed for a linebacker, and at 6-foot-2 and 225 pounds, his body type is more like that of a hulking safety. Missouri, in part because of injury, didn't have a player with 100 tackles last year, but Gooden tied for the team lead with 84. If Will Ebner stays healthy, he could crash this list, too.
9. Prince Kent, S, Baylor:
Two defensive backs hit the mark last year, but I've got just one on my list for 2011. Kent played sparingly as a freshman last year, but still led the team with two interceptions. The Bears' cornerbacks aren't great, and here's betting that means Kent leads the team in tackles this year.
10. Huldon Tharp, LB, Kansas:
Tharp will be coming back from a knee injury, and he's not full strength just yet, but he's got the most raw talent of any defender on the Jayhawks' roster. I'll tack him on the end of this list for a nice comeback year.
Just missed:
Sean Porter, LB, Texas A&M; Emmanuel Acho, LB, Texas, Cody Davis, S, Texas Tech
February, 16, 2011
2/16/11
9:00
AM ET
Springtime is almost here. And here's a look at what to expect across the Big 12 when it gets into full swing here in the next couple weeks.
BAYLOR BEARS

Spring practice starts:
February 28
Spring game:
April 2
What to watch:
Big changes on defense. Baylor brought in Phil Bennett as its new defensive coordinator, and he says his scheme will be multiple, built to fit the Bears' personnel. Considering the Bears' recent recruiting successes in the secondary, look for a 4-2-5 type of look.
Recruiting stars: time to shine. Both safeties, Tim Atchison and Byron Landor, are gone. Baylor, though, has two former ESPNU 150 recruits at safety who would be well served to start filling their potential. Prince Kent was a reserve last season and at one time, the nation's No. 51 overall recruit who originally signed with Miami. Ahmad Dixon, meanwhile, was the No. 15 overall prospect in the 2010 class. The opportunity is there. Baylor needs big talent at the position. Briles has recruited it. Can they develop into players who make Baylor a contender?
Running back competition. Jay Finley topped 1,200 yards in 2010, but he's gone. Who steps into his void? Terrance Ganaway is a bowling ball at 5-foot-11, 235 pounds, but the shifty Jarred Salubi could get a good amount of carries, too. They could begin to share carries this spring.
IOWA STATE CYCLONES

Spring practice starts:
March 22
Spring game:
April 16
What to watch:
Quarterback competition. It should be a good one in Ames this spring. Jerome Tiller is the name most recognize after getting lots of meaningful time and starts because of injuries to Austen Arnaud over the past two seasons. But juco transfer Steele Jantz sounds confident he can win the job. Rising sophomore James Capello and redshirt freshman Jared Barnett will compete, too.
Paging Cyclone receivers. Iowa State had one of the most underwhelming receiving corps in the league during the past season, and three of its top five pass-catchers won't return in 2011. Of those three, however, one is a tight end (Collin Franklin) and another is a running back (Alexander Robinson). The new quarterback will need some help, and Darius Darks and Darius Reynolds will need to provide it as seniors.
Shontrelle's time or not? Freshman Shontrelle Johnson looked like the running back with the most pop behind Robinson for most of 2010, but two other freshmen running backs jockeyed for carries, too. Paul Rhoads is hardly handing the job over to Johnson, but spring could be the time when he really separates himself from the pack.
KANSAS JAYHAWKS

Spring practice starts:
April 1
Spring game:
April 30
What to watch:
What are they doing behind center? Kansas never got much consistent play out of the quarterback position last year, but freshman Brock Berglund is one of the 2011 class' top recruits, and enrolled early to compete in the spring with Jordan Webb and Quinn Mecham. With a building program like Kansas, there's perhaps some value in handing the program to a younger player like Webb or Berglund, but they'll have to earn it. Doing so will start in the spring, but don't expect the Jayhawks to have a set-in-stone starter by spring's end.
Top linebacker back on the field. Huldon Tharp missed all of 2010 with a foot injury, but he says he's 100 percent and ready to get back on the field. As a freshman in 2009, he was fifth on the team in tackles, with 59, and looked like one of the league's possible budding stars. Now, he'll get his chance to join fellow linebacker Steven Johnson as one of the team's top tacklers, and he'll do it as a sophomore after redshirting in 2010.
Toben rising? Turner Gill raised plenty of eyebrows when he moved his team's leading rusher in 2009, Toben Opurum, to linebacker in fall camp, and eventually slid him up to defensive end. But toward the end of 2010, Opurum started showing some major signs of growth at the position. We'll get a better idea this spring if he's one of the league's most unlikely new stars at defensive end.
KANSAS STATE WILDCATS

Spring practice starts:
April 6
Spring game:
April 30
What to watch:
Prodigal Kansan sons come home. There's no doubt that the Wichita native Brown brothers are the main attraction at Kansas State this spring, a season after transferring back home. Bryce Brown, the running back, was the nation's No. 8 prospect in the 2009 class. Arthur Brown, the linebacker, was the nation's No. 6 prospect in the 2008 class. Bryce transferred from Tennessee and Arthur from Miami. The Wildcats are pinning much of their hopes on the duo, and we'll get a good sense of what they can provide soon.
Quarterback competition. Carson Coffman is gone, and two new faces will challenge for the job: juco transfer Justin Tuggle and Daniel Sams. Sammuel Lamur is also up for the gig. Collin Klein may or may not be; Bill Snyder hasn't explicitly confirmed a past comment from Sams saying Klein had moved to receiver. Don't expect a starter to be named by spring's end, but a general order could start to form.
Can the defense show improvement? Kansas State had the Big 12's worst overall defense last year, and the worst rushing defense in college football, giving up 3,008 yards on the ground. Coordinator Chris Cosh looks like he'll still be around in 2011, and defensive backs David Garrett and Tysyn Hartman are solid pieces to try and build around. But this young maturing defense must get better to make a bowl game again with so many questions on offense. That starts in the spring.
MISSOURI TIGERS

Spring practice starts:
March 8
Spring game:
April 16
What to watch:
Franklin comes alive! Blaine Gabbert bolted to the NFL early, and Missouri has a gaping hole a quarterback. The position, however, is surrounded by a lot of quality talent that likely makes the Tigers a Top 25 team. There's no understating the importance of the position for the Tigers, and that will begin to be decided in the spring. James Franklin, a rising sophomore, saw spot duty in 2010 as more of a runner, and may have the inside track on the job, but Tyler Gabbert, Blaine's younger brother, and Ashton Glaser should make it an interesting competition in the spring. If neither of them impress early, don't count out incoming freshman Corbin Berkstresser.
Here is the new secondary. Same as the old secondary? After years of pass defense being one of the Tigers' biggest weaknesses, it became a strength in 2010 behind the leadership of senior corners Kevin Rutland and Carl Gettis. But the Tigers lose them and safety Jarrell Harrison. Rutland emerged as one of the team's most impressive players last spring, but was Missouri's success in the secondary a one-time thing or the beginning of a welcome trend?
Time to dominate the trenches? Missouri played without likely first-round pick Aldon Smith for much of the previous season, but the defensive and offensive lines for the Tigers were as good as ever in 2010. How will they look in 2011? Impact juco transfer Sheldon Richardson won't be enrolled by the spring, but the four returning starters on the offensive line should get some solid work against Brad Madison, Jacquies Smith and Terrell Resonno.
OKLAHOMA SOONERS

Spring practice starts:
March 21
Spring game:
April 16
What to watch:
Freshmen on display. Coach Bob Stoops hasn't been shy about saying his 2010 recruiting class was his best ever, but it could look even better after this spring. Two of his best emerging recruits, Justin McCay and Geneo Grissom, didn't even play in 2010, and could start to make an impact. The same goes for Corey Nelson, who will try to earn some more time somewhere backing up star Travis Lewis.
Is there a golden boot in Norman? Jimmy Stevens was much more accurate in 2010, finishing 19-for-23, but his attempts outside 45 yards were sparse. The good news is he missed none of his 53 extra points. Field goals have been a bit of an adventure for the past couple years, but continuing in the spring what he started last year would be a good sign for Oklahoma. The Sooners are strong everywhere and need good special teams play to reach their lofty title goals.
Are the Sooners' backs back? Roy Finch missed the Fiesta Bowl with a stress fracture, and his durability is certainly questionable entering 2011. When he's healthy, he looks like the next star in the Sooners' backfield, but they'll need some depth behind the 5-foot-8, 173-pounder. Jermie Calhoun, Jonathan Miller and Brennan Clay have all looked good at times, but there should be some good competition from newcomers Brandon Wegher, an Iowa transfer who'll be in camp this spring and eligible next season, and blue-chip recruit Brandon Williams, who enrolled early.
OKLAHOMA STATE COWBOYS

Spring practice starts
: March 7
Spring game
: April 16
What to watch
:
Every piece of the offense. The spring in Stillwater is all about keeping or improving upon the status quo. Had it kept Dana Holgorsen, there'd be little doubt that would happen, but Oklahoma State must make the most of its five returning offensive linemen, quarterback Brandon Weeden and receiver Justin Blackmon. The opportunity for a historic season is there, but they'll have to pick up the nuances of the new offense quickly in the spring like they did last year.
What about the kicker? Dan Bailey won the Lou Groza Award as the nation's top kicker in 2010, but he's gone. Oklahoma State needs to fill that role quickly, and we'll likely know who will get the nod after the spring.
Who steps up on the defensive line? The Cowboys lose three starters up front on defense, including All-Big 12 performer Ugo Chinasa and tackles Chris Donaldson and Shane Jarka. Can senior Richetti Jones become a star in the Big 12? We'll have a good idea if he, or any of the Cowboys' other defensive linemen, can by the end of April.
TEXAS LONGHORNS

Spring practice starts
: February 24
Spring game
: April 3
What to watch
:
New coaches and their students/players. Texas has five new coaches. Although it's hard to get a good read early on, how they relate with the players on the field, in the film room and around the facilities will have a big impact on how the 2011 season plays out in Austin. The young-blooded coordinators could serve themselves well by relating to players and the players will need to spend plenty of extra time learning new schemes and plays.
Quarterback competition ... or not? Mack Brown says the gig is open and it is, for now. Garrett Gilbert can close it with a strong spring. If Garrett struggles on the field or has difficulty grasping the new system, the door will be wide open for Connor Wood or Case McCoy to step in and close it. Gilbert didn't get much help, but he did very little in 2010 to inspire a lot of breathing room with McCoy and Wood clamoring for playing time.
And you've got to defend the pass, too. Texas loses its top three cornerbacks to the NFL, and only Carrington Byndom and A.J. White got much meaningful playing time last season. Younger players can earn some rare early playing time with a strong spring. Will anyone step up?
TEXAS A&M AGGIES

Spring practice starts
: March 22
Spring game
: April 16
What to watch
:
New linebackers in the running. Spring isn't so scary when you bring back nine defensive starters, but the two Texas A&M lost were the heart of its defense. Linebackers Michael Hodges and Von Miller are gone. Kyle Mangan didn't look fantastic when forced into action during the Cotton Bowl, but the time is now for Damontre Moore and Dominique Patterson, a pair of sophomores, to make their impact.
Tannehill's tuning things up. Quarterback Ryan Tannehill played about as well as anyone could have hoped late last season, but he'll need it to continue his performance with a solid spring nailing down the timing with his receivers, who all return. He's already got a leg up on last year's quarterback, Jerrod Johnson, who was held out of team drills last spring after shoulder surgery that eventually derailed his senior season.
Christine's back. Christine Michael missed the second half of the season with a broken leg, giving way to Cyrus Gray's rise among Big 12 backs. It should make Texas A&M's depth at the position even more impressive, but we'll see how Michael looks coming back from the injury.
TEXAS TECH RED RAIDERS

Spring practice starts
: February 19
Spring game
: March 26
What to watch
:
Past defending that pass defense. Texas Tech had the Big 12's worst pass defense last season, but has a pair of big potential players at cornerback in rising sophomores Tre Porter and Jarvis Phillips. Starters LaRon Moore and Franklin Mitchem are gone, but if returning starters Cody Davis and Will Ford can continue to mature, the defense should improve in the area most important for success in the Big 12.
And they're off! There's a four-man quarterback derby set in Lubbock this spring between Seth Doege, Jacob Karam, Michael Brewer and Scotty Young. I don't expect it to be settled until midway through fall camp, similar to last season, but there should be a solid front-runner and more clarity after spring. Coach Tommy Tuberville was extremely impressed with Doege and Karam last spring after Taylor Potts and Steven Sheffield went down with injuries.
Time to find new stars. Most of the big names on Texas Tech's defense are gone. Colby Whitlock, Bront Bird, Brian Duncan will all continue their careers elsewhere. The leaders on the defense will have to begin to emerge in the spring. Is it Scott Smith? Cody Davis? A younger, unexpected player? We'll find out. Sometimes these types of situations aren't as easy to predict as they might seem, like Missouri's strength in 2010 emerging in the secondary.
September, 1, 2010
9/01/10
6:22
PM ET
Toben Opurum
's move to linebacker was the most intriguing depth chart-related story of the preseason, after leading the Jayhawks in rushing last season as a freshman and one of Kansas' top recruits.
But Opurum took what some might interpret as an insult and impressed Jayhawks coach Turner Gill at his new position.
"I've seen that he has been aggressive, that he's a physical player," Gill said of the 6-foot-1, 240-pound linebacker, who came to Kansas because coach Mark Mangino said he could play running back when others wanted him as a fullback. "There still are some things that over the next two to three weeks he needs to do, getting fine-tuned in getting lined up and the looks he'll have to see ... He will help our football team definitely at the linebacker spot."
Gill backed that up on Tuesday, including Opurum on Kansas' depth chart as its No. 2 strongside linebacker, and defensive coordinator Carl Torbush
told the Kansas City Star
he expects Opurum to play 10-20 snaps in the season opener against North Dakota State.
The move was much needed for the Jayhawks, who lost returning starter Huldon Tharp for the season with a foot injury and Jacoby Thomas for the season because of academics.
Starters Justin Springer, Steven Johnson and Drew Dudley should be solid and among the Big 12's best, but Opurum gives the unit additional depth after the losses of Tharp and Thomas.
"I can't sit here and say how many reps we are going to play him. He is going to play at our strong side linebacker, and give him some reps and go from there," Gill said. I know he probably isn't going to play the majority of the game, but yes, he is planning on playing and we will go from there."
For Opurum, that has to be nice to hear.
August, 23, 2010
8/23/10
5:49
PM ET
Preseason camps are about half gone. Opening weekend is less than two weeks away, and it's just over a week away for teams like Iowa State.
But plenty has been resolved in camps so far. Here's the best of what we know:
1. Three quarterback battles have been won.
Two (Kansas State and Nebraska) have yet to be decided, but
Tyler Hansen
won the job over
Cody Hawkins
at Colorado.
Kale Pick
beat out
Jordan Webb
at Kansas.
Taylor Potts
beat out
Steven Sheffield
in an epic duel at Texas Tech between two seniors who could start for about anyone in the conference.
[+] Enlarge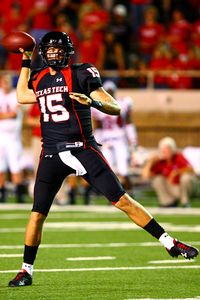 Karl Anderson/Icon SMITaylor Potts beat out Steven Sheffiled to be Texas Tech's starting quarterback.
2. Nebraska and Kansas have been hit hardest by injury.
Nebraska lost linebacker Sean Fisher and utility lineman Mike Smith for the season, each with a broken leg. Backup cornerback Anthony Blue will also miss the season with a torn ACL. Tight end Dreu Young also required back surgery and may miss up to the entire season. None figured to be game-changers, but without them, the Huskers depth suffers, leaving them more reliant on less experienced players. That's not the case in Lawrence, where Turner Gill will coach his first season without Huldon Tharp,
one of the conference's best linebackers
and one of his most exciting young talents. Backup running back
Rell Lewis
will miss the season with a knee injury, as will offensive lineman Jeff Spikes, who had a chance to start.
3. Gill: What have you done for me lately?
Turner Gill cares not about your recruiting stars, Jayhawks.
Toben Opurum
was the Jayhawks leading rusher as a freshman, with 554 yards. As one of the nation's best fullbacks, he came to Kansas because Mark Mangino planned to let the 6-foot-1, 240-pounder play running back. He was injured in the spring, but returned to full strength by preseason camp. Unable to crack the depth chart at running back, he's been moved to linebacker to help solve the Jayhawks' depth problems at the position. Meanwhile, two-year starter at center Jeremiah Hatch was sent to the bench in favor of senior captain Sal Capra, who played both guard positions last year.
4. Iowa State is even more huggable.
The team rallied behind rookie head coach Paul Rhoads in 2009 and raced to a seven-win season after just five wins in the previous two seasons combined. This fall, one of the teams practices was canceled so the players could sandbag the athletic facility to prevent damage from a major flood in Central Iowa. To do the team's laundry, team managers had to travel nearly 20 miles to the nearest source of fresh water.
5. Robert Griffin's arm isn't rusty.
The Bears sophomore quarterback has strung together two masterful scrimmages through the air, completing 33 of his 44 passes for three touchdowns and one interception. He has yet to prove he can run with the same explosiveness he showed as a freshman, but coach Art Briles isn't going to be getting Griffin hit many more times than is necessary.
6. Texas is talking up its defense.
Coach
Mack Brown
isn't keeping quiet about his expectations for his defense in 2010. ""I do think this could be our best defense," Brown
told the Dallas Morning News last week
, noting health and depth as variables. "We should be really, really good on defense." The Longhorns already ranked No. 3 nationally in total defense last year, but bring back one of the nation's best secondaries and perhaps the best and deepest group of defensive ends anywhere.
August, 10, 2010
8/10/10
10:00
AM ET
1. Texas:
Texas' big-time freshmen receiving recruits Darius White and Mike Davis are on campus to compete with the remainder of the Longhorns receivers after the departures of Jordan Shipley and
Dan Buckner
. Whoever develops solid chemistry with quarterback
Garrett Gilbert
first should have a nice advantage heading into the season. Very few questions surround the Longhorns on defense, who also have exciting freshman Jordan Hicks competing for playing time at linebacker.
2. Oklahoma:
Honestly, my gut tells me to slide the Sooners above the Longhorns based on
coach Bob Stoops comments at media days
, but I'll give the champs their due entering the preseason. Oklahoma loses its top three blockers from a season ago, and any growth from Oklahoma's eight-win team last season will have to start on the offensive line. Stoops believes it will. If it does, look for the Sooners and Longhorns to switch positions if Oklahoma earns wins against Florida State and Cincinnati while Texas beats up on Rice and Wyoming. A convincing win at Texas Tech might keep the Longhorns on top.
3. Nebraska:
The Huskers quarterback issues can't end soon enough. The Big 12 blog's pick:
Zac Lee
. With its offensive line and quality running backs, Nebraska will be able to run the ball. If Lee can establish himself as the best passer of the group, his skills will better serve the offense than the more athletic
Cody Green
and
Taylor Martinez
. We won't know very much about how good the defense will be again this year until the Huskers' date with
Jake Locker
and the
Washington Huskies
on Sept. 18 in Seattle.
4. Missouri:
A solid contender in the North, Missouri's key to hopping over the Huskers lies in the secondary. That group returns all four starters and has another experienced player in junior Kenji Jackson entering camp as a new starter at safety. If it solidifies, Missouri will be a force that spends most of the season in the top 25.
Jerrell Jackson
and
Wes Kemp
should share the spotlight catching balls from
Blaine Gabbert
along with slot man
T.J. Moe
and tight end
Michael Egnew
.
5. Texas A&M:
The Aggies have
the conference's best player
, but its worst defense. Both will need to improve for the Aggies to earn a South title. On defense, new defensive coordinator Tim DeRuyter will have to build around tackle Lucas Patterson, linebacker Von Miller and safety Trent Hunter. Three freed-up offensive line spots -- which might all be filled by freshman -- will have to be solid and consistent for the offense to remain one of the Big 12's best, despite the Aggies' talent at the skill positions.
6. Kansas State:
Running back
Daniel Thomas
led the Big 12 in rushing with almost no help from the quarterback spot last season, so the competition between
Carson Coffman
,
Collin Klein
and
Sammuel Lamur
isn't immensely important to Kansas State's success. No doubt, they'll be a lot better with great play from one of those three, but they won't be a bad team without it. Two of the Wildcats' top four tacklers will be junior defensive backs in 2010, Emmanuel Lamur and Tysyn Hartman.
And yes, I am very proud that I'm still batting 1.000 in not mixing up Sammuel and Emmanuel Lamur. Stay tuned, though.
7. Texas Tech:
The Red Raiders have a great chance to move up this poll after hosting Texas on Sept. 18. Whoever wins the quarterback competition between
Taylor Potts
and
Steven Sheffield
should excel, which not every team in the Big 12 with a quarterback battle can say. Tech's aggressive new defense will have to limit big plays to see success in the first year under coach Tommy Tuberville and defensive coordinator James Willis. A convincing opening-week win against SMU will look better in December than some Tech fans might think after the team's Sunday, Sept. 5 debut.
8. Oklahoma State:
One of the conference's wildcards, the Cowboys bring back just eight starters from last season, and will showcase a radical new offense in Dana Holgorsen's version of the Air Raid. Oklahoma State's receiving corps, led by
Hubert Anyiam
and
Tracy Moore
, is extremely underrated and could surprise plenty of folks in 2010. Their first real test comes Sept. 30, when they'll get a chance to knock off media darling Texas A&M in Stillwater.
9. Iowa State:
The Cyclones nonconference schedule has made plenty of headlines this offseason, and Iowa State isn't shying away from its dates with Northern Illinois, Iowa and Utah. The legal issues surrounding defensive star
David Sims
appear to be resolved with an opening-game suspension, and running back
Alexander Robinson
looks ready for another big season after rushing for over 1,000 yards in his 2009 breakout season. Iowa State will need to steal a few games like last season to qualify for a second consecutive bowl game.
10. Baylor:
Freshman safety Ahmad Dixon is impressing early in camp with a few big hits, and is making good on his status as one of the best recruits in Baylor history. Another -- Robert Griffin -- is already dealing with the pressures of delivering a bowl game to Waco. Coach Art Briles will need more players like Dixon and Griffin to move the Bears goals past just making a bowl game.
11. Colorado:
The only team to move up from its position in
the post-spring power rankings,
Colorado simply brings back more talent than Kansas, and added two new receivers in UCLA non-qualifier Paul Richardson and
Travon Patterson
, whose transfer from USC was finalized on Monday. The offensive line has a lot of talent in Nate Solder and Ryan Miller, but the other three members will have to improve if the Buffs are going to rush for more than 1,055 yards like in 2009 (11th in the Big 12) and give up fewer than 43 sacks, 11 more than any other team in the Big 12.
12. Kansas:
Losing your three best players from a team that finished last in the Big 12 North a season ago -- plus implementing a new coaching philosophy -- is a recipe for a rebuilding year. That's where the Jayhawks sit to begin 2010. They've got good young talent in linebacker Huldon Tharp and receiver
Johnathan Wilson
, who are both sophomores, but they face major questions at quarterback with inexperienced candidates
Jordan Webb
and
Kale Pick
battling for the No. 1 spot. Last season's leading rusher,
Toben Opurum
, is also nowhere to be found on the depth chart after battling injuries throughout the spring. The Jayhawks were the only team in the conference to return all five starters on the offensive line, but
a season-ending injury to tackle Jeff Spikes
eliminated that status. Brad Thorson, who played both guard and tackle last season, is also recovering from a broken foot. A win against Southern Miss and a competitive loss to Georgia Tech would earn the Jayhawks some more respect.