November, 9, 2011
11/09/11
3:15
PM ET
Whenever people talk about Boise State, they talk about
Kellen Moore
. It is only natural, considering all Moore has done as a four-year starter for the Broncos.
But if the past two games between the Broncos and TCU are any indication, defense is going to take center stage. It was Boise State that harassed and bothered Andy Dalton in the 2010 Fiesta Bowl, forcing him into three interceptions. One of them was returned for a touchdown, making a difference in the Broncos' 17-10 win.
[+] Enlarge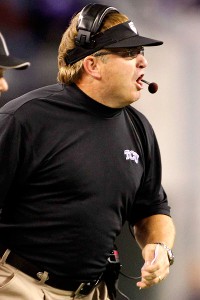 Kevin Jairaj/US PresswireGary Patterson's TCU defense has held Boise State star quarterback Kellen Moore without a touchdown pass in two meetings.
In the Poinsettia Bowl in 2008, TCU limited Boise State to just 250 total yards. Moore had no touchdown passes and one interception as the Horned Frogs won 17-16.
So it might be a safe bet to pick a defensive battle Saturday when TCU travels to play No. 5 Boise State with the Mountain West championship on the line.
"It's just one of those things in a game like that between two great teams, usually the most physical team wins," Boise State nickel back Hunter White said in a phone interview. "Their defense has been great the last few years. They always say defense wins championships. We feel it does, especially when you have two caliber teams like this."
You can bet TCU coach Gary Patterson enjoys trying to game plan for Moore, who has never thrown a touchdown pass against TCU. In fact, TCU is one of three teams to hold Moore without a touchdown pass, and the only team to do it twice. Moore has averaged 216.5 passing yards a game and completed 60.8 percent of his passes in two games against the Horned Frogs, both below his career averages -- 272.8 yards and 69.2 percent.
But Patterson says he only has fooled Moore once with a coverage. It was a zone blitz that resulted in a sack.
"That's a great compliment," Patterson said. "We feel we can play pretty decent defense around here. He's a guy who has an answer for all those things."
Boise State is no slouch in the defense department, either, especially along the defensive front. TCU presents a unique challenge, though, because the Horned Frogs are varied in what they can do. They have an excellent trio of running backs in
Waymon James
,
Matthew Tucker
and
Ed Wesley
-- each of whom has more than 500 yards rushing.
Casey Pachall
has taken over for Andy Dalton as the starting quarterback and has not really missed much of a beat, throwing for 1,940 yards, 19 touchdowns and five interceptions. He has a standout receiver in
Josh Boyce
, who already has 704 yards receiving and six touchdowns this season.
"They do the same things," White said. "They're successful at what they do and they don't care who's at what position. They run what they're going to run."
The magnitude of this game is not lost on White or his teammates. The intensity level at practice has shot up a notch, knowing they are playing the two-time defending Mountain West champs. Though this is their first and only conference meeting, White and his teammates are looking forward to putting on a show for their fans on the blue turf.
Even if it means a defensive show.
"We know the quality of the team, caliber of the players. They're better, bigger, faster so we can't just approach it like another game like its Colorado State or UNLV," White said. "They are a great team. They have been the last few years. The two games we have played have been close. We have to find that extra edge, bring that extra effort. We know this is going to be a physical game. We need to bring that edge this week."
May, 10, 2011
5/10/11
12:00
PM ET
2010 overall record:
12-1
2010 conference record:
7-1 WAC (co-champs)

Returning starters
Offense: 7, defense 7 , punter/kicker 0
Top returners
QB
Kellen Moore
, RB
Doug Martin
, OT Nate Potter, S George Iloka
Key losses
WR Austin Pettis, WR Titus Young, S Winston Venable, S Jeron Johnson
2010 statistical leaders
(* denotes returners)
Rushing:
Martin* (1,260 yards, 12 TDs)
Passing:
Moore* (273-of-383 for 3,845 yards, 35 TDs, 6 INTs)
Receiving:
Young (1,215 yards, 9 TDs)
Tackles:
Johnson (82)
Sacks:
Shea McClellin* (9.5)
Interceptions:
Brandyn Thompson (3)
Spring Answers
1. Geraldo Hiwat emerges.
The biggest question going into the spring was who would fill the big gap created with the departure of Austin Pettis and Titus Young. After the spring, the name on everyone's mind is Hiwat, who turned heads. He needs to continue to develop and has the potential to follow in line.
2. Tyrone Crawford is a handful.
Crawford played well behind Ryan Winterswyk last season, recording seven sacks. Now he takes over at defensive end full time, and he had a great spring, leading coaches to believe that position is in good hands.
3. Smooth transition to Pease.
When offensive coordinator Bryan Harsin went to Texas, Boise State went and hired back receivers coach Brent Pease, who had left for a coordinator job at Indiana. Because Pease is so familiar with the Boise State offense, the transition in coordinators was smooth during camp. There will be a few new wrinkles, but nothing overly dramatic.
Fall Questions
1. Receivers.
Hiwat may have stepped up this spring, but playing in games as a featured receiver is another matter entirely.
Tyler Shoemaker
,
Kirby Moore
and Hiwat do have experience, but what is it going to be like when they are going to be relied upon full time?
2. Safeties.
Boise State loses so much without Johnson and Winston Venable, and coach Chris Petersen knows it. The starters here are not solidified yet, partly because of injuries during the spring that took out some top competitors. Hunter White and Dextrell Simmons are the top competitors for Venable's spot while Jeremy Ioane, Cedric Febis and Travis Stanaway are competing for Johnson's spot.
3. Mountain West.
How will the Broncos fare in their first season in the Mountain West? Many are picking them to win the league, but remember Boise State is going to be facing a slew of teams it has never seen before. That unfamiliarity could be a problem in some of the tougher matchups against Air Force and San Diego State.
April, 19, 2011
4/19/11
4:30
PM ET
I had a chance to check in with Boise State coach Chris Petersen today, and here is a little of what he had to say about the team now that spring practice is over.
Unanswered questions.
There are plenty at receiver, where
Titus Young
and
Austin Pettis
are gone, and in the secondary, where Winston Venable and Jeron Johnson are also gone. But when I asked for the biggest unanswered question post-spring, Petersen said, "You have questions across the board always. Even if you've got a
Kellen Moore
coming back, the question is, 'Can he perform like he has the last three years?' People take things for granted and then, 'OK, if something happens to Kellen, who's going to be the guy that steps in and carries the flag?' We can't miss a beat if something like that happens. You have to think about that. Every coach does. We have a tremendous amount of questions so that's why it's always a work in progress. We made some strides in spring, but now the summer program and summer conditioning are really important."
[+] Enlarge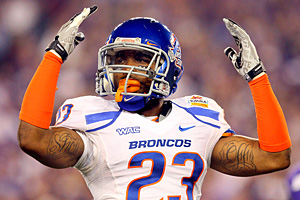 Christian Petersen/Getty ImagesReplacing Jeron Johnson will be a tall order for the Boise State defense.
Replacing Johnson.
Much of the focus this spring has been on replacing the receivers, but perhaps an even bigger hole to fill is the one Johnson leaves behind. He led the team in tackles for three straight seasons, and was literally the last line of defense in the Broncos' secondary. Jeremy Ioane, Cedric Febis and Travis Stanaway are all competing for the job. Febis missed the spring with an injury, and Stanaway got hurt and missed the last week. Petersen also mentioned cornerback Quaylon Ewing, who got some work at safety.
"I've said this forever: Jeron Johnson is one of our most unsung heroes over the past two to three years," Petersen said. "He has made so many plays for us. I'm talking line of scrimmage, 3 and 4 yards downfield, where if he doesn't make the play it's going to be a huge explosive play. A sure tackler, really smart player and we've known that for a long time. Those are tremendous shoes to fill."
Replacing Venable.
Just as valuable to the Boise State defense was Venable, who won the team's defensive most valuable player award. Hunter White and junior college transfer Dextrell Simmons are leading the chase to get the starting job. Jon Brown is in the mix, though he sat out the spring with an injury.
Moore's improvement.
Where does Moore get better? He has put together three outstanding seasons, throwing 99 touchdown passes to just 19 interceptions, and was a Heisman Trophy finalist in 2010. What will he be focusing on in the offseason? Certainly he has to develop his relationship with his receivers --
Tyler Shoemaker
,
Chris Potter
,
Geraldo Hiwat
,
Kirby Moore
and
Troy Ware
among them. But as for working on individual improvements, footwork is going to be vital.
"We just want Kellen to play like he's been playing," Petersen said. "There's always little details, always little decisions to make differently, setting his feet, stepping into some throws to make him a cleaner thrower -- that is one area we're paying attention to. Kellen's played as well as anybody in the country the last several years. If he can do that, we'll be in good position."
Finishing.
Doug Martin
and Jamar Taylor said last week the team was re-focused on finishing games, a hard lesson it learned after blowing a halftime lead in a loss to Nevada that ended its undefeated season. I asked Petersen if that was a point of emphasis from the coaches.
"It's not different than it's been in the past," he said. "The team we had last year was a really good team. To me, it's the best team we've had since I've been here. That doesn't mean your best team is going to win every game. We're going to get most people's best shot every game. If it's not all clicking just right -- that's why we play the game. That's why coaches are so paranoid about things. You understand the best teams don't always win. That game at Nevada was a great game. Nevada is one heck of a team. We've been saying forever those guys were underrated. We had chances to win, but that's why you play the game."
I had to follow up and ask whether that loss was harder than all the others because he felt that was the best team he has had at Boise State. "That's just part of coaching," he said. "Every game that we've lost here has been tremendously painful. That's just how it is. These kids know how to win and they win a lot, and when we don't, it hurts and it hurts bad."