NCF Nation:

Huskers-Tigers 100809
October, 9, 2009
10/09/09
3:51
AM ET

Posted by ESPN.com's Tim Griffin
COLUMBIA, Mo. -- It wasn't anything unexpected or shocking as far as Bo Pelini was concerned.
The Nebraska coach had seen his team battle and come close in the first half against Missouri. The way the Cornhuskers had played early, Pelini figured it was just a matter of time before his team finally turned things around.
"We talked about it at the half," Pelini said. "We said we wouldn't walk out of here without a win. We just kept fighting and just never let the game get away."
Pelini seemed so matter-of-fact when he described the rally, it almost detracted from the momentousness of the Cornhuskers' wild
27-12 comeback
over Missouri.
It was unquestionably the biggest victory in Pelini's short head coaching career. Not only did he slay the program's most obvious recent monster in Missouri, but he did it with the panache that the Cornhuskers used to play with when they were the most feared program in the Big Eight and the early stages of the Big 12.
This one was remarkably like the ones that the Cornhuskers used to win over Missouri during their 24-game winning streak over the Tigers from 1979-2002.
| | |
| --- | --- |
| | |
| | Jamie Squire/Getty Images |
| | Zac Lee sparked Nebraska with three fourth-quarter touchdown passes. |
But instead of needing a tipped pass or a gritty defensive stop to take the Victory Bell back to Lincoln, the Cornhuskers throttled Missouri with a blizzard of fourth-quarter points when little else had gone right for them earlier in the game.
Who would have thought that
Zac Lee
would start living up to those comparisons with former Cornhusker mad bomber Vince Ferragamo right before our very eyes?
Maybe Pelini. But few of the other wet spectators who braved the miserable elements at Faurot Field would have believed it.
Lee completed only 9 of his 27 passes for 79 yards through three quarters. There was little in that sputtering effort that would indicate he would erupt to throw back-to-back touchdowns and three touchdowns overall during a span of four pass attempts.
"I'd never had anything quite like this situation," Lee said. "It just shows our coaches' trust in us. For them to keep their faith in our offense and keep letting us go out and try to make plays -- we love them for it."
The late passing binge was a huge turnaround for Lee, who had struggled in the Cornhuskers' loss against Virginia Tech. Nebraska failed to score an offensive touchdown during a streak of seven quarters against BCS programs before the late charge.
Sure the Cornhuskers looked like world beaters during their unofficial Sun Belt title run. But they had produced 109 yards through three quarters against Missouri Thursday night during an effort that included nearly as many penalties and punts (eight each) as their nine first downs during that slow start.
But that all changed during a remarkable period of 3 minutes, 22 seconds that will be remembered as the time when Pelini's program took its first major step as the North Division's favorites.
Kansas has the ridiculously difficult cross-division schedule with games against Texas, Texas Tech and Oklahoma.
And with Nebraska staring at an upcoming schedule of home games against Texas Tech and Iowa State and a road game against a Robert Griffin-less Baylor, it's not hard to imagine the Cornhuskers sitting at 7-1 when Oklahoma visits Lincoln on Nov. 7.
| | |
| --- | --- |
| | |
| | Denny Medley/US Presswire |
| | Bo Pelini and the Cornhuskers finally got on track in the fourth quarter. |
Pelini, however, wasn't ready to go that far after the victory.
"Are we the team to beat in the North? Nah, I'm not going to appoint ourselves as that," Pelini said. "We've still got to win some games ourselves."
But after Nebraska's first conference game, it was hard for Lee to imagine a sweeter victory -- particularly after his team's slow start and even faster finish in the elements.
"We probably couldn't have started the Big 12 in any better way," Lee said. "This is probably the best way it could have happened for us.
"I was digging deep from the beginning and we didn't show up until the end. It was an ugly win, but a win nonetheless. And we'll always take a win."
That moxie couldn't been a starker change from the Nebraska team that was humiliated 52-17 by Missouri in Lincoln last season.
And Pelini couldn't be happier.
"I think the whole football team grew up a little bit," Pelini said. "We're not the finished product and we still have a long way to go. But we're continuing to grow as a football team."
October, 9, 2009
10/09/09
2:29
AM ET

Posted by ESPN.com's Tim Griffin
COLUMBIA, Mo. -- Ndamukong Suh knew he wanted to return for another college season.
He just didn't realize the reason would be revealed to him on a wet, clammy night that tested his competitive will. The miserable conditions got worse as little went right for his team until the very end.
Nebraska's
27-12 victory over Missouri
wasn't an artistic masterpiece. But being a part of the gritty performance was why Suh was beaming about giving up a chance at NFL millions to come back for his senior season.
"A game like tonight was a huge reason why I came back," Suh said. "I knew I had great teammates and we would have games like this. We just had to wait a little while for it to happen."
But the cumulative effect of Suh and his teammates along the defensive front helped keep the Cornhuskers close enough until a fourth-quarter offensive spark. And when it kicked in, Nebraska streaked to the largest fourth-quarter comeback in school history.
| | |
| --- | --- |
| | |
| | John Rieger/US Presswire |
| | Ndamukong Suh and the Nebraska defensive line made life miserable for Blaine Gabbert. |
Suh helped change the momentum of the game with a fourth-quarter interception during a flurry of 20 Nebraska points in 3 minutes, 22 seconds that enabled the Cornhuskers to claim the lead for good. Earlier in the game, he also forced a fumble, notched a sack and broke up a pass.
"Suh played his you-know-what off," Nebraska coach Bo Pelini said.
But another big play came in the first quarter when he rudely slung Missouri quarterback
Blaine Gabbert
to the turf while recording a sack. It left the Missouri signal-caller limping, and his abilities regressed as the game went on.
It was reminiscent of a heavyweight fight. The body shots early in the fight didn't deck Gabbert, but paved the way for his demise as the game progressed.
Gabbert had thrown his first 164 passes of the season without an interception before Suh's acrobatic play, which was amazing in itself. And considering Suh weighs near 300 pounds, it made the play even more remarkable.
"I sat at the line of scrimmage and read his eyes and he just threw it to me," Suh said.
That played helped spark a feeding frenzy that eventually smashed the Tigers' competitive drive.
It represented a huge change from last season, when Pelini didn't think he had enough defensive talent to match Missouri's strength up front. Instead, he played with a wrinkle, having one of his lineman play as a stand-up defender rather than relying on the unit's growing pass-rushing strength.
But this season, with an inexperienced quarterback in Gabbert and more confidence in his defensive front, Pelini turned his defense loose. For much of the game, the Cornhuskers played a 4-2-5 defense where they rarely relied on blitzes and depended almost entirely on the pressure from the front.
"Suh played great," Pelini said. "But those other guys -- Barry Turner, Cameron Meredith, Pierre Allen, Baker Steinkuhler -- all had big games. They played hard and well, which you can say about everybody who lined up on defense for us. They played pretty good defense against a good football team."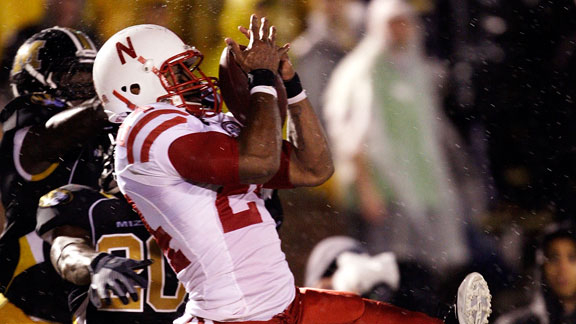 October, 9, 2009
10/09/09
12:41
AM ET

Posted by ESPN.com's Tim Griffin
COLUMBIA, Mo. -- I'm still kind of stunned after watching Nebraska erupt for 27 points in the fourth quarter.
Here's an early look at the Cornhuskers'
27-12 victory
over Missouri.
How the game was won:
Nebraska charged back by scoring three touchdowns in a span of 3 minutes, 22 seconds. The Cornhuskers scored 27 unanswered points, earning a bit of satisfaction after losing the last two games against Missouri by a combined 93-23 margin.
Turning point:
Blaine Gabbert
hadn't thrown an interception in his first 164 passes. But Ndamukong Suh's interception early in the fourth quarter helped spark the Cornhuskers' blizzard of points that boosted them to the comeback.
Player of the game
: Suh's interception was only a part of his big night. He also dominated in the trenches, sparking a big defensive effort for the Cornhuskers that kept them in the game until their late flurry.
What it means:
Nebraska is in the driver's seat for the North Division title and has aligned itself where it should be favored in every game until the Nov. 7 matchup with Oklahoma.
Stat of the game:
The Cornhuskers erupted for 154 yards of total offense in the fourth quarter after producing only 109 in the first three quarters.
October, 8, 2009
10/08/09
11:12
PM ET

Posted by ESPN.com's Tim Griffin
COLUMBIA, Mo. -- Here's a quick look at how Missouri has claimed a
9-0 lead
at the end of the first half.


Turning point:
Missouri receiver
Jared Perry
got behind Nebraska cornerback Prince Amukamara for a pivotal 38-yard gain in the final minute of the half. The gain helped set up the game's only touchdown four plays later, providing the Tigers with a 9-0 halftime advantage.
Stat of the half:
Nebraska's ballyhooed rushing attack came into the game producing 183.8 yards per contest and 5.7 yards per carry. In the first half, the Cornhuskers produced 21 yards on 15 carries for an average of 1.4 yards per rush.
Best player in the half:
Blaine Gabbert
's statistics were pedestrian (12 of 24 passing, 107 yards, minus-8 yards rushing), but he appeared to gain confidence as the game continued. His two clutch plays on the final drive of the half -- the pass to Perry and his touchdown run -- showed that he has moxie to lead his team. That appears to be missing from Nebraska quarterback
Zac Lee
.
Best call:
Missouri coach Gary Pinkel made a gutty decision on the final play of the half, allowing Gabbert to go for the touchdown on fourth-and-1. After faking to
Derrick Washington
, Gabbert reached the end zone after a scramble around right end before fumbling to account for the only touchdown of the half. After a replay, the call stood.
What Nebraska needs to do:
The Cornhuskers need some consistency in their passing game. Lee thrown for only 75 yards on 8 of 22 passing and has appeared discombobulated by Missouri's intensifying pass rush.
Roy Helu
Jr. hasn't been a factor, meaning he still might be struggling with his cold. But the Cornhuskers need an infusion of offense quickly because this game is looking very similar to their lackluster offensive effort at Virginia Tech.
What Missouri needs to do:
Gabbert looked comfortable as the half continued. But the Tigers need to get the running game to open up and do a better job of staying away from penalties. The Tigers have repeatedly shot themselves in the foot as they've been flagged for 65 yards in the first half. They can't afford those mental mistakes if Nebraska ever gets its offense cooking.
October, 8, 2009
10/08/09
7:36
PM ET

Posted by ESPN.com's Tim Griffin

COLUMBIA, Mo. -- It's one of those dark, dreary nights here that will be filled with a lot of rain for spectators at Faurot Field.

The rain has temporarily stopped, although the greater Columbia area still is awash. While driving to the stadium a few minutes ago, I noticed that some streets were flooded. I had to skip over a lot of puddles on my way to the stadium, too.

More rain is expected once the game starts, but it seems like the heaviest has passed. The National Weather Service has reported that nearly 3 1/2 inches of rain have fallen in the last 24 hours.

It's a good thing that Faurot Field has Field Turf.

But the wet conditions should play a big part in the game conditions.

The slick turf should hurt the Missouri pass defense and allow Nebraska's running game keyed by Roy Helu Jr. to thrive -- that is, if Helu is completely healthy after a bout with the flu caused him to miss practice on Tuesday.

But I think it's safe to say that Bo Pelini won't be too angry with the weather conditions when he arrives in a few minutes for his inspection of the field.