NCF Nation:

Huskies-Huskers-091711
September, 17, 2011
9/17/11
10:14
PM ET
LINCOLN, Neb. -- Nebraska will officially introduce itself to Big Ten play in two weeks at Wisconsin. The league doesn't seem to be getting exactly what it bargained for in the deal.
The Cornhuskers were billed as a dominating defensive squad with a questionable offense. Hardly. They're winning via shootout, leading to this odd quote from linebacker Will Compton after Saturday's
51-38 victory
over Washington:
"Thank God for our offense," he said.
The Huskies seem to bring out the schizophrenia in Nebraska, which played two mirror-image games against Washington last season. In taking the rubber match, Bo Pelini's team showed that it's not all about defense. In fact, sometimes that seems optional.
The Blackshirts ranked among the nation's best in most defensive categories the past two seasons, but they're not leaving too many people black and blue so far in 2011. They've allowed 67 points the past two games and let Washington score three fourth-quarter touchdowns on Saturday after the game looked well in hand.
Huskies players repeatedly broke tackles, and
Keith Price
became the second straight quarterback to bedevil the Nebraska pass rush with his mobility, as Fresno State's
Derek Carr
did last week. Though Pelini said he turned his defensive front loose after building a 44-17 lead, the Huskers managed only one second-half sack (granted, it was a big one, as Cameron Meredith tackled Price on a fourth down in the red zone).
"I wouldn't say it was tough for us to get pressure," defensive lineman Terrence Moore said. "We're keeping our eye out for a lot of things, like the quarterback run."
That raises an obvious question: if athletic quarterbacks pose this many problems, how will Nebraska handle Wisconsin's
Russell Wilson
in two weeks? The Huskers talked confidently in the preseason about roughing up the Big Ten with their defense, but they've gotten sliced and diced by two West Coast teams in the past two weeks. The defense will undoubtedly improve once star cornerback Alfonzo Dennard returns; he warmed up in uniform before the game and appears very close to overcoming a leg muscle injury.
[+] Enlarge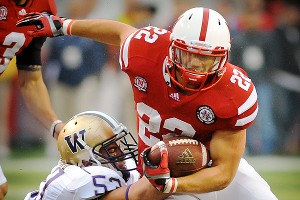 Eric Francis/Getty ImagesRex Burkhead scored two touchdowns and rushed for 120 yards on 22 carries as the offense carried Nebraska to victory.
Yet, as Huskers players gave interviews outside the new weight room Ndamukong Suh helped pay for, they knew guys like Suh wouldn't recognize what's going on.
"All those yards and points, that's unacceptable," Compton said. "We're not at all happy with that."
On the bright side, the offense continues to produce at high levels, and Saturday brought its most consistent effort of the young season.
In the first two weeks, Nebraska was as likely to go three-and-out as it was to score a 50-yard touchdown, and it did a lot of both. Quarterback
Taylor Martinez
had accounted for nearly 80 percent of the total yards.
Offensive coordinator Tim Beck used a more varied attack on Saturday, especially in the second half. Instead of just counting on Martinez to break one, the Huskers got key contributions from running backs
Rex Burkhead
(121 yards and two touchdowns),
Braylon Heard
(34 yards) and
Aaron Green
(36 yards in the fourth quarter). Green, a freshman listed fourth on the depth chart, had only two carries before Saturday.
"We're trying to take some of the load off Taylor," said fullback
Tyler Legate
, who had his own 37-yard run as well as a touchdown catch. "We have enough playmakers that he doesn't have to be the one."
The offensive line, which featured three former walk-ons in the starting lineup, helped establish a much-needed power running game in the second half. Beck said he kept calling the same run with Burkhead in the fourth quarter over and over again, because Washington couldn't stop it.
"I thought it was a good mix," Pelini said of the offense. "There was physicality. We ran the ball at them, we threw the ball, we kept them off-balance. If we execute like that, it's pretty hard to defend us."
Martinez continues to be hard to defend. He threw for 155 yards and ran for 83 against the Huskies, with three total touchdowns. Maybe most importantly, he didn't turn the ball over. Beck said he puts a lot on Martinez's shoulders, expecting the sophomore to change the cadence and tempo and read defenses at the line of scrimmage without help from the sidelines.
"He's done a fantastic job running our offense," Beck said. "I just think the media's been critical of him."
The defense is probably in for much more critiquing this week, especially from the demanding Pelini. But Pelini had mostly praise for his team after Saturday's win.
"We're nowhere close in any respect, in any phase of our game, of where we need to be to be a championship football team," he said. "But I think we're making progress."
Just maybe not the type of progress anybody expected.
September, 17, 2011
9/17/11
7:18
PM ET


LINCOLN, Neb. -- Huskies-Huskers III is all over. Nebraska is the champ.
It was another troubling defensive performance by the Cornhuskers, but the offense more than made up for that in a
51-38 victory
. Washington let the game get away in the third quarter thanks to several of its own mistakes, and its three fourth-quarter touchdowns weren't enough.
If the Huskies hadn't fumbled inside their own 1 on a kickoff return, or if they hadn't interfered with two Nebraska punt returns or if they hadn't dropped a few potentially big passes ... well, that's a whole lot of ifs. The Cornhuskers did what they needed to do to win and played smarter and more opportunistic than their visitors from Seattle.
Bo Pelini still has a lot to fix on his defense, but his Huskers are 3-0 heading into next week's final nonconference game against Wyoming.
September, 17, 2011
9/17/11
6:39
PM ET
LINCOLN, Neb. -- It's safe to say that Nebraska, holding a 44-17 lead in the fourth quarter, will win the rubber match in its third meeting with Washington in a year.
The Cornhuskers offense has been efficient in the second half, and a good sign for them is that it's not all just
Taylor Martinez
. Running backs
Rex Burkhead
,
Aaron Green
and
Braylon Heard
and even fullback
Tyler Legate
all have gotten in on the action as Nebraska has steadily moved the ball on the ground.
The defense is pitching a shutout in the second half, too. Washington had a promising drive end in the Huskers' red zone when
Cameron Meredith
sacked
Keith Price
on fourth down. Credit Nebraska's secondary with good coverage there, too, as Price couldn't find any openings after rolling out on the play.
It's been a very encouraging half for the Cornhuskers, and a very discouraging one for the mistake-prone Huskies. The final score will end up looking a lot like Nebraska's 56-21 win in Seattle last year instead of Washington's 19-7 Holiday Bowl revenge.
September, 17, 2011
9/17/11
6:05
PM ET
LINCOLN, Neb. -- Nebraska has gained command in the third quarter over Washington, and the Huskies have given them a big assist in the kicking game.
A Washington punt interference penalty at the end of the first half helped set up a go-ahead field goal. The Huskies committed the same mistake early in the second half, and the refs tacked on an extra five yards to the original 15 when Washington coaches ran on the field to protest the call. Nebraska capitalized with is best sustained drive of the day, using
Rex Burkhead
and the running game.
But that wasn't the worst of it for Washington. After Nebraska's scores, both Huskies kickoff return men bobbled the ball, and the Cornhuskers pounced on it inside their own 1. That led to an easy touchdown, and now
Nebraska leads 34-17
. Let's see if the Huskers' D can now pin its ears back and get some serious pressure on quarterback
Keith Price
with a comfortable lead.
Washington can only kick itself for potentially booting away what had been a close game.
September, 17, 2011
9/17/11
5:31
PM ET
LINCOLN, Neb. -- Quick halftime analysis from Memorial Stadium, where No. 11 Nebraska leads Washington
20-17
.


Turning point:
It's been a back-and-forth, nearly even 30 minutes of football in Huskies-Huskers III. Nebraska has the lead at halftime because
Taylor Martinez
engineered a solid drive after the Huskers took over on their 41 with 1:49 left. The Huskers were aided by a Washington punt interference penalty. That set up a 34-yard field goal on the half's final play to give us this small separation at intermission.
Stat of the half:
After allowing 444 yards to Fresno State last week, Nebraska has surrendered 204 to Washington in the first half. Will the real Blackshirts please stand up?
Best player in the half
: Washington quarterback
Keith Price
has had a nice half, but Nebraska's offense stops and starts with Martinez once again. He has accounted for 197 of the Huskers' 237 yards and has thrown two touchdowns. More importantly, unlike last week, he has not turned the ball over.
Best call:
Nebraska's very first offensive play. Knowing that Washington was keenly aware of the option play, offensive coordinator Tim Beck had Martinez fake the option, step back and throw -- where he found a wide open
Kenny Bell
down the seam for a 50-yard gain. The Huskers scored on their next play, though their offense hasn't been consistent throughout the half.
September, 17, 2011
9/17/11
5:10
PM ET
LINCOLN, Neb. -- Nebraska has thrived offensively on the big play so far this year. When it happens, it's great. The rest of the time? Not so great.
That's the case in the
first half against Washington
, as well. Consider:
Taylor Martinez has only four completions in 10 attempts, but two of those have gone for touchdowns and another one went 50 yards.
Martinez has a 28-yard run but only 17 other yards on his other seven runs.
Nebraska fans just booed their offense as it put itself in a hole then couldn't move the ball on a three-and-out series. Perhaps they're growing tired of this all-or-nothing situation.
The Huskers' big-play guy on special teams might be lost for the day. Return man
Ameer Abdullah
, who has sandwiched two long kickoff returns around a fumbled punt return, left after apparently hurting his ankle on a 66-yard scamper on a kickoff. He hasn't been back in the game since.
September, 17, 2011
9/17/11
4:41
PM ET
LINCOLN, Neb. -- Nebraska trails Washington
14-10
, and there's major reason for concern for the home team.
A week after the Cornhuskers' defense got pushed around by Fresno State, another West Coast team is doing it again early on. Washington marched 80 yards for a touchdown on its first drive, and the Huskies have been ripping off big chunks in the running game.
Lavonte David bailed out the Nebraska defense with an excellent diving interception deep in Nebraska territory, but the unsettling fact remains that the Huskers are not winning at the point of attack. When they have gotten penetration on passing downs, quarterback
Keith Price
has been able to sidestep the pressure.
The Huskies were hurting themselves, with a fumbled shotgun snap, the interception and a costly holding penalty. But Nebraska gave them a gift when
Ameer Abdullah
, whom I praised in an earlier post, fumbled a punt to set up a Huskies touchdown. Meanwhile, Price has done a great job buying extra time with his feet, something that Wisconsin quarterback
Russell Wilson
no doubt will try to do against the Huskers in two weeks.
September, 17, 2011
9/17/11
3:53
PM ET
LINCOLN, Neb. -- The prevailing theory as to why Nebraska lost to Washington in the Holiday Bowl after stomping the Huskies in the regular season is that the team didn't want to be there after losing in the Big 12 title game.
Well, motivation doesn't appear to be a problem early on for the Cornhuskers.
After a big return from freshman Ameer Abdullah -- who is announcing himself as maybe the most dangerous specialist in the Big Ten -- on the opening kickoff, Nebraska nearly scored on its first play from scrimmage. Tim Beck dialed up a great call by faking the option and then having
Taylor Martinez
throw deep, where he found
Kenny Bell
for a 50-yard gain. Nebraska scored on the next play, just 34 seconds into this game.
It's not a good sign for Washington, which is banged up in the secondary. The Huskies were clearly set up to try and stop Martinez from running the ball, but two completions later they already find themselves
in a 7-0 hole
.
September, 17, 2011
9/17/11
3:19
PM ET
LINCOLN, Neb. -- Greetings from Memorial Stadium on a chilly, overcast day.


The big news from warm-ups: Alfonzo Dennard went through drills. He was expected to miss his third straight game with a leg muscle pull and still might. Is Bo Pelini simply playing cat and mouse?
But if he's able to go, his presence could be key, because Dennard is good at run support as well as being a top-flight cornerback. Nebraska could use him against a strong Washington ground game led by
Chris Polk
. The Huskies also have some talented receivers, especially
Jermaine Kearse
.
Washington will be without starting safety Nate Fellner. Can
Taylor Martinez
take advantage of the secondary? The Huskers' passing game has been shaky through the first two weeks.
Also for Nebraska, Seung Hoon Choi will start at left guard instead of Andrew Rodriguez.
Much more to come ...