NCF Nation:

Husky Stadium
December, 21, 2012
12/21/12
10:00
AM ET
On Aug. 31, 2013, Washington will play a hugely important game.
After a lengthy and sometimes contentious bureaucratic process, it finally will open a renovated Husky Stadium, as one of the most spectacular settings in college football finally gets a stadium worthy of sitting on the banks of Lake Washington in the shadow of Mount Rainier.
It likely will own its first preseason ranking since 2002.
And it will face Boise State, one of the nation's top programs.
On Saturday, Washington will play a hugely important game. It will try to shake off the frustration of a horrible collapse in the Apple Cup against rival Washington State and end its season on the uptick in the MAACO Las Vegas Bowl.
[+] Enlarge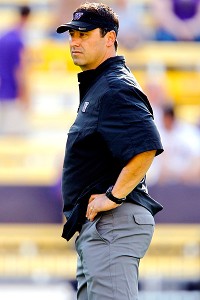 Derick E. Hingle/US PRESSWIRESteve Sarkisian's focus is on Saturday's game with Boise State, not the one next August.
And it will face Boise State, the nation's 19th-ranked team.
Yes, Washington and Boise State are set to play back-to-back games connecting this season to the next. Yes, it's strange.
But Huskies coach Steve Sarkisian isn't obsessing about it. The preparation for the Las Vegas Bowl is no different than any other game, no matter that it amounts to Game 1 of a two-game series.
"We've got basically nine months to worry about the next game," he said.
Sarkisian acknowledges that there are certain to be plenty of moments he will file away -- matchups, tendencies, formations -- that he will grind over the next few months. Both teams surely will.
"There's going to be plenty of stuff we take from this game, good and bad, that we will be able to apply in the preparation for the second one," Sarkisian said. "That goes without saying. It's hard to prepare that way now for what is down the road, but I do think, whether it's during the game or looking at the film of returning personnel, we'll be thinking of things we can take from the game."
The reality is the Huskies are just glad to have a next game on their schedule. The stink of their last game has surely been hard to shake.
Washington arrived in Pullman riding a four-game winning streak. It seemed on its way to its first postseason national ranking since 2001, which would have further boosted the perception of promise for 2013.
Washington State, meanwhile, was in seeming disarray, coach Mike Leach's first season turning from hopeful to massively disappointing. The Cougars were 2-9, had lost eight in a row and were coming off a 46-7 shellacking at Arizona State. Their best defensive player, outside linebacker
Travis Long
, wasn't going to play.
While it was a sloppy game throughout, things seemed to be going according to the Huskies' plan. They led by 18 heading into the fourth quarter, and there was little to suggest the Cougars could overcome a 28-10 deficit. It seemed more likely they would mail it in and hustle into the offseason.
Then things went completely haywire for the Huskies. In one of the worst fourth quarters a team has posted in Apple Cup history -- a fumble, six penalties and a missed 35-yard field goal for the win -- the Huskies allowed the Cougars to tie the game and force overtime.
In overtime, QB
Keith Price
's first pass was intercepted.
Yeah, it was really bad. Sarkisian even laughs when a reporter awkwardly tries to accurately describe its badness without giving offense. Sark has no illusions about what happened in Pullman, but his message to his team is the big picture, which it still has significant control over.
"We told them one quarter of football wasn't going to define our season," Sarkisian said. "We've come a long way as a football team. We've matured greatly the second half of the season. I couldn't have been more proud of what our defense was able to get accomplished. I'm really proud of some of our younger offensive players, as they matured as the season went on. But unfortunately we played a bad 15 minutes. We gave up an 18-point lead, and we really didn't execute in any of the three phases to win the game."
Boise State offers an opportunity to make at least some of that bad taste go away. It would provide momentum heading into the offseason. And it would quiet some of the grumbling about Sarkisian, as some fans forget he inherited a team that went 0-12 in 2008.
So the Las Vegas Bowl is a big, meaningful game -- but not as meaningful as Aug. 31.
Further, Sarkisian points out that the second game won't be a complete redo.
"One of the differences is I think Boise State is starting 13 seniors and we're starting about three," Sarkisian said. "A lot of new faces will be playing for them significantly next fall."
New faces in a new stadium for a hugely important game.
November, 3, 2011
11/03/11
12:00
PM ET
We've got bad news. College football rivalries aren't
really
about the emotional roller coaster, the good guys versus bad guys of a Hollywood movie. Their fundamental essence is far more akin to those self-help books you see stacked high on the deeply discounted table at your corner bookstore.
While Oregon and Washington fans have spent a lot of time this week painting each other as inferior, uglier, stupider and enemies of all that is right and good, the Huskies' and Ducks' locker rooms have been talking about focusing on "things they can control" and about the "importance of preparation" and about "winning the day."
[+] Enlarge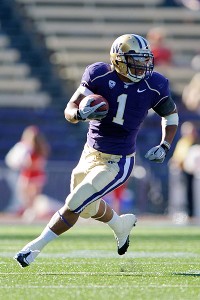 Steven Bisig/US PresswireWashington's Chris Polk remains friends with Oregon's LaMichael James despite the teams' rivalry.
Rivalry talk? It's for fans, not players.
"That stuff is so cool when you are on the outside," Washington coach Steve Sarkisian said. "That's why I love this sport. But from the inside, the rivalry is not going to make us play better. It's our preparation."
On Monday, some Oregon fans probably will make up stories about being spit on in Husky Stadium, just like some Huskies fans probably made up stories about being spit on at Autzen Stadium in the past, as if spitting on people is more accepted as proper behavior in Seattle/Portland than in Portland/Seattle.
And Huskies running back
Chris Polk
will still be from California and Ducks running back
LaMichael James
will still be from Texas and they will continue to like each other, because the different colors of their jerseys don't hide the fact they have a lot in common.
"He's a real cool person," Polk said. "It just so happens that he's a Duck and I'm a Huskie. I consider him a friend. I respect him as a player and a person."
Further, the bitter hate of this rivalry among fans apparently can be weened out of a young man if he should ever become a player in the game, either via coaching hypnosis, a magic ray beam set up in the locker room, or an untruth serum provided by a sports information department deeply paranoid about players saying anything inflammatory about the rivalry.
For example, Oregon defensive tackle Taylor Hart, a graduate of Tualatin (Ore.) High School, has this in
his official bio
: "Notable: Father is a UO graduate. Attended first Oregon game (against USC) when he was eight years old."
When asked about this, Hart acts as if he has little memory of it, other than admitting that, yes, he did root for Oregon growing up.
Asked if this game is special for him, he said: "We've been going into every game as the Ducks Super Bowl and that's worked for us. I feel like that's how we're going into this game."
Asked how his father, Doug, might feel about this game, Hart said: "I don't know how he feels."
Hmm.
This, of course, can be attributed to Ducks coach Chip Kelly's well-known mind-control techniques. While Kelly admits that he frequently hears from Ducks fans about their dislike of the Huskies -- "They bring it up. It's relevant to them," he said -- he also coaches by the mantra of playing a "nameless, faceless opponent" each week, and that each game is the equivalent of a "Super Bowl."
If you wish to mock this approach, please note that Kelly is 29-5 as the Ducks' head coach and is 22-1 in conference play.
"We don't get caught up in the 1923 game," Kelly said. "Or what happened in the '89 game or the '96 game. None of us were here. The only thing we can worry about is what we have an effect on. What we have an effect on is the game we're playing on Saturday."
By the way, the Huskies won 26-7 in 1923, 20-14 in 1989 and 33-14 in 1996. They, however, have lost seven in a row in the rivalry, each defeat by at least 20 points.
This "just another game" talk might feel like raining on a parade, but at least Ducks and Huskies are pretty good at handling rain.
Further, when taken as an observable social trend, this represents an interesting shift in thinking. Recall that some coaches celebrate rivalries and talk specifically about how rivalry games are more important than others. Jim Tressel was immediately embraced by Ohio State fans when he
started trash talking Michigan before he'd even coached in the game
.
And it wasn't too long ago that then-Huskies coach Rick Neuheisel and then-Ducks coach Mike Bellotti were
trading barbs in the newspapers
, players were
openly taunting each other
and Oregon players were wearing T-shirts that said, er, "Huck the Fuskies."
Now, instead, it's fairly clear that Sarkisian and Kelly like each other, at least as well as coaches in the same conference can.
"I think the world of Chip," Sarkisian said. "We've got a very good relationship. I probably communicate with Chip as much as any other coach in our conference in season or out of season."
Finally, the "nameless, faceless opponent" mantra makes sense. Shouldn't a team try to practice and play at its highest level every week? The whole "110 percent" cliche is mathematically impossible, after all, but giving just, say, 80 percent in practice and competition is something any coach or athlete would condemn. And the emotions of "We really hate these guys" can only last a few plays before the football part of football becomes most important: blocking, tackling, executing.
"I don't think you have the time or the energy to get up for one game more than another," Sarkisian said. "The preparation process is really more about us than about Oregon, and our ability to go out and play the best brand of football that we can."
Still, there is
something
there. Just as Kelly and Sarkisian admit that boosters frequently bring up the rivalry, Polk said he hears about Oregon "just about every day." Being that this is the last game in Husky Stadium before a massive renovation begins, and that former Huskies coach Don James and the 1991 national championship team will be on hand, there's an unmistakable gravitas to the approach of Saturday night.
Oh, and there's that whole Pac-12 North and Rose Bowl thing, too. Both teams have designs on those, the Ducks for a third consecutive time, the Huskies as a sign of program recovery from an extended downturn.
So the cumulative effect will be a game atmosphere that should feel more intense than, say, if either team were squaring off with Missouri State or Eastern Washington.
"There's definitely a sense of urgency," Polk said. "Win or lose, the most important thing is respect. Being that we've not really played our best game the last few times we've played them, and they kind of got in to us, we don't feel like they really respect us. They whole thing this weekend is to go out there and earn respect."
And the notion of earning respect works both as a self-help truism and as an us-vs-them cinematic plot point.
September, 28, 2011
9/28/11
8:30
PM ET
My old buddy Jim Caple -- we were colleagues at the late Seattle Post-Intelligencer -- is mad, mad, mad at his alma mater, Washington.
Why? Administrators are moving the student section from their
traditional prime seats to the endzone
.
Of course, this is about money. Husky Stadium is undergoing a
$250 million renovation
, and the school is looking to create more revenue by selling those prime student seats to big-money boosters.
Write Caple:
Why do I care? Why does it bother me as an alumnus that the Huskies are opening up thousands of prime seats to myself and fellow older fans? Here's why. Because when the students get hosed, the spray soaks the rest of us as well. The essence of college sports is that first word: college. Without the students -- which also means the band and the cheerleaders -- you don't have college football anymore. You just have a slower, less talented NFL game without the fantasy leagues.
Caple makes some good points.
Here's the university's position
.
It will be interesting to see how the Husky Stadium experience is changed. For one, the stadium was always notably loud because of the configuration, but now the student section won't be under those overhanging wings that kept sound inside the stadium. That could decrease the overall volume.
On the other hand, removing the track, which will be the chief accomplishment of the renovation in my mind, will put the students (and everyone else) closer to the field. So that could create a more intimidating atmosphere.
Further, putting the student section in an endzone could make at least one side of the stadium absolutely miserable for visiting offenses.
Sure some of you have thoughts on this.
November, 18, 2010
11/18/10
10:15
AM ET
Issues to consider heading into the 12th week of games.
Building a Mansion in the Big Game
: In big games, such as a rivalry game, you often get special performances that you don't see coming that go down in rivalry lore. For example, if California QB
Brock Mansion
were to outplay Stanford's
Andrew Luck
in Saturday's big game; wouldn't that be something? I know: It sounds crazy. Luck is the likely top pick in the NFL draft this spring. Mansion is making his third career start after
Kevin Riley
went down with a career-ending knee injury, and he's completed less than 50 percent of his throws with just one TD. But that's just my point. Sometimes you can envision the truly unexpected, and if the Bears are going to notch the upset and win their eighth Big Game in nine years, Mansion is going to have to come up big.
[+] Enlarge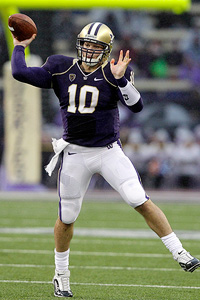 AP Photo/Elaine ThompsonJake Locker will play his final home game Thursday night.
Locker's final home game
:
Jake Locker
has not had the season anyone envisioned he would when he opted to return for his senior season at Washington instead of grabbing his millions in the NFL draft -- even his critics, who have an odd obsession with calling a humble, classy young man overrated and relishing in his failure to live up to stratospheric expectations. UCLA's visit Thursday is his final game in Husky Stadium. He will get big cheers when he's introduced with his senior class. Will he also inspire them with his play?
Big day for Barkley
: Oregon State ranks ninth in the Pac-10 in passing efficiency defense. Opponents are completing 63.5 percent of their passes and the Beavers have yielded 17 TD throws. USC QB
Matt Barkley
is third in the conference in passing efficiency and leads the conference with 25 TD passes. Toss in a solid Trojans run game, which the Beavers' struggling front needs to account for first, and you have a recipe for Barkley to put up big numbers.
Can Cal's defense duplicate Oregon effort
? The Bears held Oregon to just one offensive touchdown and a season-low 317 total yards. It was an inspired effort. But Stanford's offense is pretty salty, too, ranking in the nation's top 15 in both scoring and total offense. And it's a more downhill, punch-you-in-the mouth approach. Cal will need the same kind of consistent effort and focus against the Cardinal because its offense has been struggling and may not be able to score much against an improved Stanford defense.
Bruins run, run, run
: Washington ranks 118th in the nation in run defense. The Bruins rank a solid fourth in the Pac-10 with 194.4 yards rushing per game, and their one-two punch of
Johnathan Franklin
and
Derrick Coleman
is an effective lightning and thunder combo. It's expected to be cold, wet and rainy in Seattle tonight, which are not ideal conditions for the passing game, particularly for UCLA QB
Richard Brehaut
, who's never played in them. That means the Bruins should stick to the run and try to wear down a Huskies defense that tends to do just that.
Can Katz attack the Trojans' poor pass defense
? Oregon State's offensive line has struggled all year, particularly in the running game, and RB
Jacquizz Rodgers
has vented his frustration a few times. The strength of the USC defense is up front, but it is vulnerable in the secondary, which has surrendered 284 yards passing per game, which ranks 116th in the nation, as well as 25 TD passes, most in the conference.
Ryan Katz
has struggled of late, and coach Mike Riley even briefly yanked him against Washington State. But Katz showed against Arizona that he can make plays downfield in the passing game. He's going to need to against the Trojans because the game could become a high-scoring affair.
November, 18, 2010
11/18/10
9:00
AM ET
»
Predictions
:
ACC
|
Big 12
|
Big East
|
Big Ten
|
Pac-10
|
SEC
|
Non-AQ
Been mediocre of late. Went
2-2 last week
and the season record is now 48-16. You might find the top comment amusing, though.
Won't go .500 this week, that's for sure.
Thursday
Washington 28, UCLA 24
:
Jake Locker
can't really lose his final game in Husky Stadium, can he? The Huskies' -- very bad -- run defense will need to step up, though.
Saturday
Stanford 28, California 20
: The Cardinal has too much at stake to lose the Big Game. Stanford's advantage at quarterback will be too much to overcome for Cal, even playing at home. And will this be
Andrew Luck
's final Big Game? And what about Jim Harbaugh?
USC 40, Oregon State 24
: USC is rolling. Oregon State is not. The Trojans luck in the state of Oregon will change. It just doesn't seem reasonable to believe that a defense that got pushed around by Washington State has a chance to slow down USC.
OFF
: Arizona, Arizona State, Oregon and Washington State.
November, 17, 2010
11/17/10
7:11
PM ET
A lot has been made of California's split personality this season, but it's possible UCLA and Washington are even more deranged.
Both started the season with high expectations, particularly Washington, which thought it had a Heisman Trophy candidate when quarterback
Jake Locker
opted to return for his senior season.
Splat. Both opened with losses on the road to mediocre teams.
Washington bounced back with a strong win over Syracuse. Joy! Then it got run over at home by Nebraska. Despair! Then the Huskies won at USC. Joy! Then the Huskies got bounced at home by Arizona State. Despair! Then they beat Oregon State in double-overtime. Joy!
Then they got waxed in three consecutive games. Lots of despair.
[+] Enlarge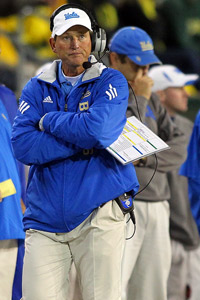 Jonathan Ferrey/Getty ImagesRick Neuheisel, the former Washington coach and current UCLA coach, will be a central figure when the Huskies host the Bruins on Thursday.
UCLA followed up its loss at Kansas State by getting trenched at home by Stanford 35-zip. Abandon ship! Then it beat Houston and Texas when the Cougars and Longhorns were still considered good. Back on the bandwagon! Then, after beating Washington State, the Bruins got waxed in two consecutive games and couldn't make plays at the end to upset Arizona. Bail on the Bruins!
Then, the Bruins upset Oregon State. Hope?
It's hard to project either way for either team as they head into a meeting Thursday night in Husky Stadium.
"When they play well in all three phases, [they] look really, really good -- as we have this year at times," Huskies coach Steve Sarkisian said. "There are other times when things haven't gone well, that [things] have fallen apart on them, as they have for us."
And so both teams find themselves desperate for a win to keep bowl hopes alive. Sarkisian's Huskies need to win their final three game -- visits to California and Washington State are ahead -- while the Bruins need to win two of three -- they are at Arizona State then play host to USC in the season-finale.
So there's not a lot of margin for error, and everyone knows the stakes are high. A bowl game would make it a successful season for either team. A losing record would fall short of preseason expectations. Bruins safety Rahim Moore joked this week -- seemingly -- that he'd quit football if the Bruins didn't manage to earn bowl eligibility. It's clear both coaches aren't against dangling the bowl game as a motivational carrot.
"Whether I dangle it or not, our guys are well aware of what we need to do," UCLA coach Rick Neuheisel said.
As far as subplots, Neuheisel is one. The Huskies coach from 1999-2002, he's not very well liked by some in Seattle, who still blame him for the program's lengthy downturn, even though Neuheisel went to four bowl games in four years -- the worst was the Sun Bowl -- and won a Rose Bowl after the 2000 season.
Neuheisel, who has been gracious in his comments about Washington since being hired at UCLA, said he expects the animosity to die down, and that Huskies fans will mostly focus on rooting for their team. And as for his role in the program's downturn?
"There were a lot of mistakes made. Certainly, I made some," he said. "But it's been seven years. My last year coaching there was 2002. There's been ample time to fix things."
Another subplot is the return of Locker from a rib injury that sidelines him for the defeat at Oregon on Nov. 6. This will be Locker's final home game after a hugely disappointing season. Can he put on one final, big show, something like did down the stretch last year?
Speaking of quarterbacks, there's also UCLA's
Richard Brehaut
, who's been surprisingly effective running the Bruins pistol offense and has breathed some life into a once moribund passing game. It's taken some time, however, for Neuheisel and -- particularly -- offensive coordinator Norm Chow to develop confidence in Brehaut. Their hands were forced when starter
Kevin Prince
was lost for the year with a knee injury.
"Richard is kind of a swashbuckler who can get in there and throw the ball around and make it look really easy," Neuheisel said. "Then all of a sudden, when the defense is coming from a lot of different places, is he really aware of what's happening and remembering all the nuances that go with playing quarterback? He wasn't as advanced [as Prince]. Now that he's having to do it, he's learning and getting better very quickly."
Then there's the weather. It's expected to be cold and rainy. The perception is the Southern-California-centric UCLA roster won't be accustomed to that, particularly Brehaut.
Whatever the weather, though, Brehaut's best bet is to hand the ball off. The Bruins have run the ball well this year, and the Huskies rank 118th in the nation in run defense (219.6 yards per game).
Finally, Washington is going for a blackout -- black uniforms, black shirts for fans, black end zones -- in order to make a statement for the ESPN broadcast.
You could say they are dressing for a funeral. The question is: Will it be their own, or the Bruins in mourning after the game?
October, 21, 2010
10/21/10
10:35
AM ET
Issues to consider heading into the eighth week of games.
Ducks make a statement
: Oregon is the big show Thursday night. Everybody will be watching ESPN to see what all the fuss is about regarding that team in the funny uniforms with ludicrous speed on offense. Folks, style points matter in the BCS system. If the Ducks post a, "Wow," performance, it helps them maintain or even improve their stature. It means, for example, the voters in the Southeast or the flyover states who raise a skeptical eye at Pac-10 football go, "Golly." Don't believe blowing out UCLA won't have traction. You can't argue about how the Bruins physically dominated Texas, which probably isn't going to lose another game in the Big 12. You want pollsters to go, "You know, Auburn/Oklahoma/Boise State is good, but Oregon, man, that team looks
good
."
[+] Enlarge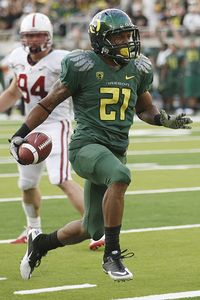 AP Photo/Rick BowmerRunning back LaMichael James and Oregon will be looking for style points on Thursday against UCLA.
Riley, Cal on the brink
: The Pac-10 blog enjoys talking to California QB
Kevin Riley
. Strikes me as a cool dude. But one of the tough things about this job is you sometimes have to say unkind stuff about good dudes. Riley isn't alone to blame for the Bears' problems by any fair measure. But, as a senior, he needs to be more a part of the solution. He hasn't played well this season, particularly during the past three games (that doesn't include the Nevada game in which he made some critical mistakes but mostly played well). If Riley plays like he did against Colorado against Arizona State on Saturday, the Bears will win. Of course, the Sun Devils are a lot better than the Buffaloes. But it isn't about the opponent. It's about Riley being smart, accurate and making plays. And leading.
Cougs D-line vs. Stanford O-line
: Stanford has the most physical offensive line in the conference. The Cougars' front seven showed some signs of improvement against a good Arizona O-line, but they still rank 119th in the nation in run defense. If you can't stop the run versus Stanford, well, suffice it to say, you are in big trouble, because Jim Harbaugh loves to be cruel -- which means running power at you over and over again until you wilt. You know, like he did to USC last year.
Great Scott
? The storybook, at least from the Arizona side of things at it faces Washington, is
Matt Scott
replacing
Nick Foles
as the Wildcats' starting QB and playing great until Foles is able to return. That allows Scott to redeem himself for losing the starting job after three mediocre games in 2009. Fact is, plenty of folks in Tucson think Scott is a pretty good QB and they aren't panicking about him taking over. The truth, in fact, is the Wildcats' offense has been hot-and-cold, even with Foles. A more punchy running game would make things a lot easier for Scott, but it's likely he will have to make plays passing against Washington and going forward to keep the Wildcats in the Pac-10 race.
Bruising Bruins
: What happens if UCLA eschews the passing game and runs right at the Oregon and it works? Sure, that doesn't sound very likely -- Stanford sure couldn't do it. But who thought the Bruins would overpower Texas a few weeks back and not need a passing game to post a blowout victory? As far as upset scenarios go, most for the Bruins start with an ability to consistently run the ball at the Ducks -- fast but undersized -- which also has the added benefit of keeping the Ducks' offense on the sidelines. You know, like Ohio State did in the Rose Bowl.
Sun Devils turn the corner
: Was the win at Washington a breakthrough for Arizona State? Well, we should know Saturday at California. The Sun Devils, who should be rested after a bye, won a number of converts while losing three tough, competitive games to Wisconsin, Oregon and Oregon State, but it's hard to become too effusive about a team that keeps
almost
winning. You know, close only counts in horseshoes and hand grenades. And curling. And parallel parking. But we digress. The win in Husky Stadium wasn't fancy, but it wasn't sloppy, which was why there was a happy ending. If QB
Steven Threet
doesn't throw interceptions, and the Sun Devils as a whole avoid stupid penalties, this team can play with anyone.
Luck for Heisman
? Stanford probably could run 75 times and beat Washington State. But style points matter, on a team and individual level. Harbaugh wants to win big and help his team climb the national polls. And QB
Andrew Luck
needs to post some impressive numbers to remain in the Heisman Trophy discussion. If the Cardinal softens up the Cougars with the power run game, there figure to be plenty of opportunities over the top. Luck should get three or four TD passes and then sit out the fourth quarter. Unless, of course, the Cougs make his life unexpectedly difficult.
Wildcats and Huskies and a pass rush
: Arizona, led by DEs Ricky Elmore and Brooks Reed, leads the Pac-10 with 21 sacks. The Huskies, led by mobile QB
Jake Locker
and pretty good pass protection, have surrendered just eight sacks. Some Wildcats (and Huskies) fans might recall Locker having a fairly fancy moment of escapability against Arizona last year (hint: 56 yards). That's a strength-on-strength matchup. Meanwhile, the Wildcats have surrendered 17 sacks, second worst in the Pac-10 (a surprising number but the O-line had a terrible game at Washington State). The Huskies only have 13 sacks, which also ranks second to last in the conference. And the Huskies will be without the services of injured end Talia Crichton. That's a weak-on-weak matchup. Considering the Wildcats are starting their backup QB -- albeit an experienced one in Scott -- it seems the Huskies would really like to get a strong rush. And the Wildcats want to thwart that desire.
September, 9, 2010
9/09/10
10:23
AM ET
Ten issues to consider heading into the second week of games.
1.
UCLA's run defense needs to bounce back
: UCLA surrendered 313 yards rushing at Kansas State, including 234 yards on 28 carries to
Daniel Thomas
. Thomas is a quality back, but that's pretty freaking porous. While Stanford visits the Rose Bowl on Saturday without Toby Gerhart, the Cardinal offensive line is more talented than the Kansas State crew. If the Bruins front seven doesn't buck up, Stanford will use a its new backfield-by-committee to run over them. While
Andrew Luck
is the star, Jim Harbaugh would be perfectly content to run it 40 times. And, of course, if the Bruins can't stop the run, their obsession with it will provide plenty of big downfield opportunities for Luck.
2.
Jake Locker and the Washington offense need to play better at home
: Washington scored just 17 points and got shut out in the second half at BYU. Twice in the second half, drives deep in Cougars territory ended after failed fourth-down conversion attempts. Locker's numbers weren't bad, but no player shoulders more responsibility for his team's success as he does. The fifth-year senior who spent much of the summer being touted as a Heisman Trophy candidate when pundits weren't talking about his NFL prospects. Syracuse won't be a push-over on defense -- 10 starters are back from 2009. But Washington plays better in Husky Stadium, and the guess here is Locker and his supporting cast on offense will be far sharper.
[+] Enlarge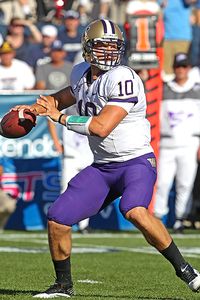 AP Photo/George FreyExpect Jake Locker and the Washington offense to be more sharp against Syracuse than it was against BYU.
3.
Does Oregon QB Darron Thomas start fast or get rattled
? Thomas' first career road start will be in Tennessee's Neyland Stadium, which means there will be 105,000 or so orange-clad fans riding his case. There's no way to know how a young man will react to that. He might come out smooth and poised and lead a dominant offensive effort by distributing the ball to all of his weapons. Or he might make an early mistake or two and get rattled and down on himself. Just as Autzen Stadium gives the Ducks a big advantage, so does Neyland do the same for the Volunteers.
4.
Did USC's defense just have a bad day at Hawaii
? It's possible that USC just had a bad night at Hawaii, that the poor tackling and flat effort weren't indicative of the capabilities of a seemingly talented crew. It's possible that Monte Kiffin and Ed Orgeron will correct mental and physical mistakes, make a few personnel decisions, and USC will show Virginia that it's back to its stingy ways. But there's also enough available evidence now -- see terrible performances vs. Oregon and Stanford in 2009 -- to support the notion that the Trojans' defense has lost its swagger and isn't actually as talented as its recruiting rankings suggest. Virginia shouldn't be able to keep up with USC on Saturday. But if the same defense from Hawaii shows up, the Cavaliers will do just that.
5.
Cal's Kevin Riley completes 60 percent of his passes
: Riley owns a career 54 percent completion rate. Accuracy has long been his bugaboo. Of course, he also hasn't benefited from great receivers during his tenure. Last weekend, he completed 70 percent -- 14 of 20 -- of his throws, though it's worth noting that UC Davis is an FCS team. What was most notable, however, were the impressive performances by his receivers, particularly true freshman
Keenan Allen
. There was a reasonable theory in the preseason that Riley would breakthrough as a senior, because that's when the light goes on for many QBs. It will be a lot easier with a dangerous group of playmakers at receiver, guys who can go and get the ball -- even when it's not perfectly thrown -- and boost a completion percentage. Colorado is strong at cornerback, so it will offer a good test as to whether Riley and his receivers are truly in sync and ready for Pac-10 play.
6.
Washington State buries Montana State from the get-go
: It's fairly simple. Washington State needs to go out and whip Montana State. It needs to start quickly, establish dominance and allow its fans to feel good about the program. The Bobcats are a quality FCS team, but the Cougars should have restocked their talent enough in year three with coach Paul Wulff to take them to the woodshed. Jumping to a big lead will boost the confidence in the locker room. Struggling and playing a tight game into the fourth quarter won't. Losing? Let's not even go there.
7.
Arizona's rebuilt defense posts another dominant performance
: The Wildcats defense was surprisingly stout at Toledo, a team that piled up big numbers on offense in 2009. Things should be even easier on Saturday against The Citadel in front of the home crowd. Still, another game of experience is another game of experience, no matter the quality of the opponent, and smoothing out any wrinkles will be valuable leading into the Sept. 18 visit from Iowa. Arizona needs to jump on The Citadel hard and then get its starters to the bench early in the third quarter.
8.
Arizona State QB Steven Threet is cool, efficient vs. Northern Arizona
: Threet played well in the opener vs. Portland State, and the Sun Devils offense as a whole looks substantially more skilled than the anemic unit from 2009. Threet and his mates need to duplicate that performance in another "preseason" game vs. an FCS program. The idea is to be as confident as possible before heading to Wisconsin on Sept. 18. It also would be nice to get all the starters on the bench as soon as possible so they will be rested and healthy.
9.
Andrew Luck vs. Rahim Moore
: If UCLA's run defense proves stout, that means Stanford will have to throw. And that means a showdown between these two All-American talents. Luck has uncanny downfield accuracy. That's one of the big reasons NFL scouts love him. Moore led the nation with 10 interceptions a year ago, so his ball skills qualify as uncanny, too. Will Luck be able to beat Moore and the Bruins over the top? Or will Moore bait Luck into an ill-advised throw that could be a game-changer?
10.
Will Tennessee be able to run against Oregon
? If the Vols can't run vs. Oregon, the Ducks are going to deliver a butt-kicking. No way Matt Sims, a junior JC transfer, will be able to pass them to victory. But Tennessee rolled up 332 yards rushing in its opener -- albeit vs. Tennessee-Martin -- and its got a strong stable of running backs, topped by
Tauren Poole
, and a big, talented, if inexperienced, offensive line. The Ducks defense is as fast as they come, but it also is undersized. If the Vols power-running game is consistently effective, then Oregon will be in for a highly competitive test.
June, 30, 2010
6/30/10
6:09
PM ET
Most preseason rankings of the BCS conferences will dump the Pac-10 into fourth or fifth place. Even the Pac-10 blog did that
a month ago
.
How does the Pac-10 improve its position in this highly subjective pecking order? That's easy: 1. Win big nonconference games; 2. Earn two BCS bowl berths and win 'em both; 3. Or, failing that, just do well during the bowl season.
Obviously, we'll have plenty of time to look at the bowls. But let's start with the regular-season nonconference game. Here are six that could improve the Pac-10's national perception.
(Oh, and by the way, you are correct in guessing that no other BCS conference in the nation
plays five top-11 teams
in its nonconference schedule).
Oregon State vs. TCU, Sept. 4
: TCU welcomes back 18 starters from a team that went 12-1 in 2009, losing the Fiesta Bowl to Boise State. The Horned Frogs figure to be ranked in the preseason top 10, perhaps even the top five. Further, the game will be played in Cowboys Stadium, meaning it will seem like even more of a home game for TCU than if it were played at TCU (Amon G. Carter Stadium only seats 44,000). The Beavers, meanwhile, are notoriously slow starters -- see at least two losses each September since 2004. Moreover, they will be breaking in a new quarterback -- sophomore
Ryan Katz
-- on the road. Still, this is a veteran Oregon State team, and the Rodgers brothers will stress the Horned Frogs defense. An upset is not inconceivable, and it certainly would start the Pac-10's 2010 campaign on a high note.
Oregon at Tennessee, Sept. 11
: Oregon should -- needs to -- win this game. The Ducks are more talented and more experienced. The Volunteers are rebuilding. But style points matter. Sure, winning is winning, even more so when a team is on the road, particularly when it's crossing multiple time zones. But if the Oregon spread-option attack runs over, around and through an SEC defense, while shutting down an SEC "offense" (we use the term loosely), and wins big, it will send a statement, not the least of which is that this team can thrive without quarterback Jeremiah Masoli. And, of course, the Pac-10's decade-long pattern of success against the SEC then would continue for another season.
Iowa at Arizona, Sept. 18
: One gets the feeling that the Wildcats didn't earn Iowa's respect during a 27-17 loss last year. The Wildcats' offense was listless -- you might recall this is the game when quarterback
Nick Foles
came off the bench to take over the starting job -- and the defense was mostly mediocre. Heading into the fall, Arizona has significant questions on defense, while the Hawkeyes figure to rank in the top 15. Most of their fans are penciling this one in as a victory. But the Wildcats are a different team at home playing in front of the 'Zona Zoo. It figures to be a toasty evening, and if Foles and the offense get hot, it could be a chance for an upset.
Arizona State at Wisconsin, Sept. 18
: Wisconsin might be the top challenger to Ohio State in the Big Ten this year. It welcomes back 18 starters, including 10 on offense. Typically, the Badgers' offense is described as "physical," which might be construed as a code word for "plodding." No longer. They are, yes, physical, but now there are some athletes surrounding quarterback
Scott Tolzien
, most particularly running back
John Clay
. This will be a great test for an Arizona State defense that believes it will rank among the nation's best. Of course, the Sun Devils will have to score to win. For an upset to happen, a rejiggered offense and new starting QB will have to step up.
Nebraska at Washington, Sept. 18
: The Cornhuskers are another team that likely will be ranked in the preseason top 10. Most have already penciled them into the final Big 12 championship game opposite Texas or Oklahoma. They welcome back 18 starters, including eight from what could be the nation's best defense. If the Huskies manage to start 2-0, this could be a red-letter game for the program as well as for quarterback
Jake Locker
's Heisman hopes. Husky Stadium was once a fearsome place to play. Might Huskies fans, won over by coach Steve Sarkisian, be regaining their mojo? Some of us old timers remember a highly rated Miami team swaggering into Seattle in 2000 and getting manhandled by the Huskies, who went on to finish 11-1 and win the Rose Bowl.
UCLA at Texas, Sept. 25
: Fair to say the Bruins' chances at Texas are remote. The Longhorns, a certain top-five team, played for the national title last season and are looking to do so again in 2010. UCLA is taking baby steps forward under Rick Neuheisel, but the Bruins' offense is a huge question mark. Of course, an unheralded UCLA squad did once before play at Texas, and in 1997 the Bruins walked away 66-3 winners over the No. 11 Longhorns. (The following year Texas redeemed itself by only losing 49-31 to the Bruins in the Rose Bowl). Still, what seems most important here is for UCLA to put on a competitive show. That could provide some confidence heading into the meat of the Pac-10 schedule.
April, 12, 2010
4/12/10
1:09
PM ET
SEATTLE -- Home for the holidays. What a joy!
Unless you're a BCS college football coach, when being home for the holidays in nearly every case means your season was a failure.
So this past Christmas was odd on multiple levels for Washington's Steve Sarkisian. For one, after having coached seven years at USC, he wasn't accustomed to not reviewing game tape while the Yule Log burned.
And his experience was even stranger when he went out to do his holiday shopping around Seattle. Folks were so ... complimentary.
[+] Enlarge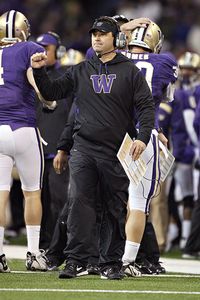 Otto Greule Jr/Getty ImagesWhile he has seen improvement, Steve Sarkisian wants his team to become more physical.
"I've never been congratulated so much for a five-win season," he said.
Ah, but context is everything. For the Trojans, a 9-4 season, which included a loss to Sarkisian's Huskies, was a disaster. For the Huskies, going 5-7 sparked hope among the beleaguered purple-clad masses, who were but a season removed from the worst finish in program history: oh no! and 12.
It's hard to overstate the stunning transformation under Sarkisian.
In 2008, the Huskies lost all 12 games by an average of more than 25 points. In 2009, they beat four teams who won at least eight games, three of whom spent much of the season nationally ranked.
They concluded the season by stomping rival Washington State 30-0 and No. 19 California 42-10.
And now they are in the midst of spring practices preparing for what many believe will be the rebirth of a Pac-10 and national power, one that hasn't played in a bowl game since 2002. Nineteen starters are back, and one of them is quarterback
Jake Locker
, who could end up the top pick of the 2011 NFL draft.
After signing a touted recruiting class --
ranked 20th
in the nation by ESPN.com's Scouts Inc. -- the positive momentum is unmistakable.
"From where we started, to where we've come, to where we're headed, it's exciting," Sarkisian said. "The mantra of expecting to win is there now. It's not just something that's up on a board or on a T-shirt. It's a real belief."
The question is how could such a dramatic turnaround take place, particularly against what was among the nation's toughest schedules?
Sarkisian and defensive coordinator Nick Holt are due a lot of credit, obviously. But there's also the issue that the previous administration was doing a lousy job. Tyrone Willingham's Huskies in 2008 weren't good, but they shouldn't have lost every game.
"I felt like a lot of guys didn't want to play for the coaches we had [in 2008]," linebacker Mason Foster said. "I hate to say that because I love Coach Willingham and they were great coaches, but I don't think they were relating to the players. Guys didn't want to come here and play for the coaches. They were just showing up because they had to. Now, everybody wants to come, wants to compete. They're not just showing up because they have to to get their scholarship check. People want to play for Coach Sark. People want to play for Coach Holt. That's the biggest difference."
October, 22, 2009
10/22/09
8:03
AM ET
Posted by ESPN.com's Ted Miller
A full slate of games -- nobody's sitting home this weekend eating Doritos.
1.
It's going to be nasty fun in Husky Stadium
: Oregon has beaten Washington five consecutive times. And by at least 20 points each time. What was once the most bitter rivalry in the Pac-10 has become a mismatch, which has been galling for the Huskies because, historically, they've dominated the Ducks and still lead the series 58-38-5. Yet this one figures to be more competitive than any of the recent games. Washington has rejuvenated itself under Steve Sarkisian, and that rejuvenation has include renewed energy in Husky Stadium. It should be pretty intense. Just like the old days.
2.
Jacquizz Rodgers won't back down
: The conventional wisdom is that USC is looking for a little revenge after Oregon State shocked the Trojans 27-21 last year in Corvallis. And the best way to get that revenge is to shut down Rodgers, who sliced and diced them for 186 yards. Folks on the Trojans' side whisper that they didn't know much about the diminutive then-true freshman in 2008. Now they do. And they will put a hurting on Rodgers. Not so fast on that, though. Rodgers has surged of late, and he's an ultra-competitive sort who will be eager accept the Trojans' challenge. Don't be surprised if Rodgers makes some plays against the rugged Trojans run defense.
3.
UCLA's secondary will challenge Arizona QB Nick Foles
: UCLA's secondary is much better than Stanford's secondary, so Arizona quarterback Nick Foles doesn't figure to find things as easy in the passing game against the Bruins as he did when he piled up 415 yards and three TDs vs. the Cardinal. While UCLA's run defense has sprung a leak -- or two -- of late, the pass defense ranks second in the conference, giving up just 169 yards per game. It's grabbed nine interceptions while surrendering just six TD passes.
4.
Vontaze Burfict vs. Toby Gerhart
: Burfict is Arizona State's hard-hitting true freshman linebacker. Gerhart is Stanford's 235-pound battering ram of a running back. Burfict looks as good as any young linebacker in the country, but he hasn't faced a back like Gerhart -- probably in his life. These two figure to have plenty of impressive collisions Saturday. So, who wins most of them?
5.
Washington State should be motivated by 66-3
: On Sept. 6 of last year, everyone found out how deeply down Washington State was when California delivered a stunning 66-3 beatdown in Martin Stadium. It was a humiliating home loss, the second game of the Paul Wulff era. The Cougars haven't suffered a whipping like that this year (though Oregon came close). They probably won't win at Cal on Saturday, but the Cougs should fight hard to earn the Bears' respect. They didn't get it last year.
6.
Will Masoli or Locker rule the day
? First things first: Will
Jeremiah Masoli
be 100 percent? The Oregon quarterback appears
on track to start
, but how much of a running threat he is depends on how close his knee injury is to fully healed. Before Masoli got hurt against Washington State, he was playing with the same dual-threat sharpness he showed late last season. Washington's
Jake Locker
, meanwhile, is only the most highly touted quarterback in the conference. At their best, both are spectacular playmakers. It will be interesting to see who makes more plays.
7.
Does Barkley just keep getting better
? USC's
Matt Barkley
seems to improve every week, and the true freshman already is a pretty good quarterback. While Oregon State's defense has improved of late, it still ranks ninth in the conference against the pass (275 yards per game). The Beavers have given up the most TD passes (11) in the conference and grabbed the fewest interceptions (3, curiously tied with USC). The Beavers are stronger against the run, so it makes sense that Barkley might put the ball into the air. Does he turn in another stellar performance, or does he finally reveal some freshman fallibility?
8.
Stanford's defense needs to step up
: Stanford's defense has given up 81 points and 1,016 yards in the past two games, which, not surprisingly, were both losses. However, Arizona State doesn't have the offensive weapons that Oregon State and Arizona do, and quarterback
Danny Sullivan
has struggled much of the season. The Cardinal probably won't be able to pile up points in bunches against the Sun Devils' stout defense, but they shouldn't have to if they muzzle ASU's struggling offense.
9.
The Bruins are desperate
: Arizona coach Mike Stoops described UCLA as "desperate," and it's true. The Bruins are riding a three-game losing streak, and it's hard to find the three wins necessary for bowl eligibility on the remaining schedule. That desperation should translate into an inspired effort at Arizona. The offense seems to be improving after a solid performance against California. Now, if the defense reverts to the way it played during the first three games, the Bruins should give the Wildcats all they can handle.
10.
Jahvid Best should run wild
: Washington State ranks last in the Pac-10 in run defense. It's surrendered 17 rushing touchdowns, seven more than any other Pac-10 team. This should be a great opportunity for Best, Cal's spectacular runner, to regain his mojo. While Best had a 93-yard TD run against UCLA, he's still been mostly muted of late -- he's dropped to third in the conference in rushing (102.7 yards per game) and might no longer be a sure-thing for first-team All-Pac-10. He rushed for 200 yards last year at Washington State, including an 86-yard TD. So it might be time for another spectacular game.
February, 23, 2009
2/23/09
2:30
PM ET
Posted by ESPN.com's Ted Miller
We're throwing at the NFL combine.
November, 21, 2008
11/21/08
1:15
PM ET
Posted by ESPN.com's Ted Miller
Links don't stink with a cold drink unless it's pink.