NCF Nation:

Ifeadi Odenigbo
October, 4, 2014
Oct 4
7:15
PM ET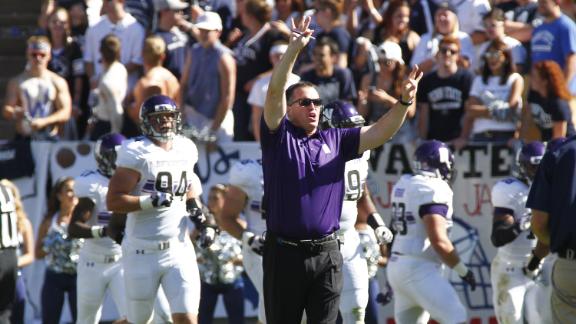 Northwestern's
20-14 victory
continued its midseason revival and denied Wisconsin and the comeback bid of quarterback
Joel Stave
. Wisconsin's 2013 starting quarterback Stave made his season debut by taking over for struggling
Tanner McEvoy
late in the second quarter.
Stave could not lead the Badgers back from a 10-0 deficit despite 259 yards on the ground by running back
Melvin Gordon
.
The Wildcats got 162 rushing yards from
Justin Jackson
and beat a ranked team at home for the first time since 2010. They moved to 2-0 in the Big Ten after an upset win last week at Penn State.
How the game was won:
Northwestern refused to give in. Even as Gordon got loose for long runs, the Wildcats did not break. Northwestern stemmed the Badgers' best momentum with a
Jimmy Hall
interception in the third quarter of Stave, tipped at the line by
Ifeadi Odenigbo
.
Miles Shuler
ran a reverse for a 16-yard touchdown on the next play.
Game ball goes to:
Northwestern freshman safety
Godwin Igwebuike
for his three interceptions. Igwebuike picked McEvoy in the end zone to end Wisconsin's opening drive of the game, sending the Badgers into an offensive tailspin that extended for the first 30 minutes of the game. Igwebuike then intercepted Stave in the end zone with less than six minutes to play in the game and got Stave again near midfield to clinch the victory.
What it means:
The West Division is even more wide open than it looked. Minnesota emerged as a contender with its win over Michigan last week. Add Northwestern -- who could have predicted its past two victories -- to the mix with Nebraska, Iowa and the Badgers.
Best play
Stave pass intercepted by Hall.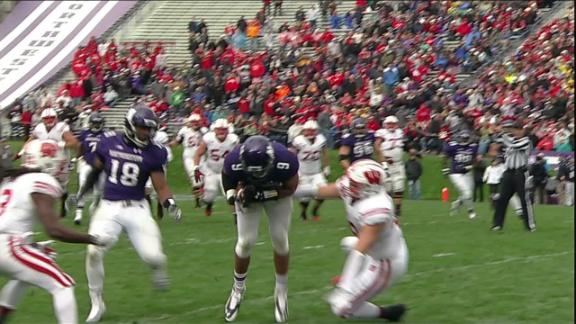 What's next:
The Wildcats (3-2) get a chance to continue their resurgence with a trip to Minnesota before coming home to meet Nebraska. The Badgers (3-2), meanwhile, return home for Illinois, an off week and Maryland, and now they have a quarterback situation. Stick with Stave, who struggled on Saturday, or go back to McEvoy, who was equally ineffective against Northwestern.
September, 27, 2014
Sep 27
3:35
PM ET
STATE COLLEGE, Pa. -- For the first time in a long time, the
Northwestern Wildcats
can finally celebrate.
Northwestern quarterback
Trevor Siemian
opened up hot, and the defense clamped down for all four quarters as the Wildcats
won 29-6
, pulling off the upset against the
Penn State Nittany Lions
. It's just Northwestern's second win in its past 10 games against FBS opponents.
With the victory, Northwestern improves to .500 (2-2, 1-0 Big Ten), and Penn State drops its bid for perfection (4-1, 1-1 Big Ten).
How the game was won:
Siemian started off on a hot streak, completing 11-of-15 for 150 yards in the first quarter. He capped two first-quarter drives with identical 1-yard rushing touchdowns. From there, the Wildcats' defense took charge, and Penn State made too many mistakes as the game wore on.
Game ball goes to:
Northwestern's defensive line.
Ifeadi Odenigbo
really led the charge here, but it wasn't just Odenigbo who dominated. This entire line outmuscled PSU, pressured quarterback
Christian Hackenberg
and bottled up the run. The Wildcats finished with four sacks and nine tackles for loss.
It was over when ... :
Linebacker
Anthony Walker
, in his first career start, made an easy interception on a pass from Hackenberg in the fourth quarter and returned it 49 yards for a critical touchdown. PSU's offense was starting to gain some momentum, but that halted it. Northwestern led 20-6 at that point.
What it means:
Wildcats coach Pat Fitzgerald asked two weeks ago what came first -- success or confidence? Well, his team has to feel pretty confident after its best win in a full calendar year. The only other win that Northwestern had against an FBS team since Sept. 22, 2013, came against Illinois. Fitzgerald is undoubtedly hoping this marks the end of those struggles.
Playoff implications:
Entering the game at 4-0, Penn State still had an outside shot of gaining a playoff spot if it ran the table. Obviously, those hopes have all but ended now. Nebraska is the only remaining unbeaten team in the Big Ten.
What's next:
Penn State has a bye week before it travels to the Big House to face Michigan. The Wildcats face a stiffer test next week when they take on Wisconsin at home.
June, 19, 2013
6/19/13
5:00
PM ET
Big Ten bloggers Adam Rittenberg and Brian Bennett will occasionally give their takes on a burning question facing the league. We'll both have strong opinions, but not necessarily the same view. We'll let you decide which blogger is right.
We're in the process of projecting the Big Ten's statistical leaders for the 2013 season. We've already covered our choices for the league's
top rusher
,
top passer
and
top receiver
. We don't want to forget the defense in this exercise, however. So
today's Take Two topic
is: Who will lead the Big Ten in sacks this year?
Take 1: Brian Bennett
[+] Enlarge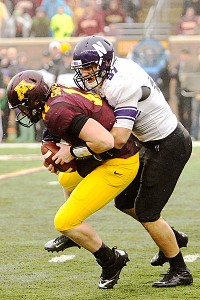 Brian Ekart/Icon SMITyler Scott was Northwestern's defensive MVP last season, notching nine sacks to tie for the conference lead.
I covered some of the candidates in this post earlier this month and noted that the Big Ten did not have a player reach double digits in sacks in 2012. Four of the top five sack masters from last season have moved on, so the floor is open for a new sack leader.
There's a good chance that some younger guys will lead the way this season. Ohio State's
Adolphus Washington
and
Noah Spence
look like superstars in the making. Penn State's
Deion Barnes
was the league's freshman of the year last season and could easily improve on his six-sack total from 2012. Junior college transfer Randy Gregory could wreak some havoc for Nebraska.
But I'll go with a safer choice in a proven veteran: Northwestern's
Tyler Scott
. After all, the senior did tie for the conference lead last year with nine quarterback takedowns, showing excellent improvement from his sophomore to junior years. He is one of the strongest players in the Big Ten and a weight room warrior, and I'm sure he's working his butt off this summer to be an even better player. The Wildcats' defense should be pretty solid up front, and they will play some teams like Cal, Syracuse, Michigan State and Illinois that should offer opportunities for Scott to get into the offensive backfield. I say he does that a lot on his way to a league-best 11 sacks in 2013.
Take 2: Adam Rittenberg
Scott is a strong choice, BB. He's an extremely hard worker who
placed a major emphasis on the pass rush
after the 2011 season, when he recorded only two sacks. Although Northwestern's overall pass pressure improved, Scott certainly stood out in the group. I expect a solid senior season from him, but I think the sacks will be spread around a little more in 2013 as Northwestern boasts better depth, experience and speed at the end spot with
Dean Lowry
,
Deonte Gibson
and
Ifeadi Odenigbo
.
That's why I'm going with Penn State's Barnes as the Big Ten's sacks leader. He was an easy pick for the league's freshman of the year award and should only get better with another offseason with elite line coach Larry Johnson. Barnes already has the body of an upperclassmen and a skill set that projects extremely well to the NFL. His challenge this season is two-fold: He's no longer an unknown and will be at the top of every opponent's scouting report, and he no longer has All-Big Ten defensive tackle
Jordan Hill
to attract some of the attention. Barnes will have to defeat double-teams and get some help from
DaQuan Jones
and others to have a big sophomore season. But I think he gets it done and puts up 11 or 12 sacks to lead the conference.
April, 10, 2013
4/10/13
3:00
PM ET
EVANSTON, Ill. -- Mike Hankwitz didn't inherit a bare cupboard when he arrived as Northwestern's defensive coordinator in 2008.
The defense included several future NFL players, including end Corey Wootton and cornerback Sherrick McManis. Eight starters returned, and the unit improved from 88th nationally in points allowed to 26th in Hankwitz's first season.
But something was missing. As Hankwitz surveyed the number of spread offenses in college football -- not to mention the one his defense practiced against every day at Northwestern -- he knew the Wildcats' defense needed a speed boost.
"We had some players with good speed, but as a total defense, we didn't have that same speed at every position," Hankwitz told ESPN.com. "In this day in age with spread offenses, you need to have athletes who have the ability and speed to make plays in space. That's where we were a little deficient at the time. If you had a guy hurt, the next guy might not have been as fast. So we recruited to that end. We tried to recruit better speed to cornerback, and we're making progress in that way.
"As a whole, our team defensive speed has improved, and we're excited about that."
It was noticeable last season as Northwestern's defense improved to 47th nationally after plummeting to 80th the year before. Several younger players who were part of the speed-driven recruiting push played key roles, including defensive backs
Ibraheim Campbell
and
Nick VanHoose
, linebacker
Chi Chi Ariguzo
and linemen
Dean Lowry
and
Deonte Gibson
.
Northwestern's speed upgrade on defense has jumped out during spring practice. In Tuesday's workout, Lowry zoomed past a tackle for an easy "sack" against quarterback
Trevor Siemian
. Speed has helped cornerback
Dwight White
put himself in position to start opposite VanHoose in the fall. The same holds true for safeties like
Traveon Henry
,
Jimmy Hall
and
Terrance Brown
, competing to start next to Campbell.
"Our team speed is definitely much improved," head coach Pat Fitzgerald said. "Our secondary runs as well as it has at all four positions."
The popularity of the spread offense, which Northwestern has used since 2000, fueled the team's speed push in recruiting. Northwestern needed more athletes who could make plays in space, especially in the secondary.
Not surprisingly, the secondary had the most dramatic upgrade last season, and depth at both cornerback and safety has improved for 2013. The secondary not only has more speed but better size.
"Traveon Henry's a 6-[foot]-1, 200-plus-pound safety, Jimmy Hall's the same way, Terrance Brown is the same way; we've upgraded our size at corner," Fitzgerald said. "Most of our guys used to be 5-foot-9 and 5-foot-10. Now we're 5-11 and 6-foot. That size-speed combination is critically important if we want to take the next step in this league."
Greater speed allows Hankwitz to be "a little more aggressive" with his defensive calls. It also helps younger players get on the field early as they can overcome some weaknesses technically and fundamentally.
"Last year, being a little undersized at D-end as a freshman, I relied on my speed a lot of times to beat tackles," said Lowry, who had a sack, six quarterback hurries and three tackles for loss as a true freshman. "When you're fast, it sets up moves, so if a tackle is overset, you come back with a counter. You've got to make sure you use your technique, use your hands where the coaches teach you. But having the extra speed, it's almost like you can't teach that.
"It's something most guys don't have."
Northwestern's speed push started with the linebackers and spread quickly to the secondary, but the line hasn't been neglected. Redshirt freshman end
Ifeadi Odenigbo
, the team's most-decorated recruit in years, only started playing football as a high school sophomore but made his mark with speed,
twice tracking down
Braxton Miller
in a playoff game.
Both Odenigbo and Gibson ran track in high school, while both Gibson and Lowry played basketball.
"They're very, very athletic," senior end
Tyler Scott
said. "Dean's very athletic. Deonte, when he's healthy, is a force coming off the edge. And Ifeadi, he's got some speed that we haven't seen here for a while."
Northwestern's defense expects to be seeing more of that speed in the coming seasons.
"We're still not quite there where we have all five classes at an elite level athletically," Fitzgerald said, "but I think we're really close."
July, 27, 2012
7/27/12
6:11
PM ET
CHICAGO -- Big Ten football media days are in the books, and the 2012 college football season is officially here.
Here's a look back at some of the top items from the past two days ...

Best dressed:
Montee Ball
. If you want be called Mon-Tay, as Ball now goes by, you had better back it up. The Wisconsin star dressed to impress both days, sporting a suit with a purple vest and bowtie Thursday, followed by a suit with a black vest and a red tie Friday. Guessing that Wisconsin coach Bret Bielema preferred the red tie. Honorable mention goes to Purdue cornerback
Ricardo Allen
for his three-piece beige suit. Very sleek.
Most heartfelt moments:
It's a tie between Penn State linebacker
Michael Mauti
, who reflected on an emotion-charged week for the program, and Michigan quarterback
Denard Robinson
, who made a touching and revealing speech at the Big Ten kickoff luncheon, discussing his humble roots, the loss of his brother and his responsibility as a high-profile athlete.
Best line from Robinson:
"I met the President of the United States, and I met LeBron James, and they both knew who I was."
Best bold statement:
First-year Ohio State coach Urban Meyer is setting the bar high for his quarterback,
Braxton Miller
. How high? "Braxton Miller has a lot of skills that Tim [Tebow] didn't have," Meyer said. "Braxton Miller is dynamic, he's the most dynamic athlete I've ever coached at quarterback. What I just said, people should go, 'Whoa.' He is, really by far. That's how good of an athlete he is." Fullback
Zach Boren
agrees, telling ESPN.com, "One or two Heisman Trophies are in his future." No pressure, Braxton.
Best newlywed moment:
Bielema, who got married in March, was asked which ring feels better, his wedding band or his Big Ten championship ring (he wore both Friday). "It depends on who's asking," he said.
Best physical assessment:
Michigan junior left tackle
Taylor Lewan
, on teammate
Craig Roh
's claim that he's husky. "Call me husky all you want. Feel these hips if you want, too. I'm 310 pounds. There's got to be a little love, right?"
Best recruiting comment:
Northwestern head coach Pat Fitzgerald, asked about plucking heralded linebacker recruit
Ifeadi Odenigbo
from Centerville, Ohio. "Urban can't take 'em all," he said, referring to Ohio State's Meyer. "But they offer 50, we get one, hooray for the 'Cats."
Best media day debut:
Andrew Maxwell
hasn't started a game at quarterback for Michigan State, but the junior handled himself well in the spotlight this week. "I've organized the 7-on-7s, get guys in the meeting room, get guys in the film room, texting them, saying, 'What time are you free? What time do you have class today?' " he said. "You really start to see how that's working when guys are texting and calling you, saying, 'Hey, can we get in the film room today.' When it's a two-way street, that's when you're most effective."
Best social media comment:
Although several of Kirk Ferentz's Iowa assistants are on Twitter, including his son, Brian, the team's offensive line coach, Ferentz hasn't warmed up to social media for his players. "We're really not big on Twitter," he said. "I told them they can Twitter their lives away as soon as they've played their last game. If they want to Twitter the next 60 years, have at it. Facebook, Myspace, your space, my book, your book, it's probably not fair to try to rein that one in, but we just try to encourage that it's going to be part of their DNA. Whatever they post, they're responsible for."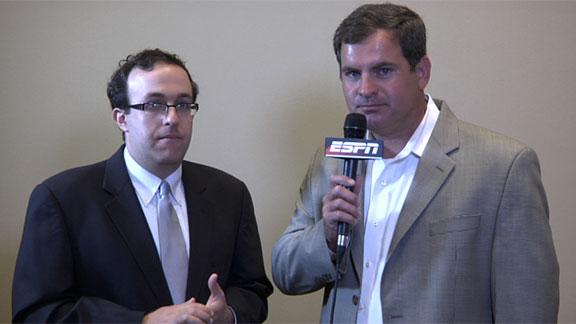 February, 1, 2012
2/01/12
1:00
PM ET
Northwestern's signing day class is complete with 21 recruits. And that doesn't include maybe the biggest get for coach Pat Fitzgerald, USC transfer
Kyle Prater
.

Here's the rundown of
the newest Wildcats
:
Terrance Brown
S
Stephen Buckley
RB
Adam DePietro
OT
Chris Fitzpatrick
LS
Traveon Henry
S
Joseph Jones
S
Malin Jones
RB
Greg Kuhar
DT
Dean Lowry
DE
Connor Mahoney
DT
Mike McHugh WR
Ifeadi Odenigbo
OLB
Eric Olson
OT
Ian Park
OG
Kenton Playko
OT
Jaylen Prater
OLB
Andrew Scanlan
WR
Jack Schwaba
SB
Dan Vitale SB
Dwight White CB
The class is balanced, with 10 offensive and 10 defensive players, with one long snapper. Odenigbo, an ESPNU 150 prospect, is the headliner and the kind of defensive playmaker Northwestern has needed for some time.
"Obviously, we're excited about this recruiting class," Fitzgerald said. "There are some tremendous young men from great families and great high school programs who, we believe, fit all our needs and will help us take the next step in becoming a championship program."
The 21 signees comprises the largest recruiting class in Fitzgerald's six years as head coach.
January, 31, 2012
1/31/12
3:16
PM ET
Earlier today, we took a look at the recruiting needs of every team in the Big Ten Leaders Division. Now it's time to turn our attention to the Legends Division and see what positions each team needs to restock before next week's signing day:
Iowa

Running backs:
Iowa's problems with keeping running backs in school has been well documented, and the Hawkeyes lost leading rusher Marcus Coker and backup
Mika'il McCall
after off-the-field problems last season. The team really needs some more depth in the backfield, and don't be surprised if incoming freshman Greg Garmon pushes for playing time immediately.
Defensive linemen:
Iowa had three defensive linemen drafted off the 2010 team and now loses its top two guys up front in departing seniors
Broderick Binns
and
Mike Daniels
. That's an awful lot of talent to replace in a couple of years, and the Hawkeyes can't expect to improve their defense without doing so. Finding some more pass rushers off the edge will be key.
Wide receivers:
Marvin McNutt
had a wonderful senior season, but the passing game often stalled whenever he couldn't wiggle free. Now he's gone, leaving a void at the position.
Kevonte Martin-Manley
and
Keenan Davis
have shown promise, but
James Vandenberg
could use some more weapons. Iowa has secured commitments from three receivers in this class.

Michigan
Wide receiver:
The loss of Darryl Stonum, who was dismissed following another run in with the law, created a void at receiver, especially with top pass-catcher
Junior Hemingway
out of eligibility. The Wolverines will have to hope
Roy Roundtree
can bounce back with a big season, because all other wideout options are unproven at this point. Three receivers are committed to Brady Hoke in this class.
Defensive line:
Mike Martin
and
Ryan Van Bergen
were key cogs in Michigan's run to the Sugar Bowl title in 2011, and they have both moved on, along with starter
Will Heininger
. Hoke and defensive coordinator Greg Mattison are defensive line coaches at heart and will want to grab as many difference makers as they can at that key position. Ondre Pipkins, a 325-pound tackle, is the highest rated defensive lineman in the Wolverines' class right now.
Offensive line:
While the Wolverines should be fine on the O-line in 2012, even without Rimington Trophy winner
David Molk
and starting right tackle
Mark Huyge
, they signed only four offensive linemen total in the past two classes. Since linemen are often slow to develop, they need to refill the cupboard now. Michigan has four offensive linemen committed in this class, including standout Kyle Kalis.

Michigan State
Offensive tackles:
Thanks in large part to injuries, Michigan State had to move a defensive lineman (
Dan France
) to tackle last summer and plug in a junior-college transfer (
Fou Fonoti
) into the other tackle spot. That the Spartans won the Legends Division title despite that is kind of amazing in retrospect. France will be a junior in 2012 and Fonoti will be in his final year of eligibility. They need more depth at the position, and they've got commitments from two offensive tackles so far in this class.
Wide receivers:
Two of the most successful receivers in school history are gone as
Keshawn Martin
and
B.J. Cunningham
finished off wildly productive careers. Tennessee transfer
DeAnthony Arnett
is seeking a waiver to play immediately and will help the future even if he has to sit out a year. Michigan State is looking to sign three other receivers in this class to fill out the future two-deep.
Running back:
Edwin Baker
's early entry to the NFL draft came as a surprise. Michigan State is still in good shape at tailback for 2012 with
Le'Veon Bell
and
Larry Caper
. But after not signing a running back in last year's class, Mark Dantonio could use at least one more option in the backfield.

Minnesota
Defensive backs:
It was no secret that Minnesota's pass defense was brutal at times in 2011, and top tackler
Kim Royston
leaves a hole at safety with his graduation. Getting Troy Stoudermire back for an extra year helps, but Jerry Kill needs to upgrade the talent in the secondary. That's why he has signed three junior-college defensive backs and secured commitments from four high school safeties so far.
Defensive tackle:
One of the reasons the pass defense was so bad was a lack of pass rush applied by the front four. The Gophers had only 19 sacks this season, a year after registering just nine. Making matters worse, both starting tackles were seniors this season. Kill signed a junior-college defensive tackle and has two prep tackles committed. He needs to find guys who can find their way to the quarterback.
Overall talent and depth:
Kill has said there are gaps in the Gophers' classes, and depth issues could plague the team during his rebuilding efforts. Including six junior-college players signed to help right away, Minnesota has a class of 28 right now. Minnesota simply needs more bodies everywhere.

Nebraska
Linebacker:
Lavonte David
leaves some rather large cleats to fill. Not only was he Nebraska's leading tackler the past two seasons, he was the only linebacker who played at a consistently high level. The Huskers' starters at the other two linebacker spots will be seniors this year, and depth is thin behind them. So it's little wonder why Bo Pelini has used four spots so far in what is expected to be a small class to fill that position, led by four-star prospect Michael Rose.
Tight end:
Three of the top four options at tight ends will be seniors in 2012, leaving very little behind them. Sam Cotton, son of offensive line coach Barney Cotton and younger brother of current Huskers tight end Ben, is on his way to help.
Quarterback:
Taylor Martinez
is entrenched as the starter going into his junior year, and Nebraska never had to worry about playing
Brion Carnes
in a big spot this year after Bubba Starling opted for baseball. Still, it's dangerous to not have depth at quarterback, and so the Huskers need to add at least one signal caller in this class.

Northwestern
Defensive backs:
The Wildcats were burned repeatedly in the passing game in 2011, and their best defensive back (safety
Brian Peters
) won't be around next season. Head coach Pat Fitzgerald has commitments from three safeties in this class already.
Defensive playmakers:
Northwestern was shockingly short on guys who could blow up another team's offensive play in 2011, so Fitzgerald's main mission had to be finding more guys who played like he did in college. That aim got a big boost when stud defensive end Ifeadi Odenigbo committed to play in Evanston. That's a good start.
Wide receivers:
Highly productive star receiver
Jeremy Ebert
is gone, along with starter
Charles Brown
.
Venric Mark
and
Christian Jones
have a lot of potential as the next big passing targets, but Northwestern's spread offense feeds off of speed and depth at the receiver position. Four receivers have given the Wildcats their pledge in this class.