NCF Nation:

Ifeanyi Momah
September, 8, 2011
9/08/11
4:00
PM ET
Last year it was receiver
Colin Larmond
Jr. who suffered a season-ending knee injury before the season even began.
Last week it was receiver
Ifeanyi Momah
, whose season was cut short when he tore his left ACL against Northwestern. The Eagles' offense continues to take hits. Momah had a great start and had led the team with eight catches for 171 yards before he went down.
A high standard has already been set by Momah, but coach Frank Spaziani said he is confident in
Johnathan Coleman
, Momah's replacement for the trip to Central Florida this weekend. Coleman played in 12 games last year and had 14 catches for 260 yards.
"We love Johnathan," Spaziani said. "He's a big, athletic receiver, he can run, he can catch. He was sort of a developmental kid when we first got him because of his background, which I don't need to go into here and those things. But he's got the athletic talent. We would have hoped that he would have broken through last year, but he's made tremendous strides this preseason, and really has improved.
"Once again, you know, one man's misfortune is another man's opportunity," Spaziani said. "So we expect Johnathan to go in there and perform like his God-given talents."
September, 8, 2011
9/08/11
9:00
AM ET
It wasn't a stellar debut for the ACC in Week 1, nor were my picks anything to brag about. I went 7-4 in the opening week with erroneous picks for Boston College, Wake Forest, Duke and Miami. The first three, I still argue, should have won their respective games. Miami was a gamble, I admit, but the Terps deserve credit for that win.
This week holds some gambles as well.
Upsets, anyone?
Central Florida 31, Boston College 20:
UCF has a talented, athletic quarterback in
Jeff Godfrey
, and the Knights will cause the Eagles' defense some problems. UCF allowed Charleston Southern to gain more than seven yards on only three of its 11 drives last week. BC's offense took another hit when receiver
Ifeanyi Momah
suffered a season-ending injury.
Wake Forest 28, NC State 24:
The Deacs likely would have hung onto their 15-point lead over Syracuse last weekend had quarterback
Tanner Price
not been injured in the fourth quarter. He is expected to play on Saturday, and will be the difference along with running back
Josh Harris
.
Clemson 42, Wofford 17
: Wofford will control the football with the triple option, but they won't be able to stop Clemson. The Tigers failed to convert on their first nine chances on third down against Troy, but will continue the success they had in the second half against Wofford.
Florida State 52, Charleston Southern 0:
The Seminoles will get their first back-to-back shutouts during their time in the ACC. FSU held Louisiana-Monroe to 191 yards of total offense and the Noles had 10.5 tackles for loss.
Stanford 41, Duke 21.
Stanford wins easily, but Duke will score some points. It's one thing to come across the country to play a bowl game, it's another to do it in a weekend. Still, the Blue Devils will be overmatched and won't be able to slow down quarterback
Andrew Luck
.
Middle Tennessee 28, Georgia Tech 27:
The Blue Raiders are well-versed in defending the triple option, and they're coming off an impressive performance in a near-win over Purdue. Middle Tennessee led at Purdue until the Boilermakers hit a 35-yard TD pass with 49 seconds left last week.
North Carolina 28, Rutgers 3:
Quarterback
Bryn Renner
will shine again, and the Tar Heels' defense will stifle the Scarlet Knights. Interim coach Everett Withers praised the Knights' offensive line, but his is better and UNC will win the game up front.
Virginia 34, Indiana 24:
Statistically, Virginia is one of the best teams in the country now. The Hoosiers will have a tough time stopping
Kevin Parks
and the Cavaliers' running game, and Virginia will be able to control the ball just like Ball State did in a 27-20 win over IU last weekend.
Virginia Tech 48, East Carolina 17:
The Hokies will control the ball and go up and down the field. They're good enough defensively that they won't allow ECU a chance to be a real threat. This will be the toughest nonconference test of the season for the Hokies and they will pass -- and run, and pass, and run some more.
August, 15, 2011
8/15/11
9:00
AM ET
It was a busy weekend in the ACC. Here's a look back at the highlights from the scrimmages, according to the sports information departments of the teams that provided reports:

BOSTON COLLEGE
Coach Frank Spaziani told reporters after the 70-minute scrimmage that there were some good things, but "it's like a jigsaw puzzle with all the pieces in the box; they're not connected yet."
Offensive highlights:
Defensive highlights:
Linebacker Nick Clancy and defensive back Sean Sylvia led the team with four tackles each.
Sophomore linebacker Jake Sinkovec had one interception and one fumble recovery.

CLEMSON
Quarterback
Tajh Boyd
had an impressive performance, as he completed 10 of 12 passes for 168 yards and a touchdown to highlight the new offense in Clemson's 75-play scrimmage in Memorial Stadium on Saturday morning.
Offensive highlights:
Defensive highlights
:
The first-team defense did not allow a scoring drive.
Martin Jenkins led the team with seven tackles, including a tackle for loss.
Corico Hawkins had five tackles and a fumble recovery, while freshman defensive end Corey Crawford had five stops, including a sack.
Special teams highlights:
Clemson's three kickers, Chandler Catanzaro, Ammon Lakip and Brian Symmes were a combined 16-of-16 on the day in field goal attempts and extra points against a live rush.
Notable:
Three Tigers missed the scrimmage because they were going through graduation exercises across the street from Memorial Stadium in Littlejohn Coliseum. Starting offensive tackle Landon Walker, starting safety Rashard Hall and reserve defensive end Kourtnei Brown all graduated from Clemson on Saturday. It was especially noteworthy for Hall, who has been at Clemson just three years. He joins Nick Eason (now in the NFL with the Arizona Cardinals) as the only scholarship football players to graduate with two years of athletic eligibility remaining.
Four players missed the scrimmage due to injury. Those players were defensive back Xavier Brewer (sprained foot), defensive back Garry Peters (bruised calf), Andre Branch (head injury), DeShawn Williams (sprained ankle).

GEORGIA TECH
Georgia Tech coach Paul Johnson had mixed reviews after the Yellow Jackets' first scrimmage, which ran 90 minutes inside Bobby Dodd Stadium on Saturday morning.
"It was like a lot of first scrimmages, there were way too many balls on the ground and way too many penalties," Johnson said. "But we hit some big plays. When you play against each other there's positives and negatives on both sides. It's a starting place and we'll look at it and try to make some improvements."
Offensive highlights:
While no official statistics were kept, quarterback Tevin Washington passed for well over 100 yards, including a 63-yarder to senior A-back Roddy Jones. Redshirt freshman quarterback Synjyn Days threw the only touchdown of the day, to true freshman Jeff Greene.
Greene ran with the first unit Saturday as most of the veterans -- junior Stephen Hill, senior Tyler Melton, sophomore Jeremy Moore and junior Daniel McKayhan -- all sat out with injuries.
Washington scored the only other touchdown Saturday on a 1-yard QB keeper.
Defensive highlights:
Defensive end Emmanuel Dieke had a sack, true freshman Jamal Golden intercepted a Vad Lee pass, and Steven Sylvester and Isaiah Johnson both recovered fumbles.
Special teams highlights:
Sophomore Justin Moore booted a 45-yard field goal on his only attempt.
David Scully's 52-yard attempt was long enough, but just wide left.

MIAMI
The most important news out of Miami's first scrimmage was that quarterbacks
Jacory Harris
and
Stephen Morris
combined for five touchdown passes and only one interception. That sounds like improvement. Miami's quarterbacks combined for 407 passing yards on 38-of-52 passing for six touchdowns and only one interception.
Offensive highlights:
Receiver Tommy Streeter had the best offensive day for the Canes, catching five passes for 71 yards and three touchdowns, two of which came from Harris.
Lamar Miller had runs of 16 and 31 yards on the opening drive.
Defensive highlights:
Senior defensive back JoJo Nicolas led all defenders with eight tackles (six solo), with two tackles for loss.
Ramon Buchanan and freshman Gionni Paul and each had six total tackles, with Paul also recording a tackle for loss.
The defense totaled eight tackles behind the line of scrimmage for a total loss of 29 yards

VIRGINIA TECH
The Hokies' offense was the highlight, but what does that mean for the defense? Coach Frank Beamer pointed out that there were some long plays allowed, as the offense racked up 398 yards of total offense in the 78-play scrimmage at Lane Stadium on Saturday afternoon. The touchdowns came against Tech's second- or third-team defense, though, so the jury is still out.
"I thought it was a good first scrimmage -- better than most," Beamer said, according to the team's scrimmage report. "You take into consideration that you're trying to get everyone some work, people who don't know quite what they're doing, and that makes things a little ragged. I thought overall, though, it was a sharp scrimmage. The quarterbacks made some nice plays and Wilson got a couple of long plays against the defense, and we need to see what's going on there. Overall, the effort was good and the play was good."
Offensive highlights:
Backup quarterback Mark Leal led the quarterbacks with 116 yards passing, completing 6 of 13. He also threw an interception. Beamer said Leal is No. 2 on the depth chart behind Logan Thomas. Ju-Ju Clayton, who has dropped to No. 3 on the depth chart, completed 6 of 10 for 51 yards, while starter Thomas completed 4 of 8 for 79 yards, with an interception, in limited action.
Tailback David Wilson scored against the Hokies' second-team defense on a 22-yard run. Wilson led all rushers with 57 yards on five carries. Freshman Michael Holmes added 54 yards rushing on a game-high 11 carries.
Defensive highlights:
Freshman tackle Luther Maddy led the team with eight tackles, including two for a loss, and a sack. Freshman Michael Cole added six tackles, while Telvion Clark and Jack Tyler each finished with four.
Barquell Rivers had three tackles and an interception.
Jayron Hosley and freshman Ronny Vandyke also had interceptions. Hosley intercepted a Logan Thomas pass, while Vandyke intercepted a Trey Gresh attempt.
Special teams highlights:
The kickers connected on 5-of-6 attempts. Cody Journell hit from 35, 22 and 35 yards, while Justin Myer drilled a 52-yarder and a 28-yarder. "Cody's kicking extremely well," Beamer said. "Myer has a load of potential, and he needs to win some of the kicking contests during the week. That shows consistency, and that's where he is right now. Cody is usually winning it or right in the running at the end."
April, 14, 2011
4/14/11
9:00
AM ET
It seems as if Boston College receiver
Colin Larmond Jr.
has made his collegiate career out of waiting.
For two years, he waited patiently for his chance to become a full-time starter. Before he ever had a chance to experience it last year, Larmond suffered a season-ending torn ACL two weeks before the season began. Now, after a spring in which he has been limited to running, lifting and watching, Larmond is once again waiting to be cleared for full participation with the hopes of playing an integral role in BC's offense this fall under first-year coordinator Kevin Rogers.
[+] Enlarge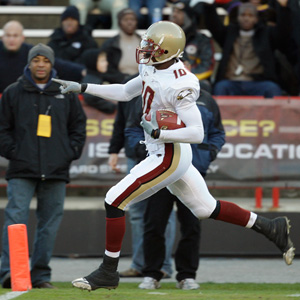 AP Photo/Rob Carr)Colin Larmond Jr.'s best season came in 2009, when he caught 29 passes for 596 yards and five TDs.
Larmond said he expects to be 100 percent by the end of May or early June, and he'll have some catching up to do in summer camp. Every player who caught a pass last season returns at BC, including two true freshmen who gained invaluable experience in
Alex Amidon
and
Bobby Swigert
.
Without Larmond in the lineup, they didn't have much choice.
Amidon led the team with a 21.1 yards per catch average. He totaled 338 yards on 16 catches and had two touchdowns. Swigert led the team in catches (39), yards (504), touchdowns (4) and average per game (38.8).
Ifeanyi Momah
is returning for his fifth year and was second among wide receivers with 31 catches, 338 yards and a 26.0 per game average. The Eagles also return
Clyde Lee
,
Johnathan Coleman
, and
Shakim Phillips
.
Larmond said he feels like he has to win his job back.
"Coach always says no one's jersey is tattooed on them," Larmond said. "That's good and it also gives me more motivation. It's like, 'OK, well guess what? No one remembers you now because you sat out and these guys came in and stepped up.' It's just like the real world. If you can't get the job done, somebody else will replace you, or if you go down, there's someone there to fill in. I'm going to have to work even harder than those guys. Even though I've been here it doesn't really matter because when I wasn't there, those guys stepped up. Their numbers were called and they made plays."
And unlike Larmond, they've had the spring to practice the new offensive scheme. Larmond said he's been studying it and he feels like he knows it, but …
"Those guys have been doing it day in and day out for the past month," he said. "I'm in meetings and I understand it, but it's different when you're sitting there instead of actually being out there and showing you understand it. There's a whole bunch of things I feel like I have to prove when I come back, not just for myself but also Coach Rogers and this new offense."
Last Tuesday, Larmond received a brace for his ACL. He's been working on getting his knee stronger, but has a separate workout from his teammates to help rebuild the strength in his hamstring and quad. Larmond hasn't run full speed in about eight months, so he will need the rest of the offseason to get reconditioned, but he also said he needs the time to get mentally stronger as well.
"I know that when that day comes back around in camp again, it's going to be on my mind -- OK, let's hope this doesn't happen again," he said. "That mental aspect of the game, which was my main concern, making sure I get over that hump, over that hurdle, knowing that I'm going to go out there and run this 110 percent, not being nervous that I might mess my knee up again. The time is going to be very helpful."
And a healthy Larmond could be even more helpful to BC's offense in 2011.
April, 4, 2011
4/04/11
3:30
PM ET
Boston College quarterback
Chase Rettig
threw two touchdown passes on Saturday in the Eagles' first scrimmage of the spring. It was also the debut for first-year offensive coordinator Kevin Rogers.

Offensive highlights

:
Rettig completed 11 of 16 passes for 171 yards.
Dave Shinskie, who lost the starting job to Rettig last year, completed 8 of 10 passes for 97 yards and three touchdowns.
Junior Mike Marscovetra (11-13, 86 yards) and redshirt freshman Josh Bordner (5-13, 32 yards) were also in the quarterback rotation.
Sophomore Alex Amidon led all receivers with four catches for 79 yards and a touchdown.
Senior Ifeanyi Momah had four catches for 74 yards and two touchdowns.
Defensive highlights

:
Linebacker Luke Kuechly led the defense with eight tackles.
Linebacker Kevin Pierre-Louis had seven tackles and a pass breakup.
October, 23, 2010
10/23/10
4:03
PM ET
And, suddenly, we have a ball game.
All the Eagles needed was one big play, and receiver
Bobby Swigert
was in the right place at the right time to give it to them.
Chase Rettig
overthrew
Ifeanyi Momah
, the ball was tipped and Swigert caught it for a 66-yard reception on the Maryland 3-yard line.
Montel Harris
scored on the following play and cut BC's deficit to 24-21 with about seven minutes remaining. The Eagles have the momentum at home and the defense to keep it, but no longer have any margin for error after three turnovers.
August, 23, 2010
8/23/10
1:27
PM ET
Boston College wide receiver
Colin Larmond Jr
. suffered a season-ending knee injury Saturday that will require surgery, the school announced on Monday.
This is a huge blow to the Eagles' receiving corps and the passing game, as Larmond Jr. was expected to be the team's top receiver this fall. He was the leading returning receiver with 29 receptions for 596 yards and five touchdowns last season. He led the 2009 team in yards per catch (20.6) and finished second in receptions (29), yards (596), touchdowns (five) and average per game (45.8).
It's now crucial that
Ifeanyi Momah
produces, as he more than likely will start. Momah redshirted last season because of injury, but in 2008 he caught 11 passes for 149 yards and was second on the team with three touchdowns. The staff had planned to use Momah as a defensive end in addition to his receiver duties this fall, but this will likely scratch those plans. The other starter at receiver is
Billy Flutie
, who caught five passes last season.
Beyond those two, there really isn't much depth or experience to depend upon. Sophomore
Clyde Lee
caught four passes last season, and senior
Ryan Lindsey
has one career reception. True freshman Bobby Swigert is likely to end up playing, and he has looked good in the scrimmages. True freshman Shakim Phillips would be right in the mix, but he has been sidelined with a hamstring injury. Alex Amidon is another true freshman who might help.
The Eagles are fortunate to have running back
Montel Harris
. He might have to catch the ball out of the backfield a little more than eight times this fall, though.
TOP 25 SCOREBOARD
Saturday, 12/21
Monday, 12/23
Tuesday, 12/24
Thursday, 12/26
Friday, 12/27
Saturday, 12/28
Monday, 12/30
Tuesday, 12/31
Wednesday, 1/1
Thursday, 1/2
Friday, 1/3
Saturday, 1/4
Sunday, 1/5
Monday, 1/6