NCF Nation:

Irish-Spartans-091512
September, 16, 2012
9/16/12
3:22
AM ET
EAST LANSING, Mich. -- Let me tell you what more than a few giddy Notre Dame followers are doing after the Fighting Irish upset Michigan State, 20-3, Saturday night.
They're looking at ND's schedule and they're channeling their inner Ara or Lou. They're letting their imaginations wander. They're dreaming of Jan. 7, 2013, in Miami.
Jan. 7 ... and the BCS Championship.
"Don't do it," warned senior wide receiver John Goodman, whose first-quarter touchdown catch gave Notre Dame all the lead it would need. "From past experiences, if we ever looked ahead or something, things didn't work out."
They worked out against Michigan State. And who knows, maybe it stays that way.
After the victory against 10th-ranked Michigan State, a small, but vocal group of ND fans in the corner of Spartan Stadium began chanting, "Un-de-feated." Then the Notre Dame cheerleaders picked up their megaphones and started their own chant: "B-C-S ... B-C-S."
What once seemed impossible -- Notre Dame making a run at a national title -- now seems a tiny bit plausible. I'm not saying it will happen, but I do know this: the Irish are 3-0 and the Spartans aren't.
For Gene Wojciechowski's full column, click
here
.
September, 16, 2012
9/16/12
2:31
AM ET
EAST LANSING, Mich. -- So this was how
Manti Te'o
would respond to a week out of left field, tragedy striking him not once but twice, two of the most important women in his life gone in a matter of hours.
The postgame television interview was done and here he came, the linebacker the last one to meet his fellow students in the northeast corner of Spartan Stadium, their adoration slowly carrying him through the final words of the Notre Dame alma mater after
a 20-3 victory
over Michigan State.
"We love you Manti!" the gathering repeatedly shouted, with Te'o responding by blowing them kisses.
He had fought his way to a game-high 12 tackles, five of them on
Le'Veon Bell
, the Heisman candidate he helped limit to 77 yards on a night the Spartans struggled to move the ball against the Irish's defense.
And still, here he was, extending his hand toward the crowd, leaping and greeting Irish basketball players
Eric Atkins
and
Joey Brooks
, two of the hundreds who made the 150-mile trip to watch Notre Dame go 3-0.
This was validation of Te'o's return for his senior year, his decision to pass up millions repaying him now, letters and support coming from all over after he said goodbye to his grandmother and his girlfriend earlier in the week.
"My family and my girlfriend's family have received so much love and support from the Notre Dame family," Te'o
said. "Michigan State fans showed some love. And it goes to show that people understand that football is just a game, and it's a game that we play, and we have fun doing it.
[+] Enlarge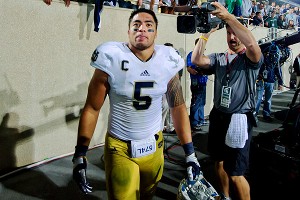 Matt Cashore/US PresswireManti Te'o, playing days after the deaths of his grandmother and his girlfriend, had 12 tackles and a fumble recovery against Michigan State.
"But at the end of the day what matters is the people who are around you, and family. I appreciate all the love and support that everybody's given my family and my girlfriend's family."
He had made it to practice every day last week, stopping right before one to remind his teammates that he loved them, that he wasn't going anywhere, that he'd be playing for them and for his family.
"He's just one of our great leaders and one of our best all-time players," receiver
John Goodman
said, "and if you don't rally around a player like that, the camaraderie isn't right, and I think the camaraderie is right on our team."
He had gotten a big lift, too, from the little man who always seems to be in the right place at the right time. Five-foot-nine
Robby Toma
led Notre Dame with five catches covering 58 yards, but his biggest impact came earlier in the week.
So close with Te'o back in Hawaii that he calls Teo's father "Uncle Brian," Toma has been there for Te'o throughout their college careers -- from the earlier deaths of Te'o's grandfather and two of their good friends from home, to the past week, when they chatted in their apartment together and in the hotel room before Saturday night's game.
"Earlier in the week he told me he needed me," Toma said. "I've known him since we were 5 years old. And I was just there for him when he needed to talk or whatnot.
"He's a real strong guy -- spiritually, mentally, physically -- and I was just there to be his backbone."
When Te'o stopped Bell a yard behind the line of scrimmage early in the third quarter, he got up, kissed his fingers and gently pointed to the sky, a thank-you to the grandmother and the girlfriend who helped bring him to the brink of stardom.
"There's nobody," Brian Kelly said when asked if he'd ever had someone like Te'o over his 22 years of coaching. "He's so strong for everybody that when he was at a time, everybody wanted to help him out, and I've never seen that dynamic amongst a team and a group of players. It's a pretty close locker room."
With Notre Dame up by 14 late, Bell was shoved out of bounds on his 19th and final carry of the game, the ball popping loose and landing in Te'o's arms for his second career fumble recovery.
The remaining fans let out their biggest roar of the night, and the worst week of Manti Te'o's life was on its way to a good ending, though the pain was still alive.
"Yeah," he said when asked if Saturday could have ended any better. "I could call my girlfriend right now and talk about the game.
"But I've just got to get on my knees, say a prayer and I can talk to her that way."
September, 16, 2012
9/16/12
2:23
AM ET
EAST LANSING, Mich. -- Mark Dantonio has never been one to minimize the magnitude of certain games, and Friday night he told his Michigan State players they would face a "defining moment" the following day.
The 10th-ranked Spartans had rival Notre Dame in their house for a national showcase game in prime time. Dantonio never bought into rankings or preseason hype for his team, but he knew games like Saturday night's provide a barometer.
Michigan State got a chance to look in the mirror, and it didn't like what it saw. With a chance to measure up, as Dantonio would say, the Spartans saw their flaws exposed and failed to once seize momentum in a thorough
20-3 loss
to the visiting Fighting Irish.
"No question they earned the victory," Dantonio said. "They outplayed us. They outplayed us up front. They outplayed us pretty much everywhere, I would say. Out-coached us as well."
Notre Dame snapped Michigan State's 15-game home win streak in convincing fashion, and held the Spartans out of the end zone on their home field for the first time since Sept. 14, 1991, when they opened the season with a 20-3 loss to Central Michigan.
"It's a pretty bad situation," senior linebacker
Chris Norman
said. "We just lost to one of our biggest rivals at our house at night time."
Added tight end
Dion Sims
: "It was definitely a defining moment."
Michigan State had the perfect setting, the perfect opponent and the perfect audience to validate itself on the big stage as a team to be reckoned with this season. The Big Ten had taken a beating in Week 2, but the Spartans looked like the league's beacon through the first two games. They had flaws -- a first-year starting quarterback in
Andrew Maxwell
, an inexperienced receiving corps -- but also the type of strengths to keep winning for a while, perhaps a long while. Maybe, just maybe, Michigan State could take the next step from good (back-to-back 11-win seasons) to great.
[+] Enlarge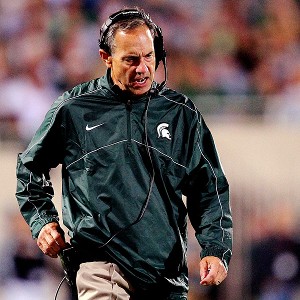 Mike Carter/US PRESSWIREDown about being placed in the Big Ten's East Division, Michigan State fans? Just consider coach Mark Dantonio's recent feats if you need a lift.
Instead, the Spartans took a step backward in a game that couldn't conceal their warts. The receivers dropped passes and couldn't stretch the field. An offensive line playing without two starters, including emotional leader
Fou Fonoti
at right tackle, couldn't protect Maxwell, who was sacked four times and was under constant duress. Maxwell didn't commit a turnover, but he still looked more like a power pitcher than a quarterback at times, firing bullets even seasoned receivers would have a tough time catching. Much like the Big Ten championship game in December, an aggressive punt block led to a critical penalty and kept a drive alive.
But every college team outside Tuscaloosa, Ala., has weak points. Every game also provides opportunities, and the Spartans literally had them slip through their fingers Saturday night.
"We never really seized momentum," Dantonio said. "We really never got that one play."
The Spartans nearly did it in the first quarter after Notre Dame took a 7-0 lead. Notre Dame lined up in man coverage and Michigan State took advantage, as Maxwell lofted the ball to the end zone, where it caromed off receiver
Bennie Fowler
's hands.
"I thought it was a catch when it fell into him," Maxwell said. "And when I saw it wasn't, I was obviously disappointed."
One play doesn't define a game, but Michigan State never made the play to change the tenor.
"If we catch that, maybe that changes the complexion," offensive coordinator Dan Roushar said. "... We just didn't make plays and things didn't go right, and we didn't make them go right."
The same held true for Michigan State's heralded defense, which hadn't surrendered an offensive touchdown in its first two games, but had been challenged by coordinator Pat Narduzzi during the week to find the next gear. Despite some early miscues, the Spartans stifled Notre Dame's offense for chunks of the game. But they never generated the sudden change they needed.
Several back-seven players had chances to intercept freshman
Everett Golson
, including junior linebacker
Max Bullough
, who couldn't hang on to the ball near midfield just before halftime.
"It's a missed opportunity on my part," Bullough said, "and quite frankly, it's embarrassing. Those are plays I need to make, and will make in the future."
The defense was short on highlights and couldn't pin Notre Dame near its end zone in the fourth quarter, but the unit is still strong enough to help Michigan State go a long way this fall, especially in a Big Ten that looks as weak as ever. The bigger questions rest with the offense, from Maxwell to the receivers to the short-handed line. Michigan State averaged just 3.4 yards per play, with just two stretching longer than 20 yards. The Spartans never reached the red zone.
Dantonio plans to evaluate everything in the coming days and said the staff would face "some tough decisions" about personnel.
"This might be our low in terms of production," he said.
"We're better than that," Roushar said. "We can be better than that."
The only sliver lining for the Spartans after a buzzkill of a game is that they've been here before. Last year, in fact, after getting thumped 31-13 at Notre Dame Stadium. They responded to win the inaugural Legends Division championship and came within a whisker of reaching the Rose Bowl.
This is a different team with different challenges, but the reference point is there.
"You can use an opportunity like this to really define yourself as a team, how we respond to this kind of situation," Norman said. "The same thing happened last year, but we were able to respond and we had a successful season. ... It's definitely possible. We just have to take initiative."
Short on big plays but long on accountability, Sims said he and his teammates won't soon forget Saturday's loss. It defines them now, but they don't plan to let it define them in the end.
"This game ... has a way of bringing you back down to earth," Dantonio said. "We got a taste of some humble pie, I guess. We'll handle it."
September, 15, 2012
9/15/12
11:47
PM ET
Notre Dame had lost nine consecutive games to teams ranked in the AP top 10, but behind an inspired and emotional performance from senior linebacker
Manti Te'o
, the 20th-ranked Fighting Irish erased that streak and made a strong case to be in the top 10 themselves with a
20-3 victory
over No. 10 Michigan State in East Lansing.


It wasn't the cleanest game Notre Dame could've played, but with its 3-0 start (the first time that has happened in more than a decade) the Irish are setting themselves up for one of their better seasons in recent memory.
It was over when
: The Spartans turned it over on fourth-and-5 with just over four minutes remaining. The Irish would settle for a field goal on the ensuing possession, but the lead at that point was 17-3, so it didn't matter that they didn't make it all the way to the end zone.
Game ball goes to
: Notre Dame's front seven.
The Fighting Irish provided constant pressure on Michigan State junior quarterback
Andrew Maxwell
all game. They sent blitz after blitz and kept the first-year starter uncomfortable. Maxwell finished 23 of 45, with neither touchdown nor interception.
But more impressively, Notre Dame kept junior running back
Le'Veon Bell
in check. Bell, who had averaged 140 yards and two touchdowns per game coming into the Notre Dame matchup, ran for just 77 yards on 19 carries.
And as a unit, the Spartans accounted for just 50 yards on the ground -- nearly 150 yards less than their season average.
Stat of the game
: In the past decade, the Spartans had only been held to three points twice -- both to Nebraska (once in 2011, once in 2003), though not in the past 10 years have they been held to so little at home.
What it means
: Big Ten teams have been given a blueprint for how to handle the Spartans. No, not every conference team has the front seven that Notre Dame does, but for teams wanting to stop a foe that's expected to contend for the Big Ten title, Notre Dame just showed you how.
September, 15, 2012
9/15/12
7:42
PM ET
Michigan State will be without starting right tackle
Fou Fonoti
as it faces Notre Dame's formidable defensive line tonight at Spartan Stadium.
Fonoti suffered a foot injury in Thursday's practice and had surgery Friday, according to ESPN's Heather Cox. Fonoti will miss six to 10 weeks. Sophomore
Skyler Burkland
, who suffered a season-ending injury last year against Notre Dame, will start in Fonoti's place. A junior college transfer, Fonoti started the final 11 games last season at right tackle and the first two this fall.
There's another change to the Spartans' starting offensive line as
Ethan Ruhland
gets the nod at left guard over
Blake Treadwell
and
Jack Allen
, who is a bit banged up but available. It will be Ruhland's first career start.
September, 15, 2012
9/15/12
7:00
PM ET
EAST LANSING, Mich. -- Welcome to Sparta.
The Big Ten's featured matchup of the day takes place tonight as No. 10 Michigan State hosts No. 20 Notre Dame. The Spartans aim for their third consecutive home win against the Fighting Irish, and their 16th consecutive victory at Spartan Stadium. Great tailgating scene around the stadium today, and I'm very impressed with the new scoreboards Michigan State has installed. They really enhance the setting.
Michigan State is clearly the class of the Big Ten, and the Spartans get most of their marquee games -- Boise State, Notre Dame, Ohio State, Nebraska -- on their home field. This benefits first-year starter
Andrew Maxwell
, who overcame some struggles in the opener against Boise State, and has the help of an elite defense that hasn't reached its peak yet, as well as a standout running back in
Le'Veon Bell
.
The quarterback situations for both teams should be fascinating as Notre Dame sends redshirt freshman
Everett Golson
back on the field after replacing him with
Tommy Rees
in last week's win against Purdue. Coach Brian Kelly is sticking with Golson as his starter, but he never has been shy about making changes, and Michigan State has prepared to see both quarterbacks. The Irish regain the services of running back
Cierre Wood
, and could find success attacking the middle of the field as Michigan State is so-so at defensive tackle and could struggle against tight end
Tyler Eifert
. Notre Dame star linebacker
Manti Te'o
is playing with a heavy heart after losing his grandmother and a friend this past week. Expect an inspired performance from Te'o.
Michigan State has yet to allow an offensive touchdown this season, but coordinator Pat Narduzzi really challenged his unit this week. It'll be interesting to see how they respond against a young Irish quarterback.
This game has provided plenty of thrills, especially
two years ago at Spartan Stadium
. So sit back, relax and enjoy. We'll be
chatting throughout
.