NCF Nation:

Irish-Wolverines 091209
September, 12, 2009
9/12/09
9:40
PM ET
Posted by ESPN.com's Brian Bennett
ANN ARBOR, Mich. -- Notre Dame's players have become as familiar with road losses and where-do-we-go-from-here queries as they are with the lyrics to the school fight song.
Saturday's 38-34 loss to Michigan
felt a little different, however. This felt more like one that got away than one they simply weren't good enough to take.
"Obviously, I've been through a lot of losses here," senior center Eric Olsen said. "This one is painful because we know what we're capable of and what our goals are."
This was supposed to be the season that the Fighting Irish won 10 or 11 games and got back to national prominence. Instead, two weeks in they find themselves at 1-1 and needing to beat Michigan State next week at home in a game pitting two suddenly desperate teams.
And so again Charlie Weis -- whose job security will come under renewed scrutiny -- had to tell his players it was up to them to end this repetitive feeling. Weis gave a similar come-to-Touchdown-Jesus speech after last year's 38-3 loss at USC in the regular-season finale. The team insists, however, that it doesn't need to hear those words nearly as much this time around.
"This right here is a small speed bump, as far as I'm concerned," receiver
Golden Tate
said. "We beat ourselves."
Unlike the past two years, the Irish showed some heart when adversity struck.
Michigan took a 31-20 lead early in the fourth quarter and had all the momentum in its favor. Instead of wilting, though, the Irish rallied back to score a touchdown on a 14-play drive. Then they forced a turnover, on Kyle McCarthy's interception, and punched it in again for another touchdown to take a 34-31 lead with 2:29 left.
Quarterback
Jimmy Clausen
proved his recent stellar play wasn't just a product of Swiss-cheese WAC defenses. He completed 25-of-42 passes for 336 yards and three touchdowns with no interceptions and continues to make solid decisions in the pocket
"You can look at a lot of people for what went wrong," Weis said, "but you can't look too much at him."
Notre Dame has a lot of things to work with now, including a seemingly-unstoppable receiver in sophomore
Michael Floyd
(seven catches, 131 yards before a leg injury forced him out late) and an improved running game that saw Armando Allen run for a career-best 139 yards.
Still, this latest loss didn't come at USC. This was to Michigan, a team itself battling back from last year's 3-9 disaster. The Wolverines gashed through the Irish defense in the second half behind a freshman quarterback,
Tate Forcier
. Notre Dame left too many points on the board in the first half because of poor red zone execution and got stymied in the third quarter by the Michigan pass rush.
Then there were the mental mistakes. Allen got called for a celebration penalty on the Irish's final touchdown by putting his finger to his lips to shush the crowd. Weis let Michigan hang onto its timeouts and have plenty of time for the winning drive by throwing the ball twice in the final two minutes instead of running the ball and draining clock. The normally sure-handed Tate dropped two potential touchdown passes and failed to get out of bounds or go down on the last play to give his offense one more shot.
"It was just a lack of focus on my part," Tate said. "I put this loss on my back."
Tate doesn't deserve that much blame; lack of focus may have been a team-wide issue. Olsen said Tuesday and Wednesday's practices were sloppy as some guys tried to coast through the workouts. He thinks that directly translated to Saturday's nine costly penalties and other problems.
Notre Dame might be a better team this year, but it still can't afford those kinds of slip-ups. Not unless it wants to keeps repeating its recent history.
"We have to use this game as a springboard and look ourselves in the mirror," Olsen said. "There's no other choice for us."
September, 12, 2009
9/12/09
7:27
PM ET

Posted by ESPN.com's Brian Bennett
ANN ARBOR, Mich. -- Instant analysis from
Michigan's 38-34 win over Notre Dame
:
How the game was won:
It was an entertaining game full of wild momentum swings and came down to who had the ball last. Michigan coach Rich Rodriguez put the game in the hands of quarterback
Tate Forcier
, and the freshman came through with a performance they'll be talking about in Ann Arbor for a long time. Forcier ran the spread option like one of Rodriguez's vintage teams at West Virginia for most of the second half and led the Wolverines on a 57-yard touchdown drive in the final minute for the win.
Player of the game:
Forcier. He wasn't perfect, throwing a costly interception in the fourth quarter. But for a freshman, on this stage, he was mighty impressive. He finished with 232 passing yards and two touchdowns and ran for another 68 yards and a score.
Second guessing:
Protecting a 34-31 lead with under three minutes left, Notre Dame coach Charlie Weis made a few curious calls. First, he handed the ball to fullback
Robert Hughes
on first down instead of Armando Allen, who had had a great game to that point. Hughes was stuffed for no gain. Then he threw the ball twice, both resulting in incompletions that stopped the clock and gave Michigan the ball back with plenty of time. The Wolverines also got to keep their timeouts, which came in handy on the final drive.
What it means:
Forget the preseason controversies surrounding Rich Rodriguez. Winning cures all ills. Michigan is 2-0 and has an excellent chance of starting 4-0 or even 5-0. The rebuilding project suddenly looks pretty far along.
What Notre Dame learned:
The Irish aren't a national title contender yet. There's still plenty of season left, and the Irish can work their way into BCS contention still, but issues remain on defense and little things like clock management. Notre Dame showed toughness in battling back from a 31-20 fourth-quarter deficit to take the lead, but it still hasn't figured out how to close things out on the road.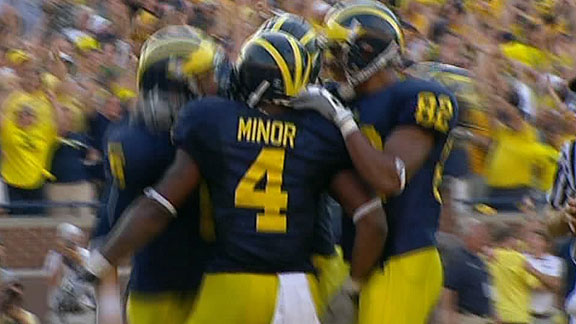 September, 12, 2009
9/12/09
6:55
PM ET

Posted by ESPN.com's Brian Bennett
ANN ARBOR, Mich. -- A possible big blow for Notre Dame. Star receiver
Michael Floyd
has been taken off the field with an apparent leg injury. He walked up the tunnel with a noticeable limp with 6:22 left.
Floyd has had another huge day, going over 100 yards receiving and scoring a touchdown. It may now be up to
Golden Tate
,
Kyle Rudolph
and perhaps someone like freshman
Shaquelle Evans
to step up in his absence.
September, 12, 2009
9/12/09
6:18
PM ET

Posted by ESPN.com's Brian Bennett
ANN ARBOR, Mich. -- What a difference from the first half.
Michigan held Notre Dame scoreless in the third quarter as its pressure continues to disrupt the timing between
Jimmy Clausen
and his receivers. Clausen has had very little time, and when he has, the Irish have more often than not been called for holding penalties.
Meanwhile, the Wolverines' offensive line is controlling the trenches and helping keep the Notre Dame offense on the sideline.
This one could still go either way, but Charlie Weis needs to do something to slow down the Michigan pass rush. The running game has all but disappeared for the Irish.
September, 12, 2009
9/12/09
5:57
PM ET

Posted by ESPN.com's Brian Bennett
ANN ARBOR, Mich. -- We said at halftime that Michigan either needed to bring more pressure or drop more guys to help cover the Notre Dame wide receivers.
Well, so far, Greg Robinson has opted for the former, and it's been a great idea. The Irish have fumbled and punted on their first two second-half possessions. The fumble was caused by linebacker Stevie Brown, who was blitzing into the backfield.
Jimmy Clausen
has had guys in his face so far in the second half and hasn't had time to connect with his wideouts.
Momentum is definitely in Michigan's favor now. But this game has been full of momentum changes.
September, 12, 2009
9/12/09
5:50
PM ET

Posted by ESPN.com's Brian Bennett
ANN ARBOR, Mich. -- To start the second half, Michigan's offense looks like the vintage West Virginia teams under Rich Rodriguez.
The spread option play is helping the Wolverines spit out big gainers on the ground. They drove all the way to the Notre Dame 1 on the first possession of the second half before missing a field goal and just scored to take the lead.
Tate Forcier
and
Brandon Minor
are running the spread option like Pat White and Steve Slaton, finding lots of room up the middle.
Notre Dame's defense, which played so well much of the first half, looks a little confused right now. Time for Jon Tenuta to make adjustments.
September, 12, 2009
9/12/09
5:15
PM ET

Posted by ESPN.com's Brian Bennett
ANN ARBOR, Mich. -- Quick analysis of the first half, which ended with Notre Dame leading Michigan, 20-17.
Turning point:
After
Darryl Stonum
's 94-yard kickoff return for a TD, Notre Dame answered with 17 straight points. The Irish found success throwing deep, with
Jimmy Clausen
connecting on several long passes to
Michael Floyd
.
What Michigan needs to do:
The Wolverines either need to get pressure on Clausen or bring some help on Notre Dame's receivers. Right now, they're doing neither and getting punished on defense.
What Notre Dame needs to do:
Get sevens not threes. The Irish are moving the ball almost at will but have had to settle for field goals three times, making two. That's about all that's keeping Michigan in the game right now, because the Irish defense is playing well.
September, 12, 2009
9/12/09
5:00
PM ET

Posted by ESPN.com's Brian Bennett
ANN ARBOR, Mich. -- The momentum has swung here in a big way, and now it's the Wolverines who need to bounce back.
Since the kickoff return for a touchdown, the Michigan offense has gone three and out twice. Meanwhile, the Notre Dame offense is taking over this game, racking up nearly 300 yards already in the first half. The Irish reached the red zone on four of their first five possessions and got to the 25 on the sixth one. They could easily have 31 points on the board.
The best player on the field so far? Notre Dame's
Michael Floyd
, Michigan is having little luck covering him one on one.
Denard Robinson
, curiously, has been in on only one play so far for the Wolverines and gained just a yard.
September, 12, 2009
9/12/09
4:38
PM ET
Posted by ESPN.com's Brian Bennett
ANN ARBOR, Mich. -- Notre Dame answered its test by coming back on an impressive scoring drive to make it 14-10. More importantly for the future of this game lies with the Irish ground attack: It actually looks pretty good for a change.
Armando Allen already has 67 yards on 13 carries, including some tough yards on third down. The Notre Dame line has done a good job of giving him room. If that keeps up, the Irish will be able to open up the passing game like they last drive, when
Michael Floyd
and
Golden Tate
both having big catches.
Michigan cornerback Boubacar Cissoko was victimized on both those receptions in single coverage. But it's hard for anybody to cover those guys one-on-one all day.
September, 12, 2009
9/12/09
4:25
PM ET

Posted by ESPN.com's Brian Bennett
ANN ARBOR -- Earlier we talked about how each team would deal with adversity.
Notre Dame is the first team to get that test. The Irish are down 14-3 after the first quarter and have had some things go against them. Armando Allen had a sure touchdown on a screen pass but stepped out of bounds. Nick Tausch missed an easy field goal. And
Darryl Stonum
returned a kick 94 yards for a touchdown, Michigan's first kickoff return for a score since 2005.
This isn't Nevada or Hawaii. It's time for Notre Dame to show what this year's team is made of.
September, 12, 2009
9/12/09
4:07
PM ET
Posted by ESPN.com's Brian Bennett

ANN ARBOR, Mich. -- Notre Dame's defense gave up some big plays to Nevada last week but stiffened when it had to. Not so here in the first quarter against Michigan.

The Wolverines used a few big plays -- including a 40-yard pass to Greg Matthews over cornerback Darrin Walls -- to march 79 yards for a touchdown. Michigan overcame a couple of potentially costly penalties and is finding room to operate both in the spread option and passing game.

On the other side, Jimmy Clausen isn't finding life nearly as easy as he had it in the last two games. He was pressured twice on the last series, including once when Michigan sniffed out a play action.
September, 12, 2009
9/12/09
3:07
PM ET

Posted by ESPN.com's Brian Bennett
ANN ARBOR, Mich. -- Notre Dame linebacker Toryan Smith, who was reportedly injured in practice this week, is dressed and went through regular warmups. I didn't see a hitch in his giddy-up or any kind of wrappings or braces. We'll see how much he actually plays. Manti Te'o came out with the first-team defense when the Irish did on 11-on-11 warmups.
Also, keep an eye on kickoff returns today, since Notre Dame's
James Aldridge
is out with a knee injury. Freshman
Theo Riddick
may get some opportunities to make big plays.
September, 12, 2009
9/12/09
2:27
PM ET

Posted by ESPN.com's Brian Bennett
ANN ARBOR, Mich. -- Greetings from the Big House.
This is my first time here, and I couldn't have picked a more beautiful day. The temperatures are in the 70s, with lots of sunshine.
The big pre-game news is that Notre Dame starting middle linebacker Toryan Smith got hurt in practice this week and may not play today. Expect Brian Smith to slide over to the middle, and true freshman Manti Te'o will likely start. This could be Te'o's national coming-out party.
This shapes up as an important game for both schools' fates this season. The winner could gain some steam and get on a little roll, while the loser will have to face some questions. A couple of key things I'll be looking at include:
How will each team deal with adversity when it strikes? Notre Dame has had an easy go of things in its last two games, both blowout victories. But the Irish were not good on the road last year, and Jimmy Clausen's numbers away from South Bend pale in comparison to his home stats. How will Notre Dame respond if it falls behind or its offense isn't clicking? And for Michigan, this is a team that's young in some key spots, especially quarterback, and has it fully recovered mentally from last year's 3-9 debacle?
Will Notre Dame spend a lot of time in max protect in order to neutralize Michigan's pass rush, and if so, can Michael Floyd and Golden Tate get free? That's what happened against Nevada, and Floyd had two long touchdown catches. But Nevada's pass defense is putrid, and Floyd shouldn't get free as easily as he did last week. What other options does Notre Dame have if Michigan can stay in front of those two guys?
Much more to come throughout the day.