NCF Nation:

Isaac Rochell
January, 22, 2014
1/22/14
9:00
AM ET
For three years, Brian Kelly had success like few others in recruiting players back to school. Sure, Kyle Rudolph left after Year 1 of the Kelly era, but since then the Notre Dame coach had successfully gotten Michael Floyd, Manti Te'o, Tyler Eifert, Louis Nix and
Zack Martin
to come back to the Irish for their fourth (and, in Martin's case, fifth) seasons of college ball.
That changed drastically this season. With several highly projected underclassmen on their roster, the Irish figured to say goodbye to one or two underclassmen early. And even when Kelly said in late December that he had submitted paperwork to the NFL advisory board for
Stephon Tuitt
,
Troy Niklas
and
George Atkinson III
, few expected all three to leave school early.
Then January came along, and within one week's span, all three players declared for the draft, choosing to avoid the recent trend and skip their final seasons. Each had his reasons, so here's a look at the trio and a look at who on the Irish roster will be tasked with filling the big shoes in 2014.
(Worth noting: Nix, who had a fifth season of eligibility available to him in 2014, is not included in this group, because he graduated in December.)
Leaving:
Stephon Tuitt
Replacement:
Isaac Rochell
The outlook:
It is worth noting that
Justin Utupo
will return for a fifth year
and that veterans
Tony Springmann
(ACL, infection) and
Chase Hounshell
(shoulder) are expected to be back at full health next fall after both missed the 2013 season. Together, all will be counted on to replace the production of Tuitt, who was one of the best pass-rushers in school history. Still, if the Irish are looking for a youngster to step up, they will turn to Rochell, who ended up seeing much more playing time as a true freshman than initially expected this past fall, given the injury bug that affected the Irish in the trenches. ESPN's No. 139 overall player from the class of 2013 played in 11 games, recording 10 total tackles. The 6-foot-3.5, 280-pounder is a far cry from the 6-foot-6.5, 312-pound Tuitt physically, but most typically are. The bottom line is Tuitt will be the hardest of Notre Dame's early departures to replace, but Rochell will probably see his role increase the most in his sophomore season. Junior
Sheldon Day
, entering his second year as a starter, will be counted on even more this coming fall as well.
[+] Enlarge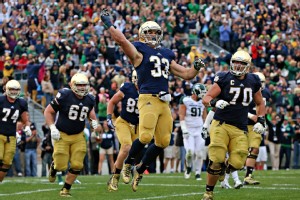 Jonathan Daniel/Getty ImagesCam McDaniel (33) led the Irish with 705 rushing yards in 2013.
Leaving:
George Atkinson III
Replacement:
Cam McDaniel
,
Tarean Folston
,
Greg Bryant
The outlook:
Atkinson should be the easiest of the early departures to replace, as his playing time and production took a big dip late during this past season. He was ultimately suspended for the New Era Pinstripe Bowl for what Kelly called a violation of team rules, a violation that Atkinson later tweeted (and then deleted) consisted of him texting during a team meal. Still, the Irish have the always-reliable McDaniel back for another year, and the Coppell, Texas, native actually had more carries (152-93) and rushing yards (742-583) than Atkinson in 2013 while helping with kick-return duties as well. The most important developments to keep an eye on, though, are those of Folston and Bryant, both of whom came to Notre Dame as highly touted four-star backs expected to deliver immediate boosts. Bryant had trouble gaining playing time early and ultimately suffered a knee injury that forced him to take a medical redshirt, but Folston came on strong late in the season, finishing with 88 carries for 470 yards and three touchdowns. Things will be tougher next season with a rebuilt offensive line, and all of these backs need to improve as pass-catchers, but there remains plenty of promise in the fold. Let's not rule out redshirt junior
Amir Carlisle
, either.
Leaving:
Troy Niklas
Replacement:
Ben Koyack
The outlook:
Niklas, who began his career at linebacker, played tight end at Notre Dame for just two years, coming on this past fall after the departure of Eifert, as he hauled in 32 passes for 498 yards and five touchdowns. He was improving as a blocker and was on track to become one of the best tight ends in the country next season. Now Koyack will be tasked with a bigger workload in his senior season. He, too, came on strong late last season, finishing with 10 catches for 171 yards and three touchdowns, though he often played in two-tight-end sets with Niklas and gave the Irish plenty of offensive flexibility.
November, 4, 2013
11/04/13
9:00
AM ET
SOUTH BEND, Ind. -- As Brian Kelly was finishing up his postgame press conference Saturday, an unexpected visitor made an appearance during the penultimate question.
"Jaylon, we'll be done in a second," Kelly said to
Jaylon Smith
, who had entered prematurely. "I know it's your press conference, but I'll be done in a second, and we'll let you get going. Is that all right?"
"Sorry," Smith said to the room of reporters. "I'm new to everything."
Within 24 hours, it turned out the freshman linebacker would be a seasoned veteran by Notre Dame's defense's standards. The Irish are hurting on that side of the ball -- just trying to get by, in a sense, with this weekend's game at Pitt preceding a much-needed bye before a two-game stretch against BYU and at Stanford.
[+] Enlarge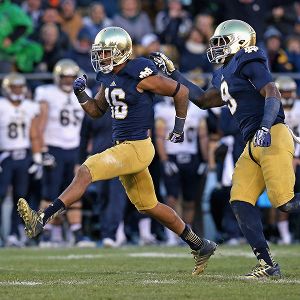 Jonathan Daniel/Getty ImagesSafety Eliar Hardy (left) is one of several Notre Dame reserves that were pressed into action due to injuries.
BCS dreams have essentially taken a backseat to figuring out just who is going to play and where, and how the remaining available guy will get ready for when their time comes.
"I think this is probably close to the pinnacle," Kelly said during Sunday's teleconference when asked if this defense has been hit as hard as any he's had in 23 years as a head coach. He added: "They don't give you any points for complaining about it. If they did, I'd complain every minute. So we just take care of it internally and get the next guy ready."
Ben Councell
, the man behind Smith most of the season at the dog linebacker spot,
was ruled out for the season Sunday after suffering a significant knee injury in the 38-34 win over Navy
. Smith and Councell, of course, waged a preseason battle for a starting spot only after senior
Danny Spond
, last season's starter, was forced to retire because of hemiplegic migraines. And the linebacking corp is less than a month removed from its other big hit, when
Jarrett Grace
broke his leg in the Oct. 5 Arizona State game, costing the Mike linebacker the rest of his redshirt sophomore season.
It only gets worse up front, where
Kona Schwenke
is lost for at least this Saturday's game at Pitt because of a high-ankle sprain suffered on the Midshipmen's final drive. And Schwenke was only starting these last two games in place of nose guard
Louis Nix III
, who at first was ruled to have a shoulder injury suffered in the USC game, and then knee tendinitis, and now tendinitis and a small meniscus tear, though the school says he will practice this week after undergoing an MRI Sunday. Before that, Schwenke filled in for end
Sheldon Day
, who missed most of a three-game stretch after leaving a Sept. 14 game against Purdue with a high ankle sprain, and then re-aggravated said ankle sprain against Navy.
And no, it is not a coincidence that most of these injuries have come during this two-game stretch against Air Force and Navy, teams that often cut-block.
"It's unfortunate," Kelly said. "It's the style of offense that the academies play. It is what it is."
Kelly said it will make sense to possibly avoid scheduling multiple option teams in a single season, but that is a bridge he will cross when he gets to it. For now, his next-man-in philosophy is being tested by, well, a lack of next-men-in.
He said he guards against that by putting those who saw 15 or fewer plays in a game through extra conditioning that following Monday, while reserves get roughly half the work of the starters during 11-on-11 and scout team work in a given week.
"I think that we're so close that you don't really think about it in terms of, Oh, I've never seen you out here," redshirt senior linebacker
Dan Fox
said. "We get a lot of guys in at practice, there's a lot of reps to go around, so next man in and next man in."
Underclassmen such as
Jarron Jones
,
Isaac Rochell
and
Romeo Okwara
have been thrust into more meaningful time than most could have reasonably expected entering the season, while names unfamiliar to all but the closest of program observers --
Tyler Stockton
,
Justin Utupo
and
Eilar Hardy
, to name a few -- saw extended action.
The last of those names, Hardy, helped set Smith up for the game-clinching tackle on Navy's
Shawn Lynch
during the visitors' final fourth-and-4 try. And he was only there because
Austin Collinsworth
suffered a neck strain that will require an MRI Monday.
Fellow safety
Elijah Shumate
, meanwhile, is expected to play against the Panthers after being sidelined the last three games with a hamstring injury, though Kelly had said the sophomore would play going into the Navy game, too.
There are also the knee injuries to left guard
Chris Watt
(PCL) and cat linebacker
Ishaq Williams
(ACL), both of whom left the Air Force game a week ago but only one of whom, Watt, could possibly return this week, depending on how quickly the redshirt senior can acclimate to the knee, which will not require surgery. Williams was in an immobilizer this week and could possibly return for the Nov. 23 BYU game.
The return of Watt would give Notre Dame four of its five starters back on the offensive line, as it lost right guard
Christian Lombard
for the season because of back surgery after the USC game. Still, the bruises have taken their biggest tolls on the other line, which during the spring and summer lost reserves
Chase Hounshell
(shoulder) and
Tony Springmann
(knee) for the season, in addition to seeing freshman signee
Eddie Vanderdoes
leave for UCLA.
All of it leaves the Irish, winners of four in a row, crawling to the finish line, every last piece of Kelly's three straight top-10 recruiting classes fitting into the plan for his push toward a second straight BCS-bowl berth.
"We are running out of next men. We're at that point where from a defensive standpoint, and particularly the defensive line, we're left with very few options," Kelly said, adding, "We'll figure something out. We'll get 11 guys out there. It's just not going to be one of those things where we're going to have the same group of guys out there all the time. As you know, we're going to have to find a way to stop a big, physical offensive line at Pittsburgh, and that is the thing that concerns you the most."
September, 1, 2013
9/01/13
10:00
AM ET
Here's what to take away from
Notre Dame's 28-6 season-opening win
over Temple.

1. Rees looks better
. There's no such thing as a perfectly clean opening game. But Notre Dame delivered about as crisp of a performance as one could have asked for offensively, starting with
Tommy Rees
. He led the Irish to touchdowns on their first two drives and avoided the bad decisions that had plagued him earlier in his career, allowing Irish nation to rest easy as Notre Dame heads to Michigan for Week 2.
2. Carlisle might become a major factor
. Notre Dame's first play of the game? A 45-yard rush for
Amir Carlisle
, who was playing in his first game with the Irish after a broken ankle cost him last season after getting a waiver to play immediately following his transfer from USC. Carlisle had a team-best 68 rushing yards on just seven carries, adding two catches for 5 yards. He looked like the best of the five running backs the Irish used Saturday, and he could grow into a bigger role in the offense as the season progresses.
3. Kicking woes need to be resolved
. Brian Kelly wanted Week 1 to be somewhat of a tryout between
Nick Tausch
and
Kyle Brindza
. Kelly could not have liked what he saw, as each missed his lone field goal attempt. Michigan will be far less forgiving of such mistakes next week if Notre Dame cannot work out the kinks there.
4. Freshmen make presence felt
. Notre Dame played 10 true freshmen in the opener, with
Corey Robinson
and
Jaylon Smith
earning the starts. Receivers
James Onwualu
and Will Fuller, cornerback
Cole Luke
and end
Isaac Rochell
saw action early, with
Max Redfield
and
Devin Butler
getting special teams action. Running backs
Greg Bryant
and
Tarean Folston
carried the ball late in the game, finishing with 35 total yards. Folston was the only freshman to catch a pass, hauling in a 9-yard grab.