NCF Nation:

Jabaree Tuani
July, 16, 2012
7/16/12
10:30
AM ET
Week 1:
Sept. 1 versus Navy (at Aviva Stadium in Dublin, Ireland)
Time/TV:
9 a.m. ET, CBS


Series:
Notre Dame leads all-time, 72-12-2
2011 record:
5-7
Head coach:
Ken Niumatalolo (32-21, four years)
Returning starters:
Offense: 4; defense: 8; kicker/punter: 1
Top returners
QB
Trey Miller
, RB
Gee Gee Greene
, WR
Brandon Turner
, WR
Matt Aiken
, WR
Casey Bolena
, LT
Graham Vickers
, LG
Josh Cabral
, DE
Wes Henderson
, LB
Brye French
, LB
Matt Warrick
, LB
Matt Brewer
, CB
Jonathan Wev
, CB
David Sperry
, CB
Parrish Gaines
, S
Tra'ves Bush
, S
Chris Ferguson
, P
Pablo Beltran
Key losses
QB
Kriss Proctor
, RB
Alexander Teich
, C
Brady DeMell
, G
John Dowd
, RT
Ryan Basford
, NG
Jared Marks
, DE
Jabaree Tuani
, LB
Caleb King
, LB
Jarred Shannon
, CB
Kwesi Mitchell
, K
Jon Teague
2011 statistical leaders (*returners)
Rushing:
Proctor (914 yards)

Passing:
Proctor (787 yards)
Receiving:
Turner* (300 yards)
Tackles:
Warrick* (103)
Sacks:
Tuani (5.5)
Interceptions:
Mitchell, Bush*, Ferguson*, Sperry* (2)
Three questions for ...
College Football Nation blogger Andrea Adelson:
Versus Notre Dame in Ireland, at Penn State (following a bye). One can think of easier ways to open the season, but Navy has laid a tough task ahead of itself. What can this program take away from those games and environments early on, and do the Midshipmen actually have a shot of stealing one?
Andrea Adelson:
Navy is no stranger to playing tough games. This is a program that continually challenges itself. The Midshipmen nearly upset South
Carolina early last year, and have beaten Notre Dame twice in the last three years. If anything, I think opening the season with two incredibly tough games will set this team up for the rest of the season, even if it loses both. There are some young players that are going to get valuable on-the-job training against two traditional power teams and to me, there is no substitute for that as the season moves on. Can they steal one? Absolutely. Last time I checked, neither team is Alabama. I never count Navy out of a game.
Quarterback Trey Miller got thrown into the fire early last season following Kriss Proctor's injury. How much will that help Miller this year, especially with running an offense as sophisticated as Navy's?
AA:
I spoke with coach Ken Niumatalolo during the spring, and he is really excited about having Miller start this year. Niumatalolo called Miller's performance against Notre Dame last year "baptism under fire," so I think he learned a valuable lesson from that experience. Any time you can go into the year with some game experience as the bona fide starting quarterback, it helps. But no question, opening the season on the road against the Irish is going to be a huge task for Miller and the entire offense.
There's no beating around the bush. Navy, due to turnovers and poor execution, often beat itself last season. (That may sound familiar to readers of this space.) With five of last season's losses coming by three points or fewer, just how close is Navy this year to getting back on track and returning to a bowl game?
AA:
I think Navy will get back to a bowl game. What really surprised me about last season is Navy rarely beats itself. In fact, Navy is usually one of the most disciplined teams in all of college football. Niumatalolo basically went back to the basics this spring and stressed that discipline. "We are paying more attention to detail," he told me. "I know we lost close games last year and there are small little things we missed that cost us a game, and I think that resonates with our guys because they know losing five games by 11 points, they saw all the little things we could get better."
November, 14, 2011
11/14/11
4:34
PM ET
Here are the non-AQ players of the week, as selected by each conference.
C-USA
Offense:
Charles Sims
, RB, Houston. Sims rushed for a career-high 207 yards on only 10 carries with two touchdowns to lead Houston to a 73-17 win at Tulane. He had 252 all-purpose yards in the game.
Defense:
Shawn Jackson, LB, Tulsa. Jackson had nine total tackles, including eight solos and three tackles for loss, and added one pass breakup in a 59-17 win against Marshall.
Special Teams:
Danny Hrapmann, K, Southern Miss. Hrapmann tied his own school and Conference USA records by making five field goals in a 30-29 win against UCF.
Independent
Offense:
Tommy Rees
, QB, Notre Dame. Rees set a season high for completions with 30 in a 45-21 win against Maryland. Rees completed 30-of-38 pass attempts for 296 yards and two touchdowns, his 18th and 19th passing touchdowns of the season.
Co-Defense:
Thomas Holloway, DB, Army. Jabaree Tuani, DE, Navy. Holloway set a career high with 14 tackles in a 27-12 loss to Rutgers. He also got his first career interception. Tuani had four tackles and a sack in a win against SMU.
Special teams:
David Ruffer, PK, Notre Dame. Ruffer made a career-long 52-yard field goal against Maryland.
MAC
East Division
Offense:
Matt Brown
, RB, Temple. Brown made his first start of the season and rushed 24 times for 123 yards and a touchdown in a 24-21 win against Miami (Ohio).
Defense:
Roosevelt Nix, DT, Kent State. Nix tied a career-high with six tackles in a 35-3 win against Akron. Nix helped his defense hold Akron to just 58 yards rushing on 27 attempts.
Special Teams:
Paul Hershey, P, Ohio. Hershey had five punts for 205 yards, including a 51-yard punt in a win over Central Michigan. He had four go inside the 20.
West Division
Co-Offense:
Alex Carder
, QB,
Jordan White
, WR, Western Michigan. Carder threw for a program record 548 yards and seven touchdowns and rushed for another in a 66-63 loss at Toledo. The yardage total ranks second all-time in MAC history and his passing TD total is tied for the most in conference history. White had 238 yards receiving and became the school leader in career receiving yards leader (3,678), single-season receptions (111) and single-season receiving yards (1,402).
Defense:
Brad Ohrman, DL, Eastern Michigan. Ohrman had eight tackles, 1.5 tackles for loss and one sack in a 30-17 victory over Buffalo.
Special Teams:
John Potter, K, Western Michigan. Potter made a career high nine extra points at Toledo. Potter became the MAC's record holder for consecutive PATs made with 114.
Mountain West
Offense:
Casey Pachall
, QB, TCU. Pachall went 24-of-37 for a career-high 473 yards and five touchdowns in a 36-35 win at Boise State. The five touchdown passes tied a TCU single-game record, while his 473 yards marked the second-highest single-game total in school history.
Co-Defense:
Carmen Messina, LB, New Mexico. Nat Berhe, DB, San Diego State. Messina had his fifth straight double-digit tackle performance with 14 stops in a 21-14 victory against UNLV -- the first of the season for the Lobos. He also forced a fumble. Berhe tied a team-high with six tackles, forced a fumble and also had an interception in San Diego State's 18-15 win at Colorado State.
Special teams:
Anson Kelton, P, TCU. Kelton averaged 45.8 yards on four punts in a 36-35 win at Boise State.
Sun Belt
Offense:
Derek Thompson
, QB, North Texas. Thompson set a North Texas single-game record by completing 82 percent of his passes – going 31-of-38 -- to lead North Texas to its first win ever at Troy. He completed 17 consecutive passes in the game and threw for 331 yards.
Defense:
Brandon Joiner, DL, Arkansas State. Joiner tied a school and conference record with four sacks, and he also tied his career high with a team-best eight tackles in a 30-21 victory against Louisiana-Lafayette.
Special teams:
T.Y. Hilton
, KR, FIU. Hilton returned a punt 97 yards for touchdown in a win over FAU. The punt return is the longest in FIU history.
WAC
Offense:
Cody Fajardo
, QB, Nevada. Fajardo accounted for 371 yards and four touchdowns in a 42-28 win against Hawaii. He completed 25-of-36 passes for 290 yards and a career-high three touchdowns with no interceptions. He also rushed 19 times for 81 yards including a 25-yard touchdown run in the second half.
Defense:
IK Enemkpali, DE, Louisiana Tech. Had six tackles, including 3.5 for a loss of 18 yards, in the 27-7 win at Mississippi. Enemkpali had a sack for a loss of seven yards and also forced a fumble.
Special teams:
Taveon Rogers
, KR, New Mexico State. Rogers returned eight kickoffs for a career-best 246 yards -- including a 99-yard return for a touchdown -- in a 48-45 win against Fresno State. He had a school-record 412 all-purpose yards in the game.
August, 17, 2011
8/17/11
1:00
PM ET
They are fierce rivals, yes, but everybody who coaches at and plays for a service academy understands the difficulty of making a bowl game. So it should come as little shock that they applauded what happened last season -- when Army, Navy and Air Force all made bowl games for the first time in college football history.
"All three are phenomenal places. Each one has their own niche that our country badly needs," Air Force coach Troy Calhoun said. "We're fortunate to have each one of these academies. When they all have winning seasons, that's pretty cool stuff."
Now the big question -- can they do it again and again?
[+] Enlarge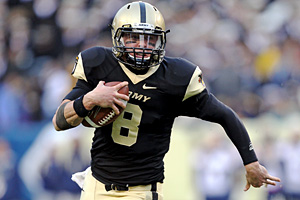 Hunter Martin/Getty ImagesLast season Trent Steelman passed for 995 yards, rushed for 721 yards and led Army to its first bowl game since 1996.
"There are no guarantees in this, but I think that's a realistic outcome when you look at who we are and our schedules and how well we're playing," Army coach Rich Ellerson said. "It's not hard to visualize that."
Navy and Air Force have been playing at high levels in recent years. The Midshipmen have been to eight straight bowl games; Air Force to four straight. It had been Army that lagged behind. But Ellerson has changed the culture at West Point, taking his Black Knights to a bowl game for the first time since 1996.
Is that enough to get the momentum going for Army? On paper, it appears that Army has the longest shot of the three service academies to make it back to a bowl game.
The defense lost six starters, including all-important nose guard Mike Gann and defensive end Josh McNary, who holds the school record for tackles for loss and sacks. The defensive line is more undersized than usual for a service academic, so the team is hoping its quickness and athleticism can make up for that. The Black Knights also lose leading tackler Stephen Anderson, who had 108 stops last season, and both starting safeties.
If you take a look at the Army schedule, you will find very few gimmes. Six of the 12 games feature bowl teams; only four of their FBS teams had losing records last season. The opening stretch is tough, starting with a game at Northern Illinois (11-3 last season), then home to San Diego State (9-4) and Northwestern (7-6). Army plays six straight games before getting a bye.
But if there is a bright spot for Army, it has to be on offense. Quarterback
Trent Steelman
and fullback
Jared Hassin
return, and they should given opposing defenses fits. Hassin ran for 1,013 yards last season and Steelman added 721 on the ground and 995 yards passing. Army does have to replace four starters on the offensive line, but Ellerson has been pleased with their progress.

Navy faces a rebuilding year as well, but the Midshipmen are a team that knows how to win and win consistently. They only return 10 starters -- and just three on defense. Navy lost its top four tacklers from a year ago -- Wyatt Middleton, Tyler Simmons, Aaron McCauley and Jerry Hauburger.
There are some bright spots returning, though. Defensive end Jabaree Tuani, their best defensive lineman, returns. Cornerback Kewsi Mitchell will anchor the defensive backfield, though just exactly where he will play remains up in the air. On the latest depth chart, he is listed as a possibility at rover, right and left cornerback.
Offensively, Ricky Dobbs is gone, but there isn't much concern about
Kriss Proctor
coming in to run the triple-option. Proctor has had extensive experience running the offense as a backup the past two seasons. Plus, he has fullback
Alexander Teich
to help him out. Teich had a breakout year in 2010, running for 863 yards and is in line to be a 1,000-yard rusher this season. Four of five starters on the offensive line return as well.

As for Air Force, the Falcons are the defending Commander-In-Chief Trophy winners after breaking the seven-year Navy streak. Air Force has to be the favorite to repeat as CIC champions because of everybody it has returning. In fact, the Falcons were picked to finish third in the Mountain West in the preseason media poll, and some have called them a darkhorse candidate to win the conference.
Air Force has the best quarterback of the service academies in
Tim Jefferson
, and the best return specalist in
Jonathan Warzeka
. The Falcons also have the most solid defense. Eight starters return on defense, including the team's top three tacklers from a year ago -- Jordan Waiwaiole, Jon Davis and Brady Amack.
All three programs need to get to six wins to be bowl eligible. If that happens again, Navy would head to the Military Bowl presented by Northrop Grumman on Dec. 28 in Washington against a team from the ACC. Army would head to the Kraft Fight Hunger Bowl in San Francisco against a Pac-12 team on Dec. 31. Air Force would go to a Mountain West tie-in.
May, 10, 2011
5/10/11
10:30
AM ET
2010 overall record:
9-4

Returning starters
Offense: 8, defense 3, punter/kicker 0
Top returners
FB
Alexander Teich
, DE Jabaree Tuani, SB
Gee Gee Greene
Key losses
QB
Ricky Dobbs
, S Wyatt Middleton, CB Kevin Edwards
2010 statistical leaders
(* denotes returners)
Rushing:
Dobbs (967 yards, 14 TDs)
Passing:
Dobbs (82-of-150 for 1,527, 13 TDs, 6 INT)
Receiving:
Greg Jones
(662 yards, 5 TDs)
Tackles:
Tyler Simmons (131)
Sacks:
Billy Yarborough (6)
Interceptions:
Simmons, Max Blue*, Kevin Edwards, De'Von Richardson, Kwesi Mitchell*, Tra'ves Bush*, Emmett Merchant (one each)
Spring Answers
1. Kriss Proctor at quarterback.
There was never any doubt that Proctor would succeed Dobbs, but nonetheless coach Ken Niumatalolo wanted to see a good spring out of him and he most certainly got one. Proctor no doubt already has the respect of his teammates, and that is important going into fall practice.
2. Depth in the backfield.
Navy is deeper than it has ever been in the offensive backfield under Niumatalolo. Eight deep in fact. Greene and Teich return, along with
Aaron Santiago
,
Bo Snelson
and
John Howell
, giving the Midshipmen plenty of options.
3. Bush steps up.
No question Bush has some big shoes to fill in replacing Middleton, the best player on the defense and a team leader. Middleton started all four seasons so Navy loses all his experience. But Bush had a good spring and is penciled in to start.
Fall Questions
1. Linebacker.
Navy is going to have new starters on the outside after the graduation of Jerry Hauburger and the abrupt departure of Aaron McCauley. Jarred Shannon and Mason Graham top the depth chart, but there will be more competition in the fall when Brye French (lacrosse) and Craig Veech (baseball) return to football.
2. Youth in the secondary.
Cornerback Kwesi Mitchell is the only returning starter in the secondary. Navy took a big hit in leadership and experience after losing Middleton and Edwards. Jordan Fraser is tops on the depth chart at the other safety spot, while David Sperry and Jonathan Wev are competing for the cornerback job opposite Mitchell.
3. Leadership.
The departed senior class won 35 games, tied for the second most in school history. Players like Dobbs, Middleton, Edwards and Jeff Battipaglia started many games in their Navy careers. Niumatalolo said this spring was spent emphasizing the Navy culture to the young players whose job it will be to step up and lead.
April, 25, 2011
4/25/11
3:30
PM ET
Navy had one of its most experienced teams last season, a group so stocked with veteran leaders that it became easy to ratchet up expectations.
[+] Enlarge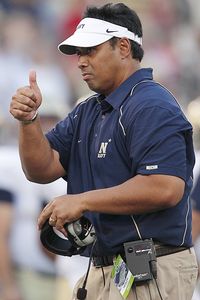 AP Photo/Rob CarrNavy coach Ken Niumatalolo has only three starters returning on defense.
But now the Midshipmen have to move forward without top players like
Ricky Dobbs
, Wyatt Middleton, Jeff Battipaglia,
Greg Jones
, Tyler Simmons and Kevin Edwards, to name a few. That senior class won 35 games, tied for the second-most wins for a class in school history with the groups in 2006, 2007 and 2008.
There obviously is no doubting Navy knows how to get its players ready to become leaders. Already, quarterback
Kriss Proctor
has taken the reigns on offense. Jabaree Tuani and Kwesi Mitchell have done the same on defense. But what could be a factor is inexperience. Navy has only three starters returning on defense after losing several seniors and two unexpected players. Starting linebacker Aaron McCauley left the academy for personal reasons, while free safety De'Von Richardson was dismissed for academic reasons.
Coach Ken Niumatalolo said his team worked as much as allowed under NCAA rules limiting tackling and 11-on-11 work during the spring so coaches could identify the players ready to start in 2011.
"You can hit a garbage can and walk through cones, but unless you play, it's hard to see who can do what," he said in a recent phone interview. "That's our approach when we have a new group of guys coming in, to set the foundation and then we go from there. There's no way you can simulate your opening game against Delaware or South Carolina, so turn you turn up the heat a little bit and see how you can handle it."
Indeed, stressing the culture of Navy football has been a constant.
"It's a word I've been using a lot just so they know this is how we play," Niumatalolo said. "We run to the ball, play harder than everyone else, we get off our blocks. It's understanding the mind-set of the way we play, especially from a defensive standpoint. If we want to have a remote chance to win, we have to play harder than everybody else."
The defense had to learn without defensive coordinator Buddy Green, who was out the majority of spring because of complications following gall bladder surgery. But Niumatalolo was able to identify some players who have a chance to make plays for the Midshipmen. Among them: linebackers Jarred Shannon and Mason Graham, and rover Tra'ves Bush.
Offensively, the big question is how Proctor will do in replacing Dobbs. So many new faces, but Proctor is confident his teammates have what it takes to have as much success as their predecessors.
"It's always a tight knit group at the Academy, Proctor said. "We call ourselves 'the brotherhood.' The closeness and the bond is always there. In terms of guys stepping up in leadership, we have a whole bunch who have stepped up and put the weight of the team on our shoulders."
January, 24, 2011
1/24/11
10:30
AM ET
Here are some notes from the non-AQs that you may have missed from this past weekend:
-- Utah hired Norm Chow to be its offensive coordinator. Hopefully you have already seen
my take on this
.
-- Todd McShay filed a stock up/stock down off the East-West Shrine Game in Orlando. You need an insider subscription to read it, but I will give you a few highlights. McShay lists Idaho quarterback
Nathan Enderle
in his stock up section and writes:
Enderle had the most consistent week of any of the QBs. He has the strongest arm of the group and can make all the NFL throws. But the thing we liked best was that he got better every day as the week progressed.
McShay still lists Enderle as a mid- to late-round pick. Here is some more from the
in-game blog
. The East ended up beating the West
25-8
.
-- Fullback
Alexander Teich
and defensive end Jabaree Tuani were elected Navy team captains for the 2011 football season by their teammates. Teich rushed for 863 yards and five touchdowns on 147 carries and caught seven passes for 86 yards and two touchdowns this past season. Tuani has been a three-year starter for the Mids and is coming off his best season, leading all defensive linemen with 72 tackles, recording a team-high 15.5 tackles for a loss and finishing second on the team in sacks with 5.5.
-- Four former Central Michigan football players are headed to the Super Bowl, tied for the most of any college program in the country. The foursome: Cullen Jenkins, Frank Zombo and Josh Gordy are with the NFC champion Green Bay Packers, while Antonio Brown is in his rookie season with the AFC champion Pittsburgh Steelers. Among other non-AQ players in the big game: Packers defensive back Jarrett Bush (Utah State), Packers running back James Starks (Buffalo) and Steelers receiver Emmanuel Sanders (SMU).
-- Tulsa rounded out its coaching staff. Brent Guy will serve as defensive coordinator/linebackers coach, Adam Blankenship as defensive ends coach and Holmon Wiggins as running back coach. In addition, Clint Rountree was promoted from graduate assistant coach to director of high school relations and graduate assistant coach James Kilian will coach the quarterbacks.
-- Sean McGowan was hired as an assistant coach for defense at Temple. McGowan has served the past four years as the defensive coordinator at New Hampshire.