NCF Nation:

Jacarri Alexander
February, 28, 2013
2/28/13
1:00
PM ET
There's reason to be cautiously optimistic about Indiana football in 2013. The Hoosiers improved their wins total last fall by three and amazingly in November found themselves in contention to represent the Leaders Division at the Big Ten title game. All but three starters return, including the playmakers from an offense that finished second in the Big Ten. Quarterback
Tre Roberson
has
recovered from a broken leg
and will compete to reclaim his starting job this spring. The schedule features eight home games for just the second time in team history. IU isn't without major concerns, namely a defense that hasn't consistently stopped anyone for more than a decade and
recently lost co-coordinator Mike Ekeler to USC
. The team only went 4-8 in 2012 and must build much better depth at several positions, starting in spring ball, which kicks off Saturday.
ESPN.com caught up with IU head coach Kevin Wilson to discuss the spring.
What's the big theme for your team entering the spring?
Kevin Wilson:
We've got enough guys back, we're stronger, we're mature, we understand each other and understand the standard. We've just got to continue to work at a higher level. When you're not mentally or physically as strong as you want to be, you've got to gain on it. There's different levels of that. It's nice that we get a lot of guys back, but you start over. We are starting over at a better spot because a lot of guys are back. We're building a foundation to play better football next year.
Where would you like to be from a depth standpoint by the end of the spring?
KW:
Everybody's got depth issues and we could be better in certain areas, but we only lose about four or five guys who really played [in 2012]. We've got a lot of what's back, and we've got, on paper, a nice recruiting class that will help, but really it's not about the depth as much as it's about competition. Guys are pushing guys to be on the field. We've got a lot of guys back who have been second-teamers and the first-teamer [ahead of them] is back. Now how do you push that first-teamer and beat him him out? A great example is at quarterback. We've got three guys that have all played, they've all played kind of well, their stats are OK, but we haven't won a lot of games. There's really not a proven winner. We've got guys that look like they can do OK, but they haven't proven they can win at a high level of Big Ten football. I think that will be an awesome competition. We want to see that across the board.
[+] Enlarge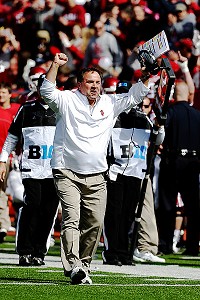 AP Photo/Darron CummingsWith numerous key players returning, Indiana coach Kevin Wilson is optimistic heading into spring workouts.
How do you identify winners in that group or other groups when you're not playing games?
KW:
Sometimes you'll see who moves around, who gets the group in the end zone. But that sometimes can be skewed. A guy busts a coverage and a guy scores a touchdown, does that mean the quarterback is a better quarterback? Sometimes it's a play where there's not a good call and he's got to throw it out of bounds and it's a great play because there's nothing open. I just think your body of work, your body language, your leadership skills. Are you the best extension of the coaching staff and what we're trying to do? The game's called football and we put the football in your hands every snap. It's got to be a guy you trust because you give him the game, every game, and say, 'Go play.'
Right now, those guys have all had some fair stats, but we want to see winning football played at that position.
How is Tre [Roberson] physically, and what do you expect out of him?
KW:
He's been full-go. Right now, we're doing our offseason program, our agility program, and he's full-go. There's no limitations. I don't want him to be tackled, but we don't tackle the quarterbacks anyway, so I would anticipate he'll be out there every day. He's gotten bigger. When he got hurt, he was under 185 [pounds], right around there, and now he's pushing 200 pounds. He's bigger, stronger, looks good running. I don't think he's at full tilt, but every day he gets stronger, every day he gets better and every day he gets more confident. Knock on wood, he should have no limitations, and he'll compete every day with those other two guys [
Cameron Coffman
and
Nate Sudfeld
].
You really bring back a lot at wide receiver, running back and tight end. How much competition is there at those other offensive positions?
KW:
We've got everybody back except [center]
Will Matte
on offense. We didn't lose a quarterback, we don't lose a running back, we don't lose any receivers. So we've got basically the crowd back. It's the same deal. Our kids realize, though, that the deal is we're going to play a number of guys. It doesn't matter whether you go out there first or second, we're going to play six, seven, eight, nine guys. We need to have one or two more receivers than we have. We're going to [use] two tight ends at least, with two or three running backs and seven or eight receivers. So when you say depth, it would be nice to see some of these guys that redshirted continue to come on and help us as complementary tight end guys and complementary receivers.
The tempo we play with, you've got to play a number of skill guys. A lot of guys are back, they've seen that we're going to throw the ball to them, and they believe they have quarterbacks who will get it to them so they can make plays. I'm expecting that receiver group to pick it up. We'll see if they can keep plugging along there.
You lose a few pieces up front on defense. How does the defensive line shape up entering the spring?
KW:
We signed two JC guys, one guy is here now [Jordan Heiderman]. We redshirted a big guy who we like. We did sign a couple of guys there, so some of those guys might get into the mix when preseason rolls around. But we need to play better across the board because we're making tweaks with what we're doing. We definitely need to play better run defense.
Schematically, will there be some new things on defense?
KW:
I don't know if it's that. We've just got to look at the position we're putting guys in, where we're playing them. It's not major [changes]. Same with offense, you're always playing to your strengths and weaknesses. Right now, we've played OK on offense, and not very good on defense. So we have to keep coming on both sides. Defensively, we're developing players, but we have to make sure we're putting them in the right spots with play calling to play winning football.
We have enough guys coming back. We should continue to improve this program. We should continue to take a very positive step this year. That being said, we have to play better football on the defensive side. We made some subtle changes from Year 1 to 2. It still wasn't what we needed. There won't be wholesale changes, major deals, but we've got to keep looking for what works.
Where do you see the leadership emerging on the team, and can the secondary be a strength for you guys because you have quite a few players back who have played?
KW:
Probably more competition and depth back there than we've had. And I think we've signed a couple kids who can get in the mix to help us. The linebacker corps got real beat up last year.
Jacarri Alexander
and
Chase Hoobler
missed some games, two of our starting three missed four, five, six games independent of each other. It took a toll. We're losing [Adam] Replogle and [Larry] Black and Will Matte and Nick Sliger, those are the four guys who really played. The fifth guy would be Charles Love, the backup tight end. So when you look at the football team, basically everyone's back, so with the leadership, hopefully you'll see that linebacker corps pick up and the secondary. We've got to establish a standard of what winning defensive football is at Indiana, and how we're going to play it. We'll build a mindset, we'll do some subtle structure things to hopefully position our players in better places, and we'll tackle better and get off the field and make stops and get some turnovers.
We've got to take a step offensively, be more wide open, continue to improve, take care of the ball and score more points. And we've got to improve defensively. When you're a 4-8 football team, that's not good. We're definitely moving in the right direction. Nineteen starters are back, and 14 of them are sophomores and juniors. So we've got some guys we can work with, and we've got the best recruiting class we've brought in. We basically have five seniors on scholarship and we signed 22. So we've got the core team back. It needs to get better. I think we'll make some nice additions as preseason comes around, and hopefully we'll continue to be more competitive and play the brand of football we're trying to build here.
July, 16, 2012
7/16/12
2:30
PM ET
One characteristic many seek in a leader is the ability to speak candidly about past failures.
Indiana tight end
Ted Bolser
has this covered pretty well.
[+] Enlarge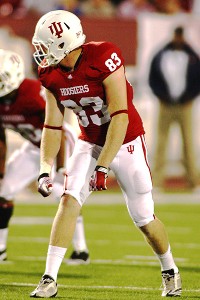 Cal Sport Media via AP ImagesIndiana Hoosiers tight end Ted Bolser is hoping to catch 50 passes in a revamped offense.
"Bolser doesn't hold back when assessing what went wrong in 2011 -- when Indiana finished 1-11 and went winless in the Big Ten and against FBS competition -- and what's going right these days in Bloomington.
"I'd like to say we trimmed the fat off our team last year, got rid of a lot of guys who didn't want to be here," Bolser told ESPN.com. "Everybody here wants to play, and plans on starting, so there's a lot of competition going on. We need competition to win. That's what we didn't have in the past. People just gave up their roles."
Such a passive attitude -- or a disinterested one -- played into the Hoosiers losing so many games.
"It was a huge distraction," Bolser said. "Not only during game day did some people just not care, but weekends, after hours, [when] coaches weren't around. ... We didn't have much leadership last year. Everybody was just kind of wandering in their own heads. The leadership's really changed this year."
Bolser is part of a small but vocal group stepping forward. Indiana enters 2012 with only eight seniors on the roster -- seven fifth-year players and one true senior (defensive tackle
Adam Replogle
). Given the small number, Bolser and other fourth-year juniors are taking bigger leadership roles, as are younger players.
He mentioned center
Will Matte
, linebackers Jacarri Alexander and David Cooper and quarterback
Tre Roberson
as players taking steps as leaders. Although Roberson is a true sophomore, "we're treating him like he's a senior," Bolser said.
"With the few upperclassmen we have, just about all of us are having our own leadership role," Bolser continued. "For myself, I've noticed a tremendous leap."
Part of that leap is personal accountability, and Bolser is setting the bar high in 2012. He recorded 27 receptions for 407 yards and five touchdowns as a redshirt freshman in 2010, making seven starts. But his numbers dipped in all four categories last season -- 14 catches, 165 receiving yards, one touchdown, six starts. To be fair the decline largely can be attributed to a run-based offense led by a freshman quarterback.
Head coach Kevin Wilson wants to emphasize the pass much more this season and brought in a new offensive coordinator, Seth Littrell, who comes from the Mike Leach coaching tree and oversaw an Arizona offense that ranked third nationally in passing a year ago (370.8 ypg).
"This year, we're throwing the ball no matter what," Bolser said. "For myself and the wide receivers, we're expecting big things."
How big?
"I'm expecting better numbers than I had my freshman year by far," he said. "I had around 30 catches my freshman year, and I'm hoping to get around 50 plus this year. I'm hoping to be in the game just about every play, blocking or catching passes. As much as we're going to be throwing it, the ball has to go to somebody, and I'm hoping it goes to me."
Arguably no Indiana could benefit more from Littrell's arrival than Bolser. Littrell, who will directly coach tight ends and fullbacks at IU, worked at Arizona with Rob Gronkowski, who Bolser calls "just about every tight end's idol."
"Especially when I'm watching film, we go over what [Gronkowski] does and previous things he's done, how their relationship blossomed, how they worked with each other and a lot of things like that," Bolser said. "Things are changing, especially lately. You've got to be a block- and pass-oriented tight end. You've got to have both, which he has."
Bolser hopes to be the complete package for Indiana this year -- minus The Gronk Spike.
Said Bolser: "I can't do that."
May, 18, 2012
5/18/12
9:00
AM ET
The book is closed on spring football in the Big Ten, but what did the chapters reveal? Although no games are played during the spring, which fuels optimism for all 12 teams, the 15 practices provide clues for the upcoming season. The Big Ten saw few major injuries to key players, some good news (the NCAA declaring Michigan State WR
DeAnthony Arnett
eligible for 2012) and some potentially troubling signs.
It's time to revive the power rankings coming out of the spring. We see separation with the top two teams, while Nos. 3-5 are closely matched. The same holds true for Nos. 7-10.

Here they are ...
1. Michigan State:
The Spartans' defense looks like the single best unit in the Big Ten entering the season. Spring practice only enhanced our opinion of Pat Narduzzi's group, which has no shortage of stars. While the passing game needs work, Arnett's presence should help, and the Spartans will rely more on their run game with
Le'Veon Bell
and an improved offensive line.
2. Michigan:
Quarterback
Denard Robinson
and
Fitzgerald Toussaint
, who affirmed himself as Michigan's top tailback this spring, form arguably the Big Ten's most dangerous backfield tandem. If Michigan can fill some key pieces on both lines, where there was some shuffling this spring, it will be back in the BCS bowl mix and among the favorites to win the Big Ten crown.
3. Wisconsin:
It seems hard to fathom, but
Montee Ball
appeared to take his game to an even higher gear this spring. The Badgers' star running back will fuel the offense again, although quarterback remains a question mark as Maryland transfer
Danny O'Brien
arrives this summer. Wisconsin still needs more playmakers to emerge on the defensive line and in the secondary.
4. Nebraska:
Tough call on this spot, but the Huskers return their core pieces on offense from a 9-4 team. Footwork-conscious quarterback
Taylor Martinez
received good reviews this spring, and he should be more comfortable in Year 2 at the helm of Tim Beck's offense. Coach Bo Pelini thinks the defense will be improved and potentially deeper, although the Huskers lose a lot of star power on that side of the ball.
5. Ohio State:
There were few dull moments in Ohio State's first spring under Urban Meyer, who began installing an offense unlike any seen in Columbus. After resembling a "clown show" early on, the offense made strides and quarterback
Braxton Miller
looks like a strong fit for the system. An improved defense, led by linemen
John Simon
and
Johnathan Hankins
, should buy the offense some time to get acclimated.
6. Penn State:
New coach Bill O'Brien ushered in a historic spring in Happy Valley, and Penn State players for the most part embraced the many changes taking place. The Lions still don't have a quarterback, but they have an excellent running back in
Silas Redd
and an improved offense line that pleasantly surprised O'Brien this spring. Penn State's defensive front seven, led by linebacker
Gerald Hodges
and tackle
Jordan Hill
, might need to carry the team at times.
7. Purdue:
Fourth-year coach Danny Hope thinks this is clearly his best team in West Lafayette, and with 18 starters back, it's easy to see why. The Boilermakers are one of the Big Ten's deepest teams at positions like quarterback, defensive tackle, running back and cornerback. Purdue must continue to absorb the new defense installed by Tim Tibesar and fill some key gaps along the offensive line.
8. Iowa:
Although Iowa's changes this spring didn't make national headlines like the ones at Penn State and Ohio State, they were very significant. New offensive coordinator Greg Davis began installing a more up-tempo and multifaceted offense that seems to be clicking with senior quarterback
James Vandenberg
.
Jordan Canzeri
's ACL injury once again clouds the picture at running back entering the summer, and Iowa needs its young defensive line to grow up in a hurry.
9. Northwestern:
The Wildcats showcased one of the league's top wide-receiving corps this spring, and if
Kain Colter
can improve his passing, the offense should surge. Defense has been Northwestern's bugaboo in recent years, and young players like end
Deonte Gibson
and cornerback
Nick VanHoose
stepped forward this spring. It's crucial for the defense to keep making progress if Northwestern wants to maintain its bowl streak.
10. Illinois:
There's little doubt Illinois will be a defense-driven team, and the Illini look loaded in the front seven with players like end
Michael Buchanan
, who turned in a very strong spring, as well as tackle
Akeem Spence
and linebacker
Jonathan Brown
. An offense that flatlined late last season began learning a new system this spring and still lacks playmakers at running back and wide receiver. Running back
Josh Ferguson
's spring-game performance is encouraging.
11. Minnesota:
The second spring of the Jerry Kill era brought greater comfort for both players and coaches alike. Quarterback
MarQueis Gray
made strides in his second spring session as the starter, although the Gophers are still looking for more weapons to surround No. 5. The defensive line should be an improved group after several lifeless seasons. Minnesota still needs to develop depth in the secondary and at wide receiver.
12. Indiana:
After playing an insane number of freshmen in 2011, Indiana began to reap the benefits this spring. An influx of junior-college defenders, including linebackers
David Cooper
and
Jacarri Alexander
, also should boost a unit that needs all the help it can get. The Hoosiers have some nice building blocks on offense at both quarterback (
Tre Roberson
) and running back (
Stephen Houston
,
Isaiah Roundtree
), but they still have a lot of work to do before the season.
May, 17, 2012
5/17/12
9:00
AM ET
Spring practice is a time when coaches install new schemes or just instill the fundamentals. The most exciting part of spring practice is potential new stars emerge, with newcomers or former reserves turning heads with their performances.

Some of these guys will fade back into the shadows come fall. But others will be making major contributions on a field near you. Here's a list of some players who had breakout springs:
Josh Ferguson, RB, Illinois:
Redshirted last year after a hamstring injury, Ferguson blew up for 130 yards and caught six passes in the Illini spring game. He flashed his speed and versatility for an offense that desperately needs playmakers in its new spread attack. Ferguson should be in line to get a lot of touches in 2012.
Michael Thomas, WR, Ohio State:
A true freshman who enrolled in January after spending a year in prep school, Thomas suddenly became
Braxton Miller
's favorite target in the spring game, hauling in 12 catches for 131 yards. Like Ferguson, he gave a glimmer of hope to a position that was sorely in need of a boost for the Buckeyes, and he'll get a shot at plenty of playing time right away.
Darien Harris, LB, Michigan State:
Few people were talking about Harris at the start of spring, especially since the Spartans return all three starting linebackers. But with
Chris Norman
out this spring with an injury, Harris got a bunch of reps and ran with it. Mark Dantonio called the redshirt freshman "one of the exciting surprises of the spring." He'll play this fall, but the question is how much?
[+] Enlarge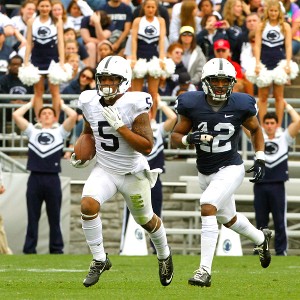 AP Photo/Keith SrakocicBill Belton had a nice performance during Penn State's Blue-White spring game, rushing for 53 yards and a TD.
Joey Burzinski, OL, Michigan:
Even most Wolverines fans had probably not heard of Buzinski, a walk-on freshman, before this spring. But a strong work ethic and a lack of depth on the Michigan O-line helped him make a move until he found himself working with the first string. Burzinski is no lock to start but should see minutes somewhere on the line and is a great story.
Bill Belton, RB, Penn State:
Belton was a highly-regard recruit who started to make an impact at the end of last season. Moved to full-time running back this spring, he responded by making a lot of plays and adding depth to a spot that was extremely thin behind
Silas Redd
. Belton's versatility should help him become a useful weapon in
Bill O'Brien
's offense.
David Cooper, LB, Indiana:
There's no question that the Hoosiers desperately needed some help on defense, and head coach Kevin Wilson scoured the junior college ranks for a talent injection. Cooper, along with Jacarri Alexander, proved he could run and tackle this spring, and he also brought a high energy level that rubbed off on his teammates. He's slated to start at middle linebacker and hopefully bring some improvement to the overall defensive effort.
C.J. Fiedorowicz, TE, Iowa:
He was a hyped recruit, and now Fiedorowicz might be about to show why. A matchup nightmare at 6-foot-7 and 265 pounds, the junior is expected to play a major role in new offensive coordinator Greg Davis's offense, and
James Vandenberg
has to love having such a big target.
Frankie Williams, S, Purdue:
By the end of last season, Danny Hope regretted his decision to redshirt Williams because he felt he could have contributed at cornerback. Williams moved to safety this spring and got the start there in the spring game. The Boilers are deep at corner but could use a little help at safety, and Williams looks ready to fill that need.
February, 17, 2012
2/17/12
10:00
AM ET
After taking a look at the Legends Division outlook for spring practice, it's time to turn the focus to the Leaders Division.
Away we go ...

ILLINOIS
Start of spring practice:
March 7
Spring game:
April 14
What to watch:
New faces in new roles: Tim Beckman and his assistants get their first chance to work with the players on the field. Beckman retained only one assistant (defensive line coach Keith Gilmore) from the previous staff, so it'll be important for the players and coaches to get acclimated. It's also a big spring for co-offensive coordinators Billy Gonzales and Chris Beatty, both of whom will be primary playcallers for the first time at this level.
The quarterbacks: Nathan Scheelhaase is a two-year starter, but he'll have to re-establish himself as the team's top option at quarterback. Reilly O'Toole received a decent amount of field time last season, and Illinois should have a competition under center in spring practice. Both men will have to learn a new offense and show good decision-making skills after combining to throw 12 interceptions last fall.
No Merci: All-American defensive end Whitney Mercilus is gone, and Illinois will be looking for his replacement this spring. The defensive line could once again be a strength for the Illini, especially with Gilmore back and an aggressive defensive coordinator in Tim Banks. It'll be interesting to see how the coaches use Michael Buchanan and Justin Staples, who played the "bandit" position in the previous scheme and boast speed but don't have typical defensive end size.

INDIANA
Start of spring practice:
March 3
Spring game:
April 14
What to watch:
Juco fever: Indiana needs a quick fix on defense, and it hopes an influx of junior college players can provide one. Six juco players already are enrolled and will participate in spring practice, including five on the defensive side. It will be interesting to see how players such as defensive back Tregg Waters and linebackers Justin Rayside and Jacarri Alexander perform this spring as they compete to play right away.
New direction on offense: Coach Kevin Wilson wants to be more productive in the passing game, and he hired an offensive coordinator in Seth Littrell who can help in that area. Littrell guided an Arizona offense that last season ranked third nationally in passing (370.8 ypg) and 27th in pass efficiency (145.2). He'll try to help Tre Roberson, who Wilson said he thinks can elevate his game significantly as a passer despite throwing twice as many interceptions (six) as touchdowns (three) as a freshman.
Who has grown up: Indiana played 32 freshmen (16 true, 16 redshirt) in 2011, the most in the FBS. The early experience should pay off for several players, and Indiana needs them to grow up quickly during the spring. Roberson showed a lot of promise at quarterback, and safety Mark Murphy finished second on the team with 76 tackles. Keep an eye on players such as defensive end Bobby Richardson and receiver/returner Shane Wynn.

OHIO STATE
Start of spring practice:
March 28
Spring game:
April 21
What to watch:
Urban renewal: The mood has improved around Ohio State's program from the moment Urban Meyer stepped to the podium Nov. 28. After putting together his staff, signing an elite recruiting class and ticking off some of his Big Ten coaching colleagues, Meyer finally gets a chance to work with the players on the practice field. After a lackluster final season at Florida in 2010, Meyer says he's refreshed and recharged, and it'll be interesting to see how he attacks practices.
The new offense: Ohio State fans can't wait for a new offense after suffering through a 2011 season that featured some extremely questionable play-calling. Meyer's offensive system is well-known throughout college football, but the interesting thing this spring will be how Meyer and offensive coordinator Tom Herman blend their ideas. Herman is a dynamic young coach who impressed a lot of folks at Iowa State. But Ohio State is a different animal, and expectations will be high for quarterback Braxton Miller and the unit.
Fickell back on defense: After spending last season as Ohio State's head coach, Luke Fickell returns to an assistant role on the defensive side. And for the first time, Fickell will be the Buckeyes' primary defensive playcaller. Ohio State's defense took a step back last season and will be looking to regain its traditional form. Fickell will work alongside co-defensive coordinator Everett Withers and look to identify some leaders to complement defensive lineman John Simon.

PENN STATE
Start of spring practice:
March 26
Spring game:
April 21
What to watch:
O'Brien's time: Much will be made of Penn State opening spring ball without Joe Paterno, but the real story is how critical these practices will be for new coach Bill O'Brien and his team. Penn State will be acclimating to new systems on both sides of the ball and a new coaching style from O'Brien and his assistant coaches, all but two of whom are from the outside. The learning curve will be accelerated for all involved, as Penn State needs to get a lot done in 15 workouts.
The quarterbacks: It's good that O'Brien has extensive experience coaching quarterbacks because no position needs a bigger upgrade at Penn State. The Lions struggled mightily under center last season and need a major boost beginning this spring. Can O'Brien get more out of Matthew McGloin and Rob Bolden, both of whom have seen extensive time in the Big Ten? How does Paul Jones factor into the mix? It'll be interesting to see how the signal-callers perform this spring.
Filling gaps on defense: Penn State should have one of the nation's best linebacker groups this season, but the Lions need to fill some holes on the line and in the secondary. Big Ten Defensive Player of the Year Devon Still departs, and Penn State will be leaning on Jordan Hill and others to step up. A bigger concern is the secondary, which loses two multiyear starters at safety (Drew Astorino and Nick Sukay). Penn State also has a new defensive coordinator in Ted Roof, who will be looking for better results than he had at Auburn.

PURDUE
Start of spring practice:
March 7
Spring game:
April 14
What to watch:
Another quarterback competition: Boilers coach Danny Hope loves having options at quarterback, and he'll once again get his wish during spring practice. Caleb TerBush, Robert Marve,Rob Henry and Sean Robinson all boast starting experience and will vie for the No. 1 job when workouts resume. Henry, who sizzled last spring and would have started the season if not for a torn ACL, has been cleared to participate in noncontact drills. Marve received an extra year of eligibility and will be in the mix. TerBush started every game last season.
Tisebar takes over: Purdue has a new defensive coordinator for the third consecutive season, as Tim Tisebar takes over this spring. Tisebar returns to college football after spending the past three seasons with the Canadian Football League's Montreal Alouettes. Hope hired Tisebar to help Purdue improve against the spread offense and the zone-read game. It will be interesting to see what spin Tisebar puts on the defense as the Boilers enter a pivotal season.
Offensive line depth: One of Purdue's strengths last season is a bit light on bodies following several departures. The Boilers need a left tackle to replace Dennis Kelly, and they also must increase depth on the interior line. Purdue already has moved tight end Robert Kugler to center, and Hope said earlier this month that several other tight ends could practice at offensive tackle during the spring.

WISCONSIN
Start of spring practice:
March 17
Spring game:
April 28
What to watch:
A revamped staff: Bret Bielema hired six new assistant coaches during the winter months, including offensive coordinator Matt Canada. The new coaches will have their first opportunity to work with players on the field this spring. It's important for both sides to acclimate, mainly because Wisconsin has had tremendous success the past two seasons and doesn't want the staff shakeup to throw things off course. Quarterback Russell Wilson made a seamless transition to the program last summer. Let's see if the new assistants can do the same in spring ball.
The quarterbacks: Speaking of Wilson, he departs Madison, leaving a major void under center. Jon Budmayr and Curt Phillips are coming off of major injuries, and while they're both making progress it could be tough to get a gauge on them this spring. Canada will spend much of his time working with Joel Stave and Joe Brennan, who need to get comfortable with Canada's adjustments to the offense and start establishing themselves as potential team leaders.
Reloading up front: Wisconsin will have to replace two All-American offensive linemen for the second consecutive year, and the Badgers lose three All-Big Ten selections up front (Peter Konz, Kevin Zeitler and Josh Oglesby). While the Badgers are built to reload, offensive line coach Mike Markuson has a lot of evaluating to do this spring. On the defensive line, Wisconsin loses two starters (Patrick Butrym and Louis Nzegwu) and will be looking for some difference-makers. End David Gilbert returns to the mix after missing most of last season with a broken foot.
February, 6, 2012
2/06/12
11:10
AM ET
The Big Ten recruiting classes are signed and sealed, and although a few more recruits could come aboard, we have a good idea of what the rosters will look like heading into the 2012 season.
That means it's Power Rankings time. Again.
We're taking a post-signing day look at where the league stacks up. There aren't too many changes from our
previous rundown
, but some teams received a bump from strong recruiting classes.
As they say on Twitter, #legooo.

1. Michigan State:
The Spartans' recruiting class didn't crack ESPN's top 25, but it features several strong prospects and is loaded up at wide receiver and defensive back. Mark Dantonio tells us he can't remember recruiting 10 athletes like the ones Michigan State added in the class. Michigan State already is one of the Big Ten's most athletic teams, so this bodes well for the Spartans as they look for another big season.
2. Michigan:
Brady Hoke and his staff rode a fast start to 2012 recruiting and finalized a class ranked No. 7 nationally. The Wolverines started three freshmen on defense in 2011 and added several more who can contribute early in their careers, including linebacker Joe Bolden, cornerback Terry Richardson and defensive tackle Ondre "Pee Wee" Pipkins. If Michigan can maintain its momentum on defense after losing several stud linemen, it will be very tough to beat in 2012.
3. Ohio State:
Urban Meyer announced himself with a superb recruiting class featuring arguably the nation's best crop of defensive line prospects. Ohio State would have been an improved team in 2012 after its first seven-loss season since 1897, but the recruiting class boosts the Buckeyes even more. The defensive front seven should be a deeper and stronger unit, and players like Noah Spence, the Big Ten's top-rated recruit, have a chance to contribute immediately.
4. Nebraska:
The Huskers missed on their top signing day target (offensive lineman Andrus Peat) but still inked a solid class that should help at positions like linebacker, where Big Red lacked size and depth. Linebacker Michael Rose could contribute early in his career. Nebraska also addressed the departure of standout cornerback Alfonzo Dennard with talented juco addition Mohammed Seisay.
5. Wisconsin:
Quality not quantity was the theme for Wisconsin, which signed only 12 players, the Big Ten's smallest class by five recruits. The Badgers lost two offensive line commits to other schools but added a decorated quarterback in Bart Houston and some solid players to the defensive back seven, including linebacker Vince Biegel. This is the type of season that will test Wisconsin's ability to reload and provide a true gauge of the program's progress under Bret Bielema.
6. Penn State:
New coach Bill O'Brien and his staff had to scramble to keep the class together, and the 2012 recruiting haul didn't quite match what Penn State adds in most seasons. The coaches were able to keep some good prospects and fulfilled a need at wide receiver with Eugene Lewis and others. It'll be interesting to see how quarterback Steven Bench turns out after Penn State lost verbal commit Skyler Mornhinweg to Florida.
7. Purdue:
The Boilers added speed in their 2012 class, and they loaded up on quarterback prospects for the future with four signal-callers. But Purdue also beefed up along the offensive line with Jordan Roos and others. With coaching changes and personnel changes throughout the Leaders Division -- not to mention Ohio State's bowl ban -- Purdue has an excellent chance to make some noise in 2012.
8. Iowa:
The big story in Iowa City isn't so much the recent recruiting class but the seismic changes going on in one of the nation's more stable programs. After having the same coordinators for the past 13 seasons, Kirk Ferentz must replace both Norm Parker and Ken O'Keefe, who left late last week for a post on the Miami Dolphins' staff. Iowa will have new leadership on both sides of the ball, creating some uncertainty but also some excitement. The Hawkeyes added some nice pieces in the 2012 class, such as running back Greg Garmon and defensive end Faith Ekakitie.
9. Northwestern:
Although the Wildcats' class didn't crack the national rankings, it looks like the best haul in Pat Fitzgerald's tenure as head coach. Northwestern picked up a potential difference-maker on defense in defensive end/linebacker Ifeadi Odenigbo. Malin Jones could be the team's answer at running back, a spot that has suffered during Fitzgerald's tenure. The Wildcats also added the league's top transfer in former USC receiver Kyle Prater.
10. Illinois:
It might take a year for Tim Beckman and his staff to make a big splash on the recruiting scene. Illinois' 2012 haul didn't receive great reviews, but the Illini are pursuing several nationally elite 2013 prospects from within the state. Linebacker recruits Tajarvis Fuller and Tyrone Neal should help Illinois in the defensive back seven. There's enough talent on the squad to get back to a decent bowl, but Beckman and his staff have plenty of work ahead.
11. Minnesota:
The Gophers inked a class that drew good reviews from ESPN's analysts. Jerry Kill and his staff retained several top in-state prospects, including offensive lineman Isaac Hayes, wide receiver Andre McDonald and quarterback Philip Nelson. McDonald and fellow wideout Jamel Harbison could be immediate contributors for an offense that needs more options. But defense must be the top offseason focal point for Minnesota, which added several juco defenders.
12. Indiana:
Although the Hoosiers remain at the bottom, we liked their recruiting class, which should first and foremost provide immediate help on defense. Junior college defenders like Tregg Waters and Jacarri Alexander likely will step in right away for a struggling unit. Indiana also will increase the competition at quarterback with heralded prep prospect Nate Sudfeld and juco addition Cameron Coffman.
February, 2, 2012
2/02/12
10:30
AM ET
National signing day is in the books, and it's time to evaluate the Big Ten teams and their classes. Although several potential Big Ten recruits are announcing their plans after signing day, most of the classes are complete.
Here's how ESPN Recruiting
graded the Big Ten classes

.
Let's take a look at how teams filled their big recruiting needs:

ILLINOIS
The Illini have had a nice run at defensive tackle with 2011 NFL first-round draft pick Corey Liuget and Akeem Spence, who enters 2012 as a legitimate pro prospect. They solidified the interior line for the future with recruits like
Teko Powell
and
Vontrell Williams
.
INDIANA
It's no secret Indiana needs to make significant upgrades on defense, and coach Kevin Wilson looked to the junior college ranks for help. Indiana added six juco defenders, including cornerback
Tregg Waters
and linebacker
Jacarri Alexander
. These players give the Hoosiers a chance to get better in a hurry.
IOWA
Running back has again become a pressing need for Iowa with the departures of Marcus Coker and Mika'il McCall. While Iowa has lost running backs at an alarming rate, it also has developed young backs very well in recent years. The coaches hope to work their magic with
Greg Garmon
, who could be the most significant recruit of the 2012 class.
MICHIGAN
Arguably no staff in the country makes defensive line a bigger priority than Michigan, which has three coaches, including head man Brady Hoke, focused on the front four. The Wolverines lose standouts Mike Martin and Ryan Van Bergen from the 2011 line, but they addressed the situation in recruiting with pickups like defensive tackle
Ondre Pipkins
and defensive end
Chris Wormley
.
MICHIGAN STATE
Michigan State is creating a nice recruiting pipeline at the wide receiver position. The Spartans lose their top two wideouts from 2011 (B.J. Cunningham and Keshawn Martin) but added several nice receiver pickups in the 2012, including Tennessee transfer
DeAnthony Arnett
and four-star prospects
Monty Madaris
and
Aaron Burbridge
.
MINNESOTA
Quarterback MarQueis Gray returns, and Minnesota needed to get him some help in the passing game after the departure of Da'Jon McKnight. The Gophers added some excellent pickups at the wide receiver position in
Andre McDonald
and
Jamel Harbison
.
NEBRASKA
The Huskers were thin at linebacker in 2011 and lose standout Lavonte David to graduation. Nebraska coaches also have discussed the need to add more traditional linebackers to face Big Ten offenses. Big Red filled the need in the 2012 recruiting classes with players such as
Michael Rose
and
Jared Afalava
.
NORTHWESTERN
Defense has been Northwestern's downfall in the past two years, and the Wildcats need more difference-makers on that side of the ball. They likely landed one in end/linebacker
Ifeadi Odenigbo
, an ESPNU 150 prospect who is Northwestern's most decorated defensive recruit in recent memory. Odenigbo could help immediately as a situational pass-rusher.
OHIO STATE
No Big Ten team made a bigger impact at one position than Ohio State did along the defensive line. The Buckeyes, who were a bit thin up front in 2011, got a lot better with this class, which is headlined by ESPNU 150 prospects
Noah Spence
,
Adolphus Washington
,
Se'Von Pittman
and
Tommy Schutt
.
PENN STATE
Skyler Mornhinweg
's decommitment stings a bit, as Penn State needs more quarterbacks in the mix, but the Nittany Lions also need more difference-makers at wide receiver and tight end. They helped themselves in the 2012 class with wide receiver
Eugene Lewis
, ranked as the nation's No. 34 wideout by ESPN Recruiting. Tight end
Jesse James
is another nice pickup.
PURDUE
Offensive line has been a position of stability for Purdue the past few seasons, but the Boilers lose two starters from the 2011 squad (Dennis Kelly, Nick Mondek) and will say goodbye to several more after 2012. Purdue had to reload up front, and the two highest-rated players in the 2012 class, according to ESPN Recruiting --
Jordan Roos
and
Cameron Cermin
-- all play offensive line.
WISCONSIN
Quarterback is undoubtedly Wisconsin's top priority as
Russell Wilson
departs and Jon Budmayr and Curt Phillips battle back from major injuries. The Badgers needed a signal-caller in a small class and landed a decorated one in
Bart Houston
, a four-star prospect from California powerhouse De La Salle High School.