January, 12, 2010
1/12/10
1:40
AM ET
Several reports say that Jack Del Rio, at present the Jacksonville Jaguars coach, has moved to the fore of USC's search to replace Pete Carroll.
This one
says that Del Rio has been offered a contract.
This one
, also from the LA Daily News, says he will bring in former Notre Dame defensive coordinator Jon Tenuta to run the defense.
This one, however, says that Del Rio is
likely to stay
with the Jaguars.
You can see video of Del Rio
walking to his car
here.
Stay tuned. This could develop quickly.
January, 10, 2010
1/10/10
12:32
PM ET
If you were ranking the wish list pecking order for who USC might want to hire to replace coach Pete Carroll -- and, yes, we
continue to wait
for an official announcement from the Seattle Seahawks -- it likely would go: 1. Oregon State's Mike Riley; 2. Tennessee Titans coach Jeff Fisher; 3. Jacksonville Jaguars coach Jack Del Rio.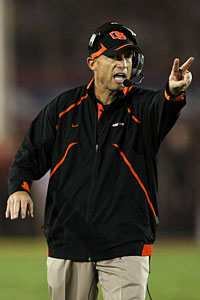 Stephen Dunn/Getty ImagesMike Riley and the Beavers finished 8-5 this season.
From the moment Bruce Feldman first reported it -- and other insiders have since backed it up -- Riley has been
choice No. 1
.
Riley would be an interesting hire. Combine his acumen as a talent evaluator and X's and O's skills with USC's recruiting base and national reach, and the end-result could be outstanding. His sterling reputation of a man of integrity also would go over well with the NCAA, which is investigating the Trojans' football program.
The question is whether Riley wants the job. There's a big difference between Oregon State and USC, Corvallis and LA, from expectations to lifestyle. Heck, start with traffic.
Riley has repeatedly said since he returned for his second tenure at Oregon State that he wants to retire a Beaver and he's never seemed driven by money, which he certainly could make more of with the Trojans. He's repeatedly said that his "grass is always greener" life lesson was when he left Oregon State for an ill-fated stint with the San Diego Chargers.
That doesn't mean he's not going to talk to the Trojans, but for the sake of this blog entry, let's say he doesn't want the job.
Then comes Fisher, who like Riley, USC athletic director Mike Garrett
tried to hire
before. But Fisher, who played at USC, has two years left on a contract that pays him $5.5 million a year, not to mention that he is a career NFL coach.
Let's say he also doesn't want the job.
What about Del Rio?

Del Rio
That could be an interesting choice, starting with the fact that he
might want the job
.
He's a former USC linebacker and has an impressive
coaching resume
, particularly on defense.
On the downside, like Fisher, Del Rio is a career NFL coach. And he has three years left on a contract that will play him more than more than $15 million.
Ah, but there's also an intriguing upside.
Check this out
. That's Del Rio's coaching staff in Jacksonville. See the offensive coordinator and running backs coach?
If Del Rio could bring Dirk Koetter and Kennedy Pola with him to USC, that would be a major coup.
Say what you want about how things went for Koetter at Arizona State -- and things didn't go well toward the end -- but the man knows offense. Just ask current Nebraska coach Bo Pelini. When Pelini was LSU's defensive coordinator -- and a highly respected one at that-- Arizona State rolled up 560 yards in a 35-31 loss.
Koetter and quarterback
Matt Barkley
could make beautiful music together.
Moreover, Koetter knows the Pac-10 and the recruiting landscape of the West Coast. If Del Rio needed help finding his way around a college coaching job, Koetter obviously could offer guidance.
And USC folks surely remember Pola, also a former Trojans player and coach. He was a USC assistant from 2000-2003 and earned a reputation as an outstanding recruiter.
Del Rio also may soon be available, or at least the Jaguars might embrace a way to save themselves some money on his contract. According to Gene Frenette of the Florida Times Union, "Del Rio is expected to meet with Jaguars owner Wayne Weaver on Monday or Tuesday to discuss this past season which ended with a four-game losing streak, a 7-9 record, and many fans calling for Weaver to bring in a new coach."
Hmm.
You know, the last time Garrett was unable to hire his first -- or second -- choice, things seemed to work out OK for the program.
January, 9, 2010
1/09/10
11:31
AM ET
It appears that one of the great coaching runs in college football history is over.
[+] Enlarge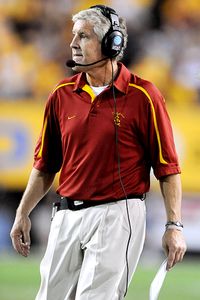 Kirby Lee/US PresswirePete Carroll compiled a 97-19 record as USC's coach.
ESPN's Adam Schefter
is reporting
that USC's Pete Carroll has reached an agreement to become the next head coach of the Seattle Seahawks.
Carroll was 97-19 with two national championships and seven Pac-10 titles as USC's coach. The Trojans went 6-6 his first season but would win at least 11 games over the next seven seasons, each of which ended with top-five rankings. Under Carroll, USC became the nation's pre-eminent college football program.
Of course, things trended down in 2009. The Trojans went 9-4, got blown out in losses to Oregon and Stanford and only returned to the national rankings after beating Boston College in the Emerald Bowl, the Trojans' first non-BCS bowl since Carroll's first season.
Moreover, off-field issues
might be a concern
for USC going forward, particularly with the NCAA and the Reggie Bush case.
Now Trojans fans' attention turns to who the next coach will be.
He will try to fill very big shoes.
Names that will come up: Oregon State's Mike Riley, Stanford's Jim Harbaugh, Boise State's Chris Petersen, TCU's Gary Patterson and Utah's Kyle Whittingham.
As well as current or former NFL coaches, such as Tennessee's Jeff Fisher, Jacksonville's Jack Del Rio or former Buccaneers and Raiders coach Jon Gruden.
Recall that when Mike Garrett was trying to hire a coach in 2000, USC wasn't such a great job. Garrett's overtures were rebuffed by Riley, Dennis Erickson as well as then-Oregon coach Mike Bellotti.
It's a much different job now, but the monstrous shadow of Carroll's legacy as well as potential NCAA problems could give some big-name coaches pause before they accept the post.
Of course, if the offer is in the range of $4.4 million per season, which Carroll was making, then all the drawbacks won't seem so daunting.